Rocket-UK


IBA Member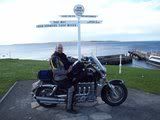 Joined: 13 August 2007
Location: United Kingdom
Online Status: Offline
Posts: 1335
Posted: 13 February 2009 at 3:33am | IP Logged

---
To celebrate the arrival of my long awaited IBA #, I thought id share a report I did for a few Rocket 3 forums and my local IAM mag on my very first SS1000 it was nearly a year ago now on the 29th Feb 08……
Iv leant so much in the year since that first ride, and also met some fantastic people along the way. Thank you all…..
Enjoy…..

I went for a little ridout. As you may or may-not know I like my long distance riding, But up to now iv kept it mainly to the summer months, so id been planning to do somthin this winter,
One of my trips was scheduled for the 29 Feb, for no other reason than there's not too many of them….. The idea was to ride up to Inverness from Oxford and back in 24 hrs an 1100+ mile round trip, as a Iron butt associations sanctioned SS1000 ride.

The route was plans to take in some of my favourite Scottish roads (not necessarily the most direct).


Carefully monitoring the Met offices forecasts for the week, I knew I was in for a rough ride, normally you'd adjust your trip dates to take into account the weather. But a 29th Feb trip is pretty limited to the available departure days…..

The norm is to have a 5 or 6a.m kick off and finish in the early hours of the following morning, I wanted to complete the run on the same day – there's loads of March 1st's – So it was a 1am alarm and off at 2……. Months of planning meant it should all go like clock work……
If your unfamiliar with the workings of the IBA, you need to prove to them that you've actually done the ride, you do this by providing them with a written log of the trip plus petrol receipts and also start & finish witnesses.

After chucking on my tank bag which contained a change of cloths a few snacks, some pages liberated from a road map (just encase the GPS gives up) an airproof box, like a small Tupperware box for the paperwork.

I headed for the pre-arranged start at the nearest 24hr service station.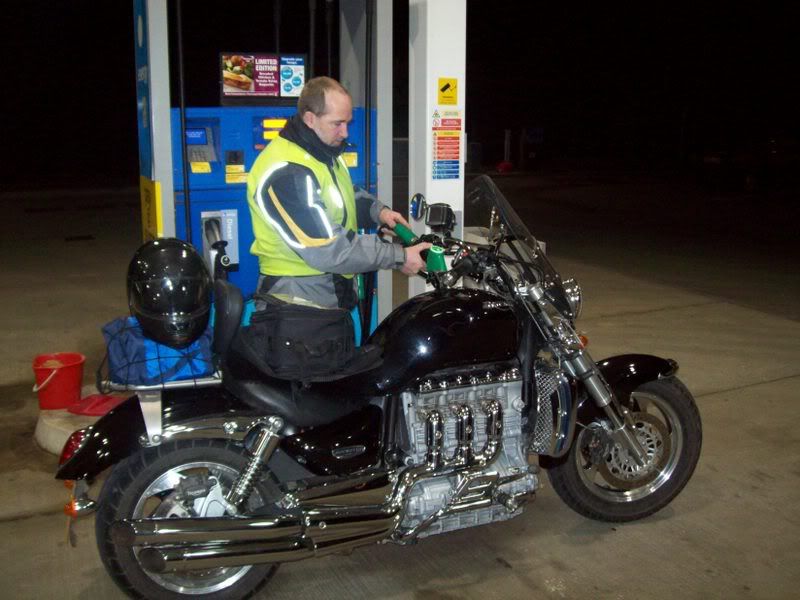 My start witness had signed the witness form and the first of ten till receipts confirmed the official start time for my 24 hour odyssey was 02:21 on the 29th Feb. Surprisingly the weather was good a star filled sky made for an enjoyable start to the day, as the map shows my route from Oxford took me North on M40 to Birmingham. Id given one of my sons a 4gb SDHC card to load with music albums for me, so I had no idea what id be lessoning too. I turned it on as I left the slip road the first song 'Highway to hell' If I only knew…..

Then the first problem of the trip, id planned to go north on M42 to meet the M6 but all the overheads were flashing 'road closed', So it was south on M42 north on M5 and back on course. The M6 at is nice and quiet only me and a million trucks so lane three was all mine…. The receipt for my 2nd scheduled stop at Keele services some 135 miles later was stamped . A trucker was laughing his head off as I past him still eating the pork pie id started at the pumps….One of my main planning concerns was to get around Manchester before rush hour this now, was not a problem. It was another 140 mile sprint up to stop #3, Southwaites just south of Carlisle, time . four hours to the minute from kick off. I also filled a 5ltr can and gave myself 5 minutes for a double espresso wile I checked that I was recording everything correctly. In the map pouch of the tank bag I have an air temperature thermometer and more importantly a 'idiot list' of how to record all the stuff.

A) CORRECT ADDRESS some services only use there head office address
b) DATE it's a leap year, do they have a 29th Feb up north?
C) TIME have they changed the clock back to GMT
D) ODOMETER to help the IBA to track my route
E) TEMP for my own information
F) MILES FROM LAST STOP again for my own info

It's the most important and yet easiest thing in the world to slip up on the paperwork, If that's wrong then I may as well of stayed in bed……

As I left the M6 and Carlisle behind I headed into Scotland on the A74(M). dawn was just breaking over my right shoulder, By a miracle of international planning I arrived a little tiered at the gates of Glasgow with every other commuter for miles…… a few miles of filtering and im awake again, I picked the northern route through Glasgow, M73 – M8 and out onto the old A82 past the Erskine bridge. The A82 will take me all the way to Inverness….. A few miles (relative) outside Glasgow is Loch Lomond. It was at some point along this Loch that it first started to rain. It would rain for the best part of the next 600 miles.

I arrived at Break #4 The Green Welly Stop Services, Tyndrum at and 156 miles from Southwaites looking a bit worse for ware and wet, very wet. I afforded myself another double espresso and a chat to the attendant. Off again up the A82 through the snow capped Black mount area and into Glencoe, It was about 20 miles south of Glencoe village that after rounding another corner that the wind coming down the valley tried its best to ditch me and the bike. The magnetic tank bag flew into the air, I just managed to pin it between my knee and elbow. That was a very big surprise and good practice for thing to come…… I had a forced stop in Onich as it was the furthest north west point of the trip and again proof was required that id been there, It was now 10:34 and only about 35 miles on. It took an hour to have a coffee and ride 35 miles Oops that's not good. A pump engineer from Inverness working on the pumps held my bike up right wile I filed it up, he couldn't believe I was doing this for fun, actually nor could I. I took the head stock strap from the tank bag off because if it decides to jump ship again and make its own way home im not going with it. He did have some good news; it wasn't as windy nearer to Inverness. He was right up past Fort William and Ben Nevis it calmed down a lot, still raining though onto Fort Augustus and Loch Ness. At one point I thought the sun may come out, but no.

My first non petrol stop in over 500 miles 10 minutes along side Loch Ness, for a rest and a bit to eat. (I can recommend crusty rolls in the rain, it just runs off instead of soaking in……).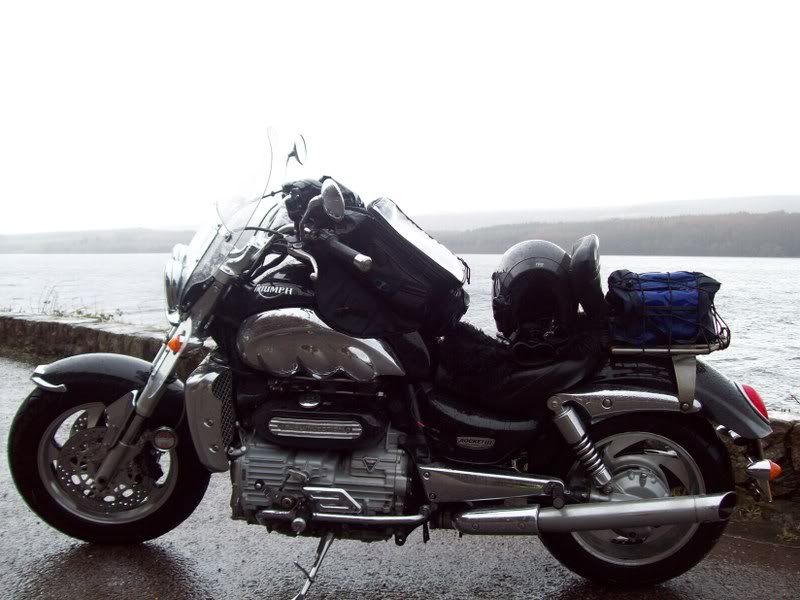 Destination Inverness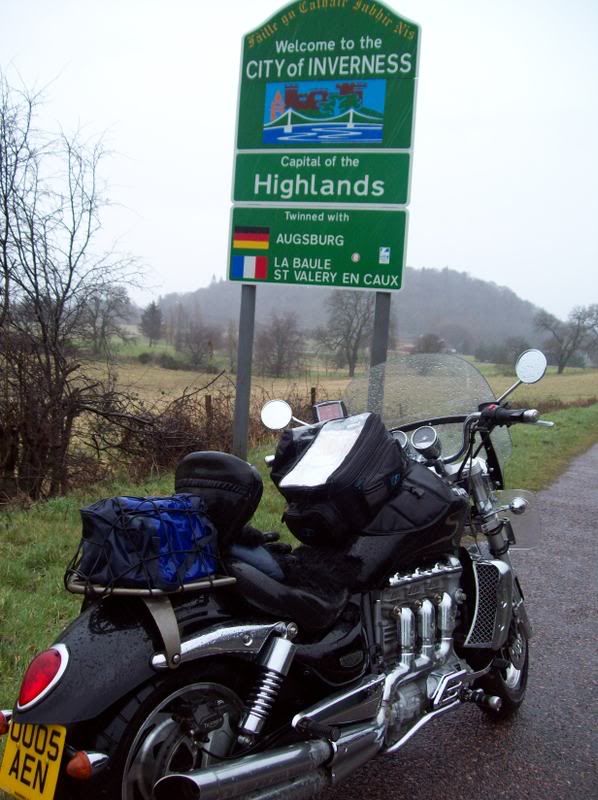 Stop #6 probably the most important was at Kessock service station Inverness time and 548 miles from the start and 506 miles from the proposed finish at the Northampton services on the M1. But as usual no time for hanging round in Inverness its all down hill now I take the A9 south through the Cairngorm mountains and on to Perth. Did I say it was raining……For only the second time on all my travels the water found its was into my boots. My gloves and thermal glove liners were so wet they acted as insulators for my hands my heated jacket was brilliant, I haven't mention my heated jacket have I, If it wasn't for that jacket I would still be in a motel someplace just north of Glasgow…..

Broxden services in Perth was #7, and 112 miles from Inverness. The over heads are saying 'forth road bridge closed to highsided vehicles' as I leave Perth and head for Edinburgh on the M90, the wind is picking up again the further south I get. By the time I get to junction one the bridge is now closed to motorcycles as well, im forced to make a 30-35 mile detour over the Kincardine bridge. Im now half way back to Glasgow so I stop and reconsider my options, do I now carry on and come down the M6 or go with my plan and head back along the M9 to Ebinburgh. As there wasn't a great deal of total mileage in it I went with my plan…..East on the M9 and M8 onto the A720 Edinburgh ring road and onto the old A1 coastal road to Berwick–upon-Tweed and my 8th stop at Lindisfarne service station.

The wind and rain was now getting serious between the Lammermuir hills and the coast, The first A1 road closure was at the small village of Haggerston immediately north of the services, It was 17:48 when I reached Lindisfarne services and another 140 miles under my belt, I wanted to call in on lindisfarne - Holy Island – but id lost too much time with the weather and diversions. It was a straight forward run south on the A1 to Newcastle, I also wanted to see the Angel of the north again but it was now dark so I mist it as I shot past Gateshead and onto the A1(M) and M1 heading for #9 Woolly Edge services south of Leeds in south Yorkshire.

It was now that the cracks started appearing, the wind and rain are both now travelling horizontally at some speed heading east presumably the front end of the Emma storm that hit mainland Europe on Sat morning. The spray being kicked up by the north bound traffic is as bad as the rain. Iv also been keeping an eye on the bikes Odometer to watch it click over 30,000 miles which it did somewhere north of York. The receipt says it was when I reached Woolly Edge and another 165 miles. Im now having to hog lane two, If the wind calms I drift into lane three and if it gives me an extra shove iv got lane one plus the hard shoulder to sort it out….. the motorway was closed for clearing damaged vehicles of the carriageway two more time before, I think it was Tibshelf services by Mansfield that I pulled into with only 30 miles left to go before I break the magic 1000 miles mark and wonder if I should call it a day, The 'Highway to hell' song came to mind. this problem was answered for me when I soon realised that the bike couldn't stand up by itself in the wind and there would have been bits of Rocket all over the carpark by morning…..So we headed for are final check point the Northampton services for my final receipt and to find a witness to sign me off, Time 22:54 and 114 miles. A total recorded mileage of 1079 in 20.5 hours. With an average moving speed of 60.9 mph. The trip home took the days takings up to 1135 miles n 22 hours.

enjoy.
Well thats my story and im stickin to it.......








__________________
Pete West IBA#35252



john coz


IBA Premier Member





Joined: 08 February 2009
Location: Zimbabwe
Online Status: Offline
Posts: 352
Posted: 17 February 2009 at 4:54am | IP Logged

---
Well done Pete, sounds like 1000+ hard miles, dont know which was harder, the miles or cleanin the steed when you got back, Respect.



__________________
ROCKET 3,N/LAND, IBA 40013
SS1000, RBLR1000, SS2000, E2EG.