Posted: 14 April 2009 at 5:29pm | IP Logged

---
It all started with a phone call last Friday morning Gerald called to find out what I had planned for the weekend, as I didnt have anything pre-planned, for a laugh I suggested that we could get the monkey of not having done an "Iron Butt" ride off our backs and do an "SS1000" ride over the weekend, I was hoping he would see the funny side of this and opt for one of our usual rides to the West Country or the South Coast, you can only imagine my horror when he said O.K. and told me to work on a couple of suitable routes for the ride. Well I was truly trapped now and agreed.
The first thing I needed to do was find out what the weather was likely to be in various parts of the country over the weekend, it seemed that Saturday was likely to be wet and windy in the morning almost everywhere and the best chance of a dry and settled day was going to be Sunday, so I set about planning a route.
I knew that in this country if your going to succeed with a ride like this using the motorways is a must, but Gerald and I hate using them as there's not enough bends to break up the monotony, so I thought that a good mix of M/ways and A roads would be the key to an enjoyable day. The first part of the ride unfortunately would have to be on the M/way, this was to enable us to make good progress and put time in the bank for later on in the day.
So it was at 02:00 on Sunday morning that we met at Tesco in Port Talbot, that turned out to be our first mistake as the petrol station is no longer 24 hr and although you can fill up at one of the automated pumps there was no one there to sign our witness forms, we decided to go anyway and see if we could find another place to start. luckily there was a petrol station on the end of town that was manned and we started from there at 02:10.
The start mileage on my odometer was 74900 miles. (not a very good picture but in the heat of the moment I forgot to check it at the time)
Our route consisted of M4, over the Severn Bridge and up the M5 /M6 to Carlisle then onto the A74M and on to Glasgow. The first part of the journey went very good and we made good time to Keele Services where we planned on filling up for the trek North through the Lake District, this is where things started to go wrong for me. After we left Keele a was overcome with the cold something that hadn't bothered me before the stop, I persevered until I realised we were going to have to stop for me to get some warmth and possibly a power nap as the night before I had managed to get about 1 hrs sleep before the adrenaline kicked in and kept me awake, I told Gerald over our radio link and we pulled into Charnock Richard services at around 06:00 I tried to drink a cup of hot coffee but has anyone tried to drink "Primo" coffee, I wouldn't even paint a fence with the stuff its vile. After stopping for 45 mins I felt a lot better and added an extra jumper under my jacket. During our stop the sun had come up and the whole atmosphere seemed to be better.
The ride through the Lake District was as usual dull and uneventful and we were glad to get it over with the Scottish border was crossed at approx 08:30 and the weather had turned out to be brilliant.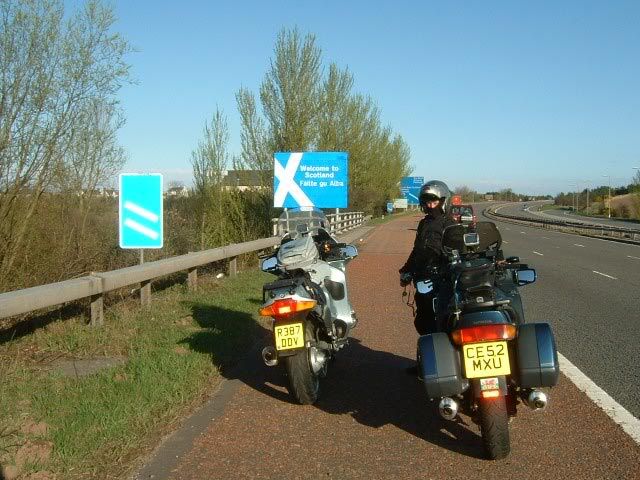 The next part of the trip revealed a fault with my bike that I will need to resolve before the Britt in May, for a couple of weeks now the petrol gauge has not been working properly, the warning light has been coming on when there appears to be half a tank left this hasn't worried me as I just filled up when the light came on regardless of how much petrol was actually in the tank as we approached Glasgow we thought it would be a good idea to fill up in the services at Hamilton so we wouldn't need to find a station in the city, at this point my warning light hadn't come on, as I pulled off the M/way and into the petrol station the engine started to cough and miss and as I pulled up at the pump it stopped all together, we had done 242miles since Keele services and my tank was dry !! (must get my fuel gauge sorted a.s.a.p.). After that scare the run through Glasgow and onto Perth was uneventful and we arrived at the Tesco store at 10:45 it had taken us 8 hrs 40 mins to do 495 miles at an average 56.5 mph (inc stops)
A good hearty fried breakfast was consumed and may I say enjoyed at the store and by 11:30 we were ready to start our return journey, such was our excitement at the trip ahead we forgot to take a picture of our turnaround point we hope that wont count against us when the final assessment of our ride is made Pete XXX.
Leaving Perth on the M90 we made good progress towards Edinburgh an crossed the Forth bridge in glorious sunshine, surely the weather couldn't hold up like this for much longer it stood to reason we were heading for the North East coast and I've never seen the North sea any other colour but grey and cold looking. How wrong I was as we traveled South from Edinburgh on the A1 the weather got even sunnier and warmer and it was under blue skies we crossed the border into England.
A nice cup of tea was drank as a celebration of the border crossing and we shared the moment with two coach loads of Japanese school girls who were returning from the Highland and Islands, not the best preparation to concentrate ones mind for the remainder of the journey but nice anyway !!
For some reason it felt as if we were almost home now even though we still had over 450 miles left, the mind plays some funny games at times but I suppose for every mile traveled from now we were in fact getting closer to home so maybe we were almost home !!
Our next stop was for fuel at the "Stanninton Service Station" just South of Morpeth on the A1 and it was such a nice spot we decided to take a break and rest on the grass verge and soak up some rays.
On the way South we passed the "Angel of the North" statue near Gateshead and as it has always been an ambition of mine to visit the site a stop for pictures was the order of the day.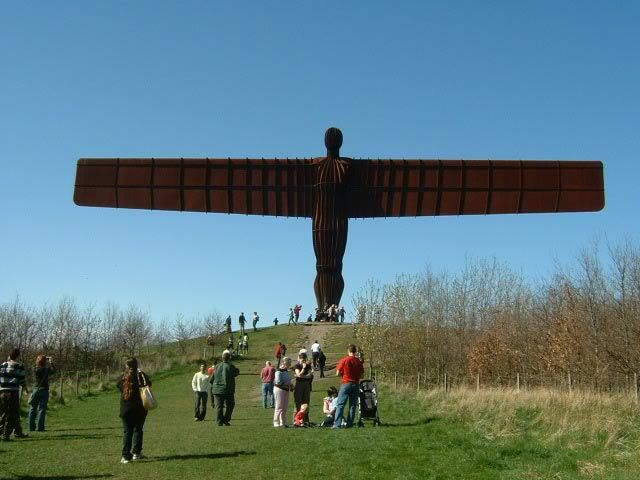 Note the sky all our (my) planning and research for the trip was proving well founded !!
We continued South at a good lick and passed Darlington and Leeds in quick order onto the M1 south of Leeds and on past Sheffield and Nottingham to Leicester and the M69 not wanting to finish our trip on M/ways it was decided to head around Coventry on the by-pass and head for Stratford Upon Avon and Tewkesbury via the A46 turning North up the M5 for 5 miles we then took the M50 to Ross and the A40 to Abergavenny we were on familiar ground now and could smell the chips in the oven at home, in order to maximise our mileage it was thought a turn onto the A465 "Heads of the Valley" road was better than a trip down to Newport and a finish along the M4 which would have meant Gerald passing within 100 yards of his front door which in my opinion would have been too cruel even for me

.
The final miles from Merthyr Tydfil to Port Talbot is a journey we had both done hundreds of times and was a gentle end to what was a brilliant day, a journey that had taken us 20hrs in time although we were only travelling for 14:49 hrs at an average speed of 69 mph with a max speed of #2 mph the sat nav had clocked 1011 miles and my odometer had clocked 1054 miles Gerald's odometer incidentally had only clocked 1017 miles I guess this is a result of him fitting new tyres on the Pan last Sunday whilst mine are in the last throws of life and will need changing before the "Britt"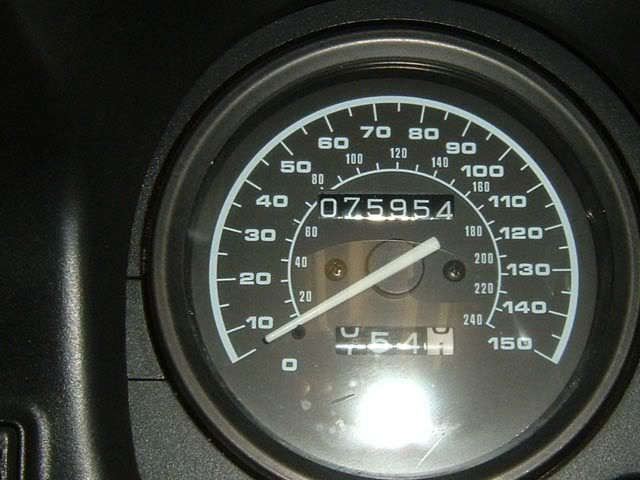 I hope you have enjoyed my account of our "SS1000" ride and I haven't bored you too much.

Thank you for reading and good night



Edited by The Colonel on 22 April 2009 at 1:26pm

__________________
K1200 GT
BBR2008(22 nd),BBR2009(4th), BBR2010(15th).
BBL 2009/10.
Every journey by car is time taken from your life, every journey by bike is an experience added.

Ken.T