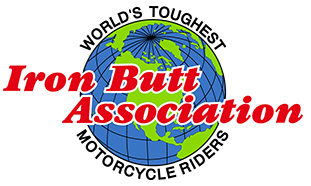 World's Toughest Ride Finishers
© 2022 Iron Butt Association, Chicago, Illinois

Please respect our intellectual property rights. Do not distribute this document, or portions therein, without the written permission of the Iron Butt Association.
Are you looking for your ride? Most browsers press Edit/Search from the tool bar or Press the CONTROL key and while holding it down the F key on your browser to bring up the FIND window and search away!
Jump to Major Sections in finishers list:
---




Life Time Acheivement Award (documented 1,000,000 miles on ONE motorcycle!):

Name              State    Years      Year    Motorcycle             Mileage

Dave Zien         WI        19        2009    1991 H-D FXRT          1,005,830

  


---



Million Mile Riders (documented 1,000,000 miles plus!):

Name              State    Years      Year    Motorcycle             Mileage

Kith Burkingstock GA      1976-2022   2021    H-D, Suzuki and Yamaha 1,185,101
Dave McQueeney    CA      1974-2021   1997    BMWs                   2,083,321
    * * * reached 1,000,000 miles in 1997 - reached 2,000,000 in 2017 * * * 
Blaine Paulus Jr          1970-2021   2012    BMWs                   1,577,769
Phil Steiner      OH      1991-2014   2013    Hondas 500,000 one GW  1,100,000+
Ron Ayres         TX      1987-2014   2014    BMWs                   1,100,782
Joseph Mandeville CA     1970-2013    2012    BMWs                   1,002,501
Bill & Sharon PoerIN     1973-2013    2013    Honda (entirely)       1,006,000
Heidi Still       AZ     1976-2011    2011    BMW, Honda, Suzuki     1,015,000
Ardys Kellerman   TX         -2011    2011    BMW                    1,002,000
Voni Glaves       TX         -2018    2011    BMW                    1,103,000
Daniel Stephans   WI     1963-2011    2004    H-D                    2,787,437
Dave Zien         WI     1962-2011    2011    H-D (entirely)         2,388,477
Frank Boorn       GA     1993-2021    2011    H-D                    1,300,000
Michael LaDue     WA     1970-2018    2010    Honda, BMW, H-D        2,020,020 - reached 1,000,000 05/30/1998
Robert Higdon     FL     1973-2020    2008    BMWs                   1,320,192 - reached 1,000,000 09/08/2008
Fran Crane        CA     1970-1999    1995    BMWs                   1,045,000
Roy Eastwood      ON     1952-2010    2010    BMW (all miles)        1,150,000
Dave Swisher      VA     1973-2015    2008    BMW (all miles)        1,702,012 84 years young!*
David Mishalof    CA     1982-2015    2008    BMW, Honda, H-D        1,077,903
Lyle Grimes      LA            -2009          BMWs                   1,000,000+




---



100K Club (100,000 miles or more in a year):

Name              State          Year    Motorcycle             Certified Mileage

Carl KSolo Harris North Carolina 2021    H-D Road Glide Special 106,359  GOLD 

Anthony Osborne   Florida        2019    Yamaha FJR1300(s)      112,245  GOLD 

Carl KSolo Harris North Carolina 2019    H-D Road Glide(s)      101,474 

E.B. Andresen     Georgia        2017    H-D CVO Road Glide     102,667  GOLD

John Doughty      Washington     2017    Honda Gold Wing        104,512  GOLD

Dave Zien         Wisconsin      2010    H-D Road Glide         141,757  GOLD

Jack Shoalmire    Oklahoma       2009    BMW R1200RT            104,750  GOLD
     * * * 91,234 of the 104,750 where certified IBA rides! * * *

Gary Johnson      New York       2008    Honda GL1800           102,101  GOLD

Robert Higdon     FLORIDA        2007    BMW K75                106,458  GOLD
           * * * Robert is 68 years young on this ride! * * *

Ardys Kellerman   TEXAS          2007    BMW R1150RT            103,345  GOLD
Richard Buber     FLORIDA        2005    Honda Gold Wing        114,789  GOLD

Dave Zien         WISCONSIN      2004    H-D FXRT               104,678  GOLD

Jack Dodds        FLORIDA        2004    H-D Ultra Classic      108,831  GOLD
           * * * Jack is 73 years young on this ride! * * *

Michael LaDue     Seattle, WA    2003    Honda Gold Wign        107,781  GOLD

Verne Hauck       MillersvillePA 2002    H-D FLTRI Road Glide   113,245
Don Arthur        McLean, VA     2002    BMW K1200LT            115,046   GOLD
Phil Mattson      Creston, IA    2002    H-D FLHTCI             125,123 

Phil Mann         Michigan       1994    BMW K1100RS            115,203   GOLD
      * * * 113,205 miles in SIX months * * * 
      
Joe Mandeville    California     1993    BMW K1100RS            122,976   GOLD
      * * * 102,976 miles in SIX months * * * 

Michael Kneebone  Illinois       1984    Yamaha Venture Royale  107,501   GOLD



---



100 DAY INSANITY... (100 days - 100,000+ Miles)

Name              State          Date    Motorcycle       Mileage/Days

Chris Hopper      TX             11/04/2021 H-D Road Glide  100,263/100




---



45/45 Challenge... (45 days - 45,000+ Miles)

Name              State          Date    Motorcycle       Mileage/Days

Matt Wise         Rowlett TX     2018    BMW R1200GSA     45,425/45




---



40/40 Challenge... (40 days - 40,000+ Miles)

Name              State          Date    Motorcycle       Mileage/Days

Steve Diederich   Cost Mesa, CA  04/18   Honda Gold Wing  40,115/40




---



The Longest Month... (30 or 31 days - 30,000+ Miles)

Name              State          Date    Motorcycle       Mileage/Days

Anthony Osborne   FL             07/19    Yamaha FJR      32,557

Senator Dave Zien Eau Claire, WI 07/05   H-D FXRT         31,068  31

Michael LaDue     Seattle, WA    05/03   Honda GL1800     30,681  30

Phil Mattson      Creston, IA    07/01   H-D FLHTCI       30,603  30

Bill Newton       California     09/99   Honda ST1100     30,279  30




---



20/20 Insanity - 20 days - 20,000 Miles

Name              State          Date    Motorcycle       Mileage/Days

Peter Sutherland  Kirkland, WA   02/02   H-D Ultra        20,405  20



---



Trans Americas Challenge Triple Insanity 

Ushuaia, Argentina to Prudhoe Bay, Alaska to Ushuaia, Argentina to Prudhoe Bay, Alaska!

Name              Home Town             Date      Motorcycle          Mileage/Days

Nick Sanders      Wales, UK             07/11     Yamaha Super Tenere 50,781/49D-19H-39M




---



Trans Americas Challenge (Prudhoe Bay, Alaska to Ushuaia, Argentina - Round Trip)

Name              Home Town               Date    Motorcycle          Mileage/Days

Nick Sanders      Wales, UK               07/11   Yamaha Super Tenere 29,804/46D-5H-2M

Tom Sayer         Pequot Lakes, MN        01/06   Suzuki V-Strom      30,912/122




---


Trans Americas (Prudhoe Bay, Alaska to Ushuaia, Argentina)

Name              Home Town               Date    Motorcycle          Mileage/Days

Gabriel Carrera   FLORIDA               05/07/19  H-D Road King       20,108 54-D

Renato E. Marquez Newbury Park, CA      04/01/16  BMW GSA             16,724 58-D

Gabriel Carrera   FLORIDA               05/07/15  H-D Road King       17,987 70-D

Jonathan Baker    UK                    07/31/12  BMW R1200GS-ADV     16,815 89-D

Dick Fish         Cardston, AB CANADA   09/21/06  BMW R1150GS         14,423 21-D 2-H 8-M

Kevin Sanders     Cambridge, ENGLAND    08/18/03  BMW R1150GS         34-D 23-H 21-M
Julia Sanders (passenger)               08/18/03  BMW R1150GS         34-D 23-H 21-M
 




---


Ultimate North America Insanity GOLD (Prudhoe Bay, Alaska > Inuvik, Yukon Terrorities >
   Goose Bay, Labrador > Key West, Florida > Cabo San Lucas, Mexico > Paradox, Colorado)

Name              State               Date    Motorcycle              Mileage/Days

Jeff Lee          TAIWAN!            06/2008  BMW R1200GS             23,805  69
(mileage was home to home - (Jeff also went to Inuvik, Yukon Terrorities, 
 as well as other extreme points along the coasts of Mexico, Canada and the US)



---


Ultimate North America Insanity (Prudhoe Bay, Alaska > Goose Bay, Labrador >
   Key West, Florida > Cabo San Lucas, Mexico > Paradox, Colorado)
   the Jim Young Memorial Ride

Name              State               Date    Motorcycle              Mileage/Days

Tom Greenauer     Orchard Park, NY   06/2006  BMW R1200GS             16,547  19.5
Robert Schlossin  Alden, NY          06/2006                          16,547  19.5

Dick Fish         Manitoba, Canada   07/2003  BMW R1150GS             17,185  17.5




---


Ultimate Circumnavigation of North America Insanity (Prudhoe Bay, Alaska > Inuvik, NWT >
  Goose Bay, Labrador > Key West, Florida >  Brownsville, Texas > San Diego, California

Name              State               Date    Motorcycle              Mileage/Days

Tim Yow           IL                  06/11   Kawasaki KLR650         23,000 - 47



---


Circumnavigation of North America Insanity (Prudhoe Bay, Alaska > Goose Bay, Labrador >
   Key West, Florida > San Diego, California

Name              State               Date    Motorcycle       Mileage/Days

Tim Yow           IL                  07/09   Kawasaki KLR650  16,890/39




---


The Five Coasts of North America Insanity (Key West, Florida > San Diego, California > 
   Anchorage, Alaska > > Goose Bay, Labrador >  Key West, Florida)

Name              State               Date    Motorcycle              Mileage/Days

Tim Yow           IL                  07/09   Kawasaki KLR650         13,879/36




---


Iron Butt Rally finishers

Link to Iron Butt Rally finishers



---


Bun Burner GOLD Deca Finishers (10 sequential 1,500 plus mile days!):
           * * * must complete two BBG Trifectas first * * *

Name              State          Date    Motorcycle                   Mileage/Days

Daniel Simmonds   East Berlin,PA 08/16   Yamaha Super Tenere          15,094




---


SaddleSore 12,000 (12 days - 12,000 Miles)

Name              State          Date    Motorcycle                   Mileage/Days

David Uhl         COLORADO       08/21   H-D Road Glide Limited       13,467  12

Kevin Baker       ONTARIO        08/21   Honda Gold Wing GL1800       12,475  12

Shareef AsSadiq   TEXAS          05/21   Indian Challenger            12,200  12

Karl Pirchmoser   NSW, AUSTRALIA 03/16   Kawasaki GTR1400             12,231  12

Ronald Stazuk     IL             07/08   Suzuki V-Strom               12,300  12



---


SaddleSore 18,000K Finishers aka 11,000 miles in 12 days:

Name              Hometown              Date      Motorcycle                   Kilomters

Karl Pirchmoser   Australia             03/16     Kawasaki GTR1400             18,405




---


SaddleSore 16,000K Finishers aka 10,000 miles in 10 days:

Name              Hometown              Date      Motorcycle                   Kilometers

David Armytage    AUSTRALIA             03/16     Honda ST1300                 16,384


SaddleSore 11,000 (11 days - 11,000 Miles)

Name              State          Date      Motorcycle                   Mileage/Days

2021 Iron Butt Rally
Gold Medal Finishers
Mike Brooke      CA              06/21/21  Suzuki Hayabusa              13,906/11
Ben Ernst        TX              06/21/21  BMW R1250GSA ('20)           13,184/11
Mike Heitkamp    MN              06/21/21  BMW R1200GSA ('15)           12,395/11
Steve Giffin     PA              06/21/21  Yamaha FJR1300 ('05)         13,114/11
James Owen       PA              06/21/21  BMW R1200RT ('18)            13,617/11
Wendy Crockett   SD              06/21/21  Yamaha FJR1300 ('05)         13,510/11
Eric Bray        VA              06/21/21  BMW R1200GSA ('15)           12,275/11
Steve Gallant    MA              06/21/21  Honda ST1300 ('12)           12,405/11
Bob Lilley       PA              06/21/21  BMW R1200GSA ('16)           12,341/11
Ken Aman         NY              06/21/21  Yamaha FJR1300 ('16)         13,385/11
James Epley      VA              06/21/21  Triumph Trophy SE ('16)      11,573/11
Kirsten Talken-Spaulding         06/21/21  BMW R1200RT ('15)            12,524/11
Silver Medal Finishers                      
Justin Long      WA              06/21/21  Honda GL1800 ('18)           11,615/11
Kenneth Andrews  AR              06/21/21  H-D Road Glide ('20)         11,553/11
Scott Madson     MN              06/21/21  BMW R1200GSA ('18)           11,385/11
Mike Best        UT              06/21/21  Honda GL1800 ('18)           11,525/11
Ryan Rahjes      CO              06/21/21  Honda GL1800 ('16)           11,217/11
Marc Beaulac     AZ              06/21/21  Honda GL1800 ('19)           11,736/11
Andy Hall        LA              06/21/21  Honda GL1800 ('13)           11,154/11
Jon Kerr         UT              06/21/21  Honda GL1800 ('18)           11,115/11
Lew Ballard      IA              06/21/21  H-D Ultra Limited ('20)      11,046/11
Chris Hopper     TX              06/21/21  H-D Road Glide ('20)         12,033/11
Bronze Medal Finishers
David Uhl        CO              06/21/21  H-D Road Glide Limited ('21) 11,920/11
Bucky Dent       VA              06/21/21  Yamaha FJR1300 ('15)         11,427/11
Eric Buskell     FL              06/21/21  H-D Fat Bob ('09)            11,140/11
James / Bobbie Jackson   TX      06/21/21  Honda GL1800 ('13)           11,064/11
Marc Bialt       NY              06/21/21  BMW F850GS ('21)             11,595/11

Finishers
Gary Huff        CO              06/21/21  BMW R1250RT ('20)            11,167/11
Jim Saul         NM              06/21/21  Yamaha Super Tenere ('12)    11,948/11

2017 Iron Butt Rally
Jim Owen                         06/17   BMW R1200RT             12,885                      
Bob Lilley                       06/17   BMW R1200GSA            13,124                      
Ken Meese                        06/17   BMW K1300GT             11,826                        
Paul Tong                        06/17   Honda GL1800            11,533
Peter Green (pillion)            06/17   Honda GL1800            11,533                      
Erik Lipps                       06/17   Yamaha FJR1300          12,307   
Wendy Crockett                   06/17   Yamaha FJR1300          13,083                     
Ken Aman                         06/17   Yamaha FJR1300          11,492                  
Mike Heitkamp                    06/17   BMW R1200GSA            11,088        
William Connacher                06/17   BMW R1200GSA            11,871                        
Eric Bray                        06/17   BMW R1200GSA            11,446                    
Craig Brooks                     06/17   BMW R1200GS             11,623  
Mark Crane                       06/17   BMW R1200GSA            11,568  
Scott Madson                     06/17   BMW R1200RT             10,974  
Brian Walters                    06/17   Yamaha FJR1300          11,494   
Michiel Kerkhof                  06/17   H-D Ultra Classic       11,575        
Paul Slaton                      06/17   Honda GL1800            11,428                         
Mike Myren                       06/17   Yamaha FJR1300          11,250                   
Michael Turnpenny                06/17   Yamaha FJR1300          11,397  



---


10/10ths Awards (10 days - 10,000 Miles)

Name              State          Date    Motorcycle              Mileage/Days

Anthony Osborne   FL             07/21   Yamaha FJR1300          11,591  10
         * * * This is Anthony's 14th 10/10ths - a record! * * *

David M Uhl       CO             06/21   H-D Road Glide Limited  10,280  10

Mark Campbell     MS             06/21   BMW R1250GSA            10,016  10

Harry Knerr       PA             10/20   H-D Road Glide          10,453  10 PA-10,000!

KSolo Harris      Raleigh, NC    08/20   H-D Road Glide Special  10,011  10

KSolo Harris      Raleigh, NC    06/20   H-D Road Glide Special  11,557  10

Anthony Osborne   FL             07/19   Yamaha FJR1300          10,577  10
   * * * This is Anthony's 13th 10/10ths - a record! * * *
   
Jesse Alexander   TX             06/19   H-D Ultra Limited       10,526  10

Anthony Osborne   FL             09/18   Yamaha FJR1300          10,792  10
   * * * This is Anthony's 12th 10/10ths - a record! * * *
 
Jeff Hallquist    NC             06/18   H-D Road Glide          10,373  10

Andrew Nymeyer    NC             05/18   H-D Fat Bob FXDF        10,021  10

Anthony Osborne   FL             07/17   Yamaha FJR1300          10,603   7
   * * * This is Anthony's 11th 10/10ths - a record! * * *

Charley Barnes    CO             06/17   H-D Ultra Limited       10,110  10

Jim Saul          FL             05/17   Yamaha FJR1300          10,006  10

Anthony Osborne   FL             09/16   Yamaha FJR              11,256  10
Tom Atkinson      TX             09/16   Honda GL1800            10,123  10

David Armytage    AUSTRALIA      03/16   Honda ST1300            10,063  10
Karl Pirchmoser   NSW, AUSTRALIA 03/16   Kawasaki GTR1400        10,063  10

Steve Diederich   CA             03/16   Honda Gold Wing         11,815  10

Steve Stubbs      SC             09/15   Yamaha FJR              10,096  10

2015 Iron Butt Rally
Eric Jewell                      07/15   Honda ST1300            11,087  11
Joshua Mountain                  07/15   Yamaha FJR1300AE        11,986  11
Erik Lipps                       07/15   Yamaha FJR1300          11,121  11
Jim Owen                         07/15   BMW R1200RT             11,563  11
Craig Brooks                     07/15   BMW R1200GS             10,842  10.75
Bob Lilley                       07/15   BMW R1200GS ADV         11,725  11
Kirsten Talken-Spaulding         07/15   BMW R1200RT             11,805  11
Will Barclay                     07/15   H-D Ultra Classic       12,900  11
Greg Rice                        07/15   Honda Gold Wing         12,278  11
Tonie Cowen                      07/15   Yamaha Super Tenere     11,192  11
Anthony Osborne                  07/15   Yamaha FJR1300          11,407  11

Brian Tevlin      OK             06/15   H-D CVO Ultra Classic   10,700  10
Anthony Osborne   FL             05/15   Yamaha FJR              11,020  10

Anthony Osborne   FL             09/14   Yamaha FJR1300          10,770  10

Garry Springgay   AZ             09/13   Honda ST1300            10,162  10

Karl Pirchmoser   NSW, AUSTRALIA 08/13   Kawasaki GTR1400        10,240  10

Anthony Osborne   FL             08/13   Yamaha FJR1300          10,610  10

2013 Iron Butt Rally
Bob Lilley                       07/13  BMW R1200GS              13,380  11
Josh Mountain                    07/13  Yamaha FJR1300A          12,963  11
Derek Dickson                    07/13  Yamaha FJR1300           11,799  11
Matt Watkins                     07/13  Yamaha FJR1300           11,621  11
John Coons                       07/13  BMW R1100RSL             11,594  11
Scott Thornton                   07/13  Yamaha XS1100            11,397  11
Wendy Crockett                   07/13  Yamaha FJR1300           11,363  11
Alexander Schmitt                07/13  Honda ST1100             11,275  11
Eric Bray                        07/13  BMW R1200GS              11,166  11
Greg Rice                        07/13  Honda Gold Wing          11,083  11
Jim Abbott                       07/13  Honda ST1300             11,080  11
Tim Pawlowski                    07/13  Yamaha FJR1300A          11,065  11

Tim Masterson     TX             05/13   BMW R1200GSA            10,230  10 TX-10,000!
    * * * A special 10 days - 10,000 mile ride all inside Texas! * * * 

Anthony Osborne   FL             08/12   Yamaha FJR1300          11,369  10

Lee H. DeLeonard  NM             06/12   Honda Gold Wing         10,021  10
Anthony Osborne   FL             06/12   Yamaha FJR1300          11,070  10

Gregg Lenentine   VA             05/12   Yamaha FJR              10,011  10
Kevin B. Sawatsky TX             05/12   Yamaha FJR1300          10,418  10

Margaret Peart    AUSTRALIA      11/11   BMW R1200GS             10,136  10 AUSTRALIA RIDE!
Michiel Kerkhof   BELGIUM        11/11   Yamaha S10              10,105  10 AUSTRALIA RIDE!

Anthony Osborne   FL             09/11   Yamaha FJR              10,582   9
Anthony Osborne   FL             07/11   Yamaha FJR              10,340  10

Dan Leffert       CO             06/11   H-D UltraLimited        10,261  10

2011 Iron Butt Rally
Jim Frens                        06/11   Honda Gold Wing         14,185  11
Curt Gran         WI             06/11   Honda ST1300            13,857  11
Ken Meese                        06/11   BMW                     13,672  11
Peter Behm        MN             06/11   Yamaha FJR1300          13,544  11
Brian Johnson                    06/11   BMW K1200LT             13,198  11
Roger Sinclair                   06/11   BMW R1150GS-ADV         13,195  11
Mark Crane                       06/11   BMW R1200GS             13,170  11
Eric Jewell                      06/11   Honda ST 1300           13,162  11
Kirsten Talken-Spaulding         06/11   BMW R1200RT             13,110  11
Tom Loftus                       06/11   Honda ST1300            13,092  11
Tom & Rosie Sperry               06/11   Honda Gold Wing         12,955  11
Dick Peek                        06/11   Yamaha FJR1300          12,782  11
Corey Nuehring                   06/11   Yamaha FJR1300          12,482  11
Wendy Crockett                   06/11   Yamaha FJR1300          12,336  11
Tim Masterson                    06/11   BMW R1200GS-ADV         12,096  11
John Harrison                    06/11   Honda ST1300            12,034  11
Patrick Clark                    06/11   Yamaha Road Star        11,864  11
Daniel Roth                      06/11   BMW R1200GS             11,701  11
Andy Mackey                      06/11   BMW R1200GS-ADV         11,696  11
Bill Wade                        06/11   BMW R1200GS-ADV         11,616  11
Peter Delean                     06/11   Yamaha FJR1300          11,608  11
Michael/Betty Ligons             06/11   Honda Gold Wing         11,591  11
Perry Karsten                    06/11   Yamaha FJR1300          11,496  11
Jennyfer Audet                   06/11   Honda CBR1100XX         11,481  11
Jacques Titolo                   06/11   Kawasaki XZ12R          11,405  11
Brant Moteelall                  06/11   Yamaha FJR1300          11,341  11
W Boyter                         06/11   BMW R1200RT             11,335  11
Michael Boge                     06/11   Honda ST1300            11,324  11
Philip Weston                    06/11   Yamaha FZ1              11,285  11
Greg Guillermo                   06/11   Yamaha FJR1300          11,266  11
Shuey Wolfe                      06/11   Honda ST1300            11,177  11
Art Garvin                       06/11   Honda Gold Wing         11,105  11
Chris Sakala                     06/11   BMW R1200RT             11,050  11

MERA Ten 'n Ten Rally
Ken Morton        WA             08/10   Suzuki V-Strom          10,505  10
Jeff Powell       TN             08/10   Honda ST1300            10,285  10
Wendy Crockett    CA             08/10   Yamaha FJR1300          10,245  10
Doug Tebbs        UT             08/10   BMW R1200RT             10,153  10
Eric Vaillancourt UT             08/10   Yamaha FJR1300          10,352  10

Tim Chounard      NV            10/10/10 H-D Road Glide          10,101  10
Harry Knerr       PA             10/10   H-D Road Glide          10,439  10
Rick Snyder       PA             06/10   BMW R1100GS             10,363  10
Scott Gottschalk  MN             07/10   H-D Ultra Classic       10,382  10
Anthony Osborne   FL             05/10   Yamaha FJR              10,935  10

10/10ths Florida Gold Hell Week
Richard Buber     FL             03/10   various                 11,156  10
#1  Honda ST1100--Kevin Lechner,IBA#378
#2  BMW R1200RT -- Ray King IBA#31105 
#3  2000 BMW R1200C -- Ray King IBA#31105 
#4  2001 BMW R1200C--Joe Van Arsdall IBA#31101
#5  BMW R1200GS-ADV, Joe Van Arsdall IBA#31101
#6  Honda GL1500--Don Kime IBA#25482
#7  BMW R1200GS, Randy Stallins IBA#33386
#8  Triumph Tiger--Richard Buber IBA#347
#9  BMW R1150RT -Richard Buber IBA#347
#10 Honda Old Wing --  Richard Buber IBA#347

Curt Gran         WI             08/09   Honda ST1300A    10,606  10

Rufus A. Maxfield TX             06/09   BMW K1200LT      10,574  10
             * * * Rufus is 66 years young on this ride! * * *

2009 Iron Butt Rally
Jim Owen                         08/09   BMW R1200RT      12,706  11
Chuck Gittner                    08/09   BMW K1200LT      12,669  11
Matt Watkins                     08/09   Yamaha FJR1300   12,502  11
Roger Sinclair                   08/09   Kawasaki Concours12,365  11
Bob Lilley                       08/09   BMW K1200LT      12,268  11
Chris Sakala                     08/09   BMW R1200RT      12,238  11
Jeff Earls                       08/09   BMW K1200GT      12,153  11
Andy Kirby                       08/09   Honda ST1300     12,135  11
Eric Jewell                      08/09   Honda ST1300     12,090  11
Kevin Lechner                    08/09   Honda ST1300     12,001  11
Greg Marbach                     08/09   Yamaha FJR1300   11,931  11
Peter Behm                       08/09   Yamaha FJR1300   11,891  11
Michael Evans                    08/09   Yamaha FJR1300   11,535  11
Jim Frens                        08/09   Honda Gold Wing  11,514  11
Mike Hutsal                      08/09   Honda ST1300     11,321  11
Rick Miller                      08/09   Honda Gold Wing  11,388  11
Ken Meese                        08/09   BMW K1200GT      11,047  11
Andy Mills                       08/09   Victory Vision   11,410  11
Dick Peek                        08/09   Yamaha FJR1300   11,401  11
Richard Buber                    08/09   BMW R1150RT      11,401  11
Mark Crane                       08/09   BMW R1200GS      11,378  11
John Langan                      08/09   Honda Gold Wing  11,201  11
Nancy Oswald                     08/09   BMW R1200GS      11,005  11
George Barnes                    08/09   BMW K1200LT      11,146  11
Greg Rice                        08/09   Honda Gold Wing  10,079  10
David W. Nelson    MN            08/09   Honda Gold Wing  10,033  10
         * * * David is 68 years young! * * * 

Steve Short       Fairgrove, MO  03/09   Honda Gold Wing  10,129  10
Dolor D. da Silva CA             10/08   Honda Valkyrie   10,363  10

Ronald Stazuk     IL             07/08   Suzuki V-Strom   10,098  10
John M. Stanforth OH             06/08   BMW R1150RT      10,058  10

Carl Stark        WY             06/08   Honda GL1800     10,456  10
* Carl completed 10 consectutive in-state SaddleSores in 10 days! *
      * * * WY, MT, ND, SD, NE, CO, NM, AZ, NV and ID! * * *

Jack Shoalmire    OK             04/08   BMW R1200RT      10,419  10

Jim Frens                        08/07   Honda GL1800     12,658  11
Martin Leir                      08/07   BMW R1200GSA     12,460  11
Jim Owen                         08/07   BMW R1200RT      11,137  11
Brett Donahue                    08/07   H-D XLH1200R     11,283  11
Jeff Earls                       08/07   BMW K1200GT      11,059  11
Curt Gran                        08/07   Honda ST1300     11,090  11
Jim Simonet                      08/07   BMW K1200LT      11,002  11
Eric Jewell                      08/07   BMW R1150RT      10,101  10
Michael Evans                    08/07   Yamaha FJR1300   10,172  10
Peter Leap                       08/07   Honda ST1300     10,124  10
John Tomasovitch                 08/07   BMW K1200RS      10,088  10
Dale Wilson                      07/07   Honda CBR1100XX  10,636  10

Mickey W. Mantel                 06/07   BMW R1200RT      10,790  10
Guy S. Pierce     High Point NC  06/07   BMW K1200LT      10,790  10
Brad Ward                        06/07                    10,790  10

John D. Jordan     WA            05/06   BMW R1150GS-ADV  10,201  10

2005 Iron Butt Rally
Shane Smith                      08/05   Honda ST1300     13,277  11
Chris Sakala                     08/05   BMW R1150GS-ADV  12,279  11
Jeff Earls                       08/05   BMW R1150GS      11,137  11 
Mark Kiecker                     08/05   Honda VFR800     13,354  11
Jack Savage                      08/05   BMW R1150GS      11,016  11
Marty Leir                       08/05   BMW R1150GS      13,256  11
John Ryan                        08/05   BMW K75          12,573  11
Eric Jewell                      08/05   BMW R1150RT      12,081  11
Eddie James                      08/05   BMW K1100RS      11,066  11
Peter Hoogeveen                  08/05   Yamaha FJR1300   12,065  11
Jim & Donna Phillips             08/05   Honda GL1800     12,731  11
Allen Dye                        08/05   BMW R1150RT      12,463  11
Tom Loftus                       08/05   Honda GL1800     12,079  11 
Brian Boberick                   08/05   BMW K1200LT      11,465  11
Tim Conway                       08/05   BMW R1150GS      12,224  11
Terry Pipes                      08/05   Honda GL1800     12,483  11
Vicki Johnston                   08/05   BMW R1200GS      11,527  11
Bob Wooldridge                   08/05   BMW R1150GS      11,215  11
Dean Tanji                       08/05   Yamaha FJR1300   11,346  11
Harry Kaplan                     08/05   Yamaha FJR1300   12,193  11
Keith Keating                    08/05   BMW R1150R       11,169  11
Ed Phelps                        08/05   BMW K1100LT      11,483  11
George Zelenz                    08/05   Yamaha FJR1300   10,997  11
John Ferber                      08/05   Yamaha FJR1300   12,142  11
Geoffrey Greene                  08/05   BMW R1100RS      12,494  11
Morris Kruemcke                  08/05   Honda GL1800     12,413  11
Tom & Rosie Sperry               08/05   BMW R1150GS      11,450  11
Rick Martin                      08/05   Yamaha FJR1300   11,303  11
George Barnes                    08/05   BMW K1200LT      12,950  11
Al Holtsberry                    08/05   BMW R100/7       11,732  11
Mac MacFarlane                   08/05   BMW R1150GSA     11,651  11
Doug Chapman                     08/05   Yamaha FJR1300   11,831  11
Mike Berlien                     08/05   Honda ST1300     11,703  11
Heidi Still                      08/05   BMW R1150RT-P    11,176  11
Rick Mayer                       08/05   BMW R1150RT      11,015  11
Bob Still                        08/05   BMW R1150GS      11,123  11
Brett Donahue                    08/05   H-D  12,525  11

Charles Hyde      NC             07/05   Honda GL1800     10,282  10

Michael Ledbetter Pendelton, OR  05/05   Yamaha Venture   10,195  10

Tom Sperry        CA             05/05   BMW R1150GS      10,340  10
Rosie Sperry (passenger)         05/05   BMW R1150GS      10,340  10
Richard Buber     Cocoa, FL      04/05   Honda Gold Wing  10,559  10
Rick Neeley       TX             08/04   Honda GL1800     10,231  10
Doug Bailey       IN             07/04   Triumph Sprint   10,227  10
Tom Loegering     CA             05/04   BMW K1200LT      10,020  10

Paul Taylor       VA             08/03   BMW R1150GS      11,451  11
Mark Kiecker      IL             08/03   Honda VFR 800    12,418  11
Marty Leir        MN             08/03   BMW R1150GS      12,411  11
Will Outlaw       MN             08/03   BMW R1100GS      11,714  11
Peter Hoogeveen   CANADA         08/03   Yamaha FJR1300   11,493  11
John O'Keefe      OR             08/03   BMW R1150GS      11,879  11
Eric Jewell       CA             08/03   BMW R1150RT      11,099  11
Todd Witte        PA             08/03   Yamaha FJR1300   11,114  11
Paul Pelland      NH             08/03   BMW R1100RT      11,864  11
Leon Begeman      VA             08/03   Kawasaki EX250!! 11,186  11
Scott Davis       MD             08/03   BMW R1150GS      11,211  11
Leonard Roy       MD             08/03   Honda GL1800     11,012  11
Dean Tanji        CA             08/03   Yamaha FJR1300   11,243  11
Jeff Fisher       NV             08/03   BMW K1100LT      11,563  11
Tim Conway        MN             08/03   BMW R1150GS      11,129  11
Rick Williams     IL             08/03   Honda GL1800     11,168  11
Mike Hutsal       CANADA         08/03   BMW R1150GS      11,941  11
Harold Brooks     VA             08/03   Honda GL1800     11,154  11
Glenn Pancoast    MI             08/03   BMW K1200LT      11,252  11
Richard Hestlow   CA             08/03   H-D Ultra Classic11,214  11
Jim Owen          PA             08/03   BMW R1150RT      11,574  11
Jeff Earls        OR             08/03   BMW R1150GS      11,220  11

Dick Fish         CANADA         07/03   BMW R1150GS      10,076  10
David Shealey     Jamul, CA      05/03   BMW K1200LT      10,249  10
Michael LaDue     Pasco, WA      03/03   Honda Gold Wing  10,805  10

Don Arthur        VA             05/02   BMW K1200LT      10,459   9
Paul Meredith     CA             06/02   BMW K1200LT      10,430  10

Jim Frens         NH             09/01   Honda Gold Wing  11,123  11
George Barnes     CO             09/01   BMW K1100LT      13,357  12
Bob Hall          OH             09/01   BMW R1100RT      12,247  11
Shane Smith       MS             09/01   Honda ST1100     12,219  11
Peter Hoogeveen   CANADA         09/01   Honda CBR-XX     11,877  11
Paul Taylor       VA             09/01   BMW R1150GS      11,790  11
Asa McFadden      FL             09/01   BMW K1200LT      11,726  11
Rick Morrison     WA             09/01   Ducati ST4       11,655  11
Eric Jewell       CA             09/01   BMW R1100RT      11,523  11
Mark Kiecker      MN             09/01   Honda VFR800     11,489  11
John O'Keefe      OR             09/01   BMW R1150GS      11,241  11
Jeff Earls        OR             09/01   BMW R1150GS      11,241  11
Bob Johnson       IN             09/01   BMW K100RS       11,211  11

Glenn K. Pancoast Lansing, MI    09/00   BMW K1100LT      10,146  10
Senator Dave Zien Eau Claire, WI 07/00   H-D FXRT         11,223  11
George Barnes     Colorado       09/99   BMW K1100LT      13,346  11
Rick Morrison     Washington     09/99   BMW K1100LT      12,625  11
Frane Crane       California     09/99   BMW K1200RS      12,531  11
Harold Brooks     Virginia       09/99   Honda Gold Wing  12,083  11
Manny Sameiro     New Jeresy     09/99   Honda Gold Wing  12,086  11
Eric Jewell       California     09/99   BMW R1100RT      12,237  11
Gary Eagan        Utah           09/99   BMW K1100LT      12,405  11
Peter Hoogeveen   CANADA         09/99   Honda CBRXX      12,299  11
Paul Taylor       Virginia       09/99   BMW R1100GS      11,809  11
Shane Smith       Mississippi    09/99   Honda ST1100     12,780  11
Leonard Roy       Maryland       09/99   Honda ST1100     11,688  11
Asa McFadden      Florida        09/99   BMW K1200LT      11,817  11
Richard Bernecker Virginia       09/99   BMW K1100RS      11,933  11
Morris Kruemcke   Texas          09/99   Honda Gold Wing  11,677  11
Bobb Todd         CANADA         09/99   Honda ST1100     11,599  11
Greg McQueen      Colorado       09/99   Honda ST1100     11,571  11
Bob Brown         California     09/99   BMW K1200LT      11,367  11
Dennis Cunningham California     09/99   BMW K100RS       11,312  11
Berti Levy        New Jersey     09/99   Honda Gold Wing  11,217  11
Bill Kramer       Pennsylvania   09/99   Honda ST1100     11,289  11
Terry Smith       Massachusetts  09/99   BMW R1100RT      11,258  11
Jeffery Fisher    Nevada         09/99   BMW K1100LT      11,230  11
Jeff Earls        Oregon         09/99   Yamaha FJ1200    10,030  10
Tom Austin        California     09/99   BMW K1200LT      11,271  11
Terry Pipes       Louisana       09/99   Yamaha Venture   11,383  11
Gary Johnson      New York       09/99   Honda Gold Wing  11,002  11
Art Holland       Michigan       09/99   Honda ST1100     10,020  10
Richard A. Smith  Florida        09/99   Honda Gold Wing  11,124  11
Eddie James       Minnesota      09/99   BMW K1100RS      12,539  11

Rick Morrison     Washington     09/97   BMW K1100LT      11,832  11
Peter Hoogeveen   CANADA         09/97   HONDA CBR1100XX  11,497  11
Shane Smith       Mississippi    09/97   Honda ST1100     11,452  11
Fran Crane        California     09/97   Buell S3T        11,329  11
Gary Johnson      New York       09/97   Honda Gold Wing  11,067  11
Mary Sue Johnson  Indiana        09/97   BMW R1100R       10,023  10
Chuck Pickett     Pennsylvania   09/97   Honda Gold Wing  10,081  10
Phillip Mann      Michigan       09/97   BMW K1100RS      10,077  10
Asa McFadden      Florida        09/97   BMW K1100LT      10,074  10
Rick Morrison     Washington     09/96   BMW R100RT       10,004  10
John M. Harrison  Alabama        06/96   Honda Gold Wing  10,000  10
Gary Eagan        Utah           09/95   BMW K1100LT      12,266  11
Ron Ayres         Texas          09/95   BMW K1100LT      12,007  11
Tom Loegering     California     09/95   BMW R1100GS      11,881  11
Eddie James       Minnesota      09/95   BMW K1100RS      11,679  11
Frank Taylor      Utah           09/95   Yamaha FJ1200    11,614  11
Martin Jones      Texas          09/95   Kawasaki Voyager 11,609  11
Roy Eastwood      Canada         09/95   BMW R1100RS      11,550  11
Morris Kruemeke   Texas          09/95   Honda Gold Wing  11,463  11
Ron Major         California     09/95   Honda ST1100     11,227  11
Eddie Metz        Texas          09/95   Honda Gold Wing  11,217  11
Brad Hogue        California     09/95   Honda Gold Wing  11,098  11
Steve Attwood     England        09/93   Moto Guzzi LeMan 12,458  11
Joseph Mandeville California     09/93   BMW K1100RS      11,001  11
Jan Cutler        Nevada         09/93   BMW K100LT       11,444  11
Steve Chalmers    Utah           09/93   Yamaha Venture   11,215  11
Ed Otto           Illinois       08/92   BMW K100LT       10,256  10
Peter Hoogaveen   Canada         09/91   BMW K75RT        11,142  11
Dave McQueeney    California     09/88   BMW              15,731  16
Barry Norman      Ohio           09/87   Yamaha Venture   12,777  11
Michael Kneebone  Illinois       09/87   Yamaha Venture   11,255  11
Fran Crane        California     09/87   BMW K100         11,727  11



---



Bun Burner Gold Hell Week (7 Days - 7 Back to Back Bun Burner Golds!):

Name             Hometown                Date      Motorcycle       Mileage

Anthony Osborne  FL                      07/17     Yamaha FJR1300   10,603

Curt Gran        WI                      08/09     Honda ST1300A    10,606

Dale Wilson      West Richland, WA       07/07     Honda CBR1100XX  10,636



---




Bun Burner GOLD Straight Six  (6 Days - 6 Back to Back Bun Burner Golds!):
           * * * must complete a BBG Trifecta first * * *

Name             Hometown                Date      Motorcycle       Mileage

Anthony Osborne  West Palm Beach, FL     07/19     Yamaha FJR       9,066




---



Bun Burner GOLD Quattro Finishers (Back to Back to Back to Back Bun Burner Golds!):
           * * * must complete a BBG Trifecta first * * *

Name             Hometown                Date      Motorcycle                    Mileage

Lionel L Ramos    Falls Church, VA       11/25/21  H-D Road Glide CVO            6,070

Daniel Simmonds  Somerset, PA            12/11/15  Super Tenere                  6,138

Greg Rice        Ft Lauderdale, FL       06/14/14  Honda Gold Wing               6,093

Curt Gran        WI                      08/09     Honda ST1300A                 6,112

Dale Wilson      West Richland, WA       07/07     Honda CBR1100XX               6,080




---


Bun Burner GOLD Trifecta Finishers (Back to Back to Back Bun Burner Golds!):

Name             Hometown                Date      Motorcycle                 Mileage

Kenneth W Andrews Benton, AR             12/26/21  H-D Road Glide Limited     4,540

David Uhl         Parker, CO             08/01/21  H-D Road Glide Limited     6,125

Steve Giffin      Millersville, PA       11/05/20  Yamaha FJR1300             4,558

David M Uhl      Parker  CO              10/10/20  H-D Street Glide CVO       4,553

Anthony Osborne  West Palm Beach, FL     05/27/17  Yamaha FJR                 4,594

Dale Bundy       Punxsutawney, PA        03/08/16  Honda Gold Wing            4,610
Dale Bundy       Punxsutawney, PA        08/29/15  Honda Gold Wing            4,602

Daniel Simmonds  Somerset, PA            07/25/15  Yamaha Super Tenere        4,688
Daniel Simmonds  Somerset, PA            06/22/14  Yamaha Super Tenere        4,554

Will Barclay     Woodstock, NY           07/13/13  H-D Street Glide           4,933
Harry Knerr      Leesport, PA            06/14/12  H-D Road Glide             4,575
Greg Rice        Fort Lauderdale, FL     10/07/11  Honda Gold Wing            4,558
Anthony Osborne  West Palm Beach, FL     10/07/11  Yamaha FJR                 4,541
Matt Watkins     Pasco, WA               06/23/11  Yamaha FJR1300             4,550
Steve Short      Fair Grove, MO          06/17/09  Honda Gold Wing            4,584
Greg Rice                                03/05/09  Honda Gold Wing            4,559
Bruce Arnold     Miami Beach, FL         12/12/08  H-D Dyna Conv              4,567
Derek Dickson    Duluth, MN              08/28/07  Yamaha FJR1300             4,672
Curt Gran        Pewaukee, WI            07/04/07  Honda ST1300A              4,566
Steve Broadhead  Calgery, AL CANADA      03/13/06  Honda ST1300               4,512
John Tomasovitch Throop, PA              03/09/06  BMW K1200RS                4,500+
Peter Leap       Marblehead, PA          03/09/06  Honda ST1300               4,500+

Peter A. Murray  Hackettstown, NJ        09/23/05  BMW K1200LT                4,564
John C. Ryan     Roxbury, NJ             10/04/04  BMW K75                    4,619



---


Bun Burner 3000 GOLD Finishers (Back to Back Bun Burner Golds!):

Name             Hometown                Date      Motorcycle                 Mileage

Lionel L. Ramos    Falls Church, VA      12/21/21  BMW R1250RT                3,187

Hoagy's Heroes Insane Ride Week
George H. Miller                         06/22/21  Honda Gold F6B             3,080

Lionel L Ramos    Falls Church, VA       12/21/20  H-D Road Glide CVO         3,146 

2020 Fall Equinox Bun Burner 3000 GOLD 
Dominick Zappola  East Haven, CT         09/22/20  H-D Softail FXSTC          3,030 
   * * * This is Dominick's 16th documented Bun Burner 3000 GOLD! * * * 

Dominick Zappola  East Haven, CT         09/14/20  H-D Softail FXSTC          3,009 
   * * * This is Dominick's 15th documented Bun Burner 3000 GOLD! * * * 

Dominick Zappola  East Haven, CT         08/24/20  H-D Softail FXSTC          3,012 
   * * * This is Dominick's 14th documented Bun Burner 3000 GOLD! * * *
 
Dominick Zappola  East Haven, CT         07/30/20  H-D Softail FXSTC          3,032 
    * * * This is Dominick's 13th documented Bun Burner 3000 GOLD! * * * 

Dominick Zappola  East Haven, CT         07/13/20  H-D Softail FXSTC          3,022 
   * * * This is Dominick's 12th documented Bun Burner 3000 GOLD! * * * 

Paul Werner      Shakopee, MN            05/25/20  H-D CVO Limited            3,063

Daniel Sheridan Duvall                   01/18/20  H-D Road Glide (FLTR)      3,086
Lionel L Ramos    Falls Church, VA       01/18/20  H-D Road Glide CVO         3,086

David M Uhl       Parker, CO             09/19/19  H-D Street Glide CVO       3,219
Christopher Schaffer Rockvale, TN        05/31/19  BMW R1200RT                3,133 
Anthony Osborne   West Palm Beach, FL    04/27/19  Yamaha FJR                 3,046
Lionel L Ramos    Falls Church, VA       04/15/19  H-D Road Glide Ultra CVO   3,060
Anthony Osborne  West Palm Beach, FL     02/09/19  Yamaha FJR                 3,051
Lionel L Ramos   Falls Church, VA        11/01/18  H-D Road Glide Ultra CVO   3,062
Jan Murray       Windsor, WI             10/19/18  BMW R1200GS Adventure      3,017 

Dominick Zappola  East Haven, CT         10/03/18  H-D Softail FXSTC          3,032
   * * * This is Dominick's 11th documented Bun Burner 3000 GOLD! * * *
   
Dominick Zappola  East Haven, CT         09/23/18  H-D Softail FXSTC          3,062
   * * * This is Dominick's tenth documented Bun Burner 3000 GOLD! * * *
   
Dominick Zappola  East Haven, CT         09/12/18  H-D Softail FXSTC          3,032
   * * * This is Dominick's ninth documented Bun Burner 3000 GOLD! * * *
   
Dominick Zappola  East Haven, CT         08/23/18  H-D Softail FXSTC          3,032
   * * * This is Dominick's eighth documented Bun Burner 3000 GOLD! * * *

Paul J. Heine     Springfield, VA        08/09/18  H-D Ultra Limited          3,003

Dominick Zappola  East Haven, CT         07/18/18  H-D Softail FXSTC          3,083
   * * * This is Dominick's seventh documented Bun Burner 3000 GOLD! * * *

Dominick Zappola  East Haven, CT         07/10/18  H-D Softail FXSTC          3,079
Dominick Zappola  East Haven, CT         06/12/18  H-D Softail FXSTC          3,032
Dominick Zappola  East Haven, CT         05/16/18  H-D Softail FXSTC          3,048
Dominick Zappola  East Haven, CT         05/09/18  H-D Softail FXSTC          3,028
Dominick Zappola  East Haven, CT         10/02/17  H-D Softail FXSTC          3,042
Dominick Zappola  East Haven, CT         09/20/17  H-D Softail FXSTC          3,202

Dan Thaler       Deerfield Beach, FL     08/04/17  BMW R1200GSA               3,038
Greg Rice        Fort Lauderdale, FL     08/04/17  BMW R1200RT                3,038

Vasiliy Kochegarov Moscow, RUSSIA        06/24/17  Suzuki GSX1250FA           3,005

Craig Thorndike  Midlothian, TX          05/28/17  Yamaha FJR1300A            3,116

Paul W. Meyer     Herington KS           03/12/17  Triumph Trophy SE          3,077

Russel A. S. Janzan Dania Beach  FL      12/25/16  H-D Road Glide CVO         3,071
               * * * Russel is 72 years young on this ride! * * *

Greg Rice        Ft Lauderdale, FL       09/12/16  Honda Gold Wing            3,074
Anthony Osborne  West Palm Beach, FL     09/10/16  Yamaha FJR                 3,030

Memorial Day 2016 Bun Burner GOLD
Dan Thaler       Deerfield Beach, FL     05/28/16  BMW R1200GSA               3,026

Greg Rice        Ft Lauderdale, FL       11/20/15  Honda Gold Wing            3,104
David Graves     Midland, MI             07/30/15  BMW K1300S covered         3,076
Dale Bundy       Punxsutawney, PA        09/07/14  Honda Gold Wing            3,099
Robert Wilensky                          08/16/14  Suzuki DL1000 Vstrom       3,070

Michael Turnpenny Stirling, SCOTLAND     04/16/14  Yamaha FJR1300A            3,045 Australia Ride

Paul Slaton      The Woodlands TX        03/08/14  Honda Gold Wing GL1800     3,060
Nick Balogh      Sun Valley, CA          11/07/13  Honda ST1300               3,096
David Goguen     Glendale, CA            09/20/13  Yamaha FJR1300             3,056
Will Barclay     Woodstock, NY           07/13/13  H-D Street Glide           3,424
Brian Walters    Sugar Land, TX          03/12/13  BMW R1200GS                3,117
Bill Ouellette   Lawrenceville, GA       12/14/12  BMW R1200RT                3,129

Richard Dean Tilbury  Troutdale, OR      08/28/12  Victory Hard-Ball          3,049
Richard Dean Tilbury  Troutdale, OR      08/01/12  Victory Hard-Ball          3,051

Josh Mountain    Lexington Park, MD      06/28/12  Yamaha FJR1300             3,062
Steven McCaa     Burlingame, CA          06/07/13  Kawasaki Versys 650        3,031
Shane Mead       Topeka, KS              05/02/12  Honda GL1800 Gold Wing     3,057
Bryan Newhard    Shoemakersville, PA     03/17/12  H-D Road Glide             3,046

Joe Green        Crestview, FL           10/07/11  Yamaha FJR1300             3,029
Bill W. James    San Antonio, TX         09/03/11  Kawasaki Concours          3,024
Jon Good         San Diego, CA           08/13/11  BMW R1200RT                3,044
Harry Knerr      Blandon, PA             06/25/11  H-D Road Glide             3,060
Ron Hansen       Lakewood, CO            06/03/11  Honda Gold Wing            3,032

Phil Weston      Somerset, UK            09/21/09 Yamaha Fazer 1000           3,012

Bill W. James    San Antonio, TX         09/05/09  Kawasaki Concours          3,116
Davo Jones       Queensland, AUSTRALIA   08/16/09  Kawasaki GTR1400           3,017
Gregory Marbach  Gilbert, AZ             07/29/09  Yamaha FJR1300             3,086
Riel Smit        Bellville, SOUTH AFRICA 05/24/08  Yamaha FJR 1300            3,051

Bruce Arnold     Miami Beach, FL         04/18/08  H-D Dyna Conv.             3,071

George Barker    Appleton, WI            10/16/07  Honda Gold Wing            3,085

Bob Lilley       Easton, PA              09/28/07  BMW K1200LT                3,027

Bruce Arnold    Miami Beach, FL          05/28/07  H-D Dyna Convert           3,056
* Bruce runs a stock fuel system on a short range tank and made 34 fuel stops *

Chuck Gittner    Port Orange, FL         03/07/07  BMW K1200LT                3,012
Richard Buber    Coca, FL                03/07/07  BMW R1150RT                3,012
Greg Rice        Fort Lauderdale, FL     03/07/07  Honda Gold Wing            3,012

Derek Dickson    Duluth, MN              09/06/06  Yamaha FJR1300             3,065
Bob Bacon        El Cerrito, CA          08/24/06  BMW K1200LT                3,108
Joel Rappoport   Winston-Salem, NC       07/01/06  BMW R60/6 (1976!)          3,052

Free Riders Bun Burner 3000 GOLD
Bill Green       North Palm Beach, FL    03/25/06  Yamaha R1                  3,022

David J. Derrick Califon, NJ             09/23/05  BMW R1100RT                3,047

Jack Shoalmire   Broken Arrow, OK        08/19/05  BMW K1200LT                3,027
Steve Broadhead  Calgery, AL CANADA      08/19/05  Honda ST1300               3,050
Steve Broadhead  Calgery, AL CANADA      07/22/05  Honda ST1300               3,074

Rufus A Maxfield Kerrville, TX           06/13/05  BMW K1200LT                3,059
Leroy Braxdale   Kerrville, CA           06/13/05  BMW R1100RT                3,059
                * * * Leroy is 79 years young on this ride! * * *

John Somers      Highlands Ranch, CO     05/26/05  BMW K1200LTC               3,013
Vance D. Keeney  Zephyr Cove, NV         04/24/05  BMW K1200GT                3,006

Charles Ginther  Coral Springs, FL       12/29/04  Kawasaki Concours          3,022
           * * * Charles is 65 years young on this ride! * * *

Ron DeBlanc      Lafayette, LA           10/01/04  Honda ST1100               3,043
Steve Broadhead  Calgery, AL CANADA      09/10/04  Honda ST1300               3,061
David J. Derrick Califon, NJ             09/10/04  BMW R1100RT                3,063
John Parker      Reseda, CA              09/10/04  Honda ST1100               3,072
Carl Stark       Sheridan, WY            09/12/04  Honda GL1800               3,106
James E. Collins Masassas, VA            08/31/04  Honda Gold Wing            3,341
Jake Broyles     Hermiston, OR           08/30/04  BMW K1200LT                3,087
Peter Leap       Marblehead, MA          08/26/04  Honda ST1300               3,028
John D. Jordan   Newport, WA             06/23/04  BMW R1150GS ADV            3,023
John C. Ryan     Morris Plains, NJ       03/07/04  BMW K75                    3,122
Dick Peek        Park City, UT           03/01/04  BMW K1100LT                3,032

Tom Sperry       Hanford, CA             09/19/03  BMW K1200LT                3,059
Rosie Sperry (passenger)                 09/19/03  BMW K1200LT                3,059

Frank Doeling    Stutensee, GERMANY!     09/11/03  BMW R1100GS                3,117

Coni Fitch       Bellevue, WA            06/17/03  BMW K1200LT                3,039

Cognoscente Group's "Blister" - World Record Group Ride!
Doug Banfelder   Phoenix, AZ             05/24/03  Yamaha FJR1300             3,147
Doug Chapman     Stayton, OR             05/24/03  Yamaha FJR1300             3,147
Jan Cutler       High Desert, AZ         05/24/03  BMW K1100LT                3,147
Joe DeRyke       Los Gatos, CA           05/24/03  BMW R1100RT                3,147
Bob Hall         Bedford, OH             05/24/03  BMW R1100RT                3,147
Holley Harrison II Wilmington, CA        05/24/03  Honda GL1800               3,147
Mike Hutsal      Winnipeg, CANADA        05/24/03  Honda ST1100               3,147
Eric Jewell      San Francisco, CA       05/24/03  BMW R1150RT                3,147
Lisa Landry      Dove Canyon, CA         05/24/03  Honda GL1800               3,147
John Langan      Martinez, CA            05/24/03  Honda GL1800               3,147
Martin Leir      Minneapolis, MN         05/24/03  BMW R1150GS                3,147
Mac Macfarlane   San Bernardino, CA      05/24/03  BMW K1100LT                3,147
Joe Mandeville   Hacienda Hts, CA        05/24/03  BMW K1200LT                3,147
Rick Martin      Pontiac, IL             05/24/03  Yamaha FJR1300             3,147
Tom Melchild     Pleasanton, CA          05/24/03  Yamaha FJR1300             3,147
Lee Myrah        Calgary, CANADA         05/24/03  Honda ST1100               3,147
Bill Newton      Eureka Springs, AR      05/24/03  Honda GL1800               3,147
Tom Roe          Minneapolis, MN         05/24/03  Honda VFR                  3,147
Frank Taylor     Salt Lake City, UT      05/24/03  KawasakiConcours           3,147
Roger Van Santen Salem, OR               05/24/03  Yamaha FJR1300             3,147
Dale Wilson      West Richland, WA       05/24/03  Honda CBR1100XX            3,147
Todd Witte       York, PA                05/24/03  Yamaha FJR1300             3,147

Richard Knipe    McKinney, TX            05/04/03  Honda GL1800               3,032
Andy Daniele     Matawan, NJ             04/10/03  Triumph Sprint             3,017

Quek Cheng Chye  Phoenix, AZ             09/26/02  BMW K1200RS                3,083
Michael Ledbetter Pendelton, OR          09/18/02  Yamaha V-Star              3,046
Sean J. Gallagher Richmond, VA           07/16/02  BMW K1200LT                3,036
Robert St. George Easthampton, MA        05/02/02  Honda Gold Wing            3,180
Don Arthur       McLean, VA              02/16/02  BMW K1200LT                3,035
Alan Leduc       New Castle, IN          01/03/02  Honda GL1800               3,014

Tom Loegering    Lawndale, CA            06/28/01  BMW K1200LT                3,206
Steve Joern      Troy, NY                10/06/00  BMW R80ST                  3,014
Verne W. Simmons Puyallup, WA            09/16/00  Honda Gold Wing            3,018
Michael Spengler Portland, OR            09/02/00  Honda Gold Wing            3,038

Jorma Viemero    Uusikaupunki, FINLAND   08/06/00  BMW K75                    3,072

Rick Brookes     San Diego, CA           06/23/00  Honda ST1100               3,033
Mike Hutsal      Winnipeg, Manitoba      06/17/00  Honda ST1100               3,131
Lee Myrah        Neepawa, Manitoba       06/17/00  Honda ST1100               3,131
Paul Meredith    Merrimack, NH           06/16/00  BMW K1200LT                3,110

Pauline Ralston  Ft. Pierce, FL          06/01/00  H-D Ultra Classic          3,046

Jorma Viemero    FINLAND (SPAIN ride)    04/25/00  BMW K75                    3,112
  * * * IBA FINLAND - Circular two lap ride around western Spain) * * *

Bob Lyskowski    Manchester, NH          09/04/99  H-D FLHS                   3,072
Jack West        Keithville, LA          04/30/99  Honda Gold Wing            3,065
Steve Rachal     Shreveport, LA          04/30/99  Honda Gold Wing            3,065
Reginald Charlson SR Westlake Village,CA 10/09/98  BMW K1100RS                3,018
Donald G. Moses  Incline Village, CA     08/21/98  Honda Gold Wing            3,060

Oldest Bun Burner 3000 GOLD finishers:  Leroy Braxdale 79 - 06/13/05

Oldest Bun Burner 3000 GOLD motorcycle: Joel Rappoport 07/01/06 1976 BMW R60/6



---



Around the World Club GOLD - One continuous trip around the world!

Name             Hometown                Start     End        Motorcycle       Continents  Countries  Kilometers

Lea Rieck        GERMANY                2017-2018             Triunph Tiger         5                 91,000
Hans Karlsson    Harahan, LA            07/17/04              Honda GL1800                            41,680
Greg Frazier     Montana                07/02/03              Kawasaki KLR650                         26,598
John Phillipson  UK                     08/05/02   11/06/02   Honda NTV650P         5         14      48,495
Gary Moore       South Carolina         07/10/92              Honda Gold Wing       4         35      51,124
Emilio Scotto    Argentina              01/17/85   04/02/95   Honda GL1100                   214     735,000
Robert Edison Fulton  USA               1932       1933       Douglas
Carl Stearns Clancy                     1913!                 Henderson                               29,160




---



Around the World Club - Multi-trip (returned home between legs)

Name             Hometown                Date      End         Motorcycle       Continents  Countries  Kilometers

Sean J. GallagherRichmond, VA            04/14     10/14      BMW R1150GS           3          15      24,911
Roger Sinclair   Richmond, VA            04/14     10/14      BMW R1150GS           3          15      24,911
Michael Kneebone Chicago, IL             04/14     10/14      Yamaha Super Tenere   3          15      24,911

Robert Higdon    Daytona Beach, FL       07/04                Honda Nighthawk                          21,345

Peter Forwood                            1997                 H-D Electra Glide                       500,000+
Kaye Forwood (passenger)                 1997                 H-D Electra Glide                       500,000+
A must read web site on their travels is kept at: http://www.horizonsunlimited.com/forwood



---


Ride Around the 48 GOLD INSANITY

Lap around USA via Warroad, Minnesota; Neah Bay, Washington; San Ysidro, California; 
South Padre Island, Texas; Venice, Louisiana; Key West, Florida; Outer Banks, North Carolina; 
West Quoddy, Maine and Sault Ste. Marie, Michigan under 20 days AND completed 1,000 mile days in 
each of the corners - Washington, California, Florida and New England.




Name              State               Date      Motorcycle                Mileage

Shareef AsSadiq   TX                  05/14/21  Indian Challenger         12,200

Carl Harris       NC                  05/14/21  H-D Road Glide Special    12,200





---





---


Ride Around the 48 GOLD

Lap around USA via Warroad, Minnesota; Neah Bay, Washington; San Ysidro, California; 
South Padre Island, Texas; Venice, Louisiana; Key West, Florida; Outer Banks, North Carolina; 
West Quoddy, Maine and Sault Ste. Marie, Michigan under 20 days.




Name              State               Date      Motorcycle                Mileage

Matthew J. Miller Box Elder, SD       07/06/21  Triumph Street Triple RS  11,232






---



Ultimate Canadian Insanity - the four extreme points of Canada in less than 20 days!
(Point Pelee National Park, ON - Cape Spear, NF - Little Gold Creek, YT,  Inuvik, NWT)

Name              State               Date    Motorcycle        Mileage/Days

Robert Munden     Windsor, ON         06/2006 Honda Pacific Coast 12,312/16




---



The Ultimate County Bounty - Visit every county seat in Continental United States (3,069)

Name              State               Date of Quest             Mileage  Court Houses

Robert Higdon     Daytona Beach, FL   09/23/03 > 10/11/08       152,348   3,069



---





Four Seasons Bun Burner 1500 PLATINUM - completed on each major celestial events;
Spring Equinox, Summer Solstice, Fall Equinox and Winter Solstice in a 
different time zone for each ride!

Name              Hometown              Date      

Dave McQueeney    CA                    2013
* * * ALL IN-STATE BBGs, each in a different state * * *
* * *     And each in a different time zone!       * * *



---



Four Seasons Bun Burner 1500 GOLD - completed on each major celestial events;
Spring Equinox, Summer Solstice, Fall Equinox and Winter Solstice!

Name             Hometown               Date      

Sandra K Wallace  Charlotte, NC         2021

Jeff Hallquist   Denver, PA             2021

Anthony Osborne  West Palm Beach, FL    2019

Kevin Blevins    Robesonia PA           2017

Harry Knerr      Leesport, PA           2017

Dale Bundy       Punxsutawney  PA       2016

Richard Hanson   Garland, TX            2015

Rex LeGalley     Albuquerque, NM        2012
 
 


---


Border to Border to Border from Hell (Canada to Mexico to Canada the hard way!):

       Edmundston, New Brunswick, Canada at Northeast corner US to 
       Southern tip of US cross over to Matamoros, Mexico then across US
       to Northwest corner to Surrey, British Columbia < 6 days

Name             Hometown                Date      Motorcycle       Mileage

Bob Collin      Cumberland Foreside, ME  06/27/09  BMW R1200RT      5,286

MTF Border to Border to Border from Hell
Alan Leduc       New Castle, IN          05/16/07  Suzuki DL650     5,200+
David G. Hinks   Lemont, IL              05/16/07  Yamaha FJR1300AE 5,200+
Jack Shoalmire   Broken Arrow, OK        05/16/07  BMW R1200RT      5,200+
Ollie Bingaman   Manteca, CA             05/16/07  Honda GL1800A    5,200+

Todd Thompson    Southbury, CT           09/15/05  BMW K75RTA       5,637




---


Border to Border to Border Insanity GOLD (Mexico to Canada to Mexico in less than 48 hours!):

Name             Hometown                Date      Motorcycle       Mileage

Anthony Osborne  West Palm Beach, FL     09/10/11  Yamaha FJR       2,834
Jon Good         San Diego, CA           08/13/11  BMW R1200RT      2,941
Douglas von Roeder Irvine, CA            07/03/10  Honda Gold Wing  2,876

Rufus A Maxfield Kerrville, TX           06/13/05  BMW K1200LT      3,059
Leroy Braxdale   Kerrville, CA           06/13/05  BMW R1100RT      3,059
                * * * Leroy is 79 years young on this ride! * * *

Steve Broadhead  Calgery, AL CANADA      09/10/04  Honda ST1300     3,022
John Parker      Reseda, CA              09/10/04  Honda ST1100     3,072
James E. Collins Masassas, VA            08/31/04  Honda Gold Wing  3,341

Mike L Ledbetter Pendleton, OR           04/21/04  Yamaha Venture   2,951
Michael Bobbitt  Davenport, WA           04/21/04  Honda GL1800     2,951

Tom Sperry       Hanford, CA             09/19/03  BMW K1200LT      3,059
Rosie Sperry (passenger)                 09/19/03  BMW K1200LT      3,059

Oldest Border to Border to Border Insanity GOLD finishers:  Leroy Braxdale 79 - 06/13/05




---


Border to Border Insanity (Mexico to Canada in less than 24 hours):

Name              Hometown               Date      Motorcycle                 Mileage

Otto Weispfenning Tempe, AZ              08/21/21  H-D FLHX Street Glide      1,414 

Brian Hooker      Okotoks, AB CANADA     08/26/19  Honda Gold Wing            1,423

Greg Hintz        Missoula, MT           06/12/19  Honda Gold Wing            1,440 
             * * * Greg is 67 years young on this ride! * * * 

Jeff McDonald     Spring Creek, NV       06/09/19  BMW R1200GS                1,440 
Gary G. Butler    Punta Gorda, FL        05/21/19  BMW R1200GS Adventure      1,385 
 
John Buchanan     Kamloops BC, CANADA    08/24/18  H-D Ultra Limited          1,404

Mark Lambie       University Place, WA   06/22/18  BMW R1200RT                1,410 

Ben Leong         Calgary, AB CANADA     06/24/18  H-D Sportster 883R         1,438

Jason King        Conklin, AB            06/04/18  H-D Street Glide CVO       1,411
Craig T Fengstad  Camrose, AB CANADA     06/04/18  H-D Street Glide           1,411
Allan H. O'Connor Sherwood Park, AB      06/04/18  H-D FLTRX Custom           1,411

Randy St. Clair  Springfield, OR         07/19/17  H-D Road Glide Ultra       1,418
Matt Greufe      Springfield, OR         07/19/17  H-D Road Glide Ultra       1,418

Martin Dietz     Largo FL                07/17/17  BMW K1300GT                1,422
                   * * * Martin is 72 years young * * *

Ryan Julius       Wichita, KS            07/01/17  H-D Street Glide           1,521

Nick Kovacevich   Fresno, CA             06/09/17  BMW K1600GT                1,404
William E. Clark  Fresno, CA             06/09/17  BMW K1200LT                1,404
             * * * William is 69 years young on this ride! * * * 

Carl Harris       Fuquay Varina, NC      06/07/17  H-D Road Glide             1,410
Shareef AsSadiq   San Diego, CA          06/07/17  Indian Roadmaster          1,412

William C. Tils   Kennewick, WA          10/23/16  BMW R1200RT                1,450
Jeffrey D. White  Richland, WA           10/23/16  BMW K1300GT                1,450

Kevin Kephart     Arroyo Grande, CA      09/10/16  BMW K1600                  1,420

Charles D. Lott  Lebuc, AB CANADA        09/01/16  Kawasaki Vaquero           1,404

Eddie Robertson   Anaheim, CA            08/16/16  H-D Ultra                  1,490
             * * * Eddie is 69 years young on this ride! * * * 
Bob Sackett       Anaheim, CA            08/16/16  Honda Gold Wing GL1800     1,490
             * * * Bob is 68 years young on this ride! * * * 

Howard Phelps     Nampa, ID              07/26/16  Honda VTX1800R             1,412

Eric McNeel       Blackfoot, ID          06/26/16  H-D Street Glide           1,425
Wally McNeel      Blackfoot, ID          06/26/16  Kawasaki Voyager 1700      1,425

Jon Fuller        Kennewick, WA          06/16/16  Yamaha FJR                 1,518
Mike Smithee      Kennewick, WA          06/16/16  Yamaha Road Star           1,518

Doug Tessendorf   Mesa, AZ               06/04/16  BMW R1200RT                1,431
Steve Bell        Chandler, AZ           06/04/16  BMW R1200RT                1,431

Stuart Hoevelman  Cibolo, TX             05/13/16  Victory Cross Country      1,403
Mike Callaghan    Houston, TX            05/13/16  H-D Road Glide             1,403
Geoff Seaman      Houston, TX            05/13/16  H-D Ultra Classic          1,403
Ben Thompson      Round Rock, TX         05/13/16  H-D Ultra Classic CVO      1,403
             * * * Ben is 66 years young on this ride! * * * 
Peter D. Sommer   League City, TX        05/13/16  H-D Ultra Limited          1,403
             * * * Peter is 65 years young on this ride! * * * 

The Three Flags ride to benefit Autism Speaks
Glen DuPont       Agoura Hills, CA       04/01/16  KTM 1190 Adventure         1,391

Frans de Wet      Bullard, TX            09/11/15  Honda Gold Wing GL1800     1,380
Bettie de Wet (passenger)                09/11/15  Honda Gold Wing GL1800     1,380

John F. Garza     Peoria, AZ             08/22/15  BMW K1200LT                1,402

Joe McCarville    Fort McMurray,AB CANADA08/15/15  Suzuki GSX1250             1,410
Troy MacKay       Fort McMurray,AB CANADA08/15/15  Yamaha FJ-09               1,410

Jim Clark         Locust Grove, GA       07/26/15  BMW R1200RT                1,474
                * * * Jim is 66 years young on this ride! * * * 

Ed Jarvis         Mineral, VA            07/21/15  BMW K1600GTL               1,402
Robert Annandale  Mineral, VA            07/21/15  BMW R1200GS                1,402
                * * * Robert is 67 years young on this ride! * * *

John T. Carrel    Phoenix, AZ            07/09/15  BMW R1200GS                1,505
Tim Hayosh        Mesa, AZ               07/09/15  Kawasaki Concours          1,503
Tim Mahoney       Phoenix, AZ            07/09/15  Honda F6B                  1,505

Ray M. Stokes     Wellsville, UT         06/18/15  Honda Gold Wing GL1500     1,465

Woodie Krugel     Roseburg, OR           06/11/15  Kawasaki Concours          1,415
                * * * Woodie is 68 years young on this ride! * * * 

Kirby S. Nellis   Show Low, AZ           05/30/15  BMW R1200RT                1,402

R. Bruce Thomas   Edmonton, AB CANADA    05/16/15  Honda ST1300A              1,456
Norman Lafleur    Grande Prairie,AB CAN  05/16/15  Honda ST1300               1,456

Chelsea Woodward  Spokane Valley, WA     05/10/15  H-D FLHTC                  1,424
Voytek Kulesza    Wonder Lake, IL        11/06/14  Honda GL1800 Gold Wing     1,421
David Graves      Midland, MI            10/18/14  BMW K1300S                 1,634
Jeffrey Heimburger Phoenix, AZ           10/06/14  Honda ST1300               1,402
Jeff Taylor       Moyie Springs, ID      09/23/14  H-D Ultra Classic Limited  1,552
Bart Brown        Blackfoot, ID          09/12/14  Honda GL1800 Gold Wing     1,463
Dallas Clinger    American Falls, ID     09/12/14  H-D Road King              1,438

Wolf Hassenstein  Fort McMurray,AB CANADA09/11/14  Yamaha FJR1300A            1,539
Hasso Hassenstein St. Thomas, ON CANADA  09/11/14  BMW K1200LT                1,539
                * * * Hasso is 67 years young on this ride! * * * 

Hugh Smith III    Harbor City, CA        09/05/14  H-D Road Glide Ultra       1,413
Shareef AsSadiq   San Diego, CA          09/05/14  Victory Cross Country      1,413
David Edgar       Phoenix, AZ            07/27/14  H-D Road Glide             1,412
Charley Barnes    Greeley, CO            06/05/14  H-D CVO Screamin' Eagle    1,458
George Hespe      Snohomish, WA          05/31/14  Yamaha FJR1300             1,431

Chelsea Woodward  Spokane Valley, WA     04/30/14  H-D Electra Glide Classic  1,424
Chelsea Woodward  Spokane Valley, WA     04/28/14  H-D Electra Glide Classic  1,415

John Ondusko      Port Coquitlam, CANADA 04/24/14  H-D Ultra Limited          1,385

MTF Border to Border Insanity
Brian Harris      San Antonio TX         09/01/13  Honda GL1800               1,650
Brian Nuehring    SAINT PETERS  MO       09/01/13  BMW R1200GS Adventure      1,650
Corey Nuehring    Marion  IA             09/01/13  Yamaha FJR1300A            1,650
Dale Ronfeldt     Hornick IA             09/01/13  H-D Ultra Classic Electra  1,650
George Barker     Appleton  WI           09/01/13  Honda GL1800               1,650

Donald Hostetler  Vermilion, OH          07/30/13  H-D Ultra                  1,394
Wes Olstad        Red Deer, AB CANADA    06/05/13  BMW K1300S                 1,470

Gordon Jaap       Creston, BC CANADA     05/20/13  Honda Gold Wing            1,438
                * * * Gordon is 72 years young on this ride! * * *

Gregory Waldner  Canmore, AB CANADA      11/02/13  BMW R1200RT                1,402

Ray Yarnall       Grapeview, WA          05/18/13  H-D Road King 110th Anniv. 1,402

Craig Felts       Henderson, NV          09/21/12  BMW K1200GT                1,465

Drew Dill         Bradenton, FL          08/21/12  H-D Road Glide             1,421
Bobby Moody       Brandon, FL            08/21/12  Honda ST1300               1,421

Kirk Little       Brighton, CO           08/08/12  H-D Street Glide           1,475
Laurie Little (passenger)                08/08/12  H-D Street Glide           1,475

William E. Clark  Fresno, CA             07/08/12  BMW K1200LT                1,412
Roy Yeram         Fresno, CA             07/08/12  H-D CVO Road Glide         1,412
             * * * Roy is 65 years young on this ride! * * *

Mike Fitzpatrick  Fresno, CA             06/09/12  H-D Ultra Limited          1,406

Kevin Sawatsky    Caddo Mills, TX        05/25/12  Yamaha FJR1300             1,598

Ron Crump         Tremonton, UT          05/20/12  H-D Road Glide Ultra       1,408
Buck Wilkinson    St. George, UT         05/20/12  H-D Road Glide Ultra CVO   1,408

Shane Mead        Topeka, KS             05/03/12  Honda GL1800 Gold Wing     1,578

Garry Springgay   Gilbert, AZ            09/07/11  H-D Road King    1,412

Edward Kuzikowski St. Albert, AB CANADA  08/30/11  Honda Gold Wing  1,401
Mike Freeman      Rocklin, CA            08/30/11  Honda Gold Wing  1,401
Danny Graham      Honolulu, HI           08/30/11  BMW R1200RT      1,401
             * * * Danny is 67 years young on this ride! * * * 

S.Patrick Lindsey Thousand Oaks, CA      08/04/11  H-D Road Glide   1,405
Richard Coffin    Fountain Valley, CA    08/04/11  H-D Road King    1,405

Super Streetbike Magazine Border to Border Insanity
Ansoly Quinonez   Los Angeles, CA        06/24/11  BMW R1200RT      1,401
Nick Brocha       Henderson, NV          06/24/11  TriumphTiger1050 1,401
Ernie Vigil       Albuquerque, NM        06/24/11  Triumph Scrambler1,401
Nick Hill         Mission Viejo, CA      06/24/11  Suzuki GSX-R 750 1,401
Sean Russell      Los Angeles, CA        06/24/11  KawasakiNinja10001,401

David Stoler      Anaheim, CA            06/16/11  BMW K1200GT      1,403
Donald L. Burris  Enid, OK               05/27/11  Honda Gold Wing  1,436

Abhi Eswarappa    Los Angeles, CA        11/08/10  BMW K75C         1,392
Mark N. Houlden   Phoenix, AZ            10/16/10  Triumph Speed    1,434
Daryl Mahoney     Edmonton, AB           07/07/10  H-D Road King    1,506
Douglas von Roeder Irvine, CA            07/04/10  Honda Gold Wing  1,444

Kurt Schendel     Sparta, WI             07/17/10  Honda GL1200A    1,396
Tony Lenard       Marathon, WI           07/17/10  Honda GL1500     1,396

Tim Trytten       Sooke, BC CANADA       06/11/10  Kawasaki Concours1,402
Douglas von Roeder Irvine, CA            07/03/10  Honda Gold Wing  1,432
Marc Beaulac      Gilbert, AZ            05/22/10  Honda GL1800     1,435
Ken Morton        Vancouver, WA          03/27/10  Suzuki DL650     1,401
Douglas R. Laird  Reno, NV               10/04/09  BMW K1200LT      1,406

Harry Knerr       Leesport, PA           09/19/09  H-D Road Glide   1,630
Jeff Hallquist    Denver, PA             09/19/09  H-D Road Glide   1,630

David Flitcraft   Chula Vista, CA        09/09/09  Honda Gold Wing  1,519

Lester Zutz       Slave Lake, AB CANADA  08/10/09  H-D Road Glide   1,430
             * * * Lester is 68 years young on this ride! * * *

Timothy Masterson San Marcos, TX         09/03/09  BMW R1200GS      1,391

Christopher Ross  Lubbock, TX            08/09/09  BMW R1100RT      1,486
Marc J. Levine    Lubbock, TX            08/09/09  Honda Gold Wing  1,486

Wesley D. Burch   Colorado Springs, CO   07/12/09  H-D Road Glide   1,448

Jamie Sheppard    Tacoma, WA             07/11/09  Honda VTX1300    1,402
Michael Silveria  Bothell, WA            07/11/09  Yamaha V-Star    1,402

Tom Yeager        Yakima, WA             06/26/09  Honda GL1800     1,429
Jeff Schmelzer    Naches, WA             06/26/09  Honda GL1800     1,429

Bill Cushenbery   Colorado Springs, CO   06/19/09  Kawasaki Concours1,498

Chuck Jones       Anaheim, CA            06/16/09  H-D Ultra Classic1,415
             * * * Chuck is 70 years young on this ride! * * *

Wayne Maurice     Kelowna, BC CANADA     06/15/09  Honda Gold Wing  1,452

Kim C. Rydalch    Modesto, CA            05/28/09  BMW R1200RT      1,486
 
Jarvis Haugeberg  Huron, SD              05/21/09  Yamaha Venture   1,527
Scott Gottschalk  Kimball, MN            05/21/09  H-D Ultra Classic1,527
Maynard Moen      Mora, MN               05/21/09  Honda Gold Wing  1,527

Kerry Dibler      Mertztown, PA          05/09/09  H-D Road Glide   1,638
Harry Knerr       Blandon, PA            05/09/09  H-D Road Glide   1,638

MTF Border to Border
Charles Wilt      Flower Mound, TX      08/29/08  H-D Heritage      1,650
Elven Ray Hutcherson  Arkadelphia, AR   08/29/08  BMW K1200LT       1,650
Greg Rice         Ft. Lauderdale, FL    08/29/08  Honda GL1800      1,650
Jason Jonas       Bowling Green, KY     08/29/08  Honda ST1300A     1,650
Kit Chunhawong    Alexandria, VA        08/29/08  BMW K1200LT       1,650
Robert Wilensky   Newton, PA            08/29/08  H-D Ultra Classic 1,650

Gabriel Aid       Chula Vista, CA       10/08/08  BMW R1150GS       1,402
Hal James         Columbia, MO          07/27/08  H-D Ultra         1,498
Roy M. Hombs      Columbia, MO          07/27/08  Victory Kingpin   1,498
Paul Hemmel       Glasgow, MO           07/27/08  H-D Ultra Classic 1,498
Tim Hemmel        Fairview Heights, IL  07/27/08  H-D Electra Glide 1,498

Darren R. Oliver  Los Osos, CA          07/15/08  KTM 950 Adventure 1,467
David C. Dennis   Maricopa, CA          07/15/08  KawasakiNinja250  1,467

Lance E. Ross     Boise, ID             07/06/08  H-D Road King     1,395
Stephen R. Martin Meridian, ID          07/06/08  H-D Ultra Classic 1,416

Brian Dent        Seatac, WA            08/08/08  BMW R1150RT       1,401
Tyrone Dahly      Missoula, MT          05/18/08  H-D Ultra Classic 1,546

Kyle S. Byrd      Dallas, TX            09/10/07  H-D FLHTCU        1,489

Jim Sartin        Turlock, CA           09/02/07  Suzuki Intruder   1,380
Jim Retemeyer     Turlock, CA           09/02/07  BMW K1200LT       1,380

Michael Fleming   Pittsburgh, PA        07/24/07  H-D Street Glide  1,432

Chuck Galland     Nine Mile Falls, WA   07/18/07  H-D Road King     1,425

David Hicks       Alta Loma, CA         06/28/07  Yamaha FJR1300    1,531
             * * * David is 65 years young on this ride! * * *

Ken Radovich      Great Falls, MT       06/22/07  Yamaha FJR        1,428

Trevor Mikkelsen  Great Falls, MT       06/22/07  Yamaha FJR1300    1,428
Ken Conrad        East Helena, MT       06/22/07  Honda ST1300      1,428
Guy J. Bonnand    Great Falls, MT       06/22/07  H-D Road King     1,428

STAR of Phoenix, Chapter 113
Jeff Cheney       Phoenix, AZ           05/12/07  Yamaha Royal Star 1,454
Steven M. Proctor Phoenix, AZ           05/12/07  Yamaha Royal Star 1,454
Dal Langham       Phoenix, AZ           05/12/07  BMW K1200LT       1,454
           * * * Dal is 72 years young on this ride! * * *

Gordon A. Wilson  Madison, CT           05/10/07  Honda Gold Wing   1,435
Monte C. Leveaux  Sparks, NV            03/13/07  BMW K1200LT       1,402

Art Reitsma       Cobble Hill, BC CANADA04/18/07  Honda ST1100A     1,397
Ilker Ecir        San Diego, CA         09/08/06  Suzuki V-Strom    1,440
Michael Hardaway  Morgan Hill, CA       09/07/06  BMW R100R         1,448
Denver Lionberger Hermann, MO           09/01/06  BMW K1200LT       1,670
Lewis Stephens    Pasadena, TX          09/01/06  BMW K1200LT       1,645

Thomas McClure    Chandler, AZ          09/01/06  H-D Electra       1,524
Paul Robson       Chandler, AZ          09/01/06  H-D Road King     1,524
Kent Gabrielson   Mesa, AZ              09/01/06  H-D Fat Boy       1,524

Mike Schwartz     Teague, TX            08/31/06  Honda Gold Wing   1,630

James A. Vanyek   Sherman Oaks, CA      08/19/06  H-D Electra Glide 1,427
Steve Lee         Canyon Country, CA    08/19/06  H-D Road King     1,427

David Lee         Houston, TX           08/04/06  H-D Ultra Classic 1,565
Dick Tate         Houston, TX           08/04/06  H-D Ultra         1,561

Steven L. Johnson Boise, ID             06/11/06  H-D Fat Boy       1,426
Kelly Adams       Meridian, ID          06/11/06  H-D Electra Glide 1,426
Emily Adams (passenger)                 06/11/06  H-D Electra Glide 1,426
           * * * Emily is 15 years old on this ride! * * *

Wendy Crockett    Wofford Heights, CA   06/02/06  Yamaha FJR1300    1,401

Curt Gran         Pewaukee, WI          05/18/06  Honda ST1300A     1,413

David E. Schulte  Fridley, MN           04/25/06  Honda GL1800      1,440

David Sorrel      Wharton, TX           09/02/05  BMW K1200LT       1,650
Mike Phelps       Ellettsville, IN      09/02/05  Yamaha FJR 1300   1,650
Steve Short       Fair Grove, MO        09/02/05  Honda Gold Wing   1,650
Dick Bishop       New Waverly, TX       09/02/05  Yamaha FJR 1300   1,650
           * * * Dick is 66 years young on this ride! * * *

Arlen RL Brunsvold Sheboygan, WI        09/02/05  H-D Road King     1,664
Arlen R Brunsvold Naperville, IL        09/02/05  BMW R1200RT       1,664
           * * * Arlen is 70 years young on this ride! * * *
Geoff Wilson      St. Albert, ALBERTA   08/31/05  Honda GL1800      1,402
Ken MacDonald     St. Albert, ALBERTA   08/31/05  Honda GL1800      1,402

Tulsa Ramblers Border to Border ride
Arnie Postier     Edmond, OK             07/19/05  H-D Electra Glide1,493
Gary Jackson      Sapulpa, OK            07/19/05  H-D FLHTCUI      1,493
Mike Brockway     Jenks, OK              07/19/05  H-D FLHTCUI      1,493
Jim Ed Briggs     Tulsa, OK              07/19/05  H-D FLHTC        1,493

Bob Bacon        El Cerrito, CA          07/07/05  BMW K1200LT      1,481
Jack Shoalmire   Broken Arrow, OK        07/03/05  BMW K1200LT      1,542
Yves Gauthier    Langley, BC CANADA      06/28/05  BMW R100RS       1,397
Wayne J Larcombe Minot, ND               06/25/05  H-D Road King    1,482
Frank Langben    Los Altos, CA           06/21/05  Honda SilverWing 1,391
Garth Tomic      Sweet Home, OR          06/20/05  Suzuki V-Strom   1,418
Ronald Wilkerson Trabuco Canyon, CA      06/14/05  BMW K1200LT      1,391
Michael Boge     Sandpoint, ID           06/03/05  BMW K1200LT      1,441

Martin Olgin     Simi Valley, CA         05/28/05  H-D Road Glide   1,401
Paula Olgin (passenger)                  05/28/05  H-D Road Glide   1,401
Bob Levine      Simi Valley, CA          05/28/05  H-D Road Glide   1,401
JoAnn Levine (passenger)                 05/28/05  H-D Road Glide   1,401
Scott Soles      Simi Valley, CA         05/28/05  H-D Electra Glide1,401

Lori Magers       Tualatin, OR           05/21/05  Honda Gold Wing  1,415

Ernie Azevedo     Milwaukie, OR          05/09/05  BMW K1200LT      1,400

M. Scott Swett   Richland, WA            04/04/05  Honda GL1800     1,421

Brian Francis    Bellingham, WA          10/21/04  Honda VTX1800C   1,422
Frank Goeth      Oak Harbor, WA          10/21/04  Honda VTX1300    1,422

Dave Bruischart  Centreville, MI         09/03/04  H-D Road King    1,675
Bill Loftin      McKinney, TX            09/03/04  Honda Gold Wing  1,650
James E. Collins Masassas, VA            08/31/04  Honda Gold Wing  1,676
Gregory Dennett  Wichita, KS             08/03/04  Honda ST1100     1,676

Douglas Ladd     Roseburg, OR            07/31/04  Ducati Supersport1,430
Douglas Mauck    Sandy, UT               07/31/04  Honda VF700F     1,430
John Noble       Hillsboro, OR           07/31/04  Suzuki Hayabusa  1,430

Robert L. Smith  Yuma, AZ                07/03/04  Honda ST1300     1,441
Greg Reider      Yakima, WA              07/01/04  Honda Valkyrie   1,423
Henry D. Towne   Lone Tree, CO           06/23/04  Suzuki Hayabusa  1,468
Mark G. Smith    Watauga, TX             06/13/04  H-D Ultra Classic1,528

Chris Carter     Lake Jackson, TN        06/05/04  H-D Ultra Classic1,590
Lee Bryant       Richwood, TX            06/05/04  H-D Fat Boy      1,590

Gary W. Sheets   Carthage, MO            06/07/04  Honda Gold Wing  1,540

Bruce A. Hansen  Everett, WA             05/19/04  H-D FLTRI        1,392

Vernon L. Rank   Yakima, WA              05/07/04  BMW K1200LT      1,433
Tobie Stevens    Tieton, WA              05/07/04  BMW K1200LT      1,433

Minnesota LD Riders' record setting Border to Border rally!
David W. Nelson  Bloomington, MN         04/30/04  Honda CB750F     1,670
Bill Wing        Summers, AR             04/30/04  BMW K1200LT      1,670
Jacob Pobocik    Gaines, MI              04/30/04  Yamaha FJR1300   1,670
Jason Eagle      Kasson, MN              04/30/04  Suzuki Bandit    1,670
Ken Lefler       Iowa City, IA           04/30/04  BMW R1100RS      1,670
Nels Gebben      Maplewood, MN           04/30/04  BMW K1100LT      1,670
Marv Smith       Inver Grove Heights, MN 04/30/04  Honda GL1800     1,670
Andrew Mills     Roseau, MN              04/30/04  Yamaha FJR1300   1,670
Paul Noskowiak   Rice, MN                04/30/04  BMW K100LT       1,670
Jeffrey Malmquist  Duluth, MN            04/30/04  Ducati Monster   1,670
Mike Senty       Grand Marais, MN        04/30/04  BMW R1150RT      1,670
Robert Schember  Burnsville, MN          04/30/04  Honda ST1300     1,670
Charles Stults   Beloit, WI              04/30/04  BMW K1200LT      1,670
Dave Becker      Monticello, MN          04/30/04  Triumph Trophy   1,670
Ken Bryant       Monticello, MN          04/30/04  Yamaha Venture   1,670
John Coons       Plainview, MN           04/30/04  BMW R1100RSL     1,670

Steven Broadhead Calgery, AL CANADA      04/07/04  Honda Blackbird  1,541
Jim Truitt       Ravensdale, WA          04/07/04  Suzuki Volusia   1,404

Brett Donahue    Sauk Rapids, MN         10/22/03  H-D Road Glide   1,650
Peter Sutherland Kirkland, WA            09/20/03  BMW K1100LT      1,379

Marc Prymack     Calgary, AB    CANADA   08/27/03  BMW R1150GS      1,444
Bill Watt        Vancouver, BC  CANADA   08/27/03  BMW R1150GS      1,444

Dave McQueeney   Baldwin Park, CA        08/19/03  BMW R100GS       1,396
Sean J. GallagherRichmond, VA            07/28/03  BMW K1200LT      1,577
Rick Davis       Yakima, WA              07/14/03  Honda CBR1100XX  1,406
Lee Myrah        Calgery, AB CANADA      05/15/03  Honda ST1100     1,389

Jeff Mitchell    Lake Oswego, OR         03/08/03  BMW K1200LT      1,440
Coni Fitch       Bellevue, WA            03/08/03  BMW K1200LT      1,440

Gary Rollins     Oklahoma City, OK       07/12/02  BMW K1200LT      1,639

Smallest motorcycle to complete Border to Border Insanity: 
David C. Dennis 07/15/08  Kawasaki Ninja 250




---



Border to Border to Border Insanity (Mexico to Canada to Mexico in less than 72 hours!):

Name             Hometown                Date      Motorcycle       Mileage

Michael Kerzman   Bismarck, ND           07/04/19  Triumph Explorer 3,064 

Ben Leong        Calgary, AB CANADA      06/24/18  H-D Sportster883R2,880

Mark Lambie      University Place, WA    06/22/18  BMW R1200RT      2,784 

Charles D. Lott  Lebuc, AB CANADA        09/01/16  Kawasaki Vaquero 3,232

Stacy Trotter    Buena Park, CA          08/30/14  Honda Gold Wing  2,903
Cal Braley       Spring Valley, CA       08/05/15  Yamaha V-Star650 2,969

Kristen Langley  Tacoma, WA              09/06/11  Honda Gold Wing  2,944
Timothy Masterson San Marcos, TX         09/03/09  BMW R1200GS      2,784

Lester Zutz      Slave Lake, AB CANADA   08/10/09  H-D Road Glide   2,850
             * * * Lester is 68 years young on this ride! * * *

Tom Yeager        Yakima, WA             06/26/09  Honda GL1800     2,898
Jeff Schmelzer    Naches, WA             06/26/09  Honda GL1800     2,898

Chuck Jones Bolanos  Laredo, TX          09/03/06  H-D UltraClassic 3,352

Wayne Ward       Temple, TX              09/03/06  H-D UltraClassic 3,254
Terry McElroy    Belton, TX              09/03/06  H-D UltraClassic 3,254
Danny C. Dossman Belton, TX              09/03/06  H-D UltraClassic 3,254

Rachel Dwyer     Bellevue, WA            09/09/06  Ducati S2R       2,802
Yves Gauthier    Langley, BC CANADA      06/28/05  BMW R100RS       2,803
Louis Chartrand  Churubusco, NY          05/20/05  Kawasaki Concours3,331
Jocelyn Cote     St-Antoine Abbe, PQ     05/20/05  Yamaha R-1       3,331
Louis-Phillippe  Chartrand, Quebec       05/20/05  Kawasaki Concours3,331

Glenn K Pancoast Lansing, MI             09/29/04  BMW K1200LT      3,271
Mike Senty       Grand Marais, MN        04/30/04  BMW R1150RT      3,450



---


Piston Diversity Insanity GOLD
   GOLD LEVEL RIDE on a 1, 2, 3, 4, 5 and 6 cylinder motorcycle in 12 months :
   
Larry M. Reed - 06/20/14
SINGLE:   1998 BMW F650 Funduro             Bun Burner GOLD 08/16/13
TWIN:     2012 BMW GS1200 Adventure         Bun Burner GOLD 06/28/13
TRIPLE:   2000 Triumph Sprint 955i          Bun Burner GOLD 06/20/14
FOUR:     1994 Honda CB 1000                Bun Burner GOLD 05/30/14
SIX:      2007 Honda Gold Wing GL1800       Bun Burner GOLD 04/20/14




---


Piston Diversity Insanity
   SaddSore 1000 on a 1, 2, 3, 4, 5 and 6 cylinder motorcycle in 12 months :


Krystof Tyl - AUSTRALIA
SINGLE:   Honda PCX 150       New South Wales 1600K     28-JAN-2021
TWIN:     H-D  Ultra Limited  New South Wales 1600K     01-NOV-2021
TRIPLE:   Yamaha MT-09        New South Wales 1600K     09-FEB-2021
FOUR:     Suzuki GSX-S1000    New South Wales 1600K     15-NOV-2021
SIX:      Honda Gold Wing     New South Wales 1600K     05-JAN-2021


Sean Sowley - UK 
SINGLE:   Synm Joyride 180 Scooter    Saddlesore 1000   07/01/21
TWIN:     BMW R1250 GSA               Saddlesore 1000   07/08/21 
TRIPLE:   Triumph Trophy 900          Saddlesore 1000   08/17.21 
FOUR:     BMW K100                    Saddlesore 1000   08/24/21
SIX :     Honda GL1500 Gold Wing      Saddlesore 1000   09/02/21


Ted Capling: (mkh howard is mailing
SINGLE:   Kawasaki KLR650             SaddleSore 1600K  10/10/2020
TWIN:     Kawasaki Vulcan 900         SaddleSore 1000   09/22/2020
TRIPLE:   Triumph Sprint Executive    SaddleSore 2000K  07/03/2021
FOUR:     Kawasaki ZX-14R             SaddleSore 1600K  09/11/2021
SIX :     Honda Gold Wing             SaddleSore 1600K  09/04/2021


Brian North - This is Mr. North's 3rd Piston Diversity Insanity Award
This is the 1st In-state Piston Diversity Award
This is the 1st Piston Diversity Award completed in 5 consecutive days
SINGLE:   Kawasaki KLR650              Wisconsin 1000  07/31/21
TWIN:     Aprilia Caponord             Wisconsin 1000  08/01/21
TRIPLE:   Triumph Explorer XRT         Wisconsin 1000  08/02/21
FOUR:     BMW K1300GT                  Wisconsin 1000  08/03/21
SIX :     BMW K1600GT                  Wisconsin 1000  08/04/21


Lowell Burke  - 05/29/21
SINGLE:   Honda FT500 Ascot             SaddleSore 1000 05/07/21
TWIN:     Honda VTX 1800C               SaddleSore 1000 05/01/21
TRIPLE:   Triumph Tiger 800             SaddleSore 1000 05/22/21
FOUR:     Yamaha Royal Star Venture     SaddleSore 1000 05/15/21
SIX :     Honda GL1899 Valkyrie         SaddleSore 1000 05/29/21
 
Brian North - 07/27/20 - This is Mr. North's 2nd Piston Diversity Insanity Award!
SINGLE:   Kawasaki KL650                4 Columbus's 1000     07/27/20
TWIN:     Aprilia Caponard              Wisconsin 1000        06/27/20
TRIPLE:   Triumph Rocket TFC            Wisconsin 1000        06/17/20
FOUR:     BMW K1300GT                   Wisconsin 1000        06/11/20
SIX :     BMW K1600GT                   Jeni's Ice Cream 1000 06/23/20

Ioram Abolnik (MEXICO) - 11/07/18
SINGLE:   Honda XRE 300                 SaddleSore 1600K  11/07/18 
TWIN:     BMW R1200GSA                  SaddleSore 1600K  08/29/18
TRIPLE:   Triumph Tiger 800 XCX         SaddleSore 1600K  09/11/18
FOUR:     BMW S1000XR                   SaddleSore 1600K  09/07/18 
SIX:      BMW K1600GT                   SaddleSore 1600K  09/20/18
   
Brian North - 08/31/18 
SINGLE:   Kawasaki KLR650               Wisconsin 1000     08/28/18 
TWIN:     Aprilia Caponord              Fall Equinox 1000  09/22/17 
TRIPLE:   Triumph Explorer XRT          SaddleSore 1000    07/05/18 
FOUR:     BMW K1300GT                   Wisconsin 1000     08/31/18 
SIX:      BMW K1600GT                   SaddleSore 1000    10/05/17 

  
Thom Rieck - 09/10/18
SINGLE:   BMW G650S                     SaddleSore 1000 05/05/18
TWIN:     BMW R1200RT                   EggSanity 1000  05/12/18
TRIPLE:   BMW K75S                      SaddleSore 1000 04/22/18
FOUR:     BMW K1200LT                   SaddleSore 1000 09/10/18
SIX :     Honda GL1800                  SaddleSore 1000 07/30/18


Robert Overbaugh - 05/25/14
SINGLE:   1998 BMW F650 Funduro         SaddleSore 1000 09/18/13
TWIN:     2004 H-D FLTRI Road Glide     SaddleSore 1000 06/16/13
TWIN:     2012 BMW GS1200 Adventure     SaddleSore 1000 07/02/13
TRIPLE:   2005 Triumph Tiger 955i       SaddleSore 1000 09/23/13
FOUR:     2000 Suzuki Bandit 1200S      SaddleSore 1000 07/03/13
SIX :     1998 Honda Valkyrie Tourer    SaddleSore 1000 05/25/14




---




Piston Diversity - SaddSore 1000 on a 1, 2, 3, 4, 5 and 6 cylinder - NO TIME LIMIT





---



Bun Burner 3000K GOLD Finishers (3,000 kilometers in less than 24 hours):

Name              Hometown               Date      Motorcycle                 Kilometers

Ian McPhee        AUSTRALIA              11/08/10  Triumph Rocket III Touring 3,000+

* Please note, you must show your entire route used roadways with speed limits of at least 130 KPH
  as of 2014, only Australia (Northern Territory) and Germany  have roads that qualify. 




---



Bun Burner 2500K GOLD Finishers (2,500 kilometers in less than 24 hours):

Name              Hometown               Date      Motorcycle                 Kilometers

Aleksey Verzhbitskiy Stavropol, RUSSIA   06/09/21  Yamaha FJR1300             2,548 
Darya Verzhbitskaya (passenger)          06/09/21  Yamaha FJR1300             2,548 

Alexandre do Couto (Cabeca)    BRAZIL    08/22/20  Suzuki V-Strom 650XT       2,528

Odair Correia de Mello BRAZIL            07/11/20  BMW R1200GS                2,607
Daniel Nibi W. Dulce   BRAZIL            07/11/20  Triumph Tiger 800 XRX      2,607

Martien Kramer    Netherlands            05/30/20  BMW K1600GT                2,620 

Robert Weber      Germany                05/20/20  BMW R1200RT                2,597 

Steven R. Fash    Gloucester, ON         07/19/19  BMW R1200GSA               2,570

Vladimir Salmin   Strezhevoy, RUSSIA     06/25/19  BMW R1200GS                2,578 

Volker Faerber    Germany                05/11/19  Yamaha TDM900              2,560 

Ronald van der Linden     Netherlands    05/07/19  BMW R1200GSA               2,566

Antônio Carlos Zanandrea   BRAZIL        12/26/18  BMW R1200GS                2,545

George R. Woodman Moncton, NB CANADA     09/15/18  Honda Valkyrie             2,517 

Andrey Sosorev    Moscow, RUSSIA         09/10/18  H-D FLHTK Ultra Limited    2,569

Volker Faerber    Germany                09/08/18  Yamaha MT-09               2,534 

Yuriy Sharshakov  Himki, RUSSIA          06/22/18  Yamaha FJR1300A            2,600

Hubert Kachelein  GERMANY                05/26/18  Suzuki GSF1250S            2,514
Josef Loffler     GERMANY                05/19/18  BMW R1200GSA LC            2,561

Demons of the Sahara Bun Burner 2500K GOLD
Ahmad W. Nazzal   Dubai, UAE             10/13/17  H-D Road Glide Special     2,581
Subir Kumar Saha  Dubai, UAE             10/13/17  H-D Road Glide             2,581
Karan Verdia      Dubai, UAE             10/13/17  H-D Dyna Fat Bob           2,581
Wael J. Jandali   Dubai, UAE             10/13/17  H-D Ultra                  2,581
Jihad Al Houwayek Dubai, UAE             10/13/17  H-D Road Glide Custom      2,581
     * * * First riders to complete Bun Burner 2500K GOLD in the Middle East * * *

Volker Farber     GERMANY                09/10/17  Yamaha TDM 900             2,528

Peter Hogan       Australia              10/25/17  Yamaha TMax 530 scooter    2,504

Ole Sandgaard Andersen Svinninge, DENMARK07/15/17  Honda XL 1000 VA8 Varadero 2,518

Aleksandr Yunanov Moscow, RUSSIA         06/25/17  H-D Road Glide             2,786

Andrey Vayvads    Moscow, RUSSIA         06/06/17  H-D Road King              2,670

Erick Marcelo Martins Bocchi   BRAZIL    05/01/17  BMW R1200GS Adventure      2,561
Odair Correia de Mello     BRAZIL        04/29/17  BMW R1200GS                2,537

Marcus Rosenfeld  Tribsees, Germany      10/02/16  Honda VFR1200X Crosstourer 2,514

Jeffrey Gebler    Australia              09/08/16  Yamaha Super Tenere        2,565

Ole Sandgaard Andersen Svinninge, DENMARK08/17/16  Honda XL 1000 VA8 Varadero 2,530

Odair Correia de Mello  BRAZIL           06/18/16  BMW R1200GS                2,566

Peter Hogan       Australia              12/04/15  Yamaha FJR1300             2,528 New South Wales BBG

Diego Gaspar Scotton Da Silva   BRAZIL   11/29/15  BMW F800GSF                1,514

Dale Bundy        Punxsutawney  PA       10/14/15  Honda Gold Wing            1,509

Odair Correia de Mello  BRAZIL           10/03/15  BMW R1200GS                2,520

Jacques Hardy     Rimouski, QC CANADA    09/16/15  BMW K1600GTL Exclusive     2,522

Gaius Ricker      Indian Mountain,NB CAN 08/20/15  Honda Gold Wing            2,543
             * * * Gaius is 66 years young on this ride! * * *

Dave Barwood      Australia              08/20/15  Triumph Roadster           2,521

Sergey Nazaruk    Moscow, RUSSIA         08/06/15  Honda GL1800               2,510

Runar Sillerud    Disena, NORWAY         07/28/15  H-D Electra Glide Ultra    2,650
Anita Hoel (passenger)                   07/28/15  H-D Electra Glide Ultra    2,650

Sergey Semenov    Moscow, RUSSIA         07/20/15  Suzuki GSXR-1000           2,555
Vasiliy Kochegarov Moscow, RUSSIA        07/04/15  Suzuki GSX1250FA           2,551

Norman Lafleur    AB, CANADA             06/27/15  Honda ST1300               2,604

Alexander Mukhin  Trebisov, SLOVAKIA     06/21/15  Yamaha XV 1900             2,614
Jana Muchinova (passenger)               06/21/15  Yamaha XV 1900             2,614

Odair Correia de Mello  BRAZIL           06/20/15  BMW R1200GS                2,578

Jeffrey Gebler    Australia              06/09/15  Yamaha Super Tenere        2,609

Christian Blais   Val-d'Or, QC CANADA    06/07/15  KTM 1190R Adventure        2,540
Andre Rioux       Val-d'Or, QC CANADA    06/07/15  BMW 1200GS Adventure       2,540
Alain Rioux       Val-d'Or, QC CANADA    06/07/15  BMW 1200GS Adventure       2,540
Daniel Rioux      Val-d'Or, QC CANADA    06/07/15  BMW 1200GS                 2,540
Armand Turcotte   Val-d'Or, QC CANADA    06/07/15  BMW 1100GS                 2,540

Andre Carrazzone Neto  BRAZIL            05/15/15  Yamaha XT1200Z             2,520
Rindley Silva     BRAZIL                 05/15/15  Yamaha Super Tenere 1200   2,520

Riel Smit         Bellville, SA          11/01/14  Yamaha Super Tenere 1200   2,509

Bjarne Sorensen   Skodstrup, DENMARK     09/05/14  BMW R1150GS                2,514
Freddy Nielsen    Thorso, DENMARK        09/05/14  BMW R1200RT                2,514

Wharf Rat Rally's Iron Butt ride
Earl Deveau       Mavillette, NS CANADA  08/28/14  H-D Electra Glide          2,566

Clive Brown       Sooke, BC CANADA       08/07/14  H-D Road Glide Ultra       2,540

Barry Martin      Broule, NSW AUSTRALIA  04/02/14  BMW R1200GS                2,575

Andre Carrazzone Neto BRAZIL             01/31/14  Suzuki DL650 V-Strom       2,511

Michael Turnpenny Stirling, SCOTLAND     12/09/13  Yamaha FJR1300A            2,539 Australia Ride
Dave Barwood      Toodyay, WA AUSTRALIA  12/09/13  Triumph Roadster           2,539

Mikhail Marichev  Moscow, RUSSIA         07/11/13  Honda Gold Wing GL1800     2,662

Jan Hansen        Eidsvoll, NORWAY       05/19/13  BMW K1200S                 2,630

Joan Carles Gallart Torras  SPAIN        05/10/13  BMW R1200GS                2,547

Ron Perry         Mildura,VIC AUSTRALIA  03/26/13  Kawasaki 1000GTR           2,541
Marlene Perry (passenger)                03/26/13  Kawasaki 1000GTR           2,541

Peter Hogan       Dangar, NSW AUSTRALIA  06/23/12  Yamaha FJR1300             2,528 NSW-BBG2500k

Reid M. Sanford   Hantsport, NS CANADA   06/16/12  Honda Gold Wing 1500       2,557

Peter Hogan       Dangar, NSW AUSTRALIA  01/20/12  Yamaha Super Tenere 1200   2,512

Norbert Wienck    Deutschland            09/11/11  MotoGuzzi Stelvio          2,567

Michael Crapp     Modanville, AUSTRALIA  08/05/11  Kawasaki ZRX1200           2,533

Ib Stejlborg      Glostrup, DENMARK      07/22/11  H-D Ultra Classic          2,522

Volodymyr Chernyshov Kyiv, UKRAINE       07/12/11  BMW R1200CL                2,670

Edward Kuzikowski St. Albert, AB CANADA  06/05/11  Honda Gold Wing            2,596

Jurgen Bruggemann Worms, GERMANY         04/23/11  Kawasaki 1400GTR           2,616
Werner Schiemann  Sonsbeck, GERMANY      04/02/11  Yamaha FJR 1300            2,660

Peter Hogan       Dangar, NSW AUSTRALIA  05/23/11  Honda CBR1100XX            2,536 NSW-BBG2500k

Davo's Memorial Plaque Ride 
John R. Ainsworth Turner, ACT AUSTRALIA  11/12/10  H-D FLHTCUSE4    2,569

Markus Reichart   AUSTRIA                10/09/10  BMW R1200GS      2,658

Marc Schaub       Dusseldorf, GERMANY    05/22/10  Honda CBF600     2,525

Alwyn Bressanelli Broken Hill, AUSTRALIA 09/25/10  Kawasaki 1400GTR 2,525

Garry Kramer      Edmonton, AB CANADA    05/29/10  BMW K1200LT      2,540

Malcolm Cherlin   Hamilton,NSW AUSTRALIA 03/30/10  Ducati ST2       2,523

Monte Carlo or Bust!
James Owens       Liverpool, UK          04/18/09  Honda XL1000     2,600
David Badcock     Tyne & Wear, UK        04/18/09  H-D Ultra Classic2,549
David Clarke      Tyne & Wear, UK        04/18/09  Yamaha FJR       2,600

David Robertson   Kraainem, BELGIUM      08/04/08  BMW R1100GS      2,507

Marcio A. Pelloso Lucelia, SP, BRASIL    07/12/08  BMW R1200GS      2,568

Michael Eeg       Borkop, DENMARK        05/15/08  Yamaha Wild Star 2,548

Ulrich Norden     Kirchlinteln, GERMANY  05/30/07  Honda ST1300A    2,519
Raimond Boschen   Bremen, GERMANY        05/30/07  Honda ST1300A    2,519

Peter Kirchner    Pretoria, SOUTH AFRICA 05/25/07  BMW Adventure    2,637
Ronald Davidson   Pretoria, SOUTH AFRICA 05/25/07  BMW Adventure    2,637

Sergey Yevpryakov Moscow, RUSSIA         08/23/06  Honda CBR1100XX  2,520

Jansen Feliciano  Sao Paulo, BRASIL      03/10/06  Suzuki Hayabusa  2,511

Morten Moller     Lystrup, DENMARK       10/06/05  H-D Heritage     2,580

Harri Hjulgren    Turku, FINLAND         03/26/05  TriumphTiger955i 2,529

Bruce Chomeakwich Alberta, CANADA        06/21/04  Honda Gold Wing  2,507

Derrick Sutton    Southbank, AUSTRALIA   01/23/04  Kawasaki ZZR600  2,509
John McCrindle    Australia              01/23/04  BMW R1150RT      2,509

Teun Luigjes      Uddel, NETHERLANDS     09/08/01  H-D Ultra        2,504




---


Bun Burner 1500 GOLD Finishers (1,500 miles in less than 24 hours):

Name              Hometown               Date      Motorcycle                 Mileage 

July 4th Independence Day Bun Burner Gold
Mitch Friedman    Sylmar, CA             07/04/21  Honda Gold Wing            1,516
George Mowry      Squaw Valley, CA       07/04/21  Yamaha FJR 1300ES          1,531
                  * * * George did this ride on his 77th birthday! * * *

Todd Gimpel       Aurora, NE             07/04/21  H-D Ultra Limited          1,552 


Robert Clayton    Alsip, IL              07/03/21  KTM 1290 Super Adventure T 1,559 

July 4th Independence Day Bun Burner GOLD 
Greg Wolf         Neptune Beach, FL      07/03/21  BMW R1200GS                1,505 
             * * * Greg is 66 years young on this ride! * * * 

Lionel L Ramos    Falls Church, VA       07/03/21  H-D Road Glide CVO         1,550

John R. Dees      Round Rock, TX         07/01/21  Honda ST1300PA             1,512 TX-BBG 

Jason Bullinger   Convoy, OH             06/30/21  H-D Ultra Classic Limited  1,505 
  
Brian Avery       Gilbert, AZ            06/30/21  Honda Gold Wing 1500       1,526 

Kim Ross          Apple Valley, MN       06/28/21  Honda ST1300               1,542
 
Matthew Busch     Pembroke Pines, FL     06/26/21  H-D Ultra Limited          1,511 

Matthew R. Janis  Fort Gordon, GA        06/24/21  H-D Street Glide CVO       1,513 
 
Father's Day Summer Solstice BBG
Dmitriy Kostylnikov Vologda, RUSSIA      06/20/21  Suzuki Hayabusa            1,800+ 
Sandra K Wallace  Charlotte, NC          06/20/21  H-D Road Glide Limited     1,558
Kevin J. Baker    Ontario, ON            06/20/21  Indian Chief Vintage       1,527
Mark Marciniak    Seattle, WA            06/20/21  Honda Gold Wing            1,531
 
Theodore A. Van Poznak   Tenafly, NJ     06/15/21  Kawasaki Concours 1400     1,514

Justin Alpiser    Cary, NC               06/13/21  Honda Africa Twin Adventure1,524 

Lionel L Ramos    Falls Church, VA       06/13/21  H-D Road Glide CVO         1,505
 
Crystal Sabas     Warrensburg, MO        06/11/21  Yamaha Star Venture        1,555

Carl Harris       Raleigh, NC            06/10/21  H-D Road Glide Special     1,509
 
Garrett Johnson   Sandpoint, ID          06/06/21  H-D Road King Police FLHP  1,523 
Mike Gagnon       Sandpoint, ID          06/06/21  H-D Road Glide Special     1,523

Andrew Erath      Carson City, NV        06/05/21  BMW R1150GS                1,552 

Dave Scott        Yardville, NJ          06/05/21  H-D Street Glide           1,569

Andrew Erath      Carson City, NV        06/05/21  BMW R1150GS                1,552 
  
Rick Kennedy      El Dorado, KS          06/04/21  H-D Road Glide Ultra       1,545

Greg Rice         Ft Lauderdale, FL      06/04/21  BMW R1250GSA               1,511
* This is Greg's 67th BBG - 67 documented 1,500 mile days and over 100,000 BBG miles! *

John W. Barnes    Upton, KY              06/03/21  Honda Gold Wing            1,518 

Lionel L Ramos    Falls Church, VA       05/30/21  H-D Road Glide CVO         1,578
Lionel L Ramos    Falls Church, VA       05/27/21  H-D Road Glide CVO         1,512

Robert N. Loomas  Arvada, CO             05/23/21  Honda Gold Wing GL1800     1,515 
Jim Casey         Arvada, CO             05/23/21  Honda Gold Wing Tour DCT   1,515 
             * * * Jim is 66 years young on this ride! * * * 

David R. Adams    Alpine, UT             05/14/21  H-D Road Glide             1,557 
Thomas Honeycutt  Cedar Hills, UT        05/14/21  H-D Ultra Limited          1,557 
             * * * Thomas is 66 years young on this ride! * * * 
             
Blayne L. Regan   Nora Springs, IA       05/14/21  H-D Limited Shriner        1,566 

Dmitriy Poddubnyy Simferopol, Crimea     05/11/21  Honda GL1800               1,556 

Jeffrey Hamberg   Orange, MA             05/10/21  BMW K1600 Grand America    1,596 

Jon HarBison      Oakland City, IN       05/07/21  Victory Cross Country Tour 1,527 
David W. Housman  Evansville, IN         05/07/21  Honda Gold Wing            1,527 

Will Goodwin      Yardley, PA            05/03/21  Honda ST1300               1,510 

Jason Jenkins     Las Vegas, NV          05/30/21  H-D Ultra Limited          1,583

Brandon Meyers    Macon, GA              05/24/21  Honda Gold Wing GL1500     1,545

Robert N. Loomas  Arvada, CO             05/23/21  Honda Gold Wing GL1800     1,515 

Rob Griffith      Deatsville, AL         05/22/21  H-D Road King              1,529

James Alton       Franklin, NH           05/17/21  Yamaha Super Tenere        1,589

Eric K. Hendricks Marquette, MI          05/15/21  Yamaha Super Tenere        1,563 MI-BBG

Chris Leonards    Albuquerque, NM        05/15/21  Kawasaki H2 SXSE Plus      1,532
Jim Saul          Albuquerque, NM        05/15/21  Yamaha Super Tenere        1,532

Blayne L. Regan   Nora Springs, IA       05/14/21  H-D Limited Shriner        1,566 

Jody L. Steward   Godley, TX             05/07/21  H-D FLHTK                  1,524
Ronnie D. West    Godley, TX             05/07/21  H-D Road Glide             1,524

Christopher Chaney Litchfield Park, AZ   05/03/21  H-D Road Glide Custom      1,551 

Brian Bates       New Braunfels, TX      05/03/21  Aprilia Rsv4RR             1,524 TX-BBG

Lionel L Ramos    Falls Church, VA       05/02/21  H-D Road Glide CVO         1,555

George Mowry      Squaw Valley, CA       04/27/21  Yamaha FJR1300ES           1,561 

Matt Touchton     Jacksonville, FL       04/26/21  Honda Gold Wing Trike      1,525 
             * * * Matt is 66 years young on this ride! * * * 

Lionel L Ramos    Falls Church, VA       04/25/21  H-D Road Glide CVO         1,532

Lynn R Behrens    Beaver Dam, WI         04/25/21  BMW R1200RS                1,506

Maximum HamPower 1500 Gold
Luke Rutledge     Saint Charles, MO      04/24/21  Kawasaki Voyager 1700      1,546

Michael M. Violet Farmers Branch, TX     04/17/21  Honda Gold Wing            1,516 TX-BBG 

Motorcycle Tourer's Forum Saddlesore Bun Burner GOLD 
John Read         Scottsdale, AZ         04/17/21  Honda GL1800               1,553 
Kristopher Seymour Gilbert, AZ           04/17/21  BMW R1200RT                1,553 
Mark Cox          Glendale, AZ           04/17/21  Honda GL1800               1,553 
Robert Chase      San Tan Valley, AZ     04/17/21  H-D Ultra Limited          1,553 
Michelle Oliff (passenger)               04/17/21  H-D Ultra Limited          1,553 

Charles Gatecliff  Brighton, MI          04/17/21  H-D Ultra Limited          1,537
Elmer Larry Kratz Ocala, FL              04/17/21  H-D Road Glide CVO         1,537
             * * * Elmer is 73 years young on this ride! * * * 

Resistencia Chihuahua Rally
Edgar Jonathan Hernandez Sanchez         04/16/21  Bajaj Platina 100cc        1,502
Antonio De La Rosa Fong         MEXICO   04/16/21  Suzuki Boulevar M102R      1,502
Julio Alberto Medina Chavez     MEXICO   04/16/21  Yamaha Midnight 1900       1,502
Eduardo Ivan Antillon Merino    MEXICO   04/16/21  BMW R1200 Gs Adv           1,502
Joan Gabriel Rivera Soto        MEXICO   04/16/21  H-D Sportster 883          1,502
Said Hernández Díaz             MEXICO   04/16/21  BMW Adventure              1,502
Hector Juan Flores Botello      MEXICO   04/16/21  BMW R 1250 Adventure Hp    1,502
Magaly Gomez Moyao (pillion)    MEXICO   04/16/21  BMW R 1250 Adventure Hp    1,502

Doug Vance        Cordova, TN            04/14/21  H-D Ultra Limited          1,535

Small Mountain Taco Run Bun Burner GOLD
Jeff Hallquist    New Bern, NC           04/08/21  H-D Road Glide             1,501
Jeff Chauncey     Ocala, FL              04/08/21  H-D Road Glide Special     1,517

Chadwick L. Ottnat Spicewood, TX         04/07/21  BMW R1250RT                1,535 
Scott A. Waite    Spicewood, TX          04/07/21  Ducati Multistrada Enduro  1,557 

David M Uhl       Parker, CO             04/07/21  H-D Road Glide Limited     1,708

Pete Milani       Pensacola, FL          04/03/21  H-D Road Glide             1,549

Bun Burner Fools Gold
Sandra K Wallace  Charlotte, NC          04/01/21  H-D Road Glide Limited     1,628
George Mowry      Squaw Valley, CA       04/01/21  Yamaha FJR1300ES           1,510
Ronald L. Trainor Port St Lucie, FL      04/01/21  H-D Ultra Classic Tri-Glide1,511
Shareef AsSadiq   Boerne, TX             04/01/21  Indian Roadmaster          1,518 TX-BBG
KSolo Harris      Raleigh, NC            04/01/21  H-D Road Glide Special     1,540
Daniel Wallander  Rio Rancho, NM         04/01/21  Honda ST1300               1,542
Doug Vance        Cordova, TN            04/01/21  H-D Ultra Limited          1,523
Matthew J. Miller Box Elder, SD          04/01/20  Triumph Street Triple RS   1,552 TX-BBG
George Mowry      Squaw Valley, CA       04/01/21  Yamaha FJR1300ES           1,510
         * * * This is George's 26th documented 1,500 mile day! * * * 

Chris Hopper      Cypress, TX            03/31/21  H-D Road Glide Limited     1,503 TX-BBG
Gregg Unwin       Tucson, AZ             03/23/21  BMW R1200GSA               1,517 
Jason Strode      Peoria, AZ             03/21/21  Honda ST1300               1,503 

Spring Equinox Bun Burner GOLD
Sandra K Wallace  Charlotte, NC          03/20/21  H-D Road Glide Limited     1,578
David Schroeder   Amston, CT             03/20/21  Yamaha Super Tenere        1,524
Shaymus K.P. Banks  Fresno, CA           03/20/21  Honda Gold Wing F6B        1,521 CA-BBG
Jeff Hallquist    New Bern, NC           03/20/21  H-D Road Glide             1,515

George Mowry      Squaw Valley, CA       03/14/21  Yamaha FJR1300ES           1,505

Charles Scott Weir Clarksville TN        03/13/21  Yamaha FJR1300A            1,605

Anchors Aweigh 1500 GOLD
William Buskell   Panama City Beach, FL  03/11/21  H-D Road Glide             1,518 FL-BBG
Dan Crowley       Charlotte, NC          03/11/21  Honda Gold Wing            1,518 FL-BBG
Scott Durham      Alexander City, AL     03/11/21  Honda Gold Wing            1,518 FL-BBG
Daniel Duvall     Owings, MD             03/11/21  Yamaha FJR1300             1,518 FL-BBG
Alan Ferry        Lakeland, FL           03/11/21  BMW GSA                    1,518 FL-BBG
Mike Hall         Collinsville, OK       03/11/21  BMW R1200RT                1,518 FL-BBG
Robert Long       Ash Grove, MO          03/11/21  Victory Vision             1,518 FL-BBG
Lionel L Ramos    Falls Church, VA       03/11/21  H-D Road Glide CVO         1,518 FL-BBG
Christian Rasmussen     Charlotte, NC    03/11/21  BMW R1200GSA               1,518 FL-BBG
Gregg Szakmeister New Bern, NC           03/11/21  H-D Road Glide Ultra       1,518 FL-BBG

Dionlen Monteiro  Abington, MA           03/11/21  Triumph Tiger 1200 Explorer1,532 
Jameson Dantas    Marlborough, MA        03/11/21  Triumph Tiger Explorer     1,532 

Thomas Bake       Greenland, NH          03/09/21  BMW R1200GS                1,542 

Mike Hall         Collinsville, OK       03/08/21  BMW R1200RT                1,540 RTE-X-USA

Heather Gillihan  Fort Worth, TX         03/06/21  Yamaha Super Tenere        1,552 TX-BBG 

Mike Hall         Collinsville, OK       03/06/21  BMW R1200RT                1,529 

Chris Hopper      Cypress, TX            03/04/21  H-D Road Glide Limited     1,555

Lionel L Ramos    Falls Church, VA       02/28/21  H-D Road Glide CVO         1,652

Defective Gene Pool Annual Party
Lionel L Ramos    Falls Church, VA       02/25/21  H-D Road Glide CVO         1,525
David M Uhl       Parker, CO             02/24/21  H-D Street Glide CVO       1,584

George Mowry      Squaw Valley, CA       02/19/21  Yamaha FJR1300ES           1,506 
         * * * This is George's 25th documented  1,500 mile day! * * * 

Jack L. Knorst    Phoenix, AZ            02/08/21  Can-Am Spyder RT Limited   1,508
            				 * * * Jack is 76 years young on this ride! * * *

David M Uhl       Parker, CO             02/01/21  H-D Street Glide CVO       1,522

George Mowry      Squaw Valley, CA       01/31/21  Yamaha FJR1300ES           1,508 
         * * * This is George's 24thX documented 1,500 mile day! * * * 

Ken Cowart        Alexander, AR          01/30/21  H-D Road Glide Ultra       1,507

Doug Vance        Cordova, TN            01/27/21  H-D Ultra Limited          1,554 TX-BBG
Chris Hopper      Cypress, TX            01/22/21  H-D Road Glide Limited     1,512

George Mowry      Squaw Valley, CA       01/21/21  Yamaha FJR1300ES           1,549 
         * * * This is George's 23rd documented 1,500 mile day! * * * 

Derek Beatty      Goodyear, AZ           01/19/21  Kawasaki Ninja 400         1,528 

Lionel L Ramos    Falls Church, VA       01/18/21  H-D Road Glide CVO         1,513
Christopher Seawood San Diego, CA        01/18/21  Triumph Thunderbird LT1700 1,555

Chris Hopper      Cypress, TX            01/15/21  H-D Road Glide Limited     1,534

George Mowry      Squaw Valley, CA       01/14/21  Yamaha FJR1300ES           1,502 
         * * * This is George's 22nd documented 1,500 mile day! * * * 

Chris Hopper      Cypress, TX            01/12/21  H-D Road Glide Limited     1,510
Scott Durham      Alexander City, AL     01/12/21  Honda Gold Wing            1,543
Jerry M Mahoney   Saint Pauls, NC        01/11/21  H-D FLTRX Road Glide       1,525
Lionel L Ramos    Falls Church, VA       01/02/21  H-D Road Glide CVO         1,545

SleighBurner 1500 GOLD
Mike Hall         Collinsville, OK       12/26/20  BMW R1200RT                1,536
Christopher Seawood San Diego, CA        12/25/20  Triumph Thunderbird LT1700 1,548
Ken Cowart        Alexander, AR          12/25/20  H-D Road Glide Ultra       1,536
Chris Hopper      Cypress, TX            12/25/20  H-D Road Glide Limited     1,577
Carl Harris       Raleigh, NC            12/24/20  H-D Road Glide Special     1,524

Winter Solstice Bun Burner 1500 GOLD
Tim Harkins       Buda, TX               12/21/20  Honda GL1800               1,523 TX-BBG
Scott Durham      Alexander City, AL     12/21/20  Honda Gold Wing            1,545
Sandra K Wallace  Charlotte, NC          12/21/20  H-D Road Glide Special     1,612
Ben Ernst         Azle, TX               12/21/20  BMW R1250GSA               1,563
Lionel L Ramos    Falls Church, VA       12/21/20  H-D Road Glide CVO         1,603
              * * * This is Lionel's 51st documented Bun Burner Gold * * *

Thomas H. Evans   Ruston, LA             12/12/20  H-D Ultra Classic Limited  1,510 

Kenneth Andrews   Benton, AR             12/03/20  H-D Road Glide Special     1,527

Lionel L Ramos    Falls Church, VA       11/26/20  H-D Road Glide CVO         1,611

Jon Joyce         Rio Rancho, NM         11/21/20  H-D Ultra Limited          1,514
Richard Hagerty   Tijeras, NM            11/21/20  Honda ST1300               1,514
 
Jim Saul          Albuquerque, NM        11/20/20  BMW R1200RT                1,541

Greg Rice         Ft Lauderdale, FL      11/19/20  Yamaha FJR                 1,648
* This is Greg's 66th BBG - 66 documented 1,500 mile days and over 100,000 BBG miles! *

Jeff Carroll      Missouri, City, TX     11/09/20  Yamaha FJR1300ES           1,519

Dominick Zappola  East Haven, CT         11/06/20  H-D Softail FXSTC          1,515 
 * This is Dominick's 89th documented 1,500 mile day and over 134,000 BBG miles! * 

Pete Hill         Holliston, MA          11/05/20  Honda Gold Wing            1,520 
Alex Alpert       Dorchester, MA         11/05/20  H-D Street Glide           1,520 

Patrick H. Nelson Wichita, KS            11/05/20  Indian Roadmaster Classic  1,512
Dennis W Kaylor   Wichita, KS            11/05/20  H-D Road Glide Special     1,512
                    * * * Dennis is 66 years young on this ride * * *

Richard Hagerty   Tijeras, NM            10/31/20  Honda ST1300               1,532
Jon Joyce         Rio Rancho, NM         10/31/20  H-D Ultra Limited          1,532
Jim Saul          Albuquerque, NM        10/31/20  BMW R1200RT                1,532

Brian L. Day      St. George, UT         10/31/20  BMW K1600GTL               1,533
Brian L. Day      St. George, UT         10/29/20  BMW K1600GTL               1,523

Mark Stenzel      Wildomar, CA           10/24/20  H-D Limited                1,514 
David Harries     Temecula, CA           10/24/20  H-D Limited                1,514 
Luis Adrianzen    Temecula, CA           10/24/20  H-D Softail Slim S         1,514 
Micah Orloff      Menifee, CA            10/24/20  H-D Road Glide Special     1,514 

Walter Edwards    Slaughter, LA          10/23/20  BMW R1250GSA               1,544

Dominick Zappola  East Haven, CT         10/17/20  H-D Softail FXSTC          1,515 
       * * * This is Dominick's 88th documented 1,500 mile day! * * * 

Doug Vance        Cordova, TN            10/15/20  H-D Ultra Limited          1,542

Curtis R. Cash    Raleigh, NC            10/12/20  BMW K1600B                 1,520 
Lionel L Ramos    Falls Church, VA       10/11/20  H-D Road Glide CVO         1,544

Richard L. Smith  Star, ID               10/08/20  Honda Gold Wing            1,565
             * * * Richard is 72 years young on this ride! * * * 

Scott Ryer Evey   Discovery Bay, CA      10/09/20  H-D Ultra Limited          1,597
Steve Snell       Kennesaw  GA           10/09/20  Honda Gold Wing            1,619
Lynn R Behrens    Beaver Dam, WI         10/09/20  BMW R1200RS                1,526
Kris Maxwell      Council Bluffs, IA     10/08/20  H-D Road Glide Limited     1,573

Dominick Zappola  East Haven, CT         10/07/20  H-D Softail FXSTC          1,515 
      * * * This is Dominick's 87th documented 1,500 mile day! * * * 

Chris Hopper      Cypress, TX            10/05/20  H-D Road Glide Limited     1,570
Ted Parins        Prairie du Sac WI      10/05/20  H-D CVO Limited            1,518
Scott Matlock     Bloomington, IN        10/04/20  H-D CVO Road Glide         1,588 

John H. Nichols   Fayetteville, TN       10/03/20  H-D Ultra Limited Low      1,526 
Ernie Morgan      Fayetteville, TN       10/03/20  H-D FLHTKL                 1,526 
             * * * Ernie is 66 years young on this ride! * * * 

Mark A Green Jr   Indianapolis, IN       10/03/20  H-D Road Glide             1,582

8th Annual Iron Knights Shriners Hospital Iron Butt Bun Burner 1500 GOLD 
Douglas Hamsher   Richmond Hill, GA      10/02/20  Indian Chieftain           1,572 
David Morris      Ludowici, GA           10/02/20  H-D Road Glide             1,572 
Gary Eason        Hinesville, GA         10/02/20  Honda Gold Wing 1800       1,572 
Jason Sanders     Hinesville, GA         10/02/20  H-D Ultra Classic          1,572 
Grady Blaxton     Lyons, GA              10/02/20  H-D Electra Glide Limited  1,572 
Matt Butler       Savannah, GA           10/02/20  H-D Street Glide           1,572 
Lance Adams       Vidalia, GA            10/02/20  BMW R1200GSA               1,572 
Mike Nichols      Savannah, GA           10/02/20  H-D FLHTCUI                1,572 
Greg Strickland   Metter GA              10/02/20  H-D Road Glide             1,572 
Ray Morin         Savannah, GA           10/02/20  BMW R1200GS                1,572 

Jerald Anderson   Fort Worth, TX         09/30/20  Suzuki V-Strom             1,554

Paul Worster      Steamboat Springs, CO  09/29/20  H-D Road Glide Ultra       1,509
Brady Worster (pillion)                  09/29/20  H-D Road Glide Ultra       1,509
 
Jeff Carroll      Missouri, City, TX     09/29/20  Yamaha FJR1300ES           1,569
Anthony T. Gale   Altoona, PA            09/28/20  BMW R1200RT                1,565 

Sergey Kurshev    St. Petersburg, RUSSIA 09/27/20  H-D Fat Bob FXFB           1,555 

Aleksandr Novikov St. Petersburg, RUSSIA 09/26/20  H-D Electra Glide          1,553 

Dominick Zappola  East Haven, CT         09/23/20  H-D Softail FXSTC          1,515 
       * * * This is Dominick's 86th documented 1,500 mile day! * * * 

Dominick Zappola  East Haven, CT         09/22/20  H-D Softail FXSTC          1,515 Fall Equinox BBG  
        * * * This is Dominick's 85th documented 1,500 mile day! * * * 

Fall Equinox Bun Burner GOLD
Frank Orlando     Yakima, WA             09/22/20  H-D Road King Classic      1,567
Bill Karitis      Mt. Pleasant, SC       09/22/20  BMW R1200GS                1,552 Memorial BBG
Tim Harkins       Buda, TX               09/22/20  Honda Gold Wing GL1800     1,517
Jeff Hallquist     New Bern, NC          09/22/20  H-D Road Glide             1,524
Gregg Szakmeister  New Bern, NC          09/22/20  H-D Road Glide Ultra       1,517

Roberto Noble     MEXICO - USA RIDE      09/19/20  Kawasaki KLR650            1,543 

Richard Terry     Garland, TX            09/19/20  Kawasaki Concours 14       1,538 TX-Memorial BBG

Aaron M. Andes    Broadway, VA           09/18/20  H-D Street Glide           1,543 

Michael A Stewart Easton, PA             09/17/20  Victory Vision             1,533

Dominick Zappola  East Haven, CT         09/15/20  H-D Softail FXSTC          1,505 
        * * * This is Dominick's 84th documented 1,500 mile day! * * * 
        
Dominick Zappola  East Haven, CT         09/14/20  H-D Softail FXSTC          1,504 
        * * * This is Dominick's 83rd documented 1,500 mile day! * * * 

Tracy Lucas       Warr Acres, OK         09/12/20  H-D Street Glide           1,502 

Jeffery A. Fisher Reno, NV               09/11/20  Honda Gold Wing            1,528 
             * * * Jeffery is 65 years young on this ride! * * * 

Chris Hopper      Cypress, TX            09/09/20  H-D Road Glide Limited     1,525

Matthew R. Janis  Fort Gordon, GA        09/05/20  H-D Street Glide CVO       1,021 EggSanity 1000 GOLD

Rick C. McKenzie  San Bernardino, CA     09/02/20  H-D Ultra Low              1,542

Chris Hopper      Cypress, TX            09/02/20  H-D Road Glide Limited     1,533
Troy B. Roberts   Broomfield, CO         09/02/20  H-D Ultra Limited          1,507
Josh Klein        Mahopac, NY            08/26/20  Honda Gold Wing            1,527

Jeff James        Pahrump, NV            08/28/20  H-D Sportster 883          1,510 
Jay D. Warner     Las Vegas, NV          08/28/20  Suzuki V-Strom 1000        1,510 

Freddy Gallego    Sunrise, FL            08/28/20  Honda VTX 1800R            1,567

Dominick Zappola  East Haven, CT         08/25/20  H-D Softail FXSTC          1,506 
        * * * This is Dominick's 82md documented 1,500 mile day! * * *

Dominick Zappola  East Haven, CT         08/24/20  H-D Softail FXSTC          1,506 
        * * * This is Dominick's 81st documented 1,500 mile day! * * *

Wilson Nichols    Washington, PA         08/23/20  Honda Gold Wing            1,510 

Kent Moust        Denmark                08/23/20  BMW K1200GT                1,541

William A Lusk    Houston, TX            08/22/20  Honda Gold Wing 1800       1,504 TX-BBG

Greg Rice         Ft Lauderdale, FL      08/22/20  Yamaha FJR Tour            1,553
* This is Greg's 65th BBG - 65 documented 1,500 mile days and over 100,000 BBG miles! *

Jose L. Rodriguez Miami, FL              08/20/20  H-D Street Glide Special   1,502 

Jim McCrain       Frisco, TX             08/17/20  Triumph Trophy SE          1,605

Kevin J. Baker    Bowmanville,ON CANADA  08/14/20  Indian Chief Vintage       1,521

Evan Brock Wiseman  Burlington, IA       08/13/20  H-D Street Bob FXDB        1,513

Scott Durham      Alexander City, AL     08/12/20  Honda Gold Wing            1,537

Sean Hearrell     Arvada, CO             08/12/20  Honda Gold Wing GL1800     1,565 
Rob Reid          Littleton, CO          08/12/20  Kawasaki Vulcan Nomad      1,565 

James Epley       Fredericksburg, VA     08/11/20  Triumph Trophy SE          1,543

Dominick Zappola  East Haven, CT         08/11/20  H-D Softail FXSTC          1,511 
        * * * This is Dominick's 80th documented 1,500 mile day! * * *

Stephen A Jaynes  Mercersburg, PA        08/09/20  H-D FLHTCUI                1,513

David M Uhl       Parker, CO             08/09/20  H-D Street Glide CVO       1,598

Nikolay Shendelev St. Petersburg, RUSSIA 08/07/20  H-D Street Glide           1,563 
Michael Schuster  Easton, MN             08/07/20  Victory Cross Country      1,565

Greg Rice         Ft Lauderdale, FL      08/01/20  Yamaha FJR Tour            1,535
   * * * This is Greg's 64th BBG - that is 64 documented 1,500 mile days! * * *

Mark Campbell     Hernando, MS           08/01/20  Honda Gold Wing            1,622

Greg Rice         Ft Lauderdale, FL      07/31/20  Yamaha FJR Tour            1,655
   * * * This is Greg's 63rd BBG - that is 63 documented 1,500 mile days! * * *

Dominick Zappola  East Haven, CT         07/31/20  H-D Softail FXSTC          1,516 
        * * * This is Dominick's 79th documented 1,500 mile day! * * * 

Dominick Zappola  East Haven, CT         07/30/20  H-D Softail FXSTC          1,516 
        * * * This is Dominick's 78th documented 1,500 mile day! * * * 

Curtis Ritchey    Sherburne, NY          07/29/20  Honda Gold Wing            1,544
 
William Harp      N. Las Vegas, NV       07/25/20  Yamaha Super Tenere        1,531

Bruce Provencher  St. Clair Shores, MI   07/25/20  Indian Roadmaster          1,511 
             * * * Bruce is 67 years young on this ride! * * * 

Derreck Bunevich  Quaker Hill, CT        07/24/20  H-D Road Glide             1,537 

Dominick Zappola  East Haven, CT         07/24/20  H-D Softail FXSTC          1,530 
        * * * This is Dominick's 77th documented 1,500 mile day! * * * 

Paul Meyer        Herington, KS          07/22/20  Kawasaki Concours 14       1,544
David M Uhl       Parker, CO             07/22/20  H-D Street Glide CVO       1,544
Peter Green       Colorado Springs, CO   07/22/20  Honda Gold Wing            1,544

Dominick Zappola  East Haven, CT         07/21/20  H-D Softail FXSTC          1,530 
        * * * This is Dominick's 76th documented 1,500 mile day! * * * 
        
Ken Cowart        Alexander, AR          07/18/20  H-D Road Glide Special     1,526

Vitaliy Kashtanov St.Petersburg, RUSSIA  07/18/20  H-D Electra Glide          1,560 

James F. Parker   Coweta, OK             07/18/20  H-D Road Glide Special     1,510 
Jeff Fanning      Eufaula, OK            07/18/20  H-D Road Glide Ultra       1,510 
Donald S. Benson  Tahlequah, OK          07/18/20  H-D Electra Glide          1,510 
W. J. Quesenberry Muskogee, OK           07/18/20  H-D Road Glide             1,510 

David Lambrecht   Lincoln, NE            07/16/20  H-D Road Glide Special     1,550 
Adam Dutson       Rhome, TX              07/14/20  Kawasaki Vulcan Voyager    1,545 TX-BBG 

Chris Rasmussen   Charlotte, NC          07/11/20  BMW R1200GSA               1,596
                         * * * Chris is 70 years young on this ride * * *

Rick Kennedy      El Dorado, KS          07/31/20  H-D Road Glide Ultra       1,521
Brandon Ramsey    Fredonia, KS           07/31/20  Honda Gold Wing            1,521

Chris Hopper      Cypress, TX            07/30/20  H-D Road Glide Limited     1,501
Chris Hopper      Cypress, TX            07/22/20  H-D Road Glide Limited     1,583 TX-BBG

Gabriel Ben-Nun   Fair Lawn, NJ          07/14/20  Kawasaki Vulcan 1700       1,522

Dominick Zappola  East Haven, CT         07/14/20  H-D Softail FXSTC          1,516 
        * * * This is Dominick's 75th documented 1,500 mile day! * * *

Dominick Zappola  East Haven, CT         07/13/20  H-D Softail FXSTC          1,516 
        * * * This is Dominick's 74th documented 1,500 mile day! * * *

Roy Kjendal       Deerfield NH           07/11/20  BMW K1600GTL               1,596
                 * * * Roy is 71 years young on this ride! * * *

Eric K. Hendricks Marquette, MI          07/18/20  Yamaha Super Tenere        1,537

Patrick Nijsters  Denver, CO             07/18/20  BMW S1000XR                1,507

Lynn R Behrens    Beaver Dam, WI         07/11/20  BMW R1200RS                1,565 
Lynn R Behrens    Beaver Dam, WI         07/10/20  BMW R1200RS                1,531 

Ursula Ashton     Memphis, TN            07/04/20  Victory Cross Country      1,544
Javier Ashton     Memphis, TN            07/04/20  Honda Gold Wing            1,544

Claudio Sewaybrick Windermere, FL        07/09/20  Triumph Tiger Explorer 12001,515 
Jeff Haak         Grand Island, NE       07/03/20  H-D Street Glide Special   1,540 
Eric K. Hendricks Marquette, MI          07/03/20  Yamaha Super Tenere        1,537

Trent Robinson    Longview, TX           07/02/20  H-D Sportster              1,511


Dominick Zappola  East Haven, CT         06/29/20  H-D Softail FXSTC          1,530 
        * * * This is Dominick's 72nd documented 1,500 mile day! * * * 

John Hregdovic    Ellwood City, PA       06/28/20  H-D Road Glide Ultra       1,534 
Ken Cowart        Alexander, AR          06/28/20  H-D Road Glide Special     1,538 AR-BBG

John D. Esenwein  Danville, PA           06/27/20  H-D Road Glide             1,528 Shark Nose BBG
Shawn Moon        Paxinos, PA            06/27/20  H-D CVO Road Glide Ultra   1,528 Shark Nose BBG
Harry Knerr       Blandon, PA            06/27/20  H-D Road Glide             1,528 Shark Nose BBG

Nelson Delgado    San Antonio, TX        06/26/20  Yamaha FJR                 1,520 TX-BBG

Donald Coleson II Scottville, MI         06/24/20  H-D Road Glide             1,543

Dominick Zappola  East Haven, CT         06/24/20  H-D Softail FXSTC          1,530 
        * * * This is Dominick's 71st documented 1,500 mile day! * * * 

Vlad Litvinenko   Beaverton, OR          06/23/20  H-D Electra Glide FLHTCU   1,502 
Bernard Jene      Colorado Springs, CO   06/23/20  BMW K1600GTL               1,525

2020 Summer Solstice Bun Burner GOLD 
Rhett Norris      Spokane, WA            06/20/20  Honda Gold Wing            1,556 
Brian Grable      Loon Lake, WA          06/20/20  BMW K1200                  1,532 
Robert J Giampa   North Las Vegas, NV    06/20/20  Victory Cross Country Tour 1,542
                     * * * Robert is 66 years young on this ride * * *
Daniel Jacobsen   Las Vegas, NV          06/20/20  H-D Street Glide Special   1,542
Phillip Hua       Las Vegas, NV          06/20/20  H-D Street Glide           1,542
Chris Rasmussen   Charlotte, NC          06/20/20  BMW R1200GSA               1,537
                     * * * Chris is 70 years young on the this ride * * *
Jeff Hallquist    New Bern, NC           06/20/20  H-D Road Glide             1,523 Shark Nose BBG
Paul Meyer        Herington, KS          06/20/20  Triumph Trophy SE          1,534
Jim Saul          Albuquerque, NM        06/20/20  BMW R1200RT                1,553
Michael Schuster  Easton, MN             06/20/20  Indian Challenger          1,528
Mark Nichols Sr   Ooltewah, TN           06/20/20  H-D Street Glide Special   1,506
David Schroeder   Amston, CT             06/20/20  BMW F650                   1,524
Mark Marciniak    Seattle WA             06/20/20  Honda Gold Wing            1,553

Nick Brooks       Cameron, NC            06/18/20  H-D Ultra Limited          1,538
Sandra Brooks (pillion)                  06/18/20  H-D Ultra Limited          1,538

Dominick Zappola  East Haven, CT         06/17/20  H-D Softail FXSTC          1,530 
        * * * This is Dominick's 70th documented 1,500 mile day! * * * 

David K. Graham   Sioux Falls, SD        06/15/20  H-D Limited                1,580
Ken Cowart        Alexander, AR          06/14/20  H-D Road Glide Special     1,538
Adam W. Wakeley   Louisville, KY         06/13/20  H-D FLHTK                  1,530 
Marcus Reynolds   Aurora, MO             06/13/20  H-D Road King              1,533 
Chris Hopper      Cypress, TX            06/11/20  H-D Road Glide Limited     1,606
Curtis Ritchey    Sherburne, NY          06/11/20  Honda Gold Wing            1,536 

Cornelius Walsh   Plymouth, MA           06/08/20  H-D Road Glide Ultra       1,540 
             * * * Cornelius is 66 years young on this ride! * * * 

Greg Rice         Ft Lauderdale, FL      06/07/20  Yamaha FJR Tour            1,520
   * * * This is Greg's 62nd BBG - that is 62 documented 1,500 mile days! * * *

Jonathan W. Byrd  Red Oak, TX            06/06/20  H-D Road King              1,573 

Susan R. Chapin   Loveland, CO           06/06/20  Honda GL1800               1,544 
Spencer Chapin    Loveland, CO           06/06/20  Honda Gold Wing Tour       1,544 
             * * * Spencer is 71 years young on this ride! * * * 

Greg Rice         Ft Lauderdale, FL      06/06/20  Yamaha FJR Tour            1,545
   * * * This is Greg's 61st BBG - that is 61 documented 1,500 mile days! * * *

Eric K. Hendricks Marquette, MI          06/06/20  Yamaha Super Tenere        1,555

Harry Knerr       Blandon, PA            06/01/20  H-D Road Glide             1,540

Abel Garcia       Miami, FL              05/31/20  H-D Road King Police       1,514 FL-BBG 
Sittisak Chariyasuwan Miami, FL          05/31/20  H-D Electra Glide Ultra    1,514 FL-BBG 

Jim McCrain       Frisco, TX             05/29/20  Triumph Trophy SE          1,551
William Hesse     Kingsland, GA          05/23/20  Honda Gold Wing Tourer DCT 1,530 
Nathan Stueber    Livingston, LA         05/23/20  Yamaha FJR1300             1,525 
Mike Lindstrom    Burnsville, MN         05/23/20  BMW R1200GSA               1,545

Tamica Wade       Pittsburgh, PA         05/16/20  H-D CVO Road Glide         1,510 

Jim Taylor        Feeding Hills, MA      05/16/20  H-D Ultra Classic Limited  1,522
 
Glen Glasscock    Lubbock, TX            05/09/20  H-D Road Glide Limited     1,533

Tim Harkins       Buda, TX               05/08/20  Honda Gold Wing GL1800     1,527
                       * * * Tim is 68 years young on this ride * * *

Bernard L Jene II Colorado Springs, CO   05/04/20  BMW K1600GTL               1,586

Travis Conkle     Dallas, GA             05/02/20  Indian Chieftain           1,572 

Ron Gillette      Kissimmee, FL          05/02/20  H-D Road King Special      1,507 FL-BBG
Brian Remington   Longwood, FL           05/02/20  Indian Springfield         1,512 FL-BBG

Jeff A. Christie  Carson, CA             05/01/20  Honda Africa Twin          1,582 

Brian Hunnicutt   Los Gatos,CA           04/30/20  BMW R1200GS                1,564 

Spring Equinox Bun Burner Gold
Carl Harris       Raleigh, NC            03/19/20  H-D Road Glide Special     1,504

Todd Moreland     Navarre, FL            03/14/20  H-D Road Glide Ultra       1,524

Cynthia Cox       Brookshire, TX         03/14/20  Can-Am Spyder RT Limited   1,523 TX-BBG 
Morris Cox        Brookshire, TX         03/14/20  Triumph Tiger Explorer1200 1,523 TX-BBG 

Rick Rogers       Yorba Linda, CA        03/14/20  H-D Ultra Limited          1,641
David M Uhl       Parker, CO             03/12/20  H-D Street Glide CVO       1,636

IBA Jacksonville Park 'n Ride 1500 GOLD
Roger Nisbett                            03/12/20  Yamaha Super Tenere        1,506
Lionel L Ramos        Falls Church, VA   03/12/20  H-D Road Glide CVO         1,506
Roger Buis                               03/12/20  H-D Road Glide Ultra       1,506
R.A. Stephen Janzan                      03/12/20  H-D Road Glide CVO         1,506
Alan J Ferry                             03/12/20  BMW GSA                    1,506
Mark Nichols                             03/12/20  H-D Street Glide Special   1,506
William Buskell                          03/12/20  H-D Road Glide             1,506
Jim Naughton                             03/12/20  Honda Gold Wing GL1800     1,506
Scott Durham                             03/12/20  Honda Gold Wing            1,506
Mark Wood                                03/12/20  Triumph Tiger 1200 XRt     1,506
Greg Wolf                                03/12/20  BMW R1200GS                1,506
Matt Hube                                03/12/20  Honda Gold Wing            1,506

Glenn Royal       Seabrook, TX           03/10/20  BMW R1250RT                1,515

George Doughty                           03/08/20  BMW R1200GSA               1,572

James W. Brown    Seabrook, TX           03/06/20  BMW K1600GTL               1,513 TX-BBG 
Daniel Wallander  Santa Fe, NM           03/06/20  Honda ST1300               1,537
Scott Durham      Beech Mountain, NC     03/01/20  Honda Gold Wing            1,525
 
Leap Year 2020 Bun Burner Gold
Christopher Schaffer Rockvale, TN        02/29/20  BMW R1200RT                1,506
Ben Ernst         Azle, TX               02/29/20  BMW K1600GTL               1,517
Manoj Nayak       Lawton, OK             02/29/20  BMW R1200RT                1,549
G. Lynn Nelson    Ivins, UT              02/29/20  Ultra Limited              1,552
Sabrina Clark     Winston-Salem, NC      02/29/20  Kawasaki Vulcan S          1,524
Lionel L Ramos    Falls Church, VA       02/29/20  H-D Road Glide CVO         1,507
Dan Lessert       Carrollton, TX         02/29/20  Honda CTX 1300             1,517 TX-BBG
Jim McCrain       Frisco, TX             02/29/20  Triumph Trophy             1,534 TX-BBG

Scott Ryer Evey   Discovery Bay, CA      02/23/20  H-D Road Glide Limited     1,503

George Mowry      Squaw Valley, CA       02/23/20  Yamaha FJR1300ES           1,536 CA-BBG
        * * * This is George's 21st documented 1,500 mile day! * * * 
             * * * George is 75 years young on this ride * * *

Todd Moreland     Navarre, FL            02/18/20  H-D Road Glide Ultra       1,522

Doug Vance        Cordova, TN            02/16/20  H-D Ultra Limited          1,556

IBA Mexico RALLY - LA RESISTENCIA
Jose Martin Alatorre Pena       MEXICO   02/01/20  BMW R1200gs                1,529   
Luis Martin Alatorre Escoto     MEXICO   02/01/20  BMW R1200gs                1,529   
Fernando Navarro Duenas         MEXICO   02/01/20  BMW R1200 Gs Adv.          1,529   
Veronico Saul Chavez Flores     MEXICO   02/01/20  H-D Street Bob 2020        1,529   
Max Alonzo Gonzalez Perez       MEXICO   02/01/20  BMW Adventure 1250         1,529   
Miguel Angel Martinez Velazquez MEXICO   02/01/20  BMW Adventure 1250         1,529   
Omar Isaias Barrera Gomez       MEXICO   02/01/20  BMW Gs 1200                1,529   
Hector Vieyra Rosales           MEXICO   02/01/20  BMW F800 GSA               1,529   
Moises Solorzano Fuentes        MEXICO   02/01/20  H-D Iron 883               1,529   

Chris Hopper      Cypress, TX            01/27/20  H-D Ultra Limited CVO      1,616
Daniel Sheridan Duvall                   01/19/20  H-D Road Glide (FLTR)      1,523
Lionel L Ramos    Falls Church, VA       01/19/20  H-D Road Glide CVO         1,523
Daniel Sheridan Duvall                   01/18/20  H-D Road Glide (FLTR)      1,542
Lionel L Ramos    Falls Church, VA       01/18/20  H-D Road Glide CVO         1,542
Ken Cowart        Alexander, AR          01/03/20  H-D Road Glide Special     1,539

Ronald E Garner   Kyle, TX               01/01/20  H-D Ultra Limited FLHTK    1,543 TX-BBG
              * * * Ronald is 71 years young on this ride * * * 

Greg Rice         Ft Lauderdale, FL      12/31/19  Yamaha FJR Tour            1,512
   * * * This is Greg's 60th BBG - that is 60 documented 1,500 mile days! * * *

Mark Foxwell      Plantation, FL         12/30/19  H-D Road Glide Special     1,539

Jack T. Breit     Tucson, AZ             12/29/19  Yamaha FJR1300 ABS         1,510 
Russell Brown     Lithonia, GA           12/27/19  Honda GL1800 Gold Wing     1,580

Joe Harkins       Jacksonville, FL       12/26/19  Honda Gold Wing            1,591

SleighBurner 1500 GOLD 
Mark Nichols SR   Ooltewah, TN           12/25/19  H-D Street Glide Special   1,551
Tamica Wade       Pittsburgh, PA         12/24/19  H-D Road Glide CVO         1,521
Lionel L Ramos    Falls Church, VA       12/24/19  H-D Road Glide CVO         1,506
    
Winter Solstice Bun Burner GOLD
Jeff Hallquist    New Bern, NC           12/21/19  H-D Road Glide             1,544
Anthony Osborne   West Palm Beach, FL    12/21/19  Yamaha FJR                 1,538
                   * * * This is Anthony's 67th BBG in 2019! * * * 
Dan Thaler        Deerfield Beach, FL    12/21/19  Honda Gold Wing Tour       1,538
          * * *  This is Mr. Thaler's 35th documented Bun Burner Gold! * * *

Chris Hopper      Cypress, TX            12/11/19  H-D Ultra Limited CVO      1,543

IBA MEXICO Road Elite Bun Burner Gold
Sergio Tovar García             MEXICO   12/01/19  BMW R1200GS                1,501
Leandro Liascovich Najmark      MEXICO   12/01/19  BMW R1200RT                1,501
Kadir Singer Villalpando        MEXICO   12/01/19  BMW R1200GS-Adv            1,501
Abimael Aranda Portillo         MEXICO   12/01/19  BMW R1250GSA               1,501
Salvador Carrillo Moreno        MEXICO   12/01/19  BMW R1200GS-Adv            1,501
Marusia Urrea Marino            MEXICO   12/01/19  BMW F800ST                 1,501
Guillermo Cabrera Pina          MEXICO   12/01/19  BMW F850GS                 1,501
Juan Carlos González Roiz       MEXICO   12/01/19  BMW F800R                  1,501
Rodrigo Méndez Preciado         MEXICO   12/01/19  H-D Road Glide Ultra       1,501
Carlos Alberto Navarro Colosio  MEXICO   12/01/19  BMW R1200GS                1,501
Juan Maya Medrano               MEXICO   12/01/19  BMW R1200                  1,501
José Félix Casas Montero        MEXICO   12/01/19  BMW R1250GS-Adv            1,501
Karim Calderón Saucedo          MEXICO   12/01/19  BMW S1000XR                1,501
Oscar Aspuru García             MEXICO   12/01/19  BMW S1000XR                1,501
Said Hernández Díaz             MEXICO   12/01/19  Suzuki V-Strom 1000        1,501
Luis Fransisco Cardenas Sarre   MEXICO   12/01/19  Ducati Multiestrada Enduro 1,501
Ulises Luna Herrera             MEXICO   12/01/19  Kawasaki Versys 300x       1,501

Greg Rice         Ft Lauderdale, FL      11/29/19  Yamaha FJR Tour            1,545
   * * * This is Greg's 59th BBG - that is 59 documented 1,500 mile days! * * *

Anthony Osborne   West Palm Beach, FL    11/27/19  Yamaha FJR                 1,524
                   * * * This is Anthony's 66th BBG in 2019! * * * 

Lionel L Ramos    Falls Church, VA       11/26/19  H-D Road Glide CVO         1,511
                   
Anthony Osborne   West Palm Beach, FL    11/24/19  Yamaha FJR                 1,524
                   * * * This is Anthony's 65th BBG in 2019! * * * 
                   
James Handley     Belton, TX             11/18/19  BMW K1600 GTLE             1,525 TX-BBG
James E. Jackson  Temple, TX             11/18/19  Honda Gold Wing            1,525 TX-BBG

Jorge Fernandez Chavez  MEXICO           11/16/19  BMW R1200GSA               1,510

Anthony Osborne   West Palm Beach, FL    11/16/19  Yamaha FJR                 1,524
                   * * * This is Anthony's 64th BBG in 2019! * * * 

Mark Sanson       Loveland, CO           11/15/19  Suzuki V-Strom 1000 Adv    1,522

Lionel L Ramos   Falls Church, VA        11/10/19  H-D Road Glide (FLTR)      1,545
Daniel Sheridan Duvall                   11/10/19  H-D Road Glide (FLTR)      1,511

Robert Overby     Grimesland, NC         11/10/19  BMW GSA                    1,522 
Bob Storer        Baton Rouge, LA        11/10/19  H-D Street Glide Special   1,573
Bill Quinn        Henderson, NV          11/09/19  Indian Chieftain           1,581

Anthony Osborne   West Palm Beach, FL    11/09/19  Yamaha FJR                 1,524
                   * * * This is Anthony's 63rd BBG in 2019! * * * 

Daniel Sheridan Duvall                   11/08/19  H-D Road Glide (FLTR)      1,511
Lionel L Ramos   Falls Church, VA        11/08/19  H-D Road Glide (FLTR)      1,511

Chris Hopper      Cypress, TX            11/06/19  H-D Ultra Limited CVO      1,562

Anthony Osborne   West Palm Beach, FL    11/01/19  Yamaha FJR                 1,558 FL-BBG
                   * * * This is Anthony's 62nd BBG in 2019! * * * 

Anthony Osborne   West Palm Beach, FL    10/26/19  Yamaha FJR                 1,524
                   * * * This is Anthony's 61st BBG in 2019! * * * 

Manoj Nayak       Lawton, OK             10/26/19  BMW R1200RT                1,514 

Dan Thaler        Deerfield Beach, FL    10/26/19  Honda Gold Wing Tour       1,523
          * * *  This is Mr. Thaler's 34th documented Bun Burner Gold! * * *

Doni Shawn Evans  Arlington, TX          10/25/19  Kawasaki Concours 14       1,502 
Timothy Fox       Mascoutah, IL          10/22/19  Honda GL1800 Airbag        1,509
Paul Meyer        Herington  KS          10/22/19  Triumph Trophy             1,551
Chris Hopper      Cypress, TX            10/22/19  H-D Ultra Limited CVO      1,559

Eric James        Big Rapids, MI         10/19/19  Honda Gold Wing            1,593
 
Gene Kicenski     Blanchard, OK          10/18/19  Honda CTX1300              1,539
              * * * Gene is 74 years young on this ride! * * *

Anthony Osborne   West Palm Beach, FL    10/18/19  Yamaha FJR                 1,524
                   * * * This is Anthony's 60th BBG in 2019! * * * 
   
Chris Sedlock     Sierra Vista, AZ       10/14/19  Victory Vegas 8-Ball       1,541
Mike Mann         Hereford, AZ           10/14/19  H-D Ultra Limited Low      1,541

Anthony Osborne   West Palm Beach, FL    10/13/19  Yamaha FJR                 1,524
                   * * * This is Anthony's 59th BBG in 2019! * * * 

Jim McCrain       Frisco, TX             10/13/19  Triumph Trophy             1,534 TX-BBG
Todd Moreland     Navarre, FL            10/13/19  H-D Road Glide Ultra       1,502

Dan Thaler        Deerfield Beach, FL    10/12/19  Honda Gold Wing Tour       1,537 FL-BBG
          * * *  This is Mr. Thaler's 33rd documented Bun Burner Gold! * * *

Anthony Osborne   West Palm Beach, FL    10/12/19  Yamaha FJR                 1,524
                   * * * This is Anthony's 58th BBG in 2019! * * * 

Why? Whynot! (Why, Arizona to Whynot, Mississippi) 
George Mowry      Squaw Valley, CA       10/11/19  Yamaha FJR1300ES           1,612
        * * * This is George's 20th documented 1,500 mile day! * * * 

Anthony Osborne   West Palm Beach, FL    10/05/19  Yamaha FJR                 1,524
                   * * * This is Anthony's 57th BBG in 2019! * * * 

William Workman   Lexington, NC          10/05/19  BMW R1200GSA               1,509 
Shea Annas        Lenoir, NC             10/05/19  KTM 1190 Adventure R       1,509 
Michael Harrison  Granite Falls, NC      10/05/19  Yamaha Super Tenere        1,509 

Kip Conte         New Albany, IN         10/04/19  H-D Electra Glide          1,501 
Sonny Trulock     Sellersburg, IN        10/04/19  Honda Gold Wing            1,501 

Jimmy Foliano     Jeffersonville, IN     10/04/19  Honda Africa Twin          1,501
Sonny Trulock     Sellersburg, IN        10/04/19  Honda Gold Wing            1,501 

Tamica Wade       Pittsburgh, PA         10/03/19  H-D Road Glide CVO         1,536
Steven M. Whitman Danville, NH           10/03/19  H-D Road Glide Special     1,540 
Don Broxson       Falls Church, VA       10/02/19  Honda Africa Twin Adventure1,574 

Derek Mitchell    Roanoke, VA            09/30/19  Honda Gold Wing GL1800     1,512
Anthony Scott     Blacksburg, VA         09/30/19  Honda Gold Wing GL1800     1,512
  
Anthony Osborne   West Palm Beach, FL    09/29/19  Yamaha FJR                 1,551
                   * * * This is Anthony's 56th BBG in 2019! * * * 
   
Daniel Sheridan Duvall                   09/28/19  H-D Road Glide             1,525
Lionel L Ramos    Falls Church, VA       09/28/19  H-D Road Glide Ultra CVO   1,525

Anthony Osborne   West Palm Beach, FL    09/27/19  Yamaha FJR                 1,550
                   * * * This is Anthony's 55th BBG in 2019! * * * 

Everything's Bigger in Texas BBG
Daniel Wallander  Santa Fe, NM           09/27/19  Honda ST1300               1,526
Lance Corley      New Carlisle, IN       09/27/19  H-D Road Glide             1,526
Gary Huff         Colorado Springs, CO   09/27/19  BMW R1200RT                1,526
Chris Hopper      Cypress, TX            09/27/19  H-D Ultra Limited CVO      1,526
Robert Long       Ash Grove, MO          09/27/19  Victory Vision             1,526
Kerry Manning     Kingwood, TX           09/27/19  Honda Gold Wing            1,526
Larry Telling     Van Buren Twp, MI      09/27/19  H-D Ultra Limited          1,526
Lionel L Ramos    Falls Church, VA       09/27/19  H-D Road Glide CVO         1,526
David J Gillihan  Fort Worth, TX         09/27/19  BMW R1200GS                1,526

Big As Texas GOLD BBG
Lionel Ramos                             09/26/19  H-D Road Glide Ultra CVO   1,518

IBA Big As Texas Party Ride Ins
Lynn R. Behrens   Mayville, WI           09/23/19  BMW R1200RS                1,542
Greg Hintz        Missoula, MT          09/23/19  Honda Gold Wing             1,557

Brian Levesque    St. Albert, AB CANADA  09/23/19  BMW 1200GS Adventure       1,506 

Fall Equinox Bun Burner 1500 GOLD
Anthony Osborne   West Palm Beach, FL    09/22/19  Yamaha FJR                 1,524
                   * * * This is Anthony's 54th BBG in 2019! * * * 

Lourdes Herman    Lehigh Acres, FL       09/20/19  H-D Softail Classic        1,530 FL-BBG 
Elisia Reddick    Orlando, FL            09/20/19  H-D Road Glide Special     1,530 FL-BBG
Carla Bell        Riverview FL           09/20/19  H-D Street Glide           1,530 FL-BBG

Anthony Osborne   West Palm Beach, FL    09/20/19  Yamaha FJR                 1,524
                   * * * This is Anthony's 53rd BBG in 2019! * * * 

George Mowry      Squaw Valley, CA       09/20/19  Yamaha FJR1300ES           1,511
        * * * This is George's 19th documented 1,500 mile day! * * * 

Dan Wilcox        Plymouth, MN           09/17/19  Yamaha FJR1300             1,519
Michael A Stewart Easton, PA             09/17/19  Victory Vision             1,537
Daryl D. Giles    South Holland, IL      09/15/19  Honda ST1300               1,518 
Howard Phelps     Nampa, ID              09/14/19  Honda VTX1800R             1,546

Anthony Osborne   West Palm Beach, FL    09/14/19  Yamaha FJR                 1,524
                   * * * This is Anthony's 52nd BBG in 2019! * * * 

Anthony Osborne   West Palm Beach, FL    09/13/19  Yamaha FJR                 1,524
                   * * * This is Anthony's 51st BBG in 2019! * * * 

Mike Harris       Mesquite, TX           09/13/19  Triumph Trophy             1,570 
Dave McQueeney    West Covina, CA        09/12/19  BMW R1200R                 1,516 Memorial BBG
Steven R. Fash    Gloucester, ON         09/11/19  BMW R1200GSA               1,532

Everything's Bigger in Texas BBG (pre-ride)
Danny Dossman                            09/11/19  BMW R1200GS-ADV            1,526
Tim Masterson                            09/11/19  BMW R1200GS-ADV            1,526

Todd Moreland     Navarre, FL            09/09/19  H-D Dyna Switchback        1,508 FL-BBG
Ryan Jaeger       Las Vegas, NV          09/09/19  BMW R1200GSA               1,530 

George Mowry      Squaw Valley, CA       09/08/19  Yamaha FJR1300ES           1,567
        * * * This is George's 18th documented 1,500 mile day! * * * 

Gregory Andersen  Kissimmee, FL          09/07/19  Victory Magnum             1,512 

Anthony Osborne   West Palm Beach, FL    09/06/19  Yamaha FJR                 1,524
                   * * * This is Anthony's 50th BBG in 2019! * * * 

Dan Thaler        Deerfield Beach, FL    09/06/19  Honda Gold Wing Tour       1,516
          * * *  This is Mr. Thaler's 32nd documented Bun Burner Gold! * * *

Brian Wade        Burlington, IA         09/01/19  H-D Road Glide             1,533
Jeff McDonald     Spring Creek, NV       08/31/19  BMW R1200GS                1,567 
Spencer Marks     Plano, TX              08/30/19  H-D Road King              1,566 TX-BBG 
Bennett Gaulke    Des Moines, IA         08/15/19  H-D CVO Limited            1,542 
Charles LaGreca   Schriever, LA          08/11/19  H-D Road King Classic      1,525 

Rachel R Baldwin  Greeley, CO            08/31/19  H-D Softail Slim           1,515
Abby Spaedt       Garden City, CO        08/31/19  H-D Road Glide Special     1,515

Chris Hopper      Cypress TX             08/29/19  H-D Ultra Limited CVO      1,541
Allen Wight       Fairfax, VA            08/29/19  BMW F800GT                 1,532

Brian Hooker      Okotoks, AB CANADA     08/26/19  Honda Gold Wing            1,605

Terry Fundenberger Gillette, WY          08/24/19  H-D CVO Ultra              1,551
 
Tom Wuethrich     Palm Beach Gardens,FL  08/24/19  KTM 1190 Adventure         1,526
 
Dan Thaler        Deerfield Beach, FL    08/24/19  Honda Gold Wing Tour       1,562
          * * *  This is Mr. Thaler's 31st documented Bun Burner Gold! * * *

James Craig       Wildwood, MO           08/23/19  BMW R1200GS Adventure      1,534

Chris Hopper      Cypress TX             08/21/19  H-D Ultra Limited CVO      1,542

Eric James        Big Rapids, MI         08/19/19  Honda Gold Wing            1,637

Kenneth Andrews   Benton, AR             08/17/19  H-D Road Glide Ultra       1,501

Lawrence Preston  Las Vegas, NV          08/16/19  H-D Limited                1,524
Jason Jenkins     Las Vegas, NV          08/16/19  H-D Ultra Limited          1,526

Scott Durham      Beech Mountain, NC     08/14/19  Honda Gold Wing            1,542
Kara Halverson    Rapid City, SD         08/09/19  BMW K1600GTL               1,536

George Mowry      Squaw Valley, CA       08/09/19  Yamaha FJR1300ES           1,512
        * * * This is George's 17th documented 1,500 mile day! * * * 

Brian North       Franklin, WI           08/08/19  Triumph Explorer XRT       1,515
Eric James        Big Rapids, MI         08/08/19  Honda Gold Wing            1,593

Lance Henrichsen  Huntington Beach, CA   08/07/19  BMW S1000XR                1,573
Larry Telling      Van Buren Twp., MI    08/05/19  H-D Ultra Limited          1,526

Dominick Zappola  East Haven, CT         08/05/19  H-D Softail FXSTC          1,530 
        * * * This is Dominick's 69th documented 1,500 mile day! * * * 

Michael Mitchell  Ashton, ID             08/05/19  BMW R1200GSA               1,567
Alan M Rundle     Ivins, UT              08/05/19  BMW R1200GSA               1,567

Kenneth Andrews   Benton, AR             08/04/19  H-D Road Glide Ultra       1,520

David M Uhl       Parker, CO             08/04/19  H-D Street Glide CVO       1,537
Lance Henrichsen  Huntington Beach, CA   08/03/19  BMW S1000XR                1,572
Ben Sukup         Lincoln, NE            08/03/19  Yamaha Super Tenere        1,528 

Dan Thaler        Deerfield Beach, FL    08/03/19  Honda Gold Wing Tour       1,516
          * * *  This is Mr. Thaler's 30th documented Bun Burner Gold! * * *

Rob Smith         Edmond, OK             08/02/19  H-D Ultra Limited CVO      1,520
Mike Meador       Piedmont, OK           08/02/19  H-D CVO Ultra              1,520

Benjamin K. Browand     Lancaster, PA    08/01/19  Honda Shadow ACE Tourer11001,507
Christopher Schaffer    Rockvale, TN     08/01/19  BMW R1200RT                1,620
David M Uhl       Parker, CO             08/01/19  H-D Street Glide CVO       1,527

Dominick Zappola  East Haven, CT         07/31/19  H-D Softail FXSTC          1,530 
        * * * This is Dominick's 68th documented 1,500 mile day! * * * 

Anthony Osborne   West Palm Beach, FL    07/30/19  Yamaha FJR                 1,538
                   * * * This is Anthony's 48th BBG in 2019! * * * 

Justin Wyatt      Carlsbad, NM           07/30/19  H-D Road Glide Special     1,501 

Dominick Zappola  East Haven, CT         07/29/19  H-D Softail FXSTC          1,530 
        * * * This is Dominick's 67th documented 1,500 mile day! * * * 

Anthony Osborne   West Palm Beach, FL    07/29/19  Yamaha FJR                 1,556
                   * * * This is Anthony's 48th BBG in 2019! * * * 

Eric K. Hendricks Marquette, MI          07/27/19  Yamaha Super Tenere        1,534

Erin Hoxie        Leola, PA              07/27/19  BMW R1150R                 1,514
Maggie Breidenstein  Reading, PA         07/27/19  H-D Road Glide Special     1,514
Dave Breidenstein Reading, PA            07/27/19  H-D Road Glide Ultra       1,514
Harry Knerr       Blandon PA             07/27/19  H-D Road Glide             1,514

Anthony Osborne   West Palm Beach, FL    07/27/19  Yamaha FJR                 1,556
                   * * * This is Anthony's 47th BBG in 2019! * * * 

Anthony Osborne   West Palm Beach, FL    07/26/19  Yamaha FJR                 1,556
                   * * * This is Anthony's 46th BBG in 2019! * * * 

Nelson Delgado    San Antonio, TX        07/25/19  Yamaha FJR1300             1,544
Alexander Schmidt  Phoenix, AZ           07/25/19  Kawasaki Concours 14       1,544

William Maschke   Roscoe, IL             07/25/19  Honda Gold Wing            1,513 
             * * * William is 70 years young on this ride! * * * 
Dave C. Bennett   Rockford, IL           07/25/19  Honda Gold Wing            1,513 
             * * * Dave is 72 years young on this ride! * * * 

Dominick Zappola  East Haven, CT         07/24/19  H-D Softail FXSTC          1,530 
        * * * This is Dominick's 66th documented 1,500 mile day! * * * 

Jeffrey Hamberg   Orange, MA             07/24/19  BMW K1600B Grand America   1,513 
Lee Brown         San Angelo, TX         07/23/19  Victory Vision             1,525 

Hoagy's Heroes Down South Bun Burner 1500 GOLD
Ron Perlik                               07/23/19  Honda GL1800               1,505

Hoagy's Heroes Out West Bun Burner 1500 GOLD
Garland Arnett                           07/23/19  Triumph Tiger Explorer     1,505
George Miller                            07/23/19  Honda F6B                  1,505
Larry Perkins                            07/23/19  BMW R1200RT                1,505
Robert Wilson                            07/23/19  Honda Gold Wing            1,505

Moon to Earth Bun Burner 1500 GOLD
Kenneth Andrews   Benton, AR             07/16/19  H-D Road Glide Special     1,523
Paul J. Heine     Springfield, VA        07/16/19  H-D Road Glide             1,556
Lionel L Ramos    Falls Church, VA       07/16/19  H-D Road Glide Ultra CVO   1,556

Anthony Osborne   West Palm Beach, FL    07/16/19  Yamaha FJR                 1,578
                   * * * This is Anthony's 45th BBG in 2019! * * * 

Dominick Zappola  East Haven, CT         07/18/19  H-D Softail FXSTC          1,530 
        * * * This is Dominick's 65th documented 1,500 mile day! * * * 

Jay D. Warner     Las Vegas, NV          07/18/19  Suzuki V-Strom 1000        1,505 
Lionel L Ramos    Falls Church, VA       07/18/19  H-D Road Glide Ultra CVO   1,520
William R. Lawson Gray, KY               07/17/19  Honda Gold Wing F6B        1,590 
Robbie Everett    Anchorage, AK          07/17/19  Kawasaki Concours 14       1,536 

50th Anniversary of the 1969 Apollo 11 Moon Launch - Earth to Moon BBG
Kenneth Andrews   Benton, AR             07/16/19  H-D Road Glide Special     1,523

Dominick Zappola  East Haven, CT         07/15/19  H-D Softail FXSTC          1,530 
        * * * This is Dominick's 64th documented 1,500 mile day! * * * 

George Mowry      Squaw Valley, CA       07/14/19  Yamaha FJR1300ES           1,524 
        * * * This is George's 16th documented 1,500 mile day! * * * 
 
Viktor Shvedov    Yekaterinburg, RUSSIA  07/14/19  BMW R1200RT LC             1,800+ 

Anthony Osborne   West Palm Beach, FL    07/14/19  Yamaha FJR                 1,543
                   * * * This is Anthony's 44th BBG in 2019! * * * 

Joseph Reina      Dallas, TX             07/14/19  BMW R1200GSA               1,531 
Sean M. Tunstall  Wales, MA              07/13/19  BMW R1100RT                1,551

Dominick Zappola  East Haven, CT         07/12/19  H-D Softail FXSTC          1,530 
        * * * This is Dominick's 63rd documented 1,500 mile day! * * * 

Kevin Rickbeil    Rice, MN               07/11/19  Yamaha FJR                 1,582 

Joshua R. Dittler Washington, DC         07/10/19  H-D Road Glide Special     1,566
Carolina A. Ortiz Dittler (pillion)      07/10/19  H-D Road Glide Special     1,566
 
Dominick Zappola  East Haven, CT         07/10/19  H-D Softail FXSTC          1,530 
        * * * This is Dominick's 62nd documented 1,500 mile day! * * * 

Anthony Osborne   West Palm Beach, FL    07/09/19  Yamaha FJR                 1,511
                   * * * This is Anthony's 40th BBG in 2019! * * * 
 
William R. Lawson Gray, KY               07/08/19  Honda Gold Wing F6B        1,526 

Rich Henrion      Norway, MI             07/08/19  BMW K1600GT                1,521 MI-BBG 
             * * * Rich is 69 years young on this ride! * * * 

Terry Fundenberger Gillette, WY          07/07/19  H-D CVO Ultra              1,531

Jim Saul          Albuquerque, NM        07/06/19  BMW R1200RT                1,523
Daryl Sparks      Greenfield, IN         07/05/19  Indian Roadmaster          1,514 
Brad Langstraat   West Des Moines, IA    07/04/19  Honda Gold Wing GL1800     1,505 
Mark Campbell     Hernando, MS           07/04/19  Honda Gold Wing            1,636

Mark Marciniak    Seattle WA             07/01/19  Honda Gold Wing            1,534

Larry Hejny       Great Bend, KS         06/29/19  H-D Tri Glide              1,518 
             * * * Larry is 69 years young on this ride! * * * 

Evgeniy Rymarev   Kyiv, UKRAINE          06/29/19  BMW 1200GS Adventure       1,567 

David D. Hess Jr  Tamaroa, IL            06/29/19  H-D Electra Glide Ultra    1,604
Paul J. Heine     Springfield, VA        06/29/19  H-D Road Glide             1,521
Lionel L Ramos    Falls Church, VA       06/29/19  H-D Road Glide Ultra CVO   1,521

Anthony Osborne   West Palm Beach, FL    06/28/19  Yamaha FJR                 1,588
                   * * * This is Anthony's 33rd BBG in 2019! * * * 

Daniel Mulkiewicz Chula Vista, CA        06/28/19  Yamaha Super Tenere ES     1,532 
Kevin Branin      Glenmoore, PA          06/28/19  KTM 1290 Super Duke GT     1,516 

Dominick Zappola  East Haven, CT         06/26/19  H-D Softail FXSTC          1,530 
        * * * This is Dominick's 61st documented 1,500 mile day! * * * 

Vladimir Salmin   Strezhevoy, RUSSIA     06/25/19  BMW R1200GS                1,526 

Mary D. Abbott    Loxahatchee, FL        06/23/19  H-D Road Glide Special     1,537 
Brett Riewe       Elk River, MN          06/22/19  BMW R1200RT                1,540
Steve McLaughlin  New Braunfels, TX      06/22/19  H-D FLHTK Ultra Limited    1,565

Summer Solstice Bun Burner GOLD
Anthony Osborne   West Palm Beach, FL    06/21/19  Yamaha FJR                 1,540 FL-BBG
                   * * * This is Anthony's 32nd BBG in 2019! * * * 

Chris Plaskota    Kennesaw, GA           06/19/19  BMW R1200GS                1,545 
       
Dominick Zappola  East Haven, CT         06/19/19  H-D Softail FXSTC          1,530 
        * * * This is Dominick's 60th documented 1,500 mile day! * * * 

Ken Cowart        Alexander, AR          06/18/19  H-D Road Glide Special     1,515

2019 Bessie Stringfield Bun Burner Gold - Jacksonville to Van Horn
Sandra K Wallace   Charlotte, NC         06/17/19  H-D Road Glide Special     1,520

2019 Bessie Stringfield Bun Burner Gold - Maryland to Kansas
Effie Jones       Rosharon, TX           06/17/19  H-D Road Glide             1,547
Keisha Jordan     Brooklyn, NY           06/17/19  Indian Chieftain           1,547
Portia Boyce      Fayetteville, NC       06/17/19  H-D Street Glide           1,547
Danielle Stansell Stockbridge, GA        06/17/19  H-D Road Glide             1,547
Dolly Johnson     Ellenwood, GA          06/17/19  H-D CVO Road Glide         1,547
Yolanda Robertson Janesville, WI         06/17/19  H-D Road Glide Ultra       1,547
Tameka Richardson Atlanta, GA            06/17/19  H-D Road Glide Special     1,547
Shannon Midgette  Shiloh, IL             06/17/19  H-D Road Glide Special     1,547
Ruby Izquierdo    Killeen, TX            06/17/19  H-D Road Glide Ultra       1,547
Delshateki Izquierdo   Killeen, TX       06/17/19  Honda Goldwing             1,547
Deleones Izquierdo     Killeen, TX       06/17/19  H-D Ultra Glide            1,547
LaSondra Tremble  Bartlett, TN           06/17/19  Indian Chieftain           1,547
Jonetta Malone    Virginia Beach, VA     06/17/19  H-D Road Glide Special     1,547

RBLR1000-BBG  
Ian Murat         Cheshire UK            06/15/19  Kawasaki 1400              1,527
Neil Collins      Greater Manchester UK  06/15/19  Yamaha FJR 1300            1,527

Matthew Danielson Chanhassen, MN         06/15/19  Yamaha FJR                 1,530 

Shane Getten      Belle Plaine MN        06/15/19  Victory Cross Country      1,571
Michael Schuster  Easton, MN             06/15/19  Victory Cross Country      1,571
Jake A Zojonc     Mankato, MN            06/15/19  Victory Magnum             1,571

Roger Pitre       Collette, NB           06/15/19  Yamaha Super Tenere        1,547

Anthony Osborne   West Palm Beach, FL    06/15/19  Yamaha FJR                 1,526
                   * * * This is Anthony's 31st BBG in 2019! * * * 

Cary Pettinger    CANADA                 06/14/19  BMW K1200LT                1,563

Dan Gilbert       Midland, ON CANADA     06/10/19  Honda Gold Wing            1,524 
             * * * Dan is 68 years young on this ride! * * * 
Rick Sadler       Oak Ridge, NC          06/10/19  Honda Gold Wing            1,524 
             * * * Rick is 66 years young on this ride! * * * 

Gary Huff         Colorado Springs, CO   06/10/19  BMW R1200RT                1,547

Anthony Osborne   West Palm Beach, FL    06/08/19  Yamaha FJR                 1,526
                   * * * This is Anthony's 30th BBG in 2019! * * * 

Dave Jones        Racine, WI             06/08/19  Honda Gold Wing            1,536 

Dominick Zappola  East Haven, CT         06/07/19  H-D Softail FXSTC          1,533 
        * * * This is Dominick's 59th documented 1,500 mile day! * * * 

Scott Eppelman    Coppell, TX            06/05/19  Yamaha FJ-09               1,516 
        
Dominick Zappola  East Haven, CT         06/04/19  H-D Softail FXSTC          1,533 
        * * * This is Dominick's 58th documented 1,500 mile day! * * * 

Scott Ryer Evey   Discovery Bay, CA      06/04/19  H-D Limited                1,514 
Matthew Clifford  Ocoee, FL              06/04/19  H-D Ultra Classic          1,560 
Sean M. Tunstall  Wales, MA              06/03/19  BMW R1100RT                1,510 

Rich Malmgren     West Fargo, ND         06/01/19  H-D CVO Road Glide         1,556 
Shawn Damon Ginther Moorhead, MN         06/01/19  H-D Ultra Limited          1,556 

Joshua B. Courage Ankeny, IA             06/01/19  Victory Cross Country      1,507 IA-BBG 

Dan Thaler                               06/01/19  BMW R1200RT                1,510
          * * *  This is Mr. Thaler's 29th documented Bun Burner Gold! * * *

Anthony Osborne   West Palm Beach, FL    06/01/19  Yamaha FJR                 1,526
                   * * * This is Anthony's 29th BBG in 2019! * * * 

Grant Ward        Fort Saskatchewan AB   05/31/19  BMW R1200GS-Adventure      1,565

John Huval        Lafayette, LA          05/31/19  Honda GL1800               1,508
Mark Lennart      Corunna, IN            05/31/19  Yamaha FJR1300             1,543 

Brent S. Elliott  Marathon, WI           05/30/19  BMW K1200LT                1,592 

Dan Thaler                               05/30/19  BMW R1200RT                1,510
          * * *  This is Mr. Thaler's 28th documented Bun Burner Gold! * * *

Robin Miniard     Waterford, MI          05/29/19  H-D FLHTCUSE6              1,549 

Terry Fundenberger Gillette, WY          05/28/19  H-D CVO Ultra              1,553

Anthony Osborne   West Palm Beach, FL    05/26/19  Yamaha FJR                 1,526
                   * * * This is Anthony's 28th BBG in 2019! * * * 

Keith Dean Wells  Marshall, NC           05/25/19  BMW R1200GS Adventure      1,620 

Dan Simmonds      East Berlin, PA        05/23/19  Yamaha Super Tenere        1,565 

Anthony Osborne   West Palm Beach, FL    05/19/19  Yamaha FJR                 1,526
                   * * * This is Anthony's 27th BBG in 2019! * * * 
                   
Motorcycle Tourer's Forum Play Ball 1500 Gold                  
Charles Weir      Southside, TN          05/18/19   Yamaha FJR1300            1,574

Anthony Osborne   West Palm Beach, FL    05/18/19  Yamaha FJR                 1,526
                   * * * This is Anthony's 26th BBG in 2019! * * * 

Gary G. Butler    Punta Gorda, FL        05/18/19  BMW R1200GS Adventure      1,513 

Greg Rice         Ft Lauderdale, FL      05/16/19  Honda Gold Wing 1833       1,535
   * * * This is Greg's 58th BBG - that is 58 documented 1,500 mile days! * * *

George Mowry      Squaw Valley, CA       05/16/19  Yamaha FJR1300ES           1,512 
        * * * This is George's 15th documented 1,500 mile day! * * * 

Dominick Zappola  East Haven, CT         05/15/19  H-D Softail FXSTC          1,530 
        * * * This is Dominick's 57th documented 1,500 mile day! * * * 

Greg Rice         Ft Lauderdale, FL      05/12/19  Honda Gold Wing 1833       1,512
   * * * This is Greg's 57th BBG - that is 57 documented 1,500 mile days! * * *

Anthony Osborne   West Palm Beach, FL    05/11/19  Yamaha FJR                 1,526
                   * * * This is Anthony's 25th BBG in 2019! * * * 

George Mowry      Squaw Valley, CA       05/08/19  Yamaha FJR1300ES           1,528 
        * * * This is George's 14th documented 1,500 mile day! * * * 

Dominick Zappola  East Haven, CT         05/06/19  H-D Softail FXSTC          1,530 
        * * * This is Dominick's 56th documented 1,500 mile day! * * * 

Anthony Osborne   West Palm Beach, FL    05/04/19  Yamaha FJR                 1,523
                   * * * This is Anthony's 24th BBG in 2019! * * * 

Margit Ricker     Richardson, TX         05/02/19  H-D Freewheeler            1,532 
Bruce Lyle Ricker Richardson, TX         05/02/19  H-D Street Glide Special   1,532 

Jimmy H. Williams Amarillo, TX           04/28/19  H-D Road Glide             1,559 
             * * * Jimmy is 66 years young on this ride! * * * 

Anthony Osborne   West Palm Beach, FL    04/28/19  Yamaha FJR                 1,523
                   * * * This is Anthony's 23rd BBG in 2019! * * * 

Motorcycle Tourer's Forum Stadium 1500 Gold     
Bob Clement       Zion, IL               04/27/19  Honda ST1300               1,570 TX-BBG
David Bjork       Elgin, IL              04/27/19  Honda ST1300               1,570 TX-BBG

Chad Ferguson     Evansville, IN         04/27/19  BMW K1600GTL               1,571 

Robert Rehkopf    Cordova TN             04/27/19  BMW R1200RT                1,528
             * * * Robert is 72 years young on this ride! * * *

Lionel L Ramos    Falls Church, VA       04/26/19  H-D Road Glide Ultra CVO   1,591
Lionel L Ramos    Falls Church, VA       04/25/19  H-D Road Glide Ultra CVO   1,578

Anthony Osborne   West Palm Beach, FL    04/27/19  Yamaha FJR                 1,523
                   * * * This is Anthony's 22nd BBG in 2019! * * *                    

Dominick Zappola  East Haven, CT         04/24/19  H-D Softail FXSTC          1,530 
        * * * This is Dominick's 55th documented 1,500 mile day! * * * 

Anthony Osborne   West Palm Beach, FL    04/20/19  Yamaha FJR                 1,526
                   * * * This is Anthony's 21st BBG in 2019! * * * 

Ramiro Sanchez                    MEXICO 04/17/19  BMW R1200GS Adventure      1,532
Omar Isaias Barrera Gomez         MEXICO 04/17/19  BMW R1200GS Adv            1,510

Dominick Zappola  East Haven, CT         04/17/19  H-D Softail FXSTC          1,530 
        * * * This is Dominick's 54th documented 1,500 mile day! * * * 

Lionel L Ramos    Falls Church, VA       04/15/19  H-D Road Glide Ultra CVO   1,514

Salvador Carrillo Moreno        MEXICO   04/14/19  BMW R1200GS Adventure      1,504

Anthony Osborne   West Palm Beach, FL    04/13/19  Yamaha FJR                 1,524
                   * * * This is Anthony's 20th BBG in 2019! * * * 

Motorcycle Tourer's Forum Desert Southwest Bun Burner 1500 Gold
Chuck Keating     Brentwood, TN          04/13/19  BMW K1600GTL               1,553
Matthew Coffer    Tucson, AZ             04/13/19  BMW R1200GS-Adventure      1,553
Roger Edmison     Edmond  OK             04/13/19  H-D Road Glide Special     1,553
Andrew Kesterson  Mesa  AZ               04/13/19  H-D Ultra Limited          1,553
Richard Kesterson Mesa  AZ               04/13/19  H-D Ultra Limited FLHTK    1,553
Aaron King        Maricopa  AZ           04/13/19  H-D Ultra Classic          1,553
Ted Milian        San Tan Valley  AZ     04/13/19  Honda GL1800 Gold Wing     1,553

Inaugural Medicine Park Taco Run Gold
Kevin Blevins     Robesonia PA           04/11/19  H-D Road Glide             1,520

Steven M. Becker  Sylacauga, AL          04/10/19  Honda ST1300               1,526 
Carlos F. Caycedo Cape Coral, FL         04/08/19  Honda Gold Wing            1,590 
Carlos F. Caycedo Cape Coral, FL         04/06/19  Honda Gold Wing            1,524 
Paul Meyer        Herington  KS          04/04/19  Triumph Trophy SE          1,555

Fools Gold BBG 
Christopher Schaffer Rockvale, TN        04/01/19  BMW R1200RT                1,673 
Sheri Philhower   Riverview, FL          04/01/19  Can-Am Spyder RT-S         1,518 TX-BBG 
Benjamin Philhower Riverview, FL         04/01/19  H-D Road Glide Special     1,518 TX-BBG 
Peter Green       Rio Rancho, NM         04/01/19  Triumph Trophy SE          1,524 
Greg Wolf         Neptune Beach, FL      04/01/19  BMW R1200GS                1,510 

George Mowry      Squaw Valley, CA       04/07/19  Yamaha FJR1300ES           1,538 
        * * * This is George's 13th documented 1,500 mile day! * * * 
             * * * George is 74 years young on this ride! * * * 

Jesse Alexander   Buda, TX               04/06/19  H-D Ultra Limited          1,523 
Jim Saul          Albuquerque, NM        04/06/19  BMW R1200RT                1,515

Anthony Osborne   West Palm Beach, FL    04/06/19  Yamaha FJR                 1,524
                   * * * This is Anthony's 19th BBG in 2019! * * *      

Ulf-H. Stroesser  Germany                04/01/19  BMW R1200RT-LC             1,507 

Anthony Osborne   West Palm Beach, FL    03/30/19  Yamaha FJR                 1,524
                   * * * This is Anthony's 18th BBG in 2019! * * *

George Mowry      Squaw Valley, CA       03/30/19  Yamaha FJR1300ES           1,544 
        * * * This is George's 12th documented 1,500 mile day! * * * 
             * * * George is 74 years young on this ride! * * * 

George Mowry      Squaw Valley, CA       03/24/19  Yamaha FJR1300ES           1,524 
        * * * This is George's 11th documented 1,500 mile day! * * * 
             * * * George is 74 years young on this ride! * * * 

Anthony Osborne   West Palm Beach, FL    03/23/19  Yamaha FJR                 1,525
                   * * * This is Anthony's 17th BBG in 2019! * * *

Dana D'Arcy       Sunrise, FL            03/22/19  H-D Road Glide Ultra       1,510 

Anthony Osborne   West Palm Beach, FL    03/21/19  Yamaha FJR                 1,532
                   * * * This is Anthony's 16th BBG in 2019! * * *

Anthony Osborne   West Palm Beach, FL    03/20/19  Yamaha FJR                 1,590
                   * * * This is Anthony's 15th BBG in 2019! * * *

Ben Ernst         Azle, TX               03/18/19  BMW K1600GTL               1,612 
John E. Anderson  Peyton, CO             03/18/19  H-D Electra Glide          1,612 

Peter Green       Rio Rancho, NM         03/16/19  Triumph Trophy SE          1,614

Dan Thaler                               03/16/19  BMW R1200RT                1,532
          * * *  This is Mr. Thaler's 27th documented Bun Burner Gold! * * *

Anthony Osborne   West Palm Beach, FL    03/16/19  Yamaha FJR                 1,532
                   * * * This is Anthony's 14th BBG in 2019! * * *

Darrin Mleynek    Yale, IA               03/14/19  H-D FLTRU                  1,548 
Chris Hopper      Cypress TX             03/14/19  H-D Ultra Limited CVO      1,585
Roger D Nisbett   Virginia Beach, VA     03/14/19  Yamaha Super Tenere        1,507

IBA Life is Beach 1500 GOLD
Shareef AsSadiq                          03/14/19  Indian Roadmaster          1,528
Roger Buis        Baker, FL              03/14/19  H-D Road Glide Ultra       1,528
William Buskell   Panama City Beach, FL  03/14/19  H-D Road Glide             1,528
Carlos Caycedo    Cape Coral, FL         03/14/19  H-D Road Glide Ultra       1,528
Ken Cook          Pooler, GA             03/14/19  BMW R1200RT                1,528
Carl KSolo Harris                        03/14/19  H-D Road Glide Special     1,528
Marcos A. Hernandez    Miami, FL         03/14/19  Honda Gold Wing            1,528
Russel A.S. Janzan  Dania Beach, FL      03/14/19  H-D Road Glide CVO         1,528
Todd Moreland     Navarre, FL            03/14/19  H-D Switchback             1,528
Lionel L Ramos    Falls Church, VA       03/14/19  H-D Road Glide CVO         1,528
Greg Wolf       Neptune Beach, FL        03/14/19  BMW R1200GS                1,528

Rick Rogers       Yorba Linda, CA        03/10/19  H-D Ultra Limited          1,587

George Mowry      Squaw Valley, CA       03/10/19  Yamaha FJR1300ES           1,518 
        * * * This is George's 10th documented 1,500 mile day! * * * 
             * * * George is 74 years young on this ride! * * * 

Anthony Osborne   West Palm Beach, FL    03/09/19  Yamaha FJR                 1,524
                   * * * This is Anthony's 13th BBG in 2019! * * *

Lionel L Ramos    Falls Church, VA       03/03/19  H-D Road Glide Ultra CVO   1,508
Dana D'Arcy       Sunrise, FL            03/02/19  H-D Road Glide Ultra       1,542 FL-BBG 

Anthony Osborne   West Palm Beach, FL    03/02/19  Yamaha FJR                 1,524
                   * * * This is Anthony's 12th BBG in 2019! * * *

Lionel L Ramos    Falls Church, VA       02/28/19  H-D Road Glide Ultra CVO   1,505
Kenneth Andrews   Benton, AR             02/26/19  H-D Road Glide Ultra       1,542

Anthony Osborne   West Palm Beach, FL    02/23/19  Yamaha FJR                 1,522
                   * * * This is Anthony's 11th BBG in 2019 * * *

Greg Rice         Ft Lauderdale, FL      02/21/19  Honda Gold Wing 1833       1,512
   * * * This is Greg's 56th BBG - that is 54 documented 1,500 mile days! * * *

Greg Rice         Ft Lauderdale, FL      02/21/19  Honda Gold Wing 1833       1,515
   * * * This is Greg's 55th BBG - that is 54 documented 1,500 mile days! * * *

David Mickel      Middleburg, FL         02/17/19  Triumph Trophy SE          1,526 
Kenneth Andrews   Benton, AR             02/17/19  H-D Road Glide Ultra       1,518
Chris Hopper      Cypress TX             02/19/19  H-D Ultra Limited CVO      1,509
Chris Hopper      Cypress TX             02/18/19  H-D Ultra Limited CVO      1,532

Anthony Osborne   West Palm Beach, FL    02/17/19  Yamaha FJR                 1,522
                   * * * This is Anthony's 10th BBG in 2019 * * *

Ken Cowart        Alexander, AR          02/16/19  H-D Road Glide Ultra       1,521
Dan Thaler        Deerfield Beach, FL    02/16/19  BMW R1200RT                1,524
Anthony Osborne   West Palm Beach, FL    02/16/19  Yamaha FJR                 1,524

Tim Vaughan       Stanley, NC            02/16/19  Yamaha FJR1300             1,549

Josef F. Woodall  Wesley, AR             02/07/19  BMW R1200RT                1,512 
             * * * Josef is 69 years young on this ride! * * * 

Doug Vance        Cordova, TN            02/05/19  H-D Ultra Limited          1,549 FL-BBG
Ken Cowart        Alexander, AR          02/02/19  H-D Road Glide Ultra       1,538
Anthony Osborne   West Palm Beach, FL    02/02/19  Yamaha FJR                 1,521
Kenneth Andrews   Benton, AR             01/27/19  H-D Road Glide Ultra       1,525
Anthony Osborne   West Palm Beach, FL    01/26/19  Yamaha FJR                 1,527

Juan Emmanuel Gomez Cervera     MEXICO   01/24/19  Triumph Tiger Explorer     1,524 

Anthony Osborne   West Palm Beach, FL    01/19/19  Yamaha FJR                 1,521

Anthony Osborne   West Palm Beach, FL    01/15/19  Yamaha FJR                 1,521 

Tim Vaughan       Stanley, NC            01/19/19  Yamaha FJR                 1,541
Kenneth Andrews   Benton, AR             01/15/19  H-D Road Glide Ultra       1,515 FAT-BBG

Anthony Osborne   West Palm Beach, FL    01/12/19  Yamaha FJR                 1,521 
Dan Thaler        Deerfield Beach, FL    01/12/19  BMW R1200RT                1,531

Jon S. Meadows    Lafayette, IN          01/08/19  H-D Street Glide           1,518 
Ken Cowart        Alexander, AR          01/05/19  H-D Road Glide Ultra       1,527

Stephen Seljan    Alpharetta, GA         01/05/19  H-D Ultra Limited          1,549 
Douglas Collins   Smyrna, GA             01/05/19  H-D Road Glide             1,532 

Anthony Osborne   West Palm Beach, FL    01/05/19  Yamaha FJR                 1,538 

Hannes Bagar      Austria                01/02/19  Honda Africa Twin 1000     1,524 

Kenneth Roy       North Andover, MA      01/01/19  BMW R1200RT                1,553 

Dan Thaler        Deerfield Beach, FL    12/26/18  BMW R1200RT                1,531
Greg Rice         Ft Lauderdale, FL      12/25/18  Honda Gold Wing 1833       1,531
   * * * This is Greg's 54th BBG - that is 54 documented 1,500 mile days! * * *

Ben Ernst         Aledo, TX              12/23/18  BMW K1600GTL               1,505 TX-BBG 
Ken Cowart        Alexander, AR          12/22/18  H-D Road Glide Ultra       1,529
Doug Vance        Cordova, TN            12/16/18  H-D Ultra Limited          1,541

George Mowry      Squaw Valley, CA       12/15/18  Yamaha FJR1300ES           1,523 
             * * * George is 74 years young on this ride! * * * 

Oscar Aspuru García     MEXICO           11/25/18  BMW S1000XR                1,539
Karim Calderon Saucedo  MEXICO           11/25/18  BMW S1000XR                1,509
Hugo Garcia Morales     MEXICO           11/25/18  BMW F700GS                 1,531

Paul Meyer        Herington  KS          11/15/18  Triumph Trophy             1,528

George Mowry      Squaw Valley, CA       11/11/18  Yamaha FJR1300ES           1,694 
             * * * George is 74 years young on this ride! * * * 

Dan Thaler        Deerfield Beach, FL    11/10/18  BMW R1200RT                1,509
Greg Rice         Ft Lauderdale, FL      11/10/18  Honda Gold Wing 1833       1,509
   * * * This is Greg's 53rd BBG - that is 53 documented 1,500 mile days! * * *

Kenneth Andrews   Benton, AR             11/10/18  H-D Road Glide Ultra       1,533

George Mowry      Squaw Valley, CA       11/07/18  Yamaha FJR1300ES           1,520 
             * * * George is 74 years young on this ride! * * * 

Che Hopkins       Albuquerque, NM        11/05/18  Yamaha FJR1300             1,518
Jason A. Webb     Albuquerque, NM        11/05/18  Yamaha FJR1300             1,518 
Fred Morley       Albuquerque, NM        11/05/18  Yamaha FJR1300             1,518
      
Ken Cowart        Alexander, AR          11/03/18  H-D Road Glide Ultra       1,526

Aleksandr Magiday Melbourne, FL          10/21/18  Kawasaki Concours 14       1,518
Todd M. Mosich    San Pedro, CA          10/20/18  H-D Ultra Limited          1,592 

Hannes Bagar      GERMANY                10/19/18  Honda Africa Twin 1000     1,530 

2018 Big As Texas - Texas Gold 1500
Frans de Wet                             10/19/18  Honda Gold Wing            1,518
Bettie  de Wet (pillion)                 10/19/18  Honda Gold Wing            1,518
Bruce Edwards                            10/19/18  BMW R1200RT                1,518
Gary Huff                                10/19/18  BMW R1200RT                1,518
Jeffrey Konicek                          10/19/18  Kawasaki Vulcan Nomad      1,518
Paul W. Meyer                            10/19/18  Triumph Trophy             1,518
JD Smith                                 10/19/18  BMW R1200GSA               1,518

Earl Cornwell     Embarrass, MN          10/18/18  Yamaha Super Tenere        1,535 

Richard Rowland   Sandy, UT              10/18/18  H-D Limited                1,515 
             * * * Richard is 70 years young on this ride! * * * 

Gene Carlander                           10/15/18  H-D Road Glide Ultra       1,534
Donal LaChance    Taylor, TX             10/12/18  Honda Gold Wing F6B        1,523 TX-BBG

Pierre Guillotte  St-Bruno, QC CANADA    10/06/18  BMW R1200GSA               1,502
 
Ken Cowart        Alexander, AR          10/06/18  H-D Road Glide Ultra       1,618
Ed Daugherty      Sherman, TX            10/08/18  BMW F800GS                 1,676 

Dominick Zappola  East Haven, CT         10/04/18  H-D Softail FXSTC          1,516

George Mowry      Squaw Valley, CA       10/04/18  Kawasaki Concours 14       1,522 CA-BBG
             * * * George is 74 years young on this ride! * * *

Dominick Zappola  East Haven, CT         10/03/18  H-D Softail FXSTC          1,516

Jorge Fernandez Chavez  MEXICO           09/30/18  BMW R1200GSA               1,551
Ivan Arevalo Gomez      MEXICO           09/30/18  BMW R1200GSA               1,551

Darren C. Kern    Gibsonville, NC        09/29/18  Suzuki V-Strom 1000        1,546 
Robert Bradley    Prattville, AL         09/29/18  Honda Gold Wing            1,572 

Hannes Bagar      GERMANY                09/28/18  Honda Africa Twin 1000     1,537

Don Tonn          Kelowna, BC CANADA     09/27/18  H-D Road Glide Special     1,522 

Greg Rice         Ft Lauderdale, FL      09/27/18  Honda Gold Wing 1833       1,800+
   * * * This is Greg's 52nd BBG - that is 52 documented 1,500 mile days! * * *

Anthony Osborne   West Palm Beach, FL    09/25/18  Yamaha FJR1300             1,612

Dominick Zappola  East Haven, CT         09/24/18  H-D Softail FXSTC          1,531
Dominick Zappola  East Haven, CT         09/23/18  H-D Softail FXSTC          1,531

Richard Swenson   Hemingway SC           09/23/18  Honda Gold Wing            1,503
Alicia M. Hanson  Belmont, NC            09/22/18  H-D FLHX                   1,510 

Wolfe Bonham      Stoney Creek, ON       09/15/18  BMW R1150GSA               1,514
Robyn M. Pitts    St. Catharines, ON CAN 09/15/18  BMW F650GS Twin            1,514 

Andrew Moore      Woodbridge, VA         09/22/18  BMW R1200GSW               1,539
Dan Thaler        Deerfield Beach, FL    09/22/18  BMW R1200RT                1,659
Ronald L. Trainor Pembroke, MA           09/22/18  H-D Ultra Classic Trike    1,537
Michael Marcoccio South Attleboro, MA    09/22/18  H-D Street Glide           1,502 
Richard Swenson   Hemingway SC           09/20/18  Honda Gold Wing            1,505

Dan Thaler        Deerfield Beach, FL    09/20/18  BMW R1200RT                1,800+
Greg Rice         Ft Lauderdale, FL      09/20/18  Honda Gold Wing 1833       1,800+
   * * * This is Greg's 51st BBG - that is 51 documented 1,500 mile days! * * *

Jack Key          Murfreesboro, TN       09/15/18  Honda Gold Wing            1,569 
             * * * Jack is 72 years young on this ride! * * * 

Donald Deuel      Arlee, MT              09/15/18  Honda Gold Wing 1800       1,584 
             * * * Donald is 75 years young on this ride! * * * 

Thomas Jorno      Sarasota, FL           09/15/18  Yamaha FJR1300             1,518
Dominick Zappola  East Haven, CT         09/13/18  H-D Softail FXSTC          1,516
Dominick Zappola  East Haven, CT         09/12/18  H-D Softail FXSTC          1,516
Ken Tracy         Weiser, ID             09/12/18  H-D Ultra Limited          1,521
Tim Erickson      Saint Michael, MN      09/12/18  Kawasaki Concours          1,538 

Andrey Sosorev    Moscow, RUSSIA         09/10/18  H-D FLHTK Ultra Limited    1,596 
Mikhail Khalatov  Moscow, RUSSIA         09/09/18  H-D FLHTKSE                1,620 

Roman Antonin     GERMANY                09/10/18  Yamaha TDM 850             1,521

Thomas Tremblay   Oak Point, TX          09/10/18  BMW K1600GTL Exclusive     1,536 

Leonard York      Aloha, OR              09/08/18  Honda Gold Wing GL1800     1,567 
Cindy Goewey (passenger)                 09/08/18  Honda Gold Wing GL1800     1,567 

Bill Quinn        Henderson, NV          09/08/18  Indian Chieftain           1,533

John Ondusko      Duncan, BC CANADA      09/07/18  Honda Gold Wing            1,538 
Peter Modny       Smithville, ON CANADA  09/07/18  BMW R1100RT                1,503 

Danny C. Dossman                         09/07/18  2012 Honda ST1300          1,549
William Buskell   Panama City Beach, FL  09/05/18  H-D Road Glide Ultra       1,551
Stanley Miller    Ames, IA               09/05/18  BMW R1200GSA               1,542 

Zachary Bursnall  Morrison, CO           09/04/18  Honda Gold Wing F6B        1,546 
Pippi - Biker Dog (passenger)            09/04/18  Honda Gold Wing F6B        1,546 
 
Ken Cowart        Alexander, AR          09/03/18  H-D Road Glide Ultra       1,515
Leon Brunken      Estacada, OR           09/02/18  BMW R1200RT                1,521

Charles D. Lott   Lebuc, AB CANADA       09/01/18  Victory Cross County       1,505

Jeff Nelson       Indian Trail, NC       09/01/18  H-D CVO Limited            1,526 

Brent S. Elliott  Oconto, WI             09/01/18  BMW K1200LT                1,524
Bethany S. Elliott (passenger)           09/01/18  BMW K1200LT                1,524
* * * 13 years old, Bethany is tied for the youngest Bun Burner GOLD finisher * * *

Corydon J Ure     Taylorsville, UT       09/01/18  Yamaha FJR1300             1,523
Chris Hopper      Cypress TX             08/29/18  H-D Ultra Limited          1,529

Roman Antonin     GERMANY                08/28/18  Yamaha TDM 850             1,529

Kenneth Andrews   Benton, AR             08/28/18  H-D Road Glide Ultra       1,541

Clarence Bell     Dallas, GA             08/28/18  H-D Road King              1,510
Verbon Martin     Jasper, GA             08/28/18  H-D Ultra Limited          1,510
             * * * Verbon is 68 years young on this ride! * * *

Michael D Pursell Los Gatos, CA          08/24/18  H-D Street Glide           1,543
William Thigpen   San Jose, CA           08/24/18  H-D CVO Limited            1,543
Steve Brandt      San Jose, CA           08/24/18  H-D Road King CVO          1,543
Wayne Prodger     Sunnyvale, CA          08/28/18  H-D Electra Glide Ultra    1,543

John A. Bechinski Ortonville, MI         08/26/18  BMW R1200RT                1,522
Lee Martin        Cumming, GA            08/25/18  Yamaha FJR1300             1,566
Ken Cowart        Alexander, AR          08/25/18  H-D Road Glide Ultra       1,541
Joel W. Owen      Gaithersburg, MD       08/25/18  BMW R1200RT                1,542
Clinton Roberts   Hays, KS               08/25/18  H-D Forty-Eight XL1200X    1,504
Randall Reagan    West Terre Haute, IN   08/24/18  Indian Roadmaster          1,528

Raymundo Luna Arreortua       MEXICO     08/24/18  Yamaha Super Tenere        1,513

Dominick Zappola  East Haven, CT         08/24/18  H-D Softail FXSTC          1,516
         * * * This is Dominick's 47th documented 1,500 mile day! * * *

Dominick Zappola  East Haven, CT         08/23/18  H-D Softail FXSTC          1,516
         * * * This is Dominick's 46th documented 1,500 mile day! * * *

Scott E. Brown    Omaha, NE              08/22/18  H-D Road Glide Ultra FLTRU 1,590

Jennifer Argentino  St. Catharines, ON   08/18/18  BMW G310GS                 1,505

Jonathan W. Byrd  Red Oak, TX            08/18/18  H-D Road King Police       1,555 TX-BBG
Dave McQueeney    West Covina, CA        08/18/18  BMW R1200R                 1,536
Jesse Hilton      Tehachapi, CA          08/17/18  Honda Africa Twin          1,548
Luke Rutledge     St. Charles, MO        08/17/18  Kawasaki Vulcan Voyager    1,551

Hannes Bagar      GERMANY                08/16/18  Honda Africa Twin 1000     1,504

Steve J. Miller   Kalona, IA             08/16/18  Yamaha FZ1                 1,574 
Cliff Orbach      Albuquerque, NM        08/15/18  BMW R1200RT                1,538
Simon Clement     Albuquerque, NM        08/15/18  H-D Road Glide Special     1,536

Paul Maedke       Ephrata, WA            08/14/18  Honda ST1300               1,534
             * * * Paul is 65 years young on this ride! * * *

Ron Harms         Marion, IA             08/13/18  H-D Street Bob             1,547
Steven R. Fash    Gloucester, ON         08/12/18  BMW R1200GSA               1,520

2018 Independence Challenge LT100 H.O.G. Vilnius Chapter 
Algirdas Razma    Plunge, LITHUANIA      08/11/18  H-D FLTRU Road Glide Ultra 1,532
Dainius Suckelis  Vilnius, LITHUANIA     08/11/18  H-D FLHXSE                 1,532

Brian D. Henn     Sauk City, WI          08/10/18  H-D Street Glide           1,502
Ted Parins        Prairie du Sac, WI     08/10/18  H-D CVO Limited            1,502
Adara Parins (passenger)                 08/10/18  H-D CVO Limited            1,502

Paul J. Heine     Springfield, VA        08/09/18  H-D Ultra Limited          1,503
Jeffrey Hansen    Canal Winchester, OH   08/07/18  Yamaha Super Tenere        1,510
Paul J. Heine     Springfield, VA        08/07/18  H-D Ultra Limited          1,501 TX-BBG
Paul J. Heine     Springfield, VA        08/06/18  H-D Ultra Limited          1,502

Patrick L Ramos   Falls Church, VA       08/06/18  H-D Street Glide Ultra CVO 1,500
Lionel L Ramos    Falls Church, VA       08/06/18  H-D Road Glide Ultra CVO   1,500

Justin D. Varner  Allendale, MI          08/05/18  Triumph Tiger 1050         1,536 
Anthony Osborne   West Palm Beach, FL    08/04/18  Yamaha FJR                 1,558

Michael J. Rath   Burlington, KY         08/04/18  H-D Street Glide Special   1,542
Michael J. Rath   Burlington, KY         08/04/18  H-D Street Glide Special   1,542

George Mowry      Squaw Valley, CA       08/02/18  Yamaha FJ1300ES            1,518
             * * * George is 74 years young on this ride! * * *

Mike Messer       Fayetteville, GA       08/01/18  Motus MSTR                 1,570

Russ Hoskins      Papillion, NE          07/31/18  Honda Gold Wing            1,564

Jose Octavio Perez Macedo   MEXICO       07/28/18  BMW R1200GS ADV LC         1,512

Greg Rice         Ft Lauderdale, FL      07/28/18  Honda Gold Wing 1833       1,540
   * * * This is Greg's 50th BBG - that is 50 documented 1,500 mile days! * * *

Dan Thaler        Deerfield Beach, FL    07/28/18  BMW R1200RT                1,540
  * * * This is Dan's 20th BBG - that is 20 documented 1,500 mile days! * * *

L.Wesley Clevinger Grundy, VA            07/27/18  Honda GL1800 Gold Wing     1,502 
Steve Stacy       Grundy, VA             07/27/18  Honda Gold Wing            1,502 

Ken Martin        Kingsport, TN          07/27/18  BMW R1200RT                1,538
Robbie Everett    Anchorage, AK          07/26/18  Kawasaki Concours 14       1,518

Anthony Alexander Piscataway, NJ         07/22/18  BMW R1200GS                1,502

Thomas W. Spears  San Luis Obispo, CA    07/21/18  BMW R1200RT                1,520

Dominick Zappola  East Haven, CT         07/19/18  H-D Softail FXSTC          1,541
         * * * This is Dominick's 45th documented 1,500 mile day! * * *

Dominick Zappola  East Haven, CT         07/18/18  H-D Softail FXSTC          1,541
         * * * This is Dominick's 44th documented 1,500 mile day! * * *

Anatoly Vaschenko RUSSIA                 07/18/18  BMW R1200GS                1,532 
Vitaliy Schastny  Sochi, RUSSIA          07/18/18  BMW R1200GS Adventure      1,532

Matthew Coffer    Tucson, AZ             07/17/18  BMW R1200GS Adventure      1,608
Christopher Schaffer  Rockvale, TN       07/15/18  BMW R1200RT                1,502

Dan Thaler        Deerfield Beach, FL    07/14/18  BMW R1200RT                1,540
  * * * This is Dan's 19th BBG - that is 19 documented 1,500 mile days! * * *

Nelson Delgado    San Antonio, TX        07/23/18  Yamaha FJR1300             1,534

Joacir Santos     Everett, MA            07/12/18  BMW R1200GS Adventure      1,550 
Marcos Mateucci   Rowley, MA             07/12/18  BMW GSA                    1,562

Dominick Zappola  East Haven, CT         07/11/18  H-D Softail FXSTC          1,508
         * * * This is Dominick's 43rd documented 1,500 mile day! * * *

Dominick Zappola  East Haven, CT         07/10/18  H-D Softail FXSTC          1,508
         * * * This is Dominick's 42nd documented 1,500 mile day! * * *

Greg Rice         Ft Lauderdale, FL      07/10/18  Honda Gold Wing 1833       1,550
   * * * This is Greg's 49th BBG - that is 49 documented 1,500 mile days! * * *

Anthony Osborne   West Palm Beach FL     07/07/18  Yamaha FJR                 1,588
Robert W. Fuller  Belmont, CA            07/06/18  BMW R1200GS                1,504

Wesley Johnson Jr. Youngwood, PA         07/06/18  H-D Electra Glide          1,514
Wes Johnson Sr.   Ruffs Dale, PA         07/06/18  Victory High-Ball          1,514

Michael Land      Antioch, IL            07/06/18  BMW R1200RT                1,529
Theo Komulainen   Menahga, MN            07/06/18  Honda Gold Wing F6B        1,590
Charles MacLaughlin Calgary, AB CANADA   07/05/18  KTM 1290 Super Adventure   1,502 
Tim Vaughan       Stanley, NC            07/05/18  Yamaha FJR1300             1,538
Derrick Speakman  Lockbourne, OH         07/05/18  BMW R1200GSA               1,553

Daniel Wallander   Santa Fe, NM          07/01/18  Honda ST1300               1,551

Kim Teixeira      Sparks, NV             06/30/18  H-D CVO Ultra              1,574
Philip R. Grove   Reno, NV               06/30/18  H-D Heritage               1,574
             * * * Philip is 75 years young on this ride! * * * 

Mikhail Okshin    Sheridan, WY           06/30/18  H-D V-Rod                  1,512

Bill Quinn        Henderson, NV          06/30/18  Indian Chieftain           1,538

Roy Kjendal       Deerfield NH           06/30/18  BMW K1600GTL               1,522
              * * * Roy is 69 years young on this ride! * * *

Randy Matz        Rogers, AR             06/29/18  H-D Ultra Limited          1,522
Mark A. Moran     Discovery Bay, CA      06/27/18  Victory Vision             1,516
Daniel Simmonds   East Berlin, PA        06/25/18  Yamaha Super Tenere        1,515
Brandon Sterner   Midland, TX            06/25/18  H-D Road Glide             1,520
Brian Hunnicutt   Fairfield, CA          06/24/18  BMW R1200GS                1,552
Matthew C. Scott  Homeworth, OH          06/23/18  H-D Ultra Classic          1,524 
Mike Loomer       Rapid City, SD         06/23/18  Yamaha FJR1300             1,550
Steve Snell       Kennesaw  GA           06/23/18  Honda Gold Wing            1,513

Praetorian Guard RC Iron Butt Bun Burner GOLD
Kelly R Smith                            06/23/18  H-D CVO Street Glide       1,510
Joseph D Black                           06/23/18  H-D Ultra Classic          1,510

Brian North       Franklin, WI           06/21/18  BMW K1600GT                1,550 

Mud Shark Bun Burner 1500 Gold
Paul Werner       Shakopee, MN           06/21/18  H-D CVO Limited            1,574
John Purcell      Bloomington, MN        06/21/18  H-D Road Glide Ultra       1,574
Dave Iverson      Babbitt, MN            06/21/18  H-D CVO Limited            1,574
Dan Muhvich       Embarrass, MN          06/21/18  H-D Road Glide Ultra       1,574

Mike Ingles       Surrey, BC CANADA      06/20/18  Honda ST1300               1,530 

Dmitry Shaklein   Moscow, RUSSIA         06/18/18  Tiger Explorer ABS         1,800+

Daryl D. Giles    South Holland, IL      06/18/18  Honda ST1300               1,538
David R. Kean     Guelph, ON CANADA      06/17/18  Honda Gold Wing F6B        1,540
Steve Keiser      South Jordan, UT       06/16/18  BMW K1200GT                1,561
Matthew Johnston  Stafford, VA           06/15/18  H-D Ultra Classic          1,510
Bennett Gaulke    Des Moines, IA         06/13/18  H-D CVO Limited            1,546 

Dominick Zappola  East Haven, CT         06/13/18  H-D Softail FXSTC          1,516
         * * * This is Dominick's 41st documented 1,500 mile day! * * *

Dominick Zappola  East Haven, CT         06/12/18  H-D Softail FXSTC          1,516
         * * * This is Dominick's 40th documented 1,500 mile day! * * *
         
Thom Rieck        Rochester, MN          06/11/18  BMW R1200RT                1,518

Scott Bernett     Amarillo, TX           06/09/18  H-D Street Glide Special   1,522
Michael Brinson   Amarillo, TX           06/09/18  H-D Ultra Limited          1,522

David Yanke       Sycamore, IL           06/09/18  H-D FLHTK Peace Officer    1,516

Ken Cowart        Alexander, AR          06/09/18  H-D Road Glide Ultra       1,532
Christopher Armstrong  Indianapolis, IN  06/09/18  H-D FLHTK                  1,538

IBA Mexico Custom Rock BBG - 1500/24 HOURS
Jorge Federico Rodriguez Magana MEXICO   06/08/18  BMW 1600 Bagger            1,537
Andre Luis Serejo De Carvalho   MEXICO   06/08/18  BMW S1000xr                1,537
Luis Ulloa                      MEXICO   06/08/18  BMW 1200 Gs Adv            1,537
Francisco Javier Torres Vera    MEXICO   06/08/18  BMW GS 1200                1,537
Alonso Jose Vazquez Ortiz       MEXICO   06/08/18  BMW GS 1200                1,537
Guillermo Naranjo               MEXICO   06/08/18  BMW 1200 Adventure         1,537
Loredana Russo                  MEXICO   06/08/18  BMW 1200 Adventure         1,537
Juan Emmanuel Gomez Cervera     MEXICO   06/08/18  Triumph Tiger Explorer Xrt 1,537

Greg Rice         Ft Lauderdale, FL      06/06/18  Honda Gold Wing 1833       1,514
   * * * This is Greg's 48th BBG - that is 48 documented 1,500 mile days! * * *

Greg Rice         Ft Lauderdale, FL      06/03/18  Honda Gold Wing 1833       1,509
   * * * This is Greg's 47th BBG - that is 47 documented 1,500 mile days! * * *

Marty Holmes      Lincoln, IL            06/03/18  Moto Guzzi Stelvio NTX     1,564

Mark Lambie       University Place, WA   05/26/18  BMW R1200RT                1,590
Rafael Pelayo     San Antonio, TX        05/26/18  Honda VTX1800              1,515
Todd Lipps        Westminster, CA        05/25/18  Honda Gold Wing GL1800     1,515

Stuart R. Sortino Virginia Beach, VA     05/25/18  BMW K1600GTL               1,510
Jay Pylman        Virginia Beach, VA     05/25/18  BMW K1600GTL               1,510
Jeffrey N. Joseph Chesapeake, VA         05/25/18  BMW K1600GTL               1,510
Andrew W. Reiter  Williamsburg, VA       05/25/18  BMW R1200GSW               1,510

Manfred Massatsch GERMANY                05/20/18  Honda CTX 1300             1,548

Bill Van Luchene  Wetumpka, AL           05/20/18  H-D Road Glide UltraClassic1,535
Jason Schachter   Sierra Vista, AZ       05/19/18  H-D Road Glide Ultra       1,528
Paul W. Meyer     Herington KS           05/19/18  Triumph Trophy             1,552
Craig Phillips    Lake St Louis, MO      05/19/18  Victory Cross Country Tour 1,533
Paul Stark        San Jose, CA           05/19/18  BMW R1200RT                1,508 BBG-NV
Donal LaChance    Taylor, TX             05/19/18  Honda Gold Wing F6B        1,520 BBG-TX

Sheri Philhower   Riverview, FL          05/18/18  Can-Am Spyder RT-S         1,532
Benjamin Philhower Riverview, FL         05/18/18  H-D Road Glide Special     1,532

William Thigpen   Santa Clara, CA        05/18/18  H-D CVO Road King          1,533 BBG-CA
Steve Brandt      San Jose, CA           05/18/18  H-D CVO Road King          1,533 BBG-CA
Michael Pursell   San Jose, CA           05/18/18  H-D Street Glide           1,533 BBG-CA

Dominick Zappola  East Haven, CT         05/17/18  H-D Softail FXSTC          1,524
         * * * This is Dominick's 39th documented 1,500 mile day! * * *

Denis Popovych    Kyiv, UKRAINE          05/16/18  Honda Gold Wing GL1800     1,537 

Dominick Zappola  East Haven, CT         05/16/18  H-D Softail FXSTC          1,524
         * * * This is Dominick's 38th documented 1,500 mile day! * * *

Honor Hukill      Lindale, TX            05/12/18  H-D Road Glide Special     1,554 BBG-TX
Dan Tebbetts      Tyler, TX              05/12/18  H-D Street Glide           1,554 BBG-TX

Dan Thaler        Deerfield Beach, FL    05/12/18  BMW R1200RT                1,537
Kyle Van Vogelpoel White City, KS        05/11/18  H-D 1200 Sportster         1,515

Dominick Zappola  East Haven, CT         05/10/18  H-D Softail FXSTC          1,514
         * * * This is Dominick's 37th documented 1,500 mile day! * * *

Dominick Zappola  East Haven, CT         05/09/18  H-D Softail FXSTC          1,514
         * * * This is Dominick's 36th documented 1,500 mile day! * * *

Valentin Volkov   Elektrostal, RUSSIA    05/07/18  Honda VFR 800              1,596

Randy Neumann     St. Michael, MN        05/06/18  Victory Cross Country Tour 1,507 

John Short        New Palestine, IN      05/05/18  H-D Road Glide Ultra       1,524

Cindy Shackelford Perris, CA             05/05/18  H-D Fat Boy                1,521
Daniel Thomas     Perris, CA             05/05/18  Honda Gold Wing 1800       1,521

Nemesio Hernandez Rodriguez   MEXICO     05/01/18  BMW R1200GS ADV LC         1,530
Jose Octavio Perez Macedo     MEXICO     05/01/18  BMW R1200GS ADV LC         1,530
Jose Octavio Perez Macedo     MEXICO     04/28/18  BMW R1200GS ADV LC         1,510
Nemesio Hernandez Rodriguez   MEXICO     04/28/18  BMW R1200GS ADV LC         1,510

Omar Castellanos Aceves       MEXICO     04/27/18  BMW R1200GS                1,508
Luis Gabriel Bermudez Mendez  MEXICO     04/27/18  BMW R1200GSA               1,512

Ken Cowart        Alexander, AR          04/28/18  H-D Road Glide Ultra       1,555
Steve Wishard     Ponte Vedra, FL        04/27/18  BMW R1200RT                1,548
Russell C. Neal   Milton, NH             04/26/18  Honda Gold Wing            1,587

Volker Farber     GERMANY                04/21/18  Yamaha TDM 900             1,531

Jason S. Rosso    Fayetteville, GA       04/21/18  BMW R1200GS Adventure      1,520
Timothy Vaughan   Stanley, NC            04/16/18  Yamaha FJR1300             1,529

Fernando Navarro Duenas     MEXICO       04/15/18  BMW R1200GSA               1,510

William Smith     Bellefonte, PA         04/14/18  Honda GL1800               1,523

George Mowry      Squaw Valley, CA       04/14/18  Kawasaki Concours 14       1,510
             * * * George is 73 years young on this ride! * * * 

Tim James         Tyler, TX              04/07/18  H-D Street Glide           1,516 BBG-TX
John A. Barber    Tyler, TX              04/07/18  H-D Road Glide Ultra       1,516 BBG-TX
Joel Tyner        Chandler, TX           04/07/18  H-D Road Glide Ultra       1,516 BBG-TX
Dan Tebbetts      Tyler, TX              04/07/18  H-D Street Glide           1,516 BBG-TX
Robert Poffinbarger Troup, TX            04/07/18  H-D FLHTK                  1,516 BBG-TX
             * * * Robert is 66 years young on this ride! * * * 

Bun Burner Fools Gold
Paul J. Heine     Springfield, VA        04/01/18  H-D Ultra Limited          1,544
Brett Morehead    Hurst  TX              04/01/18  BMW R1200RT                1,515 TX-BBG
Mark L. Griffin   Chandler, AZ           04/01/18  BMW K1600GTL               1,529
Christopher Schaffer  Rockvale, TN       04/01/18  BMW R1200RT                1,591
Lionel L Ramos    Falls Church, VA       04/01/18  H-D Road Glide Ultra CVO   1,520
Gerry Arel        Manchester  CT         04/01/18  BMW R1200R                 1,563
Kevin Blevins     Robesonia PA           04/01/18  H-D Road Glide             1,525
Harry Knerr       Leesport, PA           04/01/18  H-D Road Glide             1,525
 
Dale Rogers       Rock Island, TN        03/30/18  H-D Street Glide Special   1,545
Jeremy Kliewer    McMinnville, TN        03/30/18  H-D Ultra Limited          1,545
 
Rob Carlo         Truckee CA             03/28/18  H-D Road Glide             1,531
Curt Carter       Garden Ridge, TX       03/23/18  H-D CVO Street Glide       1,521
Roy Kjendal       Deerfield, NH          03/20/18  BMW K1600GTL               1,518
Lionel L Ramos    Falls Church, VA       03/18/18  H-D FLTRUSE                1,503
Paul J. Heine     Springfield, VA        03/17/18  H-D Ultra Limited          1,510

IBA Grand Tour Bun Burner GOLD
Carlos Caycedo    Cape coral, FL         03/15/18  H-D Road Glide             1,562
Scott Peters      Lithia, FL             03/15/18  BMW K1600                  1,562
Bruce Edwards     Austin, TX             03/15/18  H-D Limited                1,562
Peter Green       Rio Rancho, NM         03/15/18  Triumph Trophy             1,562
Paul J. Heine     Falls Church, VA       03/15/18  H-D Ultra Limited          1,562
Lionel Ramos      Falls Church, VA       03/15/18  H-D Road Glide CVO         1,562
Dale Bundy        Punxsutawney, PA       03/15/18  Honda Gold Wing            1,510
William Buskell   Panama City Beach, FL  03/15/18  H-D Road Glide             1,562
Drew Dill         Ruskin, FL             03/15/18  BMW K1600GT                1,562
Paul W. Meyer     Herington, KS          03/15/18  Triumph Trophy             1,562
Marcos Hernandez  Miami, FL              03/15/18  Honda Gold Wing            1,562
Greg Fizer        Douglasville, GA       03/15/18  Honda Gold Wing            1,562
Ignacio Merani    Doral, FL              03/15/18  Kawasaki Vaquero           1,562
Ken Cook          Pooler, GA             03/15/18  BMW R1200RT                1,526
Roger Buis        Miramar, FL            03/15/18  H-D CVO ULTRA CLASSIC      1,562

Annual IBA Daytona Party Ride-In
Paul W. Meyer     Herington, KS          03/13/18  Triumph Trophy             1,558
Peter Green       Rio Rancho, NM         03/13/18  Triumph Trophy             1,655
Bruce Edwards     Rio Rancho, NM         03/12/18  H-D Ultra Limited          1,553
Bruce Edwards     Rio Rancho, NM         03/10/18  H-D Ultra Limited          1,536
Todd A. Olson     Providence Village, TX 03/10/18  Indian Chieftain           1,535 BBG-TX
Dale Moeller      Cedarburg, WI          03/07/18  BMW K1600GTL               1,534

Greg Rice         Ft Lauderdale, FL      03/03/18  Honda Gold Wing 1833       1,521
  * * * This is Greg's 46th BBG - that is 46 documented 1,500 mile days! * * *

Donal LaChance    Taylor, TX             03/03/18  Honda Gold Wing F6B        1,531 BBG-TX
Dan Thaler        Deerfield Beach, FL    03/03/18  BMW R1200RT                1,592
Keith Wells       Marshall, NC           02/24/18  Honda Gold Wing Gl1800     1,564
Gene Carlander    Cocoa, FL              02/18/18  H-D Road Glide Ultra       1,508
Lionel L Ramos    Falls Church, VA       02/17/18  H-D FLTRUSE                1,532
William Buskell   Panama City Beach FL   02/17/18  H-D Road Glide Ultra       1,516
Eric James        Big Rapids, MI         02/14/18  Honda Gold Wing GL1800     1,582

George Mowry      Squaw Valley, CA       02/06/18  Kawasaki Concours 14       1,502
             * * * George is 73 years young on this ride! * * * 
 
Todd Warren Lipps Westminster, CA        02/02/18  Honda GL1800               1,543
Kenneth W Andrews Benton, AR             02/01/18  H-D Road Glide Ultra       1,541

BUN BURNER GOLD 24 - La Resistencia Rally Mexico
Omar Castellanos Aceves    MEXICO        02/01/18  BMW GS1200LC               1,535
Sergio H Lopez Govea       MEXICO        02/01/18  KTM 1290 Superduke         1,535
Sergio Arriaga Michel      MEXICO        02/01/18                             1,535
Manuel Morales Torres      MEXICO        02/01/18  BMW 1200GS                 1,535
Jorge Fernandez Chavez     MEXICO        02/01/18  BMW 1200GSA                1,535
Fernando Navarro Duenas    MEXICO        02/01/18  BMW 1200 Adventure         1,535
Victor Ivan Arevalo Gomez  MEXICO        02/01/18  BMW 1200GSA                1,535
Joan Rivera Soto           MEXICO        02/01/18  H-D Sportster 883          1,535
Felipe Alfonso Salman Valdez  MEXICO     02/01/18  Ducati Multistrada         1,535

Dan Thaler        Deerfield Beach, FL    01/26/18  BMW R1200RT                1,510
Greg Rice         Ft Lauderdale, FL      01/26/18  BMW R1200RT                1,510
  * * * This is Greg's 45th BBG - that is 45 documented 1,500 mile days! * * *

Lionel L Ramos    Falls Church, VA       01/14/18  H-D Road Glide Ultra CVO   1,518
Todd Warren Lipps Westminster, CA        01/05/18  Honda GL1800               1,546

Ken Cowart        Alexander, AR          12/02/17  H-D Road Glide Ultra       1,532
Ken Cowart        Alexander, AR          11/09/17  H-D Road Glide Ultra       1,549
Dan Thaler        Deerfield Beach, FL    12/02/17  BMW R1200RT                1,542

Dave McQueeney    West Covina, CA        11/29/17  BMW R1200R                 1,517 AZ-BBG
Joe Birkenback    Rockwall, TX           11/24/17  Honda VFR1200X             1,570
Gary E. Huff      Colorado Springs, CO   11/24/17  BMW R1200RT                1,511
Joe Birkenback    Rockwall, TX           11/24/17  Honda VFR1200X             1,570

Paul J. Heine     Springfield, VA        11/24/17  H-D Ultra Limited          1,543
Lionel L Ramos    Falls Church, VA       11/24/17  H-D Road Glide Ultra CVO   1,527

Kenneth W Andrews Benton, AR             11/17/17  H-D Road Glide Special     1,503 AR-BBG

Douglas Kirschner Jacksonville, NC       11/11/17  Yamaha FJR1300ES           1,526
Andrew Helmstetter Jacksonville, NC      11/11/17  BMW R1200RT                1,526

Anthony Albano    Acworth, GA            11/10/17  H-D Road Glide             1,513
Kenneth W Andrews Benton, AR             11/05/17  H-D Road Glide Ultra       1,535
Charles Rowett    Fort Worth, TX         11/03/17  H-D Dyna Wide Glide        1,576 BBG-TX

Gene Kicenski     Blanchard, OK          11/03/17  Honda Valkyrie             1,533
              * * * Gene is 72 years young on this ride! * * * 

Alexander Schmidt Phoenix, AZ            10/30/17  Kawasaki Concours 14       1,532
Dan Lessert       Carrollton, TX         10/29/17  Honda CTX1300              1,540
Dan Lessert       Carrollton, TX         10/27/17  Honda CTX1300              1,539
Ken Cowart        Alexander, AR          10/26/17  H-D Road Glide Ultra       1,568
David Henson      St. Petersburg, FL     10/20/17  Honda Gold Wing GL1800     1,512 FL-BBG
Don Cheatham      Grayson, GA            10/19/17  H-D Road Glide Ultra       1,532
Lionel L. Ramos   Falls Church, VA       10/17/17  H-D Electra Glide Ultra    1,539

Linas Peciukaitis Garliava, LITHUANIA    10/14/17  Honda Gold Wing GL1800     1,550

Kenneth W Andrews Benton, AR             10/14/17  H-D Road Glide Special     1,517
Chris Reynolds    Bluff City, TN         10/14/17  Honda GL1800               1,521

Ruediger Wolfgruber  GERMANY             10/08/17  Triumph Explorer           1,611

Karen McCauley    Tyrone, NM             10/06/17  Can-Am Spyder RTS          1,511
Yancey McCauley   Tyrone, NM             10/06/17  Suzuki V-Strom             1,511

Big As Texas Rally
Danny Dossman                            10/06/17  Honda ST1300               1,611
Jeffrey Konicek                          10/06/17  Kawasaki Vulcan Nomad      1,553
Mark Campbell                            10/06/17  Honda Gold Wing            1,552
Karen Campbell (pillion)                 10/06/17  Honda Gold Wing            1,552 
Glenn Royal                              10/06/17  BMW GSA                    1,538
Kenneth W Andrews Benton, AR             10/06/17  H-D Road Glide Special     1,502

Dominick Zappola  East Haven, CT         10/03/17  H-D Softail FXSTC          1,521
         * * * This is Dominick's 35th documented 1,500 mile day * * *
 
Ellen Stack       MEXICO                 10/03/17  Yamaha Super Tenere        1,505

Dominick Zappola  East Haven, CT         10/02/17  H-D Softail FXSTC          1,521
         * * * This is Dominick's 34th documented 1,500 mile day * * *

John M. Joyner    El Paso, TX            10/01/17  H-D Electra Glide Ultra    1,513 BBG-TX
Marcia Kovar (passenger)                 10/01/17  H-D Electra Glide Ultra    1,513 BBG-TX

Memorial BBG
James Dyer        Taylors, SC            09/30/17  Victory Cross Country Tour 1,552

Alan Jordan       Grove, OK              09/29/17  H-D Ultra Classic          1,540
Scott McDonald    Westville, OK          09/29/17  Yamaha FJR1300             1,540
John Nofire       Gentry, AR             09/29/17  H-D Street Glide           1,540

Dominick Zappola  East Haven, CT         09/28/17  H-D Softail FXSTC          1,532
         * * * This is Dominick's 33rd documented 1,500 mile day * * *

Dominick Zappola  East Haven, CT         09/26/17  H-D Softail FXSTC          1,532
         * * * This is Dominick's 32nd documented 1,500 mile day * * *

Dmitriy Mazurenko Moscow, RUSSIA         09/24/17  BMW R1200RT LC             1,540

Dan Thaler        Deerfield Beach, FL    09/23/17  BMW R1200RT                1,552

Fall Equinox Bun Burner 1500 GOLD
Gary D. Tedrow    Charlottesville, IN    09/22/17  Yamaha V-Star 1300         1,530
James W. Buchanan Hickory, NC            09/22/17  Kawasaki Vulcan 2000       1,523
Rick Younger      Hickory, NC            09/22/17  Triumph Tiger Explorer     1,523
Bruce Edwards     Purcellville, VA       09/22/17  BMW R1200RT                1,539
Kevin Blevins     Robesonia PA           09/22/17  H-D Road Glide             1,520
Harry Knerr       Leesport, PA           09/22/17  H-D Road Glide             1,520

Dominick Zappola  East Haven, CT         09/21/17  H-D Softail FXSTC          1,601
         * * * This is Dominick's 31st documented 1,500 mile day  * * *

Dominick Zappola  East Haven, CT         09/20/17  H-D Softail FXSTC          1,601
         * * * This is Dominick's 30th documented 1,500 mile day  * * *

John F. Garza     Peoria, AZ             09/20/17  Honda Gold Wing GL1800     1,644
Brian E. Hagmeier Coralville, IA         09/17/17  H-D Electra Glide          1,548
Mike Hall         Stephenson  VA         09/17/17  Victory Vision             1,542

Eric Ross         Crown Point, IN        09/16/17  H-D FLHTCU                 1,524

William Harkleroad Batavia, OH           09/16/17  H-D Ultra Limited Low      1,564

Dominick Zappola  East Haven, CT         09/13/17  H-D Softail FXSTC          1,532
         * * * This is Dominick's 29th documented 1,500 mile day  * * *

Dominick Zappola  East Haven, CT         09/11/17  H-D Softail FXSTC          1,532
         * * * This is Dominick's 28th documented 1,500 mile day  * * *
         
Andrey Sosorev    Moscow, RUSSIA         09/11/17  H-D FLHTK Ultra Limited    1,509

Matthew Leininger Decatur, IL            09/10/17  BMW R1200RT                1,640
Teri King         Lincoln, NE            09/09/17  H-D Heritage               1,547

Tom Atkinson      Magnolia, TX           09/09/17  Honda GL1800               1,506 BBG-TX

Dominick Zappola  East Haven, CT         09/08/17  H-D Softail FXSTC          1,532
         * * * This is Dominick's 27th documented 1,500 mile day  * * *

Alfred Cantwell   Mesa, AZ               09/08/17  Honda Gold Wing            1,592
Mark Owen         Henderson, NV          09/08/17  BMW R1200RT                1,571
Lionel L. Ramos   Falls Church, VA       09/03/17  H-D FLTRU Road Glide Ultra 1,530

Glen Pugh         Abilene, TX            09/02/17  KTM 1290 Super Adventure   1,518
Joshua Swanger    Dyess AFB, TX          09/02/17  Kawasaki Concours 14       1,518

David Schindler   Madison, WI            09/02/17  H-D Fat Boy                1,605
James Craig       Wildwood, MO           09/02/17  BMW R1200GS Adventure      1,519
Rodney J Woudema  Rensselaer, IN         09/02/17  Kawasaki KLR650            1,520

David Todd        Newnan, GA             09/01/17  H-D Ultra Limited          1,505

Brett L. Butler   Martinsburg, WV        08/31/17  H-D Street Glide Special   1,514

Dmitriy Hitrov    Moscow, RUSSIA         08/30/17  BMW R1200GS Adventure      1,584 

Dominick Zappola  East Haven, CT         08/30/17  H-D Softail FXSTC          1,532
         * * * This is Dominick's 26th documented 1,500 mile day  * * *

Kenneth W Andrews Benton, AR             08/29/17  H-D Road Glide Special     1,545
Greg Cook         Price, UT              08/27/17  BMW R1200RT                1,586

Lionel L Ramos    Falls Church, VA       08/25/17  H-D FLTRU Road Glide Ultra 1,506

David Hamilton    Griffin, GA            08/25/17  H-D FLHTK Limited          1,535
R. Mark Wood      Douglasville, GA       08/25/17  H-D FLHTCU Ultra Classic   1,535

Dominick Zappola  East Haven, CT         08/24/17  H-D Softail FXSTC          1,532
         * * * This is Dominick's 25th documented 1,500 mile day  * * *

Eric Owen         Neosho, WI             08/19/17  Honda Gold Wing            1,630

Raymundo Luna Arreortua         MEXICO   08/17/17                             1,514

Michael Nosanov   Middleville, MI        08/17/17  Honda GL1800               1,570
Todd Seger        Sparta, MI             08/17/17  Honda Gold Wing GL1800     1,513

Daniel Fucella    Clarksville, TN        08/16/17  Victory Vision             1,563
Tim Huckaby       Reno, NV               08/15/17  H-D FLHXS                  1,526


Michael Thoma     Lafayette, IN          08/12/17  BMW R1200RT                1,527
Michael J. Rath   Burlington, KY         08/11/17  H-D Roadster XL1200CX      1,510
Kenneth W Andrews Benton, AR             08/11/17  H-D Road Glide Special     1,507
Brian North       Franklin, WI           08/10/17  Triumph Explorer XRT       1,565
Richard Tilbury   Vancouver, WA          08/09/17  H-D FLHX                   1,501

Dominick Zappola  East Haven, CT         08/09/17  H-D Softail FXSTC          1,532
         * * * This is Dominick's 24th documented 1,500 mile day  * * * 

Tony J. Mire      Thibodaux, LA          08/08/17  H-D Ultra Limited          1,581
George Ratchford  Wadley, GA             08/05/17  Honda Gold Wing            1,660

Kenneth A. Koren  Belleville, MI         08/05/17  Yamaha FJR1300A            1,579
Jeffrey Smith     Garden City, MI        08/05/17  BMW 1200GS Adventure       1,579

Steve Gallant     Mansfield, MA          08/04/17  Honda ST1300A              1,524

David Barwood     AUSTRALIA              08/04/17  Triumph Toadster           1,517 Western Australia BBG

Ronald S. Wysocki Durango, CO            08/03/17  H-D Electra Glide Police   1,550

Vladimir Dubovikov Bogotol, RUSSIA       08/03/17  BMW K1200LT                1,522
Konstantin Byakov Krasnoyarsk, RUSSIA    08/03/17  BMW R1200GS                1,522

Dominick Zappola  East Haven, CT         07/31/17  H-D Softail FXSTC          1,532
         * * * This is Dominick's 23rd documented 1,500 mile day  * * * 

Richmon Schumann  Cumming, GA            07/30/17  KTM 1190 Adventure         1,552
John D. Jebson    De Witt, IA            07/29/17  Honda Gold Wing F6B        1,522
 
Mark L Griffin    Chandler, AZ           07/28/17  BMW K1600 GTL              1,520
              * * * Mark is 65 years young on this ride! * * *

Dominick Zappola  East Haven, CT         07/27/17  H-D Softail FXSTC          1,532
         * * * This is Dominick's 22nd documented 1,500 mile day  * * * 

Glen Kenney       Colmesneil, TX         07/26/17  Honda Gold Wing            1,536 BBG-TX
Paul J. Heine     Springfield, VA        07/25/17  H-D Ultra Limited          1,513
Lionel L. Ramos   Falls Church, VA       07/25/17  H-D Road Glide Ultra       1,513

Dominick Zappola  East Haven, CT         07/25/17  H-D Softail FXSTC          1,532
         * * * This is Dominick's 21st documented 1,500 mile day  * * * 
      
Kenneth W Andrews Benton, AR             07/22/17  H-D Road Glide Ultra       1,593
     * * * Benton(AR), Benton(MO), Benton(MS), Benton(LA), Benton(AR)! * * *

Steven Boone      Missoula, MT           07/23/17  H-D Road King Custom       1,525
Paul Werner       Shakopee, MN           07/22/17  H-D CVO Limited            1,531
Randall Trivett   Monroe, WA             07/21/17  Yamaha FJR1300ES           1,594

Mark W. Keating   Guelph, ON, CANADA     07/21/17  H-D Road King              1,543

Dominick Zappola  East Haven, CT         07/20/17  H-D Softail FXSTC          1,532
         * * * This is Dominick's 20th documented 1,500 mile day  * * * 

Don E. Oswald     Norman, OK             07/18/17  Yamaha FJR1300             1,550

Dominick Zappola  East Haven, CT         07/17/17  H-D Softail FXSTC          1,532
         * * * This is Dominick's 19th documented 1,500 mile day  * * * 

Bill Kenney       Foster, RI             07/16/17  BMW R1200RT                1,533
Paul W. Meyer     Herington KS           07/15/17  Triumph Trophy             1,504

Dominick Zappola  East Haven, CT         07/13/17  H-D Softail FXSTC          1,532
         * * * This is Dominick's 18th documented 1,500 mile day  * * * 

Stan J. Miller    Ames, IA               07/12/17  BMW R1200GSA               1,525

David A. Ridgway  Warrenton, MO          07/11/17  Honda ST1100               1,533
David P. Long     Lakeland, MN           07/11/17  BMW R1200RT                1,539
Stacy Bolyard     Centennial, CO         07/10/17  Yamaha V-Star 1100 Classic 1,520

Dominick Zappola  East Haven, CT         07/10/17  H-D Softail FXSTC          1,532
         * * * This is Dominick's 17th documented 1,500 mile day  * * * 

Rob Carlo         Truckee CA             07/09/17  H-D Road Glide             1,530
Jon C. Mau        Bellevue, WA           07/09/17  Indian Roadmaster          1,520
Timothy Keyser    South Lyon, MI         07/08/17  Yamaha Royal Star Venture  1,537

Chad A. Bonsness  Gillette, WY           07/08/17  H-D Ultra Limited          1,550
Charles R. Butler III Gillette, WY       07/08/17  H-D Ultra Limited Shrine   1,550

NASA - Mill Creek Riders Bun Burner Gold
Dusty Webb        Edmonds, WA            07/08/17  Honda GL1800               1,518
Loren Timmons     Mill Creek, WA         07/08/17  Honda Gold Wing GL1800     1,518
Michael Dietsch   Snohomish, WA          07/08/17  Yamaha FJR1300             1,518

Norm Jones        Lynnwood, WA           07/08/17  Yamaha FJR                 1,518
             * * * Norm is 67 years young on this ride! * * * 

David Burkel Jr.  Frazee, MN             07/08/17  BMW GSA                    1,549
Dave Ewanika      Frazee, MN             07/08/17  H-D Street Glide FLHXSE    1,549

Darrin Volk       Alexandria, VA         07/07/17  Triumph Tiger Explorer XC  1,632
Nelson Delgado    San Antonio, TX        07/07/17  Yamaha FJR1300             1,517
Kenneth W Andrews Benton, AR             07/05/17  H-D Road Glide Special     1,552
JD Smith          Tucson, AZ             07/05/17  BMW R1200GSA               1,800+

Sergey Morozov    BELARUS                07/05/17  Kawasaki Vulcan Classic    1,540

Lionel L. Ramos   Falls Church, VA       07/05/17  H-D Road Glide Ultra       1,513
David Rafus       Tucson, AZ             07/02/17  H-D Road Glide Special     1,502
Glin Miller       Jonesboro, AR          07/02/17  BMW K1200RS                1,533
D.J. Blankenship  Moxee City, WA         07/01/17  H-D Ultra Limited          1,510
Renee Blankenship (passenger)            07/01/17  H-D Ultra Limited          1,510

Justin Kiernan    Corona, CA             07/01/17  Victory Cross Country      1,511
Michael Schuster  Easton, MN             07/01/17  Victory Cross Country      1,538
Darrin Volk       Alexandria, VA         07/01/17  Triumph Tiger Explorer XC  1,542
Dave Fahringer    Lexington, IL          07/01/17  BMW K1600GTL               1,530
Travis McMaster   San Diego, CA          06/30/17  BMW R1150GSA               1,500

Patrick Wallace   Charles Town, WV       06/28/17  Victory Vision             1,524
Christina Smith (passenger)              06/28/17  Victory Vision             1,524

Tom Gray          Walkersville, MD       06/27/17  Honda Gold Wing            1,530
             * * * Tom is 69 years young on this ride! * * *

Dominick Zappola  East Haven, CT         06/26/17  H-D Softail FXSTC          1,532
         * * * This is Dominick's 16th documented 1,500 mile day  * * *
   
Moe Conn          Nottingham, MD         06/26/17  H-D Road Glide Ultra FLTRU 1,518
Greg Williams     Lawrenceville, GA      06/26/17  H-D Road Glide CVO         1,518

Kenneth E. Dahlke Lincoln, NE            06/25/17  H-D Ultra Classic          1,596

Aleksandr Yunanov Moscow, RUSSIA         06/25/17  H-D Road Glide             1,731

Kenneth E. Dahlke Lincoln, NE            06/25/17  H-D Ultra Classic          1,596
Kenneth Williams  Lisbon, ND             06/24/17  H-D Ultra Classic Limited  1,552

Vancouver BMW Ducati BBG
Ken Kukkonen      Maple Ridge, BC        06/24/17  BMW R1200RT                1,534

Todd Wheeler      Des Moines, IA         06/24/17  H-D Ultra Classic Limited  1,526

Douglas Williams  Chesterfield, NJ       06/24/17  BMW R1200RT                1,610

Ben Pratt         Princeton, MN          06/22/17  Honda Shadow 1100          1,530

Dominick Zappola  East Haven, CT         06/22/17  H-D Softail FXSTC          1,532
         * * * This is Dominick's 15th documented 1,500 mile day  * * *

Greg Rice         Ft Lauderdale, FL      06/21/17  BMW R1200RT                1,520
  * * * This is Greg's 41st BBG - that is 41 documented 1,500 mile days! * * *

2017 Summer Solstice Bun Burner GOLD
Kevin Blevins     Robesonia, PA          06/21/17  H-D Road Glide             1,537
Harry Knerr       Leesport, PA           06/21/17  H-D Road Glide             1,518

Dominick Zappola  East Haven, CT         06/20/17  H-D Softail FXSTC          1,532
         * * * This is Dominick's 14th documented 1,500 mile day  * * * 

Valerie Bowen     Tulsa, OK              06/20/17  H-D Switchback             1,511
Morris Noftsger   Kiefer, OK             06/20/17  H-D Road King              1,511

Ron Donald        Van Horne, IA          06/20/17  Honda Gold Wing w/MotorTrik1,519
             * * * Ron is 73 years young on this ride! * * * 

Vasiliy Kochegarov Moscow, RUSSIA        06/17/17  Suzuki GSX1250FA           1,590

Markus J. Hueber  Drexel, NC             06/15/17  BMW R1200GSA               1,519
John W. Brewer    Westlake, LA           06/14/17  Kawasaki Concours 14       1,538

Dominick Zappola  East Haven, CT         06/13/17  H-D Softail FXSTC          1,532
         * * * This is Dominick's 13th documented 1,500 mile day  * * * 
         
Anastasiya Loktionova Moscow, RUSSIA     06/12/17  BMW 1200GSA                1,719
Andrey Ivanov     Moscow, RUSSIA         06/12/17  KTM 1190 Adventure         1,719
Dmitriy Schegolev Moscow, RUSSIA         06/12/17  KTM 1290 Super Adventure R 1,800+

David H. Hay      Overgaard, AZ          06/13/17  Honda Gold Wing            1,544

Dmitriy Schegolev Moscow, RUSSIA         06/12/17  KTM 1290 Super Adventure R 1,800+

Praetorian Guard RC Iron Butt Bun Burner GOLD
Frankie G. Mingus Bluffton, SC           06/10/17  H-D Street Glide           1,520
Kevin Forbes      Beaufort, SC           06/10/17  H-D CVO Street Glide       1,520

Brian D. McCarthy Marshall, MO           06/09/17  H-D Ultra Limited          1,524

Hoagy's Heroes Out West BBG
Aaron Dearth      Windson  OH            06/09/17  H-D Street Glide           1,525

Dominick Zappola  East Haven, CT         06/08/17  H-D Softail FXSTC          1,532
         * * * This is Dominick's 12th documented 1,500 mile day  * * *

Stephen Hildensperger Fenton, MI         06/08/17  BMW R1200GSA               1,572
Mike Beidler      St. Joseph, MI         06/08/17  Victory Cross Country Tour 1,545

Rich Rulau        Rosenberg, TX          06/07/17  Yamaha FJR                 1,554
             * * * Rich is 70 years young on this ride! * * * 

Andrey Vayvads    Moscow, RUSSIA         06/06/17  H-D Road King              1,659

Matthew R. Wolf   Sierra Vista, AZ       06/06/17  H-D CVO FLHXSE3            1,564
Craig Thorndike   Midlothian, TX         06/05/17  Yamaha FJR1300A            1,580
Charles Scott Weir Clarksville TN        06/04/17  BMW R100RT                 1,525
Dan Thaler        Deerfield Beach, FL    06/03/17  BMW R1200GSA               1,521
Russell Herberg   Salem, OR              06/02/17  Honda GL1500A Gold Wing    1,509
Mark Lambie       University Place, WA   06/01/17  BMW R1200RT                1,579

Gary Myers        Tampa, FL              05/31/17  H-D Road Glide Special     1,515

Dominick Zappola  East Haven, CT         05/31/17  H-D Softail FXSTC          1,532
         * * * This is Dominick's 11th documented 1,500 mile day  * * *

Memorial Day 1500
Stephen M. Vook   Minot, ND              05/28/17  BMW K1600GTL               1,539
Daniel M. Whipple Oklahoma City, OK      05/28/17  BMW R1200GS Adventure      1,556
John D. Miller    Monroe, CT             05/28/17  H-D Ultra Limited          1,647
Al Varga          Bellingham, WA         05/27/17  Triumph Thunderbird LT     1,512

Westin B. Mick    McMinnville, OR        05/27/17  H-D Street Glide CVO       1,510
Jerry Perry Jr.   Sheridan, OR           05/27/17  H-D Street Glide Special   1,510
Tony Amodeo       McMinnville, OR        05/27/17  Yamaha Roadliner S 1900    1,510

John D. Miller    Monroe, CT             05/24/17  H-D Ultra Limited          1,547
Dominick Zappola  East Haven, CT         05/23/17  H-D Softail FXSTC          1,532
Brian North       Franklin, WI           05/20/17  BMW K1600GT                1,557

John Buchanan     Kamloops, BC CANADA    05/20/17  H-D Ultra Limited          1,535

Justin Johnston   West Point, VA         05/20/17  H-D FLHTK                  1,514

Antonio Rodriguez Miami, FL              05/20/17  H-D Ultra Glide Limited    1,512
Yosnay Fiallo-Nurquez Miami, FL          05/20/17  H-D Road Glide Ultra       1,512
Felix S. Carrion  Miami, FL              05/20/17  H-D Road Glide             1,512
Jamner Moreno     Homestead, FL          05/20/17  H-D Ultra Glide Limited    1,512

Michael Oreschak  Lincoln, CA            05/20/17  Yamaha Super Tenere        1,615
Justin Johnston   West Point, VA         05/20/17  H-D FLHTK                  1,514

Viktor Shvedov    Yekaterinburg, RUSSIA  05/17/17  BMW R1200GS                1,581

Darlene Wigley    Lillian, AL            05/16/17  Honda GL1500 Gold Wing     1,528
Kenneth G. Welch  Cantonment, FL         05/16/17  Honda Gold Wing GL1800     1,554

2017 Team Lyle Alien Encounter
Paul Stark        San Jose, CA           05/13/17  BMW R1200RT                1,523 BBG-NV
Kenneth Thompson  Tucson, AZ             05/13/17  Honda Gold Wing            1,525 BBG-NV

Shareef AsSadiq   San Diego, CA          05/15/17  Indian Roadmaster          1,535
Eric James        Big Rapids, MI         05/12/17  Honda Gold Wing            1,743 MI-BBG

Paddy Sinclair    Cabot, AR              05/12/17  H-D Road King CVO          1,510

Robert Krauter    Artesia, NM            05/12/17  H-D Road Glide             1,554
Danny L. Denson   Artesia, NM            05/12/17  H-D CVO Electra Glide      1,554
Eugene Lopez      Artesia, NM            05/12/17  H-D Road Glide             1,554

Dominick Zappola  East Haven, CT         05/10/17  H-D Softail FXSTC          1,532

Lewis Ballard     Bettendorf, IA         05/08/17  H-D Ultra Limited          1,520

Gene Whitaker II  Oklahoma City, OK      05/06/17  BMW R1150RT                1,519
Terry Taylor      Oklahoma City, OK      05/06/17  Kawasaki ZG1200 Voyager    1,519

Jon Lenox         Monument, CO           05/06/17  H-D Road King              1,548

Antony Kay        Plano, TX              05/05/17  Polaris                    1,552
Michael Beaty     Coppell, TX            05/05/17  BMW R1200GS Adventure      1,552

Bob Loftin        Valley Mills, TX       04/29/17  H-D FLHXS Street Glide     1,518 BBG-TX
W.C. Mitchell     Clifton, TX            04/29/17  Honda Gold Wing GL1500     1,518 BBG-TX

William Buskell   Panama City Beach FL   04/29/17  H-D Road Glide             1,547

Chris Hansen      Rogue River, OR        04/26/17  H-D Ultra Classic CVO      1,541
Janice Hansen (passenger)                04/26/17  H-D Ultra Classic CVO      1,541

Dave Wieland      Annville, PA           04/24/17  H-D Road Glide             1,507
Daved Kinsey      Reading, PA            04/24/17  BMW K1600GTL               1,507
David R. Clouser  Pillow, PA             04/24/17  Yamaha Royal Star Venture  1,525

Dominick Zappola  East Haven, CT         04/24/17  H-D Softail FXSTC          1,532
James W. Sherry   Kansas City, MO        04/22/17  Yamaha FJR1300ES           1,507

James W. Sherry   Kansas City, MO        04/22/17  Yamaha FJR1300ES           1,507

Dan Thaler        Deerfield Beach, FL    04/22/17  BMW R1200GSA               1,520
  * * * This is Dan's 10th BBG - that is 10 documented 1,500 mile days! * * *

Charles Gatecliff Brighton, MI           04/21/17  H-D Ultra Limited          1,520
             * * * Charles is 79 years young on this ride! * * *

Valerie Bowen     Tulsa, OK              04/20/17  H-D Switchback             1,510
Morris Noftsger   Kiefer, OK             04/20/17  H-D Road King              1,510

Gary Rosen        Green Brook, NJ        04/20/17  H-D CVO Road Glide Ultra   1,514
Jeffrey Smith     Garden City, MI        04/19/17  Honda ST1300               1,620
Dominick Zappola  East Haven, CT         04/18/17  H-D Softail FXSTC          1,532
Peter Green       Rio Rancho, NM         04/14/17  H-D Ultra Limited          1,543
Lionel L. Ramos   Falls Church, VA       04/14/17  H-D FLTRU Road Glide Ultra 1,513
Dominick Zappola  East Haven, CT         04/13/17  H-D Softail FXSTC          1,532
Rick Bennett      Stillwater, OK         04/09/17  Honda Gold Wing            1,515

David Clarke      Kent, UK               04/08/17  BMW R1200 GS Adventure     1,556

Terry Taylor      Oklahoma City, OK      04/08/17  Kawasaki ZG1200 Voyager    1,508
Gene B. Whitaker  Oklahoma City, OK      04/08/17  BMW R1150RT                1,508

Carl Davies       Austin, TX             04/08/17  H-D CVO Road Glide Ultra   1,560
Tom McCord        Hutto, TX              04/08/17  H-D Road Glide Special     1,560

Tom Atkinson      Magnolia, TX           04/07/17  Honda GL1800               1,548 BBG-TX
Dominick Zappola  East Haven, CT         04/05/17  H-D Softail FXSTC          1,550
John Huval        Lafayette, LA          04/05/17  Honda GL1800               1,513

Michael Schneider Brentwood, CA          04/02/17  BMW GSA                    1,511
Raymond Villeneuve Wichita Falls, TX     04/02/17  H-D Electra Glide Ultra    1,544 BBG-TX
Jim McCrain       Frisco, TX             03/25/17  Indian Roadmaster          1,565 BBG-TX

IBA UK Bun Burner Fools Gold
Martin Grafton    Devon, UK              04/01/17  Triumph Tiger Explorer     1,512

Eduardo Sosa      Mission, TX            03/20/17  H-D CVO Ultra Limited      1,510
Nelson Ramirez    Monterrey, NL MEXICO   03/20/17  H-D CVO Ultra Limited      1,510

Spring Equinox Bun Burner GOLD 
Bryan H. O'Neill  Morrisville, PA        03/20/17  BMW R1200R                 1,540
Harry Knerr       Leesport, PA           03/20/17  H-D Road Glide             1,565
Kevin Blevins     Robesonia, PA          03/20/17  H-D Road Glide             1,565

Bill Quinn        Henderson, NV          03/18/17  Indian Chieftain           1,516

IBA Daytona Party Bun Burner GOLD
Eivin Andresen    Newnan  GA             03/16/17  H-D CVO Road Glide         1,512
Dale Bundy        Punxsutawney  PA       03/16/17  Honda Gold Wing            1,512
James Epley        Fredericksburg  VA    03/16/17  Triumph Trophy SE          1,512
Joe Green          Alva  FL              03/16/17  Yamaha FJR1300             1,512
Mike Hall          Stephenson  VA        03/16/17  Victory Vision             1,512
Abe Loughin        Madison SD            03/16/17   H-D Road Glide Ultra      1,512
Sherry Loughin     Madison SD            03/16/17   H-D Electra Glide UltraLTD1,512
Ignacio Merani     Doral FL              03/16/17   Kawasaki Vaquero          1,512
Eric Sprague       Sunrise FL            03/16/17   Honda F6B 2015            1,512
Robert Saunooke    H-D Road Glide        03/16/17  H-D Road Glide             1,512

Lionel Ramos      Falls Church  VA       03/15/17  H-D Road Glide Ultra       1,510 PLANE CRAZY BBG

IBA Jacksonville Party Ride In Bun Burner GOLD
Ken Cowart       Alexander, AR           03/11/17  H-D Street Glide           1,613
Jack Dannenberg                          03/13/17  BMW R1200GS                1,556
John M Bittner                           03/13/17  H-D Ultra                  1,524
Jeffrey Foster                           03/13/17  BMW R1200GSA               1,556
James Hober                              03/13/17  H-D Limited CVO            1,524
Russel A. S. Janzan                      03/10/17  H-D Road Glide CVO         1,537
Robert Wilensky                          03/09/17  BMW R1200GSA               1,535
Darrin Volk                              03/14/17  Triumph Tiger Explorer XC  1,519
Cliff Orbach                             03/13/17  BMW R1200RT                1,556

Paul W. Meyer     Herington KS           03/12/17  Triumph Trophy SE          1,580

Daved Kinsey      Reading, PA            03/11/17  BMW K1600GTL               1,511

Theresa Foecking Seffner, FL             03/11/17  H-D Street Glide           1,514
Sheri Philhower   Riverview, FL          03/11/17  Can-Am Spyder RT-S         1,514
Benjamin Philhower Riverview, FL         03/11/17  H-D Road Glide Special     1,514

Kenneth W Andrews Benton, AR             03/11/17  H-D Road Glide Special     1,520
Allen Garrison   Fort Mill, SC           03/11/17  Yamaha FJR1300             1,534

Tate J. Taylor   Oklahoma City, OK       03/02/17  BMW R1200GSA               1,564
Phillip B. Brown Warr Acres, OK          03/02/17  BMW R1200GSA               1,564

Dan Thaler        Deerfield Beach, FL    02/25/17  BMW R1200GSA               1,512
Greg Rice         Ft Lauderdale, FL      02/25/17  BMW R1200RT                1,512
  * * * This is Greg's 40th BBG - that is 40 documented 1,500 mile days! * * *

Russel A.S. Janzan  Dania Beach  FL      02/25/17  H-D Road Glide CVO         1,532
Jesse Lucas      Newnan, GA              02/18/17  Yamaha FJR                 1,532
Lionel L. Ramos  Falls Church, VA        02/17/17  H-D FLTRU Road Glide Ultra 1,535
Lionel L. Ramos  Falls Church, VA        01/28/17  H-D FLTRU Road Glide Ultra 1,553

IBA Mexico La Resistencia Rally
Marc Beaulac      MEXICO                 02/03/17  Honda Gl1800               1,544
Paul Slaton       MEXICO                 02/03/17  Yamaha Super Tenere 1200   1,544
Victor Armando Ortega Munoz       MEXICO 02/03/17  BMW F800GS                 1,544
Laura Olivia Solis Maldonado (pillion)   02/03/17  BMW F800GS                 1,544
Pedro Avila Vera  MEXICO                 02/03/17  BMW  GS1200                1,544
Hugo Zeron        MEXICO                 02/03/17  BMW K1600 GTL              1,544

Jeffrey Gebler    AUSTRALIA              01/25/17  Yamaha Super Tenere        1,526

Florida Full Court BBG
Greg Rice         Ft Lauderdale, FL      01/14/17  BMW R1200RT                1,546
Dan Thaler        Deerfield Beach, FL    01/14/17  BMW R1200GSA               1,546

Lionel L. Ramos  Falls Church, VA        12/30/16  H-D FLTRU Road Glide Ultra 1,511
Lionel L. Ramos  Falls Church, VA        12/26/16  H-D FLTRU Road Glide Ultra 1,518

Winter Solstice Bun Burner 1500 GOLD
Kevin Blevins     Robesonia, PA          12/21/16  H-D Road Glide             1,547
Harry Knerr       Leespost, PA           12/21/16  H-D Road Glide             1,547

Dan Thaler       Deerfield Beach, FL     12/10/16  BMW R1200GSA               1,522

John Huval        Lafayette, LA          11/24/16  Honda GL1800               1,541
Nadine Huval (pillion)                   11/24/16  Honda GL1800               1,541

David Henson     St. Petersburg, FL      11/19/16  Honda GL1800               1,552

Scott Houseknecht Auburndale, FL         11/19/16  H-D FLHTKSE                1,556
Riza Houseknecht (passenger)             11/19/16  H-D FLHTKSE                1,556

Kenneth W Andrews  Benton, AR            11/16/16  H-D Road Glide Special     1,521
Mark L. Griffin  Chandler, AZ            11/14/16  Victory Cross Country Tour 1,544
Joanna Wojtowicz Westfield, IN           11/10/16  H-D Street Glide Special   1,524
Justin Kiernan   Corona, CA              11/05/16  Victory Cross Country      1,510

Gabbi "The Duck" Bou Rached  UAE         11/04/16
Amani Danhach                UAE         11/04/16
Pierre Tannourine            UAE         11/04/16
Rony Kalaany                 UAE         11/04/16

Terry Taylor     Oklahoma City, OK       11/02/16  Kawasaki Voyager ZG1200    1,510

Terry Mathis     Mabank, TX              10/27/16  H-D Electra Glide          1,540
             * * * Terry is 68 years young on this ride! * * * 

Glen E. Granskog Chicago, IL             10/25/16  BMW R1200RT                1,563
Eric James       Big Rapids, MI          10/24/16  Honda Gold Wing GL1800     1,663

William C. Tils  Kennewick, WA           10/23/16  BMW R1200RT                1,544
Jeffrey D. White Richland, WA            10/23/16  BMW K1300GT                1,544

Joseph Hudson    El Paso, TX             10/22/16  Honda Gold Wing            1,524
Bill Quinn       Henderson, NV           10/22/16  Indian Chieftain           1,520
Dan Thaler       Deerfield Beach, FL     10/22/16  BMW R1200GSA               1,511

Johnnie M. HaynesDobson, NC              10/21/16  Honda Gold Wing            1,565
             * * * Johnnie is 66 years young on this ride! * * * 

Kenneth Thompson Tucson, AZ              10/18/16  Honda Gold Wing            1,517
Brian North      Franklin, WI            10/17/16  Triumph Explorer XRT       1,572
Scott Cowling    Tempe, AZ               10/16/16  BMW R1100R                 1,516

Arthur D. Post   Tucson, AZ              10/15/16  BMW R1200GS Adventure      1,510
Neil E. Hejny    Oro Valley, AZ          10/15/16  Honda Gold Wing GL1800     1,510
Jerry Gilbert    Tucson, AZ              10/15/16  Kawasaki Concours          1,510

James R. Clark   Lancaster, KY           10/15/16  Yamaha Super Tenere        1,550
             * * * James is 75 years young on this ride! * * * 

Scott H. Nyhof   Lakeland, FL            10/15/16  Indian Vintage             1,540
Jason Kent       Roanoke, VA             10/15/16  BMW R1200GSA               1,545

Scott Westfall   Falcon, CO              10/14/16  H-D Road Glide Special     1,520

Everett F Halpen II  Taunton, MA         10/12/16  H-D Road Glide             1,510
Jonathan Santos  Fall River, MA          10/12/16  H-D FLTRUSE2               1,510

Randall Lundgren Portland, OR            10/08/16  H-D Road King              1,521
Scott Gottschalk Kimball, MN             10/08/16  H-D Hardtail Chopper Custom1,520

David R. Palfery Ball Ground, GA         10/08/16  Honda GL1800               1,545
Damon Payne      Hartford, WI            10/08/16  Victory Cross Country      1,545
Jason Payne      Menomonee Falls, WI     10/08/16  H-D Road Glide Ultra       1,545

AZ Hell Rat Ride
John Cooper       Woodland Hills         10/08/16  Honda GL1800               1,519 AZ-BBG
Peter Green       Santa Fe  NM           10/08/16  H-D 2015 Ultra             1,519 AZ-BBG
Felipe Salman-Valdez  Mazatlan           10/08/16  Yamaha 2014 S10            1,519 AZ-BBG

Steve Gallant    Mansfield, MA           10/05/16  Honda ST1300A              1,560

IBA Big as Texas World Capitals Bun Burner GOLD
Lonnie McCoy      Sherman TX             09/30/16  Yamaha FJR1300             1,518
Joe Birkenback   Rockwall TX             09/30/16  Honda Gold Wing GL1800     1,518
Don Cizik        Lexington  KY           09/30/16  Honda ST1100               1,518
Greg Fizer       Douglasville GA         09/30/16  Honda Gold Wing            1,518
Steve Goldsmith  Yantis TX               09/30/16  Honda Gold Wing            1,518
Bobby Kent       Austin TX               09/30/16  BMW R1200GS                1,518
Troy Martin      Mansfield  TX           09/30/16  Triumph Trophy SE          1,518
Paul Meyer       Herington  KS           09/30/16  Triumph Trophy SE          1,518
Brett Morehead   Hurst  TX               09/30/16  BMW R1200RT                1,518
Steven Riley     Midland  TX             09/30/16  BMW R1200GSA               1,518
Donald Savell    Kingwood TX             09/30/16  H-D Street Glide           1,518
Brian Walters    Sugar Land TX           09/30/16  Yamaha FJR1300             1,518
Paul Tong        Frisco TX               09/14/16  Honda Gold Wing            1,518

2016 IBA Memorial Ride Series
Steven M. Vook                          09/29/16  BMW K1600GTL                1,542
Paul W. Meyer                           09/28/16  Triumph Trophy              1,536
Harry Knerr                             09/21/16  H-D Road Glide              1,540
END Memorial BBG ride series
 
William Buskell                          09/24/16  H-D Road Glide             1,506
John A. Salce    Prospect, CT            09/23/16  H-D CVO Ultra Anniversary  1,568
Ryan Karstensen  Marietta, GA            09/23/16  H-D CVO Road Glide Ultra   1,563

Oliver Quinn     Lafayette, LA           09/24/16  Victory Cross Country      1,571 
Tom Atkinson     Magnolia, TX            09/23/16  Honda GL1800               1,536
John A. Salce    Prospect, CT            09/23/16  H-D CVO Ultra Anniversary  1,568
Ryan Karstensen  Marietta, GA            09/23/16  H-D CVO Road Glide Ultra   1,563
Dominick Zappola Andes, NY               09/20/16  H-D Softail FXSTC          1,520
Steve Sides      Brooklyn Park, MD       09/19/16  H-D Electra Glide          1,513
Dominick Zappola Andes, NY               09/16/16  H-D Softail FXSTC          1,753
Jan A. Murray    Windsor, WI             09/16/16  BMW R1200GSA               1,572

Jan A. Murray    Windsor, WI             09/16/16  BMW R1200GSA               1,572
Scott Parish      Escondido, CA          09/16/16  Kawasaki Concours 1400A    1,514

John Buchanan    Kamloops, BC CANADA     09/12/16  H-D Ultra Limited          1,522

Jim Clark        Locust Grove, GA        09/10/16  BMW R1200RT                1,553
             * * * Jim is 67 years young on this ride! * * *

Dan Mowry        Cambridge, NE           09/10/16  H-D Road Glide FLTRU       1,505

Craig Thorndike  Midlothian, TX          09/10/16  Yamaha FJR1300A            1,544 BBG-TX
Rich Rulau       Rosenberg, TX           09/10/16  Yamaha FJR                 1,554 BBG-TX
             * * * Rich is 70 years young on this ride! * * * 

Dan Thaler       Deerfield Beach, FL     09/10/16  BMW R1200GSA               1,553

Motorcycle Tourer's Forum Phoenix, Arizona Bun Burner GOLD
Allan Schappert  Chandler, AZ            09/10/16  Honda Gold Wing GL1500     1,525
Doug Tessendorf  Mesa, AZ                09/10/16  BMW R1200RT                1,525
Michael Amick    Gilbert, AZ             09/10/16  BMW R1200GS                1,525
Michael Chesser  El Mirage, AZ           09/10/16  H-D Fat Boy                1,525
Steve Bell       Chandler, AZ            09/10/16  BMW R1200RT                1,525

Jerald Anderson    Fort Worth, TX        09/09/16  Suzuki GT750               1,524
          * * * A GT750 is a 1974 3 cylinder two stroke * * *

Greg Camp        Brantford, ON CANADA    09/09/16  BMW K1200LT                1,526

Robert Kline III Warminster, PA          09/09/16  Victory Vision             1,510

Lance Corley     New Carlisle, IN        09/08/16  H-D Road Glide             1,560
Clive Brown      Sooke, BC CANADA        09/06/16  H-D Road Glide             1,591

Doni Shawn Evans Arlington, TX           09/04/16  Kawasaki Concours 14       1,515

David JungRoth   Oklahoma City, OK       09/04/16  BMW R1200GSA               1,524

Valentyn Karpenko Kyiv, UKRAINE          09/02/16  BMW 1200GS Adventure       1,569

Tony Rae         Pierre, SD              09/02/16  H-D Road King Classic      1,558
Dino Brooks      Pierre, SD              09/02/16  H-D Street Glide           1,558

Frederick Schroeder Menasha, WI          08/26/16  BMW K1200LT                1,507
Gary Kirkley     New Baltimore, MI       08/23/16  H-D Ultra Limited          1,505

Gene Kicenski    Blanchard, OK           08/20/16  Honda Valkyrie             1,522
             * * * Gene is 71 years young on this ride! * * * 

Bruce A. Kirk    Chandler, AZ            08/11/16  Indian Roadmaster          1,535
Lonnie Mullen    Dallas, TX              08/06/16  H-D Road Glide Special     1,543
Eddie Exferd     Lena, WI                08/04/16  H-D Ultra Classic          1,551
Jeff Hallquist   New Bern, NC            08/03/16  H-D Road Glide Ultra       1,503

Russel Janzan    Dania Beach, FL         07/29/16  H-D Road Glide CVO         1,640
Dave Morton      Coon Rapids, MN         07/28/16  Yamaha FJR1300             1,542
Jeff Hallquist   New Bern, NC            07/27/16  H-D Road Glide Ultra       1,536
Howard Phelps    Nampa, ID               07/26/16  Honda VTX1800R             1,545
Ken Wexler       Midvale, UT             07/23/16  H-D Tri Glide              1,562

Igor Loktionov   Belgorod, RUSSIA        07/22/16  Yamaha FJR1300             1,800+

Wade Hendrix     Sheffield, AL           07/18/16  Honda Nighthawk 750        1,536
Allen Hornback   Tumwater, WA            07/18/16  Honda F6B                  1,525
Daniel Wallander Santa Fe, NM            07/17/16  Suzuki V-Strom 650         1,519
Allen Hornback   Tumwater, WA            07/17/16  Honda F6B                  1,582
Brian Zickerman  Elizabeth, NJ           07/16/16  Triumph Tiger 800 XC       1,610

Jim Jaremka      East Aurora, NY         07/02/16  BMW K75RT                  1,544
             * * * Jim is 67 years young on this ride! * * * 

James Burriss    Greenville, SC          07/10/16  Victory Cross Country Tour 1,535
Wayne Grondin    Tecumseh, ON CANADA     07/07/16  Honda GL1800               1,596

Olaf Moon         Australia              07/05/16  BMW R1200GS-Adventure      1,555

Alton Neidlinger Schuylkill Haven, PA    07/01/16  Honda Gold Wing GL1800     1,560
James Burriss    Greenville, SC          06/29/16  Victory Cross Country Tour 1,531
Gregg Lenentine  Virginia Beach  VA      06/29/16  Yamaha FJR                 1,536
Nicole Snick     Fort Pierce, FL         06/26/16  Kawasaki Concours 14       1,569
Hunter Stockon   Willow Park, TX         06/26/16  H-D Road Glide             1,564

Dan Daniel       Springfield, MO         06/26/16  BMW R1200RT                1,598
             * * * Dan is 70 years young on this ride! * * * 

Daniel Wallander Santa Fe, NM            06/26/16  Suzuki V-Strom 650         1,569

Mark Warner      Kitchener, ON CANADA    06/25/16  BMW R1200GSA               1,536

Brent J. McGill  Albuquerque, NM         06/24/16  H-D Ultra Limited Low      1,515
Wallace Butler   Albuquerque, NM         06/24/16  H-D Road Glide Special     1,515

Gary L. Roach    Peabody, KS             06/24/16  Honda Gold Wing GL1500     1,565
Brandon Ramsey   Fredonia, KS            06/24/16  Honda Gold Wing GL1500A    1,565

Richard Viekman  Gallup, NM              06/23/16  Honda Gold Wing GL1800     1,504
John Zabelle     Molino, FL              06/23/16  BMW R1200GS                1,540

Skip Curtis      Woodstock, GA           06/21/16  Honda ST1300               1,549
Matthew Ernst    Murfreesboro, TN        06/21/16  BMW R1200RT                1,621

Summer Solstice Bun Burner 1500 GOLD
Dale Bundy        Punxsutawney, Pa       06/20/16  Honda Gold Wing GL1500     1,558

2016 Minuteman Motorcycle Endurance Rally
John Strasser    Sugar Hill, NH          06/18/16  BMW K100RS                 1,500+
Zac Rhoades                              06/18/16  BMW R1200RT                1,500+

Jon Fuller       Kennewick, WA           06/16/16  Yamaha FJR                 1,518
Mike Smithee     Kennewick, WA           06/16/16  Yamaha Road Star           1,518

Russel A.S. Janzan Dania Beach, FL       06/14/16  H-D Road Glide CVO         1,564
Peter J. Karlson Clintonville, WI        06/13/16  H-D FLHTC                  1,540

Greg Hintz       Missoula, MT            06/12/16  Honda Gold Wing            1,524
Don Deuel        Arlee, MT               06/12/16  Honda Gold Wing 1800       1,524
             * * * Don is 73 years young on this ride! * * * 

Greg Rice        Ft Lauderdale, FL       06/11/16  BMW R1200RT                1,517

Jonathan Anderson Poplar Bluff, MO       06/11/16  H-D Electra Glide          1,510

Greg Rice        Ft Lauderdale, FL       06/09/16  BMW R1200RT                1,517

Robert Wilensky   Newtown, PA            06/08/16  Suzuki DL1000 V-Strom      1,515

Chris Kasdorf    Surrey, BC              06/07/16  Honda ST1300A              1,560

Darrin Volk      Alexandria, VA          06/05/16  Triumph Tiger Explorer XC  1,560
Joanna Wojtowicz Westfield, IN           06/05/16  H-D Street Glide Special   1,502
Jeff Ferguson    Omaha, NE               06/04/16  BMW R1200RT                1,520

Vince Gagliardo Jr    Reading, PA        06/04/16  H-D CVO Road Glide         1,530
Nancy Willits    Sinking Spring, PA      06/04/16  H-D Street Glide Trike     1,530
Maggie Breidenstein Reading, PA          06/04/16  H-D Street Glide           1,530
David Breidenstein Reading, PA           06/04/16  H-D Ultra Classic Limited  1,530
George R. Miller Mohnton, PA             06/04/16  H-D Ultra Limited          1,530
Harry Knerr      Blandon, PA             06/04/16  H-D Road Glide             1,530

C. S. Dodd       Plattsmouth, NE         06/04/16  H-D Road King              1,520
Jeff Ferguson    Omaha, NE               06/04/16  BMW R1200RT                1,520

Sean M. Sinclair Greer, SC               06/04/16  Kawasaki KLR650            1,524

Chris Kasdorf    Surrey, BC              06/02/16  Honda ST1300A              1,515

Memorial Day BBG
Bruce Edwards    Purcellville, VA        05/30/16  H-D Ultra Limited          1,548
Matt Wise        Wichita, KS             05/30/16  BMW R1200GS-Adventure      1,569
Mike Hall        Stephenson, VA          05/29/16  H-D Street Glide           1,520
Russell Dickerson Crossville, TN         05/29/16  Honda Gold Wing            1,569 TN-BBG
Anthony Van Der Voorn  Wichita, KS       05/29/16  BMW R1200RT                1,563

Lonnie R. McCoy  Sherman, TX             05/28/16  Yamaha FJR1300             1,565

Pavel Shostik    Nefteyugansk, RUSSIA    05/25/16  Yamaha FJR1300             1,501

Lionel L. Ramos  Falls Church, VA        05/23/16  H-D FLTRU Road Glide Ultra 1,574
James O. Epley   Fredericksburg, VA      05/22/16  Triumph Trophy SE          1,573

Marcos Hernandez Miami, FL               05/21/16  Honda GL1800               1,540

2016 Team Lyle Alamo
Paul Stark        San Jose, CA           05/20/16  BMW R1200RT                1,524 NV-BBG

Lionel L. Ramos  Falls Church, VA        05/20/16  H-D FLTRU Road Glide Ultra 1,512
Dan Livingston   Longmont, CO            05/20/16  Yamaha Super Tenere        1,528

Sergey Matyushkov Minsk, BELARUS         05/15/16  H-D Ultra Limited          1,503

Jim Clark        Locust Grove, GA        05/14/16  BMW R1200RT                1,512
             * * * Jim is 67 years young on this ride! * * *

Norman L. Jones  Lynnwood, WA            05/12/16  Yamaha Royal Star Venture  1,580
             * * * Norman is 66 years young on this ride! * * * 

Robert Annandale  Mineral, VA            04/29/16  BMW R1200GS                1,520
             * * * Robert is 68 years young on this ride! * * *

William Campbell  Oxford, PA             04/24/16  Honda Gold Wing            1,553
Robert Rehkopf    Cordova, TN            04/24/16  BMW R1200RT                1,553
             * * * Robert is 69 years young on this ride! * * *

Steven Anderson  Park City, UT           04/23/16  H-D FLHS                   1,530
Brett A. Davis   Fredericksburg, TX      04/19/16  BMW F800GS Adventure       1,535
William McIlrath Bethel, CT              04/17/16  Honda Gold Wing            1,530

Dan Thaler       Deerfield Beach, FL     04/16/16  BMW R1200GSA               1,514
Greg Rice        Ft Lauderdale, FL       04/16/16  BMW R1200RT                1,514

Troy Martin      Mansfield TX            04/11/16  Triumph Trophy SE          1,547

Russel A.S. Janzan Dania Beach, FL       04/09/16  H-D Road Glide CVO         1,618
Roger Buis       Miramar, FL             04/09/16  H-D CVO Ultra Classic      1,559

Casey Hunter     Pataskala, OH           04/15/16  Suzuki V-Strom 650         1,558

John Collins     Harbor City, CA         04/09/16  H-D Electra Glide Classic  1,530
Doug Hanson      Lawndale, CA            04/09/16  H-D Ultra Limited          1,530
Larrinda Hanson (passenger)              04/09/16  H-D Ultra Limited          1,530
Antoinette Peters Torrance, CA           04/09/16  H-D Softail Deluxe         1,530
Craig R. Peters  Torrance, CA            04/09/16  H-D CVO Road Glide         1,530
 
Russ Albright    Torrance, CA            04/09/16  H-D Electra Glide          1,530
Robert Duhe      Redondo Beach, CA       04/09/16  H-D Limited                1,530
Terry Omanson (passenger)                04/09/16  H-D Limited                1,530
             * * * Robert is 65 years young on this ride! * * *

Martin Jackson   Thorndale, TX           04/02/16  H-D Ultra Classic          1,520
Rob Carlo        Truckee, CA             03/24/16  H-D Road Glide             1,575

Steven Rolland   Franklin, WI            05/20/16  Honda CTX1300              1,527

IBA UK Fools Gold
Daniel Duvskog   Linkoping, Sweden       04/01/16  BMW R1200GS Adventure      1,580
Michael Turnpenny Scotland, UK           04/01/16  Yamaha FJR 1300A           1,543
Philip Weston    Nailsea, UK             04/01/16  Triumph Tiger 800          1,513

Spring Equinox Bun Burner GOLD
Dale Bundy        Punxsutawney  PA       03/20/16  Honda Gold Wing            1,519

2016 Spring Equinox Bun Burner 1500 GOLD
David JungRoth   Oklahoma City, OK       03/20/16  BMW R1200GSA               1,515

Glenn E. Spelis  Pottsboro, TX           03/13/16  Honda GL1800               1,556
             * * * Glenn is 68 years young on this ride! * * *

Plane Crazy BBG
Allen Hatcher     Ashburn VA             03/10/16  Honda ST1300               1,513
Robert Rehkopf    Cordova TN             03/10/16  BMW R1200RT                1,513
             * * * Robert is 69 years young on this ride! * * *
John Zabelle      Molino  FL             03/10/16  BMW R1200GS                1,513
Bill Rogers       Middleborough MA       03/10/16  BMW R1200GS                1,513
Ken Cook          Pooler  GA             03/10/16  BMW R1200RT                1,513
Joe Green         Alva  FL               03/10/16  Yamaha FJR1300             1,513
Anthony Osborne   West Palm Beach FL     03/10/16  Yamaha FJR                 1,513
Matt Hube         Statesboro  GA         03/10/16  Honda Gold Wing            1,513
Dale Bundy        Punxsutawney  PA       03/10/16  Honda Gold Wing (1990!)    1,513
Lyle Monroe       Smyrna  TN             03/10/16  Honda Gold Wing            1,513
JD Smith          Tucson  AZ             03/10/16  BMW R1200GSA               1,513
Don Cizik         Lexington KY           03/10/16  Honda ST1100               1,513
Paul Tong         Frisco  TX             03/10/16  Honda Gold Wing            1,513

Jim Green         Odessa                 03/09/16  Honda Valkyrie F6C         1,506
Steve Diederich   CA                     03/08/16  Honda Gold Wing            1,521
Michael Baker     Moseley, VA            03/08/16  BMW R1200GSA               1,535
Chris Life        Mesa, AZ               03/07/16  H-D Ultra Classic          1,520
Kenneth W Andrews Benton, AR             03/07/16  H-D Road King              1,586
JD Smith          Phoenix, AZ            03/07/16  BMW R1200GSA               1,520
John O. Cooper    Woodland Hills, CA     03/06/16  Honda GL1800               1,518

Ken Cowart       Alexander, AR           02/27/16  H-D  Street Glide          1,553
Tom Atkinson     Magnolia, TX            02/19/16  Honda GL1800               1,577 BBG-TX
Craig Ebersole   Colleyville, TX         02/13/16  Honda Gold Wing            1,550

Challenge: Asphalt Rats Bun Burner GOLD
Octavio Rivera Arreola         MEXICO    02/06/16  Bmw F800 Adv               1,548
John Cooper                    USA       02/06/16  Honda GL1800               1,548
Veronico Saul Chavez Flores    MEXICO    02/06/16  Victory Vision Tour        1,548
Susana Guadalupe Arias Chavez  MEXICO    02/06/16  Victory Vision Tour        1,548
Eduardo Rivera Arreola         MEXICO    02/06/16  H-D Superlow 1200          1,548
German Ramirez Oliveros        MEXICO    02/06/16  BMW R1200GS-Adventure      1,548
Jose Octavio Perez Macedo      MEXICO    02/06/16  BMW R1200GS-Adventure      1,548
Antonio F Garcia               MEXICO    02/06/16  BMW R1200GS-Adventure      1,548
Yehudi Ehrenzweig Lozano       MEXICO    02/06/16  BMW R1200GS-Adventure      1,548
Walter Miguel Lizama Lizama    MEXICO    02/06/16  Triumph Tiger Explorer     1,548
Antonio Carmona Sanchez        MEXICO    02/06/16  H-D Ultra Limited          1,548
Daniel Castillo Martínez       MEXICO    02/06/16  Yamaha Super Tenere        1,548
Ricardo Herrera Ramirez        MEXICO    02/06/16  Yamaha Super Tenere        1,548
Ivan Zenteno                   MEXICO    02/06/16  BMW R1200GS-ADV            1,548
Erick Alfredo Vargas Blanco    MEXICO    02/06/16  H-D Breakout               1,548
Jorge Bottini B                MEXICO    02/06/16  BMW R1200GS-Adventure      1,548
Veronica Palacio Medina        MEXICO    02/06/16  Yamaha Super Tenere        1,548
Hassan Osman                   MEXICO    02/06/16  BMW R1200GS-Adventure LC   1,548
Cuauhtemoc Pena Ramos          MEXICO    02/06/16  Honda Africa Twin XRV750   1,548
Cesar Abel Concha Radillo      MEXICO    02/06/16  BMW R1200R                 1,548
Adriana Campos Martínez        MEXICO    02/06/16  BMW R1200R                 1,548
Alberto Vanoni                 MEXICO    02/06/16  BMW R1200GS                1,548
Carlos Arozqueta Cruz          MEXICO    02/06/16  BMW R1200GS                1,548
Rodolfo Alvarez                MEXICO    02/06/16  BMW R1200GS                1,548
Ricardo Vargas Canto           MEXICO    02/06/16  Triumph Tiger 800 XCX      1,548
Jose Aaron Cordero Varona      MEXICO    02/06/16                             1,548
Israel Acevedo                 MEXICO    02/06/16  H-D Road King CVO          1,548
Rodolfo Acevedo Coria          MEXICO    02/06/16  H-D Street glide CVO       1,548
Neftali Horacio Mendoza Hdz.   MEXICO    02/06/16  H-D Street Glide           1,548
Osvaldo Olvera                 MEXICO    02/06/16  BMW R1200GS-Adventure      1,548

Mario Bryant                             12/29/16  Honda CBR600RR             1,539
William Cumbie   Lindale TX              01/24/16  H-D Road Glide Ultra       1,540 TX-BBG
Richard Freund   De Soto, MO             01/01/16  BMW K1200GT                1,525 BBG-FL

Sherryl Loughin  Chadds Ford, PA         12/26/15  H-D Electra Glide Ultra    1,517
Abram Loughin    Chadds Ford, PA         12/26/15  H-D Road Glide Ultra FTRU  1,517

Winter Solstice Bun Burner 1500 GOLD
Dale Bundy        Punxsutawney  PA       12/22/15  Honda Gold Wing (1990!)    1,535

Dominick Zappola East Haven, CT          12/16/15  H-D Street Glide FLHXS     1,540

Edith N. Massie  Allentown, PA           12/12/15  Honda Gold Wing            1,530
Mario Bryant     Port Saint Lucie, FL    12/12/15  Honda CBR600RR             1,583 FL-BBG
Greg Rice        Ft Lauderdale, FL       11/24/15  Honda Gold Wing            1,539
Joe Green        Lakeland, FL            11/23/15  Yamaha FJR1300             1,523
John Huval       Lafayette, LA           11/21/15  Honda GL1800 Gold Wing     1,580
Telisa Hamilton  Vero Beach, FL          11/21/15  Yamaha Stratoliner 1900    1,550
Scott Houseknecht Auburndale, FL         11/21/15  H-D Limited                1,550
Jim Saul         Plano, TX               11/19/15  Yamaha FJR1300             1,558
Brian Harris     Maple Glen, PA          11/15/15  Kawasaki Versys            1,530
Larry Raffler    Troy, MI                11/15/15  Honda Gold Wing            1,526
Mark Alan Wahle  Council Bluffs, IA      11/11/15  Yamaha FJR 1300            1,641

Frank Hernandez  Hereford, AZ            11/07/15  H-D Ultra Limited          1,520
David Sargent    Sierra Vista, AZ        11/07/15  H-D Ultra Limited          1,520

Dan Thaler       Deerfield Beach, FL     11/14/15  BMW R1200GSA               1,535
Hal W Mette      Clermont, FL            11/04/15  Can-Am Spyder RT Limited   1,518
Doug Chasick     Melbourne Beach, FL     11/04/15  Can-Am Spyder RT-S         1,540

Larry Raffler    Troy, MI                11/02/15  Honda Gold Wing            1,540
Donald Burkeen   Sharon, TN              10/26/15  H-D Ultra Low              1,540
Roy Kjendal      Deerfield, NH           10/22/15  Honda Gold Wing GL1800     1,510
Gary Chasteen    Pensacola, FL           10/21/15  Honda Gold Wing            1,546
Larry Raffler    Troy, MI                10/20/15  Honda Gold Wing            1,518
Dale Bundy       Punxsutawney  PA        10/19/15  Honda Gold Wing (1990!)    1,747
Steve Diederich  Cicero  NY              10/19/15  Honda Gold Wing GL1800     1,559
John O. Cooper   Woodland Hills, CA      10/19/15  Honda GL1800               1,540
Marvin Grove     Omaha, NE               10/18/15  Yamaha FJR                 1,522

Alan Thimbleby    South Yorkshire, UK    10/17/15  Honda ST1300               1,513

2015 IBA Memorial Ride Series
Alan Thimbleby   UK                      10/17/15  Honda ST1300               1,527
John A. Forry Jr.Hershey, PA             10/15/15  H-D CVO                    1,522
Kevin Blevins     Robesonia, PA          10/15/15  H-D Ultra Classic          1,522
Roy Kjendal      Deerfield, NH           10/11/15  Honda Gold Wing GL1800     1,527
Joseph Krezdorn III                      10/10/15  H-D Ultra Limited          1,555
Kevin Blevins    Robesonia, PA           10/10/15  H-D Ultra Classic          1,555
Harry Knerr      Blandon, PA             10/10/15  H-D Road Glide             1,555
Dale Bundy       Punxsutawney  PA        10/10/15  Honda Gold Wing            1,555
END

IBA Big as Texas Party - Stadium 1500 Bun Burner GOLD
Brian Walters    Sugar Land  TX          10/16/15  BMW R1200GS                1,527 TX-BBG
Craig Hooks      Dension TX              10/16/15  H-D Ultra-Classic          1,527 TX-BBG
Craig Olson      Plano TX                10/16/15  BMW GSA                    1,527 TX-BBG
Danny Dossman    Belton  TX              10/16/15  H-D Ultra Classic Limited  1,527 TX-BBG
Duncan Ragsdale  Memphis TN              10/16/15  BMW R1200GS                1,527 TX-BBG
Dustin Vanderslice  Garland TX           10/16/15  Kawasaki ZX14R             1,527 TX-BBG
           * * * Dustin is 18 years old on this BBG! * * *
Frans de Wet     Bullard TX              10/16/15  Honda Gold Wing GL1800     1,527 TX-BBG
Bettie de Wet (pillion)                  10/16/15  Honda Gold wing GL1800     1,527 TX-BBG
Glenn Royal      Seabrook  TX            10/16/15  BMW R1200GSA               1,527 TX-BBG
Jimmie Hammack   Caddo Mills TX          10/16/15  Suzuki V-Strom 1000        1,527 TX-BBG
Kevin Sawatsky   Caddo Mills TX          10/16/15  BMW K1200LT                1,527 TX-BBG
Naivo Rajoelina  Fort Worth  TX          10/16/15  Victory Vision 8 Ball      1,527 TX-BBG
Peter Green      Santa Fe  NM            10/16/15  H-D Ultra Limited          1,527 TX-BBG
Shane Burkett    Arlington TX            10/16/15  BMW GSA                    1,527 TX-BBG

Jacob Wedin      Austin, TX              10/17/15  H-D Street Glide           1,530
Mike Best        South Jordan, UT        10/08/15  Honda Gold Wing            1,590

Peter Hogan      Australia               09/29/15  Kawasaki Ninja 300         1,532

Robert RochaDanks Fresno, CA             09/26/15  Yamaha V-Star Classic      1,524

Michael M. Lund  Soenderborg, DENMARK    09/27/15  Yamaha FJR1300             1,512

Scott A. Lynch   Jacksonville Beach, FL  09/26/15  BMW K1600GTL               1,575
Roberto Rodriguez Jacksonville, FL       09/26/15  Triumph Trophy SE          1,575

Gary Longhurst   Coralles, NM            09/25/15  Honda Gold Wing GL1800     1,503 BBG-NM
Robert Wilensky   Newtown, PA            09/23/15  Suzuki DL1000 Vstrom       1,517
Richard J. Hanson Sr.  Garland, TX       09/23/15  Suzuki DL650A              1,513 TX-BBG

John Grover       Asheville, NC          09/23/15  BMW R1150 GS               1,513
Rich Rulau       Rosenberg, TX           09/23/15  Yamaha FJR                 1,525
             * * * Rich is 69 years young on this ride! * * *

Greg Hatch       Brighton, CO            09/20/15  H-D Road King Classic      1,559

Scott Houle      Mansfield Depot, CT     09/19/15  H-D Ultra                  1,550
Lance M. Atwood  Westbrook, CT           09/19/15  H-D FLHTKSE                1,550
James Schmittberger Lyme, CT             09/19/15  Victory Vision Tour        1,550

Richard Viekman  Gallup, NM              09/19/15  Honda GL1500SE             1,536

Dan S. Watson    Sioux City, IA          09/19/15  BMW R1200RT                1,582
             * * * Dan is 71 years young on this ride! * * * 

Frans de Wet     Bullard, TX             09/15/15  Honda Gold Wing GL1800     1,569
Bettie de Wet (passenger)                09/15/15  Honda Gold Wing GL1800     1,569

Bruce Rimes      Summit, MS              09/12/15  H-D FLHTK                  1,543
Joe Lacey        Florence, MS            09/12/15  H-D Ultra                  1,543

Harvard Chavis   Pembroke, NC            09/11/15  Honda Gold Wing            1,502
John R. Ahrens   Moreno Valley, CA       09/11/15  BMW K1200LT                1,523
Justin Patterson Mosinee, WI             09/11/15  H-D Road Glide             1,526

Derek Allen       West Sussex, UK        09/10/15  Triumph Tiger 955i         1,522
 
Erin E. Colombo  Wixom, MI               09/10/15  BMW GTL1600                1,615

Billy Cannon III Perryville, KY          09/08/15  BMW GTL                    1,511
James Turpin Jr. Danville, KY            09/08/15  Suzuki Bandit              1,511

Mark A. Chavis   Pembroke, NC            09/08/15  H-D Street Glide           1,615
Brandon Erickson Farmington, UT          09/06/15  Yamaha FJR1300AE           1,540
Anthony Osborne  West Palm Beach, FL     09/06/15  Yamaha FJR                 1,540
Michael Mullen   Aitkin, MN              09/05/15  Honda Gold Wing            1,678

William Reynolds Fort Myers, FL          09/05/15  H-D FLHP                   1,562
Wendy S. Battles Fort Myers, FL          09/05/15  H-D Road Glide             1,562

Teri Ligon       Fallon, NV              09/05/15  Kawasaki Ninja 250         1,530 BBG-NV
Mark Vanderbrook Morrison, CO            09/05/15  Yamaha Super Tenere        1,530

Tennessee Twisty BBG
Gerry Arel        Manchester  CT         09/04/15  BMW R1200R                 1,540

Patrick DiGiacomo Corona Del Mar, CA     09/04/15  BMW 1200GS                 1,518

IBA EggSanity BBG
James Hatch       Simsbury  CT           09/04/15  BMW R1200RT                1,528
Don Cizik         Lexington KY           09/04/15  Honda ST1100               1,528
Roy Hotchkin      Salisbury MD           09/04/15  Honda Gold Wing GL1800     1,530

IBA Insane Twist BBG
James Burriss     Greenville  SC         09/04/15  Victory XCT                1,540

Nathan Schied    Schenectady, NY         09/01/15  Honda Shadow 700           1,518
Dan S. Watson    Sioux City, IA          09/01/15  BMW R1200RT                1,585
             * * * Dan is 71 years young on this ride! * * * 

Tom Atkinson     Magnolia, TX            08/29/15  Honda GL1800               1,596 BBG-TX
Jeff T. Head     Gadsden, AL             08/22/15  Honda Gold Wing            1,514

Todd Smerdell    Chester, VA             08/21/15  H-D Ultra Classic          1,545
Leslie Smerdell (passenger)              08/21/15  H-D Ultra Classic          1,545

Randy L. Blevins Falcon, CO              08/15/15  Triumph Thunderbird        1,528

Alexandr Solov'ev LATVIA                 08/12/15  Suzuki B-King GSX1300BKA   1,518
 
Buddy Corbin     Cartersville, GA        08/10/15  BMW R1200RT                1,510
Rony Baenziger   Palm Coast, FL          08/08/15  BMW R1200GSA               1,549
Mike McCoy       Cordova, TN             08/08/15  Victory Cross Country      1,534
Roy Kjendal      Deerfield, NH           08/03/15  Honda Gold Wing GL1800A    1,512

Sergey Nazaruk   Moscow, RUSSIA          08/06/15  Honda GL1800               1,560

Leszek Goworek   Schiller Park, IL       08/02/15  Kawasaki Concours 14       1,509
Andrzej Drabek   Wheeling, IL            08/02/15  Yamaha Raider              1,509

Joe R. Martin    Houston, TX             08/02/15  KTM 1190 Adventure R       1,533
William Buskell  Panama City Beach, FL   08/02/15  H-D Road Glide             1,644
John Huval       Lafayette, LA           07/31/15  Honda GL1800 Gold Wing     1,520
Nadine Huval (passenger)                 07/31/15  Honda GL1800 Gold Wing     1,520
Duane C. Carlton Bozeman, MT             07/31/15  H-D Electra Glide Classic  1,573 MT-BBG

Andrey Khaletskiy Samara, RUSSIA         07/30/15  Triumph Tiger Explorer     1,563

William Buskell  Panama City Beach, FL   07/29/15  H-D Road Glide             1,552
Stephen Baldwin  Clemmons, NC            07/28/15  H-D Ultra Limited          1,545
             * * * Stephen is 67 years young on this ride! * * * 

Kevin Woloszyk   Orland Park, IL         07/26/15  BMW R1200RT                1,510

Robert Annandale Mineral, VA             07/26/15  BMW R1200GS                1,515
             * * * Robert is 67 years young on this ride! * * * 

Ed Jarvis        Mineral, VA             07/26/15  BMW K1600GTL               1,515
Richard Brush    Vancouver, WA           07/25/15  BMW R1200GS Adventure      1,520

Danny L. Hampton  Elgin, IL              07/25/15  Yamaha FJR                 1,544
             * * * Danny is 66 years young on this ride! * * * 

Dave Cwi          Indianapolis, IN       07/25/15  BMW R1200RT                1,521
               * * * Dave is 69 years young on this ride! * * *

BMWMOA Ride-In BBG
David Kropp       Lebanon TN             07/23/15  BMW K1200LT                1,594
Adam Knudsen      Englewood, OH          07/21/15  BMW R1200GSA               1,521

Dominick Zappola  East Haven, CT         07/22/15  H-D Softail FXSTC          1,680

Richard Griffith  Waterford, MI          07/21/15  H-D Road King              1,645

Jim Clark         Locust Grove, GA       07/21/15  BMW R1200RT                1,515
             * * * Jim is 66 years young on this ride! * * * 

Kevin Woloszyk   Orland Park, IL         07/20/15  BMW R1200RT                1,544
Ed Jarvis        Mineral, VA             07/19/15  BMW K1600GTL Exclusive     1,521
Robert Annandale Mineral, VA             07/19/15  BMW R1200GS                1,513
             * * * Robert is 67 years young on this ride! * * * 

Paul Knight       Oviedo  FL             07/18/15  BMW R1200GSA               1,518

Tim Hayosh        Mesa, AZ               07/17/15  Kawasaki Concours          1,527
John T. Carrel    Phoenix, AZ            07/17/15  BMW R1200GS                1,530
Tim Mahoney       Phoenix, AZ            07/17/15  Honda F6B                  1,530

David Talley Jr. Las Vegas, NV           07/11/15  BMW R1200GSA               1,619
Chris K. Kim     West Sacramento, CA     07/11/15  Honda VFR                  1,536

Jerry G. Barker  Silver Lake, KS         07/10/15  Honda Valkyrie Interstate  1,520
Dave Kochan      Sandy, UT               07/10/15  BMW R1200RT                1,563
Rex W. Cantlin   Independence, MO        07/04/15  BMW K1300GT                1,548

Aidas Bubinas    Vilnius, LITHUANIA      07/01/14  Honda Crosstourer VFR 1200 1,619

Ronald W. Moore  Farmington, MO          07/01/15  Honda ST1300A              1,577
Loren Timmons    Mill Creek, WA          06/27/15  H-D Ultra                  1,556

Harry Knerr      Blandon, PA             06/27/15  H-D Road Glide             1,530
Craig Heck       Leesport, PA            06/27/15  H-D Road Glide             1,530

Scott Peters     Lithia, FL              06/26/15  BMW K1600GTL               1,564
Pete Harker      Johnson City, TN        06/25/15  Honda ST1300               1,519
Glen Feeback     Maiden, NC              06/25/15  Honda Gold Wing GL1800     1,510
             * * * Glen is 72 years young on this ride! * * *

James Milliken   Shallotte, NC           06/25/15  H-D Electra Glide          1,503
Tom Hunter       Shallotte, NC           06/25/15  H-D Electra Glide Classic  1,503
             * * * Tom is 73 years young on this ride! * * *

Richard Jorges   Gardnerville, NV        06/23/15  Yamaha Royal Star          1,556
Mark S. Wilson   Wellington, NV          06/23/15  H-D Ultra Classic          1,556

Richard Irwin    Claremont, NC           06/23/15  Yamaha FZ1                 1,530

Richard J. Hanson Sr.                    06/21/15  Suzuki DL650A              1,566
Philip Weston    UK                      06/21/15  Triumph Tiger 800          1,509

Russ Nicholson   Amherst, OH             06/20/15  H-D Ultra Limited          1,545
Anatoly Khomenko Nefteyugansk, RUSSIA    06/20/15  Suzuki Hayabusa            1,800+

Terry Taylor     Oklahoma City, OK       06/20/15  Kawasaki KLX250S           1,502

Ron Simmons      Beaverton, OR           06/19/15  H-D FLTRXS                 1,520
Doug Butler      Portland, OR            06/19/15  H-D Heritage Classic       1,520
             * * * Doug is 69 years young on this ride! * * *

Jay B. Poulos    Kewanee, IL             06/19/15  H-D Ultra Classic          1,530
Charles A. Kunz  Kewanee, IL             06/19/15  H-D Electra Glide Ultra    1,530
Donald M. Ekin   Cambridge, IL           06/19/15  H-D CVO Street Glide       1,530
             * * * Donald is 66 years young on this ride! * * *

Daniel Simmonds  Somerset, PA            06/19/15  Yamaha Super Tenere        1,566
William Buskell  Panama City Beach, FL   06/16/15  H-D Road Glide             1,510

Andrew Byrd      Gahanna, OH             06/13/15  Kawasaki Concours 14       1,579
Robert Bradford  Van, TX                 06/13/15  Kawasaki Concours 1400     1,520
Henry F. Mros    Taunton, MA             06/13/15  BMW R1200GS                1,533

Shark Week Bun Burner 1500 GOLD
Lisa Dibler      Mertztown, PA           06/13/15  H-D Road Glide             1,570
Sherry Knerr     Blandon, PA             06/13/15  H-D Road Glide             1,570
Harry Knerr      Blandon, PA             06/13/15  H-D Road Glide             1,570
Kerry Dibler     Mertztown, PA           06/13/15  H-D Road Glide             1,570

Samuel L. Scherr Harvest, AL             06/12/15  BMW GSA                    1,520
John O. Cooper   Woodland Hills, CA      06/10/15  Honda GL1800               1,532

Claude Boudwin   Plymouth, MA            06/07/15  Honda Gold Wing            1,539
             * * * Claude is 70 years young on this ride! * * *

Douglas Schenck  Nixa, MO                06/09/15  Honda GL1800 Gold Wing     1,510
Gregory Saubel   Glen Rock, PA           06/07/15  Suzuki V-Strom 1000        1,556
Michael Donley   Chesterfield, MO        06/05/15  H-D Road King              1,551
Voytek Kulesza   Wonder Lake, IL         06/04/15  Honda GL1800 Gold Wing     1,503

Attila M. Revesz Phoenix, AZ             06/03/15  Honda VTX1800N1            1,543
             * * * Attila is 68 years young on this ride! * * *

Steve Hart       Eaton, CO               05/31/15  H-D CVO Electra Glide      1,615

Clyde Dowd       DeFuniak Springs, FL    05/29/15  Honda Gold Wing            1,520
             * * * Clyde is 71 years young on this ride! * * *

Bob Graf         Green Bay, WI           05/28/15  H-D Ultra Classic CVO      1,615

Kelly Quinn      Truckee, CA             05/27/15  H-D Road Glide Custom      1,530
Robert Carlo     Truckee, CA             05/27/15  H-D Road Glide Custom      1,530

Why? Whynot! (Why, Arizona to Whynot, Mississippi)
Anthony Osborne  West Palm Beach, FL     05/24/15  Yamaha FJR                 1,648

Jay Fansler      Angola, IN              05/22/15  Honda Gold Wing            1,512

John Hurd        Port Murray, NJ         05/22/15  H-D FLTRX                  1,502
John E. Doughty  Kent, WA                05/21/15  Honda Gold Wing            1,502
             * * * John is 69 years young on this ride! * * *

Jennifer O'Halloran  Tualatin, OR        05/19/15  BMW R1200GS                1,532

R. Bruce Thomas  Edmonton, AB CANADA     05/19/15  Honda ST1300A              1,514
Norman Lafleur   Grande Prairie,AB CAN   05/19/15  Honda ST1300               1,514

Stanley Miller   Ames, IA                05/17/15  Honda Magna V65            1,525

2015 The Team Lyle Rachel Days Insanity Rally
Phil Tarman      Greeley, CO             05/16/15  Honda NT700VA              1,517 BBG-NV
             * * * Phil is 72 years young on this ride! * * *
Glenn Pancoast   Henderson, NV           05/16/15  BMW K1600GT                1,517 BBG-NV
             * * * Glenn is 69 years young on this ride! * * *

Peter Campbell   Smiths Falls, ON CANADA 05/13/15  Yamaha FJR1300             1,516
Dave Cwi         Indianapolis, IN        05/13/15  BMW R1200RT                1,516
               * * * Dave is 69 years young on this ride! * * *
Ralph Spengler   Newton, NJ              05/13/15  BMW K1200LTE               1,516
             * * * Ralph is 70 years young on this ride! * * *

Kelly Quinn      Truckee, CA             05/11/15  H-D Road Glide Custom      1,502
Robert Carlo     Truckee, CA             05/11/15  H-D Road Glide Custom      1,502

Brandon Laughman Fort Worth, TX          05/03/15  Yamaha FZ6                 1,510
Quincy Dalton    Monroe, LA              05/03/15  H-D Street Glide           1,510

Joe Birkenback   Rockwall, TX            05/02/15  Honda GL1800               1,525
Steve Goldsmith  Yantis, TX              05/02/15  Honda Gold Wing            1,525

Christopher Brown Clinton, OH            05/02/15  H-D Bagger X               1,524

Edson Gianelli    BRAZIL                 05/01/15  BMW K1600GT                1,512

Eder Sivers       BRAZIL                 05/01/15  BMW R1200GS                1,512

Clive Brown       Sooke, BC CANADA       04/27/15  H-D Road Glide Ultra       1,522

Foster Smith      County Durham, UK      04/24/15  Honda Transalp             1,567

Jim Clark        Locust Grove, GA        04/21/15  BMW R1200RT                1,520
             * * * Jim is 66 years young on this ride! * * *

Daniel Simmonds  Somerset, PA            04/19/15  Yamaha Super Tenere        1,531 BBG-PA
Troy Martin      Mansfield TX            04/19/15  Triumph Trophy SE          1,228
Craig Bentley    Sandwich, MA            04/16/15  H-D FLHX                   1,524
Roy Kjendal      Deerfield, NH           04/15/15  Honda Gold Wing GL1800A    1,517
John O. Cooper   Woodland Hills, CA      04/08/15  Honda GL1800               1,536

Guvenc Diner     Usak, TURKEY            04/04/15  Suzuki DL 650 V-Strom      1,501

Richard J. Hanson Jr. Garland, TX        04/04/15  Suzuki DL650A              1,503 BBG-TX
             * * * Combined with Tour of Honor Sites - www.tourofhonor.com * * *

Team Pavement Junkies Bun Burner 1500 GOLD
Morrigan Sullivan Grovetown, GA          04/04/15  Triumph Daytona 675R       1,537
Joe Sullivan     Grovetown, GA           04/04/15  Kawasaki Concours 14       1,537
Terry Moore      Grovetown, GA           04/04/15  Kawasaki Concours 14       1,537

Christina Venters                        04/04/15  BMW R1200GSA               1,524
Steve Dennis      Attleboro, MA          04/02/15  Yamaha Super Tenere        1,540

Philip Weston     Nailsea, UK            04/01/15  Triumph Tiger 800          1,513

Chris G. Lake     Martinez, CA           03/28/15  Triumph Explorer 1200      1,570
Marcus L. Ovando  Jetersville, VA        03/28/15  BMW R1200GS Adventure      1,510
Arrel Carter III  Jacksonville, AR       03/27/15  Honda GL1800               1,515

Philip Weston     Nailsea, UK            03/20/15  Triumph Tiger 800          1,501

Garry Springgay   Gilbert AZ             03/15/15  Honda ST1300               1,612

IBA Jacksonville Full Court BBG
Angelo Patacca                           03/12/15  Honda ST1300A              1,580
Robert Wilensky  Newtown, PA             03/12/15  Suzuki DL1000 Vstrom       1,580
Greg Rice                                03/12/15  Honda Gold Wing            1,580
Eivin Andresen   Newnan  GA              03/12/15  H-D CVO Road Glide Ultra   1,580
      * * * Eivin is 70 years young * * *
Virgil Bowen     Lake Alfred FL          03/12/15  BMW K1200GT                1,580
Dale Bundy       Punxsutawney  PA        03/12/15  Honda Gold Wing GL15000    1,580
James Burriss    Greenville  SC          03/12/15  Victory XCT                1,580
Don Cizik        Lexington KY            03/12/15  Honda ST1100               1,580
Erwin E. Crampton Jr.  Palm Bay  FL      03/12/15  H-D Limited                1,580
                   * * * Erwin is 69 years young * * *
Brian Dent       Herndon VA              03/12/15  Yamaha Super Tenere        1,580
Martin Dietz     Largo FL                03/12/15  BMW R1200GS                1,580
                   * * * Martin is 69 years young * * *
Matt Hube        Statesboro  GA          03/12/15  Honda Gold Wing            1,580
Gregg Lenentine Virginia Beach  VA       03/12/15  Honda Gold Wing            1,530
Jo Esco-Lenentine (passenger)            03/12/15  Honda Gold Wing            1,530
Troy Martin      Mansfield TX            03/12/15  Triumph Trophy SE          1,580
Ian McPhee       Beenleigh AUSTRALIA     03/12/15  BMW R1100RT                1,580
Wade Moorefield  Jacksonville  FL        03/12/15  BMW R1200RT                1,580
William Morrissett    Westminster MD     03/12/15  BMW K1600GTL               1,580
John Red         Poplarville MS          03/12/15  Honda Gold Wing            1,580
Jeff Shaw        Mcniell MS              03/12/15  Honda Gold Wing            1,580
Paul Slaton      The Woodlands TX        03/12/15  Honda Gold Wing GL1800     1,580
Steve Snell      Kennesaw  GA            03/12/15  Honda Gold Wing            1,580
Robert Swann     Bartow  FL              03/12/15  BMW K1200GT                1,580
Paul Tong        Frisco  TX              03/12/15  Honda Gold Wing            1,580
John Willis      Jacksonville  FL        03/12/15  BMW R1200RT                1,580

Chris Comly                              03/11/15  H-D Sportster              1,562
John Cooper       California             03/09/15  Honda Gold Wing            1,538

Greg Rice         Florida                02/07/15  Honda Gold Wing            1,561

2015 Vernal Equinox Bun Burner 1500 GOLD
Dan Crowley       Charlotte NC           03/20/15  Cagiva Gran Canyon         1,506
Richard J. Hanson Jr.  Garland, TX       03/20/15  Suzuki DL650A              1,576

Russ Nicholson   Amherst, OH             02/21/15  H-D Ultra Limited          1,532
Marc J. Levine   Lubbock, TX             02/14/15  BMW GS Adventure           1,523
Mark Hallquist   New Bern, NC            12/28/14  H-D Road Glide Ultra       1,558
Sinclair Niu     Hamilton, NJ            12/27/14  Honda Gold Wing            1,515

Mark Anderson    Cumbria, UK             12/25/14  Triumph Trophy             1,518

Richard J. Hanson Sr. Garland, TX        12/21/14  Suzuki DL650A              1,705 BBG-TX

Philip Weston    North Somerset, UK      12/21/14  Triumph Tiger 800          1,511

Brad Jones       Parkland, FL            11/29/14  H-D Super Glide            1,538

Tim Hayosh       Mesa, AZ                11/08/14  Kawasaki Concours          1,546
Tim Mahoney      Phoenix, AZ             11/08/14  Honda F6B                  1,546
John T. Carrel   Phoenix, AZ             11/08/14  BMW R1200GS                1,546

Monica D. Short  Escondido, CA           11/07/14  H-D Electra Glide Ultra    1,524

2014 Memorial Bun Burner GOLD
Harry Knerr                              11/07/14  H-D Road Glide             1,521
George R. Miller                         11/07/14  H-D Ultra Limited          1,521
Richard Terry                            11/02/14  Kawasaki Concours 14       1,537
David E. Walls                           10/30/14  Suzuki Hayabusa            1,544
Tom Atkinson                             10/25/14  Honda Gold Wing GL1800     1,521 TX-BBG
Jim Dyer                                 10/25/14  Victory Cross Country      1,558
Jim Puckett                              10/24/14  BMW K1600GT                1,525
James Andrews                            10/23/14  H-D Ultra Limited          1,521
Tammy Andrews (pillion)                  10/23/14  H-D Ultra Limited          1,521
John O. Cooper                           10/14/14  Honda GL1800               1,576
END OF 2014 MEMORIAL 1000 rides

Voytek Kulesza   Wonder Lake, IL         11/04/14  Honda GL1800 Gold Wing     1,513

Terry Taylor     Oklahoma City, OK       10/31/14  BMW R1150RT                1,510
Bert Bittel      Lake Dallas, TX         10/29/14  H-D FLHXSE3                1,510 BBG-TX
Rich Rulau       Rosenberg, TX           10/26/14  Yamaha FJR                 1,536
             * * * Rich is 68 years young on this ride! * * * 

Jim Cannon       Petersburg, VA          10/14/14  H-D Road Glide             1,545

Ryan Rosenberg   St. George, UT          10/11/14  H-D Electra Glide          1,502
Merril Campbell  Hurricane, UT           10/11/14  BMW R1200GS                1,502

Richard Geiger   Cressona, PA            10/11/14  Honda Gold Wing            1,509
Alton Neidlinger Schuylkill Haven, PA    10/11/14  Honda Gold Wing            1,509

John Andruszka   Sierra Vista, AZ        10/11/14  Yamaha FJR1300             1,526
Steve Bell       Chandler, AZ            10/11/14  H-D Ultra Limited          1,522

Why? Whynot! (Why, Arizona to Whynot, Mississippi)
John Andruszka   Sierra Vista, AZ        10/09/14  Yamaha FJR1300             1,632

Ben Philhower    Riverview, FL           10/09/14  H-D Road Glide Ultra       1,590
Ari Dragan       Chapel Hill, NC         10/08/14  BMW R1200GSA Anniversary   1,515
Greg Rice        Florida                 10/05/14  Honda Gold Wing            1,579
Brian Gavazzi    Austin, TX              10/04/14  BMW R1200GS Adventure      1,542
Eric Edelman     Cicero, NY              10/03/14  Yamaha FJR1300ES           1,587

Kevin Kodz       Mohnton, PA             09/30/14  H-D Road Glide             1,538
Frank Young      Mohnton, PA             09/30/14  H-D Ultra Limited          1,560

Andrew Clark     Indianapolis, IN        09/27/14  Yamaha FJR                 1,529
Pete Ciopryna    Branford, CT            09/25/14  H-D Road Glide FLTRU       1,551
Duane C. Carlton Bozeman, MT             09/25/14  H-D Electra Glide Classic  1,558
Jeff Taylor      Moyie Springs, ID       09/23/14  H-D Ultra Classic Limited  1,552
Tim Trytten      Spruce Grove, AB CANADA 09/20/14  Kawasaki Concours          1,551
Roy Kjendal      Deerfield, NH           09/19/14  Holda Gold Wing GL1800A    1,544
             * * * Roy is 66 years young on this ride! * * * 
Roy Clucas       East Peoria, IL         09/19/14  Yamaha FJR1300             1,555
Ed Anderson      Bluefield, VA           09/15/14  H-D Street Glide           1,527

Mike Allison     Nanaimo, BC CANADA      09/15/14  H-D Ultra                  1,555 USA ride
John D. Minigan  Windsor, ON CANADA      09/13/14  BMW R1200RT                1,515 USA ride

Justin Long      Olympia, WA             09/12/14  BMW R1200GS                1,540

Wolf Hassenstein Fort McMurray, AB CANADA09/11/14  Yamaha FJR1300A            1,539
Hasso Hassenstein St. Thomas, ON CANADA  09/11/14  BMW K1200LT                1,539
                * * * Hasso is 67 years young on this ride! * * * 

Marius De Kock   SOUTH AFRICA            09/09/14  BMW 1200GS Adventure       1,535

Michael Snyder   West St. Paul, MN       09/09/14  Honda Gold Wing            1,526
Ned G. Waite     Alpine, UT              09/08/14  BMW K1200RS                1,520
Jeff Nelson      Simpsonville, SC        09/07/14  H-D Electra Glide Ultra    1,539
Scott Blevins    Somerset, KY            09/07/14  H-D Ultra Limited          1,539

Ross Brase       Waverly, IA             09/06/14  Kawasaki 1500 Vulcan       1,575
Peggy Brase      Waverly, IA             09/06/14  Kawasaki 900 Vulcan        1,575

Peter Hogan      Australia               09/06/14  Yamaha FJR1300             1,533 NEW SOUTH WALES BBG

Anthony Osborne  West Palm Beach, FL     09/05/14  Yamaha FJR                 1,576
Christopher O'Hara Morgantown, WV        09/05/14  H-D CVO Ultra              1,510
Richard Hanson Sr. Garland, TX           09/05/14  Suzuki DL650A              1,535 BBG-TX
Larry Piraino    Streator, IL            09/04/14  H-D Road King              1,561
             * * * Larry is 68 years young on this ride! * * * 

Anthony Osborne  West Palm Beach, FL     09/03/14  Yamaha FJR                 1,524
Duane C. Carlton Bozeman, MT             09/03/14  H-D Electra Glide Classic  1,520
Anthony Osborne  West Palm Beach, FL     09/01/14  Yamaha FJR                 1,578

Anthony Osborne  West Palm Beach, FL     08/31/14  Yamaha FJR                 1,520
Jim Littlepage   Tooele, UT              08/31/14  Honda Gold Wing GL1800     1,561
Andrew Clark     Indianapolis, IN        08/30/14  Yamaha FJR                 1,630
Mark Wheatley    Bloomington, MN         08/30/14  Honda Gold Wing            1,594

Gregory C. Selky  Catoosa, OK            08/29/14  H-D FLHTK Ultra Limited    1,515
Dean A. Herlitzke La Crosse, WI          08/29/14  H-D FLHTC Electra Glide    1,515

Wharf Rat Rally's Iron Butt ride
Earl Deveau       Mavillette,Nova Scotia 08/28/14  H-D Electra Glide          2,566

Bruce Arnold     Miami Beach, FL         08/27/14  H-D FXDS Dyna Convertible  1,548
Dennis Nikitaev  Las Vegas, NV           08/25/14  Victory Vegas 8-Ball       1,540
Greg Rice        Florida                 08/24/14  Honda Gold Wing            1,582
Tim R. Bronson   Pittsburgh, PA          08/24/14  BMW R1200RT                1,550
Robert Wilensky  Newtown, PA             08/24/14  Suzuki DL1000 V-Strom      1,565
Minna Case       West Dover, VT          08/23/14  BMW G650GS                 1,575

Danny Graham      Honolulu, HI           08/23/14  BMW R1200RT                1,520
             * * * Danny is 70 years young on this ride! * * *

Ivan Bogomolov   Moscow, RUSSIA          08/22/14  Honda GL1800               1,562

Erich McCandless Sioux Falls, SD         08/21/14  Honda ST1100               1,520
Ron Morris       New Port Richey, FL     08/21/14  Honda Gold Wing            1,540
             * * * Ron is 69 years young on this ride! * * *

IBA InterNational Ride-in Bun Burner GOLD
Greg Rice                                08/17/14  Honda Gold Wing            1,550
Chris Purney                             08/18/14  H-D Street Glide Special   1,540
Bob Scott                                08/18/14  H-D Road Glide Ultra       1,540
Alex Harper                              08/18/14  Yamaha FJR1300             1,545
Garry Springgay   Gilbert AZ             08/18/14  Honda ST1300               1,550
Paul Slaton                              08/19/14  Honda Gold Wing GL1800     1,540
David E. Walls                           08/19/14  Yamaha FJR1300             1,540
Lyle C. Monroe, Jr.                      08/19/14  Honda Gold Wing            1,532
Galen Evans                              08/19/14  Suzuki V-Strom DL650       1,540
Carl H van Kesteren                      08/17/14  Buell Ulysses              1,690
Greg Fizer                               08/18/14  Honda Gold Wing GL1800     1,530
Chuck Lackey                             08/18/14  Yamaha FJR1300             1,530
George Barnes                            08/19/14  BMW K1200LT                1,530
Clive Brown                              08/19/14  H-D Road Glide Ultra       1,510
Dan Highley                              08/17/14  H-D Super Glide            1,535
Russ Nicholson                           08/19/14  H-D Ultra Limited          1,535

Sergey Zakharikov Moscow, RUSSIA         08/16/14  BMW K1200LT                1,529
Fedor Zakharikov  Moscow, RUSSIA         08/16/14  BMW K1600GTL               1,529
Ruben Aganbegyan  Moscow, RUSSIA         08/16/14  BMW R1200GS Adventure      1,529
Marek Muszunski   Moscow, RUSSIA         08/16/14  BMW R1200GS Adventure      1,529
Alexander Sokol   Moscow, RUSSIA         08/16/14  BMW K1600GTL               1,529

Jay Bolinger     Plainfield, IN          08/15/14  Honda ST1300               1,526

Anatoly Khomenko Nefteyugansk, RUSSIA    08/15/14  Suzuki Hayabusa            1,508

Roy Kjendal      Deerfield, NH           08/14/14  Honda Gold Wing GL1800A    1,505
             * * * Roy is 66 years young on this ride! * * *

Konstantin Novykh Perm, RUSSIA           08/13/14  Yamaha FJR1300             1,516

Sergey Suvorov   St. Petersburg, RUSSIA  08/10/14  Honda Gold Wing 1800       1,530

Michael Sweeney  North Las Vegas, NV     08/09/14  H-D Road Glide             1,525 BBG-NV
Todd Strobl      Wenatchee, WA           08/08/14  Yamaha FJR1300             1,555
Gary Lingenfelter Nevada, IA             08/03/14  Yamaha V-Star 1300         1,546
Michael Sizer    Bonita Springs, FL      08/01/14  H-D Road King              1,640
Gary Lingenfelter Nevada, IA             08/01/14  Yamaha V-Star 1300         1,552

Jeff Wilde       Geneva, FL              07/30/14  BMW R1200RT                1,530

Fred Niblock     Warrensburg, MO         07/30/14  BMW R1200RT                1,521
Bob Bowman       Warrensburg, MO         07/30/14  Honda ST1300               1,521

Scott McCaffrey  Harrisburg, PA          07/29/14  Honda Gold Wing            1,551
Robert McKeown   St. Cloud,FL            07/27/14  H-D                        1,510
Timothy Mahan    St. Johns, FL           07/27/14  H-D CVO Ultra              1,540
Mark Cox         Prior Lake, MN          07/26/14  Victory Cross Country Tour 1,644
Dave Doolin      Jacksonville, FL        07/26/14  Honda ST1300               1,519
Albert Thompson  Orting, WA              07/26/14  H-D Street Glide FLHX      1,540


Elias Viejo Viejo Madrid, SPAIN          07/25/14  H-D Road King Police       1,566
Enrique Melia    Madrid, SPAIN           07/25/14  H-D Electra Glide Ultra    1,566
David F. Castro  Madrid, SPAIN           07/25/14  H-D FLHR Road King         1,566
Jesus Santamarina Madrid, SPAIN          07/25/14  H-D Electra Glide Classic  1,566
Felipe Villacanas Madrid, SPAIN          07/25/14  H-D Electra Glide Classic  1,566

Robert Annandale Mineral, VA             07/24/14  BMW R1200GS                1,550
             * * * Robert is 66 years young on this ride! * * * 

Bill Astley      Richland, WA            07/24/14  BMW K1600GTL               1,530
Woodie Krugel    Roseburg, OR            07/21/14  Kawasaki Concours          1,530
             * * * Woodie is 67 years young on this ride! * * * 

Sharif Nijim     Granger, IN             07/17/14  Yamaha FJR1200A            1,562

Earth to Moon Bun Burner 1500 GOLD
Rich Rulau       Rosenberg, TX           07/16/14  Yamaha FJR                 1,516
             * * * Rich is 68 years young on this ride! * * *
Tim Masterson    San Marcos, TX          07/16/14  BMW R1200GS Adventure      1,517
             * * * Earth, Texas to Moon, Pennsylvania * * *

Del S. Brand     Sparks, NV              07/16/14  Honda GL1800A              1,568 BBG-NV
Lewis Ballard    Bettendorf, IA          07/15/14  H-D Ultra Limited          1,540

Renato Marquez   Newbury Park, CA        07/15/14  H-D Street Glide           1,505
Fely V. Juanero (passenger)              07/15/14  H-D Street Glide           1,505

Jerry Barron     Aiken, SC               07/11/14  BMW R1200RT                1,527
Brian Heitman    Copperas Cove, TX       07/05/14  H-D FLTRU Road Glide Ultra 1,512

Ulf Roger Nyberg Tobaccoville, NC        07/05/14  Husqvarna TR650 Terra      1,524

Gregg Lenentine  Virginia Beach, VA      07/03/14  Yamaha FJR                 1,530
Tom Atkinson     Magnolia, TX            07/03/14  Honda GL1800               1,513 BBG-TX

Daryn M. Wilbur  Lake Stevens, WA        06/27/14  H-D Screamin' Eagle        1,526
Vern Little      Lake Stevens, WA        06/27/14  H-D Ultra Limited          1,526

David Benoit     Tacoma, WA              06/25/14  BMW R1200GS                1,505 BBG-WY
Beth Madson      Battle Lake, MN         06/24/14  BMW R1200RT                1,512

Renato E. Marquez Newbury Park, CA       06/24/14  H-D Street Glide           1,515
Fely V. Juanero (passenger)              06/24/14  H-D Street Glide           1,515

Anatoly Khomenko Nefteyugansk, RUSSIA    06/24/14  Honda X4 LD                1,583
Michael Turnpenny Stirling, SCOTLAND     06/23/14  Yamaha FJR1300A            1,532 BBG-Western Australia

Jennifer Hammer  Fort Worth, TX          06/21/14  H-D Road King              1,515
Brian P. Hammer  Fort Worth, TX          06/21/14  H-D Ultra Classic          1,515

Brian Boles      Mesa, AZ                06/21/14  BMW K1600GTL               1,572

Larry M Reed     Roanoke, VA             06/20/14  Triumph Sprint RS 955i     1,525
Joel Howle       Hartsville, SC          06/20/14  BMW K1200LT                1,540
Allen Brown      Mount Carmel, IL        06/19/14  Honda Gold Wing GL1800     1,600

Mike Skates      Washington, MS          06/17/14  H-D Street Glide           1,518
Kenny Spear      Roxie, MS               06/17/14  H-D FLHX Street Glide      1,518
James Elveston   Natchez, MS             06/17/14  H-D Heritage Softail       1,518
             * * * James is 72 years young on this ride! * * * 

Sherrill Wright  Rome, GA                06/15/14  Honda ST1300               1,510
Marty Martin     Summerville, GA         06/15/14  Honda ST1300               1,510

Jegors Golubevs  Riga, LATVIA            06/15/14  Suzuki Intruder VS1400     1,510

Greg Larsen      Salina, KS              06/14/14  H-D Ultra Limited          1,570
Steve B. Baker   Salina, KS              06/14/14  H-D Street Glide           1,570

Robert Kellett   Greenwood, SC           06/14/14  Ducati Multistrada         1,556

Sergei Tsombaljuk Tallinn, ESTONIA       06/11/14  H-D Road King              1,530

Woodie Krugel    Roseburg, OR            06/11/14  Kawasaki Concours          1,535
             * * * Woodie is 67 years young on this ride! * * *
 
Sergei Tsombaljuk Tallinn, ESTONIA       06/11/14  H-D Road King              1,530
Trevor Mikkelsen Great Falls, MT         06/10/14  Yamaha FJR                 1,520 BBG-MT

Larry Brown      Grand Island, NE        05/31/14  H-D Street Glide           1,550
             * * * Larry is 67 years young on this ride! * * *

David Graves     Midland, MI             05/30/14  Ducati Multistrada 1000 DS 1,536
Larry M Reed     Roanoke, VA             05/30/14  Honda CB1000               1,530
Jim VanDenBerghe Newaygo, MI             05/30/14  Honda ST1100               1,528
Nathanael Light  Bellingham, WA          05/28/14  Yamaha FZ6                 1,528
Wes Fleming      Elizabeth City, NC      05/26/14  H-D Street Glide           1,520
Adam K. Gonzalez  Roslyn Heights, NY     05/24/14  Honda VTX1800R             1,531
Jeremy S. Brown  Petal, MS               05/24/14  BMW R1200GSA               1,570
L. Lee Hill      Houston, TX             05/22/14  Honda Gold Wing GL1800     1,502 BBG-TX
Clive Brown      Sooke, BC CANADA        05/21/14  H-D Road Glide             1,514 USA ride
Bob Chapman      Dameron, MD             05/21/14  BMW R1200RT                1,559

Jerry Allen      Hopkinsville, KY        05/18/14  Yamaha Road Star           1,510

2014 The Team Lyle Silver State Round-up Rally
Brian Casey      San Gabriel, CA         05/17/14  Yamaha FJR1300             1,524 BBG-NV
Patrick Ford     Lake Havasu City, AZ    05/17/14  Honda GL1800               1,800+ BBG-NV
Rebecca Martinez (passenger)             05/17/14  Honda GL1800               1,800+ BBG-NV
             * * * Patrick is 69 years young on this ride! * * *
Marc Beaulac     Gilbert, AZ             05/17/14  Honda GL1800               1,800+ BBG-NV
Matt Watkins     Pasco, WA               05/17/14  Yamaha FJR1300             1,800+ BBG-NV
Paul Stark       San Jose, CA            05/17/14  H-D CVO Road Glide         1,524 BBG-NV
Alan Hinman      Amargosa Valley, NV     05/17/14  BMW K1200LT                1,524 BBG-NV
             * * * Alan is 65 years young on this ride! * * *

Steven D. Husson Ephrata, PA             05/17/14  BMW R1200RT                1,545

Bob Saito        Florissant, MO          05/16/14  H-D FLSTC                  1,520
             * * * Bob is 66 years young on this ride! * * * 
Marion J. Ezell  Saint Louis, MO         05/16/14  H-D Screamin' Eagle Road   1,520
             * * * Marion is 66 years young on this ride! * * *

Hoagy's Heroes Lone Star Six Shooter
Bob Tobitt       Rosenberg TX            05/15/14  Honda Gold Wing            1,535 TX-BBG
Robert Hall      Cedar Park  TX          05/15/14  Honda ST1300               1,535 TX-BBG
Rich Rulau       Rosenberg TX            05/15/14  Triumph Sprint ST          1,535 TX-BBG
Robert Carmichael Glen Dale WV           05/15/14  H-D Road Glide             1,535 TX-BBG
Jeff Lee         Victoria BC             05/15/14  Yamaha FZ6                 1,535 TX-BBG

Shareef AsSadiq  San Diego, CA           05/13/14  Victory Cross Country      1,510
Hugh Smith III   Harbor City, CA         05/13/14  H-D Road Glide Ultra       1,510

Darryl Halbert   Fairburn, GA            05/11/14  Yamaha FJR1300             1,520

Roy Kjendal      Deerfield, NH           05/07/14  Honda Gold Wing GL1800A    1,543
             * * * Roy is 66 years young on this ride! * * *

Russ Neal        Milton, NH              05/02/14  Kawasaki Concours          1,554

Louis DeLustro   Lindenhurst, NY         05/04/14  Honda Gold Wing            1,520
Darren Thomas    Austin, MN              05/04/14  Honda Gold Wing            1,525
Tony Quaglieri   Schenectady, NY         05/03/14  Victory Cross Country Tour 1,559
Bill Ouellette   Gilbert, AZ             05/02/14  BMW K1600GTL/E             1,583

Meat Lovers BBG
Roy Hotchkin      Salisbury MD           05/02/14  Honda Gold Wing            1,533
Jim Bryan         Florida                05/02/14  Yamaha FJR1300             1,514

Mark Murray      Calgary, AB CANADA      04/30/14  Honda Gold Wing            1,560
Larry M Reed     Roanoke, VA             04/30/14  Honda Gold Wing GL1800     1,550
Anthony Osborne  West Palm Beach, FL     04/27/14  Yamaha FJR                 1,560

A.E. Morgan      Prescott Valley, AZ     04/26/14  H-D Road King              1,577
             * * * A.E. is 65 years young on this ride! * * *
 
Anthony Osborne  West Palm Beach, FL     04/24/14  Yamaha FJR                 1,566
Ward H. Wilson   Jacksonville, FL        04/20/14  BMW R1200GSA               1,555
Steven Rolland   Franklin, WI            04/17/14  Victory Vision 8-Ball      1,607

Guy S. Pierce    High Point, NC          04/17/14  BMW K1200LT                1,535
Daniel F. Wright Stoneville, NC          04/17/14  Honda Gold Wing            1,535

Brian L. E. Lane Redlands, CA            04/12/14  Kawasaki Nomad 1500        1,515
Michael Leon     Riverside, CA           04/12/14  H-D Street Glide           1,514

Dan Fulkerson    Phoenix, AZ             03/29/14  Victory Vision             1,518
Stacy Trotter    Buena Park, CA          03/29/14  Honda Gold Wing            1,550

Larry Meeker     Fleming Island, FL      03/25/14  BMW R1150GS                1,534
Bob Messer       Jacksonville, FL        03/25/14  BMW R1200GS                1,534

Garry Springgay  Gilbert, AZ             03/15/14  Honda ST1300               1,515
Matt L. Myers    Sherman, TX             03/11/14  H-D Road King              1,534 TX-BBG

IBA Daytona Party Ride In
Dan Highley      Greenfield, OH          03/09/14  H-D Super Glide            1,540
Marc Beaulac     Gilbert, AZ             03/08/14  Honda GL1800               1,621

IBA Southern Swing BBG 1500
Jeff Kohn                                03/13/14  Honda Gold Wing            1,510
Kit Chunhawong                           03/13/14  BMW R1200GSA               1,510
Ken Cook                                 03/13/14  BMW R1200RT                1,510
Scott Peters                             03/13/14  H-D Road King              1,510
John T. Red                              03/13/14  Honda Gold Wing            1,510
Jeff Shaw                                03/13/14  Honda Gold Wing            1,510
Paul Slaton                              03/13/14  Honda GL 1800              1,510
Bill Dunlap                              03/13/14  Honda Gold Wing 1800       1,510
Christopher Rooney                       03/13/14  H-D FLTRU Road Glide Ultra 1,510
James Burriss                            03/13/14  Victory Cross Country Tour 1,510
Rex LeGalley                             03/13/14  Honda GL1800               1,510
Drew Dill                                03/13/14  H-D CVO Road Glide         1,510

Darrin Volk      Easton, PA              03/12/14  H-D Night Train            1,522
Naivo Rajoelina  Keller, TX              02/28/14  Victory Vision 8-Ball      1,509
Wendell Phillips Sanford, FL             02/25/14  Honda NT700V               1,530 FL-BBG
             * * * Wendell is 70 years young on this ride! * * *
Fred Himstedt    Azle, TX                02/21/14  Kawasaki Concours          1,545
Wendell Phillips Sanford, FL             02/15/14  Honda NT700V               1,516
             * * * Wendell is 70 years young on this ride! * * *

Mitch Friedman   Beverly Hills, CA       02/14/14  Suzuki DL650 V-Strom       1,518
John O. Cooper   Woodland Hills, CA      02/14/14  Honda GL1800               1,518

Joe D. Crumpton  Greenville, TX          02/14/14  H-D Road Glide Ultra       1,565
Charlie Morton   Tulsa, OK               02/14/14  H-D Street Glide           1,523
Matt Lambert     Lakewood, CA            02/08/14  Honda 1800 Gold Wing       1,543

Paul Tong        Frisco, TX              02/01/14  Honda Gold Wing            1,515
Aaron Hamilton   Irving, TX              02/01/14  Yamaha Stratoliner         1,515

Dan Fouts        Albuquerque, NM         02/01/14  BMW K1200LT                1,576
Christopher Robinson Sacramento, CA      01/09/14  H-D Road Glide Custom      1,550

Dave McQueeney   West Covina, CA         12/21/13  BMW R1200R                 1,524 AZ-1500
             * * * Dave is 71 years young on this ride! * * *

David Fies       Bulverde, TX            12/16/13  Kawasaki Voyager           1,590

John Andruszka   Sierra Vista, AZ        11/24/13  Yamaha FJR1300             1,534

Ron Guire        Deltona, FL             11/16/13  Honda GL1800               1,520
Jim Bryan        Geneva, FL              11/16/13  Yamaha FJR1300             1,520

Charlie Morton   Tulsa, OK               11/15/13  H-D Street Glide FLHXS     1,523

Dmitry Petrukhin KAZAKHSTAN - USA RIDE   11/12/13  BMW K1200LT                1,505

Joe Fisher       Derry, Northern Ireland 11/01/13  BMW K1200RS                1,523

Katherine Johnston Jersy City, NJ        11/01/13  BMW F800ST                 1,505
Robert Wilensky  Newtown, PA             10/31/13  Suzuki DL1000 V-Strom      1,579

2013 Memorial Bun Burner Gold 
Joe Fisher       Derry, Northern Ireland 11/01/13  BMW K1200RS                1,523
David Bertrand   Cheyenne, WY            10/27/13  Honda Gold Wing            1,608
Bradley Whitman  Cheyenne, WY            10/27/13  Yamaha FJR1300             1,608

Betsy Young      Carrollton, TX          10/26/13  BMW R1200RT                1,515
Dianne Fox       Frisco, Texas           10/26/13  BMW R1200RT                1,515

Virgil Bowen     Lake Alfred, FL         10/26/13  BMW R1200GS                1,526
Rob Swann        Bartow, FL              10/26/13  BMW R1200GSA               1,526

Daniel Crenshaw  Los Gatos, CA           10/24/13  BMW K1200GT                1,653
Robert DiFilippo  Wichita Falls, TX      10/23/13  Yamaha FJR1300             1,610 TX-BBG
Jack Cheasty     Clarksville, TN         10/20/13  H-D Ultra Limited          1,530
             * * * Jack is 65 years young on this ride! * * *
Dale Gero        Tulsa, OK               10/20/13  Indian Chieftain           1,519

Gregory Waldner  Canmore, AB CANADA      10/16/13  BMW R1200RT                1,521

Michael Warner   Belleville, IL          10/12/13  Honda Gold Wing            1,544

Loren Timmons    Snohomish, WA           10/12/13  H-D Ultra Classic          1,553

Nick Balogh      Sun Valley, CA          10/11/13  Honda ST1300               1,528

Ted Shuster      San Diego, CA           10/09/13  Honda ST1300               1,530
             * * * Ted is 74 years young on this ride! * * *

Alexander Petrov RUSSIA                  10/07/13  H-D Electra Glide          1,540

Ian A. Fergusson Carriere, MS            10/02/13  BMW K1600GT                1,501

Ryan G. Koenig   Hernando, MS            09/27/13  Honda Nighthawk 750        1,590
David Broadway   La Vergne, TN           09/27/13  Honda Gold Wing            1,590

Jim Burriss      Greenville, SC          09/27/13  Yamaha V-Star 1100         1,555
Rick Sowry       Arcanum, OH             09/27/13  Triumph Tiger 800 XC       1,538

Dave McQueeney   West Covina, CA         09/22/13  BMW R1200R                 1,549 TX-BBG
             * * * Dave is 70 years young on this ride! * * *

Chris Rooney     Little Elm, TX          09/22/13  H-D FLTRU                  1,568
Prince E. Rich   Mechanicsville, VA      09/21/13  H-D Road Glide Ultra       1,502
Richard Viekman  Gallup, NM              09/21/13  Honda Gold Wing SE         1,529 NM-BBG
Robert Wilensky  Newtown, PA             09/20/13  Suzuki DL1000 V-Strom      1,531

Shane M. Davis   Cedar Rapids, IA        09/20/13  Yamaha FJR1300             1,527
Phillip Toconita Saint Paul, MN          09/20/13  Yamaha FJR1300             1,527

Chris Rooney     Little Elm, TX          09/14/13  H-D FLTRU                  1,542
Richard Tilbury  Vancouver, WA           09/10/13  Victory Hard-Ball          1,580
Erik Hunsaker    Conifer, CO             09/10/13  H-D Fat Bob                1,525

Ed Ritti         West Chester, PA        09/10/13  BMW R100RS                 1,510
             * * * Ed is 67 years young on this ride! * * *

2013 Memorial BBG in memory of David "DAVO" Jones – Far Rider #1 
Michael Turnpenny Stirling, SCOTLAND     09/08/13  Yamaha FJR1300A            1,531 Australia Ride

Ash Chesnut      Wheat Ridge, CO         09/07/13  Kawasaki Ninja 650R        1,511

Voytek Kulesza   Wonder Lake, IL         09/04/13  H-D FLHX                   1,585

Yevgeniy Malyshev RUSSIA                 09/03/13  Yamaha FJR1300A            1,551
Yriy Strelkov    RUSSIA                  09/03/13  Yamaha XT1200Z             1,551

Tom Atkinson     Magnolia, TX            09/01/13  Honda GL1800               1,511 TX-BBG

Chris Rooney     Little Elm, TX          08/31/13  H-D FLTRU                  1,530 TX-BBG
Chris Rooney     Little Elm, TX          08/24/13  H-D FLTRU                  1,564 TX-BBG

James W. Moore   Boone, IA               08/23/13  Kawasaki ZG1200            1,602
Bob King         Salem, OR               08/21/13  Honda Gold Wing GL1800     1,562

Rayment Stoyle   Parker, CO              08/17/13  BMW K1600GTL               1,530
Robert Walker    Parker, CO              08/17/13  BMW R1200RT                1,540

Larry M Reed     Roanoke, VA             08/16/13  BMW F650                   1,518
Keith Erlandson  Roland, IA              08/16/13  Suzuki DL650 V-Strom       1,541

Igor Loktionov   RUSSIA                  08/15/13  Honda GL1500SE             1,513

Don Blake        Pensacola, FL           08/15/13  Honda Gold Wing 1800       1,505
             * * * Don is 82 years young on this ride! * * *

Lynn Dimick      Westminster, CA         08/10/13  Honda GL1800               1,594

Alexey Stozhuk   RUSSIA                  08/03/13  BMW R1200RT                1,606
Marina Stozhuk (passenger)               08/03/13  BMW R1200RT                1,606

Donald Hostetler Vermilion, OH           08/07/13  H-D Ultra                  1,546
John O. Cooper   Woodland Hills, CA      08/06/13  Honda Gold Wing            1,518

John Inkson      Manly Vale,NSW AUSTRALIA08/02/13  Kawasaki 1400GTR           1,515

Thomas Bruce      Midland, TX            08/02/13  H-D FLHTPI                 1,504

Craig Harcombe   Lambton, NSW AUSTRALIA  07/30/13  Yamaha XT1200Z Super Tenere1,540

Vito Gallucci    Newnan, GA              07/30/13  H-D Road Glide             1,525
Don Duck         Oklahoma City, OK       07/27/13  BMW R1200RT                1,535
Corey J. LaFave  Pierre, SD              07/26/13  Can Am Spyder RT           1,545
David Stach      McDonough, GA           07/25/13  BMW K1200GT                1,524

Jerald Pagels    Montrose, CO            07/23/13  Kawasaki Concours          1,504
             * * * Jerald is 64 years young on this ride! * * *

Vladimir Dubovikov RUSSIA                07/22/13  BMW R1200GS                1,515

Alexandr Semenov RUSSIA                  07/20/13  Yamaha FJR1300             1,539
Valeriy Minkov   RUSSIA                  07/20/13  Honda XL1000 Varadero      1,539
Alexey Orlov     RUSSIA                  07/20/13  Honda XL1000 Varadero      1,539

Jason Sandercock Casper, WY              07/20/13  H-D Electra Glide Classic  1,530
Daniel Ott       Napa, CA                07/20/13  BMW R1200RT                1,570

Marcus Reynolds  Aurora, MO              07/16/13  BMW K1200LTC               1,525
Cierra Reynolds  Warrensburg, MO         07/16/13  Suzuki Burgman 650         1,525
             * * * Cierra is 16 years old on this ride! * * *

John Krupp       Columbus, OH            07/16/13  Kawasaki ZX14R             1,534
Dennis Kelly     Coralville, IA          07/15/13  Honda Gold Wing            1,545
Michael L. Cox   Moore, OK               07/15/13  BMW R1200RT                1,528
Will Barclay     Woodstock, NY           07/13/13  H-D Street Glide           1,675

Mikhail Marichev Moscow, RUSSIA          07/11/13  Honda Gold Wing GL1800     1,654

Larry Likewise   Gillette, WY            07/09/13  H-D FLHTCU                 1,560
Randy Likewise   Gillette, WY            07/09/13  H-D FLHTC                  1,560

Bradford Walker  Danville, CA            07/08/13  BMW GS Adventure           1,520
Kerry Nelson     Houston, TX             07/06/13  H-D Ultra Classic          1,565

Anastasia Kedrina Sunny Isles Beach, FL  07/05/13  H-D Electra Glide          1,510
Yuri Romanov      Sunny Isles Beach, FL  07/05/13  H-D Electra Glide          1,510

Tom Hoard        Battle Creek, MI        07/05/13  H-D Street Glide           1,502
Andrew Farkas    Toronto, ON CANADA      07/04/13  Yamaha XT1200Z             1,510

Renato Marquez   Newbury Park, CA        07/01/13  H-D Street Glide           1,505
Fely V. Juanero (passenger)              07/01/13  H-D Street Glide           1,505

Frans de Wet     Bullard, TX             06/29/13  Honda Gold Wing GL1800     1,511
Bettie de Wet (passenger)                06/29/13  Honda Gold Wing GL1800     1,511

Donald Brass     Ashtabula, OH           06/28/13  BMW K1200GT                1,502
Nila Brass (passenger)                   06/28/13  BMW K1200GT                1,502
Larry M Reed     Roanoke, VA             06/28/13  BMW R1200GS Adventure      1,520

Gregor Moe       Buffalo, MN             06/28/13  Victory Vision             1,530
Dan Larson       Prior Lake, MN          06/28/13  Victory Cross Country      1,530

David Fies       Bulverde, TX            06/27/13  Kawasaki Voyager           1,578
Chuck Miller     Anchorage, AK           06/26/13  BMW K1600GTL               1,545
Harry Knerr      Blandon, PA             06/25/13  H-D Road Glide             1,512
Ron Allan        Crystal River, FL       06/20/13  BMW K1200LT                1,554
Michael Lehman   Rock Springs, WY        06/23/13  Victory Vision Tour        1,534

Kevin Weller     Kent, UNITED KINGDOM    06/20/13  BMW R1200GS Adventure      1,555
Lynda Weller (passenger)                 06/20/13  BMW R1200GS Adventure      1,555

Dave McQueeney   West Covina, CA         06/20/13  BMW R100RS                 1,552 BBG-CA
             * * * Dave is 70 years young on this ride! * * *

Steve Snell      Kennesaw, GA            06/08/13  Honda Gold Wing            1,568
Richard L. Smith Roseville, CA           06/04/13  Honda Gold Wing            1,568

Dillon Brothers Wyde Open Iron Butt Bun Burner 1500 GOLD
Marvin Grove     Omaha, NE               06/02/13  H-D FLHT                   1,530
Bob Dobesh       Seward, NE              06/02/13  H-D Heritage Softail       1,530
Travis vonSeggern Fremont, NE            06/02/13  H-D Street Glide           1,530
Jared D. Jacob   Hastings, NE            06/02/13  H-D Street Glide           1,530
Gary Williams    Papillion, NE           06/02/13  H-D Heritage Softail FLSTCI1,530
Mordaunt Brabner Omaha, NE               06/02/13  H-D Road King FLHRCI       1,530
John A. Lindholm Omaha, NE               06/02/13  Victory Cross Country      1,530
Brian K. Kay     Minden, IA              06/02/13  H-D Ultra Limited FLHTK    1,530
Steve Bunnell    Earlham, IA             06/02/13  H-D FLTR                   1,530
Dale Ronfeldt    Hornick, IA             06/02/13  H-D Ultra Classic Electra  1,530
Kenneth Kesler   Omaha, NE               06/02/13  H-D Road Glide             1,530

Jason McDaniel   Manitowoc, WI           05/22/13  BMW R1200RT                1,543
Jeff Lee         Yellowknife, NT CANADA  05/21/13  Yamaha FZ-6                1,573

Arno Fritz       San Ramon, CA           05/19/13  BMW K1300GT                1,534
Rita Fritz (passenger)                   05/19/13  BMW K1300GT                1,534

Scott D. Benson  Sweet Home, OR          05/18/13  Yamaha FJR                 1,527 BBG-OR

The Team Lyle Nevada Stampede Rally
Patrick Ford     Lake Havasu City, AZ    05/18/14  Honda GL1800               1,524 BBG-NV
Rebecca Martinez (passenger)             05/18/14  Honda GL1800               1,524 BBG-NV
             * * * Patrick is 68 years young on this ride! * * *
Nancy Lefcourt   Carson, CA              05/18/13  BMW R1200RT                1,550 BBG-NV
David E. Walls   Ridgecrest, CA          05/18/13  H-D Road Glide             1,526 BBG-NV
Alan P. Hinman   Amargosa Valley, NV     05/18/13  BMW K1200LT                1,532 BBG-NV
Eric Vaillancourt Ivins, UT              05/18/13  Yamaha Super Tenere        1,524 BBG-NV
Ted Bosch        Visalia, CA             05/18/13  Honda Gold Wing            1,524 BBG-NV
Walter Wunderlich Sebastian, FL          05/18/13  Yamaha FJR1300             1,524 BBG-NV
Brad Warwick     Elko, NV                05/18/13  Yamaha FJR1300             1,524 BBG-NV
Justin Philipson Centennial, CO          05/18/13  Suzuki Hayabusa            1,800+ BBG-NV
Mark A. Fischer  Hesperia, CA            05/18/13  Honda CBR1100XX Blackbird  1,800+ BBG-NV
Matt Watkins     Pasco, WA               05/18/13  Yamaha FJR1300             1,800+ BBG-NV
Marc Beaulac     Gilbert, AZ             05/18/13  Honda Gold Wing GL1800     1,800+ BBG-NV

John Allie       Las Vegas, NV           05/16/13  H-D FLHX                   1,507
             * * * John is 67 years young on this ride! * * *

Hoagy's Heroes Lone Star Six Shooter
Robert Tobitt    Stafford, TX            05/16/13  Honda Gold Wing            1,544 BBG-TX
Ray Dodson       Napa, CA                05/16/13  BMW Adventure              1,544 BBG-TX
Doug Lasley      Roseville, MI           05/16/13  BMW K1200 LT               1,544 BBG-TX

James W. Lewis   Mount Vernon, MO        05/14/13  BMW 1200RT                 1,583
             * * * James is 73 years young on this ride! * * *

Daniel Simmonds  Somerset, PA            05/14/13  BMW R1200GSA               1,567
Darren Thomas    Austin, MN              05/07/13  Honda Gold Wing            1,517

Charles Gatecliff Brighton, MI           05/02/13  H-D Screaming Eagle Ultra  1,515
             * * * Charles is 75 years young on this ride! * * *

Dean Looney      Dallas, TX              04/27/13  Kawasaki Concours          1,534
Joe Eastep       Robinson, TX            04/27/13  BMW 1200GSA Adventure      1,574

Michael K. Tevis Charlotte Hall, MD      04/26/13  H-D Ultra Classic          1,503
Dominick Riggs   Great Mills, MD         04/26/13  H-D Road Glide Ultra FLTRU 1,503

John Cook        Hermiston, OR           04/26/13  H-D Street Glide           1,520

Sean R. Lagace   Moodus, CT              04/25/13  H-D CVO Street Glide       1,522
Ernie Thody      Moodus, CT              04/25/13  H-D FLHTK                  1,522

Brian G. Tripp   Patterson, CA           04/23/13  BMW R90/6                  1,550

Eric Henley      Bossier City, LA        04/21/13  H-D FLHTK                  1,524
Mario DeBlasio   McMurray, PA            04/21/13  H-D CVO Road Glide Ultra   1,524

BikerMonkey's BBG
Chris Rooney     Little Elm, TX          04/20/13  H-D FLTRU                  1,520 TX-BBG
Brian D. Harris  San Antonio, TX         04/20/13  Honda Gold Wing            1,552
Keith Paxton     Charlotte, NC           04/20/13  BMW R1200RT                1,534
Jason D. Hill    Granbury, TX            04/12/13  Yamaha FJR1300             1,542

Neftali Colon    Brooklyn NY             04/12/13  Kawasaki Concours          1,577
John Ryan        Long Valley, NJ         04/12/13  Yamaha FJR1300             1,577

Dave Hembroff    Pickerington, OH        04/12/13  Yamaha FJR1300A            1,526

Todd Lipps       Westminster, CA         04/08/13  Kawasaki Voyager 1700      1,512
John Paolino     Chino Hills, CA         04/08/13  Yamaha FJR1300             1,512

Bob Briggs       Memphis, TN             04/07/13  Honda Gold Wing            1,522

Jeffrey M. Horta Atwater, CA             03/28/13  BMW R1200GSA               1,525
Eric Osmer       Atwater, CA             03/28/13  H-D Road Glide             1,525

Rex LeGalley     Albuquerque NM          03/22/13  H-D CVO Street Glide       1,508

Dave McQueeney   West Covina, CA         03/19/13  BMW R100GS                 1,561 FL-BBG
             * * * Dave is 70 years young on this ride! * * *
 
Steve Diederich  Cicero, NY              03/18/15  Honda Gold Wing GL1800     1,560

Frederick Germain Rochester, NY          03/16/13  BMW R1200RT                1,512
Ken Aman         Wallkill, NY            03/16/13  Honda ST1300               1,524
Jim O'Dowd       Franklin, TN            03/16/13  Honda GL1800               1,524

Steve Bracken    Owasso, OK              03/15/13  Yamaha Venture Royale      1,551

Brian Walters    Sugar Land, TX          02/24/13  BMW R1200GS                1,541

Stephen Evans    Lake City, FL           01/26/13  Honda ST1300               1,610
             * * * Stephen is 65 years young on this ride! * * *

Mo Meeker        Kilmarnock, VA          01/10/13  BMW R1200RT                1,595
             * * * Mo is 66 years young on this ride! * * *

Bill Ouellette   Lawrenceville, GA       12/30/12  BMW R1200RT                1,573
Charles E. Huss  Mendota, IL             12/30/12  Honda 1800 Gold Wing Trike 1,538
             * * * Charles is 75 years young on this ride! * * *

Randy Schuler    Tucson, AZ              12/22/12  Honda Gold Wing            1,564
Rex LeGalley     Albuquerque, NM         12/20/12  H-D CVO Street Glide       1,815
Bill Ouellette   Lawrenceville, GA       12/14/12  BMW R1200RT                1,542

Dave McQueeney   West Covina, CA         12/11/12  BMW R100GS                 1,550 AZ-BBG
             * * * Dave is 70 years young on this ride! * * *

Rodney Finnell   Clovis, CA              11/30/12  BMW K1600GTL               1,535
Dave McQueeney   West Covina, CA         11/23/12  BMW R100GS                 1,575 CA-BBG
             * * * Dave is 70 years young on this ride! * * *
Ted Bosch        Visalia, CA             11/23/12  Honda Gold Wing            1,518
Matthew A. White Bow, NH                 11/10/12  Honda Gold Wing            1,570
Christopher Miller Aberdeen, MD          11/10/12  Kawasaki Concours 14       1,516
Anthony Spera    Springfield, IL         11/09/12  Yamaha FJR1300             1,582

Tom Atkinson     Magnolia, TX            10/27/12  Honda GL1800               1,539

Extreme BikerMonkey Baby Bed Challenge Bun Burner GOLD to benefit the Arms of Hope
Troy Martin      Mansfield, TX           10/20/12  Triumph Rocket III Touring 1,524
Richard Shipp    Fort Worth, TX          10/20/12  BMW R1200RT                1,524
Chris Rooney     Little Elm, TX          10/20/12  H-D Road King              1,524

John O. Cooper   Woodland Hills, CA      10/17/12  Honda Gold Wing            1,522

Stephen Sutton   Ridgecrest, CA          10/15/12  Yamaha Super Tenere        1,516
Lyle C. Monroe   Smyrna, TN              10/15/12  H-D Ultra Classic          1,526

Don Glover       Arcadia, LA             10/13/12  BMW K1600GTL               1,557
             * * * Don is 68 years young on this ride! * * *

2012 Memorial Bun Burner GOLD
Marc Beaulac     Gibert, AZ              10/06/12  Honda ST1100               1,509 AZ-BBG

Dave Waldo       West Liberty, IA        10/02/12  BMW R1200GS                1,572
             * * * Dave is 66 years young on this ride! * * *

Betsy Young      Carrollton, TX          09/29/12  BMW R1200RT                1,511
Diane Fox        Frisco, TX              09/29/12  BMW R1200RT                1,511

Everett Layton   Amarillo, TX            09/29/12  Honda GL1800 Gold Wing     1,510
Daniel G. Buis   Amarillo, TX            09/29/12  H-D CVO Ultra              1,510
Rex R. Snow      Amarillo, TX            09/29/12  Kawasaki Vulcan 1700 LT    1,510

John O. Williams Pesotum, IL             09/29/12  H-D Springer Softail       1,560
Robert DiFilippo Wichita Falls, TX       09/26/12  H-D FLHXI                  1,550
Daniel Crenshaw  Los Gatos, CA           09/22/12  BMW K1200GT                1,590

Eric Aldous      Winnemucca, NV          09/23/12  BMW R1200GSA               1,561
Rex LeGalley     Albuquerque, NM         09/22/12  H-D CVO Street Glide       1,543

Ralph Knauth     Belmont, CA             09/22/12  BMW R1150RT                1,590
Daniel Crenshaw  Los Gatos, CA           09/22/12  BMW K1200GT                1,590

Craig Felts      Henderson, NV           09/21/12  BMW K1200GT                1,526

Chris Bauer      Kennewick, WA           09/21/12  KTM 950 Adventure          1,514
William Tils     Kennewick, WA           09/21/12  BMW R1200GSA               1,514

MTF Founders Feast BBG
Greg Rice        Fort Lauderdale, FL     09/19/12  Honda Gold Wing            1,530

Tom Iago         Stillwater, MN          09/10/12  H-D Electra Glide Ultra    1,530
             * * * Tom is 69 years young on this ride! * * *

Bob Romiti       Mount Airy, MD          09/08/12  H-D Road King              1,507
Gary Sukowatey   Waunakee, WI            09/03/12  Honda VFR Interceptor      1,507
Brian Hall       Shingle Springs, CA     09/02/12  BMW K1200LT                1,542

Mike Schwartz     Teague, TX             09/01/12  Honda 1800 Gold Wing       1,563
Scott Noffsinger  Greenville, TX         09/01/12  H-D FLHTCUTG               1,563

Renato E. Marquez Newbury Park, CA       09/01/12  H-D Street Glide           1,520
Fely V. Juanero (passenger)              09/01/12  H-D Street Glide           1,520

Mike Schuster    Easton, MN              09/01/12  Victory Cross Country      1,540

Tyler Zimmerman  Porthill, ID            08/31/12  Yamaha FJR AE              1,512

Vasiliy Kochegarov RUSSIA                08/30/12  Suzuki Bandit 1250SA       1,615
Richard Cure     Pine Falls, MB CANADA   08/30/12  H-D Ultra Classic          1,554
David Graves     Midland, MI             08/25/12  Ducati Multistrada 1000DS  1,567
Walter G. Sharp  Stafford, VA            08/19/12  Honda GL1800 Gold Wing     1,545
James Alton      Rindge, NH              08/18/12  Honda ST1300               1,554
Lynn M. Meyers   Davenport, IA           08/18/12  H-D Softail Deluxe         1,521

William Workman  Lexington, NC           08/18/12  Honda Gold Wing            1,551

Joe Minnis       Altura, MN              08/16/12  Honda VTX1800R             1,527

2012 IBA InterNational Meet Denver Gold Rush Bun Burner 1500 GOLD
Rick Martin                              08/15/12  Honda 1800 Gold Wing       1,558
Chris McGaffin   IRELAND                 08/15/12  Yamaha FJR1300             1,558
Philip Weston    UK                      08/15/12  Yamaha FZ1                 1,529
Steve Branner                            08/15/12  H-D Road Glide             1,510
Sal Terranova                            08/15/12  Honda ST1100               1,543
Trey Nicoud                              08/15/12  BMW R12000RT               1,543
Dave  Biasotti                           08/15/12  BMW R1150RT                1,522
Joe Hallford                             08/15/12  Honda GL1800               1,536
George Kessinger                         08/15/12  BMW R1200RT                1,610
Tim Love                                 08/15/12  BMW GSA                    1,537
Anthony Osborne                          08/15/12  Yamaha FJR 1300            1,532
Jim Boone                                08/15/12  Yamaha FJR1300             1,532
Walter Gary Sharp, Sr.                   08/15/12  Honda GL1800 Lehman Trike  1,512

Karl Danielson   Louisville, KY          08/11/12  BMW K1600GT                1,597
Todd Perkins     Norman, OK              08/11/12  H-D Street Glide           1,520
Jim Tom Stimpson Sand Rock, AL           08/08/12  Victory Vision             1,504
Jonathan Ward    San Marino, CA          08/05/12  BMW K1200GT                1,528
Ed Usrey         Bakersfield, CA         08/04/12  Kawasaki Concours          1,613
Nathan B. Gaulke San Diego, CA           08/04/12  Kawasaki Ninja 250         1,512
Gean Taylor      Powder Springs, GA      08/03/12  Honda GL1800               1,534

Paul E. Prue     Cudjoe Key, FL          07/31/12  H-D FLHTC                  1,538

Charles Fider    Windsor, ON CANADA      07/28/12  BMW R100RT                 1,566
Robert Munden    Windsor, ON CANADA      07/28/12  Honda CBR125R              1,558
             * * * Robert is 66 years young on this ride! * * *

Brian Lehner     Parker, CO              07/27/12  H-D Ultra Classic          1,528
Ted Bosch        Visalia, CA             07/27/12  Kawasaki Concours 14       1,648

Jan Laursen      Hvalsoe, DENMARK        07/26/12  BMW R1200GS                1,578

2012 "End of Days - Zombie Apocalypse!"
Tyler Zimmerman  Porthill, ID            07/21/12  Yamaha FJR AE              1,682

Tom Atkinson     Magnolia, TX            07/21/12  Honda GL1800               1,542

Jake Zojonc      Mankato, MN             07/21/12  Victory Vegas 8-Ball       1,530
Mike Schuster    Easton, MN              07/21/12  Victory Cross Country      1,530
James C. Sanders Cornelius, NC           07/18/12  Honda Gold Wing            1,510
Jonathan M. Rusk East Stroudsburg, PA    07/07/12  BMW R1200RT                1,517


Doug Starkweather Gilby, ND              07/07/12  Yamaha Raider              1,501
John T. Waters   Emerado, ND             07/07/12  Yamaha Venture S           1,501

Anthony F. Mills Jersey City, NJ         07/07/12  Kawasaki Concours 14       1,545
Paul Tong        Frisco, TX              07/06/12  Honda Gold Wing            1,550 TX-BBG
Dennis Long      Dallas, TX              07/06/12  H-D Ultra Classic          1,520
Mark T. Starrett Fremont, CA             07/06/12  Yamaha FJR1300             1,516 CA-BBG

Warren Henderson Durham, NC              07/05/12  Suzuki Hayabusa            1,520
Peter L. Versoi  Durham, NC              07/05/12  H-D Sportster 883          1,520
Paul Bernasconi  Chapel Hill, NC         07/05/12  Suzuki Hayabusa            1,520

Rex LeGalley     Albuquerque, NM         07/03/12  H-D CVO Street Glide       1,518
Rex LeGalley     Albuquerque, NM         07/02/12  H-D CVO Street Glide       1,515

Capitol H-D Bun Burner 1500 GOLD
Jeff McDowell    Pinckney, MI            06/29/12  Suzuki Hayabusa            1,532

Terron Lindholme Burien, WA              06/30/12  Honda ST1300               1,582

Stuart B. Harner Mandan, ND              06/28/12  Honda GL1800               1,546
Stephen Schultze Potomac, MD             06/27/12  H-D CVO Ultra Classic      1,554
Scott Hilton, Sr.Austin, TX              06/24/12  H-D FLHTCU                 1,590

Craig Warner     Casper, WY              06/23/12  H-D Ultra Classic          1,510
Brian S. Gamroth Casper, WY              06/23/12  H-D Ultra Glide Classic    1,510

Rocky Bradfield  Bismark, IL             06/23/12  Yamaha FJR1300             1,580

Stephen Kauffman Yakima, WA              06/23/12  Kawasaki Concours          1,545
Michael Gonzalez Yakima, WA              06/23/12  BMW R1200RT                1,545

Rusty Atkins     Chapel Hill, NC         06/23/12  BMW R1200GS Adventure      1,513
Glen Minter      Wichita Falls, TX       06/23/12  H-D Screamin' Eagle Electra1,530

Gregory Muhsemann Penn Valley, CA        06/23/12  BMW 1150RT-P               1,568 NV-BBG
Ted Bosch        Visalia, CA             06/23/12  Triumph Tiger              1,520 NV-BBG

Rex LeGalley     Albuquerque, NM         06/20/12  H-D CVO Street Glide       1,581
Dale Bundy       Punxsutawney, PA        06/18/12  Honda Gold Wing            1,589
Martin M. Nadeau Palm Beach Gardens, FL  06/17/12  Yamaha FZ6R                1,558

Larry M Reed     Roanoke, VA             06/15/12  H-D Road King              1,552
Carolyn Reed (passenger)                 06/15/12  H-D Road King              1,552

Mark Lenson      Boca Raton, FL          06/13/12  H-D Ultra Classic          1,501
Joseph Corse     Saint Louis, MO         06/09/12  H-D Road King Classic      1,520
             * * * Joseph is 67 years young on this ride! * * *

Dave Hebert      Richland, WA            06/09/12  Honda Gold Wing            1,520
Craig Ruegsegger Altoona, IA             06/09/12  Yamaha FJR1300             1,543

Kenneth Foster   Republic, MO            06/09/12  BMW R1100RSL               1,549

John D. Donati   Lodi, CA                06/08/12  H-D Street Glide           1,510
Kurt Kruger      Parkersburg, IA         06/08/12  H-D Road King              1,550
Randy B. McCamey De Leon, TX             06/08/12  H-D Road King              1,555 TX-BBG
Ron Hansen       Lakewood, CO            06/08/12  Honda Gold Wing            1,664

J.-F. Assar      Bernex, SWITZERLAND     06/04/12  H-D Street Glide           1,514
J.-P. Rentsch    Meyrin, SWITZERLAND     06/04/12  H-D Street Glide           1,514
Gilles Tessier   Coublevie, FRANCE       06/04/12  H-D Road King              1,514
Michel Vaccon    Vaujany, FRANCE         06/04/12  H-D Street Glide           1,514

Kevin Kodz       Mohnton, PA             06/03/12  H-D Street Glide           1,519
Mike Heitkamp    Spirit Lake, IA         06/02/12  Kawasaki Concours 1400     1,561

Extreme Riding for Extreme Cancer Research
Robert Rogers    Southlake, TX           06/02/12  BMW K1200LT                1,516 TX-BBG
Paul Sexton      Weatherford, TX         06/02/12  Honda Gold Wing GL1800     1,516 TX-BBG
Matt Watkins     Allen, TX               06/02/12  H-D Ultra Classic / 2012   1,516 TX-BBG
Shane Clayton    Malakoff, TX            06/02/12  H-D Softail                1,516 TX-BBG

Larry Kuck       Zeeland, MI             06/02/12  BMW R1150GS                1,535
John Holwager    Thornton, CO            06/02/12  Yamaha FJR                 1,530 CO-BBG

Craig Brooks     Evergreen, CO           05/29/12  BMW R1200GS                1,552
Jeff Rebello     Berkley, MA             05/27/12  BMW K1200GT                1,501
Scott E. Johnson Keller, TX              05/26/12  Yamaha Super Tenere        1,530
Jim Orr          Chandler, OK            05/26/12  Honda Gold Wing            1,524
Rick Fox         Apex, NC                05/25/12  Kawasaki Concours          1,556
Matthew Leininger Decatur, IL            05/23/12  BMW 1150RT                 1,554
Craig Brooks     Evergreen, CO           05/23/12  BMW R1200GS                1,568

2012 Hard Butt Bun Burner GOLD
Pete Totter      Irving, TX              05/19/12  Honda Gold Wing            1,523
Arthur Collins   Stafford, TX            05/19/12  H-D FLHTI                  1,523
John Kirkpatrick Hurst, TX               05/19/12  H-D Electra Glide          1,523
Ronald Long      Jones, OK               05/19/12  H-D Electra Glide Limited  1,523
Daryl Marshall   Lawton, OK              05/19/12  H-D Softail                1,523
Eric Marshall    The Colony, TX          05/19/12  Honda 750 Shadow Aero      1,523
Ronald Milleman  Springtown, TX          05/19/12  Honda ST1300               1,523
Scott Noffsinger Greenville, TX          05/19/12  H-D FLHTCUTG               1,523
Philip Sears     McKinney, TX            05/19/12  BMW R1100RT                1,523
David Shireman   Cedar Hill, TX          05/19/12  Honda Valkyrie             1,523

Extreme Riding for Extreme Cancer Research
Brent M. Walters Euless, TX              05/19/12  H-D Heritage Softail       1,516 TX-BBG
John Sharp Jr.   Carrollton, TX          05/19/12  H-D Road Glide Ultra       1,516 TX-BBG

2012 The Team Lyle Alamo Express Rally
Chris Purney     Henderson, NV           05/19/12  H-D Street Glide           1,525 NV-BBG
Mark A. Fischer  Oak Hills, CA           05/19/12  Honda CBR1100XX Blackbird  1,525 NV-BBG
Scott D. Benson  Sweet Home, OR          05/19/12  Yamaha FJR                 1,525 NV-BBG
Nancy Lefcourt   Carson, CA              05/19/12  BMW R1200RT                1,523 NV-BBG
Gregory Muhsemann Penn Valley, CA        05/19/12  BMW K1200LT                1,524 NV-BBG
Mario Winkelman  Hoquiam, WA             05/19/12  BMW R1200RT                1,522 NV-BBG
Marc Beaulac     Gilbert, AZ             05/19/12  Honda GL1800               1,522 NV-BBG
Alan Hinman      Amargosa Valley, NV     05/19/12  BMW K1200LT                1,526 NV-BBG
Gary Currie      Fallbrook, CA           05/19/12  Honda ST1300               1,526 NV-BBG
Rick Tripp       Lebanon, OR             05/19/12  Honda ST1300               1,518 NV-BBG
Gregory Marbach  Maricopa, AZ            05/19/12  Yamaha FJR1300             1,800+ NV-BBG
Patrick J. Ford  Tehachapi, CA           05/19/12  Honda GL1800               1,525 NV-BBG
Rebecca Martinez (passenger)             05/19/12  Honda GL1800               1,525 NV-BBG
Doug Barrett     Sugarloaf, CA           05/19/12  Yamaha FJR1300             1,525 NV-BBG

Ted Black        Jackson, MS             05/19/12  BMW R1100RT                1,526

Alfred Vaughan   Richmond, TX            05/19/12  H-D Ultra Classic          1,544
Tim Masterson    San Marcos, TX          05/16/12  BMW R1200GS Adventure      1,546

Gordon Jaap      Creston, BC CANADA      05/13/12  Honda Gold Wing            1,644
             * * * Gordon is 71 years young on this ride! * * *

Ronald Demaray   Phoenix, AZ             05/10/12  Kawasaki Vulcan Nomad      1,558

Dexter Baker     Amherst, TX             05/04/12  Honda VTX1300              1,532 TX-BBG
Lee H. DeLeonard Roswell, NM             05/04/12  Honda Gold Wing            1,520 TX-BBG

Tim Masterson    San Marcos, TX          05/02/12  BMW R1200GS Adventure      1,575

Alexandr Smirnov RUSSIA                  05/01/12  BMW K1200S                 1,542

Troy S. Decker   Riverton, UT            04/29/12  BMW 1200GSA                1,505
Dwight Ball      Ridgecrest, CA          04/28/12  BMW K1600GT                1,556
Glen Minter      Wichita Falls, TX       04/28/12  H-D Electra Glide Ultra    1,522
Don Beiderwell   Fresno, CA              04/27/12  BMW R1200GS Adventure      1,512
Robert DiFilippo Wichita Falls, TX       04/25/12  H-D FLHXI                  1,558
Bill Hall        Palm Beach Gardens, FL  04/23/12  Honda ST1300A              1,592
John E. Olson    Minnetonka, MN          04/20/12  Honda Gold Wing 1800       1,550
Oliver Hirschfelder Commack, NY          04/20/12  BMW K1600GTL               1,514
James Bardin      Phoenix, AZ            04/20/12  Honda Gold Wing            1,501 AZ-BBG
 * * * Combined with Tour of Honor Sites - www.tourofhonor.com * * *
 
Oscar H. Gomez   Miami, FL               04/14/12  Yamaha V-Star 1100         1,523
Frenchy Roy      Miami, FL               04/14/12  H-D Street Glide           1,523

Scott Schuyler   Hershey, PA             04/07/12  BMW R1200RT                1,502

Jim Sartin       Turlock, CA             04/07/12  Suzuki Intruder            1,520
Jim Retemeyer    Atwater, CA             04/07/12  BMW K1200LTC               1,520

James Morrison   Verona, MO              03/31/12  Kawasaki Vulcan Nomad 1600 1,520
William Harp     North Las Vegas, NV     03/31/12  Kawasaki Vulcan 1600 Nomad 1,588

Keep the Wheels Turning Bun Burner GOLD
Rick Pridemore   Allen, TX               03/24/12  H-D Ultra Classic          1,519
Stan Dietz       Allen, TX               03/24/12  H-D Road Glide CVO         1,519

Scott Jewsbury   Fort Smith, AR          03/24/12  Yamaha FJR1300             1,550

Jonathan Vickery Signal Mountain, TN     03/19/12  BMW R1200RT                1,522
              * * * Jonathan is 67 years young on this ride! * * *

Larry Raffler    Troy, MI                03/19/12  Honda Gold Wing            1,587
              * * * Larry is 72 years young on this ride! * * *

Rex LeGalley     Albuquerque, NM         03/19/12  H-D CVO Street Glide       1,558
Russell Swett    Metamora, MI            03/19/12  Suzuki M109R               1,518
Hal Regi         Tyrone, GA              03/15/12  Honda GL1800               1,518
Nathan S. Monie  Marietta, GA            03/15/12  Honda Rune                 1,518

Daniel P. Leo    Bridgewater, MA         03/14/12  H-D Road Glide CVO         1,512

Rex LeGalley     Albuquerque, NM         03/11/12  H-D CVO Street Glide       1,534
Garry Springgay  Gilbert, AZ             03/13/12  H-D FLHTCUI                1,518

Jack Dannenberg  Albuquerque, NM         03/11/12  BMW R1200RT                1,532
             * * * Jack is 67 years young on this ride! * * *

Larry Raffler    Troy, MI                03/11/12  Honda Gold Wing            1,502
             * * * Larry is 72 years young on this ride! * * *

Daniel Wittry    Oswego, IL              03/01/12  BMW K1600GTL               1,510

Eduardo Menin Ferreira BRAZIL            02/18/12  BMW 1200GS Adventure       1,532
Neander Mauro Gualberto BRAZIL           02/18/12  Honda Varadero 1000        1,532

Dave McQueeney    West Covina, CA        02/16/12  BMW R100GS                 1,534
             * * * Dave is 69 years young on this ride! * * *

Dave Hendricks   Cave Creek, AZ          01/05/12  BMW R1200RT                1,582
             * * * Dave is 67 years young on this ride! * * * 

Rex LeGalley     Albuquerque, NM         12/30/11  H-D CVO Street Glide       1,516
Rex LeGalley     Albuquerque, NM         12/28/11  H-D CVO Street Glide       1,516

James B. Weaver  Atlanta, GA             11/12/11  BMW R1150RT                1,524
Bill Ouellette   Lawrenceville, GA       11/12/11  BMW R1200RT                1,559

Doug Tessendorf  Mesa, AZ                11/11/11  BMW R1200RT                1,525
Gregory Marbach  Maricopa, AZ            11/01/11  Yamaha FJR1300             1,706

Glenn P. Lynch   Venetia, PA             10/16/11  H-D CVO Ultra              1,504
Bernie Sapp      Denver, CO              10/15/11  BMW K1200GT                1,558

Jack Shoalmire 50 In-state SaddleSore 1000 Tribute ride
John C. Ryan     Long Valley, NJ         10/15/11  BMW K75                    1,655 NJ-BBG
Steve Short      Fair Grove              10/15/11  Honda Gold Wing            1,519 MO-BBG
Nick Dodgson     Cheyenne, WY            10/15/11  Honda Gold Wing            1,512 CO-BBG
Tyler Zimmerman  Porthill, ID            10/15/11  Yamaha FJR1300AE           1,554 MT-BBG

Adam B. Keeling  Lynnwood, WA            10/15/11  Yamaha FJR1300 AE          1,555
Thomas Styczynski Santa Barbara, CA      10/11/11  Honda ST1300               1,572
John McDonough   Havertown, PA           10/08/11  Honda VTX1800N3            1,506
Daniel Simmonds  Somerset, PA            10/08/11  BMW R1200GS                1,550
John McDonough   Havertown, PA           10/07/11  Honda VTX1800N3            1,505

Eric Chernin     Sarasota, FL            10/07/11  Honda ST1300A              1,535
Scott S. Lambe   Roswell, GA             10/07/11  H-D Electra Glide Classic  1,535
Bob Armbruster   Plant City, FL          10/07/11  Honda GL1800               1,530

Kenny Cox        Hendersonville, NC      09/24/11  Yamaha Venture             1,524
Jacquline Hensley (passenger)            09/24/11  Yamaha Venture             1,524

Dan Larson       Prior Lake, MN          09/24/11  Victory Cross Country      1,620
Nathan Townsend  Yuma, AZ                09/23/11  BMW R1200RT                1,538
Philip Borkholder Vicksburg, MI          09/17/11  Honda Shadow Spirit 1100cc 1,541

L.K. Braunig     Mahomet, IL             09/17/11  H-D Ultra Classic Tour     1,524
Timothy Swigart  Tolono, IL              09/17/11  Honda Gold Wing            1,524
Robert Troy      Urbana, IL              09/17/11  H-D FLHTCUSE3              1,524
Steve Van Vleet  Champaign, IL           09/17/11  H-D Road King Classic      1,524

Danny Lee        Tallahassee, FL         09/16/11  Kawasaki ZG1000            1,550 BBG-FL
Gary Nofsinger   Marcellus, MI           09/15/11  BMW R1200GS                1,528
John C. Ryan     Long Valley, NJ         10/15/11  BMW K75                    1,655 NJ-BBG
Nick Dodgson     Cheyenne, WY            10/15/11  Honda Gold Wing            1,527
               * * * Nick also completed in-state CO-BBG of 1,512 miles ***
Tyler Zimmerman  Porthill, ID            10/15/11  Yamaha FJR1300AE           1,554 MT-BBG
Steve Short      Fair Grove              10/15/11  Honda Gold Wing            1,519 MO-BBG

Norbert Wienck  Kaltenkirchen Deutschland09/13/11  Moto Guzzi Stelvio NTX     1,621

Todd LeClair     Bonfield, IL            09/12/11  Honda Gold Wing            1,515
John L. Williams Kankakee, IL            09/12/11  Kawasaki Concours ZG1400   1,515

Loren Timmons    Snohomish, WA           09/10/11  H-D Classic                1,551

Werner Schiemann Sonsbeck  Deutschland   09/09/11  Honda GL 1800              1,548
Doris Schiemann  Sonsbeck  Deutschland   09/09/11  Honda GL 1800              1,548

Neil Godfrey     Fort Mill, SC           09/09/11  H-D FLHTCI                 1,535
Chris Hicks      North Myrtle Beach, SC  09/09/11  H-D Road Glide             1,535
Ron B. McKinney  Fort Mill, SC           09/09/11  H-D Electra Glide Ultra    1,535

Anthony Osborne  West Palm Beach, FL     09/08/11  Yamaha FJR                 1,564

Rory Jorgensen   West Fargo, ND          09/04/11  H-D Street Glide           1,554
John Freeman     Horace, ND              09/04/11  H-D Ultra                  1,554

Daniel G. Buis   Amarillo, TX            09/04/11  H-D FLHTK                  1,590
Mark Janco       Bloomington, MN         09/04/11  Honda ST1300               1,530
Ed Milot         Montrose, PA            09/03/11  BMW K1200LT                1,558

Dennis Archer    Plano, TX               09/03/11  BMW R1150RT                1,517
John Martin      Plano, TX               09/03/11  BMW K1200GT                1,517

Rayment Stoyle   Parker, CO              09/03/11  BMW K1600GTL               1,662
             * * * Rayment is 65 years young on this ride! * * * 
Mike L. Myren    Anoka, MN               09/03/11  Yamaha FJR1300             1,638
Mike Szabo       Arvada, CO              09/03/11  BMW R1200RT                1,561
David Osborn     Danville, CA            09/02/11  H-D Road King              1,510

Ken E. Thompson  Benton, KY              08/31/11  H-D FLHTK                  1,516

Curt Tutell      Marengo, IL             08/26/11  BMW K1200LT                1,588
Lisa Tutell (passenger)                  08/26/11  BMW K1200LT                1,588

Gregor Moe       Buffalo, MN             08/26/11  Victory Vision             1,520
Lee Pomeroy      Elk River, MN           08/26/11  Victory Vision             1,520

J. R. Pierce     New Hudson, MI          08/25/11  H-D Ultra Classic Limited  1,612

Jim Grafner      Longmont, CO            08/20/11  H-D Ultra Classic Limited  1,523
Jenny Tubbesing (passenger)              08/20/11  H-D Ultra Classic Limited  1,523

Fred A. Kreider  Louisville, CO          08/20/11  H-D FLHTCUSE CVO Ultra     1,552
Deborah M. Kreider (passenger)           08/20/11  H-D FLHTCUSE CVO Ultra     1,552

Vito Gallucci    Newnan, GA              08/14/11  H-D Road Glide             1,516
David Nelson     Franklin, WI            08/13/11  H-D Electra Glide          1,598

David Holloway   Gower, MO               08/13/11  Honda Gold Wing            1,558
Gregory Golden   Holt, MO                08/13/11  Honda Gold Wing            1,558

Ken Hill         El Dorado, KS           08/13/11  H-D Ultra                  1,532
Michael Monaghan Rochester, NY           08/09/11  H-D Road King Classic      1,542
Lyle R. Grenz    Sioux Falls, SD         08/09/11  H-D Fat Boy                1,602
Chester R. Koch  Peebles, OH             08/07/11  H-D Ultra Classic          1,520
Don Leemhuis     Tuscaloosa, AL          08/06/11  Honda Gold Wing            1,548
William Hoffner  Burbank, CA             08/06/11  BMW GS Adventure           1,512
Calvin J. Haskew Marysville, WA          08/06/11  Victory TC                 1,506
Galen Evans      Acworth, GA             08/05/11  Suzuki V-Strom DL650       1,506
Paul T. Mundy    Philadelphia, PA        08/02/11  H-D Ultra Limited          1,543

Leo L. McKeown   Clovis, NM              07/31/11  Yamaha Super     1,502
David Strickler  Escondido, CA           07/31/11  Yamaha R1        1,524

Gwen Phillips    Culpeper, VA            07/30/11  BMW K1100RS      1,612

Joe Caron        Bloomington, MN         07/30/11  Honda GL1800     1,552
Tina Caron (passenger)                   07/30/11  Honda GL1800     1,552

Dennis Klemmer   Federal Way, WA         07/30/11  BMW R1100RT      1,525
Byron LaFontaine Montz, LA               07/30/11  H-D FLHPI        1,510
Tom Cotter       Green Bay, WI           07/23/11  Honda ST1100     1,569
Duncan Ragsdale  Memphis, TN             07/20/11  BMW R1200GS      1,512
Marvin Grove     Omaha, NE               07/17/11  H-D FLHT         1,531
Anthony Osborne  West Palm Beach, FL     07/16/11  Yamaha FJR       1,633
Randy L. Sheets  Parker, CO              07/16/11  H-D Heritage     1,507
Roger Buis       Baker, FL               07/12/11  H-D Electra Glide1,524
John R. Cook     Hermiston, OR           07/11/11  H-D Street Glide 1,530
Guy Wigley       Bellevue, WA            07/09/11  Yamaha FJR1300A  1,564
Justin Philipson Highlands Ranch, CO     07/09/11  Suzuki Hayabusa  1,551
Ed Benson, Sr.   Charlotte, NC           07/09/11  H-D UltraLimited 1,570

Bruce H. Smith   Camp Douglas, WI        07/08/11  Kawasaki Concours1,538
Michael Osborne  Camp Douglas, WI        07/08/11  H-D FLHTCUI      1,538

Kristen Langley  Tacoma, WA              07/07/11  Honda Gold Wing  1,529
Steve Hoswell    Fair Oaks, CA           07/04/11  BMW K1200LT      1,508

Richard Dyer     North Pekin, IL         07/03/11  H-D Ultra Classic1,510
Alice Dyer (passenger)                   07/03/11  H-D Ultra Classic1,510

Kenneth M. Hatch Tucson, AZ              07/03/11  Honda GL1800     1,516
             * * * Kenneth is 68 years young on this ride! * * * 

Vitaliy Matveyev Moscow, RUSSIA          07/02/11  Honda GL1800     1,633

Bill Ouellette   Lawrenceville, GA       07/01/11  H-D Ultra Classic1,521

Sergey Press      RUSSIA                 06/29/11  BMW K1300S       1,667

Paul Christianson Amherst, WI            06/29/11  Big Dog K-9      1,520
Tonie Cowen      Big Stone Gap, VA       06/25/11  BMW R1200RT      1,552
John J. Towery   Spanaway, WA            06/25/11  H-D Ultra        1,560

Doug Davenport   Great Falls, MT         06/25/11  H-D Road Glide   1,529
Ray Ciolkosz     Great Falls, MT         06/25/11  H-D Limited      1,529

Glen Kenney      Colmesneil, TX          06/25/11  Honda GL1800     1,578 TX-BBG
Scott Hamilton   Ankeny, IA              06/25/11  BMW K1200LT      1,506

Corey Schroeder  Neillsville, WI         06/24/11  Suzuki Hayabusa  1,524
Benjamin Seehafer Marshfield, WI         06/24/11  Yamaha FZ1       1,524

Kentaro Roy      Canton, MI              06/24/11  BMW R1200GS      1,535
Ariel Domke (passenger)                  06/24/11  BMW R1200GS      1,535

Renato Marquez   Newbury Park, CA        06/18/11  H-D Street Glide 1,501
Steven Rolland   Franklin, WI            06/18/11  Victory Vision   1,528

Bob Baker        Ogema, MN               06/18/11  VictoryCrossRoads1,552
Daniel Morrison  Detroit Lakes, MN       06/18/11  H-D Ultra Classic1,552

Paul W. Meyer    Herlington, KS          06/18/11  Kawasaki Nomad   1,601
Joe Williams     Woodbine, KS            06/18/11  H-D Ultra Classic1,601

Bill Williamson  Bryson City, NC         06/15/11  Kawasaki Vulcan  1,508
Anthony Osborne  West Palm Beach, FL     06/05/11  Yamaha FJR       1,567
Jeff Dangel      Yankton, SD             06/04/11  Yamaha V-Star    1,514
Thomas F. Kane   Pittsboro, NC           06/04/11  H-D FLHTC        1,520
Greg Rice        Fort Lauderdale, FL     05/28/11  Honda Gold Wing  1,520
James O'Connor   Whitehouse, TX          05/28/11  Honda GL1800     1,538 TX-BBG
Craig Brooks     Evergreen, CO           06/01/11  H-D Road Glide   1,558

Jeff Lofton      North Las Vegas, NV     05/28/11  H-D Road King    1,504

Stephan Wasion   Mount Carmel, IL        05/22/11  Triumph Tiger    1,555
Jay Jones        Evansville, IN          05/22/11  Suzuki Burgman   1,555

Mike Young       Dallas, TX              05/21/11  Honda Gold Wing  1,510
Martin Sonnier   Lamarque, TX            05/21/11  Kawasaki Concours1,510

James L. Weech   Safford, AZ             05/20/11  H-D FXSTC        1,501
Matthew M. Ertel Jacksonville, NC        05/14/11  Yamaha V-Star    1,501

Alexandr Verbitki San Jose, CA           05/13/11  Kawasaki VN1600  1,508
David Vardeman   Lake Park, GA           05/12/11  Honda VTX1800    1,536

Brad Adams       Seymour, TN             05/12/11  Honda Gold Wing  1,521
George Maples    Friendsville, TN        05/12/11  Honda Gold Wing  1,521
             * * * George is 69 years young on this ride! * * * 

Douglas Hammond  Dundee, NY              05/12/11  H-D Ultra        1,501
Kenneth Padden   Andover, NY             05/12/11  H-D Street Glide 1,501

Charley Barnes   Greeley, CO             05/07/11  H-D Electra Glide1,502
Jonathan P. Tan  Philadelphia, PA        05/07/11  Honda Silver Wing1,520
Michael Thompson Benton, KY              05/02/11  H-D Ultra Classic1,508

Jeff C. Jensen   Fort Collins, CO        04/30/11  BMW K1200LT      1,529
Aimee A. Jensen (passenger)              04/30/11  BMW K1200LT      1,529

Chuck Garner     Arlington, AZ           04/24/11  Honda Gold Wing  1,530
Jeff Miller      Plainville, KS          04/22/11  Honda GL1800     1,558

Brian Francis    Phoenix, AZ             04/03/11  Yamaha Venture   1,518
Steven Proctor   Phoenix, AZ             04/03/11  Yamaha RoyalStar 1,518

Bryan C. Klein   Bangor, PA              04/03/11  Honda Gold Wing  1,565
Richard Workman  Lehighton, PA           04/03/11  Honda Gold Wing  1,565
             * * * Richard is 68 years young on this ride! * * *

Dofin A. Fritts  Molino, FL              04/01/11  Suzuki GT500     1,556

Owen L. Balduf   Ypsilanti, MI           03/30/11  BMW R1200GS Adv. 1,575

Mike Brown       Harrisburg, NC          03/10/11  Honda Gold Wing  1,550

Bryan Terry      Amarillo, TX            03/18/11  H-D Ultra Classic1,530
Sandy Terry (passenger)                  03/18/11  H-D Ultra Classic1,530

Bryan McCrary    Lexington, NC           03/10/11  Yamaha FZ6       1,550
J. Bruce McCrary Lexington, NC           03/10/11  Yamaha FJR1300   1,550

Bronce Smith     Bonne Terre, MO         03/10/11  BMW R1200GSA     1,526
Delbert Morse    Norfolk, NE             03/03/11  Triumph Tiger    1,606

Tom Cox          Weatherford, OK         02/17/11  BMW R1200GS      1,539
Greg Rice        Fort Lauderdale, FL     01/29/11  Honda Gold Wing  1,530 FL-BBG

Mike Riley       Yukon, OK               01/28/11  BMW K1200LT      1,542
Douglas von Roeder Irvine, CA            01/01/11  Honda GL1800     1,508
Karl F. Best     Ardmore, PA             12/30/10  BMW R1150RT      1,520
Barry D. Birch   Scottsdale, AZ          12/17/10  Kawasaki Concours1,516
Scott C. Foster  Wilmington, DE          11/26/10  BMW R1200GSA     1,520
Kenneth Burditt  Wichita, KS             10/15/10  Honda GL1800     1,524
Bobbi Burditt (passenger)                10/15/10  Honda GL1800     1,524
Steven E. Fidler Wichita, KS             10/15/10  Honda GL1200     1,524
Steven Nielsen   Wichita, KS             10/15/10  BMW R100RT       1,524
Jim Crombie      Medicine Lodge, KS      10/15/10  BMW R100RT       1,524
Lori Crombie (passenger)                 10/15/10  BMW R100RT       1,524

Eric D. Bray     Las Vegas, NV           11/12/10  BMW R1150GS      1,526
Johnny Walker    Monterey, TN            10/09/10  BMW K1200LT      1,535
Jeff Blackburn   Zeeland, MI             10/09/10  H-D FLHT         1,533
Sidney Daniels   Pinetops, NC            10/06/10  Aprilia Futura   1,532

Kenneth Lyons    Kaufman, TX             10/05/10  Honda Gold Wing  1,508 TX-BBG
Celeste Lyons (passenger)                10/05/10  Honda Gold Wing  1,508 TX-BBG

Koby Langsner    Calgary AB              10/04/10  Triumph SprintST 1,512

John E. Stamps   Fort Myers, FL          10/04/10  BMW 1200RT       1,529
             * * * John is 65 years young on this ride! * * *

Mike Gartland    Harker Heights, TX      10/02/10  H-D Electra Glide1,535 TX-BBG
Bob Wolford      Killeen, TX             10/02/10  H-D Street Glide 1,535 TX-BBG
Brian K. Schultz Harker Heights, TX      10/02/10  H-D Road King    1,535 TX-BBG

Koby Langsner    Calgary AB              09/26/10  Triumph SprintST 1,535
Gary L. Osborn   Lees Summit, MO         09/26/10  H-D Softail      1,551
Dan Leffert      Castle Rock, CO         09/25/10  H-D Ultra Limited1,507
Rick Burris      Carefree, AZ            09/24/10  H-D FLHTCUSE5    1,528

Bikers-4-Babies BunBurner 1500 Gold
Louann Cunningham                        09/11/10  H-D Fat Boy      1,523
Alan Carpenter                           09/11/10  H-D Ultra Limited1,523

Hoagy's Heroes BBG
Jim Combs        St. Clairsville, OH     09/16/10  H-D Ultra        1,512
Jeff Lee         Yellowknife, NT         09/16/10  Yamaha FZ6       1,512
Bobby Pennock    Beverly, OH             09/16/10  H-D Ultra        1,512
Raymond Clarkston Medford, MA            09/16/10  BMW R1200RT      1,512
Robert Carmichael Mondsville, WV         09/16/10  H-D Ultra        1,512

Richard Tilbury  Troutdale, OR           09/13/10  H-D Ultra Classic1,576

James E. Judge   Mooreland, OK           09/11/10  H-D Ultra Classic1,507
             * * * James is 74 years young on this ride! * * *

Danny Fagg       Lawrenceville, GA       09/11/10  Kawasaki Vulcan  1,568
Rick Head        Lawrenceville, GA       09/11/10  Honda Gold Wing  1,568
Wayne McAlexander Monroe, GA             09/11/10  Yamaha Venture   1,568
     
Ride for Children Bun Burner 1500
Michael O'Bannon Frisco, TX              09/11/10  Honda VTX1300R   1,518
Tammy Turner     Frisco, TX              09/11/10  H-D Heritage     1,518
Ronald Milleman  Springtown, TX          09/11/10  BMW K1200RS      1,518
Rayman Cornmesser Colorado Springs, CO   09/11/10  BMW R1100RT      1,518
Lynn Raines      Garland, TX             09/11/10  H-D Ultra Classic1,518

Ian McPhee       Beenleigh, AUSTRALIA    09/08/10  Triumph RocketIII1,599
Pete Gibb        Youngstown, OH          09/08/10  Honda Valkyrie   1,512
Nick Macchione   Girard, OH              09/08/10  Suzuki M109R     1,512

Glacial Lakes Motorcycle Club
Timothy Lindgren Roseville, MN           09/05/10  Honda Valkyrie   1,550
Scott Madson     Battle Lake, MN         09/05/10  BMW R1200RT      1,550
Neil E. Smith    Watertown, SD           09/04/10  Moto Guzzi Breva 1,550

Jolie LaChance   Las Vegas, NV           09/04/10  Honda Magna 750  1,560
Donald L. Burris Enid, OK                09/04/10  Yamaha Virago    1,534
Christopher Seddon Southwick, MA         09/04/10  Kawasaki ZZR1200 1,548
Art Johnson      Topeka, KS              09/03/10  Honda Gold Wing  1,528
Lee Miller       Iowa City, IA           08/28/10  Honda ST1300     1,592
J. Kevin Lowe    Dover, NJ               08/28/10  H-D FLHTCU       1,526
Russell Dickerson Crossville, TN         08/27/10  Honda ST1300ABS  1,513
Keith W. Love    South Range, WI         08/27/10  H-D Street Glide 1,530
Rick Armour      Holland, PA             08/27/10  Triumph Tiger    1,550
Michael Boge     Sandpoint, ID           08/22/10  Honda ST1300     1,520
Mike Bowling     Sharonville, OH         08/18/10  Kawasaki Concours1,549
James Nichols    Las Vegas, NV           08/18/10  BMW R1200S       1,542

Hoagy's Heroes Bun Burner GOLD 
Nathan S. Monie  Smyrna, GA              09/02/10   Honda Rune      1,531
Hal Regi         Tyrone, GA              09/02/10   Honda GL1800    1,531

Ernie Azevedo    Milwaukie, OR           08/14/10  BMW K1200LT      1,526

Brock Stewart    Fargo, ND               08/13/10  H-D Road King    1,512
Joe Fluge        Fargo, ND               08/13/10  Indian Scout     1,512

IBA National Mile High Ride In
Michael Sinisi                           08/10/10  BMW K1200LT      1,520
Melissa Sinisi (passenger)               08/10/10  BMW K1200LT      1,520
Elvie Brown                              08/10/10  H-D Ultra Classic1,524
Barbara Smith                            08/11/10  Yamaha FZ6       1,537
Josh Lawrence                            08/11/10  Honda VFR        1,610
Alexander Harper                         08/10/10  Yamaha FJR1300   1,519
Jeff Hallquist                           08/11/10  H-D Road Glide   1,541
Eldon Cannon                             08/09/10  Honda Gold Wing  1,513

Garth Tomic      Sweet Home, OR          08/08/10  Suzuki V-Strom   1,800+

Scott Lockwood   Lighthouse Point, FL    08/10/10  H-D Heritage     1,629
Kenneth Brown    Royse City, TX          08/08/10  Honda Gold Wing  1,513
David Martz      Stone Ridge, VA         08/07/10  BMW 1200GS Adv.  1,560
Matt Wise        Wichita, KS             08/05/10  BMW R1200RT      1,572
Mark A. Chavis   Pembroke, NC            08/04/10  H-D Street Glide 1,564
Corey Langridge  Stuart, FL              08/03/10  Honda ST1300 ABS 1,528

Connie Gabrick   Lakeville, MN           07/30/10  Victory Vision   1,538
Robert F. Reid   Germantown, MD          07/28/10  BMW R1100RT      1,552
Christopher Facciol Brighton, ON CANADA  07/27/10  BMW R1200GS Adv. 1,535

Rick Hieb        Fort Calhoun, NE        07/24/10  H-D Ultra Classic1,535
Jon W. Rojewski  Hastings, NE            07/24/10  H-D Road Glide   1,535

Douglas Tebbs    Salt Lake City, UT      07/16/10  BMW R1200RT      1,539
Rusty Bachman    Pasco,WA                07/15/10  BMW R1150GS      1,535
Ross L. Moore    Geneva, FL              07/14/10  BMW R1200RT      1,516

Robert Edwards   Saint Joseph, MN        07/14/10  Kawasaki Vulcan  1,530
Keith Parrish    Hutchinson, MN          07/14/10  Honda Gold Wing  1,530

Steve Makela     Rochester, MN           07/14/10  BMW R1100RT      1,551

Stephen Efthyvoulou Ledgewood, NJ        07/13/10  Honda ST1300     1,526
Michael Boucher  Newark, DE              07/13/10  Honda ST1300A    1,526

Shelby Lawson    Versailles, KY          07/11/10  BMW R1150RT      1,518
Ross Walker      Wilmington, NC          07/10/10  Kawasaki Concours1,620

Luis A. Garcia   Palm Desert, CA         07/10/10  H-D Ultra Classic1,532 CA-BBG
Jerry K. Averett La Quinta, CA           07/10/10  H-D Ultra Classic1,532 CA-BBG

Kenneth Sampson  Sharpsville, PA         07/07/10  BMW 1200GS       1,514
             * * * Kenneth is 72 years young on this ride! * * *

Andrew McCullagh Canyon Lake, TX         07/07/10  Aprilia Caponord 1,512
Daryl Mahoney     Edmonton, AB           07/07/10  H-D Road King    1,506
Michael R. Breton Franklin, MA           07/07/10  Honda ST1100     1,564
Tim Olsen         Simi Valley, CA        07/05/10  BMW R1100RT      1,552
Lisa Mae Jackson Pierre, SD              06/28/10  H-D UltraClassic 1,547
Andrew Jackson   Pierre, SD              06/28/10  H-D UltraClassic 1,547
Fred L. Leetch   Fort Pierre, SD         06/28/10  H-D Ultra Classic1,547
Bret Burgher     Pierre, SD              06/28/10  H-D Heritage     1,505

Jose L. Amaya    Frisco, TX              06/27/10  H-D FLHTCUI      1,509
Mike Mustard     Wytheville, VA          06/27/10  BMW R1200RT      1,530
Dennis J. Moon   Las Vegas, NV           06/26/10  Triumph T-100    1,524
Brook Rice       Simi Valley, CA         06/26/10  Ducati 1100S     1,534 CA-BBG
Eric Vaillancourt Oregon City, OR        06/26/10  Yamaha FJR1300   1,573
George Hellinger Delaware, OH            06/26/10  Honda ST1100     1,513
Michael Chames   Carson City, NV         06/25/10  H-D Ultra Classic1,524
Don Christolear  Bakersfield, CA         06/25/10  H-D Ultra Classic1,517
James Schlyer    Kent, WA                06/22/10  Honda ST1300     1,520
Leo E. Johnson   Citrus Heights, CA      06/21/10  Can Am Spyder    1,532

Sergey Ilyanov   Moscow, RUSSIA          06/20/10  BMW R1200GS      1,512

David A. Morgan  Bremerton, WA           06/19/10  H-D Super Glide  1,533
Jeff Grimland    Saint Johns, FL         06/19/10  H-D FXDL         1,629
Greg Rice        Fort Lauderdale, FL     06/16/10  Honda Gold Wing  1,531
David F. Nania   Mills, WY               06/15/10  H-D Ultra Classic1,509
Tim Trytten      Sooke, BC CANADA        06/15/10  Kawasaki Concours1,564
Breen L. Peck    Redkey, IN              06/09/10  Honda VTX1300    1,520
Raymond Watson   Cotati, CA              06/09/10  H-D Electra Glide1,546 CA-BBG
G. Allen Heddens Riverdale, GA           06/08/10  Yamaha FJR1300   1,506

Vasily Gavrilov  RUSSIA                  06/06/10  Yamaha FJR1300   1,562
Oleg Nevredimov  RUSSIA                  06/06/10  BMW K1200S       1,648

Steven G. Price  Suwanee, GA             06/05/10  H-D Ultra Classic1,512
Herman A. Spivey Oakwood, GA             06/05/10  H-D Ultra Classic1,512

Mick Imfeld      Napa, CA                06/05/10  Honda Gold Wing  1,509
Randy Eakin      Scottsdale, AZ          06/02/10  H-D Ultra Classic1,508
Garry Bartlett   Tyrone, GA              06/01/10  Yamaha FJR1300   1,524
Richard Zondervon Roy, UT                05/31/10  H-D Ultra        1,563

Greg Park        Watertown, MN           05/29/10  H-D Road Glide   1,520
Lucian S. Strong Wayzata, MN             05/29/10  H-D Road King    1,520

Clint Malbon     Guthrie Center, IA      05/29/10  H-D Roadster     1,522
Al Wagner        Fennimore, WI           05/29/10  H-D Road Glide   1,542

Gordon A. Wilson Malvern, PA             05/22/10  Honda Gold Wing  1,532

Kin Lam          Olathe, KS              05/22/10  Honda GL1800     1,516
Richard Hutchinson North Billerica, MA   05/22/10  Honda ST1100     1,670

Matt Reid        West Hills, CA          05/22/10  H-D Road King    1,504
Steve Lee        Canyon Country, CA      05/22/10  H-D Road King    1,504

Ron Hansen       Lakewood, CO            05/21/10  Honda GL1800     1,515

Simon Gibson     Richland, MS            05/18/10  Yamaha FJR1300   1,624
Bryan Anderson   Madison, TN             05/18/10  Kawasaki ER6F    1,624

Gerd Muetze      Moritzburg, GERMANY     05/17/10  H-D FXCWC        1,508

Brian Casey      San Gabriel, CA         05/17/10  Yamaha FJR1300   1,530
Piotr Slabiak    East Rutherford, NJ     05/15/10  BMW R1200GS      1,578

Free Riders MC Bun Burner 1500 Gold
Bill Green       North Palm Beach, FL    05/15/10  Triumph Speed    1,582
Joe Green        Lakeland, FL            05/15/10  Yamaha FJR1300   1,582

G.K. Godwin      Sadler, TX              05/08/10  Triumph Tiger    1,509

Scott M. Mueller Fredonia, WI            05/03/10  H-D Electra Glide1,540
Lloyd F. Kreif   Fredonia, WI            05/03/10  H-D Ultra Classic1,540

Keith J. Haider  Fargo, ND               05/02/10  Kawasaki Concours1,504

James V. Simmons DeRidder, LA            04/25/10  Yamaha Road Star 1,538
             * * * James is 66 years young on this ride! * * *

Robert H. Moss   Clayton, NC             04/20/10  Honda Gold Wing  1,517
David W. Huggins Atoka, TN               04/17/10  Honda Gold Wing  1,553
Tonci Ordulj     Split, CROATIA          04/11/10  Kawasaki ZZR1400 1,569
Al Gammons       Tampa, FL               04/11/10  H-D Ultra Classic1,506
Tom Atkinson     Magnolia, TX            04/10/10  Honda Gold Wing  1,531
Ron Meisen       Jacksonville, FL        04/10/10  BMW R1200RT      1,541 FL-BBG

David Harper     Clermont, FL            04/08/10  Yamaha FJR1300   1,554
Jim Sullivan     Orlando, FL             04/08/10  BMW R1100RT      1,554

Jeff Scheulen    Woodbridge, VA          04/03/10  Yamaha RoyalStar 1,513
Steve Kellie     Friendswood, TX         04/02/10  Honda Gold Wing  1,552 TX-BBG

John A. Forry    Annville, PA            03/31/10  H-D Ultra Classic1,524

Marvin Seritt    Kingston, GA            03/26/10  Honda GL1800     1,546
Tim Wilson       Calhoun, GA             03/26/10  Honda Gold Wing  1,546

Bill Ouellette   Lawrenceville, GA       03/07/10  H-D Ultra Classic1,512
Marc Beaulac     Gilbert, AZ             03/06/10  Honda GL1800     1,524

Douglas von Roeder Irvine, CA            01/02/10  Honda GL1800     1,523
Ed Schaefer      Pompano Beach, FL       01/02/10  BMW R1200GS      1,516

Trevor A. Carlos Perth, WA AUSTRALIA     12/30/09  Suzuki Bandit    1,548
Bruce Arnold     Miami Beach, FL         12/23/09  H-D Dyna Convert.1,557

Kim E. Dunbar    Woodstock, GA           12/10/09  Honda Gold Wing  1,529
Paul D. Crowder  Woodstock, GA           12/10/09  Honda Gold Wing  1,529

Joe Kelly        Vail, AZ                11/28/09  Kawasaki Vulcan  1,555
Jose Aguirre     Austin, TX              11/27/09  Suzuki Boulevard 1,525 TX-BBG
Rob Schmidt      Overland Park, KS       11/23/09  Honda Gold Wing  1,511
James L. Bryan   Geneva, FL              11/21/09  Yamaha FJR1300   1,516
David McIntire   Owasso, OK              11/11/09  Honda Gold Wing  1,556
Alex Anderson    Linden, NJ              11/09/09  H-D FLHTCU       1,511
David Goguen     Glendale, CA            11/08/09  Honda ST1100A    1,542
Mike Blevins     Paducah, KY             11/01/09  Honda Gold Wing  1,558

Max D. Lupini     Winter Haven, FL       10/27/09  Honda Gold Wing  1,516

Randall Heiner   Salt Lake City, UT      10/27/09  H-D Ultra Classic1,518

Steven P. Allen  Acton, CA               10/23/09  H-D Ultra        1,532
Jack Blacklock   Valencia, CA            10/23/09  H-D Ultra        1,532
             * * * Jack is 69 years young on this ride! * * * 

Allen Hornback   Tumwater, WA            10/16/09  Honda VTX1800C   1,507
Mike Acosta      Tucson, AZ              10/16/09  Honda VTX1800 F1 1,507

John G. Johnston Westcliffe, CO          10/15/09  Honda Gold Wing  1,532
Jason Smith      Nashua, NH              10/04/09  Yamaha V-Star    1,507
Wayne E. Taylor  Cordele, GA             10/03/09  Honda Gold Wing  1,530

Lisle W. Conly   Fenton, MI              10/02/09  H-D Road King    1,537
E. Taveirne      Fenton, MI              10/02/09  BMW R1200GSA     1,537

Gene Pennington  Gloster, LA             09/29/09  H-D Ultra Trike  1,598
             * * * Gene is 65 years young on this ride! * * *
   
Mike Seibold     Rohnert Park, CA        09/27/09  Honda ST1300     1,560

Miguel Vietri    Miami, FL               09/26/09  BMW K1200LT      1,534
Jose Lozada      Royal Palm Beach, FL    09/26/09  BMW R1200RT      1,528
Paulo K. Salem   Avon, CT                09/26/09  BMW R1200RT      1,528
             * * * Paulo is 67 years young on this ride! * * *

Ed Earnest       Bellevue, NE            09/24/09  H-D Heritage     1,574

Texas Ride for Children
David Dewitt      Whitewright, TX        09/19/09  H-D Classic      1,522
Brenda Dewit (passenger)                 09/19/09  H-D Classic      1,522
Steve Grant       Little Elm, TX         09/19/09  Honda Gold Wing  1,522
Deb Grant (passenger)                    09/19/09  Honda Gold Wing  1,522
Charles Lewis     Frisco, TX             09/19/09  Honda Gold Wing  1,522

Nick Trumbo      San Clemente, CA        09/19/09  Kawasaki Concours1,545

Carl Unger       Greeley, CO             09/19/09  Kawasaki 1400    1,541
Christopher Barnes Leadville, CO         09/19/09  BMW R1150GS      1,512
Doug Witt        Cedar, IA               09/18/09  BMW R1200RT      1,536
Irene Joy Lindholm Eureka, CA            09/17/09  Honda GL1800     1,545

Craig M. Sigler  La Quinta, CA           09/15/09  H-D UltraClassic 1,538
Ronald W. Keever La Quinta, CA           09/15/09  H-DStreet Glide  1,538

Kevin Sawatsky   Caddo Mills, TX         09/14/09  Kawasaki Voyager 1,535

Nate Parker      Reno, NV                09/12/09  BMW R1200RT      1,605 NV-BBG

Tony N. Johnson  Moscow, ID              09/12/09  Honda Valkyrie   1,506
Mike Nelsen      Moscow, ID              09/12/09  Honda Valkyrie   1,506

Howard Entman    Memphis, TN             09/11/09  Yamaha FJR1300   1,570
             * * * Howard is 65 years young on this ride! * * *

Richard Behounek Cheyenne, WY            09/10/09  H-D Ultra Classic1,530

Hoagy's Heroes 50cc Quest
Kirsten Talken-Spaulding                 09/10/09  BMW R1200RT      1,521
Anthony Osborne   West Palm Beach, FL    09/10/09  Yamaha FJR1300   1,521
Wade Moorefield   Jacksonville, FL       09/10/09  Honda GL1800     1,579
Anthony Osborne   West Palm Beach, FL    09/08/09  Yamaha FJR1300   1,520

Michael D. Schunk Tacoma, WA             09/08/09  Honda Gold Wing  1,536
Lee Ehemann      Arlington, TX           09/05/09  H-D FLHTCU       1,516
Jim Brelsford    Scottsdale, AZ          09/05/09  BMW R1200RT      1,519

Jim Brelsford    Scottsdale, AZ          09/05/09  BMW R1200RT      1,519
Leo J. Schedivy   La Crosse, WI          08/29/09  Kawasaki Concours1,568

Charles M. Curts Diamond Bar, CA         08/29/09  Honda CB250/234cc1,532
   * * * smallest motorcycle to complete the BBG! * * * 

Lisa Frank       Sandusky, MI            08/26/09  Kawasaki Vulcan  1,509
Terry James Frank Sandusky, MI           08/26/09  Kawasaki Nomad   1,509

Tony Lenard      Marathon, WI            08/22/09  Suzuki GS850G    1,539
Kurt Schendel    Sparta, WI              08/22/09  Honda GL1200A    1,539

Garry Springgay  Gilbert, AZ             08/22/09  H-D FLHTCUI      1,559

Marshall Johnson Lead, SD                08/22/09  BMW Adventure    1,561
Alex Johnson     Grand Island, NE        08/22/09  Yamaha FJR1300   1,561

Lee Hendon       Atchison, KS            08/13/09  Honda Gold Wing  1,560
Michael L. Ensor Elizabethton, TN        08/10/09  H-D Ultra Classic1,618
Lester Zutz      Slave Lake, AB CANADA   08/10/09  H-D Road Glide   1,513
             * * * Lester is 68 years young on this ride! * * *

George Kessinger Rockville, MD           08/08/09  BMW R1200RT      1,570

Jim Lawson       Asheboro, NC            08/08/09  Honda Gold Wing  1,557
Ann Lawson (passenger)                   08/08/09  Honda Gold Wing  1,557
Joey Lawson      Asheboro, NC            08/08/09  Honda Gold Wing  1,557

Kevin Waldschmidt Choctaw, OK            08/08/09  Kawasaki Nomad   1,539

Mark A. Patterson East Wenatchee, WA     08/01/09  Honda Gold Wing  1,542
             * * * Mark is 67 years young on this ride! * * *

Ronald Oyler II  Carthage, NC            08/01/09  Aprilia Futura   1,501

Darrell Deeter   Lake Elsinore, CA       07/27/09  BMW K1200LT      1,527

Bill Ballantyne  Chesterfield, MO        07/23/09  H-D Ultra Classic1,570
Marion J. Ezell  Affton, MO              07/23/09  H-D Road Glide   1,570

Gary Sutton      Dallas, TX              07/17/09  H-D Ultra Classic1,513
Brenda Sutton    Dallas, TX              07/17/09  H-D Ultra Classic1,513

Tim Chounard     Henderson, NV           07/15/09  H-D Road Glide   1,518
Bill Quinn       Henderson, NV           07/15/09  Yamaha Raider    1,518

Steven Ketchum   Dixon, IL               07/10/09  H-D Electra Glide1,549

Lonnie Dickens   Humble, TX              07/08/09  Victory Vision   1,538
Bob Tobitt       Stafford, TX            07/08/09  Yamaha Royal Star1,538

Wayne Jessen     Camp Douglas, WI        07/08/09  Honda GL1500A    1,537
Stephen J. Allen Mead, WA                07/06/09  H-D Ultra Classic1,540
Leon Armentrout  Big Spring, TX          07/04/09  H-D Ultra Glide  1,606

Ronald Zuhorski Dearborn Heights, MI     07/01/09  Yamaha FJR1300   1,532
Bob Feyers       Clinton Township, MI    07/01/09  Yamaha FJR1300   1,532
Daryl Wilton     Macomb, MI              07/01/09  Suzuki V-Strom   1,532

Eric A. Marsh    Watauga, TX             06/28/09  Moto Guzzi Norge 1,543
Ashley Knight    Villa Rica, GA          06/28/09  Yamaha FJR1300   1,533

Bobby Moody      Brandon, FL             06/27/09  Honda GL1800     1,744
Ken Meese        Oxnard, CA              06/27/09  BMW K1200GT      1,587
Harald Westendorf  Fremont, CA           06/27/09  BMW R1200GSA     1,548
Rich Daniels     Petaluma, CA            06/27/09  Honda ST1300     1,505
Kelly Coyer      Missoula, MT            06/27/09  Suzuki Bandit    1,505

Bob Rippy        Village Of Loch Lloyd,MO06/27/09  BMW R1200RT      1,551
Timothy Rickel   Weatherford, OK         06/27/09  Honda Valkyrie   1,596
John E. Downing  North Bend, WA          06/27/09  Honda Gold Wing  1,545
David Buchanan   Tacoma, WA              06/26/09  BMW R1150RT      1,557

Pete West         Wantage, Oxfordshire   06/21/09  Triumph RocketIII1,551

Jim Truitt       Ravensdale, WA          06/25/09  Yamaha FJR1300A  1,538
Todd A. Peplow   Anchorage, AK           06/22/09  BMW GS1200       1,534
Jayd Lindom      Saint Cloud, MN         06/20/09  Yamaha FJR       1,629
Randy R. Orvis   Farmington, NH          06/20/09  Suzuki V-Strom   1,550
Charles W. Klint Visalia, CA             06/19/09  H-D Ultra Classic1,536
Dan Gardner      Homer, AK               06/18/09  Honda Gold Wing  1,574

Chuck Jones      Anaheim, CA             06/16/09  H-D UltraClassic 1,547
             * * * Chuck is 70 years young on this ride! * * *

Richard L. Wiens San Jose, CA            06/15/09  BMW K1200LT      1,504
Bobby W. Moody   Brandon, FL             06/15/09  Honda GL1800     1,557
Richard R. Lange Carson City, NV         06/13/09  Honda Gold Wing  1,536

Rick Stopp       Kutztown, PA            06/13/09  H-D Street Glide 1,539 PA-1500
Harry Knerr      Leesport, PA            06/13/09  H-D Road Glide   1,539 PA-1500
Jeff Hallquist   Denver, PA              06/13/09  H-D Road Glide   1,539 PA-1500
David Clouser    Reading, PA             06/13/09  Yamaha Royal Star1,539 PA-1500

Marcus Pappas    Mary Esther, FL         06/13/09  Kawasaki Concours1,520

Texas Ride for Children Bun Burner GOLD
Tammy Turner     Fairview , TX           06/13/09  H-D Heritage     1,513
David Berry      Plano, TX               06/13/09  H-D Ultra Classic1,513
Thomas Blodgett  McKinney , TX           06/13/09  H-D FLSTC        1,513
Alan C Carpenter Allen, TX               06/13/09  H-D FLHTI        1,513
Harley Carpenter (passenger)             06/13/09  H-D FLHTI        1,513
Dimitri Dimitroyannis  Kansas City, MO   06/13/09  BMW R1200GS      1,513
Thomas DiSilvestro  Allen, TX            06/13/09  Honda Shadow     1,513
Dan English      McKinney, TX            06/13/09  Honda Sabre      1,513
Jack Foster      The Colony, TX          06/13/09  H-D FLHTCUI      1,513
Karen Foster (passenger)                 06/13/09  H-D FLHTCUI      1,513
David Froneberger Carrollton, TX         06/13/09  Honda Gold Wing  1,513
Shane Gadberry   Argyle, TX              06/13/09  Yamaha Venture   1,513
Tony Hewitt      McKinney, TX            06/13/09  H-D FLHTCUI      1,513
Scott Jenkins    Wylie, TX               06/13/09  H-D Cross Bones  1,513
Walt Magee       Plano, TX               06/13/09  H-D Electra Glide1,513
Randy McCurdy    Rowlett, TX             06/13/09  H-D Ultra Classic1,513
Jasmine McCurdy (passenger)  Rowlett, TX 06/13/09  H-D Ultra Classic1,513
Wes Moody        Nevada, TX              06/13/09  H-D Road King    1,513
Scott Noffsinger Greenville, TX          06/13/09  Honda Gold Wing  1,513
Kathryn Noffsinger (passenger)           06/13/09  Honda Gold Wing  1,513
Scott (Hoss) Sandifeer  Farmersville, TX 06/13/09  H-D Street Glide 1,513
Bruce Simpson   Celina, TX               06/13/09  H-D FLHTI        1,513
Dan Thompson    LaPorte, TX              06/13/09  Honda Gold Wing  1,513

Joe Hallford     N. Richland Hills, TX   06/07/09  Honda GL1800     1,530
John Ryan        Long Valley, NJ         06/06/09  Yamaha FJR1300   1,678
Randy J. Dury    Las Vegas, NV           06/06/09  Victory Vision   1,504

Arnold Olinger   Jacksonville, FL        05/31/09  H-D Road Glide   1,566

Vivek Soni       Ahmedabad, INDIA        05/30/09  Yamaha YZF R-15  1,572

Derek Beck       Victorville, CA         05/30/09  Honda Gold Wing  1,524
Karl Chavarria   Hesperia, CA            05/30/09  Honda GL1800A    1,524

Darrin Manuel    Roanoke, LA             05/30/09  H-D Fat Boy      1,518

Pat Patterson    Oklahoma City, OK       05/30/09  Honda VTX1800F   1,515
Bill Hobbs       Ponca City, OK          05/30/09  H-D Softail      1,515

Troy Kuhlman     Camarillo, CA           05/28/09  Suzuki V-Strom   1,514
Dale Cloutier    Eureka, CA              05/26/09  BMW R1150GS      1,518
James R. Stovall Amarillo, TX            05/24/09  Honda 1100 Spirit1,536
Gary Lingenfelter Nevada, IA             05/23/09  Yamaha Warrior   1,518
Michael Fyten    Grand Junction, CO      05/22/09  Kawasaki Concours1,528

Ronald Kompelien Apple Valley, MN        05/22/09  Honda Gold Wing  1,520
Ed Bowen         Apple Valley, MN        05/22/09  Honda Gold Wing  1,520

Michael Krysinski Santa Rosa, CA         05/21/09  Honda 600F3      1,505
Howard Phelps    Nampa, ID               05/21/09  Honda VTX1800R   1,550

Maynard Moen     Mora, MN                05/21/09  Honda Gold Wing  1,527
Jarvis Haugeberg Huron, SD               05/21/09  Yamaha Venture   1,527
Scott Gottschalk Kimball, MN             05/21/09  H-D Ultra Classic1,527

2nd annual Nevada 1099 Endurance Rally  
Cameron Brister  Astoria, OR             05/16/09  Yamaha FJR1300   1,623

Rod Lappin       Fremont, IA             05/16/09  Honda Gold Wing  1,534
John Hinshaw     Boca Raton, FL          05/16/09  Suzuki V-Strom   1,534
             * * * John is 65 years young on this ride! * * *

Jeremy Towery    Ocean Shores, WA        05/15/09  BMW 650 Dakar    1,536
Jeff Kruger      Kennewick, WA           05/15/09  BMW R1200GS      1,524

Kenneth Gardner  Sugar Creek, MO         05/14/09  H-D Ultra Classic1,517
Kenneth Trass    Bowie, MD               05/13/09  Honda Gold Wing  1,553
Andy Mackey      Concord, CA             05/13/09  Triumph Tiger    1,530

James A. Bardin  Phoenix, AZ             05/10/09  H-D Ultra Classic1,530
Douglas Arnold   Phoenix, AZ             05/10/09  BMW R1100RT      1,530

Jeff Cheney      Phoenix, AZ             05/09/09  Yamaha RoyalStar 1,540
Dal Langham      Phoenix, AZ             05/09/09  BMW LT1200       1,540
             * * * Dal is 73 years young on this ride! * * *

Harry Knerr      Blandon, PA             05/09/09  H-D Road Glide   1,638
Kerry Dibler     Mertztown, PA           05/09/09  H-D Road Glide   1,638

Brian Rickert    Maple Grove, MN         05/07/09  Honda Gold Wing  1,529
Michael Cox      Andover, MN             05/07/09  Honda CB900      1,529

Phil Weston      UK                      05/02/09  Yamaha Fazer1000 1,519

Jerry L. Kovar   Southington, OH         05/01/09  H-D Heritage     1,651
William Pruitt   Brownwood, TX           04/24/09  H-D Ultra Classic1,565
Ed R. Hutchinson Mechanicsburg, PA       04/22/09  Honda GL1800     1,528
Scott Lockwood   Lighthouse Point, FL    04/21/09  H-D Heritage     1,589
Scott Hamilton   Ankeny, IA              04/21/09  BMW K1200LT      1,565
Anthony A. Austin Lebanon, VA            04/21/09  BMW 1200GS       1,517
Steve Grooms     Raymore, MO             04/15/09  H-D Street Glide 1,527
Ronald Kompelien Apple Valley, MN        04/15/09  Honda GL1800     1,518
Duane Faulkner   El Reno, OK             04/14/09  Honda Gold Wing  1,612
Steve Freeman    UK                      04/01/09  H-D Road King    1,562

Jerry Whitbeck   Norfolk, VA             04/11/09  H-D FLHTCSEI     1,513
Charles K. Moore Norfolk, VA             04/11/09  H-D Ultra        1,513

Bryan Newhard    Leesport, PA            03/28/09  H-D Electra Glide1,587
Philip E. Lund   Portland, OR            03/28/09  BMW Adventure    1,516

Free Riders MC Bun Burner 1500 Gold
Joe Green        Largo, FL               03/21/09  BMW R1100GS      1,559
Bill Green       North Palm Beach, FL    03/21/09  Tri Speed Triple 1,559
Don Leach        Christmas, FL           03/21/09  H-D FLHX         1,559
Daniel Lee       Port Orange, FL         03/21/09  Kawasaki ZG1000  1,559
John Loomis      Sorrento, FL            03/21/09  H-D Ultra Classic1,559
Charles Taylor   Fruitland Park, FL      03/21/09  H-D Ultra Classic1,559

Patrick A. Clark Tacoma, WA              03/20/09  H-D Road King    1,611
Ralph Styers     Statesville, NC         03/07/09  H-D Ultra Classic1,509

Orange Blossum BBG to IBA Daytona Party
Betsy Young      Carrollton, TX          03/05/09  H-D Electra Glide1,530
Dianne Fox       Frisco, TX              03/05/09  H-D Ultra Classic1,530
Bobby Fox        Frisco, TX              03/05/09  H-D Ultra Classic1,530
Dennis Archer    Plano, TX               03/05/09  H-D Road King    1,530

Michael Hoegler  Centerville, OH         03/05/09  Kawasaki Concours1,598
Michael Allen    Garner, NC              03/05/09  BMW R1200GS      1,534

Tammy Jenkins    Pompano Beach, FL       03/05/09  H-D Street Glide 1,535 FL-BBG
Doug Abbott      Fort Lauderdale, FL     03/05/09  Honda Gold Wing  1,535 FL-BBG

William J Todd   Cicklerville, NJ        03/05/09  H-D Ultra Classic1,511
Robert Wilensky  Newtown, PA             03/05/09  H-D Ultra Classic1,511
Earl Rudderow    Westville, NJ           03/05/09  H-D FLHTC        1,511

David Greenberg  South Orange, NJ        03/05/09  Honda Gold Wing  1,582
Bill Boklan      St. Lucie, FL           03/05/09  Honda GL1800     1,510 FL-BBG

Ray King         Jacksonville, FL        03/05/09  BMW R1200RT      1,514
             * * * Ray is 65 years young on this ride! * * 

Roy Kellberg     Bradenton, FL           03/05/09  Honda ST1300A    1,513
Jim Gordon       Waterloo, ON            03/05/09  Honda GL1500     1,525
END OF ORANGE BLOSSUM RIDERS

Russ Albright    Torrance, CA            03/01/09  H-D Ultra        1,532
             * * * Russ is 65 years young on this ride! * * *

Marty Wilson     San Diego, CA           02/27/09  Honda VTX1300R   1,552
Michael McCormick Riverview, FL          02/24/09  Honda VTX 1300S  1,512 FL-BBG
Bruce Arnold     Miami Beach, FL         02/15/09  H-D Dyna         1,521
Jack Shoalmire   Broken Arrow, OK        02/09/09  BMW R1200RT      1,522

Jesse Spradlin   Salt Springs, FL        02/08/09  H-D Ultra Classic1,532
             * * * Jesse is 66 years young on this ride! * * *

Jack Shoalmire   Broken Arrow, OK        02/07/09  BMW R1200RT      1,518
Bruce Arnold     Miami Beach, FL         02/07/09  H-D Dyna         1,589
Greg Rice        Fort Lauderdale, FL     01/24/09  Honda Gold Wing  1,525
Billy Street     Dawsonville, GA         01/03/09  Honda VFR800     1,742
Dorsey D. Price  Tucson, AZ              12/28/08  Honda GL1800     1,523
Sean J. Gallagher Richmond, VA           12/06/08  BMW R1150GS      1,557

Richard G. Lamb  Wilmington, NC          11/09/08  Yamaha Road Star 1,520
Timothy Durham   Wilmington, NC          11/09/08  Kawasaki Vulcan  1,520

Bob Rehley       Charlotte, NC           11/08/08  Yamaha FJR1300   1,521

Michael Hickman  Broken Arrow, OK        11/01/08  Kawasaki Ninja   1,530
Dallas Grolbert  Glendale, AZ            11/01/08  BMW R1150RT      1,542

Lester Zutz      Slave Lake, AB CANADA   10/29/08  H-D Road Glide   1,569
Todd Lemke       Papillion, NE           10/19/08  BMW 1200GT       1,532
Danny Gibson     Somerset, KY            10/11/08  Honda Gold Wing  1,525

Tommy Norman     Speedwell, TN           10/11/08  Honda Gold Wing  1,540
Ron Cain         Oak Ridge, TN           10/11/08  Kawasaki Concours1,540

Joe Ruth         Vadnais Heights, MN     10/09/08  H-D Ultra Classic1,524

Mark Blackburn   Duncanville, TX         10/03/08  BMW R1200RT      1,557
W. Boyter        Duncanville, TX         10/03/08  BMW R1200RT      1,557

Rick Dietly      Abilene, TX             10/02/08  Honda GL1800     1,546
             * * * Rick is 65 years young on this ride! * * *

Rick Dietly      Abilene, TX             10/02/08  Honda GL1800     1,546
             * * * Rick is 65 years young on this ride! * * *

Steven J. Morris Seneca, SC              09/27/08  Honda Gold Wing  1,527
Steve Jackson    Seneca, SC              09/27/08  BMW K12GT        1,527

Patrick J. Ford  Tehachapi, CA           09/21/08  Honda GL1800     1,539
Alan Caynor      Barberton, OH           09/20/08  Kawasaki Nomad   1,518
Boris Chong      Federal Way, WA         09/20/08  Honda ST1300     1,508
Mike Gaffney     Thompson, OH            09/17/08  Kawasaki EX250R  1,515
Joel Roach       Asheboro, NC            09/11/08  Honda GL1800     1,542

Hoagy's Heroes Long Distance Charity Motorcycle Ride
Bryan Broski     Moundsville, WV         09/04/08  Yamaha Roadliner 1,512
Robert Wilson    Glen Dale, WV           09/04/08  BMW 1200LT       1,512
Jonathan Murren  New Oxford, PA          09/04/08  Yamaha 1100      1,512

Stuart Douglass  Grove City, OH          08/30/08  Honda GL1800     1,512

Michael Youtzy   Wichita, KS             08/30/08  H-D Ultra Classic1,551
Brian D. Waddell Auburn, NE              08/28/08  Yamaha V-Star    1,542
Barry Heasman    Haywards Heath, ENGLAND 08/23/08  H-D Road King    1,556
Greg Rice        Fort Lauderdale, FL     08/28/08  Honda Gold Wing  1,520

Steve Izzo       Knightdale, NC          08/23/08  Honda PC 800     1,505
Rob Izzo         Knightdale, NC          08/23/08  Yamaha Venture   1,505
Andrew Izzo (passenger)                  08/23/08  Yamaha Venture   1,505
             * * * Andrew is 16 years old on this ride! * * *

Scott Lockwood   Lighthouse Point, FL    08/22/08  H-D Heritage     1,556
Mark Svoboda     Excelsior Springs, MO   08/17/08  H-D Ultra Classic1,518

Mark Yarnell     New Philadelphia, OH    08/16/08  Kawasaki Nomad   1,504
Brent Yarnell    New Philadelphia, OH    08/16/08  Suzuki V-Strom   1,504

Kenneth Slough   Aurora, CO              08/13/08  BMW R1150GS Adv. 1,556
Bill W. James    San Antonio, TX         08/13/08  Yamaha FJR1300   1,556

24 Hours to Tulsa - 2008 Iron Butt Association National Meet in Tulsa, Oklahoma
Bill Rauschenberg Upper Nyack, NY        08/13/08  BMW R1200GS-ADV  1,530
Dave Biasotti    Gilroy, CA              08/13/08  BMW R1150RT      1,684
Lori Magers      Tualatin, OR            08/13/08  Yamaha FJR1300   1,523
Steve Snoen      Surrey, BC              08/13/08  Norton Commando  1,520 1973 Commando!
Clarence Mayo    Raleigh, NC             08/13/08  BMW R1200RT      1,513
Greg Rice        Fort Lauderdale, FL     08/13/08  Honda Gold Wing  1,521
Jon Weaver       Fairview, NC            08/13/08  Honda GL1500     1,563
Mike Snyder      West Point, PA          08/13/08  Honda ST1100     1,619
Bryan Neagle     Fullerton, CA           08/13/08  H-D Ultra Classic1,557
Paul Petach      Cupertino, CA           08/13/08  H-D Road Glide   1,558
Sal Terranova    Williamsville, NY       08/13/08  Honda ST1100     1,541
Richard House    San Diego, CA           08/13/08  BMW F650 Dakar   1,521
Kevin D. Wilson  Richardson, TX          08/13/08  Yamaha FJR1300   1,554
Randy Hinton     Kilgore, TX             08/13/08  Suzuki Hayabusa  1,554
Jennyfer Audet   Sherbroke, QC           08/13/08  Honda CBR1100XX  1,513
Jacques Titolo   Lac Browne, QC          08/13/08  Kawasaki ZX12R   1,513
Tammy Leveaux    Sparks, NV              08/13/08  BMW R1150RT      1,540
Monte C. Leveaux Sparks, NV              08/13/08  BMW K1200LT      1,540
Dick Meyer       Red Lion, PA            08/13/08  Honda Gold Wing  1,523
Rob Nye          Bristol, RI             08/13/08  BMW RTP          1,566

Bob Sherrill     McKinney, TX            08/10/08  BMW R1200RT      1,634
Karl Snell       Peachtree City, GA      08/10/08  BMW R1200GS      1,522
Kerry M. Miller  Centennial, CO          08/08/08  BMW K1200RS      1,512
Les E. England   Spokane, WA             08/03/08  Kawasaki Concours1,604
Bruce Arnold     Miami Beach, FL         08/03/08  H-D Dyna         1,539
Lee Williams     Norman, OK              08/01/08  Kawasaki Concours1,509
Robert F. Scansi Napa, CA                07/25/08  BMW K1200LT      1,513
Edward Day       State College, PA       07/22/08  Yamaha FJR1300   1,586
Tim Pawlowski    Rockford, IL            07/22/08  Yamaha FJR1300   1,537
Hector Munoz     Eagle Pass, TX          07/21/08  H-D Heritage     1,507
Beth Huber       Woodland Park, CO       07/19/08  BMW R1150RT      1,512
Scott D. Benson  Sweet Home, OR          07/19/08  Aprilia Futura   1,542
Jon Good         Hampton, VA             07/18/08  BMW R1200RT      1,547
Paul J. Martino  Schenectady, NY         07/14/08  BMW K1200S       1,536

Raymond A. Schul Gansevoort, NY          07/14/08  BMW K1200GT      1,531

Ryan C. Grassley Springville, UT         07/13/08  BMW R1200GS      1,536

Earl Smith       Roanoke, VA             07/10/08  BMW K1200LT      1,526
Melanie Smith (passenger)                07/10/08  BMW K1200LT      1,526

Douglas R. Laird Reno, NV                07/08/08  BMW K1200LT      1,521
             * * * Douglas is 66 years young on this ride! * * *
Paul C. Smith    Red Bluff, CA           07/06/08  BMW 1200RT       1,542

Nick Bull        Golden, CO              07/05/08  Honda ST1300     1,539
Jeannette Bull (passenger)               07/05/08  Honda ST1300     1,539

Donald R. Allen  Springfield, VT         07/05/08  Honda Gold Wing  1,567 ME-BBG
Carl van Kesteren Cazenovia, NY          07/04/08  Buell Ulysses    1,514
Dan Ferguson     Saint Marys, GA         07/04/08  Honda ST1300     1,584
Tom Pluskat      Port Allen, LA          07/03/08  Honda Valkyrie   1,545
Rowan McQuarrie  Missoula, MT            07/03/08  BMW K1200LT      1,526
Bernie Doyle     Kenai, AK               07/01/08  H-D Softail      1,509
                * * * Bernie is 71 years young on this ride! * * *

Pete Bell        Nebraska City, NE       06/28/08  H-D Street Glide 1,532

Bruce Parker     Norman, OK              06/28/08  Triumph Tiger    1,524
             * * * Bruce is 65 years young on this ride! * * *

2008 Utah 1088 Endurance Rally
Matthew McCabe   Colorado Springs, CO    06/28/08  BMW R1200GS      1,521

Bobby Amon       Experiment, GA          06/27/08  H-D Road Glide   1,512
John Bragg       Sparks, NV              06/22/08  Honda Gold Wing  1,502
Chad A. Smith    Tucson, AZ              06/22/08  Honda ST1300     1,622

Charles M. Curts Diamond Bar, CA         06/21/08  Suzuki DL650     1,505
Ben Walker       Los Angeles, CA         06/21/08  Kawasaki ZX-10R  1,505

Thomas O?Donnell  Santa Clara, CA        06/20/08  H-D Road Glide   1,510
Donald D. Wade   Cedar Lake, IN          06/14/08  Honda Gold Wing  1,521
Les Duncan       Gordonville, TX         06/14/08  BMW R1150RT      1,645
                * * * Les is 73 years young on this ride! * * *
George Donaldson Las Vegas, NV           06/13/08  BMW R1100RT      1,518
Doug Olson       Cabot, AR               06/13/08  Honda GL1800     1,524
Mike Eddins      Oakboro, NC             06/12/08  Honda GL1800     1,537
Jerome Byrd      Philadelphia, PA        06/11/08  Yamaha Majesty   1,541

Marc Warfield    Waldorf, MD             06/07/08  H-D Ultra Classic1,572
Billy D. Truss   Waldorf, MD             06/07/08  H-D Ultra Classic1,572

James Timberlake Phoenix, AZ             06/01/08  Victory Vision   1,596
Charlie Nichols  Madison, NH             06/01/08  Buell S3T        1,568
Joe A. Kelly     Vail, AZ                05/24/08  Kawasaki VN 1600 1,512
Bill Thompkins   Tucson, AZ              05/24/08  H-D Heritage     1,512

Tyrone Dahly      Missoula, MT           05/18/08  H-D Ultra Classic1,540

Bob Elliot       Marietta, GA            05/18/08  BMW R1200R       1,520
Troy D. Bise     Giddings, TX            05/18/08  H-D FLTR         1,503 TX-BBG
             * * * Troy is 67 years young on this ride! * * *

Raaf Stevens     Evansville, IN          05/17/08  Kawasaki KLR 650 1,522
Stevan Fritchley Evansville, IN          05/17/08  Honda ST1100     1,522

Gail C. Kaltz    Crestview, FL           05/17/08  BMW R1100GS      1,538
Greg Rice        Fort Lauderdale, FL     05/16/08  Honda Gold Wing  1,520 FL-BBG
Gary Deitrick    Jerome, ID              05/16/08  Honda Gold Wing  1,565
Mike Freeman     Rocklin, CA             05/15/08  BMW 1150RT       1,520

Burk Forsythe    Phoenix, AZ             05/10/08  Yamaha FJR1300A  1,590
John Beck        Glendale, AZ            05/10/08  BMW R1200RT      1,590

Christopher Ross Lubbock, TX             05/10/08  BMW R1100RT      1,559
Marc J. Levine   Lubbock, TX             05/10/08  Yamaha FJR       1,559

Brian Walters    Sugar Land, TX          05/06/08  BMW R1200GS      1,624

Ride for the Heart Bun Burner GOLD
Paul Bretton II   Escondido, CA          05/03/08  Honda GL1800     1,561 
Douglas Swanson   Escondido, CA          05/03/08  Honda GL1800     1,633 

Jim Rushton      Geneva, OH              05/03/08  H-D Sportster    1,528
Charles Butler   Tucson, AZ              04/28/08  Suzuki GSX1300R  1,548
William Pruitt   Brownwood, TX           04/20/08  H-D Ultra Classic1,521
Ken Meese        Westminster, CA         04/18/08  BMW K1200GT      1,570
Robert Wilensky  Newtown, PA             04/11/08  H-D Ultra Classic1,512

Andy Shanklin    Langley, BC CANADA      04/09/08  Honda Gold Wing  1,502

Free Riders MC Bun Burner 1500 Gold
Bill Green       North Palm Beach, FL    04/05/08  Triumph Speed    1,559

Mark A. Kitchell Gretna, NE              03/29/08  H-D Ultra Classic1,512
Barbara C. Smith Pearland, TX            03/29/08  BMW R1150R       1,546
Bruce Arnold     Miami Beach, FL         03/28/08  H-D Dyna Convert.1,537
John C. Hill     McKinney, TX            03/14/08  Honda ST1300A    1,567 TX-BBG
Dave Zien        Eau Claire, WI          03/11/08  H-D FXRT         1,514

Ray Brannum      Guntersville, AL        03/08/08  Can-Am Spyder    1,508
             * * * Ray is 76 years young on this ride! * * *

Chuck Gittner    Port Orange, FL         03/06/08  BMW K1200LT      1,535 FL-BBG

Thomas Coppedge  Marathon, FL            03/03/08  Honda Gold Wing  1,525

Gerald Roberts   AsH-Down, AR             03/03/08  Honda Gold Wing  1,525
Jeffrey Willis   Haymarket, VA           02/15/08  BMW K1200GT      1,577
Shuey Wolfe      Niceville, FL           02/04/08  Honda ST1300A    1,519

Greg Blewett     Franklin, KY            12/20/07  Honda Gold Wing  1,567
Bruce Arnold     Miami Beach, FL         12/06/07  H-D Dyna         1,566

Greg Rice        Fort Lauderdale, FL     11/23/07  Honda Gold Wing  1,519

Frank Baughman   Springville, CA         11/08/07  BMW 1200LT       1,506
             * * * Frank is 73 years young on this ride! * * *

Bruce Arnold     Miami Beach, FL         11/04/07  H-D Dyna         1,564

Bruce Arnold     Miami Beach, FL         10/30/07  H-D Dyna         1,535

Bill Senn        Bentonville, AR         10/12/07  BMW K1200LTC     1,548

Baby Butt
Victor Ybiernas  San Diego, CA           10/06/07  Kawasaki Concours1,510
Jerry Stanfield  Laguna Hills, CA        10/06/07  Kawasaki Concours1,510

Bob Tobitt       Stafford, TX            10/06/07  Yamaha RoyalStar 1,545 TX-BBG
Lonnie Dickens   Houston, TX             10/06/07  Victory Vegas    1,545 TX-BBG

Alan Finnan      Sullivan, IN            10/03/07  BMW R1200GS      1,537

Steve McCauley   Speedway, IN            10/03/07  Yamaha FJR1300   1,545

Chuck Lindberg   San Jose, CA            09/25/07  BMW R1200RT      1,538
Dayle Martin     Olympia, WA             09/25/07  Honda GL1800     1,513
Lance Ross       Boise, ID               09/21/07  H-D Road King    1,530
Ernest Thody Jr. Moodus, CT              09/21/07  Honda GL1800     1,528

Steve Jackson    Seneca, SC              09/14/07  BMW K12GT        1,566
Merv A. Johnson  Gig Harbor, WA          09/14/07  Honda GL1500     1,576

B. B. Neely      Magee, MS               09/13/07  BMW R1200GSA     1,528
Jack Shoalmire   Broken Arrow, OK        09/13/07  BMW R1200RT      1,528

Jeff Hallquist   Denver, PA              09/11/07  H-D Road Glide   1,654
Charles P. Wilt  Flower Mound, TX        09/11/07  H-D Heritage     1,559
John Freudenberger Bryan, OH             09/11/07  H-D Ultra        1,547
             * * * John is 66 years young on this ride! * * *

W. Boyter        Duncanville, TX         09/08/07  BMW R1200RT      1,640
William A. Agnew Canon City, CO          09/06/07  Honda GL1800     1,602
Trussie Rogers   Norfolk, VA             09/04/07  H-D ElectraGlide 1,507
Bruce Arnold     Miami Beach, FL         09/02/07  H-D Dyna         1,567
Jon Weaver       Fairview, NC            09/01/07  Honda GL1500     1,608
Paul C. Wing     Westville, OK           09/01/07  Honda Gold Wing  1,562

Jim Stoddard     Middlegrove, NY         08/31/07  BMW K1200GT      1,515
James Stoddard Jr. Middlegrove, NY       08/31/07  Triumph Trophy   1,515

Bruce Arnold     Miami Beach, FL         08/30/07  H-D Dyna         1,523

Hoagy's Heroes Long Distance Charity Motorcycle Ride
Gwen F. Jordan   Culpeper, VA            08/29/07  BMW R1200ST      1,520
Bob Carmichael   Moundsville, WV         08/29/07  H-D Ultra        1,520
Bobby Pennock    Beverly, OH             08/29/07  H-D Ultra Classic1,520
John Pennell     Fairfield, OH           08/29/07  H-D Softail      1,520
Doug Crossett    Katonah, NY             08/29/07  H-D Road Glide   1,520
Bill Gaddis      Fort Myers, FL          08/29/07  Kawasaki Vulcan  1,520
Jim Barnhart     Clearwater, FL          08/29/07  Honda Gold Wing  1,520
Ray Dodson       Napa, CA                08/29/07  Honda Gold Wing  1,520
Tony Lewis       Trappe, MD              08/29/07  Honda ST1300     1,520
James Klauzner   Coral Springs, FL       08/29/07  Yamaha FJR       1,520

James L. Kennedy Mattoon, IL             08/28/07  H-D Ultra Classic1,568

George Johnston  Hermon, ME              08/27/07  Honda Gold Wing  1,539
Wayne Barnes     Winterport, ME          08/27/07  Honda Gold Wing  1,539

Jason Mardell    UNITED KINGDOM          08/25/07  BMW Adventure    1,560
Andrew Richards  UNITED KINGDOM          08/25/07  BMW Adventure    1,560

Bruce Pickett    Federal Way, WA         08/25/07  Honda GL1800     1,520
Patrick Ford     Tehachapi, CA           08/23/07  Honda GL1800     1,563
Steven Bonk      Midlothian, IL          08/21/07  H-D Heritage     1,512
Lynn Overbaugh   Newport, PA             08/17/07  H-D Electra Glide1,512

Scott L. Leahy   Ridgecrest, CA          08/14/07  Honda Gold Wing  1,540
Christian Johnson Ridgecrest, CA         08/14/07  Honda GL1800     1,540

Frank McGree     Elkhorn, NE             08/06/07  H-D Ultra Classic1,598
 
Trussie Rogers   Norfolk, VA             08/04/07  H-D ElectraGlide 1,507
Rick Neupert     Norfolk, VA             08/04/07  H-D Ultra Classic1,507

Joe Carlson      Riverton, UT            08/04/07  Honda Gold Wing  1,591
Debbie Carlson (passenger)               08/04/07  Honda Gold Wing  1,591

Christopher Ross Lubbock, TX             08/03/07  BMW K1200RS      1,607

Carl H. Griffis  Crown Point, IN         07/29/07  Yamaha FJR1300   1,502
William Shephard Sequim, WA              07/28/07  Honda VTX1800C   1,538
Billy Lindsay    Fayetteville, NC        07/27/07  H-D Road King    1,513
Gregory Partridge Sanford, FL            07/27/07  H-D Electra Glide1,522

Doug Crosby                              07/27/07  Yamaha FJR1300   1,518
Monte Leveaux                            07/27/07  BMW K1200LT      1,518
Rich Denis       Kamloops, BC            07/27/07  Yamaha FJR1300   1,518
John Austin                              07/27/07  Yamaha FJR1300   1,518

Gene Berger      West Berlin, NJ         07/21/07  H-D Ultra Classic1,535
Gregg Burger     Oaklyn, NJ              07/21/07  H-D Firefighter  1,535
William B. Todd  Stratford, NJ           07/21/07  H-D Street Glide 1,535

Frank Snyder     Athens, TN              07/21/07  BMW 1150GS       1,550
Mike Tomsu       Brookfield, WI          07/20/07  Honda ST1300     1,548
Steve Snoen      Surrey, BC CANADA       07/15/07  Norton Commando  1,508

Glenn W. Stevens Yucaipa, CA             07/15/07  BMW Adventure    1,538
Burton A. Briggs Cherry Valley, CA       07/15/07  BMW R1150RT      1,538
             * * * Burton is 68 years young on this ride! * * *

Steven Rolland   Franklin, WI            07/13/07  Victory Vegas    1,516

David Twomey     Maple Grove, MN         07/13/07  Honda GL1800     1,554
Terry Schoonover Rochester, MN           07/13/07  Honda VTX1300    1,554

Alan J. Palmer   Maple Grove, MN         07/06/07  Yamaha FJR1300   1,553

Carl Robb        Brush Prairie, WA       07/05/07  H-D Ultra        1,516
Jo Robb (passenger)                      07/05/07  H-D Ultra        1,516

David Bennett    Silverdale, WA          07/05/07  Honda GL1800     1,522
Rick Jennings    Longmont, CO            07/05/07  Honda Gold Wing  1,574
Rainor Webb      St. Albert, AB CANADA   07/05/07  Yamaha Venture   1,562
Scott Lauritsen  Exira, IA               07/04/07  Honda VTX1800R   1,564
Biff Case        Vero Beach, FL          07/04/07  Honda ST1300A    1,556
Anthony Van Der Voorn Wichita, KS        07/03/07  Kawasaki Concours1,592
Bruce Arnold     Miami Beach, FL         07/02/07  H-D Dyna         1,541

Robert A. Loop   Simi Valley, CA         06/30/07  Honda GL1500     1,580
Kreg M. Klein    Waukesha, WI            06/29/07  H-D Ultra Classic1,539
Bruce Arnold     Miami Beach, FL         06/29/07  H-D Dyna         1,541
David Hicks      Alta Loma, CA           06/28/07  Yamaha FJR1300   1,531
             * * * David is 65 years young on this ride! * * *

Hans-Ove Gortz   Ingar, SWEDEN           06/24/07  Kawasaki GTR1000 1,504
Jim Bay          Arvada, CO              06/23/07  BMW 1150GS       1,585
Jack D. Campbell Littleton, CO           06/23/07  H-D Softail      1,612
Dave Weber       Moorhead, MN            06/23/07  BMW R1150R       1,548
Ron Bogucki      Snellville, GA          06/15/07  BMW R1200RT      1,560
Daniel Bezeredi  Fredericksburg, VA      06/15/07  Buell Ulysses    1,516
Donald F. Schaap Santa Rosa, CA          06/13/07  H-D Ultra Classic1,600
Steve Westbrook  Starkville, MS          06/11/07  Honda ST1300     1,520
Rod Mulder       Ames, IA                06/09/07  Honda Gold Wing  1,638

Bruce Clark      Alvarado, TX            06/09/07  BMW K1200LT      1,573
Rebecca Clark (passenger)                06/09/07  BMW K1200LT      1,573

Michael Porchia  Lindenhurst, NY         06/07/07  Buell XB12X      1,531
Terrance J. Odom Rochester Hills, MI     06/04/07  BMW K1200S       1,615
Mike Tracy       Waldoboro, ME           06/03/07  H-D FLHTCUI      1,506
Hal Risser       Orange, CA              06/01/07  Yamaha FJR1300   1,547
Mike Senty       Grand Marais, MN        05/29/07  BMW R1150RT      1,525
Mike Ortega      Canon City, CO          05/27/07  BMW R1150GS      1,524
John Austin      Sparks, NV              05/27/07  Yamaha FJR       1,543 NV-BBG
John Phillipson  UNITED KINGDOM          05/21/07  Honda NTV650V    1,548

Robert Merrifield Tulsa, OK              05/19/07  BMW Adventure    1,554
Ron Ayres        Plano, TX               05/19/07  BMW              1,554

George Stepleton Canon City, CO          05/18/07  H-D Heritage     1,519

Dave Redman      Scottsdale, AZ          05/18/07  Honda Gold Wing  1,622
Roger Williams   Tempe, AZ               05/18/07  Honda Gold Wing  1,622
Stu Goldberg     Scottsdale, AZ          05/18/07  Honda Gold Wing  1,622
             * * * Stu is 65 years young on this ride! * * *

Robert J. Erb    Savannah, GA            05/17/07  BMW R1150RS      1,566
             * * * Robert is 68 years young on this ride! * * *

Nils H. Hendrix  Santa Ynez, CA          05/14/07  BMW 1150RT       1,575
John Shaul       Torrance, CA            05/14/07  BMW 1150RT       1,575

Dennis Ray       Edmond, OK              05/13/07  Kawasaki Concours1,534

Frank Davisson   Madisonville, KY        05/12/07  Honda Gold Wing  1,533

Mike Fitzpatrick Fresno, CA              05/12/07  H-D ElectraGlide 1,538
Daymon DeVader   Circleville, KS         05/12/07  H-D Fat Boy      1,510

Edward Conway    Douglassville, PA       05/12/07  H-D FLHT         1,522
Mark Sullivan    Horseheads, NY          05/12/07  H-D Fat Boy      1,522

Bruce Arnold     Miami Beach, FL         05/11/07  H-D Dyna         1,708
Greg Marbach     Scottsdale, AZ          05/10/07  Yamaha FJR1300   1,523
Michael Helmuth  Brooklyn, NY            05/06/07  Kawasaki Concours1,554
Wayne Parfitt    Corona, CA              05/05/07  Yamaha Venture   1,506

2007 Ride for the Heart 1500
Gregory Baker     Atascadero, CA         05/05/07  Honda Gold Wing  1,500+
Pat Veth          Bonita, CA             05/05/07  Yamaha FJR1300   1,500+

Kent Ringstmeier Seville, OH             05/01/07  BMW K75S         1,615

Jack Backer      Monroe, SD              04/27/07  Honda Gold Wing  1,556
Richard Glover   Port Richey, FL         04/27/07  Aprilia Mille R  1,590

Wayne Maurice    Kelowna, BC CANADA      04/25/07  Honda Gold Wing  1,535

Jeffrey Rumminger Wichita Falls, TX      04/22/07  H-D Electra Glide1,512

Mark Murray      Riverside, CA           04/21/07  Honda ST1300     1,506
Jim Travis       Corona, CA              04/21/07  BMW R1150RT      1,506

Bruce Arnold     Miami Beach, FL         04/20/07  H-D Dyna         1,614

Jack Shoalmire   Broken Arrow, OK        04/15/07  BMW R1200RT      1,528
Jim Mulcahy      Tulsa, OK               04/15/07  BMW K1200RS      1,528
 
Ron Bogucki      Snellville, GA          04/12/07  BMW R1200RT      1,560
Dan Ross         Lawrenceville, GA       04/11/07  Yamaha Venture   1,571
Daniel Jaquez    Santee, CA              04/07/07  Honda Gold Wing  1,577

Thomas E. May    Gaston, SC              04/06/07  Suzuki Intruder  1,541

Stephen Nu       Arcadia, CA             04/06/07  Honda Gold Wing  1,527

Danny C. Dossman Belton, TX              04/03/07  H-D Ultra Classic1,505
Terry McElroy    Belton, TX              04/03/07  H-D Ultra Classic1,505

Bruce Arnold     Miami Beach, FL         03/30/07  H-D Dyna         1,556
Mac McKechnie    Canton, OH              03/29/07  Honda ST1300     1,517

Charles Stansell Knoxville, TN           03/24/07  Honda Gold Wing  1,527

Free Riders MC Bun Burner GOLD
Hipolito Rosado   Orlando, FL            03/24/07  H-D Road King    1,524
John Cento        Oviedo, FL             03/24/07  H-D Electa Glide 1,524
Jeff Dewitt       Oviedo, FL             03/24/07  H-D Ultra Classic1,524
Douglas Abbott    Fort Lauderdale, FL    03/24/07  Honda ST1300A    1,524
Keith Taylor      Celebration, FL        03/24/07  Honda Gold Wing  1,524

Robert Collins   Port Neches, TX         03/11/07  Honda Gold Wing  1,530
Charlie Fruit    Rockford, IL            03/09/07  H-D ElectraGlide 1,590
Carl M. Holmes   Olathe, KS              03/08/07  Honda Valkyrie   1,541
John Wynes       Hendersonville, NC      03/07/07  Suzuki V-Strom   1,539
             * * * John is 70 years young on this ride! * * *

Michael Mehaffy  Robertsville, MO        03/07/07  Yamaha FJR1300   1,576

Bruce Arnold     Miami Beach, FL         02/10/07  H-D Dyna         1,501

W. Boyter        Duncanville, TX         01/12/07  BMW R1200RT      1,559

Hal Smith        Rutherford College, NC  12/29/06  Honda GL1500A    1,517
Dean Curfman     Morganton, NC           12/29/06  BMW 1150RT       1,517

Billy Walker     Apex, NC                12/18/06  H-D Road King    1,521
Paul W. Morgan   Altamonte Springs, FL   12/09/06  BMW R1100RT      1,604
Todd Alan Hart   Bay City, MI            10/29/06  H-D Super Glide  1,504
Michael Cosgrove Weston, FL              10/28/06  H-D Ultra Classic1,542
Lewis Cooke      Canton, NC              11/27/06  H-D Wide Glide   1,522
Keith I. Taylor  Celebration, FL         11/24/06  Honda Valkyrie   1,520
Bruce Arnold     Miami Beach, FL         11/24/06  H-D Dyna         1,615
Brian Blackwell  Fredericksburg, VA      10/20/06  BMW 1200LT       1,528
Bruce Arnold     Miami Beach, FL         10/14/06  H-D Dyna         1,618
Stu Goldberg     Scottsdale, AZ          11/10/06  Honda Gold Wing  1,505
Jeffrey Bartlett Fort Wayne, IN          10/09/06  BMW R100RT       1,546
Mark T. Starrett Altadena, CA            10/08/06  Kawasaki Concours1,508
John Strain      Trimble, MO             10/07/06  Honda VTX1300R   1,538
Harold Meeker    Shelton, CT             10/06/06  Yamaha FJR1300   1,548
Bruce Arnold     Miami Beach, FL         10/06/06  H-D Dyna         1,577

Gary Mitchell                            09/30/06  H-D FLHT         1,530
Sam Harrison     Tuscumbia, AL           09/30/06  Honda Rune       1,530
Eronda Harrison (passenger)              09/30/06  Honda Rune       1,530
Wayne Bentley    Cedar Rapids, IA        09/30/06  BMW K1200GT      1,568
Theron C. Dawson Leighton, AL            09/30/06  Honda Gold Wing  1,530

Duncan Sykes     Oakham, UNITED KINGDOM  09/24/06  BMW Adventure    1,545
Norman Huber     Bloomington, IL         09/24/06  Honda Gold Wing  1,516
             * * * Norman is 66 years young on this ride! * * *

Keith Hedlund    Greenfield, MA          09/23/06  Honda VFR800     1,518

James C. Rostron Lindenhurst, IL         09/20/06  BMW R1150RT      1,639
Michael T. Walsh Safety Harbor, FL       09/17/06  Honda Gold Wing  1,528
James E. Merrell Bettendorf, IA          09/16/06  H-D Ultra Classic1,535

James E. Merrell Bettendorf, IA          09/16/06  H-D Ultra        1,535
Kurt Kulhavy     Indianapolis, IN        09/15/06  Honda ST1300     1,650
George F. Levar  Palatine, IL            09/15/06  H-D Road King    1,522

Garry Marcellus  Atlantic, IA            09/15/06  Honda Gold Wing  1,533
           * * * Garry is 68 years young on this ride! * * *

David Frederiksen Atlantic, IA           09/15/06  Honda Gold Wing  1,533
Chuck Park       Atlantic, IA            09/15/06  Yamaha Road Star 1,533
Scott Fulk       Atlantic, IA            09/15/06  Yamaha Road Star 1,533
Jeff Klever      Atlantic, IA            09/15/06  Honda Gold Wing  1,533
James Kickland   Atlantic, IA            09/15/06  H-D Ultra Glide  1,533

David L. Sumner   Lakeland, FL           09/14/06  Honda Gold Wing  1,502

Richard Antoine  Walnut, CA              09/11/06  BMW R1200RT      1,533
Jack Shoalmire   Broken Arrow, OK        09/11/06  BMW R1200RT      1,556

Jack Shoalmire   Broken Arrow, OK        09/09/06  BMW R1200RT      1,550

Bob Nash         Myerstown, PA           09/09/06  Yamaha Venture   1,595

Hoagy's Heroes Bun Burner GOLD
Matt Farrier     Jacobsburg, OH          09/08/06  H-D UltraClassic 1,520
Wilma Farrier (passenger)                09/08/06  H-D UltraClassic 1,520
Randy Shaffer    Perryopolis, PA         09/08/06  H-D Heritage     1,520
Ray Parry Jr.    McDonald, PA            09/08/06  Honda Gold Wing  1,520
Wilson Nichols   Washington, PA          09/08/06  Honda Gold Wing  1,520
Bobby Pennock    Beverly, OH             09/08/06  H-D Ultra        1,520
Douglass Crossett Katonah, NY            09/08/06  H-D Road Glide   1,520
Charles Wright   Moundsville, WV         09/08/06  H-D UltraClassic 1,520
Bob Carmichael   Moundsville, WV         09/08/06  H-D UltraClassic 1,520
Jack Van Slyke   Shinnston, WV           09/08/06  H-D Road King    1,520

Thomas J. Bulger Valencia, CA            09/06/06  H-D Electra Glide1,513
             * * * Thomas is 65 years young on this ride! * * *

Keith Rosewaren  Independence, MO        09/04/06  H-D Electra      1,616
Rich Ryan        Hartland, WI            09/02/06  BMW R1200GS      1,529
George Wurster   Cogan Station, PA       09/02/06  H-D ElectraGlide 1,586

Mark D. Nettke   Villa Rica, GA          09/02/06  Honda GL1800     1,517
Scott C. Dubiski Dallas, GA              09/02/06  Honda GL1800     1,517

Denver Lionberger Hermann, MO            09/01/06  BMW K1200LT      1,670
Lewis Stephens    Pasadena, TX           09/01/06  BMW K1200LT      1,645

Paul Robson       Chandler, AZ           09/01/06  H-D Road King    1,524
Kent Gabrielson   Mesa, AZ               09/01/06  H-D Fat Boy      1,524
Thomas McClure    Chandler, AZ           09/01/06  H-D Electra      1,524

Wayne Ward       Temple, TX              09/01/06  H-D UltraClassic 1,525
Terry McElroy    Belton, TX              09/01/06  H-D UltraClassic 1,525
Danny C. Dossman Belton, TX              09/01/06  H-D UltraClassic 1,525

Scott Leonard    Sanford, FL             08/31/06  BMW R1200GSA     1,549
William Pierce   Ponte Vedra Beach, FL   08/31/06  BMW R1200GS      1,549

Kevin Rhodes     Reno, PA                08/29/06  Honda ST1300     1,578
Don Bell         Saltillo, TX            08/23/06  Honda GL1800     1,523
Stephen Reinig   Marysville, WA          08/20/06  BMW R1100RT      1,509

John Neece        Southaven, MS          08/19/06  Yamaha FJR1300   1,504
R. Scott Harrison Senatobia, MS          08/19/06  Yamaha FJR1300   1,504

Tony Hudson      Aiken, SC               08/17/06  Honda GL1800     1,597
J. Alan Payne    Pacific Grove, CA       08/12/06  H-D FLSTF        1,580
Bill Strouse     Narberth, PA            08/16/06  BMW R1150GS      1,603

Bob Carmichael   Moundsville, WV         08/12/06  H-D UltraClassic 1,544
George H. Miller Ambridge, PA            08/12/06  BMW K1200LT      1,544

Gary M. Marich   Rocky River, OH         08/11/06  H-D Road Glide   1,502
Chet Blackburn   Cleveland, OH           08/11/06  H-D ElectraGlide 1,502

Ronald Brown Jr  Powell, TN              08/04/06  H-D FLSTSC       1,544
James Edd Harris Maryville, TN           08/04/06  H-D Softail      1,544

David Lee        Houston, TX             08/04/06  H-D Ultra Classic1,565

David H. Cahn    Airmont, NY             08/02/06  H-D Softail      1,509
Steve Lambert    La Center, WA           07/31/06  H-D Electra Glide1,508
Daniel Barineau  Friendswood, TX         07/30/06  Yamaha FJR1300   1,619

Bill Sowers      Princeton, WV           07/29/06  Yamaha FJR1300   1,598
           * * * Bill is 72 years young on this ride! * * *

Dennis R. Molloy Novato, CA              07/29/06  Honda Gold Wing  1,513
           * * * Dennis is 65 years young on this ride! * * *

Dean A. Smith    Myrtle Beach, SC        07/16/06  BMW K1200LTC     1,511
Scott Fennell    Lakewood, WA            07/16/06  H-D ElectraGlide 1,537
Cris Dopher      Brooklin, NY            07/16/06  H-D XL1200C      1,520
Paul E. Knowlton Decatur, GA             07/15/06  BMW K100RS       1,560

Leland Sheppard  Placerville, CA         07/15/06  Honda PC800      1,528
             * * * Leland is 67 years young on this ride! * * *

George Donaldson Las Vegas, NV           07/14/06  BMW R1100RT      1,572
Jeffery Edwards  Canton, NC              07/14/06  Yamaha V-Star    1,549
Gregory C. Bravo Portland, OR            07/13/06  Honda ST1100     1,509
Donald W. Adcox  Normandy, TN            07/10/06  H-D Road Glide   1,503

White Pine Fever
Tom Sperry        Hanford, CA            07/08/06  BMW K1200LT      1,800+ NV-BBG
Rosie Sperry (passenger)                 07/08/06                   1,800+ NV-BBG
Tom Austin        El Dorado Hills, CA    07/08/06  BMW K1200GT      1,800+
Matthew C Watkins Pasco, WA              07/08/06  Yamaha FJR1300   1,800+
John Harrison     Birmingham, AL         07/08/06  Honda GL1800     1,800+ NV-BBG
John Parker       Encino, CA             07/08/06  Honda ST1100     1,800+
Greg Marbach      Casa Grande, AZ        07/08/06  Yamaha FJR1300   1,800+
Bob Bacon         El Cerrito, CA         07/08/06  BMW K1200LT      1,800+
Lisa Stevens      Tieton, WA             07/08/06  Yamaha FJR1300   1,721
Tobie Stevens     Naches, WA             07/08/06  Yamaha FJR1300   1,708
Jason Jonas       Bowling Green, KY      07/08/06  Suzuki DL1000    1,785 NV-BBG
Bill Thweatt      Harrisburg, NC         07/08/06  Honda ST1300     1,632 NV-BBG

Frank Brand      Maryville, TN           07/08/06  H-D Ultra Classic1,565
Bruce Arnold     Miami Beach, FL         07/07/06  H-D Dyna         1,538

Joe Sparrow      St. Ann, MO             07/03/06  Honda GL1800     1,561
Alan Gendron     Bridgeton, MO           07/03/06  BMW R1150GS      1,561
Charlie Mosteller Paint Rock, TX         07/03/06  Honda Gold Wing  1,561
             * * * Charlie is 70 years young on this ride! * * *

Thomas Southwood Westfield, IN           07/02/06  Suzuki DL 650    1,577
Henry S. Beeler  Dickson, TN             07/02/06  Honda ST1100     1,665

Enzely W. Sturre Great Falls, MT         07/02/06  Honda Gold Wing  1,578
Ken Conrad       East Helena, MT         07/02/06  Honda ST1300     1,578
Ken Radovich     Great Falls, MT         07/02/06  Yamaha FJR       1,578

Dale J. Pupp     Flower Mound,TX         07/01/06  H-D ElectraGlide 1,507
Kevin J. Lechner Warner Robins, GA       07/01/06  Honda ST1100     1,553

Philip Davis     Temple, TX              06/30/06  BMW R1200RT      1,507
Bruce Arnold     Miami Beach, FL         06/30/06  H-D Dyna         1,529
Bill Davis       Carlsbad, CA            06/30/06  H-D Road Glide   1,535
Brian L. Clem    Sierra Vista, AZ        06/29/06  Honda CBR954RR   1,550
Ed Tillman       Surrency, GA            06/28/06  Honda ST1300     1,630
James F. Karasek Papillion, NE           06/25/06  BMW R1150RT      1,541
Larry Lauer      Warren, MI              06/25/06  Honda VTX1800    1,505

David Grenier    Whitby, ON CANADA       06/24/06  Kawasaki Concours1,538

Ted Drower       Olathe, KS              06/24/06  H-D Road King    1,518
Richard Hughes Paola, KS                 06/24/06  Kawasaki Nomad   1,518
Jack Barnhart    Pomona, KS              06/24/06  Honda ST1300     1,518
Mike Shirk       Paola, KS               06/24/06  Yamaha Road Star 1,518

John E. Frick    Cincinnati, OH          06/24/06  BMW K1200LT      1,526
George R. Moore  Venice, FL              06/22/06  Honda Valkyrie   1,546
Alan Adrian      Camanche, IA            06/20/06  Honda Gold Wing  1,540
Lee Bradley      Poway, CA               06/09/06  BMW R1150RT      1,588
Rick Corwine     Chanhassen, MN          06/17/06  Yamaha FJR1300   1,562
Jim Weatherhead  Centerville, MN         06/17/06  Suzuki V-Strom   1,502
Darrell E. Smith  Bonne Terre, MO        06/17/06  BMW R1150RT      1,556
James T. Connelly Clarksville, TN        06/16/06  Honda GL1800     1,555
J. Andray Hubble Guntersville, AL        06/16/06  Honda ST1100     1,536
David Reynolds   Indianapolis, IN        06/15/06  BMW R1100RT      1,595
Kyle S. Byrd     Dallas, TX              06/14/06  H-D ScreaminEagle1,800+
Al Ladner        Los Angeles, CA         06/13/06  Yamaha FJR1300   1,540

Donald Niblett   Tahlequah, OK           06/12/06  Yamaha Silverado 1,549
           * * * Donald is 67 years young on this ride! * * *

Bryson Stephens  Birmingham, AL          06/11/06  BMW R1200RT      1,524
Mike Smith       N. Las Vegas, NV        06/11/06  H-D FLHTC        1,576
Kenny Seay       Norman, OK              06/10/06  BMW 1150GS       1,548

Jason Rodgers    Vancouver, WA           06/09/06  H-D FLHTCUI      1,506
David McCune     Vancouver, WA           06/09/06  H-D FLHTCUSE     1,506

John R. Arthur   Richlands, NC           06/09/06  H-D Deuce        1,527

Scott Gottschalk  Kimball, MN            06/08/06  H-D UltraClassic 1,506
Astrid Gottschalk (passenger)            06/08/06  H-D UltraClassic 1,506

George Ensey, Sr  Trussville, AL         06/05/06  Honda Gold Wing  1,527

Scott Gottschalk  Kimball, MN            06/05/06  H-D UltraClassic 1,506
Astrid Gottschalk (passenger)            06/05/06  H-D UltraClassic 1,506

Wendy Crockett   Wofford Heights, CA     06/02/06  Yamaha FJR1300   1,538
Donald Lipscomb  Fayetteville, TN        05/31/06  Honda GL1800     1,572

Buck Wilkinson    St. George, UT         06/03/06  Honda VTX1800C   1,509

Walt Pierce      Moore, OK               05/27/06  H-D Ultra Classic1,519
Ira Frame        Norman, OK              05/27/06  H-D Ultra Classic1,519

John J. Lach     Waukesha, WI            05/25/06  Honda ST1100     1,542
Mark Dauzat      Hessmer, LA             05/25/06  H-D Road King    1,505
Daemien C Romano Jacksonville, FL        05/22/06  Yamaha Roadstar  1,510
Douglas B. Sams  Westerville, OH         05/20/06  H-D Road King    1,549

Robert Clineman   Las Vegas, NV          05/20/06  Honda Gold Wing  1,538
Thomas J. Salazar Las Vegas, NV          05/20/06  Honda Gold Wing  1,538

Shane Mead       Topeka, KS              05/19/06  Honda Gold Wing  1,530
Tom Foltz        Topeka, KS              05/19/06  Honda ST1300     1,530

Gary Deschambeault  Leeds, ME            05/19/06  H-D ScreaminEagle1,545
Kevin Deschambeault  Leeds, ME           05/19/06  H-D FLTRI        1,545

Steven Salter    Loveland, CO            05/17/06  BMW R1100RS      1,542

Wesley D. Burch  Colorado Springs, CO    05/13/06  H-D Road King    1,560
Ken York         Colorado Springs, CO    05/13/06  H-D Ultra Classic1,560
Michael Wetzler  Colorado Springs, CO    05/13/06  H-D Night Train  1,560

William E Knight Holladay, UT            05/12/06  Honda Gold Wing  1,526
           * * * William is 68 years young on this ride! * * *

STAR of Phoenix - Chapter 113 BBG
Steven M. Proctor Phoenix, AZ            05/13/06  Yamaha Royal Star1,594
Michael R Wadding Phoenix, AZ            05/13/06  Yamaha Royal Star1,594

Jouni Oksanen     Lohja, FINLAND         05/21/06  Yamaha FJR1300   1,514

Kurt Dix          West Palm Beach, FL    05/10/06  Kawasaki Concours1,573

2006 Ride for the Heart
Bob Still         Yuma, AZ               05/06/06  BWM K1200GT      1,523
Heidi Still       Yuma, AZ               05/06/06  BMW R1150RT-A    1,523
Sid Wallick       Apache Junction, AZ    05/06/06  Honda GL1800     1,523
Roger Williams    Tempe, AZ              05/06/06  Honda Gold Wing  1,523
Ken Smith         Alta Loma, CA          05/06/06  H-D Ultra Classic1,523
Jeff James        Palmdale, CA           05/06/06  Honda Gold Wing  1,523
Steve Lee         Canyon Country, CA     05/06/06  H-D Road King    1,523
Jeff Miller       Palmdale, CA           05/06/06  H-D Softtail Delu1,523
David E Miller    Palmdale, CA           05/06/06  BMW K1200LT      1,523
Robert Pritchard  Saugus, CA             05/06/06  H-D Road King    1,523
Henry Steele      Littlerock, CA         05/06/06  H-D Ultra Classic1,523
Marek Tomczyk     Van Nuys, CA           05/06/06  H-D Ultra Classic1,523
James Vanyek      Sherman Oaks, CA       05/06/06  H-D Road King    1,523

Randall Roos      Dakota Dunes, SD       05/05/06  BMW GS Adventure 1,515
Brion Hase        Sioux City, IA         05/05/06  BMW K1200RS      1,515

Ronald Wilkerson  Trabuco Canyon, CA     04/30/06  BMW K1200LT      1,522
Brian Rickert     Maple Grove, MN        04/30/06  Honda Gold Wing  1,547

Thomas G. Crow    Alachua, FL            04/29/06  Honda Gold Wing  1,540
Renee Myla Crow (passenger)              04/29/06  Honda Gold Wing  1,540

Ossi Kiramo       Helsinki, FINLAND      04/27/06  Honda ST1300     1,526

Mike Scaletti     Aliquippa, PA          04/26/06  H-D Softail      1,504
Jennifer Bross (passenger)               04/26/06  H-D Softail      1,504
Kent Kidwell      Virginia Beach, VA     04/22/06  Yamaha FJR1300   1,585
Nahum Sloan       Toronto, ON CANADA     04/20/06  BMW R1100R       1,521
Tom Atkinson      Magnolia, TX           04/15/06  Honda GL1500SE   1,533 TX-BBG

John Beck        Phoenix, AZ             04/15/06  BMW R1200RT      1,594
           * * * John is 72 years young on this ride! * * *
Alexis Fuller     Goodyear, AZ           04/15/06  Suzuki V-Strom   1,594

Steve Lanford     Lexington, SC          04/14/06  Honda ST1300     1,525

Butch Cooper      Paragould, AR          04/14/06  H-D DynaLowRider 1,528
Brian K. Griffith Paragould, AR          04/14/06  Honda Gold Wing  1,528

Terry L. Bice     Tomball, TX            04/08/06  Honda Valkyrie   1,532
Todd Kedzie       Houston, TX            04/08/06  Honda VTX 1800-C 1,532

Rex Walraven      Ridgecrest, CA         04/04/06  H-D Ultra Classic1,544
Dan Alexander     Deltona, FL            04/04/06  BMW R1200GS      1,552
Ken Martin        Maylane, AL            04/01/06  H-D Ultra Classic1,505

Free Riders Bun Burner GOLD
Straw Lewis      Cocoa, FL               03/25/06  Honda ST1300     1,524

Motorcycle Tourers Forum Bun Burner 1500 GOLD
Don Wallace      Plainwell, MI           03/09/06  BMW K1100LT      1,500+
Andrew Kirby     Newburyport, MA         03/09/06  Honda ST1300     1,500+
Art Garvin       Canton, OH              03/09/06  Honda GL1800     1,500+

Roger A Wheelock Corona, CA              03/08/06  Yamaha FJR1300   1,506

Steve Broadhead  Calgery, AL CANADA      03/06/06  Honda ST1300     1,544
Ted Veit         Carmichael, CA          03/04/06  Honda Gold Wing  1,551
Joel Rappoport   Winston-Salem, NC       03/04/06  BMW R60/6 (1976) 1,532
Rob Jaime        Kennebunk, ME           02/19/06  Honda Gold Wing  1,534
David H. Jones   Queensland, AUSTRALIA   01/13/06  Kawasaki GTR1000 1,515
M. Lamar Deese   Grand Ridge, FL         01/11/06  Yamaha Royal Star1,501
Chuck Gittner    Port Orange, FL         12/30/05  BMW K1200LT      1,557
James E. Bain    North Myrtle Beach, SC  12/29/05  BMW K1200LT      1,511
Allen Wood       Panama City, FL         11/25/05  Suzuki GT750!    1,601
Tom Franken      Thornton, CO            11/25/05  Honda GL1800     1,622
Bil Reed         Waterman, IL            11/21/05  BMW R1200GS      1,524
Anthony Tontodonato   Columbia, MD       11/19/05  H-D FLHTI        1,523
Michael Harnish  Costa Mesa, CA          11/13/05  BMW K1200GT      1,513

Eddie Gilbert    Harker Heights, TX      11/12/05  BMW K1200LT      1,605 TX-BBG
Marion Gilbert (passenger)               11/12/05  BMW K1200LT      1,605 TX-BBG

Nelson Cheney    Anaheim, CA             11/12/05  H-D Road Glide   1,508
Mike Pennington  Corona, CA              11/12/05  Honda Valkyrie   1,508
Kenneth C. Bleck Norco, CA               11/12/05  H-D FLHTCUI      1,508

Eddie G. Plemons Houma, LA               11/11/05  H-D Ultra Classic1,504
Manny Albalancy  Plano, TX               11/05/05  Honda Gold Wing  1,534

2005 SPANK Motorcycle Rally
Gregory Marbach  Casa Grande, AZ         11/05/05  Yamaha FJR1300   1,620

Melvin Brown      Cortland, NY           10/29/05  H-D FLHTC        1,507
           * * * Melvin is 70 years young on this ride! * * *

Jim Huber        Spring, TX              10/20/05  Honda ST1300     1,576
Gerald M. Eaton  Fishers, IN             10/17/05  BMW R1100RT SE   1,555
James C. Puckett Perryville, MO          10/16/05  BMW R1150RT      1,532
Thomas J. Evans  Orlando, FL             10/15/05  BMW K1200LT      1,503
Beau Sims        Dalton, GA              10/15/05  Honda Gold Wing  1,536
Dale Johnson     Rolling Meadows, IL     10/14/05  Honda CBR1100XX  1,783

Dan Brandenburg  Dixon, IL               10/11/05  H-D Electra Glide 1,545
Steven L Ketchum Dixon, IL               10/11/05  H-D Electra Glide 1,545

Steve Jones      Sullivan, MO            10/10/05  Honda ST1300A    1,502
Ken Havelka Jr.  Washington, PA          10/08/05  BMW R1100RT      1,515

Stan Cooper      Platte City, MO         10/08/05  Yamaha FJR 1300  1,514
John O. Cooper   Woodland Hills, CA      10/08/05  Honda GL1500SE   1,514

Andrew Witinski  Peely, PA               10/07/05  BMW K1200LT      1,528
Larry D. Ensley  Gastonia, NC            10/07/05  Yamaha FZ-1      1,588
Terry Kurth      Plantation, FL          10/05/05  Yamaha FJR1300   1,546
Robert Hilgenfeld Portales, NM           10/01/05  H-D Road King    1,542

Larry Pedersen   Alvarado, MN            10/01/05  H-D Wide Glide   1,534
Alan R. Nieuwsma Grand Forks, ND         10/01/05  H-D Super Glide  1,534

2005 Land of Enchantment Rally
Gregory Marbach  Casa Grande, AZ         10/01/05  Yamaha FJR1300   1,552

Garth Tomic      Sweet Home, OR          09/25/05  Suzuki V-Strom   1,547
John L. Juelfs   Columbia, IL            09/23/05  Honda GL1800     1,537
Pat Loughery     Hayden, ID              09/23/05  BMW R1150GS      1,562

2005 Baby Butt Rally
Rick Parker      Reseda, CA              09/17/05  KTM 950 Adventure1,523
Mark S. Jones    Santa Maria, CA         09/17/05  BMW K1100LT      1,523
Jeffrey Pratt    San Diego, CA           09/17/05  BMW R1100RT      1,523
Richard T. Hagan Mission Viejo, CA       09/17/05  Honda ST1100     1,523
Ryan C. Moore    Van Nuys, CA            09/17/05  Yamaha FJR1300   1,523
Herman Harris    Oceanside, CA           09/17/05  Kawasaki KLR650  1,523
Patrick M. Brady Garden Grove, CA        09/17/05  Triumph Sprint   1,523
John Parker      Encino, CA              09/17/05  Honda ST1100     1,523
Michael Butchers Huntington Beach, CA    09/17/05  Honda ST1300     1,523

Thomas Fiegel    Clark, MO               09/17/05  H-D Ultra Classic1,541
Paul L. Hemmel   Glasgow, MO             09/17/05  H-D Ultra Classic1,541
Hal James        Columbia, MO            09/17/05  H-D Ultra Classic1,541

Victor Lancaster Tarboro, NC             09/17/05  Honda VTX 1300 C 1,578

Jim Mayton       Rio Rancho, NM          09/17/05  Yamaha FJR1300   1,565
Steve Goatley    Albuquerque, NM         09/17/05  Yamaha FJR1300   1,565

Eli Weiss        Owensboro, KY           09/16/05  BMW R1150GS      1,520
Denny Sutton     Henderson, KY           09/16/05  BMW R1100RT      1,520

David J O'Donnell Edinburg, TX           09/14/05  Honda Gold Wing  1,528
Bruce G. Shields Hargill, TX             09/14/05  Honda Gold Wing  1,528

Ken Johnson      Reno, NV                09/13/05  BMW R1200C       1,540
Wayne D. Carr    Reno, NV                09/13/05  Kaw MeanStreak   1,540

Jeff Summers       Akron, OH             09/13/05  BMW R1100RT      1,547

Larry Cardo      Mentor, OH              09/13/05  BMW K1100RS      1,521
             * * * Larry is 65 years young on this ride! * * *
Wayne Slepecky   Medina, OH              09/13/05  Honda ST1300     1,541

David Bennett    Silverdale, WA          09/10/05  Honda GL1800     1,547
R.Scott Thornton Midland, MI             09/10/05  Yamaha XS 1100   1,568

Snowden Mathews  Littleton, CO           09/10/05  H-D Electra Glide1,526

Gene Mikolajczyk Playa Del Rey, CA       09/08/05  Yamaha FJR1300   1,535

Susan K Bernosky Fremont, CA             09/08/05  BMW R1200GS      1,534
Dave Bernosky    Fremont, CA             09/08/05  BMW R1200GS      1,534

Brent Johnson    Glendale, AZ            09/08/05  Honda VFR800     1,531

Peter Behm       Stillwater, MN          09/08/05  Yamaha FJR1300   1,553
Mike Spear       Renton, WA              09/07/05  Yamaha FJR1300   1,511
Kenny Seay       Norman, OK              09/06/05  BMW 1150GS       1,506
Richard T. Hagan Mission Viejo, CA       09/06/05  Honda ST ABSII   1,662
Virgil W. Duren  Bristow, IN             09/04/05  H-D Super Glide  1,564
Blair B. Smith   Brandon, MB, CANADA     09/03/05  Kawasaki Nomad   1,561

Chris Britton    Avon, OH                09/03/05  Honda GL1800     1,528
Frank Astorino   Avon, OH                09/03/05  BMW K1200LT      1,528

John R. Ahrens   Moreno Valley, CA       09/02/05  BMW K1200Lti     1,572
Virgil W. Duren  Bristow, IN             09/02/05  H-D Super Glide  1,524
Mike Phelps      Ellettsville, IN        09/02/05  Yamaha FJR 1300  1,650
Dennis Murphy    Third Lake, IL          09/01/05  BMW K1200GT      1,520
Brandon T. Moore Paducah, KY             09/01/05  Honda Valkyrie   1,525
Garth Tomic      Sweet Home, OR          08/30/05  Suzuki V-Strom   1,555
Tommy Victor     McDonough, GA           08/29/05  Honda ST1300     1,568
Garth Tomic      Sweet Home, OR          08/28/05  Suzuki V-Strom   1,540
Gregory Marbach  Casa Grande, AZ         08/28/05  Yamaha FJR1300   1,800+

Roger Allen      S. Hampton, ENGLAND     08/27/05  H-D Ultra Classic1,557

James Wilde      Gardner, KS             08/27/05  Ducati ST4       1,800+
Judy Hansen      Eagle Point, OR         08/26/05  Kawsaki Nomad    1,515
Matt Tyson       Columbus, OH            08/23/05  BMW F650GS Dakar 1,562
Doug K. Feagin   Henderson, TX           08/22/05  Honda GL1800     1,540
William England  Overland Park, KS       08/20/05  Honda ST1100     1,551
Steve Broadhead  Calgery, AL CANADA      08/20/05  Honda ST1300     1,527
Dennis York      Vancouver, WA           08/20/05  H-D Ultra Classic1,585
Raymond Thompson Harahan, LA             08/20/05  H-D Ultra Classic1,574
Steve Broadhead  Calgery, AL CANADA      08/19/05  Honda ST1300     1,523
Jack Shoalmire   Broken Arrow, OK        08/19/05  BMW K1200LT      1,572
Virgil W. Duren  Bristow, IN             08/19/05  H-D FXR          1,560

Rick Frey        Bishop, CA              08/19/05  H-D FXDX         1,399
Steve Garrison   Bishop, CA              08/19/05  Honda VTX1800R   1,399

Scott Wright     Twentynine Palms, CA    08/18/05  Yamaha FJR1300   1,556

Bill Mayo        Boerne, TX              08/17/05  Honda Gold Wing  1,617
             * * * Bill is 75 years young on this ride! * * *

David W. Aaker   Seattle, WA             08/15/05  Honda Gold Wing  1,534
Timothy J Wissmar Jacksonburg, WV        08/12/05  H-D Road King    1,590

Sterling Page     Sunset Beach, NC       08/09/05  Kawasaki KLR650  1,526
             * * * Sterling is 65 years young on this ride! * * *

David Robb       Cincinnati, OH          08/06/05  H-D Road Glide   1,562
Timothy Cone     Naperville, IL          08/06/05  Honda CBR1100XX  1,558

Jack Gingrich    Columbia, CA            08/05/05  H-D FLHTC        1,585
David E. Martens Arnold, CA              08/05/05  H-D Road King    1,585

Christopher Hall Blacksburg, VA          08/03/05  Honda ST1300     1,525
Mitch Schutter   Grand Rapids, MI        08/02/05  Yamaha Road Star 1,530
Brian D. Fuller  White, GA               07/30/05  H-D Heritage     1,521
Brad Washo       Howey-in-the-Hills, FL  07/30/05  Honda Gold Wing  1,502
Edward J. Yun    Bayside, NY             07/30/05  Ducati 900SS/FE  1,526
Dean Smith       Muskegon, MI            07/28/05  H-D Road Glide   1,536
Dennis Powell    Webster City, IA        07/28/05  Honda Valkyrie   1,508
James Timberlake Phoenix, AZ             07/23/05  H-D Road King    1,511
James R McConnell Longmont, CO           07/16/05  Honda Gold Wing  1,521
Daniel Perreault  Vaudreuil, PQ, CANADA  07/09/05  Honda Gold Wing  1,528

Petri Kemppainen Kiiminki, FINLAND       07/13/05  Yamaha FJR1300   1,555
Esa Lauri        Kempele, FINLAND        07/13/05  Honda CBR1100XX  1,555

Michael M. Logan Hanover, PA             07/09/05  H-D Softail      1,546

Catherine Davies Alpharetta, GA          07/09/05  Honda GL1800     1,521
Lawrence Johnson Alpharetta, GA          07/09/05  Honda Valkyrie   1,521

Bill Cushenbery  Colorado Springs, CO    07/08/05  Kawasaki Concours1,570

Red Sayler       Bismarck, ND            07/08/05  H-D Ultra Classic1,560
Norma Sayler (passenger)                 07/08/05  H-D Ultra Classic1,560
Dick Hedahl      Bismarck, ND            07/08/05  H-D FXST         1,560

Robert Odendahl  Austin, TX              07/07/05  BMW K1200GT      1,510
David Barahal    Casper, WY              07/04/05  H-D DynaWideGlide1,522
Jerry H. Cummins Cincinnati, OH          07/03/05  BMW R1150GS      1,520
Jack Shoalmire   Broken Arrow, OK        07/03/05  BMW K1200LT      1,542

Allen Wilson     Sartell, MN             07/03/05  H-D Road Glide   1,537

Chris Whitmore   UNITED KINGDOM          06/30/05  Triumph Sprint   1,526

Michael J. Evans Saratoga Springs, NY    06/29/05  BMW R1100R       1,547
James P Flanagan Plymouth, WI            06/29/05  H-D Ultra Classic1,568
Megan Flanagan (passenger)               06/29/05  H-D Ultra Classic1,568

Todd Smith       Hebron, KY              06/27/05  BMW K1200LT      1,527
Levi Beckner     Painesville, OH         06/26/05  Honda Nighthawk  1,540

2005 Utah 1088
Keith Estridge   Palisade, CO            06/25/05  Honda ST1300     1,506

Michael Verville Rapid City, SD          06/25/05  Honda Gold Wing  1,559
David Ray Webb   Rapid City, SD          06/25/05  H-D Electra Glide1,559

Tom Baldwin      New Fairfield, CT       06/24/05  BMW R1150R       1,525
Herbert E. Laun  Everett, WA             06/23/05  H-D FLSTC        1,521
Phil Mowers      Grand Rapids, MI        06/23/05  Yamaha FJR1300   1,508
Chris J Iannone  Tustin, CA              06/23/05  Yamaha FJR1300   1,517

Lloyd Gardner    Everett, WA             06/23/05  Honda GL1800     1,521

Steven Bennett   Hershey, PA             06/22/05  Kawasaki Concours1,539
Bob Pappalardo   Sumner, WA              06/22/05  Kawasaki Concours1,527
Ronald Stazuk    Palos Hills, IL         06/21/05  Suzuki V-Strom   1,528

Markku Kiljunen  Imatra, FINLAND         06/20/05  Yamaha FJR1300A  1,584

Steven L Soden   North Bend, WA          06/18/05  Honda Gold Wing  1,580
John Tomasovitch Throop, PA              06/18/05  BMW K1200RS      1,574
Rodney J. King   Volga, SD               06/18/05  H-D Electra Glide1,565

Ray Davis        Irvine, CA              06/18/05  Honda Gold Wing  1,570
           * * * Ray is 73 years young on this ride! * * *

Deb Taylor       Rosemont, MN            06/18/05  BMW R1200RT      1,536
Keith Rosewaren  Independence, MO        06/18/05  H-D Road King    1,634

2005 Alberta 2000
Charlie Leach    St Albert, AB CANADA    06/17/05  Honda ST1100     1,583
Dwight Hillas    Edmonton, AB CANADA     06/17/05  Honda ST1100     1.583

Jerry Butler      Richland, WA           06/17/05  BMW R1150RT      1,522
Gary L. Schweiger Kennewick, WA          06/17/05  BMW K1200LT      1,522

Charlie Fruit    Machesney Park, IL      06/17/05  H-D Electra Glide1,535
Dawn Porter (passenger)                  06/17/05  H-D Electra Glide1,535

Joseph Garofalo  Alpharetta, GA          06/17/05  H-D Softail      1,642
Bill Penney      Kent, OH                06/17/05  BMW K1200RS      1,525

Chuck Jones      Anaheim, CA             06/15/05  H-D Ultra Classic1,511
           * * * Chuck is 66 years young on this ride! * * *

Bill Cornog      Fargo, ND               06/11/05  Honda GL1800     1,577
Scott A Griffeth West Fargo, ND          06/11/05  Honda ST1300     1,577

Mark Milanowski  Muskego, WI             06/10/05  Triumph Trophy   1,544

Douglas Coffey   Stone Mountain, GA      06/10/05  Honda Gold Wing  1,527
Rickye Johnson   Stone Mountain, GA      06/10/05  BMW R1150GS      1,527

Mick Hunter      Pilot Mound, IA         06/06/05  Honda Aspencade  1,526
Bob Collin       Cumberland Falls, ME    06/04/05  BMW R1150GS      1,506
Jeffrey Casey    San Antonio, TX         06/04/05  Kawasaki Drifter 1,538
Andrew Higgins   Joliet, IL              05/28/05  Honda GL1000     1,571

Peter Short      SOUTH AFRICA            05/26/05  BMW R1150RT      1,548

Lynn J. Horrocks Kaysville, UT           05/25/05  Honda Gold Wing  1,600

Michael G Finnie Madisonville, KY        05/22/05  Yamaha FJR1300A  1,507
Jim Barnes       Salem, IL               05/22/05  Honda VTX1300C   1,507

Richard Holey    Richmond, MO            05/21/05  Yamaha XV700     1,526
James R. Welch   Liberty, MO             05/21/05  Honda Gold Wing  1,526
J.L. Smith       Blue Springs, MO        05/21/05  Honda ST1100     1,526
Denny Kraemer    Harrisonville, MO       05/21/05  Honda ST1100     1,526
Jim Wheaton      Independence, MO        05/21/05  Honda Gold Wing  1,526
           * * * Jim is 73 years young on this ride! * * *

2005 Twist 'N' Shout Rally
John Parker      Encino, CA              05/21/05  Honda ST1100     1,525

Richard Kirtley  Jacksonville, FL        05/19/05  H-D Ultra Classic1,523
Barry L. Kinsey  Lawton, OK              05/18/05  H-D Ultra Classic1,541
Bob Wisness      Watford, ND             05/18/05  Honda GL1800     1,546
John Allen       Deland, FL              05/15/05  H-D Road King    1,502
Sean J. Gallagher Richmond, VA           05/15/05  BMW K1200LT      1,569

Dan Wolford       Horn Lake, MS          05/15/05  Honda Gold Wing  1,523
Cindy Fuller      Southhaven, MS         05/15/05  Honda GL1800     1,523
Lynn Chrestman    Rossville, TN          05/15/05  Honda GL1800     1,523
Perry Wolford     Southhaven, MS         05/15/05  Honda Gold Wing  1,523

Matthew C WatkinsPasco, WA               05/14/05  Yamaha FJR1300   1,566
Terry Kurth      Plantation, FL          05/14/05  Honda ST1300     1,521
Richard Kurtz    Lindsborg, KS           05/13/05  Aprilia Scarabeo 1,520
Peter Leap       Marblehead, MA          05/12/05  Honda ST1300     1,570

Martin Cook      Palm Coast, FL          05/11/05  BMW R1150RT      1,579
               * * * Martin is 65 years young on this ride! * * *

Christopher Ross Lubbock, TX             05/10/05  BMW R1100RT      1,604
B.B. Neely, Jr   Magee, MS               05/06/05  BMW R1150GS      1,588

CMA Springs - The Ring of BunBurner GOLD 2005
Peter Cheetham   SOUTH AFRICA            04/29/05  Suzuki GSX 1000  1,528
Madol De Wet     SOUTH AFRICA            04/29/05  BMW K1200GT      1,528
Genevieve De Wet (pillion)               04/29/05  BMW K1200GT      1,528
Tienie Fraser    SOUTH AFRICA            04/29/05  BMW 1200GS       1,528
Martin Grosskopf SOUTH AFRICA            04/29/05  BMW R1150GS      1,528
Billy Hughes     SOUTH AFRICA            04/29/05  Yamaha R1        1,528
Garnett Parkin   SOUTH AFRICA            04/29/05  Yamaha FJR 1300  1,528
Kobus Steenekamp SOUTH AFRICA            04/29/05  BMW R1200GS      1,528
T.C. Steyn       SOUTH AFRICA            04/29/05  BMW R1150RT      1,528
Clayton Thomas   SOUTH AFRICA            04/29/05  BMW R1100S       1,528
Danie Van Niekerk  SOUTH AFRICA          04/29/05  Honda CBR 600    1,528
Jakes Venter     SOUTH AFRICA            04/29/05  BMW 1150RT       1,528

Vance D. Keeney  Zephyr Cove, NV         04/24/05  BMW K1200GT      1,557

Guy S. Pierce    Summerfield, NC         04/23/05  H-D FLHTCUI      1,538
Greg Pratt       King, NC                04/23/05  Honda GL1800     1,538

Elven Hutcherson Arkadelphia, AR         04/22/05  BMW K1200LT      1,539

Jim Moore        Scottsdale, AZ          04/17/05  Yamaha FJR1300   1,510
               * * * Jim is 68 years young on this ride! * * *

Jack L. McClure   Clayton, NC            04/15/05  Honda ST1300     1,528
Jon E. Knapp     Waxahachie, TX          04/15/05  H-D Ultra Classic1,511
Suzanne Knapp (passenger)                04/15/05  H-D Ultra Classic1,511

Jackie Pressley  Dawsonville, GA         04/08/05  Polaris Victory  1,534
Patrick Veth     Bonita, CA              04/07/05  BMW R100RT       1,516
Bobby West       Gilbert, AZ             04/07/05  Honda Gold Wing  1,516
Victor Ybiernas  San Diego, CA           04/07/05  BMW R1200GS      1,510
Stevie McCaffrey San Diego, CA           04/07/05  Yamaha FJR1300   1,505

Tim Yow          Charleston, IL          04/04/05  Honda GL1800     1,521
Fred Thomas      Summerville, SC         04/03/05  Honda GL1800     1,521
Susan Thomas (passenger)                 04/03/05  Honda GL1800     1,521

Charles Storer   Houston, TX             04/02/05  1971 BMW R/75    1,539

Free Riders Bun Burner GOLD
Bill Green       North Palm Beach, FL    03/26/05  Honda CBR 1000   1,524

E.B. Andresen    Newnan, GA              03/23/05  H-D ScreaminEagle1,556
Michael J. Rath  Burlington, KY          03/21/05  Honda GL1800     1,573
Charlie Clemmer  Plano, TX               03/19/05  Honda ST1300     1,515
Sean J. Gallagher Richmond, VA           03/05/05  BMW K1200LT      1,515
Sean Balsamello  Ridge, NY               03/03/05  Kawasaki Concours1,507

Kenny Seay       Norman, OK              02/20/05  BMW R1150GS      1,503
David McLain     Oklahoma City, OK       02/20/05  BMW K1200LT      1,503

Jerry Riley      Afton, TN               02/18/05  Honda ST1100     1,575
Edgar Tanner     Houston, TX             02/11/05  BMW K1200LT      1,510

Garth Tomic      Sweet Home, OR          01/25/05  Suzuki V-Strom   1,544

Ned Chipley      Nacogdoches, TX         01/18/05  Honda GL1800     1,540
           * * * Ned is 69 years young on this ride! * * *

Greg Rice        Fort Lauderdale, FL     12/16/04  Honda GL1800     1,505
Bill Pearlman    Davie, FL               12/16/04  Honda Gold Wing  1,505

Craig Moore      Newnan, GA              12/11/04  Honda GL1800     1,506
Mark Campbell    Newnan, GA              12/11/04  Honda GL1800     1,506

Thomas Dale      Riverside, CA           11/23/04  H-D Heritage     1,561
David L. Hicks   Alta Loma, CA           11/23/04  Yamaha FJR1300   1,561

Sheila L. Winnie Cecil, OH               11/20/04  Honda GL1800     1,541

Brian Fairbank   St Petersburg, FL       11/10/04  BMW K1200LT      1,525
Mike Jackman     New Port Richie, FL     11/10/04  BMW K1200LT      1,525

Luiz T. Vicentin Sao Carlos, SP BRAZIL   11/05/04  BMW R1150GS-ADV  1,513

Jac Buchner      Pretoria, SOUTH AFRICA  10/30/04  BMW F650GS-DAKAR 1,513
Charl Louw       Pretoria, SOUTH AFRICA  10/30/04  Yamaha YZF600R   1,513

Jerry L. Becherer Edwardsville, IL       10/04/04  BMW K1200LT      1,570
Bill Murphy      Chula Vista, CA         10/30/04  Kawasaki Concours1,519
Sean Silverthorn London, Ontario, CAN    10/28/04  Honda GL1800     1,550
Jim Hahn         Margete, FL             10/27/04  Honda Gold Wing  1,565
Richard A. Paoff Santa Fe, NM            10/25/04  BMW R1200GS      1,575
John C. Parrish  Tacoma, WA              10/23/04  Yamaha FJR1300   1,509

Thomas Dennison   Lee's Summit. MO       10/21/04  Honda Gold Wing  1,510
Franklin Edwards Raytown, MO             10/21/04  Honda Gold Wing  1,510

Kent Hafemann    Coppell, TX             10/20/04  Honda GL1800     1,595
Bob Collin       Cumberland Falls, ME    10/13/04  BMW K1100LT      1,523
Ian Hardaker     Genoa, OH               10/10/04  H-D Ultra Classic1,538
Paul L.J. Randall Tumwater, WA           10/08/04  Honda Valkyrie   1,525
Russell L Oliver Mesa, AZ                10/06/04  H-D Road King    1,505
Scott Buchanan   Napa, CA                10/05/04  H-D Road Glide   1,568
Donald Catterton Severna Park, MD        10/03/04  BMW K1200LTC     1,528
Alexander Schmitt St. Johnsville, NY     10/02/04  Honda ST1100     1,553
Jack Fowler      Lancaster, CA           10/02/04  Honda Gold Wing  1,546
Tom Oglesby      Lubbock, TX             10/02/04  Honda Gold Wing  1,575

William Hartley  West Covina, CA         10/02/04  H-D Road Glide   1,531
Cameron Nelson   Balwin Park, CA         10/02/04  H-D FLSTC        1,531

2004 Land of Enchantment
Roger Zieseniss  Brigham City, UT        10/02/04  KawasakiConcours 1,530

2004 Baby Butt
Carroll Walker   Lake Forest, CA         10/02/04  Honda ST1100     1,523
           * * * Carroll is 66 years young on this ride! * * *
Jim Sharkey      Long Beach, CA          10/02/04  BMW R1150RT      1,523
Peter H. Olson   Lakewood, CA            10/02/04  Honda GL1500     1,523
Robert Pritchard Saugas, CA              10/02/04  H-D Road King    1,523
Peter Perrin     Torrance, CA            10/02/04  BMW R1150GS      1,523
Brian W. Zaleski Novato, CA              10/02/04  Honda Gold Wing  1,523
Rick Parker      Reseda, CA              10/02/04  Honda CBR1100XX  1,523
Michael Thibodeau Orange, CA             10/02/04  Suzuki V-Strom   1,523
John Parker      Reseda, CA              10/02/04  Honda ST1100     1,523
Gerald Stanfield Laguna Niguel, CA       10/02/04  Honda GL1800     1,523
Brent Ross       Crestline, CA           10/02/04  Suzuki V-Strom   1,523
Robert Mueller   Pomona, CA              10/02/04  Suzuki V-Strom   1,523
Patrick Veth     Bonita, CA              10/02/04  BMW R1100RT      1,523
George Swetland  Lake Elsinore, CA       10/02/04  BMW K1200RS      1,523

Larry M Reed    Charleston, WV           09/30/04  H-D Road King    1,533
Alexander Schmitt St. Johnsville, NY     09/30/04  Honda ST1100     1,600
Michael Boge     Sandpoint, ID           09/28/04  Ducati ST4S ABS  1,528
Jim Mulcahy      Tulsa, OK               09/12/04  BMW K1200RS      1,541

Blue Knights of Georgia 7 Iron Torch Ride
Nick Kharazmi    Alpharetta, GA          09/12/04  Honda ST1300     1,502
David F. Jones   Canton, GA              09/12/04  H-D Ultra Classic1,551
Fred J. Carter   Covington, GA           09/12/04  H-D Road Glide   1,551

W Charles Brooks Warrensville Heights,OH 09/11/04  Honda Gold Wing  1,562

Jocelyn Cote     St-Antoine Abbe, PQ     09/11/04  Yamaha R-1       1,544
Louis-Phillippe  Chartrand  Quebec       09/11/04  Kawasaki Concours1,544

Scott Griffith   Nauvoo, AL              09/10/04  BMW R1200C       1,520
Mickey Burns     Hartselle, AL           09/10/04  Honda Gold Wing  1,520

Richard A. Hall  Lyons, CO               09/09/04  Kawasaki Concours1,521
Cameron Abbaticchio  Cedar City, UT      09/04/04  Honda GL1800     1,645
Glenn Boglisch   Windsor Locks, CT       09/03/04  Boss Hoss        1,520
James T Peterson Apache Junction, AZ     09/02/04  BMW R75/6        1,549
Stan Ciolkosz    Oakdale, MN             08/31/04  H-D Road Glide   1,532
Gary Osmond      Brooklyn, WI            08/31/04  BMW K1200RS      1,586
John Jebson      DeWitt, IA              08/29/04  BMW K1200GT      1,501

Dick Meyer       Brogue, PA              08/28/04  Honda GL1800     1,560
           * * * Dick is 72 years young on this ride! * * *

Richard Wood, Jr Columbus, GA            08/28/04  BMW K1200LT      1,501
Brooke H. Powell Asheville, NC           08/28/04  BMW K1200LT      1,570
Grayson Cook     Barkhamsted, CT         08/27/04  H-D Road Glide   1,544

Justin G. Fetsch Fargo, ND               08/21/04  BMW R1100RT      1,515
Rick Hansen      Fargo, ND               08/21/04  BMW K1200LT      1,512

Douglas Brigham  Erwinna, PA             08/20/04  Honda GL1500SE   1,530
Rebecca Vaughn   Milwaukee, WI           08/17/04  BMW R1100RS      1,578
Andrew R. Stone  Richmond, NH            08/17/04  Honda ST1100     1,529
Arturo Montoya   Chandler, AZ            08/14/04  Honda CBR954RR   1,588
Alexander Schmitt St. Johnsville, NY     08/14/04  Honda ST1100     1,573
Jerry White      San Leandro, CA         08/14/04  BMW R1100RS      1,555
Al Schibi        Mesa, AZ                08/14/04  BMW K1200RS      1,542

Bob Elliott      Atlanta, MI             08/14/04  Honda GL1800     1,536
Randy L. Chom    Clinton Township, MI    08/14/04  BMW K1200LT      1,536

David Kendell    Oregon City, OR         08/13/04  BMW R100GS/PD    1,549

Chris A. Corbitt Tallahassee, FL         08/07/04  Honda GL1800     1,544
Derek Friend     Tallahassee, FL         08/07/04  Yamaha FJR1300   1,544

Wm Brennan-Dubbs Lakewood, WA            08/05/04  BMW R100GS       1,506
J Scott Livingston  Harmans, MD          08/03/04  BMW R1100RT      1,521
Kevin Gorden     Federal Way, WA         08/01/04  BMW K1200RS      1,618
Sam Shallenberger Mount Juliet, TN       08/01/04  BMW R1150R       1,520
Timothy Hosto    Pedro, OH               08/01/04  BMW R1150GS      1,558
Bud Yates        Monument, CO            07/29/04  Honda GL1800     1,580
John Somers      Highlands Ranch, CO     07/29/04  BMW K1200LTC     1,534
Angelo Pallock   Wheeling, IL            07/28/04  BMW K1200GT      1,533
Gordon Zeugner   Belfair, WA             07/26/04  Honda Gold Wing  1,566

Cameron Sanders  North Bay,Ontario,CAN   07/24/04  Yamaha XVZ-12    1,542
Peter A. Delean  Ontario, CANADA         07/24/04  BMW R1100RT      1,542

Paul McClain     Trussville, AL          07/24/04  BMW R1150RT      1,677
Robert Munden    Windsor, ON CANADA      07/24/04  HondaPacificCoast1,527
Dane Clark       Casper, WY              07/23/04  H-D FLHRCI       1,510
Richard M. Bunt  Atlanta, GA             07/21/04  H-D V-Rod        1,800+
Jennifer Ferguson Bunt (pillion)         07/21/04  H-D V-Rod        1,800+
Jim Loomis       Beloit, WI              07/21/04  BMW R1150GS      1,599
Robert Foster    Lexington, VA           07/19/04  BMW R1150GS      1,516
Steve Struckman  Warrenville, IL         07/17/04  H-D FXSTC        1,536
Mike Netherton   Euless, TX              07/16/04  H-D Road King    1,574
Bob Corio        Vermillion, SD          07/14/04  Yamaha FJR1300   1,525
Gene Fuller      Springdale, AR          07/13/04  Honda Gold Wing  1,623
Gordon Hanson III Cordova, TN            07/11/04  Honda GL1800     1,516
Barry Zane       Wayland, MA             07/11/04  Honda ST1300     1,521
Michael Rieder   Thousand Oaks, CA       07/10/04  Honda ST1300     1,556
Jon Baker        Fair Oaks, CA           07/08/04  H-D Road King    1,525
Walter H. Steele Kokomo, IN              07/02/04  Aprilia Futura   1,583
Alexander Cavasin Vercheres, PQ, CANADA  07/02/04  BMW R1100GS      1,510

Philip Mark Coffey Borehamwood, ENGLAND  06/29/04  BMW R1150RT      1,555

John F. Wendorf  Beaver Dam, WI          06/29/04  Honda GL1800     1,534
Matt Welborn     Everett, WA             06/27/04  BMW R1100GS      1,547

2nd Annual Bob Hull Memorial Run
Bruce Schantz    Wyoming, MI             06/26/04  Kawasaki Voyager 1,507
David M. Quint   Grand Rapids, MI        06/26/04  H-D Ultra Classic1,507

Lee R. Hemquist  Woodbury, MN            06/26/04  Honda Gold Wing  1,675
Jack Cook        Marina, CA              06/26/04  BMW R1150RT      1,645
John Parker      Reseda, CA              06/26/04  Honda ST1100     1,562
Dana L. Van Pool Landers, CA             06/26/04  Honda ST1300     1,544

Richard Brown    Farmington, NY          06/24/04  H-D FLHTCU       1,510
Mark Johansen    Lindenhurst, NY         06/24/04  H-D FLHTCU       1,510

Mark A. Storck   Allendale, IL           06/22/04  Kawasaki Concours1,560

Tom Yeager       Yakima, WA              06/22/04  Honda GL1500     1,510
T.L. Coleman     Yakima, WA              06/22/04  Honda ST1300     1,510
                 *** 71 years young at time of ride! ***

Kelly Adams      Meridian, ID            06/21/04  H-D Road King    1,567
Steven L Johnson Boise, ID               06/21/04  H-D Fat Boy      1,567

Brian Salisbury  Northport, NY           06/19/04  BMW R1100RT      1,587
David L. Flato   Houston, TX             06/19/04  BMW R1100RS      1,543

Tony Malone      Dardanelle, AR          06/19/04  H-D Road King    1,556

Robert Strittar  Ridgecrest, CA          06/19/04  BMW R1150RT      1,540
Ron Reed         Ridgecrest, CA          06/19/04  Triumph Tiger    1,540

Jim Bryant       Greenwood, AR           06/19/04  H-D Ultra Classic1,556

William J Nemetz Marysville, PA          06/19/04  H-D Road King    1,530

Dave V. Gerber   Watertown, WI           06/19/04  H-D Road Glide   1,558
Cory Kuehl       Horicon, WI             06/19/04  BMW R1100RT      1,558

John M. Hambrick Lawton, OK              06/18/04  H-D Ultra Classic1,508
Tracy C. Hambrick (pillion)              06/18/04  H-D Ultra Classic1,508

Hoagy's 1500 Mile Special Wish Run
Pat Scott        Stockport, OH           06/17/04  BMW K1200LT      1,592
John Kitts       McConnelsville, OH      06/17/04  H-D Electra Glide1,521

Larry Scalzitti  Barrington, IL          06/15/04  BMW R1150GS-ADV  1,533
George M. Zelenz Joshua Tree, CA         06/14/04  BMW R100R        1,560
Patrick Kuznicki Oxford, MI              06/14/04  H-D Electra Glide1,561
Mark G. Smith    Watauga, TX             06/13/04  H-D Ultra Classic1,528
Bob Hendricks    Hearne, TX              06/13/04  Honda ST1300     1,530
Gary Obrokta     Maple Park, IL          06/12/04  Yamaha FJR1300   1,521
Jim Niemi        Orange Park, FL         06/12/04  BMW K1200LT      1,576

Bruce A. Hansen  Everett, WA             06/12/04  H-D FLTRI        1,529

Carl Stark       Sheridan, WY            06/12/04  Honda Gold Wing  1,545

Troy Walsh       Neenah, WI              06/07/04  H-D ElectraGlide 1,548
Jayme Walsh (pillion)                    06/07/04  H-D ElectraGlide 1,548
     * * * Jayme was 13 years old at time of the ride * * *

Jeff Sawyer      Canyon Lake, TX         06/05/04  Honda GL1100A    1,549
Jerry Ziegelbauer Sheboygan, WI          06/05/04  H-D Ultra Classic1,592

Lee Bryant       Richwood, TX            06/05/04  H-D Fat Boy      1,590
Chris Carter     Lake Jackson, TN        06/05/04  H-D Ultra Classic1,590

Todd E. Sholey   Rock Springs, WY        06/06/04  Honda GL1800     1,525
Phil Runyan      Cheyenne, WY            06/06/04  Honda GL1800     1,525

Steve Short      Fair Grove, MO          06/04/04  H-D Electra Glide1,507
George Kessinger Rockville, MD           06/03/04  H-D Ultra Classic1,554
Coni Fitch       Bellevue, WA            06/02/04  BMW K1200LT      1,509
Richard Antoine  Walnut, CA              05/30/04  BMW K100LT       1,523
Kevin Healey     West Palm Beach, FL     05/28/04  Triumph Trophy   1,516
Michael Rieder   Thousand Oaks, CA       05/28/04  Honda ST1300     1,551

W. Carroll Kelly Houston, TX             05/28/04  H-D Road King    1,550
Samuel Allen     Houston, TX             05/28/04  H-D Ultra Classic1,550
Michael Callaghan Houston, TX            05/28/04  H-D Wide Glide   1,550
Dick Tate        Houston, TX             05/28/04  H-D Ultra Classic1,550

Curt Gran        Franklin, WI            05/23/04  H-D Ultra Classic1,543
Fred Parker      N. Waterboro, ME        05/23/04  BMW R1150GS      1,553
Art Grogan       Mt Pocono, PA           05/22/04  BMW R1150RT      1,512

Lisa Stevens     Tieton, WA              05/22/04  BMW R1150RT      1,504
Tobie Stevens    Tieton, WA              05/22/04  BMW R1150RT      1,504

Scott Nelson     Eden Prairie, MN        05/21/04  BMW R1100RT      1,592

Sherri L Pelican Seattle, WA             05/21/04  KawasakiConcours 1,523
David J. Morrow  Vancouver, B.C. (CAN)   05/21/04  KawasakiConcours 1,523

Drake W. Smith   Seattle, WA             05/19/04  BMW K75RT        1,592

Alain Lamontagne Quebec, CANADA          05/19/04  Yamaha FJR1300   1,531
Nelson Gagnon    Quebec, CANADA          05/19/04  Yamaha FJR1300   1,531

Robert Joers     Milwaukee, WI           05/14/04  BMW K1200LT      1,530

Bill Vaughan     Kerrville, TX           05/11/04  BMW R1150RT      1,522
Bob Buffington   Kerrville, TX           05/11/04  Yamaha FJR1300   1,522

Dan Huber        Indian Head, MD         05/08/04  BMW R1100GS      1,534

Gordon Campbell  Ottawa, IL              05/08/04  BMW K1200LT      1,554
Philip L Jungels N. Aurora, IL           05/08/04  Honda Gold Wing  1,554

Steven Broadhead Calgery, AL CANADA      04/30/04  Honda Blackbird  1,591
Tim Watts        Kent, WA                04/30/04  Kawasaki Concours1,581

Rufus A Maxfield Kerrville, TX           05/11/04  BMW K1200LT      1,551
W.G. Luckey      Kerrville, TX           05/11/04  BMW R1100RT      1,525
Leroy Braxdale   Kerrville, CA           05/11/04  BMW R1100RT      1,525
                * * * Leroy is 78 years young on this ride! * * *

Greg Seifter     Santa Rosa, CA          05/01/04  BMW K1100RS      1,629
Clifford Crews   Concord, CA             05/01/04  Honda GL1800     1,629
Curtis Eggleston Martinez, CA            05/01/04  Honda GL1800     1,629

Ron Klint        Batavia, IL             05/01/04  Honda Gold Wing  1,536
Dan Yee          Woodridge, IL           05/01/04  Honda Valkyrie   1,536
Steven E Holcombe North Aurora, IL       05/01/04  Honda GL1800     1,536

James A. Owen    Easton, PA              04/28/04  BMW R1150RT      1,677

Ted E. Felis     Salt Lake City, UT      04/24/04  H-D Road Glide   1,503
                 *** Ted is 70 years young at time of ride! ***

Dan Vines        Orlando, FL             04/24/04  Kawasaki Concours1,547
John Faulkner    Fairfield, CA           04/24/04  Honda ST1100     1,552
Paul Banks       Richmond, KY            04/24/04  Kawasaki Concours1,579

Mike Collins     Portland, OR            02/22/04  Honda GL1800     1,555
Jake Broyles     Hermiston, OR           04/21/04  BMW K1200LT      1,631
Robert Mulcahy   Tucson, AZ              04/21/04  H-D Road Glide   1,508
Vance D. Keeney  Zephyr Cove, NV         04/20/04  H-D DynaWideGlide1,538

Carl E. Furry    Charleston, IL          04/19/04  H-D Heritage     1,520
                 *** 74 years young at time of ride! ***

Terry E. Watson  Charleston, IL          04/19/04  Honda GL1800     1,520
Glenn Holland    Jacksonville, NC        04/19/04  H-D FLHT         1,605
Juli Davis       Jacksonville, FL        04/19/04  H-D FLHT         1,520
Dewayne Harkov   Ripon, CA               04/19/04  BMW R1100RT      1,520
Howard Horstman  Cordele, GA             04/19/04  Yamaha Venture   1,520
Tim Yow          Charleston, IL          04/19/04  Honda GL1800     1,520
Samuel Rankin    Charlotte, NC           04/19/04  Yamaha FJR1300   1,585
Peter Leap       Marblehead, MA          04/19/04  Honda ST1300     1,516
Fletcher Clark   Ruleville, MS           04/19/04  BMW K1200LT      1,520
Mike Goodwin     Houston, TX             04/18/04  BMW K75S         1,530
Terry W Simpkins Yorktown, PA            04/17/04  Honda Gold Wing  1,530

James R. Massey  Blossom, TX             04/17/04  H-D Road King    1,549
Roy Massey       Blossom, TX             04/17/04  Kawasaki Nomad   1,549

Robert Kaiser    Sherwood, AR            04/17/04  Honda GL1800     1,532
Bill Dearing     Sherwood, AR            04/17/04  Honda GL1800     1,532

William M Yarian Fishers, IN             04/16/04  BMW R1150RT      1,511

Don Johnson      Evansville, IN          04/04/04  BMW R1150RT      1,573
Denny Sutton     Henderson, KY           04/04/04  BMW R1100RT      1,573

Bill Watt        Vancouver, BC           04/03/04  BMW R1150GS      1,513

Bruce O. Bjork   McHenry, IL             04/03/04  Honda Magna V65  1,567
David C. Bjork   Elgin, IL               04/03/04  Honda ST1300     1,567

David J. Moss    Shickshinny, PA         04/03/04  BMW R1150RT      1,503
John Tomasovitch Throop, PA              04/03/04  BMW K1200RS      1,503
Mickey Cohen     Kingston, PA            04/03/04  Honda ST1100     1,503

Doug Morgan      Red Oak, TX             04/02/04  H-D Road King    1,586

Free Riders 1500
Cindy Harris     Port Orange, FL         03/27/04  Kawasaki Nomad   1,524
Mike Aldenderfer Port Orange, FL         03/27/04  H-D Heritage     1,524
Linda Callaghan  New Smyrna Beach, FL    03/27/04  Honda Sabre      1,524
Lynn Harris      Port Orange, FL         03/27/04  Honda Valkyrie   1,524

Scott Periard    Cumberland Center, ME   03/26/04  Honda VFR        1,556
Fidel Reyes Jr   San Jose, CA            03/21/04  Honda ST1100     1,525

John Hubbard     Albuquerque, NM         03/21/04  BMW K1200LT      1,514
Frank Hubbard    Moscow, PA              03/21/04  BMW K75          1,514

Patrick Finley   Oklahoma City, OK       03/20/04  Honda GL1800     1,504
David Whitney    Virginia Beach, VA      03/24/04  Honda Valkyrie   1,530
Robert L. Smith  Yuma, AZ                03/20/04  Honda ST1300     1,553
Gerald Pinckard  Shreveport, LA          03/20/04  Honda Gold Wing  1,582
Kyle Smith (passenger)                   03/20/04  Honda Gold Wing  1,582

Ron Mozer        Pueblo, CO              03/20/04  Yamaha FJR1300   1,571
Will Allender    Woodland Park, CO       03/20/04  BMW R1150GS      1,568

Rickey Lynn McCoy Fayetteville, AR       03/18/04  Honda Nighthawk  1,546
Keith Oster      Palm Harbor, FL         03/13/04  Hon GL1800 Trike 1,517

In Africa Tour Operators - SOUTH AFRICA
Con Barnard      Pretoria, SA            03/13/04  BMW K1200GT      1,528
Rob Cook         Benoni, SA              03/13/04  Kawazaki ZX12R   1,528
Elroy Haasbroek  Germinston, SA          03/13/04  BMW F650         1,528
Elmyrt John      Potchefstroom, SA       03/13/04  Kawazaki ZX12    1,528
Wolfgang John    Potchefstroom, SA       03/13/04  BMW R1100RT      1,528
Fred Jooste      Krugersdorp, SA         03/13/04  Honda Fireblade  1,528
Alex Knoetze     Boksburg, SA            03/13/04  Suzuki GSXR1300  1,528
Johan Kritzinger Kempton Park, SA        03/13/04  Tiumph Trophy    1,528
Niekie Pelser    Sasolburg, SA           03/13/04  Honda VTR1000    1,528
GA Serfontein    Nelspruit, SA           03/13/04  BMW K1200GT      1,528
Darrell van der Merwe Krugersdorp, SA    03/13/04  BWM R1150GS      1,528
Peter Van Rensburg  Centurion, SA        03/13/04  BMW K1200RS      1,528
Martin Lewis     Johannesburg, SA        03/13/04  Suzuki GSXR 1300 1,528
Chris Naude      Bedfordview, SA         03/13/04  BMW K1200RS      1,528
Dolla Holl       Randfontein, SA         03/13/04  BMW R1100GS      1,528
Frikkie Holl     Rustenburg, SA          03/13/04  BMW R1150GS      1,528

Steve Weston     Parkland, FL            03/07/04  H-D Ultra Classic1,501

Michael Abadie   Baton Rouge, LA         03/06/04  Kawasaki Voyager 1,567
Edward Rowe III  Fort Lauderdale, FL     03/06/04  H-D Road King    1,520
Craig M. Coleman Kearney, MO             03/06/04  BMW R1150RS      1,545
Doug Hutter      Phoenix, AZ             03/05/04  H-D Sporster     1,520
Donald Williams  Sterling, VA            03/05/04  BMW R1100RT      1,556

Bob Lilley       Easton, PA              02/29/04  BMW K1200LTE     1,528
Rick Neeley      Houston, TX             02/27/04  Honda GL1800     1,578
Chuck Chiodini   Heber Springs, AR       02/19/04  Honda ST1100     1,524

Peter Allen      SOUTH AFRICA            01/31/04  BMW R1150RT      1,551

Rex A. Leipheimer Belgrade, MT           01/31/04  H-D UltraClassic 1,537
Jack E. Vido     Bakersfield, CA         01/30/04  Honda ST1100     1,530

George Goland    Bonsall, CA             01/29/04  H-D UltraClassic 1,507
*** 76 years young at time of ride, oldest Bun Burner GOLD finisher! ***

George Barnes    Rifle, CO               01/22/04  BMW K1200LT      1,554
Thomas Hudson    Aiken, SC               01/18/04  Honda GL1800     1,582
Douglas Von Roeder  Folsom, CA           01/03/04  Honda GL1800     1,537
Jon Fortier      Clermont, FL            11/30/03  H-D Road King    1,555
Glen Frankum     Phoenix, AZ             11/22/03  BMW K1200LT      1,589
Barry Dobson     Linville, NC            11/21/03  BMW K1200RS      1,535
John C. Ryan     Morris Plains, NJ       11/16/03  BMW K75          1,615
David M. Dirig   Escondido, CA           11/15/03  Honda Gold Wing  1,556
Peter Perrin     Torrance, CA            11/15/03  BMW R1150GS      1,503
Bill Androws     Livermore, CA           11/11/03  Honda GL1800     1,558
Sean J. Gallagher  Richmond, VA          11/09/03  BMW K1200LT      1,727
Michael Harper   Decatur, AL             11/09/03  Honda Gold Wing  1,505
Charles Steinman Austin, TX              11/06/03  BMW R1150RT      1,557
Ken Allison      Tyler, TX               11/01/03  Yamaha Venture   1,566
Arthur L. Bailey Corpus Christi, TX      11/01/03  KawasakiConcours 1,553
Kevin Daffer     Norman, OK              10/31/03  Honda Gold Wing  1,512
Murray M Berkley Viera, FL               10/24/03  H-D Road King    1,575

Larry L. Eltoft  Franklin, TN            10/22/03  H-D Springer     1,555
Travis Dougharty Hermitage, TN           10/22/03  H-D UltraClassic 1,555

Darryl Kazen     Keller, TX              10/18/03  Honda GL1800     1,540
Stan McDaniel    Haltom City, TX         10/18/03  Honda Gold Wing  1,540

Thomas Soutter   Canyon Lake, TX         10/17/03  BMW K1200RS      1,538

Wayne Hinkle     Anson, TX               10/16/03  Yamaha V-star    1,546
Rick Dietly      Abilene, TX             10/16/03  Honda GL1800     1,546

Peter Sutherland Kirkland, WA            10/15/03  BMW K1100LT      1,513
William C. Watts Brawley, CA             10/13/03  Yamaha FJR1300   1,582

Howard Stafford   SOUTH AFRICA           10/12/03  Honda CBR1100XX  1,502
Gert Van Der Linde SOUTH AFRICA          10/12/03  Honda VFR800     1,502
Alan Shrive      SOUTH AFRICA            10/12/03  Kawasaki ZZR1200 1,502
Mike Bertolani   SOUTH AFRICA            10/12/03  BMW K1200LT      1,502
Gustav Fichardt  SOUTH AFRICA            10/12/03  BMW K1200GT      1,502
Tjaart Van Der Linde  SOUTH AFRICA       10/12/03  BMW K1200RS      1,502

Donald G. Bryant Yukon, OK               10/11/03  BMW K1200LT      1,555
Robin Day        Plano, TX               10/11/03  BMW K1200RS      1,605

Riel Smit        SOUTH AFRICA            10/11/03  BMW K100RT       1,541

Rey Cornelissen  SOUTH AFRICA            10/10/03  Yamaha R1        1,584
Kevin Rosen      SOUTH AFRICA            10/10/03  BMW R1150GS      1,584
Andrew Anderson  SOUTH AFRICA            10/10/03  BMW K1200RS      1,584

Wesley D Symonds Winnebago, IL           10/10/03  H-D FLHTCU       1,534
Scott Wilson     Fayetteville, GA        10/09/03  Honda ST1100     1,526

Greg Regan        Elko, NV               10/07/03  H-D FLHTCU       1,547
Bruce E. Dempster Spring Creek, NV       10/07/03  H-D FLHTCU-I     1,547
Britt L. Blakeman Elko, NV               10/07/03  Honda Gold Wing  1,547

Joe DeRyke       Los Gatos, CA           10/05/03  BMW R1100RT      1,686
Joe DeRyke       Los Gatos, CA           10/02/03  BMW R1100RT      1,546
Frank Langben    Los Altos, CA           10/02/03  Honda SilverWing 1,552
Vernon Danielson Henderson, NV           10/02/03  Honda ST1300     1,546

Michael Skovhugger  Hasselager, DENMARK  10/01/03  H-D FLHT         1,533

Mike Schwartz    Teague, TX              09/28/03  Honda GL1800     1,510
Johnny Frazier   Fairfield, TX           09/28/03  Honda Gold Wing  1,510

John W. Watson   Nacodoches, TX          09/28/03  Honda Valkyrie   1,591
Don Bordeaux     Minot, ND               09/27/03  Honda Gold Wing  1,526
Duane Northrup   Vancouver, WA           09/26/03  BMW R1100RS      1,506
Peter Sutherland Kirkland, WA            09/20/03  BMW K1100LT      1,510
Angus J. Wing    Houston, TX             09/20/03  H-D FLHTCUI      1,513

2003 Baby Butt 
Patrick Veth     Bonita, CA              09/20/03  BMW R1100RT      1,514
Ted R. Hartman   Sierra Vista, AZ        09/20/03  Honda Gold Wing  1,514
Charlie Coyner   Upland, CA              09/20/03  BMW K1200RS      1,514
Rick Parker      Encino, CA              09/20/03  Honda CBR1100XX  1,514
John Parker      Encino, CA              09/20/03  Honda ST1100     1,514
Ed Krugman       La Jolla, CA            09/20/03  Honda ST1100     1,514
Joel Keller      San Diego, CA           09/20/03  Yamaha FJR1300   1,514
Jack Fowler      Littlerock, CA          09/20/03  Honda Gold Wing  1,514
Bill Vaughan     Ramona, CA              09/20/03  BMW LT           1,514
Paul Lax         Sun Valley, CA          09/20/03  H-D ElectraGlide 1,514
Kennith Pilkington La Mesa, CA           09/20/03  BMW R1150RT      1,514
Ralph Turner II  Ramona, CA              09/20/03  Honda ST1300     1,514
Michael Thibodeau Orange, CA             09/20/03  Suzuki Hayabusa  1,514
George Swetland  Lake Elsinore, CA       09/20/03  BMW K1200RS      1,514

Dwayne Lowe      Glendora, CA            09/20/03  Honda GL1800     1,511
Wayne Kubicek    Glendora, CA            09/20/03  Honda GL1800     1,511

Bob Mack         LaSalle, MI             09/20/03  H-D Electra Glide1,503
Brian Ringey     Ferndale, MI            09/20/03  Honda Gold Wing  1,503

Bud Buckwell     Columbia, SC            09/19/03  BMW K1200        1,533
Elgin Ziesmer    Oconto, WI              09/19/03  Honda Gold Wing  1,654
Ted Panhuis      Chagrin Falls, OH       09/19/03  BMW R1150RT      1,559
Ron Degnan       Canfield, OH            09/19/03  BMW R100RT       1,516
Donald E. Jones  Spartanburg, SC         09/15/03  Honda Shadow     1,545

Jeffrey Malmquist Duluth, MN             09/13/03  Ducati Monster   1,504
Peter Buenting   Duluth, MN              09/13/03  BMW R1150GS      1,504

Glacial Lakes 1500
Philip Becker    Eden Prairie, MN        09/13/03  Honda ST1100     1,580
Edward Majewicz  Mendota Heights, MN     09/13/03  BMW K1200LT      1,580
Robert Johnson   Milbank, SD             09/13/03  Honda Gold Wing  1,580
Les Pratt        Rogers MN               09/13/03  Honda Gold Wing  1,580
Scott Ross       Watertown, SD           09/13/03  Honda Gold Wing  1,580
Dustin Ross (passenger)                  09/13/03  Honda Gold Wing  1,580
Dale Foster      Burnsville, MN          09/13/03  BMW R1100RT      1,580
Greg Anderson    Monticello, MN          09/13/03  BMW R1150GS      1,580

Scott R Hamilton Ankeny, IA              09/12/03  BMW K1200LT      1,518
Scott W. Olsen   Fredericksburg, VA      09/11/03  BMW R1150GS      1,509
Ryan Bradley     Fremont, CA             09/04/03  Honda ST1100     1,540
Rick O'Rourke    Sturgis, SD             09/03/03  Kawasaki Voyager 1,571
John Mudgett     Virginia Beach, VA      08/31/03  Honda GL1500SE   1,571

Alain Levasseur  Montreal, QUEBEC CAN    08/30/03  Yamaha FZ1       1,501

Bob Bacon        El Cerrito, CA          08/30/03  BMW K1200LT      1,550

Bruce Shrader    Rockville, VA           08/28/03  BMW R1100RT      1,523
Reiner Kappenberger  Dublin, CA          08/26/03  Honda Gold Wing  1,525
Elisabeth Kappenberger (passenger)       08/26/03  Honda Gold Wing  1,525
Art Reitsma      Squamish, BC CANADA     08/24/03  Honda V65 Magna  1,564

Dylan Pletcher   Sacramento, CA          08/23/03  H-D Fat Boy      1,515
William Pletcher Sacramento, CA          08/23/03  H-D Fat Boy      1,515
Scott Mason      Antelope, CA            08/23/03  H-D Electra Glide1,515

Tim Collier      Phoenix, AZ             08/21/03  Honda ST1100     1,528
Yves Gauthier    Langley, BC CANADA      08/20/03  BMW R100RS       1,539

James B. Tatum   Ball Ground, GA         08/16/03  Yamaha Road Star 1,539
Bill McCain      Kingston, GA            08/16/03  Yamaha Venture   1,539

Michael McGovern Basking Ridge, NJ       08/11/03  BMW R1150RT      1,562
Henry Martinez   Basking Ridge, NJ       08/11/03  H-D Road King    1,562

Allen Wilson     Sartell, MN             08/09/03  BMW R1100RT      1,524

Ken Bays         Salem, OR               08/08/03  Honda ST1100     1,556
Roger Bays       Salem, OR               08/08/03  KawasakiConcours 1,556

Jerry Wells      Kansas City, KS         08/07/03  Kawasaki Concours1,565
Michael W. Smell Kalamazoo, MI           08/07/03  H-D Tour Glide   1,553

Music City H.O.G. Bun Burner GOLD Ride
Herman Smith      Goodlettsville, TN     08/03/03  H-D Electra Glide1,595
Randall C Hammons Hermitage, TN          08/03/03  H-D FLSTS        1,595
Gary Bagwell      Goodlettsville, TN     08/03/03  H-D Ultra Classic1,595

Steve H. Whitney Glendale, AZ            08/02/03  BMW K1200LT      1,525
Les Farkas       Brunswick, OH           08/01/03  H-D FLHTCUI      1,528
Greg Tomko       Belvidere, IL           07/31/03  Kawasaki Voyager 1,540
Ronald Hohmann   Cochrane, WI            07/31/03  Honda Gold Wing  1,564

Doug Randazzo    Simi Valley, CA         07/31/03  H-D Road King    1,551
Vicki Fernelius (passenger)              07/31/03  H-D Road King    1,551
Roger Woods      Apple Valley, CA        07/31/03  H-D FXDL         1,551

Jukka Palkki     Uusikaupunki, FINLAND   07/30/03  Honda CBR600F    1,627

Sean J. GallagherRichmond, VA            07/28/03  BMW K1200LT      1,577

Chris Berg       Brooklyn Park, MN       07/26/03  KawasakiConcours 1,572
Carrie Hanson    Brooklyn Park, MN       07/26/03  BMW R1100RT      1,572
Ron Hanson       Brooklyn Park, MN       07/26/03  Honda GL1800     1,572

Francis Gurnari  Harvey Lakes, PA        07/26/03  H-D DynaWideGlide1,536
Art Menichillo   Mountaintop, PA         07/26/03  H-D FLHTC        1,536

Charles Hyde     Windham, NH             07/25/03  Honda GL1800     1,559
Mark Rumpel      S. Milwaukee, WI        07/23/03  H-D Electra Glide1,565
Don Marshall     Plainfield, IL          07/22/03  BMW R1100RT      1,523
Dan Fowler       Plymouth, MN            07/21/03  Honda Gold Wing  1,545
Wayne S. Edkin   Blossvale, NY           07/20/03  BMW K1200LT      1,518

Kalevi Haaramo   Karijoki, FINLAND       07/20/03  Honda PanEuropean1,038
Olavi Halttula   Karijoki, FINLAND       07/20/03  Honda Gold Wing  1,038
Jussi Hakoniemi  Ilmajoki, FINLAND       07/19/03  Kawasaki ZX-10   1,027

Jack Dodds       Fort Lauderdale, FL     07/19/03  H-D FLHTC        1,517
John Tomasovitch Throop, PA              07/19/03  BMW K1200RS      1,525

Peter A. Murray  Hackettstown, NJ        07/18/03  BMW K1200LT      1,522
Joseph Kuchinski Bloomsbury, NJ          07/18/03  BMW R1150RT      1,522
David J. Derrick New York, NY            07/18/03  BMW R1100RT      1,522

Brett Donahue    Sauk Rapids, MN         07/17/03  H-D Road Glide   1,645
Mark L. Morris   South Jordan, UT        07/17/03  H-D Ultra Classic1,504

Claude Lafond    Ste-Julie, QUEBEC       07/15/03  BMW R1150GS ADV  1,683
Doug M. Balvanz  Glendale, AZ            07/12/03  Yamaha Road Star 1,501
Rick Davis       Yakima, WA              07/14/03  Honda CBR1100XX  1,543

Dan Legg          Port Alberni, BC       07/12/03  Honda ST1100     1,536
Charles Poschenrieder  Lantzville, BC    07/12/03  Honda Gold Wing  1,536

E.W. Drotar       Thunderbay, ON CANADA  07/10/03  BMW K1200LT      1,522
Joan Drotar (passenger)                  07/10/03  BMW K1200LT      1,522
Lorin Potter     Cedar Rapids, IA        07/09/03  Kawasaki Nomad   1,649
Ken Kralick      Glenwood Springs, CO    07/04/03  Triumph 955I     1,581
Rick Campbell    West Des Moines, IA     07/03/03  Honda CBR1000F   1,556

James P. Bohr    Olathe, KS              07/03/03  Honda Gold Wing  1,581
Melissa Saggers (passenger)              07/03/03  Honda Gold Wing  1,581
Donna O'Hare     Kansas City, MO         07/03/03  Honda VTX1300R   1,581
Robert D. O'Hare Kansas City, KS         07/03/03  Honda Valkyrie   1,581
Kenneth K. Cyr   Liberty, MO             07/03/03  Honda GL1800     1,581

Rick Dorenkamp   Houston, TX             07/02/03  BMW R1150GS ADV  1,601
Kari Ann Goza    Cordova, TN             07/02/03  Suzuki GSX-R600  1,603
Bill Shaw        Oak Hill, VA            07/02/03  BMW K1200LT      1,533
Scott Stroup     Atlanta, GA             07/02/03  H-D FLHTC        1,540

Tom Sperry       Hanford, CA             06/29/03  BMW K1200LT      1,537
Rosie Sperry (passenger)                 06/29/03  BMW K1200LT      1,537

Dick Peek        Park City, UT UTAH 1088 06/28/03  BMW K1100LT      1,690
David Kollen     Austin, TX              06/28/03  BMW K1200LT      1,609
Jim Fortner      Plano, TX               06/28/03  Honda CBR1100XX  1,536
Roy Hardie       Clovis, CA              06/27/03  BMW K1200LT      1,649

Mark E. Jackson  Willard, MO             06/21/03  Honda Gold Wing  1,507
Glen Moeller     Springfield, MO         06/21/03  Honda Gold Wing  1,507

Wayne Larcombe   Minot, ND               06/29/03  H-D Road King    1,527

Mikko Sani       Hollola, FINLAND        06/28/03  Honda ST1100     1,659

Al Greer         London, Ontario, CAN    06/23/03  H-D FLHTC        1,530
Kevin J. Smart   Mount Pleasant, MI      06/21/03  Honda GL1800     1,574

Tim Briggs       Forest City, IA         06/21/03  Honda Gold Wing  1,536
Larry Stohr      Thompson, IA            06/21/03  Honda GL1500     1,536

Jerry D. Runk Jr Wilmington, OH          06/21/03  Kawasaki Vulcan  1,520
John Stanforth   Wilmington, OH          06/21/03  BMW K1200LT      1,520

Richard Knowles  Albuquerque, NM         06/21/03  BMW R1150GS      1,516
Robert Entrop    Roswell, NM             06/21/03  KawasakiConcours 1,516

Duane Heaton     Fenton, MI              06/21/03  BMW R75/6        1,523
Sean J. Gallagher Richmond, VA           06/20/03  BMW K1200LT      1,540
William Schoppert Issaquah, WA           06/19/03  BMW K1200LT      1,539

Mike Dunn        Kaukauna, WI            06/18/03  H-D Dyna Glide   1,505
Randy D. Dunn    Johnson Creek, WI       06/18/03  H-D FLHTCUI      1,505

Vernon L. Rank   Yakima, WA              06/15/03  H-D Road King    1,501
Gary Bailey      Moxee, WA               06/15/03  H-D Road Glide   1,501

Larry Leranth    Big Bend, WI            06/15/03  KawasakiConcours 1,510

Free Riders 1500
Robert Poole     Orlando, FL             06/14/03  Honda Gold Wing  1,524
Scott Bush       Christmas, FL           06/14/03  H-D FXLR         1,524

Scott Brown      Rocky Mount, NC         06/14/03  Honda ST1100     1,525
Gary Klinker     Camp Douglas, WI        06/14/03  BMW R1100RT      1,517
Brock T. Delp    Fremont, CA             06/14/03  Kawasaki Concours1,660

Lee R. Hemquist  Woodbury, MN            06/14/03  Honda GL1800     1,642

Greg Wolf        Jupiter, FL             06/11/02  H-D FLTRI        1,505
Brock T. Delp    Fremont, CA             06/11/03  Kawasaki Concours1,660
Jack Dannenberg  Albuquerque, NM         06/10/03  Honda ST1100     1,583
Richard Antoine  Walnut, CA              06/09/03  BMW K100LT       1,635
Michael Simpson  Escondido, CA           06/08/03  BMW K1200RS      1,536
Hans Karlsson    Harahan, LA             06/08/03  Honda GL1800     1,576
Anders Sjostrom  Squaw Valley, CA        06/03/03  Kawasaki Vulcan  1,543

Ken Clamurro     Folsom, CA              06/01/03  H-D FLHTCUI      1,529
Corky Read       Fair Oaks, CA           06/01/03  H-D FLHTCI       1,529
           * * * Corky is 82 years young on this ride! * * *

Wally Huxtable   Auburn, CA              05/27/03  BMW K1200LT      1,567
Harry C. White   Highlands Ranch, CO     05/26/03  BMW R1150GS      1,532
Henry D. Towne   Lone Tree, CO           05/25/03  Suzuki RF900R    1,519

Mason Dixon 20/20
Peter Murray     Phillipsburg, NJ        05/24/03  BMW K1200LT      1,554

Adam R. Bliven   Tucson, AZ              05/23/03  KawasakiConcours 1,581

Barry Ward       Roseburg, OR            05/21/03  Honda GL1800     1,565
Steve Anderson   Riverside, CA           05/21/03  Indian Scot      1,565

Joseph Alfirevic Hinsdale, IL            05/18/03  H-D Road King    1,501
Kenneth Helsel   Stanton, CA             05/17/03  H-D UltraClassic 1,504
Terry Lahman     Redmond, WA             05/17/03  BMW R1150GS ADV  1,547
Rango Springer   Dumas, TX               05/17/03  BMW K1200LT      1,592
Mike Langford    Raleigh, NC             05/13/03  BMW K1200LT      1,536

Dick Meyer       Brogue, PA              05/11/03  Honda GL1800     1,649
           * * * Dick is 71 years young on this ride! * * *

Fred M. Friedl   Pensacola, FL           05/11/03  H-D FLHTCUI      1,553

Miles Goodman    Fremont, CA             05/10/03  BMW K1200LT      1,522
Walter Moser     Fremont, CA             05/10/03  Yamaha Road Star 1,522

Garry George     Edmond, OK              05/10/03  BMW R1100RSL     1,538

Alex Mendelson   Scottsdale, AZ          05/09/03  H-D FXRT         1,520
Dick Tetsell     Scottsdale, AZ          05/09/03  H-D Road King    1,520

Jerry Raduziner  Phoenix, AZ             05/09/03  H-D FLSTC        1,520
Andy Mansker     Escondido, CA           05/08/03  Yamaha FJ1200    1,513

Randy Pate        Bakersfield, CA        05/04/03  Honda Gold Wing  1,522
Harold Smotherman Bakersfield, CA        05/04/03  Honda Gold Wing  1,522
Greg Ayala        Bakersfield, CA        05/04/03  Honda GL1800     1,522

Steve Branner    South Charleston, WV    05/04/03  BMW R1100RT      1,623
Bruce Fuller     Tangerine, FL           04/29/03  H-D Road King    1,535
Mike Christopher Big Lake, TX            04/28/03  Honda GL1800     1,580

Steven Carr      Glendora, CA            04/26/03  BMW R1150RT      1,575
James D. Edmonds San Diego, CA           04/26/03  BMW R1150RT      1,575
Norman Yang      Covina, CA              04/26/03  BMW R1150RT      1,575

John Beck        Phoenix, AZ             04/19/03  BMW R1150RT      1,570
           * * * John is 69 years young on this ride! * * *
Angie Brennan    Phoenix, AZ             04/19/03  BMW K1200RS      1,570

Tobie Stevens    Tieton, WA              04/19/03  BMW K1200LT      1,510

Glenn K Pancoast Lansing, MI             04/14/03  BMW K1200LT      1,504
Greg Deckrow     San Jose, CA            04/10/03  BMW K1200LT      1,557
Rick Dorenkamp   Houston, TX             04/10/03  BMW R1150GS ADV  1,563
Sean J. Gallagher Richmond, VA           04/08/03  BMW K1200LT      1,577

Beverly Ruffin   Houston, TX             04/05/03  BMW R1100R       1,570
Ken Webb         Houston, TX             04/05/03  BMW R1100RT      1,570

Mike Johnson     Casselberry, FL         04/05/03  Honda ST1100     1,586
Gordon Pleasants Casselberry, FL         04/05/03  Kawasaki Vulcan  1,586
J. Andray Hubble Guntersville, AL        04/05/03  Honda VFR700     1,586
Jerry Watts      Orlando, FL             04/05/03  BMW R1100GS      1,586
Rob Klocke       Milford, OH             04/05/03  Honda VFR800     1,586

David J. Riley   Brookline, NH           04/02/03  Honda Gold Wing  1,509
David W. Kelson  Punta Gorda, FL         03/29/03  Honda GL1800     1,560
Ron DeBlanc      Lafayette, LA           03/29/03  Honda ST1100     1,537
Tom Sperry       Hanford, CA             03/21/03  BMW K1200LT      1,546
Rosie Sperry (passenger)                 03/21/03  BMW K1200LT      1,546
Ollie Bingaman   Manteca, CA             03/21/03  Honda GL1800     1,652

Richard Knipe    McKinney, TX            03/10/03  Honda GL1800     1,507
Lynn Endsley     McKinney, TX            03/10/03  Honda GL650      1,507

D.S. Fusselman   Houston, TX             03/08/03  BMW R1150GS      1,525
Tom Melchild     Pleasanton, CA          03/05/03  Yamaha FJR1300   1,598
Terry E. Smith   Winston, GA             03/02/03  Honda Gold Wing  1,564
Jeff Hickey      Castle Hayne, NC        03/02/03  Honda GL1800     1,532
George Mowry     San Juan Bautista, CA   03/02/03  Honda ST1300ABS  1,511
Wm. Ryan Most    Christiansburg, VA      03/01/03  Honda ST1100     1,545
Ray Jutkins      Roll, AZ                02/23/03  H-D Road King    1,613
William Rohrer   Spanaway, WA            02/23/03  H-D Ultra Classic1,541

Gary Schaefer    Enterprise, AL          02/16/03  H-D UltraClassic 1,528
Ulrich Hermeler  Enterprise, AL          02/16/03  BMW R1150RT      1,528
Steve Hebert     Enterprise, AL          02/16/03  BMW R1100RT      1,528

Robert S Zielke  Rockledge, FL           02/01/03  Yamaha FJR1300   1,521

John Beck        Phoenix, AZ             01/25/03  BMW R1150RT      1,570
Lowell Vahl      Tempe, AZ               01/25/03  Kawasaki Voyager 1,570
Ben Askew        Tomball, TX             01/22/03  Honda GL1800     1,531
Jack Shoalmire   Broken Arrow, OK        12/17/02  Honda Valkyrie   1,510
Kris Schoonover  Felton, PA              11/23/02  H-D Road Glide   1,571
Michael Bobbitt  Davenport, WA           11/23/02  Honda GL1800     1,588
Rob McAlister    Bradley, SC             11/08/02  BMW R1100RT      1,565
James Carpenter  Lafayette, LA           11/07/02  BMW K1200LT      1,551
Joe Herrmann     San Ramon, CA           11/05/02  BMW K1200LT      1,544
Richard Hestlow  Upland, CA              11/02/02  H-D UltraClassic 1,540
Stephen Macbeth  Glenside, PA            11/01/02  KawasakiConcours 1,511
Jeff Mitchell    Lake Oswego, OR         10/30/02  BMW K1200LT      1,505
Bill Wing        Summers, AR             10/19/02  BMW R1100RT      1,578
John O. Cooper   Woodland Hills, CA      10/19/02  Honda GL1500     1,565
Stan Penny       Springdale, AR          10/19/02  BMW K1100LT      1,578
David Robb       Cincinnati, OH          10/18/02  H-D Road King    1,548
Tom Lashbrook    Napa, CA                10/14/02  BMW R1150RT      1,534
Kim D. Pierson   Victoria, TX            10/11/02  Yamaha Road Star 1,512

Larry L. Giese   Redwood Valley, CA      10/12/02  H-D UltraClassic 1,559
James Murgatroyd Kelseyville, CA         10/12/02  Honda Gold Wing  1,559

John Parker      Reseda, CA              10/09/02  Honda ST1100     1,542

Dale Blake       Phoenix, AZ             10/08/02  H-D UltraClassic 1,529
William Waterson Prescott, AZ            10/08/02  H-D UltraClassic 1,529

2002 Land of Enchantment 1000 
Roger Van Santen Salem, OR               10/06/02  Yamaha FJR1300   1,662

David L. Payne   Gainesville, VA         10/05/02  Honda CBR XX     1,528
Eric Bettinger   Commerce City, CO       10/05/02  Suzuki DR650     1,536
George Barker    Appleton, WI            10/05/02  Kawasaki Voyager 1,542
Aric Philleo     La Canada, CA           10/04/02  BMW R1100GS      1,589
Corky Sliwkowski Narragansett, RI        10/03/02  BMW R1100RT      1,502
Daryl Neil       Sun City, AZ            10/03/02  BMW K1200LT      1,596
Terry M. Kirk    Berryton, KS            09/27/02  Honda Gold Wing  1,521
Donald M. Cox    Houston, TX             09/21/02  BMW R100R        1,524
Joe Schrage      Papillion, NE           09/21/02  BMW R1100RT      1,558
Keith M. Green   Shreveport, LA          09/21/02  Honda GL1800     1,545
Robert Edgett    Fredericton,NB CANADA   09/21/02  BMW K75S         1,500
Larry Troutman   Halifax, PA             09/21/02  BMW R1150RS      1,515
John Pettit      Dillsburg, PA           09/21/02  Honda ST1100     1,515

Minnesota LD Riders' NorthStar 1500 Record setting Bun Burner Gold rally!
Gerald Roberts   AsH-Down, AR            09/21/02  Honda GL1800     1,533
Alan Leduc       New Castle, IN          09/21/02  Honda GL1800     1,533
Tim Frederick    Woodbury, MN            09/21/02  BMW K1200LT      1,533
Dave Bruischart  Centreville, MI         09/21/02  H-D Road King    1,533
Brent Jass       Odin, MN                09/21/02  Yamaha R6        1,533
Mike Senty       Grand Marais, MN        09/21/02  BMW K100LT       1,533
Richard Buber    Walled Lake, MN         09/21/02  Kawasaki Concours1,533
Robert Schember  Burnsville, MN          09/21/02  H-D FXRT         1,533
Gary Thomas      Dodge City, KS          09/21/02  Honda ST1100     1,533
Dave Becker      Monticello, MN          09/21/02  Triumph Trophy   1,533
Michael Clair    Prior Lake, MN          09/21/02  BMW K100RT       1,533
Randy Schreckenghaust  Wayzata, MN       09/21/02  H-D ElectraGlide 1,533
Mark Foster                              09/21/02  Honda Gold Wing  1,533
Steve Steller                            09/21/02  BMW R1100RS      1,533
David Tyler                              09/21/02  BMW K1100LT      1,533
Mark Foster                              09/21/02  Honda Gold Wing  1,533
David Hinks                              09/21/02  Yamaha Venture   1,533
Ed Majewicz                              09/21/02  BMW K1200LT      1,533
Ken Bryant                               09/21/02  Yamaha Venture   1,533
Steffan Fay                              09/21/02  BMW R1100R       1,533
Sheldon Moe                              09/21/02  BMW R1100RT      1,533
Mark Kiecker                             09/21/02  Honda VFR        1,533
Will Outlaw                              09/21/02  BMW R1100GS      1,533
Marty Leir                               09/21/02  BMW R1150RT      1,533
Scott Smith                              09/21/02  Honda ST1100     1,533
Lee Bruns                                09/21/02  Moto Guzzi EV11  1,533
Thomas Gardner                           09/21/02  Honda Gold Wing  1,533
Tony DeLorenzo                           09/21/02  BMW K1100RS      1,533
Karol Patzer                             09/21/02  BMW K75C         1,533
Jim Winterer                             09/21/02  Yamaha SR500     1,533
Kerry Person                             09/21/02  Honda Gold Wing  1,533
Tom Muenster                             09/21/02  BMW K1100LT      1,533
Ken Lefler                               09/21/02  BMW R1100RS      1,533
Nels Gebben                              09/21/02  BMW K1100LT      1,533
Bart Bakker                              09/21/02  BMW R100S        1,533
Bob Young        Bloomington, MN         09/21/02  Honda Magna      1,533
Mark Friesen                             09/21/02  Honda VFR        1,533
Adam Wolff                               09/21/02  BMW K1100LT      1,533
Peter Dean                               09/21/02  BMW K1200LT      1,533
Jeff McCracken                           09/21/02  Honda ST1100     1,533
David W. Nelson  Bloomington, MN         09/21/02  Honda CB750F     1,510
Mike Etlicher                            09/21/02  Honda ST1100     1,533

Jim Simonet      River Falls, WI         09/20/02  Honda ST1100     1,551
Andy Daniele     Matawan, NJ             09/19/02  Triumph Sprint   1,564
Stephen J. Brown Elkhorn, WI             09/17/02  H-D FLHTC        1,552
John D. Jordan   Newport, WA             09/15/02  Honda VTX1800C   1,567

Gary Peterson    Philadelphia, PA        09/14/02  BMW K75          1,566
Stephen Macbeth  Glenside, PA            09/14/02  KawasakiConcours 1,566

Steve Casey      Washougal, WA           09/13/02  H-D FXD          1,520

Billy Walters    Chester, SC             09/07/02  H-D Wide Glide   1,509
John T. McCorkle Chester, SC             09/07/02  Kawasaki Nomad   1,509

Charles Wertz    Lincoln, NE             09/06/02  Kawasaki Vulcan  1,528

Michael Shelton  Stafford, VA            09/06/02  KawasakiCouncours1,527
Stephen Thompson Stafford, VA            09/06/02  KawasakiCouncours1,527

Danny Beck       DeSoto, TX              09/06/02  Yamaha Road Star 1,557
Paul Mengle Jr.  Dallas, TX              09/06/02  Honda VTX-C      1,557

Harry Knerr      Blandon, PA             09/06/02  H-D Road Glide   1,540
Jeff Hallquist   Denver, PA              09/06/02  H-D Road Glide   1,540

Gary Ducote      DeRidder, LA            09/05/02  Honda Gold Wing  1,611

Lake Michigan Star Riders
David Hinks      Lemont, IL              09/01/02  Yamaha RoyalStar 1,575
James Fejes      Whiting, IN             09/01/02  Yamaha Venture   1,575
Willis D Dickens Valparaiso, IN          09/01/02  Yamaha V-Star    1,575

Scott Gunzenhauser  Lebanon, MO          09/01/02  Honda Gold Wing  1,540
Robert E. Hester Witt, IL                08/31/02  BMW K1200LT      1,542
Morris C. Hale   Sherwood, AR            08/31/02  BMW R1100RT      1,517
Judy Hale (passenger)                    08/31/02  BMW R1100RT      1,517
Jim Beard        Little Rock, AR         08/31/02  BMW K1200LT      1,517

Robby L. English Houma, LA               08/29/02  H-D Softail      1,510
Bill Wight       Twin Falls, ID          08/28/02  BMW K1100LT      1,534
Rick Matthews    Milaca, MN              08/27/02  H-D Softail      1,513
Wayne Christy    Newton, IA              08/27/02  Honda GL1200     1,531
Jack Hornbeck    Virginia Beach, VA      08/27/02  BMW K1200LT      1,591
Jeff Lambert     Rapids City, IL         08/24/02  BMW K1100LT      1,622
Buddy Kolander   Eagle, ID               08/24/02  H-D FLHTC        1,524

Frank Doeling    Stutensee, GERMANY      08/24/02  BMW R1100GS      1,602
David Schneider  Philadelphia, PA        08/22/02  BMW R1100RT      1,567
Tim Yow          Charleston, IL          08/18/02  Honda GL1800     1,564

Philip L. Zell   Canfield, OH            08/14/02  BMW K1200LT      1,645
Martin Mayer     North Jackson, OH       08/14/02  BMW R1100RT      1,645

John F. McLaren  New Westminster BC      08/12/00  Kawasaki Concours1,513
David J. Roszina Oak Creek, WI           08/11/02  CagivaGranCanyon 1,534
Malcom Campbell  Zephyrhills, FL         08/10/02  Yamaha Road Star 1,542
Greg Hopeman     Tulsa, OK               08/10/02  H-D Road King    1,550
Dub Dunaway      Fayetteville, AR        08/09/02  H-D FLHS         1,507
Tim Elliott      Princeton, IL           08/08/02  Triumph Sprint   1,572
Gary T. Du Bois  Elkmont, AL             08/07/02  BMW R1150GS      1,539

Michael Wesley   Red Lion, PA            08/02/02  BMW K1100RS      1,546
Herb Dulaney     White Cloud, MI         07/31/02  BMW K1200LT      1,500
John C. Borden   Waukesha, WI            07/27/02  BMW K1200LT      1,566
James M. Borden  Brookefield, WI         07/27/02  BMW R1100RT      1,566

Bob Racine       Alta Loma, CA           07/27/02  Honda Gold Wing  1,548
Verne Hauck      Millersville, PA        07/26/02  H-D Road Glide   1,566
David Bodden     Summerville, SC         07/26/02  Yamaha FJR1300   1,535

Charles Dorrel   Miami, FL               07/26/02  BMW R1100R       1,535
Randy Popp       Yakima, WA              07/19/02  Honda CBR1100XX  1,546

Sean J. Gallagher Richmond, VA           07/16/02  BMW K1200LT      1,645
Dan S. Watson    Sioux City, IA          07/16/02  H-D DynaWideGlide1,576
Clifton Y. Brown Woodinville, WA         07/15/02  Triumph Tiger    1,551
Mike Gragg       Euless, TX              07/13/02  BMW K1200LT      1,510
Todd E. Richmond Grapevine, TX           07/13/02  BMW K1200LT      1,510

James Struebing  New Holland, IL         07/11/02  Honda ST1100     1,598

David Fountain   Melbourne Beach, FL     07/09/02  BMW K100RT       1,515

Jyrki Latva      Espoo, FINLAND          07/07/02  BMW R1150RT      1,546

Peter Perkins    Topsham, ME             07/06/02  KawasakiConcours 1,590
David Shealey    Jamul, CA               07/05/02  BMW K1200LT      1,598

Larry A. Weaver  Meriden, ID             07/05/02  H-D FXDWG        1,501
Grant A. Carter  Boise, ID               07/05/02  Kawasaki Nomad   1,501

William Creech   Rockford, IL            07/05/02  Honda Gold Wing  1,561
Michael Bollerud Roscoe, IL              07/05/02  Honda GL1800     1,561

Tony Adamowicz   Northville, MI          07/04/02  BMW K1200LT      1,512

Jyrki Latva      Espoo, FINLAND          07/03/02  BMW R1150RT      1,506

Jerry Rogers     Chester, VA             07/01/02  Polaris Victory  1,510

Joe DeRyke       Los Gatos, CA           06/29/02  BMW R1100RT      1,635
Joseph Mandeville Hacienda Heights, CA   06/29/02  BMW K1200LT      1,635
Brian K. Roberts Pleasant Hill, CA       06/29/02  Honda Valkyrie   1,639
Dick Peek        Park City, UT           06/29/02  BMW K100LT       1,640
John Parker      Reseda, CA  UTAH 1088   06/29/02  Honda ST1100     1,561
John Firman      Palo Alto, CA           06/29/02  H-D FXD          1,511

Gregory Williams Boone, NC               06/28/02  H-D UltraClassic 1,520
Matt Williams (passenger)                06/28/02  H-D UltraClassic 1,520
  * * * 13 years old, Matt is the youngest Bun Burner GOLD finisher * * *

Pat Beale        Boise, ID               06/26/02  Triumph Sprint   1,635

Ken Hansen       Berlin, WI              06/26/02  Honda GL1800     1,542
Leanne Hansen (passenger)                06/26/02  Honda GL1800     1,542
Ted Towne        Omro, WI                06/26/02  Honda Gold Wing  1,542

Joe LaPosta      Virginia Beach, VA      06/25/02  BMW R1150RT      1,518
Adrian Musters   Huntsville, ON CANADA   06/23/02  H-D Dyna Glide   1,525
Stephen Dickow   La Crosse, WI           06/22/02  Honda Sabre      1,581
Robert Daigle    Fredericton, NB CANADA  06/22/02  Kawasaki Ninja   1,541
Dan Grable       Hoover, AL              06/21/02  H-D Ultra        1,522

Tulsa Ramblers Group BBG
Mike Brockway    Jenks, OK               06/21/02  H-D FLHTCUI      1,534
Eddie Briggs     Tulsa, OK               06/21/02  H-D Ultra        1,543
Larry Salzman    Tulsa, OK               06/21/02  H-D Ultra        1,543
Gary Jackson     Sapula, OK              06/21/02  H-D Ultra        1,534

Chuck Stults     Beloit, WI              06/20/02  Triumph Trophy   1,525

John Dreuning                            06/02                      1,502

Weltti Virtanen  Jamsankoski, FINLAND    06/19/02  Laverda RGS1000  1,551
Julia Virtanen (passenger)               06/19/02  Laverda RGS1000  1,551

Doug Chapman     Stayton, OR             06/19/02  Honda V65 Magna  1,686
Edward M. Read   Takoma Park, MD         06/19/02  BMW R1150GS      1,520
Ed Ray           Melissa, TX             06/18/02  Kawasaki Vulcan  1,501
Pete Springer    Cardiff, CA             06/18/02  Honda V65 Sabre  1,570

Gary Lodwick     Scottsdale, AZ          06/17/02  Kawasaki ZRX1100 1,593
David E. Glick   Fitchburg, AZ           06/17/02  Kawasaki ZX-12R  1,593

Robert Schlossin Alden, NY               06/17/02  H-D DynaWideGlide1,582
Tom Greenauer    Orchard Park, NY        06/17/02  H-D Road King    1,582

Tom Skemp        La Crosse, WI           06/14/02  Honda Gold Wing  1,524
Alan L. Loudon   Ravensdale, WA          06/13/02  Honda Gold Wing  1,538
Ed Powers        Cedar Rapids, IA        06/12/02  BMW K1200LT      1,545
Dennis Jackson   Wilmington, DE          06/10/02  H-D FLHTCUI      1,568

Al Wendorf       Madison, WI             06/08/02  BMW R1100RT      1,574
Don Kopidlansky  Two Rivers, WI          06/08/02  BMW R1100RT      1,574

Jeff Miller      Omaha, NE               06/06/02  Suzuki DL1000    1,537

Dave Moe         Lakewood, CO            06/05/02  Honda Gold Wing  1,550
Clark E. Cambers Wheat Ridge, CO         06/05/02  Honda Gold Wing  1,550

Herr W. Knaack   Juterbog, GERMANY       06/02/02  BMW R1200C       1,518

Dan Moeser       Johnson City, TN        06/01/02  Honda Gold Wing  1,535
Jim Culp         Johnson City, TN        06/01/02  Honda Gold Wing  1,535

Ian Ferris       Montrose, SCOTLAND      06/01/02  Kawasaki ZX9R-C1 1,560
Mario Merckaert  Montrose, SCOTLAND      06/01/02  Honda CBR1100XX  1,560

Chuck Taylor     Henderson, NV           05/31/02  H-D UltraClassic 1,505
Steven A. McGraw Salem, VA               05/30/02  Kawasaki Vulcan  1,537
Mark E. Hecht    Naperville, IL          05/30/02  BMW R1150RT      1,553
Thomas H. Shader Broomfield, CO          05/30/02  BMW R1100RT      1,541
Andre Leblanc    Laval, PQ CANADA        05/26/02  BMW R1150GS      1,630
Lori Kobayashi   Frederick, MD           05/26/02  Honda VFR800     1,555

Walter Lippert   Hagenau, GERMANY        05/25/02  BMW R1150GS      1,566

Art Grantz       Manchester, PA          05/25/02  Honda Gold Wing  1,621
Steve Smith      Waxhaw, NC              05/24/02  BMW K1200LT      1,599
Kenneth A. Purdy South Berwick, ME       05/24/02  Honda PC800      1,544
Randy Bielefeldt Schertz, TX             05/23/02  H-D FLHTCUI      1,537
David C Mishalof La Jolla, CA            05/21/02  BMW K1200RS      1,508
Sandy Bielefeldt (passenger)             05/23/02  H-D FLHTCUI      1,537
John Oravec      Denton, TX              05/19/02  Kawasaki Concours1,555
Matthias Nikola  Otterfing, GERMANY      05/18/02  BMW R1100GS      1,540
Bo Griffin       Prosper, TX             05/18/02  Kawasaki Vulcan  1,524
Greg Smith       Boerne, TX              05/18/02  BMW K1200LT      1,522
Leon Begeman     Hopeless Rally          05/18/02  Kawasaki 250!!   1,538
Barry Dwyer      Vancouver, BC           05/13/02  BMW R80RT        1,525
Kelly J. King    Monahans, TX            05/11/02  Honda GL1800     1,539

Thomas Bardwell  Loudon, NH              05/11/02  Yamaha Venture   1,546
Michael W. Lacey Sanbornton, NH          05/11/02  Kawasaki ZX-11   1,546
Allen Bardwell   Bow, NH                 05/11/02  Honda Gold Wing  1,546

Linwood McLawhorn Winterville, NC        05/10/02  H-D Sportster    1,522
Troy McLawhorn   Greenville, NC          05/10/02  H-D FLHT         1,522

Jon David Power  Burlington, NC          05/10/02  Honda GL1800     1,516

Mike Crocker     Arnold, MO              05/05/02  H-D ElectraGlide 1,545
Steve Branner    South Charleston, WV    05/05/02  H-D ElectraGlide 1,545
Dale Sheppard    Charleston, WV          05/05/02  H-D ElectraGlide 1,545

James L. Stine   Prior Lake, MN          05/05/02  Suzuki GSX1100G  1,513

Luiz T. Vicentin Sao Carlos, SP BRAZIL   05/04/02  BMW R1150GS      1,514
Pedro Cobra Neto Sao Carlos, SP BRAZIL   05/04/02  BMW R1150GS      1,514

Mark H. Brain    Phoenix, AZ             05/04/02  Honda GL1800     1,594
Bob Moore        Louisville, KY          05/03/02  Honda GL1800     1,526
Jorma Viemero    Uusikaupunki, FINLAND   04/29/02  BMW K75          1,526
Coni Fitch       Bellevue, WA            04/24/02  BMW K1200LT      1,515

Walter Baggett   Millbrook, AL           04/24/02  KawasakiConcours 1,620
Walt McNeely     Elmore, AL              04/24/02  Honda GL1800     1,620

John Petty       Breckenridge, CO        04/24/02  BMW R1100R       1,510
Bruce A. Bowens  Goodyear, AZ            04/24/02  BMW K1200LT      1,505

Yves Normandin   Powerview, MB CANADA    04/22/02  H-D UltraClassic 1,575
Brad Fontaine    Powerview, MB CANADA    04/22/02  H-D Softail      1,575
Roland Bohemier  Winnipeg, MB CANADA     04/22/02  H-D Softail      1,575

Rick A. Frazier  Sheridan, AR            04/21/02  H-D Road Glide   1,512
Paul Farmer      North Little Rock, AR   04/21/02  H-D Softail      1,512

Jorma Viemero    Uusikaupunki, FINLAND   04/21/02  BMW K75          1,526

Bobby Felbab     Henderson, NV           04/24/02  Yamaha FZR1000   1,547
John Crooks      Las Vegas, NV           04/20/02  H-D Sportster    1,547

Donald K. Fox    Wichita, KS             04/18/02  KawasakiConcours 1,585
Gary Stipe       Springfield, VA         04/19/02  BMW K1200LT      1,531
Louis Kubala     Portland, TX            04/10/02  H-D FLHTCUI      1,535
Tobie Stevens    Tieton, WA              04/06/02  H-D FLHT         1,513

Diego Rosa       Sao Paulo, BRAZIL!      03/29/02  Yamaha YZF1000   1,543
Luiz Aleixo      Sao Paulo, BRAZIL!      03/29/02  Kawasaki ZX-9R   1,534

Gary R. Wothe    Jacksonville, FL        03/23/02  H-D FLHTC        1,513
John E. Langan   Martinez, CA            03/05/02  Honda VT1100T    1,589
Michael Shelton  Stafford, VA            03/08/02  Kawasaki Concours1,543
Dick Peek        Park City, UT           02/28/02  BMW K1100LT      1,503
John W. Emmons   Pasadena, CA            02/17/02  KawasakiConcours 1,616
Quek Cheng Chye  Phoenix, AZ             02/15/02  BMW R1100RT      1,586
Michael McCloud  Dallas, TX              02/13/02  BMW K1200RSL     1,507
Neil Noffsinger  Spring, TX              02/07/02  BMW R1150RT      1,518
James Whitehead  Roanoke, VA             01/26/02  H-D Electra Glide1,523

Richard Wille    East Rutherford, NJ     01/12/02  BMW K1200LT      1,612
Joe Hubach       Atlantic City, NJ       01/12/02  Kawasaki Concours1,612

Kevin Bagby      Allen, TX               01/09/02  Honda Valkyrie   1,525
Jim Schumacher   Plano, TX               01/09/02  Honda Gold Wing  1,525

Steve Hobart     Apple Valley, CA        01/04/02  BMW K1200LT      1,545

Quek Cheng Chye  Phoenix, AZ             12/19/01  BMW R1100RT      1,572
Quek Cheng Chye  Phoenix, AZ             12/17/01  BMW R1100RT      1,551
Ron McNary       Orlando, FL             12/14/01  Honda GL1800     1,517
Mike Gragg       Euless, TX              12/06/01  BMW K1200LT      1,534
James Hopstetter Dover, FL               11/17/01  BMW R1150RT      1,553
Mark Woodby      Solon, OH               11/16/01  Honda ST1100     1,570
Terry Tracy      Wind Lake, WI           11/10/01  Kawasaki Voyager 1,668
Larry B. Mast    Farmers Branch, TX      11/10/01  Honda Valkyrie   1,527
Bo Griffin       Prosper, TX             11/10/01  Kawasaki Vulcan  1,520
Fred Droegemueller Henderson, NV         11/10/01  Honda GL1800     1,554
Robert C. Long   Lake City, FL           11/06/01  BMW K100LT       1,546
Bo Abernethy     Alabaster, AL           11/04/01  Kawasaki ZRX1100 1,606
Bob LaMear III   Pacific, MO             10/27/01  BMW R1100RT      1,602
Ross Dobelbower  Arlington, TX           10/27/01  BMW R1100RT      1,551
Richard Hestlow  Upland, CA              10/23/01  H-D UltraClassic 1,542
Donald R Stevens Goshen, IN              10/19/01  Kawasaki Concours1,555
Vicki S Johnston Charleston, TN          10/18/01  BMW R1150RT      1,552
Vicki S Johnston Charleston, TN          10/15/01  BMW R1150RT      1,571
Glenn Boglisch   Windsor Locks, CT       10/20/01  Boss Hoss        1,520
Thomas D Pientka Oak Creek, WI           10/16/01  H-D Heritage     1,520
Edward Kneller   Moscow, PA              10/15/01  BMW R1100GS      1,520
David Beck       Santa Fe, NM            10/15/01  BMW K1200LT      1,514
Richard Hestlow  Upland, CA              10/15/01  H-D UltraClassic 1,530
Jim Hahn         Margete, FL             10/15/01  Suzuki Hayabusa  1,576

Alan L. Mendrala Sanford, MI             10/13/01  H-D Road Gldie   1,526
Clyde A. Hart    Bay City, MI            10/13/01  H-d Road Gldie   1,526

Alvaro Teixeira  Porto Alegre, BRAZIL!   10/13/01  BMW R1100RT      1,525
Roberto Marshall Porto Alegre, BRAZIL!   10/13/01  CagivaElefant900 1,525

Jason Jonas      Irving, TX              10/12/01  BMW R1150RT      1,564
Jim Peterson     Lindstrom, MN           10/11/01  Honda GL1800     1,619

Steve J Viertell Cohasset, CA            10/06/01  KawasakiConcours 1,549
Chad M. Olson    Bay Point, CA           10/06/01  KawasakiConcours 1,549
Michael G. Wolf  Folsom, CA              10/06/01  Ducati ST2       1,549
Steve Long       Sacramento, CA          10/06/01  KawasakiConcours 1,549

Billy Street     Loganville, GA          10/06/01  Honda VFR800     1,534
Alan Leduc       New Castle, IN          10/06/01  Honda GL1800     1,585
Billy Breland Sr Collinsville, MS        10/02/01  H-D Softail      1,501
Bert Reynolds    Fairview, Alberta CAN   09/30/01  BMW K1200RS      1,558

Kent Ailes       Phoenix, AZ             09/29/01  Yamaha Venture   1,568
Tom Maiden       Chandler, AZ            09/29/01  Yamaha RoadStar  1,568

Hank Meyers      Little Elm, TX          09/28/01  Honda VFR750     1,621
Dan G. Luce      Houston, TX             09/28/01  Honda Gold Wing  1,505
Gary Ducote      DeRidder, LA            09/27/01  H-D Road King    1,555

J. Braxton Sorg  Charlotteville, NC      09/21/01  BMW K1200LT      1,608
Ray S. Simons    Tunerville, GA          09/21/01  KawasakiConcours 1,608

Richard Buber    Walled Lake, MI         09/21/01  Honda Gold Wing  1,533
Patrick Veth     Bonita, CA              09/19/01  BMW R1100RT      1,538
James E. Comley  Toronto, Ontario CANADA 09/15/01  BMW R1100RT      1,528
Jon N. Harris    Ellerslie, GA           09/15/01  Honda ST1100     1,518
Dr David E Green Huntsville, AL          09/14/01  H-D Softail      1,587
David Bemo       Fort Gibson, OK         09/14/01  Yamaha Road Star 1,528

Markku Jokinen   Espoo, FINLAND          09/13/01  BMW K75          1,530
Tapio Merilainen Ylojarvi, FINLAND       09/13/01  Kawasaki GPZ1100 1,530

Andrew Higgins   Joliet, IL              09/12/01  Honda GL1000     1,528
Teun Luigjes     The Netherland          09/08/01  H-D Ultra        1,550
James A. Owen    Easton, PA              09/06/01  BMW R1100RT      1,521
Jim Morin        McAllen, TX             09/05/01  KawasakiConcours 1,539
John Thompson    San Jose, CA            09/02/01  H-D Road Glide   1,524
Dick Peek        Park City, UT           09/01/01  BMW K1200RS      1,538
Lewis Osborn     Medford, OR             09/01/01  Honda Gold Wing  1,532
John Thompson    San Jose, CA            08/31/01  H-D Road Glide   1,524
Joe Glowacki     Shawnee Mission, KS     08/29/01  BMW R80/7        1,567

Geoff Wilson     St. Albert, Alberta CAN 08/27/01  Honda Gold Wing  1,520
Ken MacDonald    St. Albert, Alberta CAN 08/27/01  Honda Gold Wing  1,520

Marc A. Talsma   Grand Rapids, MI        08/25/01  BMW K1200LT      1,551
Rick Bourgoin    Kirkland, WA            08/21/01  Moto Guzzi V11   1,510
Beth M. Carlson  Lewiston, MN            08/20/01  H-D 883 Hugger   1,524
Mike L Ledbetter Pendleton, OR           08/18/01  Yamaha V-Star    1,542
Jorma Viemero    Uusikaupunki, FINLAND   08/18/01  BMW K75          1,539
Bruce F. Harris  Burlington, NC          08/14/01  BMW K1200LT      1,530
Jorma Viemero    Uusikaupunki, FINLAND   08/13/01  BMW K75          1,539
Charles Ginther  Coral Springs, FL       08/13/01  H-D FXDX         1,503
Chris Hayes      Cleveland, TN           08/11/01  H-D FLSTC        1,540
Mindy Best (passenger)                   08/11/01  H-D FLSTC        1,540
Bill Sutton      Bellevue, WA            08/05/01  H-D FLHRCI       1,507
Joe Birkholz     Fond du Lac, WI         08/04/01  H-D FLHTC        1,513

Richie Hoolahan  Pittsburgh, PA          08/03/01  H-D FXSTB        1,568
Irvin P. Gable   Mars, PA                08/03/01  H-D FLSTC        1,568
Gary Waratuke    Pittsburgh, PA          08/03/01  H-D FLSTC/I      1,568

Dusty Collins    Manassas, VA            08/03/01  Honda Gold Wing  1,582
Buck O. Jones    Houma, LA               08/02/01  H-D UltraClassic 1,515
Donald E Bennett Lowell, OR              08/02/01  Honda Gold Wing  1,527
Jason Edwards    Woodinville, WA         07/30/01  Honda ST1100     1,618

Dewey Slough     Amarillo, TX            07/28/01  BMW K100RS       1,520
Stan Drake       Borger, TX              07/28/01  Honda V65 Sabre  1,520

Keith Collins    Cleveland, MN           07/28/01  BMW K1100RS      1,503
Dale Sheppard    Nederland, TX           07/28/01  H-D FLHPI        1,505
Rene Shppard (passenger)                 07/28/01  H-D FLHPI        1,505
Jeff Miller      Plainville, KS          07/28/01  Honda Gold Wing  1,583
Troy A Plaisance Glendale, AZ            07/28/01  Yamaha RoyalStar 1,531
Brian D. Hopkins Golden, CO              07/28/01  BMW R1100RT      1,620
Mark R. Newton   Bessemer, AL            07/28/01  H-D Road King    1,552
Gregory Dennett  Wichita, KS             07/27/01  Honda ST1100     1,529
Russell Spitler  Washington, PA          07/27/01  H-D Wide Glide   1,502
Robert A. Miller Rancho Cucamonga, CA    07/27/01  KawasakiConcours 1,562
Tom Greenauer    Spring Brook, NY        07/26/01  H-D Road King    1,518
Robert J. Tobin  Pleasanton, CA          07/24/01  Honda Gold Wing  1,530
Wade Butler      Niagara Falls, NY       07/23/01  BMW K1200LT      1,565
Roberto Magni    Peoria, AZ              07/18/01  BMW K1200LT      1,550

Ron Degnan       Canfield, OH            07/16/01  BMW R100RT       1,565
Roy H. Dyckman   Canfield, OH            07/16/01  BMW R100RTC      1,565

William G. Weber South Bend, IN          07/16/01  BMW K1100LT      1,501
Rick Snyder      Williamstown, PA        07/16/01  BMW K100RS       1,555

John Tice        Blacksburg, VA          07/15/01  Honda ST1100     1,523

Rob Keay         Birmingham, MI          07/14/01  BMW K1200RS      1,538
Fred Jernigan    Haslett, MI             07/14/01  BMW K1200RS      1,538
Nicholas Woloszyk Richland, MI           07/14/01  BMW K75S         1,538

Roy Uptergrove   Hale Center, TX         07/14/01  Honda Gold Wing  1,555
Gary Wood        Cotton Center, TX       07/14/01  Kawasaki Voyager 1,555

Bill Heldenbrand Fort Myers, FL          07/14/01  BMW R1100GS      1,551
Jerry D Clemmons Gastonia, NC            07/14/01  Honda ST1100     1,566
Andy Simons      Columbia, SC            07/14/01  Kawasaki Voyager 1,535
Phil Mattson     Creston, IA             07/13/01  H-D FLHTCI       1,521
Darwin McClellan Cleveland, OH           07/13/01  BMW K1100RS      1,577
Scott Derscheid  Ellston, IA             07/13/01  BMW K1100LT      1,546
Raydeen Derscheid (passenger)            07/13/01  BMW K1100LT      1,546
Steve Phillips   Riverton, UT            07/13/01  Honda GL1800     1,568
Shawn W. Crall   Kansas City, MO         07/12/01  BMW R1100RT      1,579
Dan S. Watson    Sioux City, IA          07/09/01  H-D DynaWideGlide1,523
Bryan Main       Frederick, MD           07/07/01  Kawasaki Conours 1,532
Inna Vasser (passenger)                  07/07/01  Kawasaki Conours 1,532

Jere C. Grunigen Reno, NV                07/05/01  H-D Road King    1,506
Dick Cook        Reno, NV                07/05/01  H-D Road King    1,506

Nels Gebben      Hudson, WI              07/04/01  BMW K100RT       1,584

Michael Ball     Smyrna, GA              07/03/01  KawasakiConcours 1,505
Harley McIntire  Columbia, GA            07/03/01  H-D DynaLowRider 1,505

Steven Buchanan  Richland, WA            07/03/01  H-D FXST         1,530
Charlie Ray      Prosser, WA             07/03/01  Honda GL1100     1,530

Bob Demos        Phoenix, AZ             06/29/01  Honda Valkyrie   1,502
G Brian Washburn Montebello, CA          06/29/01  Honda Gold Wing  1,546
Derrick Sutton   Southbank, AUSTRALIA    06/26/01  Kawasaki ZZR600  1,530
Boyd Luke Weber  Stoughton, WI           06/26/01  KawasakiConcours 1,591

Minnesota 1000
Jon McDermott    Lakeville, MN           06/23/01  BMW R100RT       1,595
Pat J. O'Keefe   Edina, MN               06/23/01  BMW F650!        1,576
Tim Conway       Minneapolis, MN         06/23/01  BMW R1100RSL     1,519
Ken Bryant       Monticello, MN          06/23/01  Yamaha Venture   1,554
Dave Becker      Monticello, MN          06/23/01  Triumph Trophy   1,555
Tim Cusick       Saint Paul, MN          06/23/01  BMW K1100LT      1,529

Utah 1088
Kevin Smith      Midvale, UT             06/23/01  BMW K1200LT      1,631

Roger Zieseniss  Brigham City, UT        06/23/01  KawasakiConcours 1,516
Dennis O'Neal    Brigham City, UT        06/23/01  Honda Gold Wing  1,516
Victor Wanchena  Robbinsdale, MN         06/23/01  BMW K1200LT      1,644
Don Greer        Savage, MN              06/23/01  H-D Road Glide   1,508
Harry E. Irvine  Lakewood, CA            06/19/01  Honda ST1100     1,532

David L. Hanson  Billings, MT            06/17/01  H-D FLHTC        1,532
Merlyn Miller    Billings, MT            06/17/01  H-D Fat Boy      1,532
Don Speck        Billings, MT            06/17/01  H-D FLHS         1,532

Bob Irwin        Lynden, WA              06/17/01  Triumph Trophy   1,538
Jay R. Weber     St. Charles, MO         06/16/01  Honda Valkyrie   1,505
Dave McDonald    Las Vegas, NV           06/09/01  Honda Gold Wing  1,524
Mark A. Hash     Inman, NE               06/09/01  Yamaha V-Star    1,521
Jeff Kracl       Norfolk, NE             06/09/01  Honda ST1100     1,521
David E. Bender  Corona, CA              06/09/01  Honda Gold Wing  1,525
Steve Hill       Wicita, KS              06/08/01  KawasakiConcours 1,549
Eric L. Robb     East Greenwich, RI      06/04/01  BMW K100RS       1,516
Jim Moss         Wirtz, VA               06/04/01  BMW K100RS       1,516
Don Arthur       McLean, VA              06/03/01  BMW K1200LT      1,531
Kevin Beretta    Vancouver, BC CANADA    06/02/01  BMW R80RT        1,545
David Cavanaugh  Everett, WA             06/02/01  KawasakiConcours 1,545
T. Akira So      Santa Clara, CA         06/02/01  BMW R1100RT      1,576
Keith Emich      West Allis, WI          06/01/01  BMW R1100RT      1,516

Mason Dixon 20/20
Skip Poncavage   York, PA                05/27/01  H-D FLHTC        1,541
Dillon Dickson   Arlington, VA           05/27/01  Kawasaki Concours1,542
Robert McCarthy  Clifton, VA             05/27/01  BMW R1100RS      1,539

Tom Scheu        Savoy, IL               05/26/01  Honda CB1000     1,540
Dennie Scheu     Savoy, IL               05/26/01  Honda Gold Wing  1,540

MASS GOLD, Gerlach, Nevada - Record Group Bun Burner GOLD ride!
Jeff Fisher                              05/26/01                   1,610
Frank Taylor                             05/26/01                   1,610
Will  Lee                                05/26/01                   1,610
Adam Wolkoff                             05/26/01                   1,610
Eddie  James                             05/26/01                   1,610
Alan Barbic                              05/26/01                   1,610
Paul Meredith                            05/26/01                   1,610
Tom Austin       Sacramento, CA          05/26/01  BMW K1200LT      1,610
Rick Rohlf       Dallas, TX              05/26/01  BMW K1100LT      1,610
Heidi  Weldon    Phoenix, AZ             05/26/01  BMW K1100LT      1,610
Kirk Miller                              05/26/01                   1,610
Paul Peloquin    Salem, OR               05/26/01  BMW R1100RS      1,610
Kerry Church     Portland, OR            05/26/01  Honda ST1100     1,610
Ron Smith        Bothel, WA              05/26/01  Honda GL1800     1,610
Dominique Blachon Seattle, WA            05/26/01  BMW K1200LT      1,610
Dennis Cunningham Fontana, CA            05/26/01  BMW K1200LT      1,610
Mark A. Johnson  Dallas, TX              05/26/01  Honda            1,610
Jim Reese        Ridgecrest, CA          05/26/01  BMW R1150GS      1,610
Dean Tanji       Santa Ana, CA           05/26/01  H-D FLHT         1,610
Norm Grills      Dallas, TX              05/26/01  BMW K1100LT      1,610
Joseph Zulaski   Woodinville, WA         05/26/01  Honda ST1100     1,610
Paul Walgren                             05/26/01                   1,610
Donald Fitzgerald Ridgecrest, CA         05/26/01  BMW R1100GS      1,610
Brad Dassonville Phoenix, AZ             05/26/01  Honda Gold Wing  1,610
Tom Melchild     Pleasanton, CA          05/26/01  Suzuki Katana    1,610
Mike Heran       Herucles, CA            05/26/01  BMW K100LT       1,610
Rick Martin      Pontiac, IL             05/26/01  Kaw 1200 Voyager 1,610
Roger Van Santen Stayton, OR             05/26/01  Yamaha GTS 1000  1,610
Tom Loegerring   Lawndale, CA            05/26/01  BMW K1200LT      1,610
Dewayne Harkov   Modesto, CA             05/26/01  BMW R1100RT      1,610
Brian Boberick   Littleton, CO           05/26/01  Honda GL1800     1,610
Phil Mann        Michigan                05/26/01  BMW K1200RS      1,610
Don Damron       Elkhart, IN             05/26/01  Kawasaki Concours1,610
Mark  Kiecker    Farmington, MN          05/26/01  Honda VFR800     1,610
Joe DeRyke       San Jose, CA            05/26/01  BMW R1100RT      1,610
Roger Shultz     Evergreen, CO           05/26/01  BMW R1100S       1,610
Michael Etlicher                         05/26/01                   1,610
Jerry Harris     Corrales, NM            05/26/01  BMW K1100LT      1,610

James Phillips   Bishop, GA              05/24/01  BMW K1200LT      1,557
Donna Phillips (passenger)               05/24/01  BMW K1200LT      1,557
Chad Middlebrook Shortsville, NY         05/24/01  Honda Superhawk  1,515
Steven McCarthy  Port Orange, FL         05/15/01  BMW R1100RT      1,525
Kyle C. Crippen  Lansdale, PA            05/05/01  KawasakiConcours 1,541

Sean Cavanaugh   San Diego, CA           05/05/01  BMW R1100RSL     1,573
Charles Bubb     San Diego, CA           05/05/01  Honda CBR1100XX  1,573

Jerry Masefield  Stafford, VA            05/05/01  H-D FLHRI        1,506
Richard O'Connor Seattle, WA             04/30/01  BMW K1200LT      1,501
Edward M. Chaney Huntington Beach, AR    04/28/01  H-D FLHTCUI      1,587
Bob Coffland     Inyokern, CA            04/28/01  Honda Gold Wing  1,550
Joe F. Law       Ridgecrest, CA          04/28/01  BMW R1100RT      1,550
Mark Rowell      Ridgecrest, CA          04/28/01  Honda GOld Wing  1,550
Vicki S Johnston Charleston, TN          04/25/01  H-D FXRS         1,612

Harri J Honkanen Kangasala, FINLAND      04/21/01  BMW R90S         1,515
Ismo Kallonen    Kangasala, FINLAND      04/21/01  BMW K1100LT      1,543

Charles M Huber  Lancaster, PA           04/19/01  H-D Road King    1,527
Larry Buck       Boca Raton, FL          04/19/01  KawasakiConcours 1,530
Gary W. Norton   Travelers Rest, SC      04/19/01  KawasakiConcours 1,530
Daniel S. Cohen  Bronx, NY               04/16/01  BMW R1100RS      1,545
Ray Silva        Roswell, GA             04/14/01  BMW R1100RS      1,534
Michael Sumner   Tallahassee, FL         03/24/01  Honda ST1100     1,529
Barry A. Peak    Vero Beach, FL          03/24/01  BMW K100RS       1,534
Chuck Chiodini   Heber Springs, AR       03/24/01  Hon PacificCoast 1,534
Charles M Huber  Lancaster, PA           03/07/01  H-D Road King    1,516
Christopher Sakala Gaithersburg, MD      03/04/01  BMW R1100RT      1,537
Bernard H. Weiss  Highland Park, IL      03/02/01  H-D Road King    1,584
Wayne Kirkpatrick Palatine, IL           03/02/01  H-D Road King    1,584
Rik Lowry         Buffalo Grove, IL      03/02/01  H-D Road King    1,584
Sean J. Gallagher Richmond, VA           01/14/01  H-D Road Glide   1,530

Terry Tracy      Wind Lake, WI           11/11/00  Kawasaki Voyager 1,525
Frank E. Kramer  O'Fallon, IL            10/28/00  BMW K1200LT      1,556
Bruce Wallace    Atascadero, CA          10/18/00  BMW R1100RS      1,591
Fred Veator      Bonaire, GA             10/15/00  Triumph Trohy    1,517
D.A. Littlefield DeLand, FL              10/05/00  Moto Guzzi V11EV 1,517
Doug Gantt       DeLand, FL              10/05/00  Yamaha V-Star    1,517
Rick Legler      Ellettsville, IN        09/26/00  Suzuki Bandit    1,588
Joe DeRyke       San Jose, CA            09/23/00  BMW R1100RT      1,573
Steve Joern      Troy, NY                09/22/00  BMW R80ST        1,508
Rick Berg        Wausau, WI              09/16/00  H-D FLHTC        1,502
R James Greenlee Wausau, WI              09/16/00  Honda Gold Wing  1,502
Glenn K Pancoast Lansing, MI             09/15/00  BMW K1100LT      1,508
Louie Lawless    Vincennes, IN           09/11/00  H-D Fat Boy      1,503
Tony Todd        Henderson, KY           09/11/00  H-D Fat Boy      1,503
Russ Linstrom    Acton, MA               09/10/00  H-D FLHS         1,503
Stephen R Brooks San Francisco, CA       09/09/00  BMW K100RS       1,533

Glenn K Pancoast Lansing, MI             09/06/00  BMW K1100LT      1,584

Dean Henagan     Lake Charles, LA        09/02/00  Honda Gold Wing  1,573
John M Maddox    Kinder, LA              09/02/00  Honda Gold Wing  1,573

Blackfly 1600
Christopher Herten  Gander, NL CANADA    08/12/00  Honda CBR1100XX  1,505
Ulrich Barthel   Toronto, ON CANADA      08/12/00  BMW R1100RT      1,505
Luc David        Quebec, CANADA          08/12/00  BMW K1200RS      1,505
Rick Sauter      Saskatoon, SK CANADA    08/12/00  Honda ST1100     1,615

Lynn Ketelhut    Allen Park, MI          08/18/00  BMW R100RT       1,555
John Bolin       Auburn, WA              08/18/00  BMW R100RT       1,522
E.J. Kuzikowski  Edmonton, Alberta       08/13/00  Honda Gold Wing  1,610
Don Johnson      Greensboro, NC          08/12/00  H-D Softail      1,507
David Hurley     High Point, NC          08/12/00  H-D Road King    1,507
R.E. "Reb" Boggs Newnan, GA              08/11/00  H-D FLHTP        1,556
Merle Keppy      Davenport, IA           08/08/00  BMW R1100RT      1,562
Jim Schlyer      Kent, WA                08/06/00  Honda V65 Magna  1,525
Kendall Anderson Rock Hill, SC           08/05/00  Ducati ST2       1,583
Rick Fields      Leeds, AL               08/04/00  Honda V45        1,535
Rick Miller      Baltimore, MD           08/04/00  Kawasaki Concours1,533
Dale Horstman    Dale City, VA           08/04/00  Kawasaki Concours1,520
Rodney Ruhr      Rutherfordton, NC       08/03/00  Yamaha Virago    1,525
Jim Parr         LaFarge, WI             08/02/00  Yamaha Road Star 1,545
Joe Cunningham   Union Mills, SC         07/30/00  Honda ST1100     1,525
Lyndon Murray    FRANCE to SWEDEN!       07/29/00  BMW R1100RT      1,550
Douglas Shea     Hailey, ID              07/23/00  BMW R1100GS      1,562
John L. Cheney   White Salmon, WA        07/22/00  Honda ST1100     1,533
Ralph Skowron    Hortonville, WI         07/11/00  H-D ElectraGlide 1,539
Brian Diver      Everett, WA             07/13/00  Honda V45 Sabre  1,520
Gary T. Sweet    Pickerington, OH        07/06/00  Honda Gold Wing  1,518
Levi S. Kelphin  Tulsa, OK               07/03/00  Honda ST1100     1,563
Bill Wing        Summers, AR             07/03/00  BMW K1100RT      1,582
Bruce M. Wagner  Shoemakersville, PA     07/03/00  BMW K1200LT      1,539
Thomas Spearman  Mooresville, IN         07/02/00  BMW K75T         1,529
John Haverland   Laffayette, CO          07/01/00  BMW K1200LT      1,546

Spokane Independent Harley Riders
Clint Francis    Spokane, WA             06/02/00  H-D Road King    1,510
Roger Bays       Spokane, WA             06/02/00  H-D FLHTPI       1,510
Mark Piaskowski  Post Falls, ID          06/02/00  H-D Electra Glide1,510

Wesley F. McCann Roswell, GA             06/25/00  BMW R1100GS      1,550

Mik Reed         East Farleigh, ENGLAND  06/24/00  Triumph Tiger    1,576
John Adebayo     London, ENGLAND         06/24/00  BMW R100GS       1,576
Chris Stanbury   Salisbury, ENGLAND      06/17/00  Kawasaki GTR1000 1,576

Norman Le Fevre   Salt Lake City, UT     06/24/00  BMW R1100RT      1,550
J Kyle Cummings III Baltimore, MD        06/22/00  BMW R1100RT      1,576
John A. Brown    Portage, MI             06/20/00  BMW K100RT       1,593
John A. Oravec   Denton, TX              06/17/00  KawasakiConcours 1,526
Mike Myrick      Huntsville, AL          06/10/00  Honda Valkyrie   1,503
Clayton Ashley   Olympia, WA             06/09/00  Honda CBR 1000   1,602
Brian Hughes     Landover, MD            06/08/00  Honda Gold Wing  1,559
Ervin J. Maye    Lexington, SC           06/06/00  Honda Gold Wing  1,533
Brian Hughes     Landover, MD            06/06/00  Honda Gold Wing  1,533
Robert McCarthy  Clifton, VA             06/03/00  BMW R1200C       1,523
Duane Northrup   Vancouver, WA           06/02/00  BMW R1100RS      1,520
Roland Hervieux  Burlington, Ontario CAN 06/02/00  Honda Gold Wing  1,547
Rene P.R. Ooink  Commerce Township, MI   05/30/00  Honda Valkyrie   1,564
Stephen Szelestey Shelby Township, MI    05/30/00  BMW R1100RSL     1,564
Keith M. Carr    Chafee, MO              05/27/00  BMW K100LT       1,535

Dawg Eat Dawg Rally
Tom Austin       Sacramento, CA          05/27/00  BMW K1200LT      1,540
Jerry Harris     Corrales NM             05/27/00  BMW K1100LT      1,540
Kelly Bradley    Portland, OR            05/27/00  Honda ST1100     1,540
Gary Eagan       Salt Lake City, UT      05/27/00  Ducati ST2       1,540
Dick Fish        Manitoba, Canada        05/27/00  BMW R1100RS      1,540
Jeff Fisher      Sparks, NV              05/27/00  BMW K1100LT      1,540
Kerry Church     Portland, OR            05/27/00  Honda ST1100     1,540
Alan Barbic      Los Gatos, CA           05/27/00  Honda ST1100     1,540
Ray Blair        Redondo Beach, CA       05/27/00  Honda ST1100     1,540
Holly Harrison   Wilmington, CA          05/27/00  Honda ST1100     1,540
Jeff Jones       Cathedral City, CA      05/27/00  Honda ST1100     1,540
Bill Newton      Huntington Beach, CA    05/27/00  Honda ST1100     1,540
Jeff Simmonds    Altadena, CA            05/27/00  BMW K1100LT      1,540
Roger Van Santen Salem, OR               05/27/00  Yamaha GTS1000   1,540
Mike Heran       Hercules, CA            05/27/00  Honda CBR1000    1,540
Bob Hall         Diamond, OH             05/27/00  BMW R1100RT      1,540
Steve Taylor     Miami, FL               05/27/00  BMW K1200LT      1,540
Joe Zulaski      Woodinville, WA         05/27/00  Honda ST1100     1,540
Michael Smeyers  Vernon, BC CANADA       05/27/00  BMW K1100LT      1,540
Jeff Powell      Kingman, AZ             05/27/00  Yamaha Venture   1,540
David Bankhead   Katy, TX                05/27/00  Honda ST1100     1,540
Charles Kimball  Klamath Falls, OR       05/27/00  BMW K100RS       1,540
Tom Melchild     Pleasanton, CA          05/27/00  Suzuki Katana    1,540

Todd Witte       York, PA                05/26/00  H-D Road Glide   1,656
Verne W. Simmons Puyallup, WA            05/25/00  Honda Gold Wing  1,520
Frank Heitmuller Columbia, SC            05/13/00  BMW R1100RT      1,660
Todd Witte       York, PA                05/19/00  H-D Road Glide   1,521
Brent D. Ames    York, PA                05/19/00  BMW K75S         1,521
Rick Morris      Indianpolis, IN         05/06/00  H-D FLHTC        1,502
Randy Wagley     Acton, IN               05/06/00  H-D FLHTC        1,502
Dennis Berry     Greenwood, IN           05/06/00  H-D FLHTCU       1,502
Patrick Hochberg Monroe, TX              05/06/00  BMW K1100RS      1,540
Richard L. Bean  Humble, TX              05/06/00  H-D FLSTS        1,574
James Wilhite    Gadsden, AL             05/04/00  H-D Road King    1,548
Robert Wooldridge Atlanta, GA            04/29/00  BMW R1100GS      1,585
Drady Hendley    Duluth, GA              04/29/00  BMW R1100RT      1,585
David E. Schulte Fridley, MN             04/28/00  Honda ST1100     1,541
Jeffery Fikes    Hamilton, AL            04/22/00  BMW R1100GS      1,555
Jack Gingrich    Columbia, CA            04/21/00  H-D FLHTC        1,513
Bill Noftz       Fallbrook, CA           04/19/00  BMW K75S         1,510
Lisa Landry      Dove Canyon, CA         04/02/00  H-D Road Glide   1,511
Dean Tanji       Santa Ana, CA           04/02/00  H-D ElectraGlide 1,511
Mark R. Bisnette Three Rivers, MA        04/01/00  Honda Gold Wing  1,506
William Lacey    Westfield, MA           04/01/00  Honda Gold Wing  1,506
Chuck Thomas     Merritt Island, FL      03/25/00  H-D DynaWideGlide1,540
John A. Oravec   Denton, TX              03/25/00  Kawasaki Concours1,537
Kurt Andrews     Arleta, CA              03/11/00  Triumph Trophy   1,568
Kerry J. Artzner Magnolia, OH            03/03/00  Honda Gold Wing  1,538
Rick Rohlf       Round Rock, TX          03/05/00  BMW K1200LT      1,539
Jim Frens        Nashua, NH              03/07/00  Honda Gold Wing  1,514
Bob Lyskowski    Manchester, NH          03/05/00  H-D ElectraGlide 1,510
Karen D. Smith   Willard, MO             03/03/00  BMW K75RT        1,514
Brian D Burdette Leavenworth, KS         03/03/00  BMW K75          1,514
Jeffrey Guynes   Brandon, MS             01/13/00  H-D Heritage     1,520
Leon Begeman     Dale City, VA           01/08/00  Kaw Ninja 250!   1,552
Bill Thweatt     Lucas, TX               01/01/00  Honda ST1100     1,511 TX-BBG
Robert McCarthy  Clifton, VA             01/01/00  BMW R1200C       1,505
John D. Wood     Chickasha, OK           11/13/99  Honda ST1100     1,521
David Swarthout  Frazier Park, CA        11/09/99  BMW K100LT       1,535
Robert R. Seip   Hesperia, CA            11/05/99  Honda Gold Wing  1,560
John A. Guthrie  Bedford, TX             10/27/99  Honda ST1100     1,559
Corey L. Port    Apison, TN              10/22/99  BMW R1100RT      1,666
Mike Getzendanner Grapevine, TX          10/14/99  Honda Gold Wing  1,505
Mike Hutsal      Winnipeg, MB CANADA     10/09/99  Yamaha Venture   1,525
Gary G. Drake    Tustin, CA              10/09/99  BMW K1100LT      1,535
Rick Hill        Colorado Springs, CO    10/07/99  Honda ST1100     1,524
James F. Stanley Wilmington, NC          10/03/99  BMW K1100LT      1,624
Mike Seibold     Rohnert Park, CA        09/24/99  Honda ST1100     1,601
Roger Gunter     Rohnert Park, CA        09/24/99  Honda ST1100     1,601
Bob Wilkinson    North Platte, NE        09/23/99  Honda Gold Wing  1,524
Louis Kleewein Jr North Platte, NE       09/23/99  Honda Gold Wing  1,524
Jim Snively      East Rochester, OH      09/23/99  BMW K1200LT      1,520
Allan B Ashbury  Riverside, CA           09/18/99  Honda Gold Wing  1,516
Don Kulwicki     Mishawaka, IN           09/07/99  BMW R1100RT      1,543
Howard Heck      Blue Springs, MO        09/07/99  H-D Road King    1,518
Lyle C. Irwin    Blue Springs, MO        09/07/99  H-D Road King    1,518
R.J. Frizzell    Independence, MO        09/07/99  H-D              1,518
Mark S. Dauck    Clearwater, FL          09/02/99  Yamaha V-Star    1,545
Doug Patton      Melbourne, FL           09/02/99  BMW R100GSPD     1,545
Jim Baird        Palm Bay, FL            09/02/99  H-D Dyna Glide   1,550
James S. Simonet River Falls, WI         09/01/99  H-D Wide Glide   1,510
Bob Broeking     Springfield, VA         08/29/99  Honda Pac. Coast 1,508
Terry Tracy      Wind Lake, WI           08/28/99  Kawasaki Voyager 1,560
Keesha Brown (passenger)                 08/28/99  Kawasaki Voyager 1,560
Herbert W Polzin Dundee, IL              08/28/99  H-D FXD          1,530
Chris Ward       Sovoy, IL               08/27/99  BMW K75S         1,540
Mark Haas        Sumter, SC              08/27/99  KawasakiConcours 1,503
Rick Brookes     San Diego, CA           08/15/99  Honda ST1100     1,631
K.MacDonald-Vargo Chandler, AZ           08/14/99  H-D Sportster    1,503
Linda Perez      Harlingen, TX           08/13/99  H-D FXR2         1,517
B.J. Perez       Harlingen, TX           08/13/99  H-D FXDX         1,517

Finland  (cross Europe ride from Spain to Sweden)
Jorma Viemero    Vusikaupunki, FINLAND   08/10/99  BMW K75          1,523

Ron I. Smith     Bothell, WA             08/07/99  Honda Gold Wing  1,507
Verne Simmons    Cascade Classic         08/07/99  Honda Gold Wing  1,510
James Arnold     Cullman, AL             08/07/99  Honda Gold Wing  1,510
Michael Nikolakis Spanish Fort, AL       08/07/99  Honda Gold Wing  1,516
Robert Rushing   Hopewell, VA            08/06/99  Honda Valkyrie   1,529
Homer L. Krout   Indian Harbour Beach FL 08/06/99  H-D Road Glide   1,529
Herb Campbell    Raleigh, NC             08/06/99  BMW R1100GS      1,515
Michael Spengler Portland, OR            07/31/99  Honda Gold Wing  1,520
John Bolin       Auburn, WA              07/24/99  BMW R100RT       1,521
Christopher Cole North Las Vegas, NV     07/19/99  Kawasaki ZG1000  1,538
Rob Lentini      Tucson, AZ              07/19/99  BMW R1100RS      1,514
Jerry Goff       Bellevue, WA            07/18/99  Honda Gold Wing  1,539
Dirk Artzner     Waynesburg, OH          07/06/99  Yamaha Venture   1,510
Robert A Pariano Magnolia, OH            07/06/99  H-D FLHTC        1,510
John A. Brown    Portage, MI             07/04/99  BMW K100RT       1,506
Jocelyn Levasseur Hull, Quebec, Canada   06/29/99  BMW R1100RT      1,628
Mark Bolles      Denver, CO              06/26/99  Honda Magna V45  1,520
Timothy Philips  Akron, IA               06/26/99  BuellThunderbolt 1,524
Bob Nielsen      Akron, IA               06/26/99  H-D ElectraGlide 1,524
Patrick Perron   LeGardeur, Quebec       06/24/99  Honda ST1100     1,516
Joe Bedford      Kanata, Ontario         06/23/99  H-D FLHTCUI      1,604
Jim Coogan       Madisonville, TN        06/21/99  Honda Gold Wing  1,516
Terry Roberts    McMinnville, TN         06/21/99  Yamaha Royal Star1,512
Gary "OLY" Olson Fargo, ND               06/19/99  BMW R1100RSL     1,501
R.Heath Carlson  Flin Flon, Mantiroba    06/19/99  Kawsaki Voyager  1,530

One More Mile Riders of Istanbul, Turkey Top Gun Rider 1500:
Paolo Volpara     Istanbul, Turkey!      05/09/99  BMW R1100GS      1,512

Scott Ward       Hastings, MN            06/19/99  Honda ST1100     1,538
Chuck Hayes      Mount Horeb, WI         06/19/99  Honda ST1100     1,532
Ross Spoonland   Pisek, ND               06/12/99  Honda Valkyrie   1,529
Gene Tutterrow   Gerald, MO              06/11/99  Honda Gold Wing  1,565
Mike Seaton      Bland, MO               06/11/99  Honda Gold Wing  1,565
Gerald A Danuser Owensville, MO          06/11/99  Honda Gold Wing  1,565
Brad Johnson     Kearney, NE             06/11/99  H-D Road King    1,520
Diane Franzen (passenger)                06/11/99  H-D Road King    1,520
Jon Poklop       Addison, IL             06/11/99  Honda ST1100     1,527
Ernie Ponicki    Mesa, AZ                06/04/99  Honda Gold Wing  1,540
Chris K. Franke  Little Rock, AR         06/02/99  BMW R1100GS      1,602
Bart Romple      Yakima, WA              05/27/99  Honda Gold Wing  1,561
Greg Reider      Selah, WA               05/27/99  Honda Gold Wing  1,561
Lee Myrah        Neepawa, Manitoba (CAN) 05/23/99  Honda ST1100     1,800+
Chris Baldwin    Vancouver, BC (CANADA)  05/20/99  Honda ST1100     1,510
Joseph L. Combe  Rocky Hill, CT          05/16/99  Honda ST1100     1,520
Terry Smith      Hatchville, MA          05/15/99  BMW R1100RT      1,533
John Bolin       Auburn, WA              05/09/99  BMW R100RT       1,506
Bob Hall         Diamond, OH             05/08/99  BMW R1100RT      1,634
Airyn Darling    Bellevue, WA            04/29/99  BMW K100RS       1,573
Bill Brown       Mira Loma, CA           04/28/99  BMW R1100RT      1,551
Robert Ferguson  Rialto, CA              04/23/99  Honda Gold Wing  1,500
Glenn Clave      Ontario, CA             04/23/99  Honda Gold Wing  1,500
Paul Grant       Alexandria, VA          04/22/99  Honda Gold Wing  1,540
Jim Beachy       Centreville, VA         04/22/99  Honda Gold Wing  1,540
David Buchanan   Annandale, VA           04/22/99  Honda Gold Wing  1,540
Pauline Ralston  Ft. Pierce, FL          04/20/99  Honda Pac Coast  1,526
David Hunter     Norfolk, VA             04/17/99  Honda Gold Wing  1,556
Paul T. O'Neil   Chesapeake, VA          04/17/99  Honda Gold Wing  1,556
June R. Boice    Chesapeake, VA          04/17/99  Honda Gold Wing  1,556
Gary Parece      Somerset, MA            03/25/99  KawasakiConcours 1,551
Insel Angus      Reno, NV                03/09/99  BMW R80RRT       1,568
Kip Rodecker     Reno, NV                03/09/99  BMW K100RS       1,568
Pauline Ralston  Ft. Pierce, FL          03/02/99  Hon PacificCoast 1,532
Richard A. Smith Ft. Pierce, FL          03/02/99  Honda Gold Wing  1,532
Don Damron       Elkhart, IN             02/28/99  Honda Shadow Ace 1,530
Gene Mikolajczyk Playa Del Rey, CA       02/17/99  H-D Electra      1,560
Paul Grant       Alexandria, VA          12/17/98  Honda Gold Wing  1,500
Craig A. Lee     Alexandria, VA          12/17/98  Honda Gold Wing  1,500
Herb Campbell a.k.a. Herbie Saint        12/01/98  BMW R1100GS      1,570
Carl Perry       Pineville, LA           11/27/98  H-D Road King    1,600
Steve Rachal     Shreveport, LA          11/06/98  Honda Gold Wing  1,550
Jack West        Keithville, LA          11/06/98  Honda Gold Wing  1,550
Jeff Powell      Kingman, AZ             11/06/98  Kawasaki Concours1,555
Richard A. Smith Vero Beach, FL          11/04/98  Honda Gold Wing  1,520
Bob Brockhoff    Metairie, LA            10/30/98  H-D Road King    1,556
Randy Gebben     Oviedo, FL              10/23/98  Kawasaki Concours1,575
Eric Driskell    Colorado Springs, CO    10/16/98  Honda ST1100     1,515
Richard A. Smith Vero Beach, FL          10/10/98  Honda Gold Wing  1,519
John S. Irvine   Las Cruces, NM          10/03/98  Yamaha FJ1200    1,520
Mike Phelps      Martinsville, IN        10/03/98  Kawasaki Concours1,530
Roger Gunter     Rohnert Park, CA        09/27/98  Honda ST1100     1,650
David A. Wissen  Martinez, CA            09/19/98  BMW R1100RT      1,560
Mark A Johnson   N.Richland Hills, TX    09/18/98  Honda Gold Wing  1,566
Bob Lyskowski    Manchester, NH          09/18/98  H-D ElectraGlide 1,545
Steve Roberts    Kansas City, MO         09/14/98  Kawasaki Concours1,534
Kirk S. Fulmer   Murphy, TX              09/05/98  Honda Gold Wing  1,616
Verne Simmons    Puyallup, WA            08/28/98  Honda Gold Wing  1,528
Jim Fox          Broomfield, CO          08/28/98  Honda Aero       1,588
Nate Welch       Newcastle, WA           08/25/98  H-D Dyna Convert 1,512
Steve Aikens     Clovis, NM              08/22/98  BMW R1100RSL     1,618
J.David Navratil Arlington, TX           08/16/98  BMW R1100RT      1,652
Von H. Parkins   Johnston, PA            08/14/98  Honda CBR1100XX  1,580
Duane Pittelko   Minn City, MN           08/08/98  H-D FXSTC        1,518
John Ferber      New Dundee, Ontario,CAN 08/08/98  Triumph Trophy   1,510
Dennis Kesseler  Windham, ME             08/08/98  Triumph Tiger    1,514
Thane Silliker   London, Ontario, CAN    08/08/98  Honda ST1100     1,571
David Stewart    Udora, Ontario, Canada  08/08/98  Honda CBR1000    1,517
Mark Daub        Elk Lake, Ontario, CAN  08/08/98  Yamaha FJ1200    1,523
Yvon Gauthier    Marieville, Quebec, CAN 08/08/98  BMW R1100GS      1,584
Holley Harrison  Wilmington, CA          07/29/98  Honda ST1100     1,630
Al Holtsberry    Pickerington, OH        07/26/98  BMW R1100RT      1,555
John Bolin       Auburn, WA              07/25/98  BMW R100RT       1,591
Joseph Zulaski   Woodinville, WA         07/16/98  Honda ST1100     1,510
Neal Graber      Red Lake, Ontario, CAN  07/10/98  BMW R100GS       1,605
Tim Spencer      Osceola, IN             07/07/98  BMW K1100LT      1,525
Asa McFadden     Palm Bay, FL            07/07/98  BMW K1100LT      1,545
Dave Hooker      Arlington, WA           07/07/98  H-D Road King    1,555
Carol Youorski   Avondale Estates, GA    07/07/98  Honda R1100RSL   1,598
Ron Smith        Bothell, WA             07/06/98  Honda Gold Wing  1,545
Steve Jewett     Seattle, WA             07/06/98  Honda Gold Wing  1,545
Mary Sue Johnson Griffith, IN            06/27/98  BMW R1100R       1,525
Rick Morrison    Leavenworth, WA         06/25/98  BMW K1100LT      1,800+
Daniel Decorby   Thompson, Manitoba, CAN 06/22/98  1984 BMW R100RS  1,527
John Laurenson, Jr. St. Augustine, FL    06/21/98  Yamaha FJ1200    1,800+
Geoffrey Greene  Knoxville, TN           06/20/98  BMW R80G/S       1,540
Howard Stueber   New Ulm, MN             06/20/98  Ducati 907ie     1,570
Doug Holmes      Minneapolis, MN         06/20/98  BMW K100RS       1,520
Joan Oswald      Minnesota 1000          06/20/98  H-D FXRS         1,532
Marc St. Laurent Drayton Valley, AB CAN  06/20/98  BMW R1100GS      1,504
Lee Myrah        Neepawa, Manitoba, CAN  06/20/98  Honda ST1100     1,602
Joan Oswald      Bloomington, MN         06/20/98  H-D FXRS         1,532
Chris White      Gold River, BC CANADA   06/20/98  Honda ST1100     1,704
Janet Charlton (passenger)               06/20/98  Honda ST1100     1,604
Nicholas Weil,SR Arlington Heights, IL   06/19/98  Honda ST1100     1,530
Philip T. Dustin Wheeling, IL            06/19/98  Honda Gold Wing  1,530
Moises Pesantes  Chicago, IL             06/19/98  Honda Gold Wing  1,530
Kerry Church     Portland, OR            06/17/98  Honda ST1100     1,518
Jeff Earls       Beaverton, OR           06/17/98  Yamaha FJ1200    1,569
Bryan Moody      Greensboro, NC          06/13/98  Kawasaki Concours1,564
Jeffery Foster   Albuquerque, NM         06/12/98  BMW R100RT       1,500

Michael LaDue    Reno BMW's Big Bang     05/30/98  Honda Gold Wing  1,800+
Jan Cutler       Reno BMW's Big Bang     05/30/98  BMW K1100 Kombat 1,800+
George Barnes    Reno BMW's Big Bang     05/30/98  BMW K1100LT      1,739
Dale Wilson      Reno BMW's Big Bang     05/30/98  Honda ST1100     1,722
Mac MacFarlane   Reno BMW's Big Bang     05/30/98  BMW R1100GS      1,675
Jeff Fisher      Reno BMW's Big Bang     05/30/98  BMW K1100LT      1,664
Richard Nelson   Reno BMW's Big Bang     05/30/98  BMW K1200RS      1,653
Scott Cathey     Reno BMW's Big Bang     05/30/98  BMW K100RS       1,596
Donald Moses     Reno BMW's Big Bang     05/30/98  Honda Gold Wing  1,585
Jim Robertson    Reno BMW's Big Bang     05/30/98  Honda ST1100     1,568
Brad Dassonville Reno BMW's Big Bang     05/30/98  Honda Gold Wing  1,565
Dan Hewitt       Reno BMW's Big Bang     05/30/98  Honda ST1100     1,554
Ray Blair        Reno BMW's Big Bang     05/30/98  Honda ST1100     1,545
Bill Newton      Reno BMW's Big Bang     05/30/98  BMW K1100LT      1,530
Peter Randa      Reno BMW's Big Bang     05/30/98  BMW R80G/S       1,504
Brad Metzger     Reno BMW's Big Bang     05/30/98  BMW R1100GS      1,504

Thomas E. Keener San Diego, CA           05/23/98  Honda ST1100     1,642
John Laurenson, Jr. St. Augustine, FL    05/21/98  Yamaha FJ1200    1,800+
Senator Dave Zien Eau Claire, WI         05/10/98  H-D FXRT         1,530
L.D. Holland     Denver, NC              05/09/98  Honda ST1100     1,515
Peter M. Dean    Minnetonka, MN          05/08/98  Kawasaki KLR650! 1,509
Paul J. Bezilla  Winnipeg,Manitoba,CAN   05/03/98  Kawasaki KZ1300  1,510
Don Morgan       Woodland, CA            04/27/98  BMW K100LT       1,520
Jim Culp         Johnson City, TN        04/25/98  Honda Gold Wing  1,518
Frank Brown      Tampa, FL               04/24/98  Honda ST1100     1,588
Art Holland      Westland, MI            04/22/98  Kawasaki Concours1,542
Bill Klima       Cleveland, OH           04/12/98  BMW K1100LT      1,532
Jeff Simmonds    Altedena, CA            04/09/98  BMW K1100LT      1,535
Roger Deal       N.Richland Hills, TX    03/28/98  BMW R1100GS      1,631
John Laurenson, Jr. St. Augustine, FL    02/22/98  Yamaha FJ1200    1,745
George G. Vensko Ashburn, VA             02/21/98  Honda Gold Wing  1,520
Leon Begeman     Dale City, VA           02/22/98  Kaw Ninja 250    1,560
Tim Morrow       Herndon, VA             01/03/98  Suzuki VX800     1,542
Michael LaDue    Kirkland, WA            01/01/98  Honda Gold Wing  1,508
Michael LaDue    Kirkland, WA            12/30/97  Honda Gold Wing  1,504
David Cowherd    Arlington, TX           11/28/97  BMW K1100LT      1,520
Bill Early       Litchfield Park, AZ     11/22/97  Honda Gold Wing  1,527
Harry Hilderman  Goodyear, AZ            11/22/97  Honda Gold Wing  1,527
David Beck       Santa Fe, NM            10/31/97  BMW R100RT       1,550
Don Angell       Red Oak, TX             10/18/97  Honda Gold Wing  1,505
J.Laurenson, Jr. St. Augustine, FL       10/17/97  Yamaha FJ1100    1,706
Carl Mascheck    Richmond, TX            09/28/97  Honda Gold Wing  1,615
Randall Latch    Longview, TX            09/28/97  Honda Gold Wing  1,615
Andrew A. Olson  Fergus Falls, MN        09/22/97  BMW R1100RS      1,560
Michael Rieder   Westlake Village, CA    09/19/97  Honda ST1100     1,502
Johnny Potts     Mt. Juliet, TN          09/14/97  Kawasaki ZX-1100 1,655
Tony Black       Colorado Springs, CO    09/13/97  BMW K100RT       1,505
Jeff Black       Colorado Springs, CO    09/13/97  BMW K75S         1,505

Cascade Classic
Verne Simmons    Puyallup, WA            09/13/97  Honda Valkyrie   1,500
Dr. Dan Cooper   Novato, CA              09/13/97                   1,543

Timothy P. Petty Tinley Park, IL         09/10/97  H-D FLHTC        1,520
R. Lingenfelter  Casper, WY              09/07/97  H-D Road King    1,517
John Holley      Casper, WY              09/07/97  Kawasaki Concours1,517
Thomas C. Austin Sacramento, CA          09/04/97  BMW R1100RT      1,550
Daniel Stephans  Madison, WI             08/27/97  H-D Electra Glide1,603
W.G. Luckey      Harlingen, TX           08/16/97  H-D Road King    1,556
Brian Boberick   Littleton, CO           08/16/97  Honda Gold Wing  1,500
Leandro Garcia   Weslaco, TX             08/16/97  BMW K100RT       1,556
Charles Doran    Harlingen, TX           08/16/97  Honda Gold Wing  1,556
Grady Deaton     Brownsville, TX         08/16/97  H-D FXRP Police  1,556
Robert Hough     Mission, TX             08/16/97  Honda Gold Wing  1,556
Dane McKitrick, Jr. Houston, TX          08/11/97  Honda Gold Wing  1,520
JP Honeywell     Vernon Hills, IL        08/09/97  79 Yamaha XS-11  1,545
Ed Collins       Bakersfield, CA         08/08/97  Honda Gold Wing  1,532
Ron Major        Temple City, CA         08/02/97  Honda ST1100     1,548
Mike Heran       Hercules, CA            08/02/97  BMW K100LT       1,548
Jan Cutler       Sparks, NV              08/02/97  BMW K1100LT      1,548
Jefferson Johnson San Jose, CA           08/02/97  BMW K1100LT      1,548
William L. Newby Indianpolis, IN         07/19/97  Kawasaki ZX9R    1,530
Albert Eversfield Sardis, B.C. CANADA    07/19/97  Honda Gold Wing  1,500
David Cowherd    Arlington, TX           07/14/97  BMW K1100LT      1,625
Will Lee         San Francisco, CA       07/12/97  H-D Road King    1,500
T.Shotiveyarantana San Francisco, CA     07/12/97  H-D FLHTCUI      1,500
George Barnes    Carbondale, CO          06/28/97  BMW K1100LT      1,521
Michael LaDue    Kirkland, Wa            06/28/97  Honda Gold Wing  1,550
John Johnson     Vacaville, CA           06/27/97  H-D Sturgis      1,500
Paul Meredith    Merrimack, NH           06/27/97  BMW R1100RT      1,550
Pete Cusack      Plymouth Meeting, PA    06/22/97  BMW R1100GS      1,530
Roger Van Santen Stayton, OR             06/19/97  Yamaha GTS1000   1,502
Ralph Weaver, Jr.Goldsboro, NC           06/13/97  H-D FLHTCU-I     1,514
Kelly Council    Newbern, TN             06/12/97  BMW K75          1,520
Wally Jordan     Prescott Valley, AZ     06/03/97  Kawasaki Concour 1,701
Greg Molden      Helendale, CA           05/24/97  Honda Gold Wing  1,525
Charles GillardIIVictorville, CA         05/24/97  BMW R1100GS      1,525
Dan Danielson    Santa Rosa, CA          05/14/97  Yamaha Venture   1,575
Roger Gunter     Rohnert Park, CA        05/14/97  Yamaha Venture   1,575
Patrick Patteson Greenville, SC          04/20/97  BMW R1100RSL     1,520
Matthew ThornburyAshland, KY             04/21/97  BMW R1100RS      1,520
Tom Melchild     Pleasanton, CA          03/22/97  Suzuki Katana    1,539
Stan Fisher      Santa Fe, NM            02/01/97  Honda ST1100     1,533
Bob Ray          Madison, AL             10/31/96  Honda CB750      1,520
Jim Kraus        DeWitt, MI              10/28/96  Honda ST1100     1,536
Bill Kraus       Grosse Pointe Woods, MI 10/28/96  Honda Gold Wing  1,536
Herb C. Anderson Edmonton, Alberta CANADA10/11/96  BMW K1100RS      1,542
William Kramer   Newnan, GA              10/07/96  Honda Gold Wing  1,522
Linda Foster     Englewood, CO           09/28/96  BMW K75          1,562
Norman Babcock   Longmont, CO            09/28/96  BMW R1100RT      1,562
Phil Stallard    Indianapolis, IN        09/27/96  Honda Gold Wing  1,510
Warren C. Harhay Boulder City, NV        09/26/96  Honda ST1100     1,510
Donald G. Moses  Incline Village, NV     09/21/96  Honda ST1100     1,528
Kim C. Rydalch   Modesto, CA             09/18/96  BMW K1100LT      1,533
Dale Wilson      Oak Harbor, WA          08/30/96  Honda ST1100     1,512
Ed Otto          Chicago, IL             08/08/96  BMW R1100RT      1,679
Sam Spears       Ft. Benning, GA         07/05/96  BMW R1100RT      1,512
Linda Spears (passenger)                 07/05/96  BMW R1100RT      1,512
Michael Velasco  Columbus, GA            07/05/96  BMW R850R        1,512
David Lawrence   Arlington, VA           07/04/96  Honda CBR1000F   1,671
Chris W. White   Gold River, BC Canada   06/29/96  Honda ST1100     1,687
Michael LaDue    Kirkland, WA            06/28/96  Honda Gold Wing  1,610
Richard A. Hall  Mesa, AZ                06/27/96  Kawasaki Concours1,538
Gregory D. Pink  Plant City, FL          06/25/96  BMW R1100RT      1,503
Dennis Bitner    Lee's Summit, MO        06/24/96  Honda Gold Wing  1,529
Wally Jordan     Prescott Valley, AZ     06/21/96  Honda G.W. Trike 1,510
Tim Hale         Russellville, AR        06/11/96  Honda Gold Wing  1,504
C.Daniel Johnson Rapid City, SD          05/25/96  Honda ST1100     1,510
Johnny Potts     Mt. Juliet, TN          05/14/96  Honda Hurricane  1,503
Wally Jordan     Prescott Valley, AZ     04/08/96  Honda G.W. Trike 1,536
Richard Riegler  Blemar, New Jersy       10/10/95  BMW R1100GS      1,590
Verd Erickson    St. George, Utah        08/15/95  BMW K1100LT      1,595
Verd Erickson    St. George, Utah        07/23/95  BMW K1100LT      1,586
David Reynolds   Wisconsin               06/15/95  Honda V65 Sabre  1,601
Gary Gottfredson Sandy, UT               06/25/94  BMW K100RS       1,510
Ed Otto          Chicago, Illinois       05/22/93  BMW K100LT       1,502
Dave McQueeney   Los Angeles, California 08/89     BMW K100RS       1,704
Dave McQueeney   Los Angeles, California 07/22/88  BMW              1,522
Fran Crane       San Jose, CA            07/88     BMW K100S        1,524
Michael Kneebone Chicago, IL             07/09/88  BMW K100LT       1,707
Michael Kneebone Chicago, IL             07/88     BMW K100LT       1,524

Fred Ham         Holland                 04/1937   H-D Knucklehead  1,825
* * * Race Track ride with support team - Muroc Dry Lake Bed, California * * *


Most Bun Burner 1500 GOLD rides: Greg Rice - 46

Oldest Bun Burner 1500 GOLD finishers:  Corky Read 81     - 06/01/03
                                        Leroy Braxdale 78 - 05/11/04
                                        George Goland 76  - 01/29/04
                                        John Guthrie 75   - 10/27/99
                                        Wally Jordan 74   - 06/03/97
                                        Carl E. Furry 74  - 04/19/04
                                        T.L. Coleman 71   - 06/22/04
                                        Ted E. Felis 70   - 04/24/04


Oldest Bun Burner Gold motorcycle: Charles Storer 04/02/05 1971 BMW R/75
                                   Steve Snoen    08/13/08 1973 Norton Commando
                                   Steve Snoen    07/15/07 1973 Norton Commando
                                   Joel Rappoport 03/04/06 1976 BMW R60/6
                                   Joe Glowacki   08/29/01 1977 BMW R80/7
                                   Andrew Higgins 05/25/05 1978 Honda GL1000
                                   Andrew Higgins 09/12/01 1978 Honda GL1000

Youngest Bun Burner 1500 GOLD rider:  Cierra Reynolds  07/16/13 16 years old
                                      Dustin Vanderslice 10/16/15  18 years old

Youngest Bun Burner 1500 GOLD finisher:  Bethany S. Elliott (passenger) 09/01/18  13 years old 
                                         Matt Williams (passenger) 06/28/02 - 13 years old

Smallest Bun Burner Gold motorcycle: Robert Munden    07/28/12 Honda CBR125R 124.8cc 
                                     Charles M. Curts 08/29/09 Honda CB250/234cc
                                     Leon Begeman     01/08/00 Kawasaki Ninja 250!

Most GAS stops on a Bun Burner GOLD: 
Ed Ray, 06/18/02 Kawasaki Vulcan -21- Stops, 3 US Gallon (approx 21 liters) 

Most Bun Burner GOLDs completed:
 
Bruce Arnold (see Mile Eaters for complete listing) 15




---


Mighty Mississippi River Gold - Headwaters of the Mississippi (Lake Itasca, MN) to the 
end of the Mississippi (Venice, LA) in less than 24 hours

Rider             Hometown                Date      Motorcycle                   Miles 

Mark Campbell     Hernando, MS            09/09/20  BMW R1250GSA                 1,511

Brian Wade        Burlington, IA          07/27/20  H-D Road Glide               1,525
Evan Brock Wiseman  Burlington, IA        07/27/20  H-D Street Bob FXDB          1,525

Christopher Ross  Wolfforth, TX           06/27/20  BMW R1200GSA                 1,509

Lynn R. Behrens   Mayville, WI            09/06/19  BMW R1200RS                  1,513

Stanley Miller    Ames, IA                09/05/18  BMW R1200GSA                 1,534 
Tim Masterson     San Marcos, TX          07/17/18  BMW R1200GS Adventure        1,525
 
Anthony Osborne   West Palm Beach, FL     09/06/15  Yamaha FJR                   1,540

Minnesota LD Riders' record setting Mississippi River Gold rally
Peter Behm        Stillwater, MN          05/07/11  Yamaha FJR1300               1,536
John Coons        Plainview, MN           05/07/11  BMW R1100RSL                 1,533
David Bjork       Elgin, IL               05/07/11  Honda ST1300                 1,635
Bob Clement       Zion, IL                05/07/11  Honda ST1300                 1,631
Nels Gebben       Maplewood, MN           05/07/11  BMW K1200GT                  1,516
Jeff Kerkow       Le Sueur, MN            05/07/11  Kawasaki Concours            1,545
Josh Lawrence     Mason City, IA          05/07/11  Honda VFR                    1,524
David W. Nelson   Bloomington, MN         05/07/11  Honda GL1800                 1,541
                     * * * Dave is 70 years young on the ride! * * *
Kerry Person      Shakopee, MN            05/07/11  BMW R1200RT                  1,525
Rich Reid         Minnetonka, MN          05/07/11  Honda ST1300                 1,546

Mike Senty        Grand Marais, MN        05/29/07  BMW R1150RT                  1,525
Derek Dickson     Duluth, MN              05/09/06  Yamaha FJR1300               1,612




---


India Insanity - Taglangla Pass (17,582 Feet) AND Khardungla Pass (18,380 feet)
Name              Hometown              Date      Motorcycle

Jeff Lee          Taiwan                07/09     Royal Enfield
Michelle Chou (passenger)               07/09     Royal Enfield



---


Mighty Mississippi Quest - Headwaters of the Mississippi (Lake Itasca, MN) to the
end of the Mississippi (Venice, LA) in less than 36 hours.

Name              Hometown              Date      Motorcycle                   Mileage

David Henson      St. Petersburg, FL    08/31/19  Honda Gold Wing GL1800       1,490
Suzann Henson (pillion)                 08/31/19  Honda Gold Wing GL1800       1,490

Lee Roy Laymon    Mason, WI             09/10/10  BMW K1200LT                  1,542
                       * * * Lee Roy is 74 years young on this ride! * * *

David E. Schulte Fridley, MN            04/21/08  Honda GL1800                 1,648
                       * * * David is 67 years young on this ride! * * *



---


Euro-Asia Coast to Coast GOLD (Pacific to Atlantic less then 30 days)

Name             Hometown                Date      Motorcycle       Kilometers




---



Euro-Asia Coast to Coast (Pacific to Atlantic across Asia and Europe)

Name              Hometown                Date      Motorcycle                  Kilometers

Sean J. Gallagher Richmond, VA           04/06/14    BMW R1150GS                20,384 Ireland - China
Roger Sinclair    Richmond, VA           04/06/14    BMW R1150GS                20,384 Ireland - China
Michael Kneebone  Chicago, IL            04/06/14    Yamaha Super Tenere        20,384 Ireland - China

Jeff Lee          Taipai, TAIWAN         06/22/07   BMW F650                    24,175
Michelle Chou (passenger)                06/22/07   BMW F650                    24,175

Hans Karlsson     Harahan, LA            07/17/04   Honda GL1800                24,845
Mario Franco de Castro Filho   BRASIL    07/17/04   Honda GL1800                24,845

Robert Higdon     Daytona Beach, FL      07/04/04   Honda Nighthawk             17,456
Steve Attwood     ENGLAND                07/04/04   KTM 640 Adventure           19,153
Michael Kneebone  Chicago, IL            07/04/04   Honda Nighthawk             16,713

Steve Attwood     ENGLAND                06/02/04   KTM 640 Adventure           13,871



---



Trans Siberia Express GOLD (cross Russia less then 30 days)

Name             Hometown                Date      Motorcycle       Kilometers

Jeff Lee         Taipai, TAIWAN         06/22/07   BMW F650         13,000
Michelle Chou (passenger)               06/22/07   BMW F650         13,000

Hans Karlsson    Harahan, LA            07/15/04   Honda GL1800     12,976
Mario Franco de Castro Filho   BRASIL   07/17/04   Honda GL1800     12,976
Tacio Ulysses Sampaio          BRASIL   07/17/04   Honda Valkyrie   12,976

Robert Higdon    Daytona Beach, FL      07/04/04   Honda Nighthawk  13,441
Michael Kneebone Chicago, IL            07/04/04   Honda Nighthawk  13,441
Steve Attwood    ENGLAND                07/04/04   KTM 640 Adventure13,441
John Sartorius   Park City, UT          07/04/04   BMW R100GS       13,441



---


The Ultimate North America Coast to Coast Challenge
Prudhoe Bay, Alaska on the Arctic Ocean to Suchiate, Chiapas, Mexico on the Pacific Ocean

Name             Hometown                Date      Motorcycle       Kilometers

Mariano Marco Merino   MEXICO            07/15     BMW Adventure    11,967
Octavio Perez Macedo   MEXICO            07/15     BMW Adventure    11,967



---



Ultimate USA Insanity - Ultimate Coast to Coast to Coast Insanity plus the SCMA 4 Corners Tour

Name              Hometown              Date      Motorcycle         Mileage

Charles Hyde      Cary, NC              06/06     Honda GL1800       16,918

Jack Shoalmire    Broken Arrow, OK      05/06     BMW R1200RT        17,158




---



Ultimate USA Challenge - Ultimate Coast to Coast plus the SCMA 4 Corners Tour

Name              Hometown              Date      Motorcycle         Mileage

Jack Shoalmire    Broken Arrow, OK      06/08     BMW R1200RT         9,026

Bruce Shrader     Mosely, VA            07/06     BMW R1150GS-ADV    17,811





---



Ultimate Coast to Coast to Coast Insanity (Key West, Florida to 
            Prudhoe Bay/Deadhorse, Alaska AND back to Key West!):

Name              Hometown              Date      Motorcycle                   Mileage

Beau Grantham     Rockledge FL          06/18    BMW R1200GSA                  15,152

Mike Dunsworth    FL                    05/18     Honda GL1500                 12,782

Wagner Nolasco    FL                    06/17     BMW R1200GSA                 14,040

Paul E. Knight    Oviedo FL             08/17     BMW R1200GSA                 10,979

Mark Warner       Kitchener, ON         06/17     BMW R1200GSA                 14,363

Robert Kellett    SC                    07/15  Ducati Multistrada              11,284
Kate Johnston                           07/14  BMW F700GS                      10,767

Esa Huttunen      FINLAND               06/14  Honda GL1800 Gold Wing          13,419
Hakan Illman      FINLAND               06/14  Honda GL1800 Gold Wing          13,419

Ward H. Wilson    FL                    06/13  BMW R1200GSA                    11,817
Anthony Osborne   FL                    06/12  Yamaha FJR1300                  11,670

Motorcycle Tourer's Forum Ultimate Coast to Coast to Coast Insanity Challenge
Bradley Smith     Memphis TN            06/12     Suzuki DL650 VStrom          11,600
Greg Blewett      Franklin  KY          06/12     BMW GSA                      11,600
Howard Entman     Memphis TN            06/12     Suzuki DL650                 11,600
Ian Smith         Mt. Albert ON         06/12     BMW R1200GS                  11,600
James Lewis       Mount Vernon MO       06/12     BMW R1200RT                  11,600
Jeremy Loveall    Auburn  KY            06/12     BMW R100GS-PD                11,600
Joe Green         Crestview FL          06/12     BMW R1100GS                  11,600
Rony Baenziger    Palm Coast  FL        06/12     BMW R1200GSA                 11,600
Michael Boge      Sandpoint ID          06/12  H-D Road King w Liberty sidecar 11,600
Anavel Boge & Laura Boge (the entire Boge family rode together - back seat and sidecar!)
* * at 7 years old, Laura Boge is the youngest person to finish the UCCC Insanity! * *

Gus W. Johnson    VA                    06/12  BMW K1200LT                     11,410
             * * * Gus is 71 years young on this ride! * * *  
Max B. Longley    NC                    06/12  Honda Gold Wing                 11,410
             * * * Max is 78 years young on this ride! * * *  

Gene Barham          NC                 06/12  Honda Gold Wing                 11,645
Daniel F. Wright     NC                 06/12  Honda Gold Wing                 11,645
Guy Pierce           NC                 06/12  BMW K1200LT                     11,645

Charles Fider     Windsor, ON CANADA    06/11     BMW R100RT                   11,524
* * *  Charles Fider - oldest motorcycle to complete UCCC - 1982 BMW R100RT * * *
Robert Munden     Windsor, ON CANADA    06/11     Honda CBR125R !!!            11,524
* * *  Robert Munden - smallest motorcycle to complete UCCC - 124.7 cc!  * * *

Jephte Garcia-Betancourt                06/11     Kawasaki KLR650              11,934
  
Dave Zien         WI                    07/10     H-D Road Glide               14,700
Dan G. Luce       FL                    07/10     Honda ST1300                 12,698
Tim Yow           IL                    07/09     Kawasaki KLR650              16,890
William L. Parker Windsor Locks, CT     07/09     BMW R1200GS-ADV              12,112
          * * * First rider to complete the UCC twice * * *

Rick Facchine     FL                    06/09     BMW Adventure                11,897
George F. Smith   FL                    06/09     BMW R1150GS                  11,897

Lacy E. Betton    Miami, FL             07/08     Kawasaki KLR650              11,545
Chuck Gittner     FL                    05/08     BMW K1200LT                  13,830

William L. Parker Windsor Locks, CT     06/07     BMW R1200GS-ADV              11,692

MTF Ultimate Coast to Coast to Coast
Larry Meeker      Orange Park, FL       05/07     BMW R1150GS                  11,600+
Kevin J. Healey   West Palm Beach, FL   05/07     BMW F650GS                   11,600+
Larry Buck        Largo, FL             05/07     BMW R1200GS                  11,600+
Randy L Freyer    Seminole, FL          05/07     BMW R1200GS                  11,600+
Vance Benedetti   Pinellas Park, FL     05/07     BMW R1200CLC                 11,600+
Don Sipler        Jacksonville, FL      05/07     BMW R1150GS                  11,600+
Martin H Cook     Palm Coast, FL        05/07     BMW R1150RT                  11,600+

Timothy Yow       Charleston, IL        08/06     Kawasaki KLR650              13,440

Joe Tokarz, Jr    Coral Springs, FL     07/06     BMW R1150R                   12,875

Richard Buber     MI                    07/04     Honda Gold Wing              12,530

Jerry Watts       FL                    07/04     BMW R1200GS                  13,425
Gordan Pleasants  FL                    07/04     Kawasaki Vulcan              13,425

Bill Boklan       FL                    06/04     Kawasaki KLR650              12,221

Oldest motorcycle to finish the UCCC: Charles Fider - Windsor, ON CANADA 06/11 1982 BMW R100RT 

Smallest motorcycle to finish the UCCC: Robert Munden Honda CBR12R5




---




Canada Ultimate Coast to Coast (Cape Sabe Island, Nova Scotia to Goose Bay to Tuktoyaktuk, Northwest Territories, Canada ):

Rider               State  Date   Motorcycle                   Kilometres

Douglas S. Taylor    CA    07/18  BMW R1200GSA                 11,021 
James A. Ross        RI    07/18  BMW R1200GSA                 11,021 
        * * * James is 70 years young on this ride! * * * 





---



Ultimate Coast to Coast Summer Solstice Challenge 
Key West, Florida to view the Summer Solstice at Prudhoe Bay/Deadhorse, Alaska:

Rider               State  Date   Motorcycle                   Mileage

Troy E. Martin       LA    06/18  Honda Gold Wing              7,049

Beau Grantham        FL    06/18  BMW R1200GSA                 6,003

Harry Knerr          PA    06/13  H-D Road Glide               5,629

Michael Kneebone     IL    06/95  BMW R1100GS                  5,888



---



Ultimate Coast to Coast Challenge (Key West, Florida to Prudhoe Bay/Deadhorse, Alaska):

Rider               State  Date   Motorcycle                   Mileage

Maxim Zaikin         WA    08/19  H-D Sport Glide              6,010 

Carl KSolo Harris    NC    07/19  H-D Road Glide Special       8,040

Brent A. Cornell     IL    07/19  Honda Gold Wing              6,673

Bill Burnside        IL    06/19  H-D Ultra Limited Adventure  5,710 

Richard L. Nesby     TX    06/19  BMW R1200GSA                 5,810 
             * * * Richard is 71 years young on this ride! * * * 

David Burkel Jr.     MN    06/19  BMW R1200GS-Adventure        5,540

Jeff Hallquist       NC    06/19  H-D Road Glide               5,806

Gabriel Carrera      FL    05/19  H-D Road Glide Ultra         5,872

Gary G. Butler       FL    05/19  BMW R1200GS Adventure        7,162 

Lewis Ballard        IA    07/18  H-D Ultra Limited            5,584 
 
Daniel Simmonds      PA    06/18  Yamaha Super Tenere          5,600

Woodie Krugel        OR    06/18  Yamaha Super Tenere          5,603 
             * * * Woodie is 71 years young on this ride! * * * 

Beau Grantham        FL    06/18  BMW R1200GSA                 6,003
Bryan Berry          MI    06/18  BMW R1200GSA                 5,798
Jon Weaver           NC    06/18  Honda GL1800                 5,706

Rolf Klaedtke  Switzerland 07/17  BMW R1200GS-ADVENTURE        8,557
Bernd Schmitz     GERMANY  07/17  BMW G650GS Sertao            8,160

Pierre Poulin      CANADA  07/17  Yamaha FJR1300               6,998

Robert Mike Wunder   NY    06/17  2015 BMW R1200GSAW           6,517

Greg Hintz           MT    06/17  Honda Gold Wing              8,468
Donald Deuel         MT    06/17  Honda Gold Wing              8,468

Joacir Santos        MA    06/17  BMW R1200GS Adventure        5,760

Alan M. Rundle       UT    06/17  BMW 1200GSA                  6,100
M. D. Mitchell       ID    06/17  BMW R1200GS Adventure        6,100

Marcos Mateucci      MA    06/17  BMW 1200GSA                  6,850

Filipe Camilo Paiva BRAZIL 08/16  H-D FXST                     6,100

Tom Weber            AZ    07/16  BMW R1200RT                  5,920
             * * * Tom is 65 years young on this ride! * * *       

James A. Ross        RI    07/16  BMW R1200GSA                 5,560
             * * * James is 68 years young on this ride! * * *  

Danny C. Dossman     TX    06/16  Honda ST1300                 5,600

Dan Myers            NV    06/16  BMW R1200GS                  6,380

Kenneth G. Welch     FL    06/16  Honda Gold Wing GL1800A      6,190
             * * * Kenneth is 76 years young on this ride! * * *   

Gerald Furniss       VA    06/16  BMW R1200GS Adventure        5,690

Tom Cornell          FL    06/16  Suzuki DL650                 5,650
Nick Galyon          FL    06/16  BMW R1200GS Adventure        5,650

Gary Chasteen        FL    05/16  Honda Gold Wing              7,340
Laura Chasteen (passenger) 05/16  Honda Gold Wing              7,340

John C. Reed, Jr.    KY    05/16  BMW R1200GSA                 5,511
Dale Liechty         KY    05/16  BMW R1200GSA                 5,511

Alfred Cantwell      AZ    07/15  Kawasaki KLR650              6,855

John R. Stout        IL    06/15  Yamaha FZ6                   5,820

Julian Lovell        UK    06/15  BMW R1200GS                  7,120
Steve C. Church      UK    06/15  BMW GSA                      7,120


Paul R. Whelan       WA    06/15  BMW R1200GS Adventure        6,820
Bruce Wear           FL    06/15  Kawasaki 1700 Nomad          6,340

Jack Dannenberg      NM    08/14  Triumph Tiger 800XC          6,355
             * * * Jack is 70 years young on this ride! * * *

Hakan Illman      FINLAND  07/14  Honda GL1800 Gold Wing       7,181
Esa Huttunen      FINLAND  07/14  Honda GL1800 Gold Wing       7,181

Esa Huttunen      FINLAND  06/14  Honda GL1800 Gold Wing       6,238
Hakan Illman      FINLAND  06/14  Honda GL1800 Gold Wing       6,238

Rocky Bradfield      IL    07/14  Suzuki V-Strom 650           6,430

Richard J. King      MN    07/14  H-D Electra Glide Ultra Ltd. 5,690
Voytek Kulesza       IL    07/14  Honda Gold Wing              5,561

Michael Schneider    CA    05/14  BMW R1200GSA                 6,400

Jerald Anderson      MD    05/14  Suzuki GT750                 5,527
          * * * A GT750 is a 1974 3 cylinder two stroke * * *

Gregory A. Partridge FL    07/13  Suzuki DL650A V-Strom        6,050

Ward H. Wilson       FL    07/13  BMW R1200GSA                 6,130
Will Barclay         NY    07/13  H-D Street Glide             5,505

Michael J. Sumner    FL    07/13  Triumph Tiger Explorer       6,630
             * * * Michael is 65 years young on this ride! * * *

Ward H. Wilson       FL    06/13  BMW R1200GSA                 5,687
Brian P. Kunzelmann  GA    06/13  BMW R1200GSA                 6,625

David Hrenchir       DE    06/13  BMW R1200GS                  6,568

Jan H. Daub          TX    05/13  Ural Sidecar                 6,206
             * * * Jan is 68 years young on this ride! * * *

Bill Thweatt         TX    05/13  Suzuki V-Strom DL650         5,820
Joel Rappoport       NC    05/13  Suzuki V-Strom 650           5,820

Renato E. Marquez    CA    09/12  H-D Street Glide             7,364
Fely V. Juanero (passenger)09/12  H-D Street Glide             7,364

Glenn Thomson        ON    08/12  Suzuki V-Strom 650           6,280

Bret Moye            IN    07/12  BMW R1200RT                  8,050

Brian Oakes          TX    06/12  Yamaha Super Tenere          5,936
Greg Peart           CA    06/12  BMW R1200GS Adventure        6,850

2012 Motorcycle Tourer's Forum Ultimate Coast to Coast Challenge
Bobby Fox            TX    06/12  BMW R1200GSA                 5,800
Brian Krogmeier      IL    06/12  Suzuki DL650                 5,800
Dan Leffert          CO    06/12  BMW G650GS                   5,800
Dianne Fox           TX    06/12  Yamaha Super Tenere          5,800
James Pierce         VA    06/12  Suzuki V-Strom DL650         5,800
Jerry Riley          TN    06/12  Honda Nighthawk              5,800
Marty Holmes         IL    06/12  Honda XR650L!!               5,800
Robert Wilensky      PA    06/12  Suzuki DL1000 V-Strom        5,800

James E. Judge       OK    06/12  Suzuki V-Strom DL650         5,687
             * * * James is 76 years young on this ride! * * *

The Casus 2012 Challenge
Michael A. Anker     FL    06/12  Triumph Tiger                7,411

Andrew Watts         VA    06/12  Yamaha FJR1300               6,723
Steven Rolland       WI    06/12  Victory Vision 8-Ball        5,613

Dennis Archer        TX    05/12  BMW R1150GS Adventure        6,164

Ed Reynolds          NC    08/11  BMW F650 GSP                 5,906
             * * * Ed is 72 years young on this ride! * * *

Michael L. Baker     VA    07/11  BMW R1200GSA                 5,622
Marcus L. Ovando     VA    07/11  BMW R1200GSA                 5,622

Thomas J. Pudish     PA    06/11  H-D FLSTC                    6,610
Barry W. Morgans     PA    06/11  H-D Road Glide               5,824

E.B. Andresen        GA    06/11  BMW R1200GS Adventure        5,800
             * * * Eivin is 67 years young on this ride! * * *

David D. Haun        TX    06/11  BMW R1200GS        5,698

Jan H. Daub          TX    09/10  BMW R1150GS Advent.6,004
             * * * Jan is 65 years young on this ride! * * *
     
Dan G. Luce          FL    08/10  Honda ST1300       6,243
Dan G. Luce          FL    07/10  Honda ST1300       6,455
Tim Masterson        TX    07/10  BMW R1200GS        5,593
Darrell Deeter       CA    06/10  Triumph Tiger      5,786
David Hrenchir       DE    06/10  BMW R1200GS        6,136

Paul W. Morgan       NC    06/10  Kawasaki KLR       6,003
             * * * Paul is 69 years young on this ride! * * *

David E. Buchanan    WA    05/10  BMW R1150RT        8,743
Jimmy L. Gunter      GA    05/10  Suzuki V-Strom     7,131
Jack L. McClure      NC    05/10  Suzuki V-Strom     7,131

William G. Robertson FL    07/09  BMW R1200GS        6,165


Brian Walters        TX    06/09  BMW R1200GS        6,060

John C. Ryan         NJ    06/09  Yamaha FJR1300     5,645
Jon Good             VA    07/08  BMW R1200RT        6,489
William P. Young     GA    06/08  Buell XB12XT       5,967

Russ Huffman         GA    06/08  Moto Guzzi EV      6,451
Richard Henry Lee    NC    06/08  BMW R80            6,451
    * * * Richard is 65 years young on this ride! * * *

Ron Tarrington       NC    06/08  BMW R1200GS        5,821
William F. Cooper    FL    06/08  BMW R1200GS        5,821
    * * * William is 71 years young on this ride! * * *

Bob Drasner          TX    06/08  H-D FXR & BMW F650 6,252

Jack B. Shoalmire    OK    06/08  BMW R1200RT        6,947

Richard Kuechenmeister FL  05/08  Triumph Tiger      6,167

Keith E. Herve       FL    08/07  H-D Ultra Classic  6,746

Dave Mungenast, Jr   MO    07/07  Honda Gold Wing    6,265
Jake Broyles         OR    07/07  BMW R1150GS        6,200

David C. Dennis      CA    06/07  Kawasaki Ninja 250 6,712
* * * Smallest motorcycle to complete the UCC! * * *

Derek Friend         FL    06/07  Honda Gold Wing    6,180
Christopher Corbitt  FL    06/07  Honda Gold Wing    6,180

Iron Torch Ride 2007
Fred J. Carter Jr.   GA    06/07  BMW-Adventure      5,740
Bruce Montgomery     GA    06/07  H-D FLHTCI         6,415
Larry Earls          GA    06/07  Honda Gold Wing    6,415
Teresa Crocker       GA    06/07  H-D Street Glide   6,415
Lou Alvarado         GA    06/07  H-D Ultra Classic  6,415
Sandra Petrakis (passenger)06/07  H-D Ultra Classic  6,415
Tim McCutcheon       GA    06/07  Honda GL1800       6,415

Heide Marie Cirulli  FL    06/07  BMW R1200GS        6,120
Bill J. Coe          FL    06/07  BMW R1200GS        6,120

Kathy Allen          FL    06/07  BMW R1200GS        6,120
Roger Allen          FL    06/07  BMW R1200GS-ADV    6,120

Brian K. Roberts     NV    05/07  Suzuki V-Strom     5,828

MTF Ultimate Coast to Coast Event
Ed Kneller           PA    05/07  BMW R1100GS        5,800+
Kevin Lechner        GA    05/07  Suzuki DL1000      5,800+

Fletcher Clark       MS    08/06  Suzuki DL1000      7,612
* * * Fletcher is 65 years young on this ride! * * *

Chris Carr           GA    08/06  Buell Ulysses      5,818
Bob Elliot           GA    08/06  Kawasaki KLR650    5,818

Perry Joiner         GA    07/06  BMW R1100RT        6,126

Julian W. Whaley     CA    07/06  Suzuki V-Strom     6,112
* * * Julian is 69 years young on this ride! * * *

Randal J. Davis      IA    07/06  BMW R1200GS        7,045

Brent Ross           TN    07/06  KTM 950 Adventure  6,345

Charlie Wallace      FL    07/06  Kawasaki KLR650    6,578

Scott Rhoads         ON    07/06  Kawasaki Ninja636R 6,820

Bob Wooldridge       GA    07/06  BMW F650GS-Dakar   5,565
Vicki Johnston       TN    07/06  BMW F650GS         5,565

Jack Shoalmire       OK    06/06  BMW R1200RT        7,932
Jack Shoalmire       OK    05/06  BMW R1200RT        6,600

Gary Lackey          NC    06/06  BMW R1200GS-ADV    6,912
Charles Scarbrough   GA    06/06  Yamaha FJR1300     6,912
* * * Charles is 69 years young on this ride! * * *

Jeremy A. Loveall    KY    07/05  BMW R100GS-PD      5,945

Mark Crane           CA    05/05  BMW R1200GS        5,600

Judith P. Joiner     GA    05/05  Honda Shadow       6,058
Ralph R. Joiner      GA    05/05  BMW R1100RT        6,058

Peter B. Johnsen     IL    07/05  Kawasaki KLR650    5,600
Ronald Stazuk        IL    06/05  Suzuki V-Strom     8,368
Earl Napier          LA    06/05  Kawasaki Vulcan    6,148
Garth Tomic          OR    06/05  Suzuki V-Strom     5,840

Mike Senty           MN    08/04  BMW R1150RT
Sean J. Gallagher    VA    08/04  BMW R1150GS
Michael A. Reynolds  TX    07/04  H-D FXD
Curt Summers         TX    06/04  BMW F650GS

Gary Eagan           UT    06/04  Ducati Multistrada

Motorcycle Tourers Forum Ultimate Coast to Coast
Bill Boklan          FL    06/04  Kawasaki KLR650
John M Stanforth     OH    06/04  BMW R1150RT
Bill Wade            NJ    06/04  BMW R1150GS
Don Sills            KY    06/04  H-D Sporster
Alan Leduc           IN    06/04  Kawasaki KLR650
Jeff Hickey          NC    06/04  Kawasaki KLR650
Patrick O'Hara       CA    06/04  BMW R1150GS
Robert S Zielke      FL    06/04  Yamaha FJR1300
Dave Hinks           IL    06/04  Kawasaki Concours

Bill Boklan                06/04  Kawasaki KLR650
Bo Griffin           TX    06/04  Kawasaki Vulcan
Jack Dodds           FL    06/04  BMW R1150GS
* * * Jack is 73 years young on this ride! * * *

Christopher Sakala   MD    07/03  BMW R1100GS
Jason Jonas          TX    06/03  BMW R1150GS

Don Thompson         FL    08/03  BMW R1100RT
James Hopstetter     FL    08/03  BMW R1150RT

Shane Smith          LA    09/01  Honda ST1100
Paul Taylor          VA    09/01  BMW R1150GS
Asa McFadden         FL    09/01  BMW K1200LT
Peter Hoogeveen    CANADA  09/01  Honda CBR-XX

Frederic Boothe      TX    07/01  BMW R1100GS
Charles Canfield     TX    07/01  BMW R1150GS
Scott R. Davis       MD    07/01  BMW R1150GS
Leon Begeman         VA    07/01  Kawasaki ZX6
Gregory D. Pink      FL    06/99  BMW R1100RT
Asa McFadden         FL    07/98  BMW K1100LT
Asa McFadden         FL    07/96  BMW
Asa McFadden         FL    07/95  BMW K100LT
Michael Kneebone     IL    06/95  BMW R1100GS


Smallest motorcycle to complete the UCC: David C. Dennis  06/07  Kawasaki Ninja 250 




---



Coast to Coast Insanity (Goose Bay, Labrador to San Ysidro, California - 5 days):

Name                Start     Motorcycle          Miles

Scott Davis         07/02     BMW R1150GS         4,274




---


Twisted Coast to Coast Border to Border Insanity GOLD (Canada to Mexico the hard way!):
       Halifax, Nova Scotia to Rosarito, Mexico - 3 days!

Name             Hometown                Date    Motorcycle        Mileage

Lonnie Dickens   Humble, TX              07/09   Victory Vision    3,788
Bob Tobitt       Stafford, TX            07/09   Yamaha Royal Star 3,788

This ride was created by Bob Tobitt and donated to the IBA in July of 2009




---


Twisted Coast to Coast Border to Border Insanity (Canada to Mexico the hard way!):
       Halixfax, Nova Scotia to Rosarito, Mexico < 4 days!

Name             Hometown                Date    Motorcycle        Mileage




---




North America Insanity - 14 days (Mexico, 48 States, Alaska and 
        10 Canadian Provinces and 2 Accessible Territories):


     
   Prince Edward Island, Nova Scotia, Newfoundland, New Brunswick, Quebec, Ontario, Manitoba, 
      Saskatchewan, Alberta, British Columbia, Yukon Territory and Northwest Territories.

Name                Start     Motorcycle            Miles







---



IBA North America Challenge Gold - 10 days (48 States, Alaska and 10 Canadian Provinces):

                 48 U.S. States, Canadian Provinces (see below) and Alaska
   Prince Edward Island, Nova Scotia, Newfoundland, New Brunswick, Quebec, Ontario, Manitoba, 
                   Saskatchewan, Alberta and British Columbia

Name                Start     Motorcycle            Miles

John D. Jordan      05/16/06  BMW R1150GS-ADV       9,913





---



Far North Insanity - 14 days (All Canadian Provinces and 2 Accessible Territories):
          All on Canadian Roads (may NOT cross in to USA)

   Prince Edward Island, Nova Scotia, Newfoundland, New Brunswick, Quebec, Ontario, Manitoba, 
      Saskatchewan, Alberta, British Columbia, Yukon Territory and Northwest Territories.

Name                Start     Motorcycle               Kilometers

Douglas S. Taylor    CA    07/18  BMW R1200GSA         11,021 
James A. Ross        RI    07/18  BMW R1200GSA         11,021 
    * * * James is 70 years young on this ride! * * * 

Don Neufeld         06/18     Yamaha FJR1300ES          8,337
Norman Lafleur      06/18     Honda ST1300A             8,337
R. Bruce Thomas     06/18     Honda ST1300A             8,337

Gary M McKibbon     06/17     Honda GL1800 Gold Wing    8,500

Robert Munden       06/25/06  Honda Pacific Coast      10,139

Rick Sauter         05/23/03  Suzuki V-Strom            7,665



---



Bay to Bay Insanity GOLD (Prudhoe Bay, Alaska to Goose Bay, Labrador under 8 days)

Name              State               Date    Motorcycle       Mileage/Days

Sean J. Gallagher VA                 07/2004  BMW R1150GS       6,098   7.5




---


Bay to Bay Insanity (Prudhoe Bay, Alaska to Goose Bay, Labrador under 16 days)

Name              State               Date    Motorcycle       Mileage/Days

Tim Yow           IL                  07/09   Kawasaki KLR650  6,129/14
            * * * Tim is 66 years young on this ride! * * *

Jeff Lee          TAIWAN!             06/08   BMW R1200GS      6,980/12




---


50 States Insanity! (Alaska, Hawaii plus 48 States in under 10 days):

Name              Hometown              Date      Motorcycle                   Mileage

Mike Best         South Jordan, UT      08/16     Honda Gold Wing              8,786



---


48 States Plus! Double Insanity - BACK TO BACK 48 States Plus! in one trip:

Name              Hometown              Date      Motorcycle                   Mileage

Tom Loegering       AZ                  07/18     BMW 1200LT                   8,761
Tom Loegering       AZ                  07/18     BMW 1200LT                   8,608
                    * * * BACK TO BACK 48 Plus! * * * 
             * * * Tom is 80 years young on this ride * * *

Tom Loegering       AZ                  08/11     BMW 1200LT                   8,636
Tom Loegering       AZ                  08/11     BMW 1200LT                   8,659
                    * * * BACK TO BACK 48 Plus! * * * 
             * * * Tom is 73 years young on this ride * * *



---


48 States Double Insanity - BACK TO BACK 48 states in one trip:

Name              Hometown              Date      Motorcycle                   Mileage
Tom Foltz          KS                   05/17/10  Honda GL1800                 7,659
Tom Foltz          KS                   05/07/10  Honda GL1800                 7,778
                            * * * BACK TO BACK 48/10s! * * * 




---


48 States - 3 Countries! (Mexico to Alaska via 48 States in under 10 days):

Name                Start     Motorcycle           Mileage

Andrew Nymeyer  NC  05/2018   H-D Fat Bob FXDF    10,021

Kevin Sawatsky  TX  05/2012   Yamaha FJR1300      10,135

Dennis York     WA  05/2010   Yamaha FJR1300       8,877
Anthony Osborne FL  05/2010   Yamaha FJR          10,935
Jack Shoalmire  OK  05/2008   BMW R1200RT          9,011

Carl Stark      WY  05/2007   Honda GL1800         9,214
Michael Boge    ID  05/2007   BMW R1200RT          9,214

Mike Schwartz   TX  05/2007   Honda Gold Wing      9,038

Martin Cook         07/2006   BMW R1150RT          9,120
 * * * Martin is 66 years young on this ride! * * *
 
Roger Van Santen    05/2006   Yamaha FJR1300       8,934

Tom Sperry      CA  05/2005   BMW R1150GS          9,495
Rosie Sperry (passenger)      BMW R1150GS          9,495

Lisa Stevens        05/2005   BMW R1150RT          8,752
Tobie Stevens       05/2005   Yamaha FJR1300       9,257

Motorcycle Tourer's Forum (East)
Gregg Burger        05/2005   BMW GS Adventure     8,900+
Alan Leduc          05/2005   Honda GL1800         8,900+

Motorcycle Tourer's Forum (Central)
Rick Neeley         05/2005   Honda GL1800A        8,987+
Edgar A. Tanner     05/2005   BMW K1200LT          8,987+

Motorcycle Tourer's Forum (West)
Mikey Ledbetter     05/2005   Yamaha Royal Star    9,859
Michael Bobbitt     05/2005   Honda GL1800         9,859

Lisa Landry         05/04     Honda GL1800         8,871
Dean Tanji          05/04     Yamaha FJR1300       8,871

Roger Shultz        05/02     BMW R1100S



---


48 Plus! (Alaska plus 48 States in under 10 days):

Name              Hometown              Date      Motorcycle                   Mileage

John W. Madden    Anchorage AK          06/19     H-D FXDF Fat Bob             8,034

Daniel Simmonds   Somerset, PA          09/18     Yamaha Super Tenere          8,568

Michael Mitchell  Ashton, ID            06/18     BMW R1200GS Adventure        9,084
Alan M. Rundle    Ivins, UT             06/18     BMW R1200GSA                 9,084

Jeff Hallquist    New Bern, NC          06/18     H-D Road Glide              10,373

Scott Parish      Escondido, CA         06/18     BMW R1200GS-Adventure        8,375

John W. Madden    Anchorage AK          05/18     H-D Fat Bob                  8,073

Norman Lafleur    Grande Prairie,AB CAN 05/17     Honda ST1300                 8,648

Mike Beidler      St Joseph, MI         07/17     Victory Cross Country Tour   8,220

Kara Halverson    Rapid City, SD        06/17     BMW K1600GTL                 8,395

R. Bruce Thomas   CANADA                05/17     Honda ST1300A                9,471

Kith Burkingstock Newnan, GA            05/17     Yamaha Super Tenere          8,627

E.B. Andresen     Newnan, GA            05/17     H-D CVO Road Glide           8,694
             * * * Eivin is 73 years young on this ride! * * *

Jeffrey Luke      Brimfield, MA         05/17     Yamaha Super Tenere          8,802
 
Jerry Riley       Afton, TN             05/17     Can-Am Spyder RT KompactKamp 8,711
David C. Bjork    Elgin, IL             05/17     Honda GL1500 w/Lees-ure Lite 8,711

Marshall Madill   Overbrook, KS         06/16     H-D Road King                8,620

Michael Schuster  Easton, MN            07/15     Victory Cross Country        8,690
Jake Zojonc       Mankato, MN           07/15     Victory Cross Country        8,690

Steve Diederich   Cicero, NY            05/15     Honda Gold Wing GL1800       8,940

James A. Ross     Barrington, RI        06/15     BMW R1150RT                  9,050
             * * * James is 67 years young on this ride! * * *

Bryan Newhard     Shoemakersville, PA   06/14     H-D Road Glide Ultra         8,618
Joe Minnis        Altura, MN            05/14     Honda VTX1800                8,850
Garry Springgay   Gilbert, AZ           09/13     Honda ST1300                 8,835
Michael Schuster  Easton, MN            07/13     Victory Cross Country        8,826
Greg Hiscock      Edmonton, AB CANADA   09/12     Honda ST1300                 8,530

Dan Larson        Prior Lake, MN        06/12     Victory Cross Country        8,670
Gregor Moe        Buffalo, MN           06/12     Victory Vision               8,670

Gregg Lenentine   Virginia Beach, VA    05/12     Yamaha FJR                  10,011
Kevin B. Sawatsky Caddo Mills, TX       05/12     Yamaha FJR1300              10,135

Motorcycle Tourer's Forum "48 Plus! To Hyder Seek" ride
Johnny Jones      Flower Mound, TX      05/12     Honda Gold Wing              8,550
Mike Getzendanner Palestine TX          05/12     Honda GL1800                 8,550
Kit Chunhawong    Alexandria  VA        05/12     BMW K1200LT                  8,550

Kris Ford                               05/12   H-D Ultra Classic              8,992

Mike Freeman                            05/12   Honda Gold Wing                8,700
Edward Kuzikowski ALberta, CANADA       05/12   Honda Gold Wing                8,700
Danny Graham                            05/12   BMW K1600GT                    8,700
                       * * * Danny is 68 years young on this ride! * * *

Wade Butler         06/2011   BMW K1200GS Adv.  8,688

Mike Lawson         06/2011   Honda Gold Wing   8,768
Paul Lawson         06/2011   Yamaha FJR1300    8,768

Steven Rolland      06/2010   Victory Kingpin   8,818

Tom Loegering       05/2010   BMW 1200LT        8,661
             * * * Tom is 72 years young on this ride! * * *

Bob Joers           05/2010   Honda Gold Wing   8,692

E. B. Andresen      05/2010   H-D Ultra Limited 8,683
             * * * Eivin is 66 years young on this ride! * * *

Brett Donahue       05/2009   Ducati Multistrada8,538
Richard Workman     05/2009   Honda Gold Wing   8,896
Guy Pierce          05/2009   BMW K1200LT       8,712

Max B. Longley      05/2009   Honda Gold Wing   8,752
             * * * Max is 74 years young on this ride! * * *

Jack Backer         05/2009   Honda GL1800      8,825
Marlene Backer (passenger)    Honda GL1800      8,825

Margaret Peart      05/2008   BMW R1200GS       9,484

W. Boyter           05/2008   BMW R1200RT       8,885
Shane Mead          05/2008   Honda GL1800      8,563
Bob Wooldridge      05/2008   BMW R100GS        8,688

Danny C. Dossman    08/2007   H-D Ultra Classic 8,720
Terry McElroy       08/2007   H-D Ultra Classic 9,092
Bob Elliot          07/2007   H-D Fat Boy       8,554

Ronald Weinert      07/2007   BMW K1200LT       8,412
 * * * Ronald is 72 years young on this ride! * * *

Guy S. Pierce       06/2007   BMW K1200LT      10,790
Mickey W. Mantel    06/2007   BMW R1200RT      10,790
Brad Ward           06/2007                    10,790

Tom Fuchs           05/2007   Honda Gold Wing   8,639
Mark Campbell       05/2007   Honda Gold Wing   8,639

John Barrow         05/2007   BMW K1200LT       8,870

Mike Tomsu          05/2007   Honda ST1300      8,580
Bruce Shrader       05/2007   BMW R1150GS-ADV   8,278
Chris White         05/2007   Yamaha FJR1300    8,811

Tom Dowell          05/2006   BMW R1200GS       8,434
Cecil Conaway       05/2006   BMW R1150GS       8,434
Paul Klopfenstein   05/2006   BMW R1200GS       8,434

Rick Martin         05/2006   Yamaha FJR1300    8.505
Jim Winterer        05/2006   Suzuki V-Strom    8,505

Larry Scalzitti     05/2006   BMW R1150GS-ADV   9,140
Mike Jackman        05/2006   BMW K1200LT       8,576
Steve Short         05/2006   Honda Gold Wing   8,734

Bill Rauschenberg   07/2005   BMW K1100RS       8,665
Steven Broadhead AL 05/2005   Honda GL1500SE    8,572

Greg Anderson    MN 05/2005   BMW R1150GS-ADV   8,796
Rick Corwine     MN 05/2005   HondaPacificCoast 8,796

Motorcycle Tourer's Forum (East)
Kevin J. Lechner    05/2005   Honda ST1100A     8,550
Art Garvin          05/2005   Honda GL1800      8,550
Bruce F. Harris Jr. 05/2005   BMW K1200LTC      8,550
David G. Hinks      05/2005   Yamaha Venture    8,550
Kevin J. Healey     05/2005   Triumph Trophy    8,550

Motorcycle Tourer's Forum (Central)
Tom Sayer           05/2005   Honda GL1500      8,651
Ollie Bingaman      05/2005   Honda GL1800A     8,651
Thomas N. Coppedge  05/2005   Honda GL1800      8,651

Robert Schlossin    06/10/04  H-D Electra Glide 9,023

Don Kulwicki        05/31/05  Honda GL1800      8,684

Ken Allison      TX 05/19/04  Yamaha Venture    8,776
Tom Sperry       CA 05/19/04  BMW K1200LT       9,234
Rosie Sperry (pillion)        BMW K1200LT       9,234

Bob Still        AZ 05/19/04  BMW R1150GS       8,845
Heidi Weldon     AZ 05/19/04  BMW R1150GS       8,845

Dean Tanji       CA 05/18/04  Yamaha FJR1300    8,764
Lisa Landry      CA 05/18/04  Honda GL1800      8,764

John Langan      CA 05/18/04  Honda GL1800      8,524
Tom Loegering    CA 05/17/04  BMW K1200LT       8,842
Gerald Roberts   AR 05/17/04  Honda GL1800      8,876

Chuck Frederick     05/17/04  BMW R1150GS
David C Mishalof    05/17/04  BMW R1150GS

James E. Collins VA 05/16/04  Honda Gold Wing   8,192
Donald Williams  VA 05/16/04  BMW R1100RT       8,192

Bob Collin          08/07/03  BMW K1100LT

Fred Droegemueller  05/19/03  Honda GL1800

William Rohrer      05/21/03  H-D Ultra Classic
Dick Peek           05/22/03  BMW K100LT
David Kollen        05/20/03  BMW K1200LT
Paul Mlinar         05/19/03  H-D Ultra Classic

Robert Yeats        05/22/03  Honda Gold Wing
Chris Filipowicz    05/22/03  BMW R1150RT

Rick Morrison       06/04/02  BMW K1100LT

Ron Ayres HyderSeek 2002!
Paul Meredith       06/02/02  BMW K1200LT
Phil Mattson        05/23/02  H-D FLHTCI
Glenn Pancoast      05/23/02  BMW K1100LT

Joseph Mandeville   05/23/02  BMW K1200LT
Joe DeRyke          05/23/02  BMW R1100RT

Jeff Lambert        05/22/02  BMW K1100LT
Paul Kieffer        05/21/02  H-D Road King Classic
Dave McQueeney      05/21/02  BMW R100GS
Don Fitzgerald      05/21/02  BMW R1150GS
Brian K. Roberts    05/21/02  Honda Valkyrie

Norm Grills         05/21/02  BMW K1100LT
Bill Thweatt        05/21/02  Honda ST1100

Curt Summers        05/19/02  Honda Gold Wing
Kenn F. Clark       05/19/02  Honda GL1800

Jason Jonas         05/17/02  Honda GL1800

Lee Myrah           06/02/01  Honda ST1100
Mike Hutsal         06/02/01  Honda ST1100
Ron Ayres           06/09/98  BMW K1100LT




---


48 States - 3 Countries! (Mexico to Canada via 48 States in under 10 days):

Name                Start     Motorcycle           Mileage

Andrew Nymeyer  TX  05/2018   Yamaha FJR1300       10,135



---


48 State Challenge - 48 States in 10 days (48/10):

Rider            State   Date    Motorcycle                   Mileage

Patrick M. MacRoy ME   09/05/21  Honda GL1800                 7,446

Danielle Stansell NC   08/21/21  H-D Road King                9,184

Joseph Barden     KS   08/13/21  Honda Gold Wing              9,060

Chris Hopper      TX   08/11/21  H-D Road Glide Limited       9,373

Greg Rice         FL   07/31/21  BMW R1250GSA                 7,644

Richard Viekman   NM   07/21/21  Honda Gold Wing GL1800       7,629

Kerri Miller      WA   07/25/21  BMW R1250GSA                 7,123

Gary DeWitt       VA   07/17/21  H-D Ultra Limited            7,134

Kerri Miller      WA   07/25/21  BMW R1250GSA                 7,123

2021 Bessie Stringfield 48 States All Female Record Setting Ride
Tameka Singleton  PA   07/05/21  H-D Road Glide Special       7,133
Karen Y. Mitchell MD   07/05/21  H-D Street Glide Special     7,133
Dolly Johnson     GA   07/05/21  H-D Road Glide CVO           7,133
Sandra K Wallace  NC   07/05/21  H-D Road Glide Limited       7,133
Melissa Turner    AL   07/05/21  Indian Chieftain             7,133
Tiffany Tate      MO   07/05/21  H-D Road Glide               7,133
Portia Boyce      NC   07/05/21  H-D Street Glide Special     7,133
Avril Groves      GA   07/05/21  H-D Road Glide Special       7,133
Tonya Johnson     MD   07/05/21  H-D Road Glide               7,133
Sonya Williams    IL   07/05/21  H-D Road Glide               7,133
Shannon Midgette  IL   07/05/21  H-D Road Glide Special       7,133
LaSondra Tremble  TN   07/05/21  Indian Challenger            7,133
Ruby Izquierdo    TX   07/05/21  H-D Road Glide Ultra         7,133
Kim Henry         TX   07/05/21  H-D Road Glide Ultra         7,133
Yolanda Robertson WI   07/05/21  H-D Road Glide Ultra         7,133
Monica Johnson    VA   07/05/21  H-D Street Glide CVO         7,133
Althea Wigfall    SC   07/05/21  H-D Road Glide Special       7,133
Ursula Ashton     TN   07/05/21  H-D Electra Limited          7,133
Keyon Knight      GA   07/05/21  H-D Road Glide Special       7,133
Nzinga Glover     FL   07/05/21  H-D Road Glide               7,133 
Noleka Williams   FL   07/05/21  H-D Road Glide               7,133
Jeanette Nettles  GA   07/05/21  H-D Road Glide Special       7,133 
Yanick Rockett    IN   07/05/21  H-D Road Glide Special       7,133 

Javier Ashton          07/05/21  Honda Gold Wing              7,786

Whitney Meza      WI   06/21/21  H-D Pan America Special      7,982

Steve M Becker    AL   06/18/21  Honda ST1300                 7,541

Andy Smith        TX   06/02/21  H-D Ultra Limited            7,912

Steve Gallant     MA   09/19/20  Honda ST1300A                7,151

James O. Epley    VA   09/07/20  Triumph Trophy SE            7,654

Gerry Arel        CT   09/07/20  Yamaha FJR1300               7,894

Hurricane Biker Girls, MC to benefit Hoagy's Heroes, 
The Children's Sickle Cell Foundation
Tamica Wade       PA   06/08/20  H-D Screamin' Eagle CVO      7,359

William Harp      NV   06/19/20  Yamaha Super Tenere          7,751
Michael E. Sloan  NV   06/19/20  Honda Gold Wing              7,751

Louis DeLustro    TN   05/02/20  Honda Gold Wing              7,801

Scott Durham      NC   08/29/19  Honda Gold Wing              8,221

John W. Madden    AK   06/03/19  H-D FXDF Fat Bob             6,843

Bill Karitis      SC   06/20/19  H-D FLHTKL                   6,974

Jesse Alexander   TX   06/15/19   H-D Ultra Limited          10,526

Harry Knerr       PA   06/15/19  H-D Road Glide               8,155

Amnon Romano    ISRAEL 06/08/19  H-D Electra Glide Ultra      7,161
Guy Dermer      ISRAEL 06/08/19  H-D Electra Glide Ultra      7,161

Gary Huff         CO   06/13/19  BMW R1200RT                  7,683

Pierre Poulin   CANADA 08/27/18  Yamaha FJR1300               7,479

Richard Griffith  MI   09/08/18  H-D Ultra Limited            7,680 
Glenn Kauthen     MI   09/08/18  H-D Ultra Classic            7,680 

Kenneth Thompson  AZ   07/31/18  Honda Gold Wing              7,656
Michael J. Geair  TX   07/05/18  H-D Road Glide               7,707

48/10 Ride Against Child Abuse 
Grant M. Sumsion   UT  06/22/18  H-D Road King Classic        7,536 
Cecilia R. Sumsion (passenger)   H-D Road King Classic        7,536 

W.C. Mitchell     TX   06/01/18  Honda Gold Wing              7,589
Bob Loftin        TX   06/01/18  H-D FLHXS Street Glide       7,589

John W. Madden    AK   05/28/18  H-D Fat Bob                  6,874

William T. Smith  PA   05/01/18  Honda GL1800                 8,265

Rick Russell    CANADA 06/16/17  Honda Gold Wing              7,508

Eric C. Kent       MN  06/06/17  Indian Roadmaster            7,624

Bob Baker          MN  05/22/17  Victory Cross Roads          8,264
Tim HaverKamp      MN  05/22/17  H-D Ultra Glide              8,264
Daniel R. Morrison MN  05/22/17  H-D Limited                  8,264

Carl Harris        NC  05/21/17  H-D Road Glide               9,294
Shareef AsSadiq    TX  05/21/17  Indian Roadmaster            9,294

G. Allen Heddens   GA  05/20/17  Yamaha FJR                   7,554

Jim Saul           FL  05/17     Yamaha FJR1300               9,372

Ghent Hopkins      OK  05/15/17  BMW R1200GS Adventure        7,855
Dwight A. Olson    OK  05/15/17  BMW K1600GTL                 7,855
Greg Camp          NM  05/15/17  BMW R1200GSA                 7,855

Ron Morris         FL  10/16     Honda Gold Wing              7,617
             * * * Ron is 71 years young on this ride! * * * 

David P. Long      MN  09/16     BMW R1200RT                  8,239
Thom Rieck         MN  09/16     BMW K75S                     8,239

Paul E. Knight     FL  07/16     BMW R1200GS                  7,977

Roy Kjendal        NH  06/16     BMW K1600GTL                 7,475

Steve Stacy        VA  06/18/16  Honda Gold Wing              7,780
L.Wesley Clevinger VA  06/18/16  Honda GL1800 Gold Wing       7,780

Doug Chambers      ID  06/04/16  H-D Road Glide Ultra         8,050
Chuck Mennear      ID  06/04/16  Victory Cross Country Tour   8,050

Woodie Krugel      OR  06/01/16  Kawasaki Concours            7,622
             * * * Woodie is 69 years young on this ride! * * * 

Randy Wall         UT  05/27/16  BMW R1150RS                  7,853

John W. Madden     AK  05/27/16  H-D Fat Bob                  6,950
             * * * John is 65 years young on this ride! * * *

Danny C. Dossman   TX  10/15     H-D Ultra Limited            7,752

Gregg Blaylock     MO  09/10/15  BMW K1200LT                  7,595

Kenneth W Andrews  AR  08/21/15  H-D Road King                8,020
Christopher Dowling OK 08/05/15  BMW R1200RT                  8,405
Shareef AsSadiq    CA  07/23/15  Victory Cross Country        7,765
Walter Gary Sharp, Sr  07/18/15  Honda Gold Wing Lehman Trike 7,700
Dave Kendall       TX  07/17/15  H-D Limited                  8,193
Mike Beidler       MI  07/11/15  Victory Cross Country Tour   7,845

Jake Zojonc        MN  07/06/15  Victory Cross Country        7,450

Montgomery Groff   CO  06/14/15  BMW F800GS                   7,692
Kirk Lenzie        CO  06/14/15  BMW R1200GS Adventure        7,692

Jan H. Daub        TX  06/10/15  Honda Gold Wing w/sidecar    7,330
             * * * Jan is 70 years young on this ride! * * *

Randy Phipps       SD  06/01/15  Honda VTX1800N               7,978
Steve Graves       SD  06/01/15  H-D Road Glide               7,978
Les Potts          SD  06/01/15  Honda Gold Wing 1800         7,978
             * * * Les is 65 years young on this ride! * * *

Greg Hintz         MT  05/23/15  Honda Gold Wing              7,380
Donald Deuel       MT  05/23/15  Honda Gold Wing              7,380
             * * * Donald is 72 years young on this ride! * * * 

Steve Bracken      OK  05/18/15  Yamaha FJR1300A              7,254

Art Ward           ME  05/16/15  Honda Gold Wing              8,294
Nelson Sylvain     ME  05/16/15  Can-Am Spyder RT-S           8,294

Mike Callaghan     TX  05/16/15  H-D Road Glide               7,680
Geoffrey Seaman    TX  05/16/15  H-D Ultra Classic            7,680
Ben Thompson       TX  05/16/15  H-D Limited                  7,680
             * * * Ben is 65 years young on this ride! * * *

Richard S. Hughes  TX  05/16/15  Honda Gold Wing SE           8,480
Larry K. Hughes    UT  05/15/15  Honda Gold Wing GL1200       8,150
Jim Palms          WA  05/13/15  Triumph Explorer 1200        7,500
Bill Robinson      OK  05/12/15  BMW R1150RT                  7,530
Jerry White        CA  05/01/15  Honda Gold Wing              7,800

James W. Lewis     MO  09/11/14  BMW R1200RT                  7,240
             * * * James is 75 years young on this ride! * * *

Kevin Kephart      CA  09/01/14  BMW K1600GT                  7,857

Rodney R. Anderson SD  08/28/14  H-D Ultra Classic            7,510
Kurt Kruger        IA  08/23/14  H-D Road King                7,560

Dan Crowley        NC  08/10/14  BMW R1100RT                  8,070
Lonnie R. McCoy    TX  08/01/14  Honda Gold Wing              9,000
Steve W. Rose      MD  06/27/14  H-D Street Glide             7,920
David J. Daigle    MD  06/27/14  Kawasaki Concours C14        7,920

Michael Studer     MN  06/26/14  Honda Pacific Coast PC800    7,513
             * * * Michael is 68 years young on this ride! * * *

Robert L. Maynard  NC  06/21/14  H-D Ultra Classic            7,892
Ed Benson, Sr.     NC  06/21/14  H-D Ultra Limited            7,878

Scott Gottschalk   MN  05/19/14  H-D Ultra Limited            8,132
               * * * Plus Hawaii! * * *

Andrew Eberhardt  UT   05/13/14  Honda Gold Wing              7,700
Jared Hansen      UT   05/13/14  Honda Gold Wing              7,700
Marc Kent Menlove UT   05/13/14  Honda Gold Wing              7,578
Grant M. Sumsion  UT   05/13/14  H-D Road King Classic        7,609
Camille M. Sumsion (passenger)   H-D Road King Classic        7,609
Steven Peacock    UT   05/13/14  Victory Cross Country Tour   7,615
             * * * Steven is 68 years young on this ride! * * *

Mike Mustard       VA  09/07/13  BMW R1200RT                  7,600
             * * * Mike is 65 years young on this ride! * * *

Brian Gavazzi      TX  08/31/13  H-D Street Glide             7,620
Michael Schuster   MN  07/11/13  Victory Cross Country        7,585
Adrian Musters  CANADA 06/29/13  Honda Gold Wing              7,377
David Graves       MI  05/25/13  Ducati Multistrada 1000DS    7,890
Braden Padget      MO  07/30/12  BMW K1200LT                  7,600

Joe Hallford       TX  09/28/12  Honda GL1800                 7,720
             * * * Joe is 68 years young on this ride! * * *

Howard Phelps      ID  08/21/12  Honda VTX1800R               7,910
John D. Mickus     CA  07/12/12  H-D Dyna Switchback          7,400
Dale Gero          OK  06/01/12  Victory Cross Roads          8,036
Rex LeGalley       NM  05/20/12  H-D CVO Street Glide         8,284

Peter Behm             07/2011   Yamaha FJR1300              13,544  
Eric Jewell            07/2011   Honda ST1300                13,162  
Jim Frens              07/2011   Honda Gold Wing             14,185  
Roger Sinclair         07/2011   BMW R1150GS-ADV             13,195  
Curt Gran              07/2011   Honda ST1300                13,857  
Kirsten Talken-Spaulding         BMW R1200RT                 13,110  
Tom Loftus             07/2011   Honda ST1300                13,092  
Dick Peek              07/2011   Yamaha FJR1300              12,782  
Brian Johnson          07/2011   BMW K1200LT                 13,198  
Tom/Rosie Sperry       07/2011   Honda Gold Wing             12,955  
Daniel Roth            07/2011   BMW R1200GS                 11,701  
John Harrison          07/2011   Honda ST1300                12,034  
Karl Snell             07/2011   BMW R1200GS                 10,885  
Corey Nuehring         07/2011   Yamaha FJR1300              12,482  
Wendy Crockett         07/2011   Yamaha FJR1300              12,336  
Art Garvin             07/2011   Honda Gold Wing             11,105  
Michael/Betty Ligons   07/2011   Honda Gold Wing             11,591  
Perry Karsten          07/2011   Yamaha FJR1300              11,496  
Peter Delean           07/2011   Yamaha FJR1300              11,608  
Greg Guillermo         07/2011   Yamaha FJR1300              11,266  
Bill Wade              07/2011   BMW R1200GS-ADV             11,616  
Jon Good               07/2011   BMW R1200RT                 10,653  
Tim Masterson          07/2011   BMW R1200GS-ADV             12,096  
Chris Sakala           07/2011   BMW R1200RT                 11,050  
Brant Moteelall        07/2011   Yamaha FJR1300              11,341  
Robert Wilensky        07/2011   Suzuki DL1000               10,391
Rod Schween            07/2011   BMW R1200GS                 10,496  
George Barker          07/2011   Honda Gold Wing             10,549  
John Stamps            07/2011   BMW R1200RT                  9,915 
W Boyter               07/2011   BMW R1200RT                 11,335  
Dave Hembroff          07/2011   Yamaha FJR1300               9,766 
Shuey Wolfe            07/2011   Honda ST1300                11,177  
Greg/Pat Blewett       07/2011   Honda Gold Wing             10,368  
Aaron/Rena Miller      07/2011   Honda Gold Wing             10,201  
Kurt Dix               07/2011   Kawasaki Concours           10,826  
John Frick             07/2011   BMW K1200LT                 10,615  
Gerhard Memmen-Krueger 07/2011   Honda Gold Wing             10,478  
Shane/Annette Cudlin   07/2011   Honda Gold Wing             10,688  
Michael Boge           07/2011   Honda ST1300                11,324  
Jennyfer Audet         07/2011   Honda CBR1100XX             11,481  
Jacques Titolo         07/2011   Kawasaki ZX12R              11,405  
Terry Neale            07/2011   Yamaha FJR1300              10,839  
Philip Weston          07/2011   Yamaha FZ1                  11,285  
Mike Jackman           07/2011   Honda Gold Wing             10,225  
Howard Entman          07/2011   Yamaha FJR1300               9,680 
Andy Kirby             07/2011   Honda ST1300                10,977  
Bryan Neagle           07/2011   Honda ST1300                10,980  
Roger Allen            07/2011   BMW R1200GS-ADV              9,836 
Kathleen Allen         07/2011   BMW R1200GS-ADV              9,827 
Jeremy Loveall         07/2011   BMW R1200RT                 10,119  
Patrick Clark          07/2011   Yamaha Road Star            11,864  
Bill Thweatt           07/2011   Honda ST1300                10,801  
Michael Mehaffy        07/2011   Yamaha FJR1300              10,887  
Tony Hudson            07/2011   Honda Gold Wing              8,838 
Dennis Powell          07/2011   Honda Gold Wing              9,447 
Steve Aikens           07/2011   BMW R1200 RT                10,282  
Dean Mccurdy           07/2011   BMW R1200 RT                 8,431 
Jeff/Carol Fremder     07/2011   BMW R1100RT                  8,906 
Andy Mackey            07/2011   BMW R1200GS-ADV             11,696  
Neil Hejny             07/2011   Honda Gold Wing              9,048 
Colin Goodall          07/2011   Yamaha FJR1300               8,951 
David Fick             07/2011   BMW R1200GS-ADV              9,575 
Robert Joers           07/2011   Honda Gold Wing              9,380 
Brian Bray             07/2011   Suzuki SV650                 8,521 
Alex Harper            07/2011   Yamaha FJR1300               8,856 
Bob Rippy              07/2011   BMW R1200RT                  9,079 
Stan Dulemba           07/2011   BMW R1200RT                  8,842 
Bobby Fox              07/2011   BMW R1200GS-ADV              8,647 
Cletha Walstrand       07/2011   BMW F650GS                   9,069
Chris Ogden            07/2011   BMW R1200GS                  8,609 
Doug Barrett           07/2011   Yamaha FJR1300               8,620 
Wallace French         07/2011   BMW R1150RT                 10,044  
John Young             07/2011   Triumph T150                 8,483 
Cliff Wall             07/2011   Honda Gold Wing              8,827 
Nancy Oswald           07/2011   BMW R1200GS                 10,233  
Cameron Brister        07/2011   Yamaha FJR1300               8,992 

Perry Karsten   CANADA 06/20/11  Yamaha FJR                  11,496

John Q. Smith      IN  05/17/11  H-D Ultra Classic            8,138
Canda Worman Smith (passenger)   H-D Ultra Classic            8,138

Tom Crouch      CANADA 08/25/10  Honda Gold Wing              8,168
James Huber     CANADA 08/25/10  Honda Gold Wing              8,168

Kenneth Trass      MD  06/21/10  Honda Gold Wing              7,748
Gregg A. Lenentine VA  05/18/10  Honda GL1800                 7,561

Tom Foltz          KS  05/17/10  Honda GL1800                 7,659
Tom Foltz          KS  05/07/10  Honda GL1800                 7,778
                    * * * BACK TO BACK 48/10s! * * * 

Randy Randall      OR  04/30/10  BMW RT                       8,672
Jake O. Broyles    OR  04/30/10  BMW 1200RT                   8,672
Edward A. Pedro    OR  04/30/10  BMW R1150RT                  8,672

Rick Jennings      CO  04/29/10  Honda Gold Wing              7,849

Rick Jennings      CO  04/29/10  Honda Gold Wing              7,849
Robert E. Chadwick MO  08/13/09  H-D Road Glide               7,692
William G. Wolfe   OR  06/16/09  H-D Dyna WideGlide           7,261

Garry Luxmoore AUSTRALIA6/16/09  H-D Ultra Classic            7,500
Rhonda Kirby (passenger)         H-D Ultra Classic            7,500

Michael FitzpatrickCA  07/16/09  H-D Ultra Classic            8,105
Roman Panich       IL  07/02/09  H-D Softail                  8,630
Tim Masterson      TX  06/30/09  BMW Adventure                7,733
Tom Foltz          KS  05/21/09  Honda GL1800                 7,556
Troy Storz         CA  05/01/09  Honda Gold Wing              8,028

Jim Mulcahy        OK  09/02/08  Yamaha FJR                   7,462
Jack Shoalmire     OK  09/02/08  BMW R1200RT                  7,462

Steve Rolland      WI  08/07/08  Victory Vegas                8,200
Mark Merical       CA  06/30/08  Suzuki Bandit 1200           7,658

Randy Davison      OK  06/12/08  BMW R1100RT                  8,358
Donna Davison (passenger)        BMW R1100RT                  8,358

Jeff Fremder       WI  05/27/08  BMW R1150RT                  8,726
Carol Fremder (passenger)        BMW R1150RT                  8,726

Daniel Roth        GA  05/17/08  BMW R1150R                   7,815
Tom Foltz          KS  05/09/08  Honda GL1800                 7,470

Bob Elliot         GA  07/21/07  H-D Fat Boy                  7,310
David Bennett      WA  07/05/07  Honda GL1800                 7,698

Paul Dobiecki      NY  06/30/07  H-D Ultra Classic            7,613
Corey J Schwartz   NY  06/30/07  Honda Gold Wing              7,613
Robert J Muller    NY  06/30/07  Honda Gold Wing              7,613

Max B. Longley     NC  06/2007   Honda Gold Wing              8,763
 * * * Max is 72 years young on this ride! * * *

Stephan Bolduc     PQ  05/15/07  Yamaha FJR1300               8,210

Ronald Wilkerson   CA  07/13/06  BMW K1200LT                  7,890

Jerry Riley        TN  06/16/06  Honda ST1100                 8,281
Tom Atkinson       TX  06/16/06  Honda GL1500SE               8,071

Frank Langben      CA  09/16/05  Honda SilverWing             7,710
Rachel Dwyer       WA  05/20/05  Ducati Monster               7,828
William Pierce     CA  06/29/04  Honda Gold Wing              7,523

Rodney R. Smith    TX  06/15/04  Honda GL1800                 7,544
Darryl Kazen       TX  06/15/04  Honda GL1800                 7,544

Dean Tanji         CA  05/18/04  Yamaha FJR1300               7,514
Lisa Landry        CA  05/18/04  Honda GL1800                 7,514

Morris Kruemcke    TX  05/20/04  Honda GL1800                 7,146

Donald Williams    VA  05/16/04  BMW R1100RT                  6,967
James E. Collins   VA  05/16/04  Honda Gold Wing              6,967

Stan R. Patterson      05/10/04  Honda ST1100                 8,379
Don McFarlane          05/10/04  BMW K1200LT                  8,379

Doug Bailey        IN  08/29/03  Triumph Sprint
Dick Peek              05/22/03  BMW K100LT
John D. Jordan     IA  05/21/03  Honda VTX1800C
Donald Bennett         05/19/03  Honda Gold Wing
Paul Mlinar            05/19/03  H-D Ultra Classic
Bob Wisness            06/20/02  Honda Gold Wing              7,672
Don Kulwicki           06/01/02  Honda Gold Wing              8,115
Phil Mattson           05/23/02  H-D FLHTCI

Lee Myrah              06/02/01  Honda ST1100
Mike Hutsal            06/02/01  Honda ST1100

Rick Morrison          05/17/01  BMW K1100LT
Maurice Donini         07/25/99  BMW K75RT                    7,800
Glenn K. Pancoast      09/09/98  BMW K1100LT                  7,700
Ron Ayres              06/09/98  BMW K1100LT
Bill Newton            09/01/96  Honda ST1100
Rick Morrison WA       09/01/96  BMW R100RT                   8,456
Mary Johnson  IN       09/01/96  BMW R1100R
Gary Johnson  NY       09/01/96  Honda GL1500                 8,641
Ron Major     CA       09/01/96  Honda ST1100                 8,886
Eric Faires   TN       09/01/96  BMW R1100RS                  8,994
Michael Kneebone IL    05/31/88  BMW K100LT
Fran Crane    CA       05/31/88  BMW K100




---


SaddleSore 9000 Finishers (9,000 miles in 9 days):

Name              Hometown              Date      Motorcycle                   Mileage

Anthony Osborne   West Palm Beach, FL   08/14/21  Yamaha FJR                   9,573

Carl Harris       Fuquay Varina, NC     05/21/17  H-D Road Glide               9,085
Shareef AsSadiq   San Diego, CA         05/21/17  Indian Roadmaster            9,085

Harry Knerr       Leesport, PA          09/28/10  H-D Road Glide               9,364




---


SaddleSore 8000 Finishers (8,000 miles in 8 days):

Name              Hometown              Date      Motorcycle        Mileage

Harry Knerr       Blandon, PA           06/19     H-D Road Glide    8,061

Paul E. Knight    FL                    07/16     BMW R1200GS       8,057
Karl Pirchmoser   NSW, AUSTRALIA        08/13     Kawasaki GTR1400  8,654

Harry Knerr       Leesport, PA          09/10     H-D Road Glide    8,343

Margaret Peart    Tasmania, AUSTRALIA   05/08     BMW R1200GS       8,087 USA RIDE




---


SaddleSore 12,000K Finishers aka 7,000 miles in 7 days:

Name              Hometown              Date      Motorcycle                    Kilometers

Linas Peciukaitis Garliava, LITHUANIA   09/02/18  Honda Gold Wing GL1800        12,244

Michael Turnpenny Beeliar, WA AUSTRALIA 06/06/13  Yamaha FJR1300A               12,370




---



SaddleSore 7000 Finishers (7,000 miles in 7 days):

Name              Hometown              Date      Motorcycle        Mileage

David Uhl         Parker, CO            08/21     H-D Road Glide    7,048

Javier Ashton     Memphis, TN           07/21    Honda Gold Wing    7,786

Gary DeWitt       Fredericksburg, VA    07/21     H-D Ultra Limited 7,134
Lionel L Ramos    Falls Church, VA      03/20     H-D Road Glide    7,475
Roy Kjendal       Deerfield, NH         06/16     BMW K1600GTL      7,475
Shane Mead        Topeka, KS            04/14     Honda Gold Wing   7,022
Adrian Musters    Huntsville, ON CANADA 07/12     Honda Gold Wing   7,071
Dennis York       Vancouver, WA         05/10     Yamaha FJR1300    7,460
Harry Knerr       Leesport, PA          09/28/10  H-D Road Glide    7,318

2008 SPANK Rally
Tom Sperry        Hanford, CA           08/07/08  Honda Gold Wing   7,636
Rosie Sperry (passenger)                08/07/08  Honda Gold Wing   7,636
Margaret Peart    Tasmania, AUSTRALIA   08/07/08  BMW R1200GS       7,509

Michael Boge       Sandpoint, ID        06/20/08  BMW R1200RT       7,113
* * Michael completed 7 consectutive in-state SaddleSores in 7 days! * *
              * * * WY, MT, ND, SD, NE, CO and NM! * * *




---



SaddleSore 10,000K Finishers (10,000 Kilometers in 6 days):

Name              Hometown              Date      Motorcycle                   Kilometers

Sergey Lapin      Kazan, RUSSIA         07/11/15    Yamaha TDM900              10,001

Michael Turnpenny Beeliar, WA AUSTRALIA 06/11/13  Yamaha FJR1300A              10,600

Davo Jones        Australia             08/07     Kawasaki GTR1400             10,367



---


SaddleSore 6000 Finishers (6,000 miles in 6 days):

Name              Hometown              Date      Motorcycle                   Mileage

Kenneth Andrews   Benton, AR            09/21     H-D Road Glide Limited       6,137

Scott Durham      Alexander City, AL    09/21     Honda Gold Wing              6.196

Jon S. Meadows    Lafayette, IN         06/20     H-D Street FLHX Glide Ultra  6,618

August R. Binder  Bath, PA              06/20     Indian Springfield           6,178 

Lionel L Ramos    Falls Church, VA      09/19     H-D Road Glide Ultra CVO     6,116

Rick Armour       Doylestown, PA        07/18     Triumph Trophy SE            6,152

Richmon Schumann  Cumming GA            04/18     KTM 1190 Adventure           6,010

Roy Kjendal      Deerfield, NH          03/18     BMW K1600GTL                 6,112

R. Scott Thornton Spring, TX            07/16     Yamaha FJR1300               6,701

David Graves      Midland, MI           05/16     BMW K1300S                   6,220

Sergey Lapin      Kazan', RUSSIA        07/15    Yamaha TDM900                 6,215

Paul Slaton       The Woodlands TX      03/14     Honda Gold Wing GL1800       6,447
Russell L. Swett  Metamora, MI          03/12     Suzuki M109R                 6,135

Tom Foltz         Topeka, KS            05/11     Honda GL1800                 6,110
Shane Mead        Topeka, KS            05/11     Honda GL1800                 6,110

Jake Broyles      Stanfield, OR         05/11     BMW R1200RT                  6,404

Harry Knerr       Leesport, PA          09/10     H-D Road Glide               6,295
Peter Hogan       NSW AUSTRALIA         01/11     Honda CBR1100XX              6,248
Jack B. Shoalmire Broken Arrow, OK      02/09     BMW R1200RT                  6,704



---



SaddleSore 9000K Finishers (9,000 kilometers in 5 days):

Name              Hometown              Date      Motorcycle                   Kilometers

Jeffrey Gebler    Australia             11/08/17  Yamaha Super Tenere          9,059



---



SaddleSore 8000K Finishers (8,000 kilometers in 5 days):

Name              Hometown              Date      Motorcycle                   Kilometers

Craig Harcombe    Australia             07/17/15  Honda ST1300                 8,114

Frans Van Der Merwe NSW, AUSTRALIA      02/13/14  Honda GL1800                 8,466


Karl Pirchmoser   NSW, AUSTRALIA        03/15/13  Kawasaki GTR1400             8,313
Craig Harcombe    Lambton,NSW AUSTRALIA 01/03/13  Yamaha Super Tenere XT1200Z  8,160
Trevor Evans      AUSTRALIA             09/27/11  Honda ST1100                 8,125


Senior Butt Rally - team ride:

Name              Hometown              Date      Motorcycle                   Mileage  Team

James Owen                              10/01/21                               6,330    Top Guns
Greg Rice                               10/01/21                               6,330    Top Guns

Danny Dossman                           10/01/21                               5,596    Test Dummies
Matt Wise                               10/01/21                               5,596    Test Dummies

Marc Beaulac                            10/01/21                               5,730    Team Big Chungus
James Handley                           10/01/21                               5,730    Team Big Chungus

Peter Green and Dannette Sifford (2-up) 10/01/21                               6,053    Team CoTex
James Jackson and Bobbie Jackson (2-up) 10/01/21                               6,053    Team CoTex

Ken Andrews                             10/01/21                               6,137    The Ken Dolls
Ken Cowart                              10/01/21                               6,137    The Ken Dolls

Dan Crowley                             10/01/21                               5,836    Dan D Lion
Lionel Ramos                            10/01/21                               5,836    Dan D Lion

Leon Begeman                            10/01/21                               3,902    2 8 & Beyond
Steven Rufo                             10/01/21                               3,902    2 8 & Beyond

Al Greenwood                            10/01/21                               5,040    The Bearded Blunders
Cory Ure                                10/01/21                               5,040    The Bearded Blunders

Marty Cover                             10/01/21                               4,004    Ancient Mariners
Jack AirlieAncient                      10/01/21                               4,004    Ancient Mariners

Dennis Cunningham                       10/01/21                               4,176    Team Body Odor
Steve Kotlarz                           10/01/21                               4,176    Team Body Odor

Mike Hall                               10/01/21                               4,894    The Chuckleheads
Troy Martin                             10/01/21                               4,894    The Chuckleheads

John Cooper                             10/01/21                               4,175    AZCO CREW
JD Smith                                10/01/21                               4,175    AZCO CREW


Junior Butt Rally - team ride:

Name              Hometown              End Date  Motorcycle                   Mileage  Team

Scott Durham                            10/01/21                               6,187    The Dukes of Haphazard
Herakles Boardman                       10/01/21                               6,187    The Dukes of Haphazard

Jim Craig                               10/01/21                               5,352    Team Chaos131,431 5,352
Russell Black                           10/01/21                               5,352    Team Chaos131,431 5,352

Jesse Alexander                         10/01/21                               5,237    The Texolina Two Steppers
Chris Rasmussen                         10/01/21                               5,237    The Texolina Two Steppers

Dan Lessert                             10/01/21                               4,364    Bitdog
Glenn Royal                             10/01/21                               4,364    Bitdog





---


SaddleSore 5000 Finishers (5,000 miles in 5 Days):

Name              Hometown              Date      Motorcycle                  Mileage

Brian North       Franklin, WI          07/31/21  BMW K1600GT (SIX)           5,133 WI-5000

Lance Henrichsen  Huntington Beach,CA   04/13/21  BMW S1000XR                 5,092

David M Uhl       Parker  CO            10/09/20  H-D Street Glide CVO        5,187

Evan Brock Wiseman  Burlington, IA      08/13/20  H-D Street Bob FXDB         5,044

Chris Rasmussen   Charlotte, NC         07/11/20  BMW R1200GSA                5,622
                * * * Chris is 70 years young on this ride! * * *

August R. Binder  Bath, PA              06/20     Indian Springfield          5,220 

Kara Halverson    Rapid City, SD        04/19     BMW K1600GTL                5,099

Ronald L. Trainor Pembroke, MA          06/20/18  H-D Ultra Classic Tri-Glide 5,177
Craig A. Bentley                        06/20/18  H-D FLHX                    5,225

Daved Kinsey      Reading, PA           03/18     BMW K1600GTL                5,070
Ken Cowart        Alexander, AR         03/18     H-D Road Glide Ultra        5,095

Allen Garrison    Fort Mill, SC         10/17     Yamaha FJR1300              5,105

Solar Eclipse 5000 Gold
Brian North       Franklin, WI          08/17     Triumph Explorer XRT        5,294

Kim Ross          Apple Valley, MN      07/17     Honda ST1300                5,002
Gary Lingenfelter Nevada, IA            07/17     Yamaha V-Star 1300 Tourer   5,080

John J. Cousins   Kittanning, PA        06/17     H-D Street Glide            5,084
David C. Hunt     Slippery Rock, PA     06/17     Indian Roadmaster           5,084

Norman Lafleur    Grande Prairie,AB CAN 05/17     Honda ST1300                5,027

R. Bruce Thomas   CANADA                05/17     Honda ST300A                5,061

Matt Hube                               03/17     Honda Gold Wing             5,029

Tim Hayosh        Mesa, AZ              11/16     Kawasaki Concours 14        5,021

Dominick Zappola  Andes, NY             09/16     H-D Softail FXSTC           5,940

Jan A. Murray     Windsor, WI           09/16     BMW R1200GSA                5,052

Stephen L. Evans  Lake City, FL         06/16     Yamaha FJR1300              5,320
             * * * Stephen is 68 years young on this ride! * * *

Jim Clark         Locust Grove, GA      05/16     BMW R1200RT                 5,010
             * * * Jim is 67 years young on this ride! * * * 

Norman Lafleur    Grande Prairie,AB CAN 04/16     Honda ST1300                5,092

Chris Comly       Willow Grove, PA      03/16     H-D Sportster               5,146

Dominick Zappola  East Haven, CT        12/15     H-D Street Glide FLHXS      5,164

John A. Forry Jr. Hershey, PA           10/15     H-D CVO Ultra               5,075
Kevin Blevins     Robesonia, PA         10/15     H-D Ultra Classic           5,075

Sergey Lapin      Kazan', RUSSIA        07/15     Yamaha TDM900               5,016

Jake Zojonc       Mankato, MN           07/15     Victory Cross Country       5,070

Buddy Corbin      Cartersville, GA      07/15     BMW R1200RT                 5,130

Brian Tevlin      Oklahoma City, OK     06/15     H-D CVO Ultra Classic       5,300
 
Chuck Lackey      Jackson GA            06/15     Yamaha FJR1300              5,004
Jesse Lucas                             06/15     Yamaha FJR1300              5,004

Stanley J. Miller Ames, IA              05/15     Honda Magna V65             5,070

Raymond Vallee    Clayton, NC           09/14     H-D Ultra Classic           5,167
Tom Richard       North Grafton, MA     09/14     BMW R1200RT                 5,233

Jerry Allen       Hopkinsville, KY      08/14     Yamaha Road Star            5,456

Mark Anderson     Cumbria, UK           07/14     Triumph Trophy              5,044

Paul Tong         Frisco, TX            07/14     Honda Gold Wing             5,171

Vasiliy Kochegarov Moscow, RUSSIA       06/14     Suzuki GSX 1250 FA          5,131

William Workman   Lexington, NC         03/14     Honda Gold Wing             5,280

Paul Bernasconi   Chapel Hill, NC       03/14     Suzuki Hayabusa             5,240
Voytek Kulesza    Wonder Lake, IL       09/13     H-D FLHX                    5,056

Michael Schuster  Easton, MN            07/13     Victory Cross Country       5,096
Will Barclay      Woodstock, NY         07/13     H-D Street Glide            5,505
Donald L. Burris  Enid, OK              07/13     Honda Gold Wing             5,150
Tim Masterson     San Marcos, TX        05/13     BMW R1200GS Adventure       5,283
Brian Walters     Sugar Land, TX        03/13     BMW R1200GS                 5,680
Ken Aman          Wallkill, NY          03/13     Honda ST1300                5,186
Charles R. Butler III  Gillette, WY     09/12     H-D Ultra                   5,002

Adrian Musters    Huntsville, ON CANADA 07/12     Honda Gold Wing             5,166

Jeff Lee          Yellowknife,NT CANADA 06/12     Yamaha FZ-6                 5,258

Johnny Jones      Flower Mound, TX      05/12     Honda Gold Wing             5,040
Mike Getzendanner Palestine, TX         05/12     Honda Gold Wing             5,040

Mike Freeman      Rocklin, CA           05/12     Honda Gold Wing             5,106
Edward Kuzikowski St. Albert, AB CANADA 05/12     Honda Gold Wing             5,106
Danny Graham      Honolulu, HI          05/12     BMW K1600GT                 5,106
             * * * Danny is 68 years young on this ride! * * *

Norbert Wienck    Deutschland           09/11     Moto Guzzi Stelvio5,778

Edmundo Salinas   Monterrey, MEXICO     09/11     BMW R1200GS       5,125
Roberto Gutierrez Monterrey, MEXICO     09/11     BMW R1150RT       5,125

Matt Wise         Wichita, KS           08/11     BMW R1200RT       5,298

MTF Poker Run from Hell
Kit Chunhawong    Alexandria, VA        07/11     BMW K1200LT       5,068
Dan Leffert       Castle Rock, CO       07/11     H-D Ultra Limited 5,068

Roger Buis        Baker, FL             07/11     H-D Electra Glide 5,160
Jeff Scramlin     Durham, NC            06/11     H-D Road King     5,208

Tom Foltz         Topeka, KS            05/11     Honda GL1800      5,165
Shane Mead        Topeka, KS            05/11     Honda GL1800      5,165

Mike Moorhouse    Oceanside, CA         04/11     H-D Electra Glide 5,055
Ken Smith         Alta Loma, CA         04/11     H-D Screamin Eagle5,033

Erwin Crampton Jr. Palm Bay, FL         03/11     H-D Electra Glide 5,073
               * * * Erwin is 65 years young on this ride! * * * 

Kennan Syverson   Brookfield, WI        09/10     H-D FLHTCUSE3     5,120

2010 Iron Butt 5000 Rally
John Coons                              08/10     BMW R1100RSL      5,671
Jim/Donna Phillips                      08/10     Honda Gold Wing   6,662
Chris Sakala                            08/10     BMW R1200RT       6,554
Jim Winterer                            08/10     Suzuki DL650      5,185
Mike Senty                              08/10     BMW R1150RT       5,185
Jim Abbott                              08/10     Triumph Trophy    5,455
Don Catterton                           08/10     BMW R1200GSA      5,507
Brian Johnson                           08/10     BMW K1200 LT      5,521
Greg Rice                               08/10     Honda Gold Wing   5,327
Michael Mehaffy                         08/10     Yamaha FJR1300    5,488
Kurt Dix                                08/10     Kawasaki Concours 5,757
Andy Kirby                              08/10     Honda ST1300A     5,705
Peter Behm                              08/10     Yamaha FJR1300    6,090
Corey Nuehring                          08/10     Yamaha FJR1300A   5,610
Mike Jackman                            08/10     Honda Gold Wing   5,038
Darrin Hicks                            08/10     H-D Electra Glide 5,575
Michael Boge                            08/10     Honda ST1300      5,108
Nels Gebben                             08/10     BMW K1200GT       5,150
Karl Snell                              08/10     BMW R1200GS       5,268
Kevin Lechner                           08/10     Honda ST1300A     5,170
George Barker                           08/10     Honda Gold Wing   5,044
Jack/Marlene Backer                     08/10     Honda Gold Wing   4,989
Robert Bolger                           08/10     Kawasaki Concours 5,106
Bryan Neagle                            08/10     Honda ST1300      5,119
Bobby Fox                               08/10     BMW R1200RT       5,123

Jim Mulcahy       Tulsa, OK             08/10  Yamaha FJR           5,148
Jack B. Shoalmire Broken Arrow, OK      08/10  BMW R1200RT          5,148

Joe Fisher        UNITED KINGDOM        07/10     H-D Electra Glide 5,220

Anthony Osborne   West Palm Beach, FL   07/10     Yamaha FJR        5,338
Steven Rolland    Franklin, WI          06/10     Victory Kingpin   5,020
Douglas von Roeder Irvine, CA           05/10     Honda GL1800      5,046
Robert Wilensky   Newtown, PA           05/10     Suzuki DL1000     5,045

David C. Bjork    Elgin, IL             05/10     Honda ST1300A     5,096

Howard Entman     Memphis, TN           05/10     Yamaha FJR1300    5,549
             * * * Howard is 66 years young on this ride! * * *

Tom Atkinson      Magnolia, TX          05/10     Honda GL1800      5,069

David Harper      Clermont, FL          04/10     Yamaha FJR1300    5,108
Jim Sullivan      Orlando, FL           04/10     BMW R1100RT       5,108

Kevin Sawatsky   Caddo Mills, TX        09/09     Kawasaki Voyager  5,008

Bob Tobitt        Stafford, TX          07/09     Yamaha Royal Star 5,390
Lonnie Dickens    Humble, TX            07/09     Victory Vision    5,390

Tim Masterson     San Marcos, TX        07/09     BMW Adventure     5,078
Bob Collin        Cumberland Foreside,ME06/09     BMW R1200RT       5,286

Motorcycle Tourer's Forum's 2009 Poker Run From Hell
Jeremy Loveall    Auburn, KY            06/09     BMW R1150RT       5,196
John M Stanforth  Wilmington, OH        06/09     BMW R1150RT       5,196
Richard Buber     Cocoa, FL             06/09     Honda Gold Wing   5,196
Greg Blewett      Franklin, KY          06/09     Honda Gold Wing   5,196

Lester Zutz       Slave Lake, AB CANADA 04/09     H-D Road Glide    5,068
             * * * Lester is 68 years young on this ride! * * *

Jack Backer       Monroe, SD            03/09     Honda GL1800      5,087
Doug Barrett (passenger)                03/09     Honda GL1800      5,087

Marc J. Levine    Lubbock, TX           03/09     Yamaha FJR1300    5,061
Christopher Ross  Lubbock, TX           03/09     BMW R1100RT       5,061
Jack B. Shoalmire Broken Arrow, OK      02/09     BMW R1200RT       5,446

Run What Ya Brung Rally
Dick Peek         Park City, UT         09/08    Yamaha FJR1300     6,346
Brian Roberts     Fernley, NV           09/08    Honda ST1300       6,192
Paul Peloquin     Monmouth, OR          09/08    Yamaha FJR1300     6,033
Nancy Oswald      Baltimore, MD         09/08    BMW R1200GS        5,955
John Jordan       Newport, WA           09/08    BMW R1150GS-ADV    5,921
Monte Leveaux     Sparks, NV            09/08    BMW K1200LT        5,765
Tammy Leveaux (passenger)               09/08    BMW K1200LT        5,765
Bob Torter        Big Sky, MT           09/08    BMW K1200GT        5,629
Sylvie Torter (passenger)               09/08    BMW K1200GT        5,629    
John G. Johnston  Westcliff, CO         09/08    Honda Gold Wing    5,602
Dennis Powell     Webster City, IA      09/08    Honda Gold Wing    5,481
John Langan       Martinez, CA          09/08    Honda Gold Wing    5,480
Gary Deitrick     Jerome, ID            09/08    Honda GL1800       5,200
Bill Vaughan      Kerrville, TX         09/08    Yamaha FJR1300     5,179
Larry Huber       Battlement Mesa, CO   09/08    BMW R1100GS        5,174
Pat Lane          Pine Grove, CA        09/08    H-D Ultra Classic  5,109
Steve Reinig      Marysville, WA        09/08    Honda ST1300       5,098
Jim Lawson        Lethbridge, AB        09/08    Yamaha GTS 1000    5,095
Jack Campbell     Littleton, CO         09/08    H-D Road King      5,094
Dave Porter       Rio Rancho, NM        09/08    Yamaha FJR1300     5,065
Peter Perrin      Torrance, CA          09/08    BMW R1200RT        5,009

Steve Short       Fair Grove, MO        08/08     Honda Gold Wing   5,383
Tom Atkinson      Magnolia, TX          06/08     Honda GL1500 SE   5,084
William P. Young  Carrollton, GA        05/08     Buell XB12XT      5,506
Ken Meese         Westminster, CA       04/08     BMW K1200GT       5,313

Charles P. Wilt   Flower Mound, TX      03/08     H-D Heritage      5,126

Thomas Coppedge   Marathon, FL          03/08     Honda Gold Wing   5,110

Jack Shoalmire    Broken Arrow, OK      05/07     BMW R1200RT       5,551
Brian K. Roberts  Fernley, NV           05/07     Suzuki V-Strom    5,127
E.B. Andresen     Newnan, GA            04/07     H-D Electra Glide 5,114

Dale Schmidt      Greenleaf, WI         09/06     H-D Ultra         5,082
Everette Klitzke  Menominee, MI         09/06     H-D Ultra Classic 5,082
James D. Plansky  Menominee, MI         09/06     H-D Electra Glide 5,082

Jack Shoalmire    Broken Arrow, OK      09/06     BMW R1200RT       5,902

Mike Senty        Grand Marais, MN      08/06     BMW R1150RT       5,057
Paul C. Sundet    Savage, MN            08/06     Honda VFR800      5,057
Chris Berg        Brooklyn Park, MN     08/06     Kawasaki Concours 5,057

David W. Nelson   Bloomington, MN       08/06     Honda Gold Wing   5,486

Eric Vaillancourt Oregon City, OR       08/06     Yamaha FJR        5,021


Mike Brockway     Jenks, OK             08/06     H-D FLHTCUI       5,133

Bob Wisness       Watford City, ND      07/06     Honda Gold Wing   5,128

Curt Gran         Pewaukee, WI          05/06     Honda ST1300A     5,186

Fletcher Clark    Ruleville, MS         03/06     BMW R1200RT       5,101
           * * * Fletcher is 65 years young on this ride! * * *

James Wilde       Gardner, KS           03/06     Ducati ST4        5,096

Charles Ginther   Coral Springs, FL     03/06  Kawasaki Concours    5,000+
           * * * Charles is 67 years young on this ride! * * *

Chuck Gittner     Port Orange, FL       03/06     BMW K1200LT       5,112
David Robb        Cincinnati, OH        08/05     H-D Road Glide    5,005

Harri Hjulgren    Turku, FINLAND        08/05     Triumph Tiger955i 5,070
Juha Vainionpaa   Alavus, FINLAND       08/05     Honda ST1100      5,070

Jorma Viemero     Uusikaupunki, FINLAND 07/05     BMW K75           5,097

Steven Broadhead  Calgery, AB CANADA    07/05     Honda ST1300      5,001
Tim Elliott       Princeton, IL         05/05     Triumph Sprint    5,131
Bob Elliot        Marietta, GA          05/05     H-D Road King     5,021
Robert Mulcahy    Tucson, AZ            04/05     H-D Road Glide    5,134
Scott Wilson      Fayetteville, GA      04/05     Honda ST1100      5,116

Mike Jackman      New Port Richie, FL   04/05     BMW K1200LT       5,187
Brian Fairbank    St Petersburg, FL     04/05     BMW K1200LT       5,187

Larry Buck        Boca Raton, FL        04/05     Kawasaki Concours 5,110

David C. Bjork    Elgin, IL             04/05     Honda ST1300      5,113
Tim Yow           Charleston, IL        04/05     Honda GL1800      5,113

Craig Moore       Newnan, GA            04/05     Honda GL1800      5,180
Mark Campbell     Newnan, GA            04/05     Honda GL1800      5,180

Robert Mueller    Pomona, CA            12/26/04  Suzuki V-Strom    5,096

Pete Williams     Davie, FL             10/30/04  H-D Ultra Classic 5,041
Steven Weston     Coral Springs, FL     10/30/04  H-D Ultra Classic 5,041

I. Ray West       Evansville, IN        10/04     BMW K1200LT       5,711

Charlie Walker    Denton, TX            10/16/04  H-D Road King     5,101
Bob Racine        Alta Loma, CA         10/04/04  Honda Gold Wing   5,824
J.F. Hickey       Rocky Point, NC       09/28/04  Honda GL1800      5,306

2004 Motorcycle Tourers Forum Run from Hell
Brett Donahue     Sauk Rapids, MN       08/16/04  H-D Sportster     5,130
Brian Ringey      Ferndale, MI          08/16/04  BMW K1200LT       5,130
Kenneth Allison   Tyler, TX             08/16/04  Yamaha Venture    5,130
Mike Phelps       Ellettsville, IN      08/16/04  Yamaha FJR1300    5,130
Scott Brown       Rocky Mount, NC       08/16/04  Honda ST1100      5,130
Dennis Powell     Webster City, IA      08/16/04  Honda Valkyrie    5,130
Kevin J. Lechner  Warner Robbins, GA    08/16/04  Honda ST1100      5,130
Randy L. Chom     Clinton Township, MI  08/16/04  BMW K1200LT       5,130
Bob Elliott       Atlanta, MI           08/16/04  Honda GL1800      5,130
Ollie Bingaman    Manteca, CA           08/16/04  Honda GL1800      5,130
Jack Dodds        Fort Lauderdale, FL   08/16/04  BMW R1150GS       5,130
         * * * Jack is 73 years young on this ride! * * *

Michel Geets      Haacht, BELGIUM       05/28/04  Yamaha XJ900      5,420

Donald Williams   Sterling, VA          05/16/04  BMW R1100RT       5,196
James E. Collins  Manassas, VA          05/16/04  Honda Gold Wing   5,196

John Langan       Martinez, CA          05/18/04  Honda GL1800      5,120

Jo Harvie         Innerkip, ON CANADA   05/03/04  Yamaha FJR1300    5,178
Jean-Pierre Wells QUEBEC                05/03/04  Yamaha FJR1300    5,178

Bob Bacon         El Cerrito, CA        04/21/04  BMW K1200LT       5,162
Jeff Mitchell     Lake Oswego, OR       04/21/04  BMW K1200LT       5,413
David Whitney     Virginia Beach, VA    04/19/04  Honda Valkyrie    5,054
Glenn Holland     Jacksonville, NC      04/19/04  H-D FLHT          5,717

Jeff Hallquist    Denver, PA            04/04/04  H-D Screaming Eag 5,203
Harry Knerr       Leesport, PA          04/04/04  H-D Road Glide    5,203

Tom Sperry        Hanford, CA           01/01/04  BMW K1200LT       5,196
Rosie Sperry (passenger)                01/01/04  BMW K1200LT       5,196

Raymond Deck      Port St. Lucie, FL    10/28/03  Honda Gold Wing   5,168
Walter P. Deck    Port St. Lucie, FL    10/28/03  BMW R1100RT       5,168

Heidi Weldon      Yuma, AZ              08/28/03  BMW K1100LT       5,249
Dick Peek         Park City, UT         05/22/03  BMW K100LT        5,144

John D. Jordan    Newport, WA           05/21/03  Honda VTX1800     5,187

MTF's Poker Run from Hell
Bob Elliott       Atlanta, MI           05/19/03  Honda GL1800      5,110
David Hinks       Lemont, IL            05/19/03  Kawasaki Concours 5,110
Dennis Powell     Webster City, IA      05/19/03  Honda Valkyrie    5,182
Randy L. Chom     Clinton Township, MI  05/19/03  H-D Ultra Classic 5,182
Bo Griffin        Prosper, TX           05/19/03  Kawasaki Concours 5,182
Doug Woodall      Gunter, TX            05/19/03  Honda GL1800      5,182

Coni Fitch        Bellevue, WA          05/15/03  BMW K1200LT       5,092
Chuck Farrah      Hermosa Beach, CA     03/12/03  BMW R1100GS       5,305

J.R. Hay          Vancouver, BC         03/12/03  BMW R1150GS       5,272
Bill Watt         Vancouver, BC         03/12/03  BMW R1150GS       5,272

Wally Nichols     Owings, MD            03/11/03  BMW K1200LT       5,311
Steven A. Hebert  Enterprise, AL        03/11/03  BMW R1100RT       5,078
Gary Schaefer     Enterprise, AL        03/10/03  H-D UltraClassic  5,078
Don Braziel       Burleson, TX          03/10/03  Honda GL1800      5,012
Joe Herrmann      San Ramon, CA         03/10/03  BMW K1200LT       5,369
Bill Wade         Flemington, NJ        03/10/03  BMW R1100RS       5,132
Michael Ledbetter Pendelton, OR         03/10/03  Yamaha Venture    5,308
Ron McNary        Orlando, FL           03/10/03  Honda GL1800      5,060
Art Garvin        Canton, OH            03/10/03  Honda GL1800      5,004
Jon David Power   Burlington, NC        03/10/03  Honda GL1800      5,249
Ulrich Hermeler   Enterprise, AL        03/10/03  BMW R1150RT       5,078
David C Mishalof  La Jolla, CA          03/10/03  BMW K1200RS       5,409
Bob Moore         Louisville, KY        03/10/03  Honda GL1800      5,292
Tom Loegering     Manhatten Beach, CA   03/10/03  BMW K1200LT       5,202

Richard Snyder    Williamstown, PA      08/26/02  BMW K100RS        5,139
Richard Buber     Walled Lake, MI       08/26/02  Honda Gold Wing   5,036

Billy Squier      Angier, NC            05/31/02  H-D FLHTCUI       5,157
Steve Brooks      Lafayette, CA         05/21/02  BMW K100RS        5,126

Ben Askew         Tomball, TX           05/19/02  Honda GL1800      5,196
Joseph Colquitt   Tuscaloosa, AL        05/19/02  BMW R1150GS       5,130
Andy Simons       Columbia, SC          05/19/02  Kawasaki Voyager  5,080
Vicki Johnston    Charleston, TN        04/23/02  BMW R1150RT       5,144
Don Arthur        McLean, VA            03/23/02  BMW K1200LT       5,113

Gerald W Pinckard Frierson, LA          09/12/01  Honda Gold Wing   5,149
Glenn K. Pancoast Lansing, MI           05/15/01  BMW K1100LT       5,100

2000 ButtLite 7000
Norm Grills       ButtLite 7000         09/01/00  BMW K1100LT       5,089
Robert Lyskowski  ButtLite 7000         09/01/00  H-D FLHT          5,014
Ed Phelps         ButtLite 7000         09/01/00  BMW K1100LT       5,064
Tom Loftus        ButtLite 7000         09/01/00  Honda ST1100      5,728
Kerry Church      ButtLite 7000         09/01/00  Honda ST1100      5,837
Gary Eagan        ButtLite 7000         09/01/00  Ducati ST4        5,751
Steve Smith       ButtLite 7000         09/01/00  BMW K1200LT       5,697
Don Sills         ButtLite 7000         09/01/00  Yamaha Venture    5,681
Howard Stueber    ButtLite 7000         09/01/00  Buell ST2         5,662
Asa McFadden      ButtLite 7000         09/01/00  BMW K1200LT       5,545
Bob Hall          ButtLite 7000         09/01/00  BMW R1100RT       5,501
Mark Kiecker      ButtLite 7000         09/01/00  Honda VFR900      5,404
Mike Hutsal       ButtLite 7000         09/01/00  Honda ST1100      5,342
Todd Witte        ButtLite 7000         09/01/00  H-D RoadGlide     5,342
Carol Youroski    ButtLite 7000         09/01/00  BMW R1150GS       5,253
Kevin Sickles     ButtLite 7000         09/01/00  Kawasaki Concours 5,251
Nels Gebben       ButtLite 7000         09/01/00  BMW K100RT        5,231
Bob Corio         ButtLite 7000         09/01/00  Kawasaki Concours 5,209
Tom Austin        ButtLite 7000         09/01/00  BMW K1200LT       5,126
Dan Stephans      ButtLite 7000         09/01/00  H-D ElectraGlide  5,073

June R. Boice     Chesapeake, VA        05/19/00  Honda Gold Wing   5,480
Glenn K. Pancoast Lansing, MI           05/09/00  BMW K1100LT       5,105
Maurice Donini    Bridgeport, CT        07/25/99  BMW K75RT         5,020
Eric Jewell       ButtLite 5000         07/05/99  BMW R1100RT       5,419 
Gary Parece       ButtLite 5000         07/05/99  Kawasaki Concours 5,512 
Richard Bernecker ButtLite 5000         07/05/99  BMW K1100RS       5,429 
Allen Dye         ButtLite 5000         07/05/99  BMW K1100RS       5,464 
Tom Austin        ButtLite 5000         07/05/99  BMW K1200LT       5,207 
Kerry Church      ButtLite 5000         07/05/99  Honda ST1100      5,971 
Rick Snyder       ButtLite 5000         07/05/99  BMW R100RS        5,200 
John Edewaard     ButtLite 5000         07/05/99  BMW R1100RT       5,052 
Nels Gebben       ButtLite 5000         07/05/99  BMW K100LT        5,128  
Rick Oswald       ButtLite 5000         07/05/99  H-D RoadGlide     5,000 
Dennis Boyce      ButtLite 5000         07/05/99  BMW K1200LT       5,053 
Richard Smith     ButtLite 5000         07/05/99  Honda Gold Wing   5,076
Terry Smith       ButtLite 5000         07/05/99  BMW R1100RT       5,037 
Mark Kiecker      ButtLite 5000         07/05/99  Yamaha Seca II    5,196 
Brent Bruns       ButtLite 5000         07/05/99  Honda Gold Wing   5,347
Don Sills         ButtLite 5000         07/05/99  H-D FLTR          5,001
Dennis Kesseler   ButtLite 5000         07/05/99  Triumph Tiger     5,138 
Joe Pasquarello   ButtLite 5000         07/05/99  BMW R1100RS       5,000
Mike Phelps       ButtLite 5000         07/05/99  Kawasaki Concours 5,086 
Joseph A. Ray     ButtLite 5000         07/05/99  Triumph Trident   5,054 
Douglas Holmes    ButtLite 5000         07/05/99  BMW K1100RS       5,160




---



250 CCCCCC Insanity (Coast to Coast to Coast to Coast to Coast to Coast in less than 250 hours!)

Name              Hometown            Date   Motorcycle       Route                   Miles

Steve Diederich   CA                  03/16  Honda Gold Wing SDO>JAX>SDO>JAX>SDO>JAX  11,865



---


200 CCCCC Insanity (Coast to Coast to Coast to Coast to Coast in less than 200 hours!)

Name              Hometown            Date   Motorcycle       Route

Anthony Osborne   West Palm Beach, FL 09/14  Yamaha FJR       JAX>SDO>JAX>SDO>JAX

Steve Short       Fairgrove, MO       03/09  Honda Gold Wing  JAX>SDO>JAX>SDO>JAX
Michael LaDue     Seattle, WA         03/03  Honda GL1800     SDO>JAX>SDO>JAX>SDO




---


150 CCCC  (Coast to Coast to Coast to Coast in less than 150 hours!)

Name              Hometown            Date   Motorcycle       Route

Senator Dave Zien Eau Claire, WI      07/09  H-D FXRT         SDO>JAX>SDO>JAX




---



CCC GOLD INSANITY (Coast to Coast to Coast in less than 100 hours!) otherwise 
                       known as 100ccc Insanity Gold:

Name              Hometown            Date   Motorcycle               Route

Carlos F. Caycedo Cape Coral, FL      04/19  Honda Gold Wing          JAX>SDO>JAX 

100ccc Insanity to benefit the Shriners Hospitals for Children
Cynthia Cox       Brookshire, TX      10/18  Can-Am Spyder RT Limited JAX>SDO>JAX 
Morris Cox        Brookshire, TX      10/18  Triumph Tiger Explorer   JAX>SDO>JAX 

Steve Wishard     Ponte Vedra, FL     04/18  BMW R1200RT              JAX>SDO>JAX

Allen Garrison    Fort Mill, SC       10/17  Yamaha FJR1300           JAX>SDO>JAX

Daniel Simmonds   Somerset, PA        09/17  Yamaha Super Tenere      NY > SF > NY
Harry Knerr       Leesport, PA        07/14  H-D Road Glide           NY > SF > NY!

Gary Johnson      Ossining, NY        06/00  Honda Gold Wing          NY > SF > NY!
Jim Frens         Nashua, NH          06/00  Honda Gold Wing          NY > SF > NY!




---



Around the Big Paddock - A lap of Australia via National Highway 1

Name              Hometown              Date   Motorcycle        Kilometers

Michael Morris    Melbourne, AUSTRALIA  06/19  BMW R1200RT       15,062
Lynne Morris (passenger)                06/19  BMW R1200RT       15,062

Peter Hogan       Australia             04/17  Yamaha FJR1300    15,105

Trevor Evans      AUSTRALIA             09/13  Honda ST1300      15,052


Australia Southern Cross INSANITY - Brisbane, Sydney, Melbourne, Perth, Alice 
   Springs and Darwin in 9 days - finishing same coast as started AND the
 the farthest east and western most points of Australia    

Name              Hometown              Date   Motorcycle        Kilometers

Rob Macpherson    Barden Ridge, NSW     05/17  BMW R1200GS-ADV   13,787

Peter Hogan       NSW, AUSTRALIA        08/11  Honda CBR1100XX   13,786K



---


Australia Southern Cross - Brisbane, Sydney, Melbourne, Perth, Alice 
   Springs and Darwin in 6 days!

This certification was originally named the Six Star Ride and was developed 
by FarRiders members Roadbandit and Davo

Name              Hometown              Date   Motorcycle        Kilometers

Trevor Evans      AUSTRALIA             04/13  Honda ST1300       9,713




---


Trans Australia Insanity (Byron Bay, NSW > Denham, WA > Byron Bay Australia):
Easternmost point of Australia to Westernmost point back to Eastermost in 6 days!

Name              Hometown              Date    Motorcycle        Kilometers

Rob Macpherson    Australia             04/16   BMW K1600GTL-E    10,223

Karl Pirchmoser   Dubbo, NSW AUSTRALIA  02/14   CFMoto 650TK      10,207k
Craig Harcombe                          02/14   CFMoto 650TK      10,207k

Davo Jones        Australia             08/07   Kawasaki GTR1400  10,367k




---


100ccc Insanity (Coast to Coast to Coast in less than 100 hours!):

Name              Hometown            Date   Motorcycle                 Route

Bill Karitis      Mt Pleasant, SC     09/21  H-D FLHTK                  SC >SDO > SC

Lance Henrichsen  Huntington Beach,CA 04/21  BMW S1000XR                LAX>DAYTONA>LAX

Steve Giffin      Millersville, PA    11/20  Yamaha FJR1300             JAX>SDO>JAX

Jon S. Meadows    Lafayette, IN       06/20  H-D Street FLHX Glide UltraJAX>SDO>JAX

Michael Presley   Arab, AL            05/20  Honda F6B                  JAX>SDO>JAX

Todd Moreland     Navarre, FL         03/20  H-D Road Glide Ultra       JAX>LAX>JAX

G. Lynn Nelson    Ivins, UT           05/20  H-D Ultra Limited          SDO>JAX>SDO

Kara Halverson    Rapid City, SD      04/19  BMW K1600GTL               SDO>JAX>SDO

Jeffrey Haire     Jacksonville, FL    04/18  H-D CVO Limited            JAX>SDO>JAX
Richmon Schumann  Cumming GA          04/18  KTM 1190 Adventure         JAX>SDO>JAX
Roy Kjendal       Deerfield, NH       03/18  BMW K1600GTL               JAX>SDO>JAX
Russell Janzan    Dania Beach, FL     03/18  H-D Road Glide Ultra       JAX>SDO>JAX

Charles Gatecliff Brighton, MI        04/17  H-D Ultra Limited          JAX>SDO>JAX
             * * * Charles is 79 years young on this ride! * * *

Scott Parish      Escondido, CA       04/17  BMW R1200GS Adventure      SDO>JAX>SDO
John Huval        Lafayette, LA       04/17  Honda GL1800               JAX>SDO>JAX
Kenneth W Andrews                     03/17  H-D Road Glide Special     JAX>SDO>JAX
Steve Snell                           03/17  Honda Gold Wing            GA >SDO>JAX
Matt Hube                             03/17  Honda Gold Wing            GA >SDO>JAX

Russel A. S. Janzan Dania Beach  FL   02/17  H-D Road Glide CVO         FL > SDO > FL
               * * * Russel is 72 years young on this ride! * * *

Michael Baker     Moseley, VA         10/16  BMW R1200GSA               JAX>SDO>JAX
Russel A. S. Janzan Dania Beach, FL   07/16  H-D Road Glide CVO         JAX>SDO> FL

Ricardo de Pena   Menlo Park, CA      05/16  Ducati Multistrada 1200S   CA >JAX> CA
Stacy Trotter     Buena Park, CA      05/16  Honda Gold Wing            L.A.>JAX>L.A.

Jim Clark         Locust Grove, GA    05/16  BMW R1200RT                JAX>SDO>JAX
             * * * Jim is 67 years young on this ride! * * *

Norman Lafleur    Grande Prairie,AB   04/16  Honda ST1300               SDO>JAX>SDO

William Buskell   Panama City Beach,FL04/16  H-D Road Glide             JAX>SDO>JAX
Rich Rulau        Rosenberg, TX       04/16  Yamaha FJR                 JAX>SDO>JAX
             * * * Rich is 69 years young on this ride! * * *

Danny C. Dossman  Belton, TX          11/15  H-D Ultra Classic Limited  JAX>LAX>JAX

Kevin Blevins     Robesonia, PA       10/15  H-D Ultra Classic          VA>SDO>JAX
John A. Forry Jr. Hershey, PA         10/15  H-D CVO Ultra              VA>SDO>JAX

Don Blake         Pensacola, FL       09/15  Honda Gold Wing 1800       JAX>SDO>JAX
             * * * Don is 84 years young on this ride! * * *

James Dyer        Taylors, SC         09/15  Victory Cross Country      JAX>SDO>JAX
Buddy Corbin      Cartersville, GA    07/15  BMW R1200RT                JAX>SDO>JAX

Stanley J. Miller Ames, IA            05/15  Honda Magna V65            JAX>SDO>JAX
Greg Fizer       Douglasville  GA     05/15  Honda Gold Wing            JAX>SDO>JAX

Ron Cain          Kingston, TN        09/14  Kawasaki Concours          JAX>SDO>JAX

Raymond Vallee    Clayton, NC         09/14  H-D Ultra Classic          JAX>SDO>JAX
Tom Richard       North Grafton, MA   09/14  BMW R1200RT                JAX>SDO>JAX

Gordon Jaap       Creston, BC CANADA  09/14  Honda Gold Wing            SDO>JAX>SDO
             * * * Gordon is 73 years young on this ride! * * * 

Edward Kuzikowski St. Albert, AB CAN  08/14  Honda Gold Wing            SDO>JAX>SDO
Danny Graham      Honolulu, HI        08/14  BMW R1200RT                SDO>JAX>SDO
             * * * Danny is 70 years young on this ride! * * * 

Jerry Allen       Hopkinsville, KY    08/14  Yamaha Road Star           JAX>SDO>JAX

John Huval        Lafayette, LA       06/14  Honda GL1800 Gold Wing     JAX>SDO>JAX
Nadine Huval (passenger)              06/14  Honda GL1800 Gold Wing     JAX>SDO>JAX

John C. Andruszka Sierra Vista, AZ    05/14  Yamaha FJR1300             SDO>JAX>SDO

Shane Mead        Topeka, KS          04/14  Honda Gold Wing            GA >SDO> GA

William Workman   Lexington, NC       03/14  Honda Gold Wing            JAX>SDO>JAX
Paul Bernasconi   Chapel Hill, NC     03/14  Suzuki Hayabusa            JAX>SDO>JAX

Motorcycle Tourers Forum 100 Coast to Coast to Coast
Martin Dietz      Largo, FL           03/14  BMW R1200GS                JAX>SDO>JAX
             * * * Martin is 69 years young on this ride! * * *
Wendell Phillips  Sanford, FL         03/14  Honda NT700V               JAX>SDO>JAX
             * * * Wendell is 70 years young on this ride! * * *

Paul Slaton       The Woodlands TX    03/14  Honda Gold Wing GL1800     JAX>SDO>JAX
Chris Comly       Willow Grove, PA    03/14  H-D Sportster              JAX>SDO>JAX

Galen Evans       Acworth, GA         10/13  Suzuki V-Strom DL650       JAX>SDO>JAX

Loren D. Crowe    Houston, TX         04/13  Yamaha FZ6                 SDO>JAX>SDO
Steve Mathews     Lone Tree, CO       04/13  Honda Gold Wing            SDO>JAX>SDO

Brian Walters     Sugar Land, TX      03/13  BMW R1200GS                JAX>SDO>JAX
Ken Aman          Wallkill, NY        03/13  Honda ST1300               JAX>SDO>JAX
Tim Masterson     San Marcos, TX      03/13  BMW R1200GS Adventure      JAX>SDO>JAX
Rony R. Baenziger Palm Coast, FL      11/12  BMW R1200GSA               FL >SDO> FL
Stevie Stubbs     Isle Of Palms, SC   10/12  BMW R1150RT                SC >SDO> SC
Lyle C. Monroe    Smyrna, TN          10/12  H-D Ultra Classic          JAX>SDO>JAX

Motorcycle Tourer's Forum 100ccc/50cc
Betsy Young       Carrollton, TX      03/12  BMW R1200RT                JAX>SDO>JAX
Dianne Fox        Frisco,TX           03/12  BMW R1200RT                JAX>SDO>JAX
Eric Chernin      Sarasota, FL        03/12  Honda ST1300               JAX>SDO>JAX
Greg Dennett      Wichita, KS         03/12  Honda ST1100               JAX>SDO>JAX
Richard Buber     Cocoa, FL           03/12  Honda ST1300               JAX>SDO>JAX
Russell Swett     Metamora, MI        03/12  Suzuki M109R FatTire CustomJAX>SDO>JAX
Shuey Wolfe       Niceville, FL       03/12  Honda ST1300               JAX>SDO>JAX

Russ Albright     Torrance, CA        03/12  Honda GL1800               LAX>JAX>LAX

Jerald Anderson   Fort Worth, TX      11/11  Suzuki GT750               SDO>JAX>SDO
          * * * A GT750 is a 1974 3 cylinder two stroke * * *

Roger Buis        Baker, FL           07/11  H-D Electra Glide          JAX>SDO>JAX
Ed Benson, Sr.    Charlotte, NC       07/11  H-D UltraLimited           SC >SDO> SC
Jeff Blackburn    Zeeland, MI         06/11  H-D FLT                    JAX>SDO>JAX
Jeff Scramlin     Durham, NC          06/11  H-D Road King              JAX>SDO>JAX

Peter Hogan       Australia           04/11  BMW R1200RT                LAX>JAX>LAX
      * * * First rider to complete 100ccc on two continents * * * 

Erwin Crampton Jr. Palm Bay, FL       03/11  H-D Electra Glide          JAX>SDO> FL
               * * * Erwin is 65 years young on this ride! * * * 

Mike Moorhouse    Oceanside, CA       04/11  H-D Electra Glide          SDO>JAX>SDO
Ken Smith         Alta Loma, CA       04/11  H-D Screaming Eagle        SDO>JAX>SDO

Burton Kennedy    Merritt Island, FL  03/11  H-D Electra Glide          JAX>SDO> FL

Ed Williams       Panama City, FL     03/11  Honda ST1300               JAX>SDO>JAX

Guy Pierce        High Point, NC      10/10  BMW K1200LT                GA>SDO> GA

Ross Walker       Wilmington, NC      10/10  Kawasaki Concours NC>SDO> NC
Roger Marconi     Gahanna, OH         10/10  Honda Gold Wing  JAX>SDO>JAX

Randy S. Joyce    Madison, NC         08/10  Honda Gold Wing  GA >SDO> GA
Daniel F. Wright  Stoneville, NC      08/10  Honda Gold Wing  GA >SDO> GA
Gene Barham       Summerfield, NC     08/10  Yamaha 1300      GA >SDO> GA
Richard D. Odom   Stokesdale, NC      08/10  H-D Ultra ClassicGA >SDO> GA

MTF Coast to Coast to Coast!
Arlen Brunsvold   Sheboygan, WI       05/10  H-D Road Glide   JAX>SDO>JAX
Bob Clement       Zion, IL            05/10  Honda ST1300     JAX>SDO>JAX
Daniel Lee        Port Orange, FL     05/10  Kawasaki ZG1000  JAX>SDO>JAX
David Bjork       Elgin, IL           05/10  Honda ST1300A    JAX>SDO>JAX
David Greenberg   South Orange, NJ    05/10  Honda GL1800A    JAX>SDO>JAX
David Hinks       Lemont, IL          05/10  Yamaha Venture   JAX>SDO>JAX
             * * * David is 70 years young on this ride! * * *
Dennis Archer     Plano, TX           05/10  H-D Road King    JAX>SDO>JAX
Howard Entman     Memphis, TN         05/10  Yamaha FJR1300   JAX>SDO>JAX
             * * * Howard is 66 years young on this ride! * * *
Joe Green         Lakeland, FL        05/10  Yamaha FJR1300   JAX>SDO>JAX
Lewis Stephens    Pasadena, TX        05/10  Honda GL1800     JAX>SDO>JAX
Michael Eddins    Oakboro, NC         05/10  Honda ST1300     JAX>SDO>JAX
Robert Wilensky   Newtown, PA         05/10  Suzuki DL1000    JAX>SDO>JAX
Tom Atkinson      Magnolia, TX        05/10  Honda GL1800     JAX>SDO>JAX
Douglas von Roeder Irvine, CA         05/10  Honda GL1800     SDO>JAX>SDO
Douglas Arnold    Phoenix, AZ         05/10  BMW R1150RT      SDO>JAX>SDO

James A. Bardin   Phoenix, AZ         04/10  Honda Gold Wing  SDO>JAX>SDO
David Harper      Clermont, FL        04/10  Yamaha FJR1300   FL>SDO>FL
Jim Sullivan      Orlando, FL         04/10  BMW R1100RT      FL>SDO>FL

Jon Good          San Diego, CA       03/10  BMW R1200RT      SDO>JAX>SDO

Jeff Hallquist    Denver, PA          02/10  H-D Road Glide   JAX>SDO>JAX
Harry Knerr       Leesport, PA        02/10  H-D Road Glide   JAX>SDO>JAX
Kerry P. Dibler   Mertztown, PA       02/10  H-D Road Glide   JAX>SDO>JAX

Gregg Lenentine   Virginia Beach, VA  10/09  Honda Gold Wing  JAX>SDO>JAX

Hoagy's Heroes 100ccc Insanity
Kirsten Talken-Spaulding              09/09  BMW R1200RT      JAX>SDO>JAX
Anthony Osborne   West Palm Beach, FL 09/09  Yamaha FJR1300   JAX>SDO>JAX
Wade Moorefield   Jacksonville, FL    09/09  Honda GL1800     JAX>SDO>JAX

Reinhardt Schuerger Santa Clarita, CA 07/09  H-D Road Glide   CA>JAX>CA

Joel Rappoport    Winstom-salem, NC   06/09  BMW R60/6        NC>SDO>JAX

Lester Zutz       Slave Lake,AB CANADA04/09  H-D Road Glide   SDO>JAX>SDO
             * * * Lester is 68 years young on this ride! * * *

Jack Backer       Monroe, SD          03/09  Honda GL1800     SDO>JAX>LA
Doug Barrett (passenger)              03/09  Honda GL1800     SDO>JAX>LA
Bill Thweatt      Harrisburg, NC      03/09  Honda ST1300     JAX>SDO>JAX
Jack B. Shoalmire Broken Arrow, OK    03/09  BMW R1200RT      JAX>SDO>JAX
Jack B. Shoalmire Broken Arrow, OK    02/09  BMW R1200RT      SDO>JAX>SDO
Bob Elliot        Marietta, GA        07/08  BMW R1200GS      JAX>SDO>JAX
Jeffrey S. Willis Haymarket, VA       05/08  BMW K1200GT      JAX>SDO>JAX
William P. Young  Carrollton, GA      05/08  Buell XB12XT     JAX>SDO>JAX
Nancy Oswald      Baltimore, MD       03/08  BMW R1200GS      JAX>SDO>JAX

Motorcycle Tourer's Forum IBA Party Ride-In
Bill Boklan       Port St Lucie, FL   03/08  Honda GL1800     JAX>SDO>JAX
Charles Wilt      Flower Mound, TX    03/08  H-D Heritage     JAX>SDO>JAX
David G. Hinks    Lemont, IL          03/08  Yamaha Venture   JAX>SDO>JAX
Gene A. Berger    West Berlin, NJ     03/08  H-D Ultra ClassicJAX>SDO>JAX
George R. Moore   Venice, FL          03/08  Honda Gold Wing  JAX>SDO>JAX
Gerald Roberts    AsH-Down, AR         03/08  Honda Gold Wing JAX>SDO>JAX
Greg Rice         Fort Lauderdale, FL 03/08  Honda GL1800     JAX>SDO>JAX
Gregg Burger      Oaklyn, NJ          03/08  H-D Ultra        JAX>SDO>JAX
James Connelly    Clarksville, TN     03/08  BMW R1200RT      JAX>SDO>JAX
Lewis Stephens, Jr. Pasadena, TX      03/08  BMW K1200LTC     JAX>SDO>JAX
Richard Buber     Cocoa, FL           03/08  Honda Gold Wing  JAX>SDO>JAX
Roger Berquist    Overland Park, KS   03/08  H-D Road Glide   JAX>SDO>JAX
Thomas Coppedge III Marathon, FL      03/08  Honda GL1800     JAX>SDO>JAX
Troy E. McCurrin  Lubbock, TX         03/08  Honda GL1800     JAX>SDO>JAX

Ben Askew         Tomball, TX         05/07  Honda Gold Wing  JAX>SDO>JAX
Joseph Colquitt   Tuscaloosa, AL      05/07  Honda Gold Wing  JAX>SDO>JAX
         * * * Joe is 66 years young on this ride! * * *

E.B. Andresen     Newnan, GA          04/07  H-D Electra GlideJAX>SDO>JAX

Jack Shoalmire    Broken Arrow, OK    09/06  BMW R1200RT      JAX>SDO>JAX
Kent Kidwell      Virginia Beach, VA  09/06  Yamaha FJR1300   JAX>SDO>JAX

Lou Alvarado      Chamblee, GA        06/06  H-D Ultra ClassicSAV>SDO>SAV
Sandra Petrakis (passenger)           06/06  H-D Ultra ClassicSAV>SDO>SAV

Curt Gran         Pewaukee, WI        06/06  Honda ST1300A    JAX>SDO>JAX

Thomas Southwood  Westfield, IN       09/06  Suzuki DL 650    JAX>SDO>JAX
Bruce Arnold      Miami Beach, FL     05/06  H-D Dyna Conv    JAX>SDO>JAX

Phil Jungels      North Aurora, IL    04/06  Honda Gold Wing  JAX>SDO>JAX
Gordon Campbell   Ottawa, IL          04/06  BMW K1200LT      JAX>SDO>JAX
Richard J. Brown Jr  Lanett, AL       04/06  Honda Gold Wing  JAX>SDO>JAX

Motorcycle Tourers Forum 100CCC East-West-East
Steve Short       Fair Grove, MO      03/06  Honda Gold Wing  JAX>SDO>JAX
Chuck Gittner     Port Orange, FL     03/06  BMW K1200LT      JAX>SDO>JAX
David J. Riley    Brookline, NH       03/06  Honda GL1800     JAX>SDO>JAX
Elven Hutcherson  Arkadelphia, AR     03/06  BMW K1200LT      JAX>SDO>JAX
Fletcher Clark    Ruleville, MS       03/06  BMW R1200RT      JAX>SDO>JAX
Greg Rice         Fort Lauderdale, FL 03/06  Honda GL1800     JAX>SDO>JAX
John W. McCain    Mahomet, IL         03/06  KawasakiConcours JAX>SDO>JAX
Kit Chunhawong    Alexandria, VA      03/06  Polaris Victory  JAX>SDO>JAX
Kevin J. Lechner  Warner Robins, GA   03/06  Honda ST1100     JAX>SDO>JAX
Randy Freyer      Seminole, FL        03/06  Honda GL1800     JAX>SDO>JAX
Richard Buber     Cocoa, FL           03/06  Honda Gold Wing  JAX>SDO>JAX
Richard W Workman Lehighton, PA       03/06  Honda ST1300     JAX>SDO>JAX

Mark Johansen     Lindenhurst, NY     05/05  H-D Ultra        JAX>SDO>JAX
Richard Brown     Farmington, NY      05/05  H-D Ultra        JAX>SDO>JAX

Motorcycle Tourers Forum 100CCC West-East-West
Tom Dale          Riverside, CA       04/05  H-D Heritage     SDO>JAX>SDO
Carl Stark        Sheridan, WY        04/05  Honda GL1800     SDO>JAX>SDO
David L. Hicks    Alta Loma, CA       04/05  Yamaha FJR1300   SDO>JAX>SDO
Gerald Stanfield  Laguna Hills, CA    04/05  Honda GL1800     SDO>JAX>SDO
Jack Fowler       Lancaster, CA       04/05  Honda Gold Wing  SDO>JAX>SDO
Michael Boge      Sandpoint, ID       04/05  BMW K1200LT      SDO>JAX>SDO
Robert Mulcahy    Tucson, AZ          04/05  H-D Road Glide   SDO>JAX>SDO

Motorcycle Tourers Forum 100CCC East-West-East
Verne Hauck       Millersville, PA    04/05  BMW R1150RT      JAX>SDO>JAX
Bill Boklan       Port St. Lucie, FL  04/05  H-D Ultra Classic JAX>SDO>JAX
Bill Loftin       McKinney, TX        04/05  Honda GL1800     JAX>SDO>JAX
Brian F. Fairbank St. Petersburg, FL  04/05  BMW K1200LT      JAX>SDO>JAX
Craig W. Moore    Newnan, GA          04/05  Honda GL1800     JAX>SDO>JAX
David C. Bjork    Elgin, IL           04/05  Honda ST1300A    JAX>SDO>JAX
Edward D Rowe III Fort Lauderdale, FL 04/05  H-D Road King    JAX>SDO>JAX
Gary W. Norton    Travelers Rest, SC  04/05  KawasakiConcours JAX>SDO>JAX
Greg Rice         Fort Lauderdale, FL 04/05  Honda GL1800     JAX>SDO>JAX
Jack Dodds        Fort Lauderdale, FL 04/05  Honda Gold Wing  JAX>SDO>JAX
James D. Culp     Johnson City, TN    04/05  Honda GL1500I    JAX>SDO>JAX
Jerry Riley       Afton, TN           04/05  Honda ST1100     JAX>SDO>JAX
Kevin J. Healey   West Palm Beach, FL 04/05  Triumph Trophy   JAX>SDO>JAX
Larry Buck        Boca Raton, FL      04/05  Kawasaki ZG1000  JAX>SDO>JAX
Mark Campbell     Newnan, GA          04/05  Honda GL1800     JAX>SDO>JAX
Mike Jackman      New Port Richey, FL 04/05  BMW K1200LT      JAX>SDO>JAX
Richard Buber     Cocoa, FL           04/05  Honda Gold Wing  JAX>SDO>JAX
Scott Wilson      Fayetteville, GA    04/05  Honda ST1100     JAX>SDO>JAX
Tim R. Yow        Charleston, IL      04/05  Honda Gold Wing  JAX>SDO>JAX

Donald Catterton  Severna Park, MD    03/05  BMW K1200LTC      SC>SDO>FL
Sean J. Gallagher Richmond, VA        03/05  BMW K1200LT      VA>SDO>JAX

Robert Mueller    Pomona, CA          12/04  Suzuki V-Strom   SDO>JAX>SDO
I. Ray West       Evansville, IN      10/04  BMW K1200LT      JAX>SDO>JAX

Jo Harvie         Innerkip, ON CANADA 05/04  Yamaha FJR1300   JAX>SDO>VA
Jean-Pierre Wells QUEBEC              05/04  Yamaha FJR1300   JAX>SDO>VA

Motorcycle Tourers Forum 100CCC West-East-West 
Bill Watt                             04/04  BMW R1150GS ADV  SDO>JAX>SDO
Ollie Bingaman                        04/04  Honda GL1800     SDO>JAX>SDO
John O. Cooper                        04/04  Honda GL1500SE   SDO>JAX>SDO
Jeff Mitchell     Lake Oswego, OR     04/04  BMW K1200LT      SDO>JAX>SDO

Motorcycle Tourers Forum 100CCC East-West-East
Scott Periard    Maine                04/04  Honda VFR        JAX>SDO>JAX
Peter W. Perkins Topsham, ME          04/04  Honda ST1300     JAX>SDO>JAX
Bruce Bjork                           04/04  Honda Magna V-65 JAX>SDO>JAX
David C. Bjork                        04/04  Honda ST1300     JAX>SDO>JAX
Martin Cook       New York, NY        04/04  BMW R1150RT      JAX>SDO>JAX
Ken Allison                           04/04  Yamaha Venture   JAX>SDO>JAX
June R. Boice                         04/04  Honda GL1500SE   JAX>SDO>JAX
Robert C. Elliot                      04/04  Honda GL1800     JAX>SDO>JAX
Randy L. Chom                         04/04  BMW K1200LT      JAX>SDO>JAX
Rick Neeley       Houston, TX         04/04  Honda GL1800     JAX>SDO>JAX
George Loudder                        04/04  BMW R1150RT      JAX>SDO>JAX
David V. Whitney  Virginia Beach, VA  04/04  Honda Valkyrie   JAX>SDO>JAX
Keith F. Oster                        04/04  Hon GL1800 Trike JAX>SDO>JAX
Chuck Wilkins                         04/04  BMW R1200C       JAX>SDO>JAX
Peter Leap        Marblehead, MA      04/04  Honda ST1300     JAX>SDO>JAX
Tony Hudson                           04/04  Honda GL1800     JAX>SDO>JAX
Dennis Powell     Webster City, IA    04/04  Honda Valkyrie   JAX>SDO>JAX
Charles L. Ginther                    04/04  Kawasaki ConcoursJAX>SDO>JAX
Doug Woodall                          04/04  Honda GL1800     JAX>SDO>JAX
Bob Bacon         El Cerrito, CA      04/04  BMW K1200LT      SDO>JAX>SDO
John W. Watson                        04/04  Honda Valkyrie   JAX>SDO>JAX
David G. Hinks                        04/04  Yamaha Venture   JAX>SDO>JAX
Glenn Holland                         04/04  H-D FLHT         JAX>SDO>JAX

David McDonald    Las Vegas, NV       03/04  Honda GL1800     SDO>JAX>SDO
Sean J. Gallagher  Richmond, VA       02/04  BMW K1200LT      VA >SDO>JAX

John M Stanforth  Wilmington, OH      02/04  BMW K1200LT      SDO>JAX>SDO
Jerry D. Runk Jr  Wilmington, OH      02/04  Kawasaki Vulcan  SDO>JAX>SDO

Tom Sperry        Hanford, CA         01/04  BMW K1200LT      SDO>SAF>SDO
Rosie Sperry (passenger)              01/04  BMW K1200LT      SDO>SAF>SDO

Raymond Deck      Port St. Lucie, FL  10/03  Honda Gold Wing  JAX>SDO>JAX
Walter P. Deck    Port St. Lucie, FL  10/03  BMW R1100RT      JAX>SDO>JAX

Randy Pate        Bakersfield, CA     09/03  Honda Gold Wing  LAX>JAX>LAX
Harold Smotherman Bakersfield, CA     09/03  Honda Gold Wing  LAX>JAX>LAX

Coni Fitch        Bellevue, WA        05/03  BMW K1200LT      SDO>JAX>SDO
Sean J. Gallagher Richmond, VA        03/03  H-D Road Glide   FL >SDO>JAX

March 2003 Motorcycle Tourers Forum Record Setting 100cc Insanity Florida Start
Rocky Brown       Ackworthe, GA       03/03  BMW K1200LT      JAX>SDO>JAX
Gary Schaefer     Enterprise, AL      03/03  H-D UltraClassic JAX>SDO>JAX
Michael Glass     New York, NY        03/03  Suzuki Hayabusa  JAX>SDO>JAX
Viktoria Juodenaite (passenger)       03/03  Suzuki Hayabusa  JAX>SDO>JAX
Gerald Roberts    AsH-Down, AR         03/03  Honda GL1800     JAX>SDO>JAX
Steven A. Hebert  Enterprise, AL      03/03  BMW R1100RT      JAX>SDO>JAX
Ulrich Hermeler   Enterprise, AL      03/03  BMW R1150RT      JAX>SDO>JAX
John Oravec       Denton, TX          03/03  Kawasaki ConcoursJAX>SDO>JAX
Will Allender     Woodland Park, CO   03/03  BMW R1150GS      JAX>SDO>JAX
David Hinks       Lemont, IL          03/03  Yamaha Venture   JAX>SDO>JAX
Jason Jonas       Irving, TX          03/03  BMW R1150GS      JAX>SDO>JAX
Wally Nichols     Owings, MD          03/03  BMW K1200LT      JAX>SDO>JAX
Bob Moore         Louisville, KY      03/03  Honda GL1800     JAX>SDO>JAX
Gregg Burger      Oaklyn, NJ          03/03  H-D Ultra ClassicJAX>SDO>JAX
Richard Buber     Walled Lake, MI     03/03  Honda Gold Wing  JAX>SDO>JAX
Jeff Miller       Plainville, KS      03/03  Honda Gold Wing  JAX>SDO>JAX
Alan Leduc        New Castle, IN      03/03  Honda GL1800     JAX>SDO>JAX
Art Garvin        Canton, OH          03/03  Honda GL1800     JAX>SDO>JAX
Bill Wade         Flemington, NJ      03/03  BMW R1100RS      JAX>SDO>JAX
Don Braziel       Burleson, TX        03/03  Honda GL1800     JAX>SDO>JAX
Charles M Huber   Lancaster, PA       03/03  H-D Road Glide   JAX>SDO>JAX

March 2003 Motorcycle Tourers Forum Record Setting 100cc Insanity California Start
Dave Bruischart   Centreville, MI     03/03  H-D Road King    SDO>JAX>SDO
Chuck Farrah      Hermosa Beach, CA   03/03  BMW R1100GS      SDO>JAX>SDO
Doug Chapman      Stayton, OR         03/03  Yamaha FJR1300   SDO>JAX>SDO
John Beck         Glendale, AZ        03/03  BMW R1150RT      SDO>JAX>SDO
Michael Ledbetter Pendelton, OR       03/03  Yamaha Venture   SDO>JAX>SDO
Lowell Vahl       Tempe, AZ           03/03  Kawasaki Voyager SDO>JAX>SDO
Michael Bobbitt   Davenport, WA       03/03  Honda GL1800     SDO>JAX>SDO
David C Mishalof  La Jolla, CA        03/03  BMW K1200RS      SDO>JAX>SDO
Michael J Berlien West Covina, CA     03/03  BMW R1150GS      SDO>JAX>SDO
Tom Loegering     Manhatten Beach, CA 03/03  BMW K1200LT      SDO>JAX>SDO
Bruce F. Harris   Burlington, NC      03/03  BMW K1200LT      SDO>JAX>SDO
Ron McNary        Orlando, FL         03/03  Honda GL1800     SDO>JAX>SDO
Joe Herrmann      San Ramon, CA       03/03  BMW K1200LT      SDO>JAX>SDO

James Hopstetter  Tampa, FL           09/02  BMW R1150RT      JAX>SDO>JAX
Billy Squier      Angier, NC          05/02  H-D FLHTCUI      NC >SDO>NC
Steve Brooks      Lafayette, CA       05/02  BMW K100RS       SFO>JAX>SDO

Motorcycle Tourers Forum 50CC/100CCC
Kent Ailes        Phoenix, AZ         05/02  Suzuki V-Strom   SDO>JAX>SDO
Tom Maiden        Chandler, AZ        05/02  Yamaha Road Star SDO>JAX>SDO

Andy Simons       Columbia, SC        05/02  Kawasaki Voyager JAX>SDO>JAX
Ben Askew         Tomball, TX         05/02  Honda GL1800     JAX>SDO>JAX
Joseph Colquitt   Tuscaloosa, AL      05/02  BMW R1150GS      JAX>SDO>JAX

Don Arthur        McLean, VA          03/02  BMW K1200LT      JAX>SDO>DC

Terry Tracy       Wind Lake, WI       12/01  Kawasaki Voyager JAX>SDO>JAX
Rick Legler       Ellettsville, IN    11/01  KawasakiConcours JAX>SDO>JAX
Steven McCarthy   Port Orange, FL     11/01  BMW R1150RT      JAX>SDO>JAX

Michael Ball      Smyrna, GA          10/01  Kawasaki ConcoursJAX>SDO>JAX
Harley McIntire   Columbus, GA        10/01  H-D DynaLowRider JAX>SDO>JAX

Daniel S. Cohen   Bronx, NY           10/01  BMW R1100RS      JAX>SDO>JAX
Vicki S Johnston  Charleston, TN      10/01  BMW R1150RT      JAX>SDO>JAX
Phil Mattson      Creston, IA         07/01  H-D FLHTCI       SDO>JAX>SDO
Jim Baird         Palm Bay, FL        05/01  H-D Road King    JAX>SDO>JAX
Richard O'Connor  Seattle, WA         04/01  BMW K1200LT      SDO>JAX>SDO
Sean J. Gallagher Richmond, VA        03/01  H-D Road Glide   JAX>SDO>JAX
Don Kulwicki      Mishawaka, IN       03/01  Honda Gold Wing  JAX>SDO>JAX
Fred Veator       Bonaire, GA         10/00  Triumph Trohy    SAF>SDO>SAF
Ervin J. Maye     Lexington, SC       06/00  Honda Gold Wing  JAX>SDO>JAX
Brian Hughes      Landover, MD        06/00  Honda Gold Wing  JAX>SDO>JAX
Michael Spengler  Portland, OR        06/00  Honda Gold Wing  SDO>JAX>SDO
Tom Loegering     Lawndale, CA        06/00  BMW R1100GS      LAX>NC >LAX
June R. Boice     Chesapeake, VA      05/00  Honda Gold Wing  VA >LAX>VA
Peter Haynes      Bancroft, Ontario   10/99  Honda Gold Wing  SAF>SDO>SAF
Lyndon Murray     Paris FRANCE        09/99  BMW R1100RT      SDO>JAX>SDO
Jerry D. Clemmons Gastonia, NC        09/99  Honda ST1100      SC>LAX>JAX
Tom Loegering     Lawndale, CA        07/99  BMW R1100GS      SDO>JAX>SDO
Richard A. Smith  Ft. Pierce, FL      05/99  Honda Gold Wing  JAX>SDO>JAX
Pauline Ralston   Ft. Pierce, FL      05/99  Hon PacificCoast JAX>SDO>JAX
Dennis Cunningham Fontana, CA         03/99  BMW K100RS       SDO>JAX>SDO
Don Damron        Elkhart, IN         02/99  Honda Shadow Ace JAX>SDO>JAX
Lee Myrah         Neepawa, Manitoba   02/99  Honda ST1100     JAX>SDO>JAX
Brad Dassonville  Glendale, AZ        11/98  Honda Gold Wing  SDO>JAX>SDO
Bryan Moody       Greensboro, NC      11/98  Kawasaki ConcoursJAX>SDO>JAX
Richard A. Smith  Vero Beach, FL      11/98  Honda Gold Wing  JAX>SDO>JAX
Will Lee          San Francisco, CA   11/98  H-D Road King    LAX>JAX>SDO
Donald G. Moses   Incline Village, CA 08/98  Honda Gold Wing  SFO>SAV>LAX
Tom Austin        Sacramento, CA      06/98  BMW R1100RT      SDO>JAX>SDO
John Laurenson, Jr. St. Augustine, FL 02/98  Yamaha FJ1200    JAX>SDO>JAX
Randell Hendricks Lewisville, TX      08/97  BMW K1100LT      JAX>SDO>JAX 



---


Western Australia End to End Gold 
(Albany, Western Australia to Wyndham, Western Australia in less than 48 hours):

Name              Hometown              Date      Motorcycle                   Mileage
   
Michael Turnpenny Stirling, SCOTLAND    06/19/14  Yamaha FJR1300A              2,460



---


Australia 150cccc Insanity GOLD (East Coast to West Coast to East Coast to West Coast in less than 150 hours!)

Name              Hometown           Date    Motorcycle       Route

Karl Pirchmoser   NSW, AUSTRALIA   08/01/13  Kawasaki GTR1400 NEWCASTLE>PERTH>NEWCASTLE>PERTH




---


Australia Crooked 100cccccc (Pacific Ocean to the Southern Ocean to the Timor Sea returning 
  to the Southern Ocean to the Pacific Ocean in less than 100 hours!)
  
PLEASE NOTE: THIS RIDE CERTIFICATION IS NO LONGER AVAILABLE
  
Peter Hogan      Australia           02/14   Yamaha Super Tenere   8,586k




---


Australia 100ccc Insanity Gold (West Coast to East Coast to West Coast in less than 100 hours!)

Name              Hometown           Date    Motorcycle       Route

Dan Simmonds      USA              02/04/19  BMW R1200GSA     BRISBANE>PERTH>BRISBANE

Martin Little     Australia        01/19/19  BMW R1200GSA     COOGE>PERTH>COOGE

Scott Macpherson  Australia        03/10/17  Honda F6B        COOGE>PERTH>COOGE
Olaf Moon         Australia        03/10/17  BMW R1200GS-ADV  COOGE>PERTH>COOGE
Rob Macpherson    Australia        03/10/17  BMW R1200GS-ADV  COOGE>PERTH>COOGE
Martin Little     Australia        03/10/17  BMW K1600GT      COOGE>PERTH>COOGE

Peter Hogan       Australia        08/01/16  BMW F800 GT-P    NEWCASTLE>PERTH>NEWCASTLE

Craig Harcombe    NSW, AUSTRALIA   10/06/13  Honda CBR250R!   NEWCASTLE>PERTH>NEWCASTLE

Peter Hogan       NSW, AUSTRALIA   05/14/13  Yamaha FJR1300   NEWCASTLE>PERTH>NEWCASTLE

Karl Pirchmoser   NSW, AUSTRALIA   03/15/13  Kawasaki GTR1400 NEWCASTLE>PERTH>NEWCASTLE

Peter Hogan       NSW, AUSTRALIA   09/29/10  Honda CBR1100XX  NEWCASTLE>PERTH>NEWCASTLE

Derrick Sutton    Australia        01/23/04  Kawasaki ZZR600  SYDNEY>PERTH>SYDNEY
John McCrindle    Australia        01/23/04  BMW R1150RT      SYDNEY>PERTH>SYDNEY



---




Australia 100ccc Insanity (South Coast to North Coast to South Coast in less than 100 hours!)

Name              Hometown              Date      Motorcycle                    Route

Michael Morris    Australia             06/21/17  BMW R1200RT                  Melbourne>Darwin>Melbourne
Lynne Morris (pillion)                  06/21/17  BMW R1200RT                  Melbourne>Darwin>Melbourne

Jeffrey Gebler    Australia             11/01/17  Yamaha Super Tenere          Melbourne>Darwin>Melbourne

Peter Hogan       NSW, AUSTRALIA        01/16/11  Honda CBR1100XX              TORQUAY>DARWIN>TORQUAY

Michael Crapp     NSW, AUSTRALIA        03/01/10  Kawasaki ZRX1200             COWES>DARWIN>COFFS HARBOUR




---



European Coast to Coast Insanity
Gibraltar to Nordkapp in 3 days! Northermost tip of mainland Europe reachable by road to Gibraltar
Note: this ride is administered by IBA Finland and has special documentation requirements - www.ibafinland.fi
      you must contact them for requiremenets AND verification.

Name             Hometown                Date      Motorcycle                Kilometers

Michael Turnpenny   Scotland, UK         08/06/16  Yamaha FJR1300A           3,592

Gordon Sears     Essex, UK               08/09/15  BMW R1200 GSA             3,000+
Michael Turnpenny  UK                    06/02/15  Triumph Explorer 1200 XC  5,819

Risto Liukkonen  Orivesi, FINLAND        06/22/06  Honda GL-1500             5,517
Kari Martikainen Jamsa, FINLAND          06/22/06  Yamaha FJR1300            5,517

Matti Lager      Tuusula, FINLAND        06/11/06  BMW R1100RT               5,438

Tapani Kurki     Naantali, FINLAND       07/04/05  Yamaha FJR1300            5,480
Eija Vaarala (passenger)                 07/04/05  Yamaha FJR1300            5,480

Jorma Vieremo    Uusikaupunki, FINLAND   06/20/04  BMW K750                  5,668
Asta Luotonen (passanger) Uusikaupunki   06/20/04  BMW K750                  5,668




---


USA South-East-West Insanity (Key West, Florida to Lubec, Maine to Homer, Alaska in 14 days)


Name              Hometown              Date      Motorcycle                   Mileage

Dan Leffert       Castle Rock, CO       07/01/13  H-D Ultra Limited            7,268




---



USA Billfish to Salmon GOLD (Key West, Florida to Blaine Washington)

Name              Hometown              Date      Motorcycle                   Mileage

David Uhl         Parker, CO            08/21     H-D Road Glide Limited       5,469

Anthony Osborne   West Palm Beach, FL   09/18     Yamaha FJR1300               3,671

Clive Brown       Sooke, BC CANADA      09/15     H-D Road Glide               3,578





---


Trans Canada GOLD Insanity (Vancouver, BC to Halifax, Nova Scotia and back under 150 hours):

Name              Hometown              Date   Motorcycle         Route

Thane R. Silliker London, Ontario CAN   07/04  Honda ST1100       HALIFAX>VANC>HALIFAX




---



Trans Canada GOLD (Vancouver, BC to Halifax, Nova Scotia under 75 hours) OR
                       (Prince Rupert, BC to Halifax, Nova Scotia 82 hours):

Name              Hometown              Date   Motorcycle         Route

Thomas Southwood  Wakefield, IN         07/17  H-D Road King      HALIFAX>VANCOUVER
Joanna Wojtowicz  Hicksville, NY        07/17  H-D Street Glide   HALIFAX>VANCOUVER

R. Bruce Thomas   Edmonton, AB CANADA   06/15  Honda ST1300A      HALIFAX>VANCOUVER
Norman Lafleur    Grande Prairie,AB CAN 06/15  Honda ST1300       HALIFAX>VANCOUVER

Anthony Osborne   West Palm Beach, FL   08/13  Yamaha FJR1300     HALIFAX>VANCOUVER

Gary McKibbon     Dryden, ON CANADA     06/11  Honda Gold Wing    HALIFAX>VANCOUVER
Sjef Vanderaa     NS, CANADA            08/10  Kawasaki Concours  HALIFAX>VANCOUVER
Tony Rupp         Salmon Arm, BC CANADA 07/10  BMW R1200GS        VANCOUVER>HALIFAX
Danny C. Dossman  Belton, TX            06/09  H-D Ultra Classic  HALIFAX>VANCOUVER

Sherri L. Pelican Bellingham, WA        07/07  Honda Interceptor  HALIFAX>VANCOUVER
David J. Morrow   Vancouver, BC, CANADA 07/07  Yamaha FJR         HALIFAX>VANCOUVER

Art Reitsma       Cobble Hill, BC       05/07  Honda ST1100       HALIFAX>VANCOUVER

Daniel Perreault  Vaudreuil, PQ, CANADA 07/05  Honda Gold Wing    HALIFAX>VANCOUVER
David J. Morrow   Vancouver, B.C. (CAN) 07/05  Yamaha FJR1300     HALIFAX>VANCOUVER
Patrick Horan     Edmonton, AB, CANADA  05/05  BMW K75            HALIFAX>VANCOUVER
Bill Watt         Vancouver, BC  CANADA 06/04  BMW R1150GS-ADV    VANCOUVER>HALIFAX

2004 Motorcycle Tourers Forum Trans Canadian GOLD
Dan Huber         Indian Head, MD       06/04  BMW R1100GS        HALIFAX>VANCOUVER
Will Allender     Woodland Park, CO     06/04  BMW R1150GS        HALIFAX>VANCOUVER
Dennis Powell     Webster City, IA      06/04  Honda Valkyrie     HALIFAX>VANCOUVER
Alan Leduc        New Castle, IN        06/04  Honda GL1800       HALIFAX>VANCOUVER
David Hinks       Lemont, IL            06/04  Yamaha Royal Star  HALIFAX>VANCOUVER

Serge Forget      St-Eustache, QUEBEC   06/04  Honda ST1100       HALIFAX>VANCOUVER
Tom Sayer         Marathon, FL          06/04  Honda Gold Wing    VANC>HALIFAX
Gary Ptolemy      Stittsville, ON CAN   05/04  Honda GL1800       HALIFAX>VANCOUVER
Jean-Pierre Wells St-Jean Sur Richelieu 08/03  Yamaha FJR1300     VANC>HALIFAX
Claude Lafond     Ste-Julie, QUEBEC     07/03  BMW R1150GS ADV    VANC>HALIFAX
Luc Gingras       Mont St.Gregoire, PQ  07/03  BMW R1150GS ADV    VANC>HALIFAX
Barry Dwyer       Vancouver, BC         05/03  BMW R80RT          VANC>HALIFAX
Daniel S. Cohen   Bronx, NY             08/02  BMW R1150GS        HALIFAX>VANC
Chris Filipowicz  Burlington, Ontario   06/02  BMW R1150RT        HALIFAX>VANC
Thane R. Silliker London, Ontario CAN   07/01  Honda ST1100       HALIFAX>VANC
Thane R. Silliker London, Ontario CAN   07/99  Honda ST1100       VANC>HALIFAX
Ed Phelps         Woodbine, MD          07/99  BMW K1100LT        VANC>HALIFAX
Bobb Todd         Owen Sound, Ontario   06/99  Honda ST1100       VANC>HALIFAX



---


Trans Canada Insanity (Vancouver, BC to Halifax, Nova Scotia and back in 8 days):

Name              Hometown              Date   Motorcycle         Route

Tim Cripps        Dartmouth, NS CANADA  09/06  Honda Gold Wign    HALIFAX>VANC>HALIFAX
Viv Cripps (passenger)                  09/06  Honda Gold Wign    HALIFAX>VANC>HALIFAX




---


Trans Canada Quest (Vancouver, BC to Halifax, Nova Scotia under 90 hours):

Name              Hometown              Date   Motorcycle                   Route

Brian Hooker      Okotoks, AB CANADA    08/21  Honda Gold Wing              VANCOUVER>HALIFAX

Mark W Keating    Guelph, ON CANADA     08/20  H-D Road King                HALIFAX>VANCOUVER

Karen Reid        Bowmanville, ON CANADA06/19  BMW F650GS Twin              HALIFAX>VANCOUVER 

Douglas S. Taylor Fairfield, CA         08/17  BMW R1200GSA                 VANCOUVER>HALIFAX
James A. Ross     Barrington, RI        08/17  BMW K75S                     VANCOUVER>HALIFAX
             * * * James is 69 years young on this ride! * * *

Clay Mellsen      Airdrie, AB CANADA    06/17  BMW R1200RT                  VANCOUVER>HALIFAX

Woodie Krugel     Roseburg, OR          06/17  Kawasaki Concours            HALIFAX>VANCOUVER
             * * * Woodie is 70 years young on this ride! * * * 

Marie-Claude Beaudoin Milton, ON CANADA 06/17  Yamaha V-Star 1100 Classic   HALIFAX>VANCOUVER

Peter Campbell    CANADA                08/16  Yamaha FJR1300               HALIFAX>VANCOUVER

Dave Cwi          Indianapolis, IN      08/16  BMW R1200RT                  HALIFAX>VANCOUVER
               * * * Dave is 70 years young on this ride! * * *

R. Bruce Thomas   Edmonton, AB CANADA   06/16  Honda ST1300A                VANCOUVER>HALIFAX
Norman Lafleur    Grande Prairie,AB CAN 06/16  Honda ST1300                 VANCOUVER>HALIFAX

Sjef Vanderaa     Truro, NS CANADA      10/15  Kawasaki Concours 1400       VANCOUVER>HALIFAX

Brian Bonenfant   Abbotsford, BC CANADA 08/14  BMW R1200RT                  VANCOUVER>HALIFAX

Michael J. Grant  Calgary, AB CANADA    07/13  Honda VFR800/1200            VANCOUVER>HALIFAX
Laurie Esseltine  Kingston, ON CANADA   07/13  Kawasaki Nomad               HALIFAX>VANCOUVER

Steve Snoen       Surrey, BC CANADA     08/12  Honda ST1100                 HALIFAX>VANCOUVER

Douglas J. Kyle   Regina, SK CANADA     07/12  Suzuki Boulevard M109R       VANCOUVER>HALIFAX

2012 Iron Ride for ALS
Hal G. Spelliscy  Kelowna, BC CANADA    06/12  Suzuki V-Strom 650 HALIFAX>VANCOUVER

Mike Freeman      Rocklin, CA           05/12  Honda Gold Wing    VANCOUVER>HALIFAX
Edward Kuzikowski St. Albert, AB CANADA 05/12  Honda Gold Wing    VANCOUVER>HALIFAX
Danny Graham      Honolulu, HI          05/12  BMW K1600GT        VANCOUVER>HALIFAX
             * * * Danny is 68 years young on this ride! * * *

Sheldon Dancer    Calgary, AB CANADA    06/11  Honda Gold Wing    VANCOUVER>HALIFAX
Mike Collinge     Calgary, AB CANADA    06/11  BMW K1300GT        VANCOUVER>HALIFAX
Nancy J. Hooper   Whitby, ON CANADA     06/10  Kawasaki Vulcan    HALIFAX>VANCOUVER

Bill Rauschenberg Upper Nyack, NY       08/05  BMW K1100RS        PRINCERUBERT>HALIFAX

Rick Miller       Baltimore, MD         07/05  Honda Gold Wing    HALIFAX>VANCOUVER
Jean Miller (pillion)                   07/05  Honda Gold Wing    HALIFAX>VANCOUVER

Tim Cripps        Truro, NS CANADA      08/04  Honda GL1800       VANCOUVER>HALIFAX
Vivian Cripps (pillion)  NS CANADA      08/04  Honda GL1800       VANCOUVER>HALIFAX

Kevin Healey      West Palm Beach, FL   06/04  Triumph Trophy     HALIFAX>VANCOUVER
Martin Cook       New City, NY          06/04  BMW R1150RT        HALIFAX>VANCOUVER

Jack Dodds        Fort Lauderdale, FL   06/04  BMW R1150GS        HALIFAX>VANCOUVER
         * * * Jack is 73 years young on this ride! * * *

Sherri L Pelican  Seattle, WA           06/04  Kawasaki Concours  VANC>HALIFAX
David J. Morrow   Vancouver, B.C. (CAN) 06/04  Kawasaki Concours  VANC>HALIFAX

LeRoy Pattison    B.C., CANADA          08/03  Honda Gold Wing    VANC>HALIFAX
Rob Owen          Surrey, BC CANADA     08/03  BMW R1100RT        VANC>HALIFAX

Robert Edgett     Fredericton,NB CANADA 05/03  BMW K1100LT        HALIFAX>VANCOUVER
David Prebble     Fredericton,NB CANADA 05/03  Kawasaki Concours  HALIFAX>VANCOUVER

Sean J. Gallagher Richmond, VA          09/02  BMW K1200LT        HALIFAX>VANCOUVER
Sean J. Gallagher Richmond, VA          09/00  H-D FLTCU          VANC>HALIFAX
Richard Smith     Ft. Pierce, FL        06/99  Honda Gold Wing    VANC>HALIFAX
Pauline Raulston  Ft. Pierce, FL        06/99  Honda PacificCoast VANC>HALIFAX



---


50cc Quest GOLD (Coast to Coast the hard way!):

Name              Hometown              Date      Motorcycle                 Route

Alex Alpert       Southborough, MA      07/31/21  H-D CVO Limited            CT > CA
Vicki Hill (pillion)                    07/31/21  H-D CVO Limited            CT > CA

Scott Ryer Evey   Discovery Bay, CA     08/28/20  H-D Ultra Limited          DAYTONA>SFO

Kevin Roche       Sparks, NV            05/30/19  BMW R1200GSA               SFO>NJ

Wayne T Heater    Flemington, NJ        05/23/19  H-D Ultra Limited CVO      NJ > LAX
Marilyn A Heater (pillion)              05/23/19  H-D Ultra Limited CVO      NJ > LAX
Pete Dalidowicz   Califon, NJ           05/23/19  Yamaha V Star 950          NJ > LAX

Robert Beck       Salunga, PA           08/21/18  BMW R1200GSA               CA > VA 

Felipe A. Salman Valdez   MEXICO        03/12/18  Yamaha Super Tenere        MEX>PHX>JAX

Matthew Leininger Decatur, IL           09/10/17  BMW R1200RT                NYC>SFO

Steve Gallant     Mansfield, MA         08/04/17  Honda ST1300A              NYC>SFO
Darrin Volk       Alexandria, VA        07/01/17  Triumph Tiger Explorer XC  NYC>SFO

Nicholas Wright   San Francisco, CA     04/01/17  BMW R1150RT                SFO> FL

Paul W. Meyer                           03/13/17  Triumph Trophy SE          REDDING CA>JAX

Not Superman Rally - 50CC Gold - NYC to SFO
Zac Rhoades       Bethel  VT            09/16/16  BMW R1200RT                NYC>SFO
Pablo Gonzalez-Gandolfi Woodinville WA  09/16/16  BMW R1200RT                NYC>SFO
Anthony Osborne   West Palm Beach FL    09/16/16  Yamaha FJR                 NYC>SFO
Brian Bonenfant   White Rock  BC        09/16/16  Triumph Trophy SE          NYC>SFO
Clive Brown       Sooke BC              09/16/16  H-D Road Glide Ultra       NYC>SFO
Daniel Wallander  Santa Fe  NM          09/16/16  Suzuki V-Strom             NYC>SFO
David Greenberg   South Orange  NJ      09/16/16  Honda Gold Wing GL1800A    NYC>SFO
Dominick Zappola  Andes NY              09/16/16  H-D Soft Tail FXSTC        NYC>SFO
Eric Edelman      Cicero  NY            09/16/16  Yamaha FJR                 NYC>SFO
James Epley       Fredericksburg  VA    09/16/16  Triumph Trophy             NYC>SFO
James Saul        Dunedin FL            09/16/16  Yamaha FJR                 NYC>SFO
Joe Green         Alva  FL              09/16/16  Yamaha FJR1300             NYC>SFO
John Schrum       Uxbridge  MA          09/16/16  BMW R1200GSA               NYC>SFO
John Strasser     Sugar Hill  NH        09/16/16  BMW K100RS                 NYC>SFO
Jon Weaver        Fairview  NC          09/16/16  Honda GL1800               NYC>SFO
Ken Aman          Wallkill  NY          09/16/16  Yamaha FJR1300             NYC>SFO
Marc Bialt        Pine Bush NY          09/16/16  BMW R1200RT                NYC>SFO
Martin Dietz      Largo FL              09/16/16  BMW K1300GT                NYC>SFO
Minna Case        West Dover  VT        09/16/16  BMW R1200GS                NYC>SFO
Roy Kjendal       Deerfield NH          09/16/16  BMW K1600GTL               NYC>SFO

George A. Wyman Memorial 50cc Gold 
Matt Wise         Rowlett TX            05/30/16  BMW R1200GS-Adventure      SFO>NY
Bruce Edwards     Purcellville, VA      05/30/16  H-D Ultra Limited          SFO>NY

Joe Majsak        White Plains, NY      07/03/15    BMW K1200LT              SFO>NYC

Ed Ritti          West Chester, PA      09/09/13  BMW R100RS                 NJ > LA
             * * * Ed is 67 years young on this ride! * * *

Steven McCaa      Burlingame, CA        06/07/13  Kawasaki Versys 650        SFO> NJ
Josh Mountain     Lexington Park, MD    06/28/12  Yamaha FJR1300             MD > CA

Tim Masterson     San Marcos, TX        05/16/12  BMW R1200GS Adventure      SFO>NYC

Brian D. Felice   Coventry, RI          06/06/11  Kawasaki 1400    NY >WA

Robert F. Reid    Germantown, MD        07/26/10  BMW R1100RT      MD >SDO

Gerd Muetze       Moritzburg, GERMANY   05/17/10  H-D FXCWC        WA > NJ

Davo              Queensland, AUSTRALIA 08/16/09  Kawasaki GTR1400 OR > SC

MTF 50cc GOLD New York to San Francisco!
Bruce F. Harris Jr. Burlington, NC      09/13/07  Honda GL1800A    NYC>SFO
Buford B Neely    Magee, MS             09/13/07  BMW R1200GSA     NYC>SFO
Chuck Gittner     Port Orange, FL       09/13/07  BMW K1200LT      NYC>SFO
David C. Bjork    Elgin, IL             09/13/07  Honda ST1300A    NYC>SFO
David G. Hinks    Lemont, IL            09/13/07  Yamaha FJR1300   NYC>SFO
Greg Rice         Fort Lauderdale, FL   09/13/07  Honda GL1800     NYC>SFO
Jack B. Shoalmire Broken Arrow, OK      09/13/07  BMW R1200RT      NYC>SFO
Jon David Power   Charlotte, NC         09/13/07  Honda ST1300     NYC>SFO
Kit Chunhawong    Alexandria, VA        09/13/07  BMW K1200LT      NYC>SFO
Terry E Watson    Charleston, IL        09/13/07  BMW R1200RT      NYC>SFO

Mark Wroblewski   Los Angeles, CA       07/28/07  H-D Ultra        LAX>NYC

Rachel Dwyer     Bellevue, WA           05/11/07  Ducati S2R       WA > MD

Michael Helmuth   Brooklyn, NY          05/05/07  Kawasaki ConcoursNYC>SFO

Bob Bacon         El Cerrito, CA        08/24/06  BMW K1200LT      SFO>SAV
John R. Arthur    Richlands, NC         06/09/06  H-D Deuce        NC > LAX

Terry Simpkins    Yorktown, VA          05/06/06  Honda Gold Wing  NC >SDO

Jack Shoalmire    Broken Arrow, OK      08/19/05  BMW K1200LT      SFO>NYC

Harry Knerr       Blandon, PA           06/11/05  H-D Road Glide   NY > SF
Jeff Hallquist    Denver, PA            06/11/05  H-D Road Glide   NY > SF

Sean J. Gallagher  Richmond, VA         03/05/05  BMW K1200LT      VA >SDO
Glenn Boglisch    Windsor Locks, CT     09/03/04  Boss Hoss        NJ >LAX
Peter Leap        Marblehead, MA        08/26/04  Honda ST1300     BOSTON>SDO
Charles Hyde      Cary, NC              08/11/04  Honda GL1800     NC >SFO
John C. Ryan      Succasunna, NJ        07/05/04  BMW K75          NYC>SFO
Rachel Dwyer      Bellevue, WA          05/20/04  Ducati Monster   WA > MD
Sean J. Gallagher Richmond, VA          02/28/04  BMW K1200LT      VA >SDO
Rex A. Leipheimer Belgrade, MT          01/31/04  H-D UltraClassic SDO>JAX

Ken Bays          Salem, OR             08/08/03  Honda ST1100     Seattle,WA > NYC
Roger Bays        Salem, OR             08/08/03  KawasakiConcours Seattle,WA > NYC

Peter A. Murray   Hackettstown, NJ      07/18/03  BMW K1200LT      NY >LA
Joseph Kuchinski  Bloomsbury, NJ        07/18/03  BMW R1150RT      NY >LA
David J. Derrick  New York, NY          07/18/03  BMW R1100RT      NY >LA

Tom Sperry        Hanford, CA           06/29/03  BMW K1200LT      SNF> GA VIA Cheyene, Wyoming!
Rosie Sperry (passenger)                06/29/03  BMW K1200LT      SNF> GA VIA Cheyene, Wyoming!

Andy Daniele      Matawan, NJ           04/10/03  Triumph Sprint   NY > SFO

John Parker       Reseda, CA            10/09/02  Honda ST1100     LA >NYC
Gary Stipe        Springfield, VA       07/17/02  BMW K1200LT      SDO> DC
Sean J. Gallagher Richmond, VA          07/16/02  BMW K1200LT      NY > SF+
Joe LaPosta       Virginia Beach, VA    06/25/02  BMW R1150RT      VA > SF
Gary Eagan        Salt Lake City, UT    05/04/02  Ducati ST4       SF > NY
Robert St. George Easthampton, MA       05/02/02  Honda Gold Wing  MAINE>OREGON
Rick Morrison     Albany, NY            04/13/02  BMW K1100LT      SF > NY
James A. Owen     Easton, PA            09/05/01  BMW R1100RT      NY > SF
Daniel S. Cohen   Bronx, NY             09/27/00  BMW R1100RS      NY > SF
Paul Meredith     Merrimack, NH         06/16/00  BMW K1200LT      MAINE> SF
Don Kulwicki      Mishawaka, IN         09/10/00  Honda Gold Wing  NY > LA
Todd Witte        York, PA              05/26/00  H-D Road Glide   NY > SF
Brent D. Ames     York, PA              05/26/00  BMW K75S         NY > SF
Bob Lyskowski     Manchester, NH        09/04/99  H-D FLHS         MAINE>CAL
Bill Newton       Huntington Beach, CA  09/15/97  Honda ST1100     WASHING>GA
Donald G. Moses   Incline Village, NV   06/08/97  Honda ST1100     SF > SAV,GA
Ken Hatton        Chicago, IL           09/10/96  Kawasaki ZX11    SF > NY
Robin Moser       Olympia, WA           06/17/96  BMW R1100GS      SF>NY
Ken Hatton        Chicago, Illinois     09/07/88  Honda Gold Wing  NY > SF
Fran Crane        California            06/09/88  BMW K100         NY > SF
Michael Kneebone  Illinois              05/20/88  BMW K100LT       NY > SF
George Egloff     NJ                    1982      Honda CBX        NY > SF
Tibar Sarossy                           08/28/69  BMW R69S         NY > LA

The following rides were completed in over 50 hours, however, given the year and lack of Interstates....
and in Baker's case, most of the roads were dirt!

Ted Penton                                  1966  H-D Sidecar              60 hours 49 minutes
Bill Cleaver (passenger)                    1966  H-D Sidecar              60 hours 49 minutes

Eldon Beers       Garner, IA            08/20/59  H-D Big Twin     NY > SF 56 hours 10 minutes
John Penton       Lorain, OH            06/08/59  BMW R69          NY > LA 52 hours 11 minutes

Fred Dauria                                1936   H-D Sidecar              69 hours 46 minutes
Bill Connelley (passenger)                 1936   H-D Sidecar              69 hours 46 minutes

Earl Robinson     Detroit, MI              1935   H-D 45 Sidecar   NY > LA 89 hours 84 minutes
Dot Robinson (passenger)                   1935   H-D 45 Sidecar   NY > LA 89 hours 84 minutes

Earl Robinson     Detroit, MI              1935   H-D 45 cubicinch NY > LA 77 hours 53 minutes

Wells Bennett                              1922   Excelisior       LA > NY  6 days 16 hours 13 minutes

Cannonball Baker                           1922                    LA > NY  6 days 22 hours 52 minutes
Alan Bedall                                1917                             7 days 16 hours 16 minutes

Effie Hotchkiss                            1915   H-D Sidecar      NYC>SFO>NYC!
  * * * First woman ocean to ocean! * * *

Cannonball Baker                         05/1914   Indian          SDO>NY  11 days 12 hours 10 minutes -
                                                                           mostly dirt roads!

Gertrude and LeRoy Snodgrass            05/1913   Henderson with sidecard SDO>NYC

Volney Davis                               1911   Indian

Louis Mueller                              1906   Indian
George Holden                              1906   Indian

George Wyman                         05/16/1903   California Marks 90cc   SFO>NYC
Started May 16th - finished July 6th 1903  51 days over mostly dirt roads and railroad beds!




---


The George A. Wyman Memorial Challenge - San Francisco to New York between May 16 and July 6
(Memorial 50cc Gold - SFO to NYC under 50 hours "The Hard Way")
(Memorial Grand Tour - SFO to NYC within 50 days, documenting Waypoints: 
Gold/140+, Silver/120+, Bronze/80+, Finisher 10+)

Name              Hometown              Start Date  Motorcycle        GAW Memorial Event

Thom Rieck        Rochester, MN         06/10/20    BMW F800GS        Memorial Grand Tour GOLD 140+ waypoints
Gary Huff         Springs, CO           05/26/18    BMW R1200RT       Memorial Grand Tour GOLD 150 waypoints
Joe Green         Crestview, FL         05/26/18    BMW R1200GS-ADV   Memorial Grand Tour SILVER 128 waypoints
Robert Rehkopf    Cordova, TN           05/26/18    BMW R1200RT       Memorial Grand Tour Bronze 105+ waypoints
John Huval        Layfayette, LA        05/26/18    BMW R1200RT       Memorial Grand Tour Bronze 110 waypoints
Nadine Huval (pillion)                  05/26/18    Honda Gold Wing   Memorial Grand Tour Bronze 110 waypoints
Doug Vance        Cordova, TN           05/26/18    H-D Ultra Limited Memorial Grand Tour Bronze 105 waypoints
Richard Worsham   Goshen, IN            05/26/18    Halycon 250!      Memorial Grand Tour

William Cumbie    Lindale, TX,          05/29/16    H-D Road Glide    Memorial Grand Tour GOLD 140+ waypoints
Dan Clark         San Antonio, TX       05/29/16    BMW K1600GTL      Memorial Grand Tour Bronze 112+ waypoints
Danny C. Dossman  Belton, TX            05/29/16    H-D Ultra Limited Memorial Grand Tour GOLD 140+ waypoints
Robert Stransky   Jessup, MD            05/29/16    BMW R1200GS       Memorial Grand Tour GOLD 140+ waypoints
John A. Graham    Melbourne, FL         05/29/16    H-D Road Glide    Memorial Grand Tour GOLD 140+ waypoints
Duncan Ragsdale   Memphis, TN           05/30/16    BMW R1200GS       Memorial Grand Tour
Krista K. Tutor (pillion)               05/30/16    BMW R1200GS       Memorial Grand Tour

Cliff Wall        TX                    05/29/16    Honda Gold Wing   Memorial Grand Tour GOLD 140+ waypoints
Howard Entman     St Augustine, FL      05/29/16    Yamaha FJR1300    Memorial Grand Tour GOLD 140+ waypoints

Joe Majsak        White Plains, NY      07/03/15    BMW K1200LT       Memorial 50cc Gold

Tim Masterson     San Marcos, TX        05/25/15    BMW R1200GSA      Memorial Grand Tour GOLD 140+ waypoints
Tim Masterson     San Marcos, TX        05/16/12    BMW R1200GSA      Memorial 50cc GOLD

George A. Wyman   Oakland, CA           05/16/1903  CMC Regular       1st Across America



---


Circumnavigation of the Black Sea

Name              Hometown              Date      Motorcycle     Kilometers/Days

Kazim Uzunoglu    Turkey                05/01/03  Honda Transalp    5,409  10
Ahmet Kabakci     Turkey                05/01/03  BMW R1150GSA      5,409  10
Vedat Oygur       Germany               05/01/03  BMW R1150 GSA     5,409  10
Adrian Johnson    Great Britain         05/01/03  BMW K1200RS       5,409  10
Ian Johnson       Great Britain         05/01/03  Honda CBR1100XX   5,409  10
Court Fisher      USA                   05/01/03  BMW R1150GS       5,409  10
Douglas Raymond   USA                   05/01/03  BMW F650          5,409  10
Henry Black       USA                   05/01/03  BMW R1150GSA      5,409  10
Joe Colquitt      USA                   05/01/03  BMW R1150GS       5,409  10
Paolo Volpara     Italy                 05/01/03  Aprilia CapoNord  5,409  10




---



Transanatolia - West to East Turkey in less than 24 hours

Name              Hometown              Date      Motorcycle        Kilometers

Paolo Volpara     Italy                 07/11/03  Aprilia CapoNord  1,890
Selim Demirel     Turkey                07/11/03  BMW R1150GSA      1,890
Alp Berker        Turkey                07/11/03  Aprilia CapoNord  1,890



---



Canada North South Challenge GOLD - Tuktoyaktuk, Northwest Territories to Point Pelee, Ontario

Name                Start     Motorcycle            Kilometers

Pat McCartin        06/11/19  Triumph Tiger 800     7,214




---



Canada North to South Challenge - Inuvik, Northwest Territories to Point Pelee, Ontario

Name                Start     Motorcycle            Kilometers

Steven Rolland      06/19/15  Victory Vision         7,065

Robert Munden       06/25/06  Honda Pacific Coast   12,312




---


USA East-West Insanity (Lubec, Maine to Homer, Alaska in 14 days)


Name              Hometown              Date      Motorcycle                   Mileage

Dan Larson        Prior Lake, MN        05/30/16  Victory Cross Country        4,880
Mark Cox          Prior Lake, MN        05/30/16  Victory Cross Country Tour   4,880

Gregor Moe        Buffalo, MN           07/01/13  Victory Vision               4,950
Dan Larson        Prior Lake, MN        07/01/13  Victory Cross Country        4,950





---


USA South-West Challenge (Key West, Florida to Homer, Alaska in 14 days)

Name              Hometown              Date      Motorcycle                   Mileage

Darlene Wigley    Lillian, AL           06/17     Honda Gold Wing Custom Trike 5,510
           * * * First woman to complete USA South-West Challenge * * *
Kenneth G. Welch  Cantonment, FL        06/17     Honda Gold Wing GL1800       5,510

Gregory L. Laird  Camas, WA             06/10     H-D Deuce                    8,873




---


Cape to Cape GOLD (Cape Mendocino to Cape Hatteras - 67 hours)
                    Coast to Coast the hard way!

Name              Hometown              Date      Motorcycle                   Mileage

David Uhl         Parker, CO            08/21     H-D Road Glide Limited       3,253

Tom Atkinson      Magnolia, TX          09/10     Honda Gold Wing              3,253


Tasmania-Darwin Express (Southport, Tasmania to Darwin, Northern Territory
in less than 72 hours:

Name              Hometown                Date    Motorcycle        Route

Trevor Evans      QLD, AUSTRALIA          09/12   Honda ST1100      4,125




---



Trans Australia Quest (Byron Bay, NSW > Denham, WA Australia):
Easternmost point of Australia to Westernmost point in 3 days

Davo creation and first ride story

Name              Hometown              Date      Motorcycle        Kilometres

Sebastian Wale    AUSTRALIA             08/17     BMW R1200GS       5,120

Frans Van Der Merwe   Australia         05/17     Honda CTX1300     5,004
Brian Crawford    Austalia              05/17     Yamaha FJR1300    5,004

Trevor Evans      QLD AUSTRALIA         01/11     Honda ST1100      5,087

Davo Jones        Australia             08/07     Kawasaki GTR1400  5,155




---


Cape to Cape 80 (Cape Mendocino to Cape Hatteras - 80 hours)
         via Saint Louis, MO, Denver, CO and Ely, NV

Name              Hometown              Date      Motorcycle        Mileage

Anthony Osborne   West Palm Beach, FL   07/01/19  Yamaha FJR        3,434

Ron Hanford       Redding, CA           09/04/06  BMW R1100RT       3,287
           * * * Ron is 71 years young on this ride! * * *



---



USA Sunrise to Sunset Insanity (East Port, Maine to La Push, Washington - 3 days)

Name              Hometown              Date      Motorcycle        Mileage

Anthony Osborne   West Palm Beach, FL   09/16     Yamaha FJR1300    3,670 Sunset to Sunrise

MTF Sunrise to Sunset Insanity
Bob Clement       Zion, IL              07/08     Buell Ulysses     3,500
David C. Bjork    Elgin, IL             07/08     Honda ST1300A     3,500
David G. Hinks    Lemont, IL            07/08     Yamaha FJR1300    3,500
Dennis Leroy Powell Webster City, IA    07/08     Honda Gold Wing   3,500
Doug James        Dallas, TX            07/08     Honda GL1800      3,500
Greg Blewett      Franklin, KY          07/08     Honda Gold Wing   3,500
Jack B. Shoalmire Broken Arrow, OK      07/08     Yamaha FJR1300    3,500
Jason Jonas       Bowling Green, KY     07/08     Honda ST1300A     3,500
Jeremy Andrew Loveall Auburn, KY        07/08     Buell Ulysses     3,500
Jerry Riley       Afton, TN             07/08     Honda ST1300PA    3,500
Jon David Power   Charlotte, NC         07/08     Honda ST1300A     3,500
Kevin Lechner     Warner Robins, GA     07/08     Honda ST1100A     3,500
Mike Senty        Grand Marais, MN      07/08     BMW R1150RT       3,500
Richard Buber     Cocoa, FL             07/08     BMW R1150RT       3,500
Rick Neeley       Sedalia, CO           07/08     Honda Gold Wing   3,500
Ronald Stazuk     Palos Hills, IL       07/08     Suzuki DL-1000    3,500
William Schneider Janesville, WI        07/08     Honda Gold Wing   3,500
 
Bill Watt         Vancouver, BC  CANADA 06/04     BMW R1150GS-ADV   3,738
Robert St. George Easthampton, MA       08/02     Honda Gold Wing   3,590




---


North America Sunrise to Sunset Insanity (Cape Spear, Newfoundland to Anchor Point, Alaska - 10 days)

Name              Hometown              Date      Motorcycle                    Mileage

Gary M McKibbon   Kenora, ON            06/24/17  Honda GL1800 Gold Wing        6,510



---



                 Latin America 100ccc Finishers
        (South America Coast to Coast to Coast in under 100 hours):
               (covering 4 countries and 5,300+ miles)

Name              Hometown                Date    Motorcycle                  Route

Bruno Oliveira Mazza Sao Paulo,SP BRAZIL12/25/13  Suzuki V-Strom DL650        BRAZIL>CHILE>BRAZIL 5,328k - 3,311m
Alessander Moraes Souto BRAZIL          12/25/13  Suzuki V-Strom DL1000       BRAZIL>CHILE>BRAZIL 5,328k - 3,311m




---



           Latin America 50cc GOLD Finishers 
       (South America Coast to Coast in under 50 hours):
(covering 4 countries and 1,700+ miles - similar distance USA version)

Name              Hometown                Date    Motorcycle        Route

Jose Matos        Alvorada, RS BRAZIL   12/25/13  Yamaha Tenere 250           BRAZIL>CHILE 2,664k - 1,655m
Bruno Oliveira Mazza Sao Paulo,SP BRAZIL12/25/13  Suzuki V-Strom DL650        BRAZIL>CHILE 2,664k - 1,655m
Alessander Moraes Souto BRAZIL          12/25/13  Suzuki V-Strom DL1000       BRAZIL>CHILE 2,664k - 1,655m


Tramandai (Atlantic Ocean) to Concon (Pacific Ocean) 2,840 kilometers - 1,760 miles.  
Beto Felix        BRASIL                02/10/02  BMW K1200LT    BRASIL>CHILE 2,840k - 1,760m
Fernando Cardoso  BRASIL                02/10/02  BMW R1100RT    BRASIL>CHILE 2,840k - 1,760m
Henrique Strehl   BRASIL                02/10/02  BMW R1150RT    BRASIL>CHILE 2,840k - 1,760m
Joao Dal Aqua     BRASIL                02/10/02  BMW R1150RT    BRASIL>CHILE 2,840k - 1,760m
John Andara       BRASIL                02/10/02  BMW K1200LT    BRASIL>CHILE 2,840k - 1,760m
Decio Kerr        BRASIL                02/10/02  BMW R1150GS    BRASIL>CHILE 2,840k - 1,760m
Rafael Pashoalin  BRASIL                02/10/02  BMW R1150R     BRASIL>CHILE 2,840k - 1,760m
Michael Kneebone  USA                   02/10/02  BMW R1150RT    BRASIL>CHILE 2,840k - 1,760m
Ron Ayres         USA                   02/10/02  BMW R1150RS    BRASIL>CHILE 2,840k - 1,760m
Alvaro Teixeira   BRASIL                02/10/02  BMW R1100RT    BRASIL>CHILE 2,840k - 1,760m



---


           Latin America 50cc GOLD Finishers 
       (South America Coast to Coast in under 50 hours):
(covering 4 countries and 3,000 kilometers miles via Chile, Bolivia and Brazil

Name              Hometown                Date    Motorcycle                    Route

Elias Lazcano Castro Filho  BRAZIL      05/04/18  Yamaha XVS 950 Midnight Star  Chile>BoliviaLatin America 50cc Finishers 
   (South America Coast to Coast 4 countries in under 50 hours):

Name              Hometown                Date    Motorcycle                  Route

Renato Machnievscz Curitiba, PR BRAZIL  01/07/17  Triumph Tiger Explorer      CHILE>BRASIL 2,185k - 1,358m
Luiz Carlos Balcewicz Curitiba,PR BRAZIL01/07/17  Triumph Tiger Explorer XC   CHILE>BRASIL 2,185k - 1,358m

Orlando Fernandes Lavina BRAZIL         12/27/11  Suzuki DL1000 V-Strom       BRAZIL>CHILE 2,430k - 1,510m
Monica Coelho Lavina (passenger)        12/27/11  Suzuki DL1000 V-Strom       BRAZIL>CHILE 2,430k - 1,510m
Valderlei Cirico  Joinville, SC BRAZIL  12/27/11  Suzuki Boulevard M-800      BRAZIL>CHILE 2,430k - 1,510m
Ketrin Cirico (passenger)               12/27/11  Suzuki Boulevard M-800      BRAZIL>CHILE 2,430k - 1,510m


Vina Del Mar, Chile (Pacific Ocean) to Rio Grande, Brasil (Atlantic Oceant) 2,350k - 1,459m
Joao R.P. Lopes   Santa Maria, BRASIL   03/16/06  Suzuki DL1000              CHILE>BRASIL
Jose Abrante                            03/16/06                             CHILE>BRASIL
Alcio L.E. Kurtz                        03/16/06                             CHILE>BRASIL



---



Latin America 30cc 1,500 mile - 2,500 kilometer version of 
     LA-50cc 3 countries and Coast to Coast in under 30 hours:

Name              Hometown                Date    Motorcycle        Route

Luiz T.M. VicentinBRASIL                11/11/03  BMW R1150GS ADV CHILE>BRASIL
Pedro Cobra Neto  BRASIL                11/11/03  BMW R1150GS ADV CHILE>BRASIL

Roberto Marshall  BRASIL                05/02/02  Cagiva Elefant  BRASIL>CHILE
Eduardo Kickhofel BRASIL                05/02/02  Yamaha XTZ750   BRASIL>CHILE
Luiz Aleixo       BRASIL                05/02/02  Kawasaki ZX-9R  BRASIL>CHILE
Diego Rosa        BRASIL                05/02/02  Yamaha YZF1000  BRASIL>CHILE




---


Australia Ends of the Earth Finishers (Cape York to Wilsons Promontory under 60 hours):

Name              Hometown               Date      Motorcycle                  Route

Karl Pirchmoser   Australia              05/18     Yamaha Super Tenere         York>Wilsons 4,226K




---


Australia Crooked 50cc Finishers (Newcastle to Port Augusta to Darwin under 50 hours):

PLEASE NOTE: THIS RIDE IS NO LONGER AVAILABLE

Name              Hometown               Date      Motorcycle                  Route

Peter Hogan       Australia              07/18     Honda Valkyrie              Newcastle>Port Augusta>Darwin

Peter Hogan       Australia              09/12     Yamaha FJR1300              Newcastle>Port Augusta>Darwin



---


Australia 50cc GOLD Finishers (Sydney/Brisbane to Perth (Fremantle) under 50 hours):

Name              Hometown               Date      Motorcycle                  Route

Troy Puglisi      Australia              05/17     Yamaha FJR1300              Sydney>Perth

Rob Macpherson    Barden Ridge, NSW      05/17     BMW R1200GS-ADV             Brisbane>Perth

Scott Macpherson  Australia              03/17     Honda F6B                   COOGE>PERTH
Olaf Moon         Australia              03/17     BMW R1200GS-Adventure       COOGE>PERTH
David Rolfe       Australia              03/17     H-D Heritage Softail        COOGE>PERTH
Martin Little     Australia              03/17     BMW K1600GT                 COOGE>PERTH
Rob Macpherson    Australia              03/17     BMW R1200GS-ADV             COOGE>PERTH

Peter Holloway    Australia              08/16     Honda Gold Wing GL1800A     Sydney>Perth

Fred Keyzer       Cranbourne,VIC AUSTRAL.03/12/16  Honda Gold Wing GL1800      Sydney>Perth
             * * * Fred is 68 years young on this ride! * * * 
David Armytage    Australia              03/16     Honda ST1300                Sydney>Perth
Karl Pirchmoser   Australia              03/16     Kawasaki GTR1400            Sydney>Perth

Martin Little     Australia              03/16     BMW K1600KT Sport           Sydney>Perth

Michael Morris    Australia              01/16     BMW R1200RT                 Sydney>Perth
Lynne Morris (pillion)                   01/16     BMW R1200RT                 Sydney>Perth

Glen Yeomans      Australia              11/15     Kawasaki ZX14               Sydney>Perth

Karl Pirchmoser   Australia              04/15     Yamaha YZF R15 149cc        Perth>Newcastle
                       * * * 3rd time on insanely small 149cc Yamaha! * * *

Ron Perry         Australia              10/14     Kawasaki ZRX1200S           Sydney>Perth
Peter Navin       Australia              10/14     BMW R1200RT                 Sydney>Perth

Karl Pirchmoser   Australia              05/14     Yamaha YZF R15 149cc        Coogee>Perth
                          * * * 2nd time on insanely small 149cc Yamaha! * * *

Michael Turnpenny Stirling, SCOTLAND     04/16/14  Yamaha FJR1300A           

Frans Van Der Merwe NSW, AUSTRALIA       02/13/14  Honda GL1800                Cooge Beach (Sydney)>Fremantle

Karl Pirchmoser   Dubbo E, NSW AUSTRALIA 11/15/13  Yamaha YZF R15 149cc        Newcastle>Perth
                          * * * 149cc Yamaha! * * *

Michael Turnpenny Stirling, SCOTLAND     06/07/13  Yamaha FJR1300A             Fremantle>Newcastle

Trevor Evans      AUSTRALIA              04/13     Honda ST1300                Fremantle>Coffs Harbour

Shane Cudlin      NSW, AUSTRALIA         03/03/13  Yamaha XTZ1200 Super Tenere Sydney>Fremantle
Annette Cudlin (passenger)               03/03/13  Yamaha XTZ1200 Super Tenere Sydney>Fremantle
John Inkson       NSW, AUSTRALIA         03/03/13  Kawasaki 1400GTR            Sydney>Fremantle

Michael Turnpenny Stirling, SCOTLAND     02/13/13  Yamaha FJR1300A             Newcastle>Fremantle

Karl Pirchmoser   Dubbo E, NSW AUSTRALIA 01/03/13  Kawasaki GTR1400            Newcastle>Fremantle
Craig Harcombe    Lambton,NSW AUSTRALIA  01/03/13  Yamaha Super Tenere XT1200Z Newcastle>Fremantle

Gregory Waldner   Canmore, AB CANADA     12/28/11  Yamaha FJR 1300             Fremantle>Coffs Harbour

Michael Crapp     BoambeeEast, AUSTRALIA 09/23/09  Kawasaki ZRX1200            Coffs Harbour>Perth

David H. Jones    Queensland, AUSTRALIA  01/13/06  Kawasaki GTR1000            Brisbane>Fremantle


Western Australia 50cc GOLD Finishers (Esperance>Wyndham under 50 hours):

Name              Hometown                 Date    Motorcycle                  Route

Dave Barwood      Toodyay, WA AUSTRALIA  03/07/14  Triumph Roadster            Esperance>Wyndham
Michael Turnpenny Stirling, SCOTLAND     03/07/14  Yamaha FJR1300A             Esperance>Wyndham




---


Australia 50cc GOLD EAST COAST Finishers 
  (Cooktown, Queensland to Warrmambool, Victoria via specialty route) under 50 hours):

Name              Hometown               Date      Motorcycle                  Route

Scott Macpherson  Austrlia               05/17     Honda F6B                   Warrnambool>Cooktown

Michael Morris    Austraia                         BMW R1200RT                 Warrnambool>Cooktown
Lynn Morris (pillion)                              BMW R1200RT                 Warrnambool>Cooktown

Karl Pirchmoser   Australia              03/16     Kawasaki GTR1400            Cooktown>Warrmambool




---


Australia 50cc North Finishers (Broome, Western Australia to Bowen, Queensland under 50 hours):

Name              Hometown               Date    Motorcycle                    Route

Roland Phillips   Australia              06/11   Kawasaki 1400GTR              Broome>Bowen



---


Australia 50cc Finishers (Melbourne to Darwin under 50 hours):

Name              Hometown               Date      Motorcycle       Route

Scott Macpherson  Australia              04/19     Honda F6B        MELBOURNE>DARWIN

Frans Van Der Merwe  Australia           05/17     Honda CTX1300    DARWIN>MELBOURNE
Rob Macpherson    Australia              05/17     BMW R1200GS-ADV  DARWIN>MELBOURNE
Brian Crawford    Australia              05/17     Yamaha FJR1300   DARWIN>MELBOURNE

David Armytage    Australia              03/16     Honda ST1300     DARWIN>TORQUAY
Karl Pirchmoser   Australia              03/16     Kawasaki GTR1400 DARWIN>TORQUAY

Craig Harcombe    Lambton,NSW AUSTRALIA  07/15     Honda CBR125R    MELBOURNE>DARWIN
       * * * smallest motorcycle to complete the Australia 50cc * * *

Craig Harcombe    Lambton,NSW AUSTRALIA  07/15     Honda ST1300A    MELBOURNE>DARWIN

Michael Morris    Australia              06/15     BMW R1200RT      MELBOURNE>DARWIN
Lynne Morris (pillion)  Australia        06/15     BMW R1200RT      MELBOURNE>DARWIN

Karl Pirchmoser   Australia              09/14     Yamaha YZF R15   MELBOURNE>DARWIN

Trevor Evans      Tanah Merah, AUSTRALIA 09/25/12  Honda ST1100     MELBOURNE>DARWIN

Margaret Peart    AUSTRALIA              11/14/11  BMW R1200GS      MELBOURNE>DARWIN
Michiel Kerkhof   BELGIUM                11/14/11  Yamaha S10       MELBOURNE>DARWIN

Derrick Sutton    Victoria, AUSTRALIA    11/07/03  Kawasaki ZZR600  MELBOURNE>DARWIN
Bill Thweatt      Plano, TX              11/07/03  BMW R1100GS      MELBOURNE>DARWIN
John McCrindle                           11/07/03  BMW R1150RT      MELBOURNE>DARWIN
Bernard Petherbridge                     11/07/03  Honda XLV1000    MELBOURNE>DARWIN

Smallest Motorcycle to complete the Australia 50cc: Craig Harcombe 07/15 Honda CBR125R 



---



Australia Centreline 24 Finishers (Port Augusta to Darwin under 24 hours 2,724km - 1,692 miles):

Name              Hometown                 Date    Motorcycle                   Route

Jeffrey Gebler    Australia              08/27/20  Yamaha Super Tenere          Port Augusta > Darwin

Scott Macpherson  Australia              04/08/19  Honda F6B                    Port Augusta > Darwin

Dan Simmonds      USA                    03/15/19  BMW R1200GSA                 Darwin>Port Augusta

Jeffrey Gebler    Australia              09/01/15  Yamaha Super Tenere          Port Augusta > Darwin
Craig Harcombe    Lambton, NSW AUSTRALIA 07/17/15  Honda ST1300A                Port Augusta>Darwin

Peter Hogan       Dangar, NSW AUSTRALIA  09/30/12  Yamaha FJR1300               Port Augusta>Darwin
Rodney S. Wilson  Fannie Bay,NT AUSTRALIA08/06/12  Honda ST1300                 Port Augusta>Darwin

David H. Jones    Queensland, AUSTRALIA  04/30/07  Kawasaki GTR1000             Port Augusta>Darwin




---



Australia CentreLine 36 Finishers (Port Augusta to Darwin under 36 hours 2,724km - 1,692 miles):

Name              Hometown                 Date    Motorcycle                   Route

Michael Morris    Australia              06/22/17  BMW R1200RT                  Darwin>Port Augusta
Lynne Morris (pillion)                   06/22/17  BMW R1200RT                  Darwin>Port Augusta

Frans Van Der Merwe  Australia           05/31/17  Honda CTX1300                Darwin>Port Augusta
Rob Macpherson    Australia              05/31/17  BMW R1200GS-Adventure        Darwin>Port Augusta
Brian Crawford    Australia              05/31/17  Yamaha FJR1300               Darwin>Port Augusta

David Armytage    Australia              03/xx/16  Honda ST1300                 Darwin>Port Augusta

Peter Navin       Australia              06/14/15  BMW R1200RT                  Darwin>Port Augusta
Jeffrey Gebler    Australia              06/09/15  Yamaha Super Tenere          Port Augusta > Darwin
Peter Navin       Australia              06/08/15  BMW R1200RT                  Port Augusta>Darwin

Karl Pirchmoser   Australia              09/14     Yamaha YZF R15               Port Augusta>Darwin - 149cc!

C.F. Jantjes      Yandina, QLD AUSTRALIA 06/22/14  H-D Road King                Darwin>Port Augusta
             * * * Cor is 66 years young on this ride! * * *

Henk Duson        Warradale,SA AUSTRALIA 06/06/14  Can-Am Spyder                Port Augusta>Darwin

Trevor Evans      Tanah Merah, QLD       09/30/11  Honda ST1100                 Port Augusta>Darwin



---




Historic US-50 Coast to Coast GOLD Finishers (CA to MD via US-50 3,073 miles less than 3 days):

Name              Hometown               Date     Motorcycle       Route

Thomas Southwood  Westfield, IN          08/14    H-D Road King    Ocean City > Sacramento

Bob St. George    Easthampton, MA        06/09    Yamaha FJR1300   Sacramento > Ocean City




---



Historic US-50 Coast to Coast Quest Finishers (CA to MD via US-50 3,073 miles less than 4 days):

Name              Hometown               Date     Motorcycle           Route

Martin Cover      Annapolis, MD          10/16/20 BMW K1600GTLE        Ocean City > Sacramento

Nick Byrnes       Linden, VA             09/12/20  Honda GL1800        Ocean City > Sacramento

Bill Nagle        Bethesda, MD           08/14    Honda Gold Wing      Sacramento > Ocean City

Teri Ligon        Fallon, NV             06/14    Kawasaki Ninja 250   Ocean City > Sacramento

Roman Panich      Skokie, IL             08/12    H-D Heritage         Ocean City > Sacramento




---



50cc Quest Finishers (Coast to Coast in under 50 hours):

Name              Hometown               Date     Motorcycle                  Route

Jeff Chauncey     Ocala, FL             07/24/21  H-D Road Glide Special      JAX>SDO
Don Drasheff, Jr. Montverde, FL         07/24/21  H-D Pan America Special     JAX>SDO

Jeffrey McLawhorn Winterville, NC       07/14/21  H-D Street Glide            JAX>SDO 
Craig Hernandez   Greenville, NC        07/14/21  H-D Road Glide              JAX>SDO 
             * * * Craig is 67 years young on this ride! * * * 
Mike Fincher      Winterville, NC       07/14/21  H-D Road Glide              JAX>SDO 
             * * * Mike is 69 years young on this ride! * * * 

Nichole L. Meuse  Hardwick, NJ          07/11/21  BMW GS-Adventure            NC > LAX

Brian Avery       Gilbert, AZ           06/30/21  Honda Gold Wing 1500        JAX>SDO 

Robert N. Loomas  Arvada, CO            05/23/21  Honda Gold Wing GL1800      JAX>SDO 
Jim Casey         Arvada, CO            05/23/21  Honda Gold Wing Tour DCT    JAX>SDO 
             * * * Jim is 66 years young on this ride! * * * 

Jeffrey Hamberg   Orange, MA            05/10/21  BMW K1600 Grand America     JAX>SDO 

Troy Roberts      Broomfield, CO        05/09/21  H-D Ultra Limited           JAX>SDO

Philip R. Grove   Reno, NV              05/24/21  H-D Road Glide              SDO>JAX
             * * * Philip is 78 years young on this ride! * * *

Douglas R. Laird  Reno, NV              05/22/21  BMW GSA                     JAX>SDO 
             * * * Douglas is 79 years young on this ride! * * * 

Rob Griffith      Deatsville, AL        05/22/21  H-D Road King               JAX>SDO

Stephen D. Day    Palm Harbor, FL       04/29/21  BMW R1200GSA                JAX>SDO 

Gene Kicenski    Blanchard, OK          04/28/21  Honda CTX1300               LA>SAV
               * * * Gene is 75 years young on this ride! * * *

Doni Holcomb      Newnan, GA            04/21/21  Honda Gold Wing             JAX>SDO

Leonard York      Beaverton, OR         04/24/21  Honda GL1800                SDO>JAX
Cindy Goewey (pillion)                  04/24/21  Honda GL1800                SDO>JAX

Derek Swartz      Knoxville, TN         03/23/21  BMW K1600GT                 JAX>SDO 

Bradley H. Thomas Bend, OR              03/21/21  H-D Road Glide              SDO>JAX
Vicky J. Vuarnet (pillion)              03/21/21  H-D Road Glide              SDO>JAX

David Kendall     San Antonio, TX       03/19/21  BMW GSA                     JAX>SDO 

George Mowry      Squaw Valley, CA      03/05/21  Yamaha FJR1300ES            L.A.>JAX 

Aniruddha Vivek Bhat  Dallas, TX        03/27/21  BMW K1600GTL                SDO>JAX

David J. Gillihan Fort Worth, TX        11/03/20  BMW R1200GS                 JAX>SDO 

Richard Hagerty   Tijeras, NM           11/21/20  Honda ST1300                NPB>JAX
Jon Joyce         Rio Rancho, NM        11/21/20  H-D Ultra Limited           NPB>JAX

Christian Rasmussen     Charlotte, NC   11/15/20  BMW R1200GSA                MYR>SDO
Roy Kjendal       Deerfield NH          11/15/20  BMW K1600GTL                MYR>SDO
                 * * * Roy is 71 years young on this ride! * * * 

Curtis R. Cash    Raleigh, NC           10/12/20  BMW K1600B                  SC >SDO 

David M Uhl       Parker  CO            10/10/20  H-D Street Glide CVO        LAX>NC

David Morton      Coon Rapids MN        10/12/20  Yamaha FJR1300              JAX>SDO

David R. Adams    Alpine, UT            09/24/20  H-D Ultra Classic           SDO>JAX 

50CC Diaper Run 2020 - Mission: M25 
Kenny Waldrop     Navarre, FL           09/17/20  H-D Ultra                   SDO> SC 
Alan T. Atkins    Richfield, UT         09/17/20  H-D Electra Glide Limited   SDO> SC 
Morris Smith      Florence, SC          09/17/20  H-D Electra Glide Custom    SDO> SC 

Chris Rasmussen   Charlotte, NC         07/13/20  BMW R1200GSA                SDO>NC
                        * * * Chris is 70 years young on this ride! * * *  

Roy Kjendal       Deerfield NH           07/11/20  BMW K1600GTL               NC>SDO
                 * * * Roy is 71 years young on this ride! * * *

August R. Binder  Bath, PA              06/21/20  Indian Springfield          JAX>SDO 
Doug Edmondson    Valley, AL            06/18/20  H-D Road Glide Ultra        NC>LAX
Michael Presley   Arab, AL              05/11/20  Honda F6B                   JAX>SDO
Jeff A. Christie  Carson, CA            05/01/20  Honda Africa Twin           L.A.>JAX 
Scott Ryer Evey   Discovery Bay, CA     02/23/20  H-D Road Glide Limited      SDO>JAX
Andrew Roy        Dahlonega, GA         12/07/19  Yamaha FJR1300              JAX>SDO
Manoj Nayak       Lawton, OK            10/26/19  BMW R1200RT                 JAX>SDO 

Alessandro Fortes Lake Worth, FL        10/02/19  H-D Ultra Glide             L.A.>JAX 
Marcelo Juchem    Lake Worth, FL        10/02/19  H-D Ultra Glide             L.A.>JAX 
Newton D´Avila Jr. Lake Worth, FL       10/02/19  H-D Ultra Glide             L.A.>JAX 

Jason Webb        Albuquerque, NM       10/02/19  Yamaha FJR1300ES            SDO>JAX

Derek Mitchell    Roanoke, VA           09/30/19  Honda Gold Wing GL1800      JAX>SDO
Anthony Scott     Blacksburg, VA        09/30/19  Honda Gold Wing GL1800      JAX>SDO

Jaimie Wright     West Palm Beach, FL   09/21/19  BMW K1200LT                 JAX>SDO

50CC Diaper Run 2019 - Mission: M25 
Jason Cook        Conway, SC            09/12/19  H-D FLHTR                   SDO> SC 
Vernie R. Batten  Conway, SC            09/12/19  H-D Ultra Limited           SDO> SC 

Ahmed Elnawawi    UAE (USA ride)        09/11/19  H-D Ultra Limited           SDO>JAX

Timothy Tech      Colorado Springs, CO  08/01/19  2013 Honda Gold Wing        SDO>JAX 

Alexander Schmidt Phoenix, AZ           07/25/19  Kawasaki Concours 14        LAX>JAX
Nelson Delgado    San Antonio, TX       07/25/19  Yamaha FJR1300              LAX>JAX

Mike Beidler      St Joseph, MI         06/18/19  Victory Cross Country Tour  JAX>SDO
Randy Miller      Mobile, AL            06/15/19  H-D Ultra Classic           JAX>SDO 

Dan Gilbert       Midland, ON CANADA    06/10/19  Honda Gold Wing             JAX>SDO 
             * * * Dan is 68 years young on this ride! * * * 
Rick Sadler       Oak Ridge, NC         06/10/19  Honda Gold Wing             JAX>SDO 
             * * * Rick is 66 years young on this ride! * * * 

Jake Nelson      Wheat Ridge, CO        06/08/19  Honda Gold Wing             CA >JAX 
             * * * Jake is 66 years young on this ride! * * * 

David H. Hay      Overgaard, AZ         06/01/19  Honda Gold Wing             SDO>JAX
                  * * * David is 65 years young on this ride! * * *
John F Garza      Peoria, AZ            06/01/19  Honda Gold Wing             SDO>JAX
                  * * * Jpohn is 65 years young on this ride! * * *

Monty Moore       Hartford, KY          05/26/19  H-D Electra Glide Ultra Ltd.JAX>SDO 
Darrell Moore     Beaver Dam, KY        05/26/19  Honda Gold Wing Trike       JAX>SDO 
             * * * Darrell is 71 years young on this ride! * * * 

Jerry Gilbert     Tucson, AZ            05/23/19  Kawasaki Concours           SDO>JAX

Steven M Becker   Sylacauga, AL         05/20/19  Honda ST1300                JAX>SDO

Steve Baker       Salina, KS            05/20/19  H-D Street Glide            SDO>JAX 
Greg Larsen       Salina, KS            05/20/19  H-D Limited                 SDO>JAX 

Gary G. Butler    Punta Gorda, FL       05/17/19  BMW R1200GS Adventure       JAX>SDO 
Scott Durham      Beech Mountain, NC    05/14/19  H-D Ultra Limited           JAX>SDO
Dave Vance        Mesa, AZ              05/04/19  BMW K1600B Grand America    SDO>JAX 
David Burkel Jr.  Frazee, MN            05/04/19  BMW GS Adventure            SDO>JAX 
Don Later         Burlington, WI        05/01/19  Yamaha FJR1300              SDO>JAX 
   
Jimmy H. Williams Amarillo, TX          04/28/19  H-D Road Glide              SDO>JAX 
             * * * Jimmy is 66 years young on this ride! * * * 

Lionel L Ramos    Falls Church, VA      04/25/19  H-D Road Glide Ultra CVO    LA >VIRGNIA
Doug Vance        Cordova, TN           04/20/19  H-D Ultra Limited           JAX>SDO

Maximilian Guillen Davie, FL            04/18/19  H-D Ultra Limited           JAX>SDO 
Jamie Jordan      Harriman, TN          04/14/19  Honda VTX1800               JAX>SDO 
Skip Curtis       Woodstock, GA         04/13/19  Honda ST1300                JAX>SDO 
Todd Moreland     Navarre, FL           04/06/19  H-D Switchback              JAX>SDO
Scott Durham      Alexander City, AL    04/02/19  H-D Ultra Limited           JAX>SDO

Ben Ernst         Azle, TX              03/18/19  BMW K1600GTL                SDO>JAX 
John E. Anderson  Peyton, CO            03/18/19  H-D Electra Glide           SDO>JAX 

Randy A. Adams    Moravia, NY           03/12/19  Honda Gold Wing 1800        JAX>SDO 
             * * * Randy is 67 years young on this ride! * * * 

Glenn Royal       Seabrook, TX          03/10/19  BMW R1250RT                 SDO>JAX

Abhinay Eswarappa Los Angeles, CA       10/27/18  Kawasaki H2 SX SE           JAX>L.A. 

Cynthia Cox       Brookshire, TX        10/26/18  Can-Am Spyder RT Limited    JAX>SDO 
Morris Cox        Brookshire, TX        10/26/18  Triumph Tiger Explorer 1200 JAX>SDO 

Gary W. Ballou    Columbus, OH          09/22/18  Honda Gold Wing Lehman TrikeJAX>SDO 
Dan Thaler        Deerfield Beach, FL   09/20/18  BMW R1200RT                 JAX>SDO
Richard Swenson   Hemingway SC          09/19/18  Honda Gold Wing             MYR>LAX

Kevin Chapman     Royal Palm Beach, FL  09/15/18  H-D Limited                 JAX>SDO 
Dennis Virostko   Jupiter, FL           09/15/18  H-D Springer Softail FXSTS  JAX>SDO 
Bill Vander Werf  Royal Palm Beach, FL  09/15/18  H-D Street Glide Special    JAX>SDO
Allan Osier       Royal Palm Beach, FL  09/15/18  H-D Road Glide              JAX>SDO 
             * * * Allan is 65 years young on this ride! * * * 

50CC Diaper Run 2018 - Mission: M25
Jason Cook        Conway, SC            09/13/18  H-D FLHTK                   SDO>JAX 
Alan T. Atkins    Madisonville, KY      09/13/18  H-D Electra Glide Limited   SDO>JAX 
Gary Burd         Arlington, TX         09/13/18  H-D FLHTKU Limited          SDO>JAX 
             * * * Gary is 67 years young on this ride! * * *  

Jason Jenkins     Las Vegas, NV         09/12/18  H-D Ultra Limited           JAX>SDO
Thomas Jorno      Sarasota, FL          09/08/18  Yamaha FJR1300              JAX>SDO
Brian Thorn       Sun Lakes, AZ         09/08/18  Honda Gold Wing             SDO>JAX
Albert V. Gartner Evans, GA             08/25/18  Kawasaki Concours 14        JAX>SDO 
Justin D. Varner  Allendale, MI         08/05/18  Triumph Tiger 1050          JAX>CA 
Bill Karitis      Mt. Pleasant, SC      07/28/18  H-D Ultra Limited           SC >SDO
Anthony Alexander Piscataway, NJ        07/22/18  BMW R1200GS                 SDO>JAX
Mike Hernandez    Phoenix, AZ           07/21/18  H-D Ultra Limited FLHTK     SDO>JAX
Thomas W. Spears  San Luis Obispo, CA   07/21/18  BMW R1200RT                 SDO>JAX

Joseph M. Baker   Berlin, PA            06/20/18  H-D CVO Electra Glide Ltd.  JAX>SDO
Ken Mack          Seward, PA            06/20/18  H-D CVO Ultra               JAX>SDO

Daryl D. Giles    South Holland, IL     06/12/18  Honda ST1300                JAX>SDO

Charles W. DeHart Springfield, IL       06/09/18  H-D Tri Glide               JAX>SDO 
             * * * Charles is 71 years young on this ride! * * * 
John Benson       Naples, FL            06/09/18  H-D Electra Glide Ultra Ltd.JAX>SDO
             * * * John is 80 years young on this ride! * * *

Andy Blila        Coronado, CA          05/29/18  H-D Ultra Limited           JAX>SDO

David Henson      St. Petersburg, FL    05/26/18  Honda Gold Wing GL1800      JAX>SDO
Suzann Henson (pillion)                 05/26/18  Honda Gold Wing GL1800      JAX>SDO

Stuart R. Sortino Virginia Beach, VA    05/25/18  BMW K1600GTL                JAX>SDO
Jay Pylman        Virginia Beach, VA    05/25/18  BMW K1600GTL                JAX>SDO
Jeffrey N. Joseph Chesapeake, VA        05/25/18  BMW K1600GTL                JAX>SDO
Andrew W. Reiter  Williamsburg, VA      05/25/18  BMW R1200GSW                JAX>SDO

David Henson      St. Petersburg, FL    05/24/18  Honda Gold Wing GL1800      JAX>SDO
Suzann Henson (pillion)                 05/24/18  Honda Gold Wing GL1800      JAX>SDO

Craig Phillips    Lake St Louis, MO     05/19/18  Victory Cross Country Tour  JAX>SDO

Sheri Philhower   Riverview, FL         05/18/18  Can-Am Spyder RT-S          JAX>SDO
Benjamin Philhower Riverview, FL        05/18/18  H-D Road Glide Special      JAX>SDO

Jim Rider         Stephenson, VA        05/15/18  Kawasaki Concours 14        JAX>SDO

Steven C. Ball    Mesa, AZ              05/05/18  Yamaha Road Star            SDO>JAX
Rich F. Porter    Mesa, AZ              05/05/18  Yamaha Road Star            SDO>JAX

William H. Nelson Jacksonville, FL      04/28/18  H-D Ultra Limited           JAX>SDO
Russell C. Neal   Milton, NH            04/26/18  Honda Gold Wing             SDO>GA

Tim Chounard      Henderson, NV         04/23/18  H-D Road Glide FLTRX        SDO>JAX
Brad Edmonds      Millsboro, DE         04/19/18  H-D Road Glide              FL >SDO

Jeffrey Schaefer  Maysville, KY         04/17/18  H-D Road King               JAX>SDO
Ronald B. Loebker Ripley, OH            04/17/18  Honda Shadow Spirit VT1100  JAX>SDO
Barry Brown       Russellville, OH      04/17/18  H-D FLSTS                   JAX>SDO

George Mowry      Squaw Valley, CA      04/14/18  Kawasaki Concours 14        SDO>JAX

Robert Loer       Shady Cove, OR        04/14/18  BMW K1200LT                 LAX>GA
             * * * Robert is 71 years young on this ride! * * *

Rob Carlo         Truckee CA            03/28/18  H-D Road Glide              SDO>JAX
Dale Moeller      Cedarburg, WI         03/07/18  BMW K1600GTL                SDO>JAX
Russel A.S. Janzan  Dania Beach  FL     03/05/18  H-D Road Glide CVO          FLL>SDO
Bruce Edwards     Rio Rancho, NM        03/10/18  H-D Ultra Limited           SDO>JAX

Steve Diederich   Costa Mesa, CA        03/18/18  Honda Gold Wing             JAX>LAX
Micki Denton (pillion)                  03/18/18  Honda Gold Wing             JAX>LAX

Ken Roy           North Andover, MA     02/16/18  BMW R1200RT                 JAX>SDO

Maksim Smirnov    LATVIA                11/07/17  BMW R1200GS                 JAX>SDO
Vasily Ignatov    LATVIA                11/07/17  BMW R1200GS                 JAX>SDO
Anton Zelenkevich LATVIA                11/07/17  BMW R1200GS                 JAX>SDO

Deb Gasque        Myrtle Beach, SC      09/30/17  BMW R1100RSL                GA >SDO
Bill Gasque       Myrtle Beach, SC      09/30/17  BMW R1100RS                 GA >SDO
T. Leslie Gattis  Plainview TX          09/30/17  BMW R1200GSA                GA>SDO


Wayne Wilhelm     South Windsor, CT     09/29/17  BMW R1200GSA                SC >SDO

50CC Diaper Run 2017 - Mission: M25
Joey Leigh        Conway, SC            09/14/17  H-D Limited                 SDO>SC
Gerard Plent      Chino Hills, CA       09/14/17  H-D Street Glide FLHX       SDO>SC
Jason W. Cook     Conway, SC            09/14/17  H-D FLHTK                   SDO>SC
Gary Burd         Amarillo, TX          09/14/17  H-D Heritage Softail        SDO>SC
             * * * Gary is 66 years young on this ride! * * * 

Dennis P. Eidem   Pittsford, NY         08/20/17  Honda VFR800                SC > CA
John D. Jebson    De Witt, IA           07/29/17  Honda Gold Wing F6B         SDO>JAX
Theresa Foecking  Seffner, FL           07/26/17  H-D Street Glide            JAX>SDO
John M. Powell    Riverside, CA         07/21/17  Yamaha FJR1300              L.A.>JAX

Gene Kicenski    Blanchard, OK          07/17/17  Honda Valkyrie              LAX>SAV
             * * * Gene is 72 years young on this ride! * * *

Patrick Wallace   Charles Town, WV      06/28/17  Victory Vision              SDO>GA
Christina Smith (passenger)             06/28/17  Victory Vision              SDO>GA

Moe Conn          Nottingham, MD        06/26/17  H-D Road Glide Ultra FLTRU  SDO>GA
Greg Williams     Lawrenceville, GA     06/26/17  H-D Road Glide CVO          SDO>GA

Scott E. Brown    Omaha, NE             06/20/17  H-D Road Glide Ultra FLTRU  JAX>SDO

Clinton J. Reese  San Diego, CA         06/10/17  H-D Road King               JAX>SDO
Howard F. Reese   San Diego, CA         06/10/17  H-D Ultra Limited           JAX>SDO

Barney Frazier    Elk City, OK          06/06/07  Honda ST1300                SDO>JAX
Andy Frazier      Denison, TX           06/06/17  H-D Limited                 SDO>JAX

Raymond Mikesell  New Madison, OH       06/05/17  Honda Gold Wing 1800        GA >SDO 
Vickie Mikesell (passenger)             06/05/17  Honda Gold Wing 1800        GA >SDO 

Russell Smith     Carlisle, PA          06/05/17  H-D Street Glide            JAX>SDO

Craig Thorndike   Midlothian, TX        06/05/17  Yamaha FJR1300A             SDO>JAX
Gary Myers        Tampa, FL             05/31/17  H-D Road Glide Special      JAX>SDO

Hayter Dee Reynolds Kingsport, TN       05/29/17  H-D Road Glide              JAX>SDO
Bill Hightower    Blountville, TN       05/29/17  Victory Cross Country Tour  JAX>SDO
Chris Reynolds    Bluff City, TN        05/28/17  Honda Gold Wing GL1800      JAX>SDO

Jim Littlepage    Tooele, UT            05/25/17  Honda Gold Wing             JAX>SDO
Rick Newton       Manhattan Beach, CA   05/24/17  H-D Ultra Limited           JAX>LA
Brian North       Franklin, WI          05/20/17  BMW K1600GT                 SDO>JAX
Russel A.S. Janzan  Dania Beach  FL     05/20/17  H-D Road Glide CVO          JAX>SDO

Antonio Rodriguez Miami, FL             05/20/17  H-D Ultra Glide Limited     JAX>SDO
Yosnay Fiallo-Nurquez Miami, FL         05/20/17  H-D Road Glide Ultra        JAX>SDO
Felix S. Carrion  Miami, FL             05/20/17  H-D Road Glide              JAX>SDO
Jamner Moreno     Homestead, FL         05/20/17  H-D Ultra Glide Limited     JAX>SDO

John E. Hallman   Lake Forest, CA       05/13/17  BMW 1200GS Adventure        L.A.>NC
Michael Crocker   Ventura, CA           05/13/17  BMW R1200RT                 SDO>JAX
              * * * Michael is 70 years young on this ride! * * *

Lewis Ballard     Bettendorf, IA        05/08/17  H-D Ultra Limited           JAX>SDO

Dale Gordineer    Trenton, SC           04/29/17  H-D Street Glide Special    JAX>SDO
Jonathan Sack     Hilton Head, SC       04/29/17  H-D CVO Limited             JAX>SDO
              * * * Jonathan is 67 years young on this ride! * * *

Geoffrey Hill     Rancho Mirage, CA     04/15/17  BMW K1600GT                 SDO>JAX
James McCann      Camarillo, CA         04/15/17  BMW K1600GT                 SDO>JAX

Dale Gordineer    Trenton, SC           04/29/17  H-D Street Glide Special    JAX>SDO
Jonathan Sack     Hilton Head SC        04/29/17  H-D CVO Limited             JAX>SDO
             * * * Jonathan is 67 years young on this ride! * * * 

Ron Hand          Wesley Chapel, FL     03/27/17  H-D Street Glide Special    JAX>SDO

Eduardo Sosa      Mission, TX           03/20/17  H-D CVO Ultra Limited       JAX>SDO
Nelson Ramirez    Monterrey, NL MEXICO  03/20/17  H-D CVO Ultra Limited       JAX>SDO

John O. Cooper    Woodland Hills, CA    03/18/17  Honda GL1800                JAX>LA
           * * * This is John's 13th 50cc - an IBA record! * * *

IBA Jacksonville Party Ride In
Jack Dannenberg                         03/13/17  BMW R1200GS                 SDO>JAX
Steve Diederich                         03/13/17  Honda GL1800 Gold Wing      SDO>JAX
Mickey Denton (pillion)                 03/13/17  Honda GL1800 Gold Wing      SDO>JAX
Mark L. Griffin                         03/13/17  BMW K1600GTL                SDO>JAX
Jeffrey Foster                          03/13/17  BMW R1200GSA                SDO>JAX

Rudy Hesse        Blairstown, NJ        03/11/17  BMW 1200GS                  JAX>SDO

John O. Cooper    Woodland Hills, CA    03/06/17  Honda GL1800                LA>JAX
           * * * This is John's 12th 50cc - an IBA record! * * *

Eric Sprague      Sunrise, FL           12/26/16  Honda F6B                   JAX>SDO

William Buskell   Panama City Beach FL  12/12/16  H-D Road Glide              JAX>SDO
Tim Hayosh        Mesa, AZ              11/25/16  Kawasaki Concours 14        SDO>JAX

John Huval        Lafayette LA          11/18/16  Honda GL1800                JAX>LAX
Nadine Huval (pillion)                  11/18/16  Honda GL1800                JAX>LAX

Kenneth Thompson  Tucson, AZ            10/18/16  Honda Gold Wing             JAX>SDO
Nancy Lefcourt    Carson, CA            10/16/16  BMW R1200RT                 L.A.>JAX
Randall Lundgren  Portland, OR          10/08/16  H-D Road King               SDO>JAX

Mark W. Keating   Guelph, ON CANADA     09/28/16  H-D Road King               SDO>JAX
Christopher Bulger Edmonton, AB CANADA  09/26/16  BMW R1200GSA                JAX>SDO

Roy Kjendal       Deerfield, NH         09/18/16  BMW K1600GTL                SDO>JAX

John Buchanan     Kamloops, BC CANADA   09/12/16  H-D Ultra Limited           JAX>SDO

Markus J. Hueber  Drexel, NC            09/10/16  BMW R1200GSA                JAX>SDO

Tom Tindall       Santa Fe, NM          09/08/16  BMW R1200GS                 JAX>SDO
             * * * Tom is 66 years young on this ride! * * * 
Jeff Nelson       Braintree, MA         09/04/16  H-D CVO Limited             JAX>SDO

Tracy Kilby       Jacksonville, FL      09/03/16  Suzuki Boulevard C50        JAX>SDO
Kevin Turner      Jacksonville, FL      09/03/16  H-D Heritage Softail ClassicJAX>SDO
Lilik Haditiajaya Jacksonville, FL      09/03/16  Yamaha FJR1300              JAX>SDO
Tom Chambers      Starke, FL            09/03/16  H-D Ultra Limited           JAX>SDO

50CC Diaper Run 2016 - Mission: M25
Gary Burd         Amarillo, TX          07/19/16  H-D Softail Heritage        SDO>JAX
Gerard Plent      Chino Hills, CA       07/19/16  H-D Street Glide FLHX       SDO>JAX

Ira M. Work       Murfreesboro, TN      07/01/16  H-D Street Glide            JAX>SDO

John Zabelle      Molino, FL            06/22/16  BMW R1200GS                 JAX>SDO
Matthew Ernst     Murfreesboro, TN      06/21/16  BMW R1200RT                 JAX>SDO
Dave Sollars      Andover, MN           06/17/16  Yamaha Super Tenere         JAX>SDO
Michael J. Thomas Danie Beach, FL       06/14/16  H-D Road King               JAX>SDO
Haley E. McKinley Star, MS              06/14/16  Indian Chieftain            JAX>SDO
Russel A.S. Janzan Dania Beach, FL      06/14/16  H-D Road Glide CVO          JAX>SDO
Kerry Logan       Norfolk, VA           06/05/16  BMW R1200RS                 JAX>SDO
Bill Farmer       Melbourne, FL         06/04/16  Honda Gold Wing 1800        JAX>SDO

Wolf Schwurack    West Jordan, UT       06/04/16  H-D Ultra Limited           SDO>JAX
Mike McCormick    West Jordan, UT       06/04/16  H-D CVO Limited             SDO>JAX

David Graves      Midland, MI           05/26/16  BMW K1300S                  JAX>SDO
Bob Gratton       Howell, NJ            05/21/16  H-D Ultra Limited           JAX>SDO
Jeff Fortenbery   Liberty Twp, OH       05/21/16  BMW K1200LT                 JAX>SDO

Ronald E. Dixon   Naples, FL            05/21/16  H-D CVO Limited             JAX>SDO

Roy W. Lenard     Estero, FL            05/21/16  H-D Road King Classic       JAX>SDO
             * * * Roy is 67 years young on this ride! * * *

Norman L. Jones   Lynnwood, WA          05/18/16  Yamaha Royal Star Venture   JAX>SDO
             * * * Norman is 66 years young on this ride! * * *

Jeff T. Head      Gadsden, AL           05/15/16  Honda Gold Wing             SDO>JAX

Michael H. Davis  Elkins, WV            05/15/16  Yamaha Super Tenere 1200    JAX>SDO
Patrick J. Weese  Beverly, WV           05/15/16  H-D Ultra Classic           JAX>SDO
             * * * Patrick is 69 years young on this ride! * * *

Shareef AsSadiq   San Diego, CA         05/09/16  Indian Chieftain            SDO>JAX

Grant M. Sumsion  Springville, UT       05/07/16  H-D Road King Classic       SDO>JAX
Camille M. Sumsion (passenger)          05/07/16  H-D Road King Classic       SDO>JAX

Jerry Bullock     Boyds, MD             04/30/16  Honda Gold Wing             GA >SDO
             * * * Jerry is 68 years young on this ride! * * *

Kevin S. Harris   Lewisville, NC        04/30/16  BMW R1200GS                 JAX>SDO
Raffaele Rookey   Ellington, CT         04/30/16  BMW R1200GS                 JAX>SDO
Joel A. Fleming   Greensboro, NC        04/30/16  BMW R1200RT                 JAX>SDO
Craig Field       Julian, NC            04/30/16  BMW K1200LT                 JAX>SDO
Oscar Scofield    Winston Salem, NC     04/30/16  BMW C650GT Maxi-Scooter     JAX>SDO
             * * * Oscar is 75 years young on this ride! * * *

Gentry M. Sharpe  Atlanta, GA           04/30/16  Honda Gold Wing             GA >SDO

Jerry Riley       Afton, TN             04/24/16  Can-Am Spyder RT            JAX>SDO
Chuck Keating     Brentwood, TN         04/24/16  Yamaha V-Star 1300          JAX>SDO

David Bjork       Elgin, IL             04/24/16  Honda ST1300                JAX>SDO
             * * * David is 66 years young on this ride! * * *

William Campbell  Oxford, PA            04/24/16  Honda Gold Wing             SDO>JAX
Robert Rehkopf    Cordova, TN           04/24/16  BMW R1200RT                 SDO>JAX
             * * * Robert is 69 years young on this ride! * * *

50cc Pier-to-Pier
Steven Anderson   Park City, UT         04/23/16  H-D FLHS                    L.A.>FL

Jay Yanick        Mercer Island, WA     04/22/16  BMW R1200RT                 SDO>JAX
             * * * Jay is 78 years young on this ride! * * *

Martin R. Snoey   Mercer Island, WA     04/22/16  H-D FLHTK Ultra Limited     SDO>JAX
             * * * Martin is 73 years young on this ride! * * *

Carl L. Harris    Fuquay-Varina, NC     04/21/16  H-D Road Glide              JAX>SDO
Pierre Guillotte  St-Bruno, QC CANADA   04/14/16  BMW K1600GTL Exclusive      SDO>JAX

Edward Bond       Everett, MA           04/10/16  BMW R1200RT                 JAX>SDO

Taylor H. Stukes  Dunwoody, GA          04/10/16  Yamaha FJR1300              JAX>SDO
Rick Maier        Macon, GA             04/10/16  Yamaha FJR1300              JAX>SDO
Carl Griffis      Greer, SC             04/10/16  Yamaha FJR1300              JAX>SDO
             * * * Carl is 65 years young on this ride! * * *
Eric D. Bray Colorado Springs, CO       04/10/16  Yamaha FJR1300              JAX>SDO

Martin L. Jackson Thorndale, TX         04/02/16  H-D Ultra Classic           JAX>SDO
Scott Madson      Battle Lake MN        03/06/16  BMW R1200RT                 SDO>JAX

John O. Cooper    Woodland Hills, CA    03/06/16  Honda GL1800                SDO>JAX
           * * * This is John's tenth 50cc * * *

Steven J. Dennis  Attleboro, MA         03/05/16  Yamaha Tenere               JAX>SDO

Marshall McKinley Star, MS              03/03/16  H-D Road Glide              SDO>JAX
Shannon McKinley  Braxton, MS           03/03/16  H-D Road Glide              SDO>JAX

Steven G. Ryba    Murrieta, CA          12/09/15  Honda Gold Wing             SDO>JAX
Pierre Guillotte  St-Bruno, QC CANADA   11/18/15  BMW K1600GTL Exclusive      JAX>SDO
Gary Chasteen     Pensacola, FL         10/21/15  Honda Gold Wing             JAX>SDO
Nicole Snick      Fort Pierce, FL       10/17/15  Kawasaki Concours 14        JAX>SDO

Del Lonnquist     Helena, MT            10/08/15  Honda VTX1300 VelorexsidecarSDO>JAX
                   * * * Del is 80 years young on this ride - a record * * *

Brian D. Hood     Leesburg, FL          10/02/15  BMW R1200RT                 JAX>SDO

Josh Hunt         Marion, MA            10/02/15  Kawasaki Concours 14        SDO>JAX
             * * * Josh is 76 years young on this ride! * * *

Terry Behling     Deming, NM            09/15/15  H-D Ultra Limited           JAX>SDO
             * * * Terry is 66 years young on this ride! * * *

James Hodgson III Stuart, FL            09/12/15  BMW R1200RT                 JAX>SDO
             * * * James is 72 years young on this ride! * * *
Lynn T. Kidd, Sr. Sebastian, FL         09/12/15  Yamaha FJR1300              JAX>SDO
             * * * Lynn is 68 years young on this ride! * * *

John R. Ahrens    Moreno Valley, CA     09/12/15  BMW K1200LT                 JAX>L.A.
Erin E. Colombo   Wixom, MI             09/10/15  BMW GTL1600                 JAX>SDO
Mark A. Chavis    Pembroke, NC          09/08/15  H-D Street Glide            JAX>SDO
Wayne Grondin     Tecumseh, ON, CANADA  09/07/15  Honda Gold Wing             JAX>SDO
W. Greg Skelton   Arlington, VA         09/06/15  H-D Street Glide Special    SDO>JAX
Brandon Erickson  Farmington, UT        09/04/15  Yamaha FJR1300AE            SDO>JAX
Brent A. Cornell  Taylorville, IL       09/02/15  Honda Gold Wing             JAX>SDO
Dan Baker         Youngsville, NC       07/31/15  H-D Electra Glide Ultra     GA >SDO

Kelly R. Forth    Mount Juliet, TN      07/31/15  H-D FLT Road Glide          JAX>SDO
Kent Crawford     Rockvale, TN          07/31/15  Honda Gold Wing             JAX>SDO

Ed Jarvis         Mineral, VA           07/18/15  BMW K1600GTL Exclusive      JAX>SDO
Robert Annandale  Mineral, VA           07/18/15  BMW R1200GS                 JAX>SDO
             * * * Robert is 67 years young on this ride! * * *  

Paul Knight       Oviedo  FL            07/18/15  BMW R1200GSA                JAX>SDO
Joanna Wojtowicz  Hicksville, NY        07/05/15  H-D Street Glide Special    JAX>SDO

Doug Tessendorf   Mesa, AZ              07/01/15  BMW R1200RT                 SDO>JAX
Steve Bell        Chandler, AZ          07/01/15  BMW R1200RT                 SDO>JAX

Carol Kropp       Ramona, CA            06/28/15  H-D Street Glide            SDO>JAX
Scott Peters      Lithia, FL            06/26/15  BMW K1600GTL                SDO>JAX

Richard Jorges    Gardnerville, NV      06/23/15  Yamaha Royal Star Venture   SDO>JAX
Mark S. Wilson    Wellington, NV        06/23/15  H-D Ultra Classic           SDO>JAX

Roy Kjendal       Deerfield, NH         06/23/15  Honda Gold Wing GL1800A     JAX>SDO
Dennis Hess       St. Charles, MO       06/22/15  Honda Gold Wing             JAX>SDO
Kerry Nelson      Bellaire, TX          06/22/15  H-D Ultra Classic Limited   SC >SDO

Johnny Jones                            06/13/15  Honda Gold Wing             JAX>SDO
Chuck Lackey      Jackson GA            06/13/15  Yamaha FJR1300              JAX>SDO
Jesse Lucas                             06/13/15  Yamaha FJR1300              JAX>SDO
Andrew Byrd       Gahanna, OH           06/13/15  Kawasaki Concours 14        JAX>SDO

Greg Hintz        Missoula, MT          06/11/15  Honda Gold Wing             JAX>SDO
Donald Deuel      Arlee, MT             06/11/15  Honda Gold Wing             JAX>SDO
             * * * Donald is 72 years young on this ride! * * * 

Lynn H. Clark     Woodland, CA          06/11/15  BMW K1600GTL                SDO>JAX
             * * * Lynn is 68 years young on this ride! * * * 
David Aronson     Vacaville, CA         06/11/15  BMW R1200RT                 SDO>JAX
             * * * David is 68 years young on this ride! * * * 

Howard Davidson   Norwalk CT            05/31/15  BMW F800ST                  JAX>SDO

Clyde Dowd        DeFuniak Springs, FL  05/29/15  Honda Gold Wing             JAX>SDO
             * * * Clyde is 71 years young on this ride! * * *

Edward J. Tracey  Woodstock, NY         05/28/15  Suzuki V-Strom 650          JAX>SDO
             * * * Edward is 67 years young on this ride! * * *

Kelly Quinn       Truckee, CA           05/27/15  H-D Road Glide Custom       JAX>SDO
Robert Carlo      Truckee, CA           05/27/15  H-D Road Glide Custom       JAX>SDO

John E. Doughty   Kent, WA              05/21/15  Honda Gold Wing             JAX>SDO
             * * * John is 69 years young on this ride! * * * 

R. Bruce Thomas   Edmonton, AB CANADA   05/19/15  Honda ST1300A               SDO>JAX
Norman Lafleur    Grande Prairie,AB CAN 05/19/15  Honda ST1300                SDO>JAX

Paul Hinson       High Springs, FL      05/17/15  H-D Ultra Classic           JAX>SDO
Chris Avery       Fort White, FL        05/17/15  Victory Cross Country       JAX>SDO
Bobby Stafford    Gainesville, FL       05/17/15  H-D Ultra Classic           JAX>SDO
George J. Corwine Gainesville, FL       05/17/15  H-D Ultra Classic           JAX>SDO
John E. Franklin  Starke, FL            05/17/15  H-D Street Glide            JAX>SDO
Brian Ritter      Alachua, FL           05/17/15  Honda Gold Wing             JAX>SDO

Stanley J. Miller Ames, IA              05/17/15  Honda Magna V65             JAX>SDO

Robert K. Edwards Saint Joseph, MN      05/15/15  Kawasaki Vulcan 2000 LT     JAX>SDO

Chelsea Woodward  Spokane Valley, WA    05/13/15  H-D FLHTC                   SDO>JAX
Duane C. Carlton  Bozeman, MT           05/10/15  H-D Electra Glide           SDO>JAX
Matthew Barbian   Green Bay, WI         05/09/15  Suzuki V-Strom              JAX>SDO

Ron Chandler Jr.  Old Hickory, TN       04/25/15  H-D Road Glide              JAX>SDO
Robert J. Lee     Franklin, TN          04/25/15  Honda Gold Wing GL1800      JAX>SDO
Mark King         Franklin, TN          04/25/15  Honda Gold Wing             JAX>SDO

Robert A. Speaks                        04/25/15  Yamaha V Star 1300          JAX>SDO
Paul A. Turner                          04/25/15  Honda Gold Wing             JAX>SDO

Ghent Hopkins     Enid, OK              04/12/15  BMW R1200GS Adventure       JAX>SDO
John G. Camp      Enid, OK              04/12/15  BMW R1200GSA                JAX>SDO

Marcus L. Ovando  Jetersville, VA       03/27/15  BMW R1200GS Adventure       JAX>SDO
Steve Diederich   Cicero, NY            03/17/15   Honda Gold Wing GL1800     JAX>SDo

John O. Cooper    Woodland Hills, CA    03/14/15  Honda GL1800                JAX>L.A.
           * * * This is John's ninth 50cc * * *

Will G. Adams     Albuquerque, NM       03/12/15  BMW R1200RT                 SDO>JAX
  
John Cooper                             03/08/15  Honda Gold Wing             SDO>JAX
           * * * This is John's eighth 50cc * * *

Russ Nicholson    Amherst, OH           02/21/15  H-D Ultra Limited           SDO>JAX

Dave McQueeney    West Covina, CA       12/20/14  BMW R1200R                  L.A.>GA
             * * * Dave is 72 years young on this ride! * * * 

Jerry Barron      Aiken, SC             11/20/14  BMW R1200RT                 SC >SDO

Ruben A. Garcia   Torrance, CA          10/15/14  H-D Road Glide Ultra        FL >SDO

Ruben A. Garcia   Torrance, CA          10/11/14  H-D Road Glide Ultra        L.A.>JAX

Ryan Rosenberg    St. George, UT        10/10/14  H-D Electra Glide           JAX>SDO
Merril Campbell   Hurricane, UT         10/10/14  BMW R1200GS                 JAX>SDO

Ari Dragan        Chapel Hill, NC       10/09/14  BMW R1200GS Anniversary     L.A.>JAX

Russell J. Morris Little Rock, AR       10/08/14  H-D CVO Ultra Classic       SDO>JAX
Jeffrey Billman   Conway, AR            10/08/14  H-D Street Glide            SDO>JAX

Steven G. Price   Suwanee, GA           09/25/14  H-D Ultra Classic           JAX>SDO

Dave McQueeney    West Covina, CA       09/20/14  BMW R1200R                  L.A.>SC
             * * * Dave is 71 years young on this ride! * * *  

R. Gonzalez       Lake Forest, CA       09/09/14  H-D Road King Classic       SDO>JAX
             * * * R. "Gonzo" is 69 years young on this ride! * * * 

Darek Dufaj       Pickering, ON CANADA  09/08/14  Suzuki C109RT               SDO>JAX
Greg Smith        Toronto, ON CANADA    09/08/14  Yamaha FJR                  SDO>JAX

Bruce Rimes       Summit, MS            08/30/14  H-D FLHTK                   JAX>SDO
Joe W. Lacey      Florence, MS          08/30/14  H-D Ultra Classic Limited   JAX>SDO

Edward Kuzikowski St. Albert, AB CANADA 08/24/14  Honda Gold Wing             SDO>JAX 
Danny Graham      Honolulu, HI          08/24/14  BMW R1200RT                 SDO>JAX
             * * * Danny is 70 years young on this ride! * * *

Rhonda J. Fussell Lebanon, IN           08/23/14  H-D Heritage Softail        JAX>SDO

David W. Smith    Fruitland Park, FL    08/23/14  H-D Ultra Classic Limited   JAX>SDO

Bill Nagle        Bethesda, MD          08/14/14  Honda Gold Wing             JAX>SDO

Dale Liechty      Louisville, KY        07/31/14  H-D Road Glide              JAX>SDO
Dave Doolin       Jacksonville, FL      07/26/14  Honda ST1300                JAX>SDO

Ryan R. Bennett   Poneto, IN            06/22/14  H-D FLHX Street Glide       JAX>SDO

Dave McQueeney    West Covina, CA       06/21/14  BMW R1200R                  L.A.>NC
             * * * Dave is 71 years young on this ride! * * *    

Teri Ligon        Fallon, NV            06/16/14  Kawasaki Ninja 250          SDO>JAX

Woodie Krugel     Roseburg, OR          06/11/14  Kawasaki Concours           SDO>JAX
             * * * Woodie is 67 years young on this ride! * * *

Nick Galyon       Jupiter, FL           06/11/14  BMW R1200RT                 JAX>SDO
Tom Cornell       Port St Lucie, FL     06/11/14  Honda GL1800                JAX>SDO

Mark Steedley     North Augusta, SC     06/08/14  Triumph Sprint ST 1050      JAX>SDO
Robert N. Hinds   Aiken, SC             06/08/14  Yamaha FJR1300 ABS          JAX>SDO

Charley Barnes    Greeley, CO           06/06/14  H-D CVO Screamin' Eagle     SDO>JAX
Michael Breton    Franklin, MA          06/01/14  Honda ST1100                JAX>SDO
James Burriss     Greenville, SC        05/25/14  Victory XCT                 JAX>SDO
Keith Morris      Campbellsville, KY    05/24/14  Victory Kingpin             JAX>SDO
Jason S. Kelsay   Campbellsville, KY    05/24/14  Kawasaki Vulcan Vaquero     JAX>SDO
Mitchell Collings Greensburg, KY        05/24/14  Victory Cross Country Tour  JAX>SDO

Adam K. Gonzalez  Roslyn Heights, NY    05/24/14  Honda VTX1800R              JAX>SDO

Stacy Trotter     Buena Park, CA        05/24/14  Honda Gold Wing             LA >JAX
David Hutchings   Valparaiso, IN        05/18/14  H-D Road Glide              JAX>SDO

Peter T. Campbell ON, CANADA            05/17/14  Yamaha FJR1300              JAX>SDO
Dave Cwi          Indianapolis, IN      05/17/14  BMW R1200RT                 JAX>SDO
             * * * Dave is 68 years young on this ride! * * *

Shareef AsSadiq   San Diego, CA         05/13/14  Victory Cross Country       SDO>JAX
Hugh Smith III    Harbor City, CA       05/13/14  H-D Road Glide Ultra        SDO>JAX

Barbara Ayres     Green Bay, WI         05/12/14  H-D 1200 Sportster          JAX>SDO
Darryl Halbert    Fairburn, GA          05/11/14  Yamaha FJR1300              JAX>SDO

Rich Feather      San Jose, CA          05/09/14  Victory Cross Country       SDO>JAX
Melissa Feather (passenger)             05/09/14  Victory Cross Country       SDO>JAX

Louis DeLustro    Lindenhurst, NY       05/04/14  Honda Gold Wing             JAX>SDO
Michael Schneider Brentwood, CA         05/03/14  BMW R1200GSA                LA >JAX
Dwight A. Olson   Enid, OK              05/02/14  BMW K1200GT                 JAX>SDO

Mike Randolph     Fort Mill, SC         05/02/14  BMW K1600GT                 JAX>SDO
Lars Blomberg     Radford, VA           05/02/14  BMW R1200GS Adventure       JAX>SDO

Joe Birkenback    Rockwall, TX          05/01/14  Honda Gold Wing             JAX>SDO
Steve Goldsmith   Yantis, TX            05/01/14  Honda Gold Wing             JAX>SDO

Steve Goldsmith   Yantis, TX            05/01/14  Honda Gold Wing             JAX>SDO

A.E. Morgan       Prescott Valley, AZ   04/26/14  H-D Road King               SDO>JAX
             * * * A.E. is 65 years young on this ride! * * *

Rick Fox          Apex, NC              04/26/14  Kawasaki Concours           JAX>SDO
Christopher Brown Clinton, OH           04/25/14  H-D FLHTCI Bagger X         JAX>SDO

John H. Gehr      New Holland, PA       04/24/14  BMW K1600GT                 JAX>SDO
             * * * John is 70 years young on this ride! * * *
Paul G. Helm      Manheim, PA           04/24/14  BMW R1100RT                 JAX>SDO
             * * * Paul is 70 years young on this ride! * * *

Don Blake         Pensacola, FL         04/24/14  Honda 1800 Gold Wing        JAX>SDO
             * * * Don is 83 years young on this ride! * * *

Ward H. Wilson    Jacksonville, FL      04/20/14  BMW R1200GSA                SDO>JAX
Mark King         Franklin, TN          04/19/14  Honda Gold Wing             JAX>SDO
Ron Chandler Jr.  Old Hickory, TN       04/19/14  H-D Road Glide              JAX>SDO

Oliver Hirschfelder Commack, NY         04/18/14  BMW K1600GTL                JAX>SDO
Brian M. Conrad   Pasadena, MD          04/18/14  BMW K1600GT                 JAX>SDO

Dan DeKruif       San Antonio, TX       04/12/14  BMW S1000RR                 SDO>JAX
Kith Burkingstock Newnan, GA            04/05/14  Suzuki DL1000 V-Strom       JAX>SDO
G. Allen Heddens  Riverdale, GA         04/05/14  Yamaha FJR                  JAX>SDO
Garry Bartlett    Tyrone, GA            04/05/14  Yamaha FJR1300              JAX>SDO

Douglas S. Taylor Fairfield, CA         04/02/14  BMW R1200GSA                SDO>JAX
James A. Ross     Barrington, RI        04/02/14  BMW F650GS                  SDO>JAX
             * * * James is 66 years young on this ride! * * *

Larry Meeker      Fleming Island, FL    03/24/14  BMW R1150GS                 JAX>SDO
Bob Messer        Jacksonville, FL      03/24/14  BMW R1200GS                 JAX>SDO

Dave McQueeney    West Covina, CA       03/20/14  BMW R1200R                  JAX>SDO
             * * * Dave is 71 years young on this ride! * * *

Motorcycle Tourers Forum 50 Coast to Coast
Brian Scott       De Soto, KS           03/16/14  BMW R1200RT                 JAX>SDO
David Clark       Athens, GA            03/16/14  Kawasaki Concours 14        JAX>SDO
John Huval        Lafayette, LA         03/16/14  Honda GL1800                JAX>SDO
Joseph Kappes     Freeman, MO           03/16/14  Suzuki V-Strom 650 ADV      JAX>SDO
Richard Bailey    Duncanville, AL       03/16/14  Honda Gold Wing             JAX>SDO
Barbara Bailey (passenger)              03/16/14  Honda Gold Wing             JAX>SDO
Richard Smith     Roseville, CA         03/16/14  Honda Gold Wing             JAX>SDO
Steve Snell       Kennesaw, GA          03/16/14  Honda Gold Wing             JAX>SDO

William Workman   Lexington, NC         03/15/14  Honda Gold Wing             JAX>SDO
John O. Cooper    Woodland Hills, CA    03/15/14  Honda GL1800                JAX> CA
Derek Tellup      North Bend, OH        03/12/14  Victory Cross Country       JAX>SDO

IBA Daytona Party Ride In
John O. Cooper    Woodland Hills, CA    03/10/14  Honda GL1800                LAX>JAX

Bruce Burgess     Tamworth,NSW AUSTRALIA03/09/14  H-D Electra Glide           SDO>JAX

Mission: Coast 2 Coast Ride 4 Charity!
Kelly Valdez      Elmsford, NY          03/08/14  Kawasaki Ninja ZX-14        JAX>SDO

Donald H. Parsons Liberty, SC           03/08/14  Honda Gold Wing             JAX>SDO

Renato E. Marquez Newbury Park, CA      03/07/14  H-D Street Glide            L.A.>JAX
Fely V. Juanero (passenger)             03/07/14  H-D Street Glide            L.A.>JAX
   
Robert Killbuck   Magnolia, TX          03/07/14  Honda GL1800                JAX>SDO

Brian Kunzelmann  Macon, GA             03/02/14  BMW R1200GSA                JAX>SDO
David Holmes      Cumming, GA           03/02/14  BMW R1200RT                 JAX>SDO
Rick Maier        Macon, GA             03/02/14  Yamaha FJR1300              JAX>SDO

Kurt Kruger       Parkersburg, IA       01/26/14  H-D Road King               CA >JAX
 
Raymond Vallee    Clayton, NC           11/07/13  H-D Ultra Classic           JAX>SDO
Tom Richard       North Grafton, MA     11/07/13  Ducati ST4S                 JAX>SDO

Eddie Moran       Merritt Island, FL    11/01/13  Honda Gold Wing             FL >SDO

Gregory Waldner   Canmore, AB CANADA    10/30/13  BMW R1200RT                 JAX>SDO
Daniel Crenshaw   Los Gatos, CA         10/24/13  BMW K1200GT                 CA >JAX
Ron Morris        New Port Richey, FL   10/15/13  Honda GL1800 Gold Wing      JAX>SDO
             * * * Ron is 68 years young on this ride! * * *

Kurt Brenner      Hinckley, OH          10/12/13  Honda Gold Wing             JAX>SDO
Robert Novotny    Broadview Heights, OH 10/12/13  Honda Gold Wing             JAX>SDO

James Goertz      San Tan Valley, AZ    10/06/13  H-D Electra Glide Ultra     SDO>JAX

Michael Crawford  San Tan Valley, AZ    10/06/13  H-D Road King               SDO>JAX

Kenneth R. Graham Pleasant Hill, CA     10/03/13  Kawasaki C14                SDO> FL
Ian A. Fergusson  Carriere, MS          10/02/13  BMW K1600GT                 SDO>JAX

Eric Knight       Carthage, MO          09/24/13  Honda Gold Wing             JAX>SDO
Dennis W. Simmons Joplin, MO            09/24/13  Honda Gold Wing GL1800      JAX>SDO
Cy Knight         Carthage, MO          09/24/13  Honda ST1300                JAX>SDO
             * * * Cy is 72 years young on this ride! * * *

Howard C. Roth    Spring Hill, TN       09/23/13  Suzuki DL1000 V-Strom       JAX>SDO
Eric Edelman      Cicero, NY            09/23/13  H-D Ultra Classic Limited   JAX>SDO

Matt Stockinger   Wauwatosa, WI         09/16/13  Honda Gold Wing             JAX>SDO
Al Glasenapp      West Allis, WI        09/16/13  H-D Ultra Classic           JAX>SDO
             * * * Al is 69 years young on this ride! * * *

Michael Blackshaw Lutz, FL              09/11/13  BMW R1200GS Adventure       JAX>SDO

Voytek Kulesza    Wonder Lake, IL       09/04/13  H-D FLHX                    JAX>SDO

Marcus Walton     Conyers, GA           09/02/13  Honda GL1800 Gold Wing      JAX>SDO
Gean Taylor       Powder Springs, GA    09/02/13  Honda GL1800 Gold Wing      JAX>SDO

Bob King          Salem, OR             08/29/13  Honda Gold Wing GL1800      JAX>SDO

Paul Buendiger    Richville, MN         07/12/13  H-D Heritage Softail        JAX>SDO
Gerald Valenta    Mebane, NC            07/09/13  Honda Gold Wing             JAX>SDO
Donald L. Burris  Enid, OK              07/05/13  Honda Gold Wing             LA >JAX

Anastasia Kedrina Sunny Isles Beach, FL 07/05/13  H-D Electra Glide           SDO>JAX
Yuri Romanov      Sunny Isles Beach, FL 07/05/13  H-D Electra Glide           SDO>JAX
 
Christopher Seawood San Diego, CA       06/22/13  Suzuki V-Strom 650          SDO>JAX
Gary A. House     Spring Hill, FL       06/29/13  Yamaha FJR1300              SDO>JAX

Kevin Weller      Kent, UNITED KINGDOM  06/20/13  BMW R1200GS Adventure       SDO>JAX
Lynda Weller (passenger)                06/20/13  BMW R1200GS Adventure       SDO>JAX

Kenneth Korn      Tallahassee, FL       06/20/13  H-D Ultra Classic           JAX>SDO
Robert A. Loop    Simi Valley, CA       06/19/13  Honda Gold Wing 1800        CA > SC

Albert W. Oakley  Arlington, VA         06/13/13  BMW K1600GT                 JAX>SDO
             * * * Albert is 65 years young on this ride! * * *

John M. Lemmon Sr. Greenville, TX       05/31/13  BMW R1200RT                 JAX>SDO
Robert J. Erwin   Greenville, TX        05/31/13  Honda Gold Wing 1800        JAX>SDO
             * * * Robert is 73 years young on this ride! * * *

William Workman   Lexington, NC         05/18/13  Honda Gold Wing             JAX>SDO
Nelson Cabrera    Pembroke Pines, FL    05/15/13  BMW 1200GS                  JAX>SDO
James W. Lewis    Mount Vernon, MO      05/14/13  BMW 1200RT                  SDO>JAX
             * * * James is 73 years young on this ride! * * *

Keith W. Cromie   Livermore, CA         05/13/13  BMW K1200LT                 SDO>JAX
Craig Lanphear    Bloomington, IL       05/13/13  H-D Ultra CVO               SDO>JAX

Brian Ramsden     Deer Park, WA         05/12/13  Honda Gold Wing             SDO>JAX
Pam Ramsden (passenger)                 05/12/13  Honda Gold Wing             SDO>JAX

Michael L. Smith  Stafford, TX          05/04/13  H-D Electra Glide Ultra     JAX>SDO
Alfred Vaughan    Richmond, TX          05/04/13  H-D Ultra Classic           JAX>SDO
             * * * Alfred is 65 years young on this ride! * * *

Charles Gatecliff Brighton, MI          05/02/13  H-D Screaming Eagle Ultra   JAX>SDO
             * * * Charles is 75 years young on this ride! * * *

Otis T. Beaty     Valrico, FL           04/28/13  H-D Ultra Classic Limited   JAX>SDO
Bruce A. Morgan   Lakeland, FL          04/28/13  H-D Ultra Limited           JAX>SDO

Stanley Bowler Jr. Ashburn, VA          04/16/13  Suzuki V-Strom              SDO>JAX
Michael D. Johnson Ashburn, VA          04/16/13  Suzuki V-Strom              SDO>JAX

David P. Marrier  Haverhill, MA         03/31/13  Honda ST1100                JAX>SDO
David Gula        Epsom, NH             03/31/13  Honda ST1300                JAX>SDO

Ben Sparks        Unionville, IN        03/17/13  BMW R1200RT                 JAX>SDO
Martin Dietz      Largo, FL             03/17/13  BMW R1200GS                 JAX>SDO
             * * * Martin is 68 years young on this ride! * * *

Frederick Germain Rochester, NY         03/16/13  BMW R1200RT                 JAX>SDO
Roderick Waters   Potsdam, NY           03/16/13  Suzuki DL650 V-Strom        SC >SDO

Ken Aman          Wallkill, NY          03/16/13  Honda ST1300                JAX>SDO
Jim O'Dowd        Franklin, TN          03/16/13  Honda GL1800                JAX>SDO

John O. Cooper    Woodland Hills, CA    03/16/13  Honda GL1800                JAX>LAX
Kurt Worden       National City, CA     03/13/13  Kawasaki Ninja 250R         SDO>JAX
John O. Cooper    Woodland Hills, CA    03/11/13  Honda GL1800                LAX>JAX
Ted Bosch         Visalia, CA           03/11/13  Honda Gold Wing             SDO>JAX
Christopher Ross  Lubbock, TX           01/17/13  BMW R1200GS-Adventure       SDO>JAX
Bill Ouellette    Lawrenceville, GA     12/14/12  BMW R1200RT                 JAX>SDO
Bradley A. Moore  Roanoke, VA           12/07/12  H-D Screamin Eagle Softail  SDO>JAX
Tom Weber         Surprise, AZ          11/26/12  BMW R1200RT                 SDO>JAX

Neil Godfrey      Fort Mill, SC         10/05/12  H-D FLHTCI                  SC >SDO
Chris Hicks       North Myrtle Beach,SC 10/05/12  H-D Road Glide              SC >SDO

Eric Aldous       Winnemucca, NV        09/23/12  BMW R1200GSA                SDO>JAX

Peter J. Church   Voorheesville, NY     09/10/12  Suzuki V-Strom              JAX>SDO
Joseph Foglietta  Poughkeepsie, NY      09/10/12  Honda Valkyrie              JAX>SDO
Michael Hurtt     Waterford, NY         09/10/12  Kawasaki Vulcan             JAX>SDO

Dominick Buccola  Flagler Beach, FL     09/09/12  BMW R1150GS                 FL >SDO

Steven Hodges     Covington, GA         09/08/12  Kawasaki Nomad              JAX>SDO
Paul Rose         Covington, GA         09/08/12  H-D Ultra Classic           JAX>SDO
Millard Jackson   Social Circle, GA     09/08/12  H-D Ultra Classic           JAX>SDO

Keith Millett     Hunt Valley, MD       09/08/12  H-D Street Glide SC >SDO
Bob Romiti        Mount Airy, MD        09/08/12  H-D Road King    SC >SDO
Ben Woodworth     Baltimore, MD         09/08/12  H-D FLHTCI PoliceSC >SDO

Renato E. Marquez Newbury Park, CA      09/08/12  H-D Street Glide FL > LA
Fely V. Juanero (passenger)             09/08/12  H-D Street Glide FL > LA

Paul E. Prue      Cudjoe Key, FL        08/18/12  H-D FLHTC        SDO>JAX

Dan J. Lambert    Temple, PA            08/08/12  Honda Gold Wing  JAX>SDO
Jason D. Bauder   Hamburg, PA           08/08/12  Honda Shadow 1100JAX>SDO

Kenneth J. Padden Andover, NY           08/06/12  H-D Street Glide JAX>SDO
Doug Hammond      Dundee, NY            08/06/12  H-D Ultra ClassicJAX>SDO

Jonathan Ward     San Marino, CA        08/05/12  BMW K1200GT      LA >JAX

Warren Henderson  Durham, NC            07/16/12  Suzuki Hayabusa  SDO> GA
Peter L. Versoi   Durham, NC            07/16/12  H-D Sportster 883SDO> GA
Paul Bernasconi   Chapel Hill, NC       07/16/12  Suzuki Hayabusa  SDO> GA

Brian Walters     Sugar Land, TX        07/07/12  BMW R1200GS      SDO>JAX

Terry Crawford    Oxnard, CA            06/02/12  H-D Street Glide SDO>JAX
Raymond Crawford  Oxnard, CA            06/02/12  H-D ElectraGlide SDO>JAX
             * * * Raymond is 66 years young on this ride! * * *

Matthew Leininger Decatur, IL           05/23/12  BMW 1150RT       JAX>SDO

Gordon Jaap       Creston, BC CANADA    05/12/12  Honda Gold Wing  JAX>SDO
             * * * Gordon is 71 years young on this ride! * * *

Troy S. Decker    Riverton, UT          04/29/12  BMW R1200GSA     SDO>JAX

Matthew Daugherty St. Augustine, FL     04/20/12  Suzuki DL1000    FL >SDO
Alan S. Paris     St. Augustine, FL     04/20/12  Triumph Bonnevil.FL >JAX

Paul E. Liechty   Rockwall, TX          04/20/12  H-D Ultra ClassicJAX>SDO
Lorne O. Liechty  Dallas, TX            04/20/12  H-D Ultra ClassicJAX>SDO

Mark King         Franklin, TN          04/14/12  Honda Gold Wing  JAX>SDO
Randy L. Hughes   Springfield, TN       04/14/12  Honda ST1300     JAX>SDO
Bruce Munns       Brentwood, TN         04/14/12  H-D Electra GlideJAX>SDO

Steve Collins     Golden Meadow, LA     04/05/12  Suzuki Burgman   JAX>SDO
James O'Connor    Whitehouse, TX        04/05/12  Honda GL1800     JAX>SDO

Jim Sartin        Turlock, CA           04/01/12  Suzuki Intruder  SDO>JAX
Jim Retemeyer     Atwater, CA           04/01/12  BMW K1200LTC     SDO>JAX

Motorcycle Tourer's Forum 50cc Event
Jonathan Vickery  Signal Mountain, TN   03/19/12  BMW R1200RT      JAX>SDO
Kevin Gardner     Marietta, GA          03/19/12  Honda GL1800     JAX>SDO
Mark Hornstein    Greentown, IN         03/19/12  H-D Limited      JAX>SDO
Jim Brelsford     Scottsdale, AZ        03/21/12  BMW R1200GSA     SDO>JAX
John O. Cooper    Woodland Hills, CA    03/21/12  Honda GL1800     SDO>JAX
Stan Cooper       Platte City, MO       03/21/12  Honda Gold Wing  SDO>JAX

Donald Hostetler  Vermilion, OH         03/21/12  H-D Ultra        JAX>SDO
Michael McCaffrey Canton, OH            03/19/12  Yamaha FJR1300A  JAX>SDO
  
Hal Regi          Tyrone, GA            03/15/12  Honda GL1800     JAX>SDO
Nathan S. Monie   Marietta, GA          03/15/12  Honda Rune       JAX>SDO

Garry Springgay   Gilbert, AZ           03/13/12  H-D FLHTCUI      SDO>JAX

Renato E. Marquez Newbury Park, CA      03/12/12  H-D Street Glide FL >SDO
Fely V. Juanero (passenger)             03/12/12  H-D Street Glide FL >SDO
Antonio Santa Ana Carson, CA            03/12/12  H-D FLHTK Ultra  FL >SDO

Rex LeGalley      Albuquerque, NM       03/11/12  H-D Street Glide JAX>SDO

Renato E. Marquez Newbury Park, CA      03/09/12  H-D Street Glide LA >JAX
Fely V. Juanero (passenger)             03/09/12  H-D Street Glide LA >JAX

Daniel Wittry     Oswego, IL            03/01/12  BMW K1600GTL     JAX>SDO

Ralph H. Bell Jr. Columbia, SC          10/21/11  H-D Road King    JAX>SDO
Bernie Sapp       Denver, CO            10/15/11  BMW K1200GT      SDO>JAX
Thomas Styczynski Santa Barbara, CA     10/11/11  Honda ST1300     SDO>JAX

Lars A. Aspelin   Santa Rosa, CA        09/19/11  Honda ST1100     SDO>JAX
Thomas Fogle      Sonoma, CA            09/19/11  BMW R1150RT      SDO>JAX

Les Pratt         Rogers, MN            09/15/11  Honda Gold Wing  SDO>JAX
Raymond F. Hirte  South St. Paul, MN    09/15/11  Yamaha 1300      SDO>JAX

Eric L. Prall     Harker Heights, TX    08/25/11  BMW R1200RT      JAX>SDO
             * * * Eric is 73 years young on this ride! * * * 
   
Chester R. Koch   Peebles, OH           08/06/11  H-D Ultra ClassicJAX>SDO
Gwen Phillips     Culpeper, VA          07/30/11  BMW K1100RS      JAX>SDO

Brian L. Burnham  Ashland, MA           07/29/11  Suzuki Boulevard JAX>SDO
Charles Corman    Ashland, MA           07/29/11  Honda Gold Wing  JAX>SDO
             * * * Charles is 66 years young on this ride! * * * 

James Dean Potts  Claremont, CA         07/29/11  H-D UltraClassic SDO>JAX

Roger Buis        Baker, FL             07/13/11  H-D Electra GlideJAX>SDO
Ed Benson, Sr.    Charlotte, NC         07/09/11  H-D UltraLimited SC >SDO

Randy L. Sheets   Parker, CO            07/01/11  H-D Heritage     SDO>JAX

Donald McFarlane  Turlock, CA           06/18/11  BMW K1200LT      FL >SDO
Randy LaFollette  Turlock, CA           06/18/11  Honda Gold Wing  FL >SDO

Jack B. Shoalmire Broken Arrow, OK      06/14/11  BMW R1200RT      SDO>JAX

Randal Bennett    Comer, GA             06/12/11  H-D Fat Boy      JAX>SDO

Paul W. Enlow     Brownsburg, IN        05/29/11  Kawasaki ZX-6R   JAX>SDO

Jeremy A. Sikes   Centreville, VA       05/21/11  H-D Street Glide JAX>SDO
Gary A. Bailey    Yakima, WA            05/21/11  H-D Ultra ClassicJAX>SDO
Vernon L. Rank    Yakima, WA            05/21/11  H-D Ultra ClassicJAX>SDO
             * * * Vernon is 77 years young on this ride! * * * 

Keith Paxton      Charlotte, NC         05/21/11  BMW R1200RT      JAX>SDO

Dennis Santi      Vista, CA             05/20/11  BMW R1150RT      SDO>JAX
Dave Benoit       Comox, BC CANADA      05/19/11  BMW R1200GS      GA > CA
Michael Dummitt   Champaign, IL         05/18/11  Honda Gold Wing  SDO>JAX
Matthew M. Ertel  Jacksonville, NC      05/14/11  Yamaha V-Star    NC >SDO
Bill Senn         Bentonville, AR       05/13/11  BMW K1200LT      SDO>JAX

Brad Adams        Seymour, TN           05/12/11  Honda Gold Wing  JAX>SDO
George Maples     Friendsville, TN      05/12/11  Honda Gold Wing  JAX>SDO
             * * * George is 69 years young on this ride! * * * 

Patrick Fisher    Gaithersburg, MD      05/08/11  Ducati 1200S     JAX>SDO

Jerald Anderson   Fort Worth, TX        04/29/11  Suzuki GSX-R1000 JAX>SDO
Ken Meese         Oxnard, CA            04/23/11  BMW K1300GT      JAX> CA

William Maynard   Orlando, FL           04/09/11  Honda Gold Wing  JAX>SDO
Paul E. Knight    Oviedo, FL            04/09/11  BMW K1200LT      JAX>SDO

Roger A. Shores   Leawood, KS           04/09/11  Honda Gold Wing  JAX>SDO

Brian Francis     Phoenix, AZ           04/03/11  Yamaha Venture   SDO>JAX
Steven M. Proctor Phoenix, AZ           04/03/11  Yamaha RoyalStar SDO>JAX

Ron Crump         Tremonton, UT         03/19/11  H-D Road Glide   SDO>JAX
Buck Wilkinson    St. George, UT        03/19/11  H-D Road Glide   SDO>JAX
Craig H. Sorensen Garland, UT           03/19/11  H-D Road Glide   SDO>JAX

Gary Osborn       Lees Summit, MO       03/12/11  H-D Softail      JAX>SDO
Jeffrey Heimburger Phoenix, AZ          03/06/11  BMW R1150GS Adv. SDO>JAX

Jeffrey Grimland  Torrance, CA          02/17/11  H-D FXDL         JAX> CA

Jim Mulcahy       Tulsa, OK             11/18/10  Yamaha FJR       JAX>SDO
Jack Shoalmire    Broken Arrow, OK      11/18/10  BMW R1200RT      JAX>SDO

Russell Gillingham  Panama City, FL     10/30/10  Honda ST1300     JAX>SDO
Allen Wood        Panama City, FL       10/30/10  Suzuki GT750!    JAX>SDO 1974 GT750!
 
John A. Garzon    La Mesa, CA           10/28/10  Triumph Rocket   SDO>JAX
Steven R. Shulman Corona Del Mar, CA    10/28/10  Honda Gold Wing  SDO>JAX

Al Gammons        Tampa, FL             10/18/10  H-D Ultra ClassicJAX>SDO
Ray Simonsen      Mesa, AZ              10/10/10  Honda Valkyrie   SDO>JAX
Gail C. Kaltz     Crestview, FL         10/09/10  BMW R1100GS      JAX>SDO
Darrell Peloquin  Petaluma, CA          09/19/10  H-D Softail      SDO>JAX

James E. Judge    Mooreland, OK         09/11/10  H-D Ultra ClassicJAX>SDO
             * * * James is 74 years young on this ride! * * *

Walter Hensley    Chickamauga, GA       09/06/10  H-D Ultra Glide  JAX>SDO
Kenneth E. Cox    Resaca, GA            09/06/10  Honda Gold Wing  JAX>SDO

Alan R. Varley    Grapevine, TX         08/10/10  BMW R1150GSA     JAX>SDO
David A. Varley   Delta, CO             08/10/10  BMW R1150RT      JAX>SDO

Scott Lockwood    Lighthouse Point, FL  08/10/10  H-D Heritage     FL > CA
Corey Langridge   Stuart, FL            08/03/10  Honda ST1300ABS  CA >JAX

Guy Pierce        High Point, NC        08/02/10  BMW K1200LT      GA >SDO

Tony King         Janesville, WI        07/31/10  BMW R1200RT      SDO>JAX
Ken Cook          Pooler, GA            07/14/10  BMW R1200RT      GA > CA
Ross L. Moore     Geneva, FL            07/14/10  BMW R1200RT      FL >SDO

Michael Locke     Millington, NJ        07/11/10  BMW 1200GS       JAX>SDO

Anton Heil        Colorado Springs, CO  07/10/10  Honda Gold Wing  JAX>SDO
Bob Feeser        Morrison, CO          07/10/10  H-D Road King    JAX>SDO
Theresa Feeser (passenger)              07/10/10  H-D Road King    JAX>SDO

Adrian Musters    Huntsville, ON CANADA 07/07/10  Honda Gold Wing  JAX>SDO

Kenneth Sampson   Sharpsville, PA       07/06/10  BMW 1200GS       JAX>SDO
             * * * Kenneth is 72 years young on this ride! * * *

Jeff White        Mableton, GA          07/05/10  BMW R1150RT      JAX>SDO
Mike Mustard      Wytheville, VA        06/27/10  BMW R1200RT      JAX>SDO
Joseph R. O'Neal  Owensboro, KY         06/25/10  BMW K1200LT      JAX>SDO

Roy Yeram         Fresno, CA            06/24/10  H-D ElectraGlide SDO>JAX
William E. Clark  Fresno, CA            06/24/10  BMW 1200LT       SDO>JAX

Robert Chadwick   Independence, MO      06/17/10  H-D Road Glide   JAX>SDO
Tim Trytten       Sooke, BC CANADA      06/14/10  Kawasaki ConcoursSDO>JAX
Richard L. Cloud  Stockbridge, GA       06/12/10  Honda VTX        SDO>JAX
Steve Stubbs      Isle of Palms, SC     06/09/10  BMW R1150RT      JAX>SDO
Charles F. Keller Carson City, NV       06/06/10  BMW R1150GS      SDO>JAX

Charles Fider     Windsor, ON CANADA    06/01/10  BMW R100RT       SDO>JAX
Robert Munden     Windsor, ON CANADA    06/01/10  Honda CBR125     SDO>JAX

Craig Brown       Stoney Creek,ON CANADA05/29/10  H-D ScreaminEagleJAX>SDO
Cam Cocks         Stoney Creek,ON CANADA05/29/10  Honda Gold Wing  JAX>SDO
             * * * Cam is 74 years young on this ride! * * *

Bobby W. Moody    Brandon, FL           05/29/10  Honda GL1800     JAX>SDO
Roland David      Montrael, QC CANADA   05/24/10  Yamaha FZ1       SDO>JAX

Lloyd Willoughby  Chelmsford, ON CANADA 05/22/10  H-D Electra GlideJAX>SDO
John Daigle       Dowling, ON CANADA    05/22/10  BMW R1200RT      JAX>SDO
Rod A. Burns      Chelmsford, ON CANADA 05/22/10  H-D Electra GlideJAX>SDO

Matt Reid         West Hills, CA        05/21/10  H-D Road King     CA>JAX
Steve Lee         Canyon Country, CA    05/21/10  H-D Road King     CA>JAX

Thomas F. Mathews Seagoville, TX        05/20/10  BMW K1200GT      JAX>SDO
Steve Mathews     Houston, TX           05/20/10  Honda Gold Wing  JAX>SDO

Robert J. Troy    Urbana, IL            05/16/10  H-D FLHTCUSE3    JAX>SDO
Timothy Swigart   Tolono, IL            05/16/10  Honda Gold Wing  JAX>SDO

Rick Harris       Spring, TX            05/15/10  H-D Road Glide   JAX>SDO
Neal Z. Ramsey    Pasadena, TX          05/15/10  H-D Road Glide   JAX>SDO
             * * * Neal is 68 years young on this ride! * * *

Richard W. Antoine Walnut, CA           05/13/10  BMW R1200RT        CA>GA
Michael L. Baker   Richmond, VA         05/08/10  BMW K1200LT      JAX>SDO

Gary A. Bailey    Yakima, WA            05/06/10  H-D Ultra ClassicSDO>JAX
Vernon L. Rank    Yakima, WA            05/06/10  H-D Ultra ClassicSDO>JAX
             * * * Vernon is 76 years young on this ride! * * *

Dan Leffert       Castle Rock, CO       05/04/10  H-D Ultra        SDO>JAX
Kit Chunhawong    Alexandria, VA        05/04/10  BMW K1200LT      SDO>JAX
Wayne Driver      Bainbridge Island, WA 05/04/10  BMW K1200GT      SDO>JAX
Kenneth Hatch     Tucson, AZ            05/04/10  Honda GL1800     SDO>JAX
             * * * Kenneth is 67 years young on this ride! * * *

MTF Coast to Coast
Bill Ouellette    Lawrenceville, GA     05/03/10  H-D Ultra ClassicJAX>SDO
Jim Orr           Chandler, OK          05/03/10  Honda Gold Wing  JAX>SDO
Joe Smith         Fairfax, VA           05/03/10  Honda Gold Wing  JAX>SDO
Joseph Bonacuse   Bradenton, FL         05/03/10  Triumph RocketIIIJAX>SDO
Lloyd Kreif       Fredonia, WI          05/03/10  H-D Ultra ClassicJAX>SDO
Ron Perlik        Front Royal, VA       05/03/10  Honda GL1800     JAX>SDO
Scott Mueller     Fredonia, WI          05/03/10  H-D Electra GlideJAX>SDO
Ray King          Jacksonville, FL      05/03/10  BMW R1200RT      JAX>SDO
             * * * Ray is 66 years young on this ride! * * *

Peter Sommer      Houston, TX           05/01/10  H-D Ultra        JAX>SDO
Michael Hoevelman La Porte, TX          05/01/10  Yamaha Royal StarJAX>SDO

Ben Thompson      Round Rock, TX        05/01/10  Yamaha Royal StarJAX>SDO

David E. Best Sr. Canfield, OH          04/25/10  H-D Road Glide   JAX>SDO
Dale R. Creed     Berlin Center, OH     04/25/10  H-D Road Glide   JAX>SDO

Rick Fromknecht   Spring Hill, FL       04/17/10  BMW K1200GT      JAX>SDO
David Stoler      Garden Grove, CA      04/08/10  BMW K1200GT      SDO>JAX
David Pevalin     Essex, UNITED KINGDOM 03/24/10  Honda Gold Wing  JAX>SDO
Joe Bedford       Jasper, ON CANADA     03/27/10  H-D Ultra ClassicJAX>SDO
Nick Trumbo       San Clemente, CA      03/08/10  Kawasaki ConcoursJAX>CA
Marc Beaulac      Gilbert, AZ           03/03/10  Honda GL1800     CA >JAX

Ken Stiles        Sun City, CA          02/27/10  H-D Ultra Classic CA>JAX
Melanie Coats (passenger)               02/27/10  H-D Ultra Classic CA>JAX
 
Alan H. Hall      Friendswood, TX       02/20/10  Honda GL1800     JAX>SDO
Michael Nimr      Houston, TX           02/20/10  H-D Ultra        JAX>SDO

Rob Schmidt       Overland Park, KS     11/21/09  Honda Gold Wing  JAX>SDO
Randall R. Heiner Salt Lake City, UT    11/09/09  H-D Ultra ClassicSDO>JAX
William A. Murar  Wellington, OH        11/04/09  BMW R1200GS      JAX>SDO

Max D. Lupini     Winter Haven, FL      10/27/09  Honda Gold Wing  JAX>SDO

Larry E. Reed     Friendswood, TX       10/13/09  Honda Gold Wing  JAX>SDO
Denver Lionberger Hermann, MO           10/13/09  BMW K1200LT      JAX>SDO

Mike Seibold      Rohnert Park, CA      09/27/09  Honda ST1300     SDO>JAX
Randolph Luna     Barstow, CA           09/25/09  H-D Ultra ClassicSDO>JAX

Kris Schoonover   Hubertus, WI          09/25/09  H-D Road Glide   SDO>JAX
Don Stadtler      Orange, VA            09/25/09  H-D Softail      SDO>JAX
             * * * Don is 66 years young on this ride! * * *

Hoagy's Heroes 50cc Quest
Kirsten Talken-Spaulding                09/09     BMW R1200RT      SDO>JAX
Anthony Osborne   West Palm Beach, FL   09/09     Yamaha FJR1300   SDO>JAX
Wade Moorefield   Jacksonville, FL      09/09     Honda GL1800     SDO>JAX
Gregory Partridge Sanford, FL           09/09     H-D Ultra ClassicSDO>JAX
Bobby Wilson      Glendale, WV          09/09     Honda Gold Wing  SDO>JAX
Keith Taylor      Longwood, FL          09/09     Honda GL1800     SDO>JAX
Douglas Lasley    Roseville, MI         09/09     H-D FLH          SDO>JAX
Hoagy Carmichael  Moundsville, WV       09/09     H-D Ultra ClassicSDO>JAX

Kevin B. Sawatsky Caddo Mills, TX       09/15/09  Kawasaki Voyager SDO>JAX
Ron Cain          Oak Ridge, TN         09/13/09  Kawasaki ConcoursJAX>SDO
David M. Gilmore  Unionville, VA        09/03/09  BMW R1100RS       NC>CA

Kevin Thompson    Bendena, KS           08/31/09  Suzuki Boulevard JAX>SDO

George Kessinger  Rockville, MD         08/08/09  BMW R1200RT       FL>SDO
Kenneth Gardner   Sugar Creek, MO       06/08/09  H-D Ultra ClassicSDO>JAX
Joe Hallford      N. Richland Hills, TX 06/06/09  Honda GL1800     JAX>SDO

Lynn M. Cummins   Milford, OH           06/03/09  H-D FLHT         JAX>SDO
Jerry Cummins     Milford, OH           06/03/09  H-D FLHTC        JAX>SDO

Joseph Houseworth Paradise, CA          05/30/09  BMW K1200LT      SDO>JAX
Richard Kopp      Oroville, CA          05/30/09  Suzuki Hayabusa  SDO>JAX

Dale Cloutier     Eureka, CA            05/26/09  BMW R1150GS       CA>JAX

Dianne Fox        Frisco, TX            05/26/09  H-D Ultra ClassicSDO>JAX
Bobby Fox         Frisco, TX            05/26/09  H-D Ultra ClassicSDO>JAX

Wounded Warrior Project 27-1
Mark L. Bosley    Lafayette, CO         05/14/09  H-D Road King    SDO>SC

Brian Bray        Mableton, GA          05/12/09  Suzuki SV650S    JAX>SDO
Paul Hemmel       Glasgow, MO           04/27/09  H-D Ultra ClassicSDO>JAX
Tim Hemmel        Fairview Heights, IL  04/27/09  H-D Ultra ClassicSDO>JAX
Hal James         Columbia, MO          04/27/09  H-D Ultra        SDO>JAX

William Pruitt    Brownwood, TX         04/24/09  H-D Ultra ClassicSDO>JAX
George T. Erdel   Murfreesboro, TN      04/21/09  Kawasaki Voyager LA >JAX
Anthony A. Austin Lebanon, VA           04/21/09  BMW R1200GS      JAX>SDO
Mark Smith        Watauga, TX           04/18/09  Honda Gold Wing  JAX>SDO

Peter Perrin      Torrance, CA          04/12/09  BMW R1200RT      JAX>LA
             * * * Peter is 67 years young on this ride! * * *

Jeff Scheulen     Woodbridge, VA        04/10/09  Yamaha Royal StarSDO>JAX

Lester Zutz       Slave Lake, AB CANADA 04/05/09  H-D Road Glide   SDO>JAX
             * * * Lester is 68 years young on this ride! * * *

John E. Stamps    Fort Myers, FL        03/24/09  BMW R1200RT      JAX>SDO

Christopher Ross  Lubbock, TX           03/16/09  BMW R1100RT      SDO>GA
Marc J. Levine    Lubbock, TX           03/16/09  Yamaha FJR1300   SDO>GA

Jack B. Shoalmire Broken Arrow, OK      03/12/09  BMW R1200RT      JAX>SDO
Jack B. Shoalmire Broken Arrow, OK      03/09/09  BMW R1200RT      SDO>JAX
Jack B. Shoalmire Broken Arrow, OK      03/07/09  BMW R1200RT      JAX>SDO

Robert Killbuck   Magnolia, TX          03/07/09  Honda GL1800     JAX>SDO

Russ Albright     Torrance, CA          03/01/09  H-D Ultra        CA >JAX
             * * * Russ is 65 years young on this ride! * * *

Marty Wilson      San Diego, CA         02/27/09  Honda VTX1300R   SDO>JAX
Matt Koch         Capitola, CA          02/23/09  H-D Ultra ClassicSDO>JAX

Jerry Hotchkiss   Deltona, FL           02/22/09  Honda GL1800     JAX>SDO

Matt Sturgis      Saint Johns, FL       02/21/09  BMW R1100RT      JAX>SDO
Jack B. Shoalmire Broken Arrow, OK      02/09/09  BMW R1200RT      JAX>SDO
Jack B. Shoalmire Broken Arrow, OK      02/06/09  BMW R1200RT      SDO>JAX
Billy Street      Dawsonville, GA       01/03/09  Honda VFR800     SDO>JAX


Marty Nussbaum    Phoenix, AZ           01/02/09  Triumph Sprint   SDO>JAX

Mario L. DeBlasio McMurray, PA          12/15/08  H-D Ultra ClassicJAX>SDO
Jeffrey S. Willis Haymarket, VA         12/13/08  BMW K1200GT      SDO>JAX

Timothy Masterson San Marcos, TX        11/07/08  BMW R120GS       JAX>SDO

Michael D. Nowlen San Luis Obispo, CA   11/01/08  Suzuki V-Strom   SDO>JAX
Mitchell Nowlen   Palmdale, CA          11/01/08  Suzuki V-Strom   SDO>JAX

Jerry L. Becherer Edwardsville, IL      10/21/08  BMW K1200LT      JAX>SDO

Steve Jackson     Seneca, SC            09/27/08  BMW K12GT        JAX>SDO
Steven J. Morris  Seneca, SC            09/27/08  Honda Gold Wing  JAX>SDO

Jeff Baumgardner  North Augusta, SC     09/20/08  Honda Gold Wing  JAX>SDO

John L. Strain    Trimble, MO           09/08/08  Honda VTX1300R   JAX>SDO
Johnny Allen      Shawnee, OK           09/08/08  Honda Gold Wing  JAX>SDO

Ken Downs         Redding, CA           08/09/08  Honda Gold Wing  JAX>SDO
Sandra Downs (passenger)                08/09/08  Honda Gold Wing  JAX>SDO

Michiel Kerkhof   Kapellen, BELGIUM     07/30/08  H-D Electra GlideSDO>JAX

Mike Fitzpatrick  Fresno, CA            07/28/08  H-D Ultra ClassicSDO>JAX
Skip Kazmarek     Atlanta, GA           07/23/08  Honda Gold Wing  CA >JAX

Jim Moore         Rye, NH               06/14/08  Yamaha FJR1300   SDO>JAX
                * * * Jim is 71 years young on this ride! * * *

Jack Shoalmire    Broken Arrow, OK      06/13/08  BMW R1200RT      SDO>JAX
Gary Orr          San Diego, CA         06/11/08  BMW K1200LT      SDO>JAX
Rick Main         Beaver, OK            06/04/08  H-D Ultra ClassicJAX>SDO
Erich Otten       Stafford Springs, CT  06/02/08  Honda ST1300     JAX>SDO

Terry McElroy     Belton, TX            06/02/08  H-D Ultra        SDO>JAX
Alex R. Edwards   Miami Beach, FL       05/24/08  Suzuki Boulevard JAX>SDO
Carlos Aragon     Miami, FL             05/24/08  BMW R1200GS      JAX>SDO

Bob Rippy         VillageOfLochLloyd,MO 05/24/08  BMW R1200RT      JAX>SDO
Mark Schindler    Fort Mill, SC         05/24/08  BMW K1200RS      JAX>SDO

Michael Boyle     Niceville, FL         05/16/08  H-D Electra GlideJAX>SDO
Randall Anderson  Niceville, FL         05/16/08  H-D FLHX         JAX>SDO
Claude Wigglesworth Cameron, NC         05/16/08  H-D Road King    JAX>SDO
Billy Lindsay     Fayetteville, NC      05/16/08  H-D Road King    JAX>SDO

Calvin A. Gant    Union City, TN        05/10/08  Honda Gold Wing  JAX>SDO
Joshua T. Canada  Newbern, TN           05/10/08  Honda Gold Wing  JAX>SDO

David Flitcraft   Chula Vista, CA       05/04/08  Honda Gold Wing  SDO>JAX
Craig C. Maguire  Orlando, FL           05/03/08  Honda Gold Wing  SDO>JAX
Ron Tarrington    Wake Forest, NC       04/21/08  BMW R1200GS      GA >SDO

Ted Lettelleir    Camarillo, CA         04/14/08  BMW K1200LT      LA >JAX
Ken Meese         Westminster, CA       04/14/08  BMW K1200GT      LA >JAX

Terry W. Marrs    Conowingo, MD         04/12/08  Honda VTX1800R   JAX>SDO
Uwe Lang          Lutz, FL              04/12/08  H-D FLHTCUI      JAX>SDO

Billy Walker      Apex, NC              03/21/08  H-D Road King    JAX>SDO
Richard H. Herold Claremont, CA         03/28/08  Honda Gold Wing  SDO>JAX

Troy Storz        Mountain View, CA     03/20/08  Honda Gold Wing  SDO>JAX

Ray Brannum       Guntersville, AL      03/08/08  Can-Am Spyder    JAX>SDO
             * * * Ray is 76 years young on this ride! * * *

Motorcycle Tourer's Forum IBA Party Ride-In
Bronce Smith      Bonne Terre, MO       03/05/08  KTM 990 Adventure SDO>JAX
Chad A. Smith     Tucson, AZ            03/05/08  Honda ST 1300     SDO>JAX
Don Sipler        Jacksonville, FL      03/05/08  BMW R1150GS       SDO>JAX
Dorsey D. Price   Tucson, AZ            03/05/08  Honda Gl1800      SDO>JAX
Doug Barrett      Sugarloaf, CA         03/05/08  Honda VFR         SDO>JAX
Kurt Dix          West Palm Beach, FL   03/05/08  Kawasaki Concours SDO>JAX
Mike Relph        Peoria, AZ            03/05/08  Kawasaki Concours SDO>JAX
Richard A. Madlem Charleston, IL        03/05/08  Yamaha Venture    SDO>JAX
Robert H. Ashby   Glendale, AZ          03/05/08  Yamaha FJR1300    SDO>JAX
Tom Atkinson      Magnolia, TX          03/05/08  Honda GL1500SE    SDO>JAX

Shuey Wolfe       Niceville, FL         02/04/08  Honda ST1300A    JAX>SDO

Vincent G. Fowler Longview, TX          10/07/07  H-D Road Glide    JAX>SDO
Rickey Thrasher   Henderson, TX         10/07/07  Honda Gold Wing   JAX>SDO
Raymond L. Banks  Gladewater, TX        10/07/07  BMW K1200LT       JAX>SDO

Michael G. Scott  Tallahassee, FL       10/06/07  H-D Ultra         JAX>SDO
Emile Barnes, III Crawfordville, FL     10/06/07  H-D Ultra Classic JAX>SDO

Joel Roach        High Point, NC        09/28/07  Honda GL1800      JAX>SDO

Beau Sims         Dalton, GA            09/22/07  Honda Gold Wing   JAX>SDO
Doug Jones        Dalton, GA            09/22/07  BMW R1200RT       JAX>SDO

Hoagy's Heroes Long Distance Charity Motorcycle Ride
Bob Carmichael    Moundsville, WV       08/29/07  H-D Ultra         JAX>SDO
Bobby Pennock     Beverly, OH           08/29/07  H-D Ultra Classic JAX>SDO
John Pennell      Fairfield, OH         08/29/07  H-D Softail       JAX>SDO
Doug Crossett     Katonah, NY           08/29/07  H-D Road Glide    JAX>SDO
Bill Gaddis       Fort Myers, FL        08/29/07  Kawasaki Vulcan   JAX>SDO
Jim Barnhart      Clearwater, FL        08/29/07  Honda Gold Wing   JAX>SDO
Ray Dodson        Napa, CA              08/29/07  Honda Gold Wing   JAX>SDO
Tony Lewis        Trappe, MD            08/29/07  Honda ST1300      JAX>SDO
James Klauzner    Coral Springs, FL     08/29/07  Yamaha FJR        JAX>SDO
Samuel R. Bootle  Gainesville, FL       08/29/07  Kawasaki Concours JAX>SDO

Bob Williams      Chagrin Falls, OH     07/21/07  H-D Road King     JAX>SDO
Jeff Williams     Reminderville, OH     07/21/07  H-D Road King     JAX>SDO

Jim Billings      Atkins, AR            07/18/07  Honda Gold Wing   JAX>SDO

Earl Smith        Roanoke, VA           07/13/07  BMW K1200LT       JAX>SDO
Melanie Smith (passenger)               07/13/07  BMW K1200LT       JAX>SDO

Steven J. Schmidt Franklin, TN          06/28/07  H-D FLHTCU        JAX>SDO
Stephen Moretti   Auburn, NY            06/25/07  H-D Road King     GA >SDO 

Gary Lodwick      Scottsdale, AZ        06/20/07  Honda ST1100      JAX>SDO
David Glick       Oregon, WI            06/20/07  Yamaha FJR1300AE  JAX>SDO

James A. Vanyek   Sherman Oaks, CA      06/17/07  H-D Ultra        LA >JAX 
David Porter      Rio Rancho, NM        06/16/07  Honda ST1300     SDO> GA
David C. Dennis   Maricopa, CA          06/11/07  Kawasaki Ninja   SDO>JAX
Karl Snell        Peachtree City, GA    06/10/07  BMW R1200GS      JAX>SDO
Kirby S. Nellis   Show Low, AZ          06/08/07  BMW R1200RT      CA >JAX
Michael Callaghan Houston, TX           05/29/07  H-D Road Glide   JAX>SDO
John Blackstone   Memphis, TN           05/28/07  Honda Gold Wing  JAX>SDO
Paul Robson       Farmington Hills, MI  05/26/07  H-D Road King    SDO>JAX
Kent Gabrielson   Mesa, AZ              05/26/07  H-D Electra GlideSDO>JAX

Brian K. Roberts  Fernley, NV           05/21/07  Suzuki V-Strom   SDO>JAX
Robert J. Erb     Savannah, GA          05/17/07  BMW R1150RS      GA >SDO
             * * * Robert is 68 years young on this ride! * * *

Kent Ringstmeier  Seville, OH           05/02/07  BMW K75S         SDO>JAX

Richard Johnson   Paducah, KY           04/24/07  H-D FLHRCI       JAX>SDO
Ken Thompson      Benton, KY            04/24/07  H-D FLHTCUI      JAX>SDO

Greg Deckrow      Los Gatos, CA         04/20/07  BMW R1200GS      JAX>SDO
Art Reitsma       Cobble Hill,BC CANADA 04/19/07  Honda ST1100A    SDO>JAX
Ron Bogucki       Snellville, GA        04/13/07  BMW R1200RT      GA >SDO

Robert E. Collins Port Neches, TX       03/11/07  Honda Gold Wing  JAX>SDO

Richard S. Turk   Benicia, CA           12/12/06  BMW K1200GT      SDO>JAX
Paul W. Morgan    Altamonte Springs, FL 12/11/06  BMW R1100RT      LA > FL

Wayne Bentley     Cedar Rapids, IA      09/30/06  BMW K1200GT      SDO>JAX
David L. Sumner   Lakeland, FL          09/13/06  Honda Gold Wing  JAX>SDO
Jack Shoalmire    Broken Arrow, OK      09/09/06  BMW K1200LT      JAX>SDO
Larry E. Troutman Halifax, PA           09/12/06  BMW R1200GS      JAX>SDO
Mike Faulkner     Springfield, VA       09/11/06  Honda GL1800     JAX>SDO
William E. Gould  Atlanta, GA           09/08/06  BMW R65          JAX>SDO 

John H. Harelson  Grants Pass, OR       08/28/06  Suzuki Cavalcade SDO>JAX
Ken Jimenez       Mount Shasta, CA      07/27/06  Buell Ulysses    JAX>SDO

Nathan Benedict   Hephzibah, GA         07/15/06  H-D Heritage     JAX>SDO
James M. Benedict Augusta, GA           07/15/06  H-D Sportster    JAX>SDO

Evan Todd Yeager  Trenton, TX           06/20/06  KawasakiNinja250 SDO>JAX
John T. Smith     Pensacola, FL         06/17/06  H-D FLHTCUI      JAX> LA
Jack B. Shoalmire Broken Arrow, OK      06/08/06  BMW R1200RT      SDO>JAX

Alan C. Gardella  Englewood, OH         06/06/06  Honda Gold Wing  JAX>SDO

Curt Tutell       Marengo, IL           06/01/06  BMW K1200LT      JAX>SDO
Lisa Tutell (passenger)                 06/01/06  BMW K1200LT      JAX>SDO

Tim Q. O'Keefe    Reno, NV              05/20/06  Honda GL1800     SDO>JAX
Don Hubbard       Clearlake Oaks, CA    05/30/06  Honda GL1500     SDO>JAX

James R. Chitwood Charlotte, NC         05/27/06  H-D FLHT         GA > CA
Michael E. Eddins Oakboro, NC           05/27/06  Honda Gold Wing  GA > CA

Mike Pennington   Corona, CA            05/27/06  Honda Valkyrie   SDO>JAX

Mark E. Kratz     Fremont, CA           05/25/06  Honda ST1300     SDO>JAX
Antonio Delgado   Tracy, TX             05/25/06  Yamaha FJR1300   SDO>JAX

Wayne Slepecky    Medina, OH            05/13/06  Honda ST1300     JAX>SDO

James D. Richter  Atlanta, GA           05/14/06  Yamaha RoyalStar JAX>SDO
Edward Mattison   Raleigh, NC           05/14/06  Honda VTX1800C   JAX>SDO

Tony Christopher  Corvallis, OR         05/11/06  Honda V65 Sabre  SDO>JAX
Dick Creaser      Corvallis, OR         05/11/06  H-D FLHTCUI      SDO>JAX

Doug Morgan       Waxahalhie, TX        05/08/06  H-D Road King    JAX>SDO
Bill Androws      Livermore, CA         05/07/06  Honda GL1800     SDO>JAX

Don Gardella      Albany, OH            05/06/06  Honda Gold Wing  JAX>SDO
Alan C. Gardella  Englewood, OH         06/06/06  Honda Gold Wing  JAX>SDO

Sandee McKinivan  Cheektowaga, NY       05/05/06  Honda Gold Wing  JAX>SDO
Chesley B. Ruff   Tupelo, MS            05/04/06  BMW R1200GS      JAX>SDO

Brian Rickert     Maple Grove, MN       04/30/06  Honda Gold Wing  JAX>SDO

Larry M. Everly   Columbiana, OH        04/21/06  H-D Ultra ClassicSDO>JAX
David C. Deibel   North Lima, OH        04/21/06  H-D Ultra ClassicSDO>JAX
Jerome J. Lyda    North Lima, OH        04/21/06  H-D Ultra ClassicSDO>JAX

David L. Sumner   Raleigh, NC           04/15/06  Suzuki V-Strom   JAX>SDO
Russell Pearlman  Raleigh, NC           04/15/06  Suzuki Burgman   JAX>SDO

Alfred Canchola   Fallbrook, CA         04/01/06  BMW R1200RT      SDO>JAX

Raymond Weber     Atlanta, GA           03/19/06  BMW K1200LT      JAX>SDO
Randall W Calhoun Marietta, GA          03/19/06  BMW K1200LT      JAX>SDO
Peter B. Hitchens Charlotte, NC         03/19/06  Honda Gold Wing  JAX>SDO

Catherine Davies  Alpharetta, GA        03/11/06  Honda Valkyrie   JAX>SDO
Lawrence Johnson  Alpharetta, GA        03/11/06  Honda GL1800     JAX>SDO

Motorcycle Tourers Forum 50CC West-East
Troy E. McCurrin  Lubbock, TX           03/08/06  Honda GL1800     SDO>JAX
Alan Leduc        New Castle, IN        03/08/06  Honda GL1800     SDO>JAX
David C. Mishalof Escondido, CA         03/08/06  BMW R1200GS      SDO>JAX
Doug James        Dallas, TX            03/08/06  H-D FLHTCUI      SDO>JAX
Mike Owens        Pismo Beach, CA       03/08/06  Honda ST1300     SDO>JAX
Mike Schwartz     Teague, TX            03/08/06  Honda Gold Wing  SDO>JAX
Robert J Coffland Inyokern, CA          03/08/06  Honda Gold Wing  SDO>JAX
Robert W. Wallace Santa Maria, CA       03/08/06  Yamaha FJR       SDO>JAX
Roger A. Wheelock Corona, CA            03/08/06  Yamaha FJR1300   SDO>JAX
Timothy Turner    Conroe, TX            03/08/06  Honda Gold Wing  SDO>JAX

Steve Broadhead   Calgery, AL CANADA    03/06/06  Honda ST1300     SDO>TIG

Motorcycle Tourers Forum 50CC East-West
Roger Berquist    Overland Park, KS     03/06/06  H-D Road Glide   JAX>SDO
Jim Lydon         Alexandria, VA        03/06/06  Yamaha FJR1300   JAX>SDO
Jonathan Kalmes   Springfield, VA       03/06/06  Yamaha FJR1300   JAX>SDO
Michael T. Abadie Baton Rouge, LA       03/06/06  Kawasaki Voyager JAX>SDO
Rick Sheldon      St. Augustine, FL     03/06/06  H-D Road Glide   JAX>SDO

Walt Sanders      Sacramento, CA        03/04/06  Honda Gold Wing  SDO>JAX
Ted Veit          Carmichael, CA        03/04/06  Honda Gold Wing  SDO>JAX

Ed Williams       Panama City, FL       03/04/06  Honda ST1300A    JAX>SDO

Doug Sansone      Millersville, MO      03/03/06  H-D Low Rider    JAX>SDO
Chuck Bryant      Alexandria, VA        03/03/06  BMW R1100RT      JAX>SDO

Ed Tillman        Surrency, GA          02/01/06  Honda ST1300     JAX>SDO

George M Dillaway Fayetteville, NC      09/30/05  Honda CBX        SAV>SDO
Dan Zielinski     Port Charlotte, FL    09/30/05  Honda CBX        SAV>SDO

David A. Snyder   Savannah, GA          09/30/05  Suzuki Boulevard GA >SDO

Donald E. Jones   Pauline, SC           09/18/05  H-D Ultra Classic SC >SDO
David Bennett     Silverdale, WA        09/10/05  Honda GL1800     GA >SDO
David Robb        Cincinnati, OH        08/06/05  H-D Road Glide   JAX>SDO
Michael K. Hansen Clayton, NC           07/25/05  H-D Electra GlideSDO>JAX
Jack Shoalmire    Broken Arrow, OK      07/07/05  BMW K1200LT      SDO>JAX
Jerry H. Cummins  Cincinnati, OH        07/03/05  BMW R1150GS      JAX>SDO
Garth Tomic       Sweet Home, OR        06/22/05  Suzuki V-Strom   SDO>JAX

Larry Boston      San Francisco, CA     06/21/05  Honda Magna      SDO>JAX
           * * * Larry is 71 years young on this ride! * * *

Ronald Stazuk     Palos Hills, IL       06/21/05  Suzuki V-Strom   JAX>SDO
Victor Ybiernas   San Diego, CA         06/18/05  BMW R1200GS      SDO>JAX

Bill Farmer       Rockledge, FL         06/17/05  Yamaha Road Star JAX>SDO

Russell L. Oliver Mesa, AZ              06/14/05  H-D Road King    JAX>SDO
Scott L. Leahy    Ridgecrest, CA        06/10/05  Honda GL1800     LA >JAX

Leigh Barker      Newark, CA            06/06/05  Suzuki VL1500LC  SDO>JAX
Doyle Haney       Hailey, ID            06/06/05  H-D Deuce FXSTD  SDO>JAX

Keith Emich       West Allis, WI        06/06/05  BMW R1100RT      JAX>SDO
Michael B. Myer   Cayce, SC             06/06/05  Honda GL1800     SAV>SDO
Bob Collin        Cumberland Falls, ME  06/04/05  BMW R1150GS      LAX>MBSC
John Somers       Highlands Ranch, CO   05/26/05  BMW K1200LTC     JAX>SDO

Jim Barnes        Salem, IL             05/22/05  Honda VTX1300C   JAX>SDO
Michael G. Finnie Madisonville, KY      05/22/05  Yamaha FJR1300A  JAX>SDO

Tim Elliott       Princeton, IL         05/13/05  Triumph Sprint   SAV>SDO

Michael Nevin     Ontario, CA           05/04/05  Honda ST1300     SDO>JAX

David B. Short    San Francisco, CA     05/03/05  BMW R1150RT      SDO>JAX
Vance D. Keeney   Zephyr Cove, NV       04/24/05  BMW K1200GT      SDO>JAX

Michael Shanahan  Seattle, WA           04/23/05  H-D Road King    JAX>SDO

Greg Pratt        King, NC              04/23/05  Honda GL1800     SDO>JAX
Guy S. Pierce     Summerfield, NC       04/23/05  H-D FLHTCUI      SDO>JAX

Motorcycle Tourers Forum 50CC West-East
Tom Harvey        Highland Village, TX  04/06/05  Yamaha RoyalStar SDO>JAX
Bill L. Murphy    Chula Vista, CA       04/06/05  KawasakiConcours SDO>JAX
Gery C. Marcelino Murrieta, CA          04/06/05  BMW F650GS       SDO>JAX
Kent Saxton       Anchorage, AK         04/06/05  Honda ST1300A    SDO>JAX
Jackie P. Brunken Estacada, OR          04/06/05  BMW R1100RT      SDO>JAX
Leon Brunken      Estacada, OR          04/06/05  BMW R1150RT      SDO>JAX
M. Scott Swett    Richland, WA          04/06/05  Honda GL1800     SDO>JAX
 
Motorcycle Tourers Forum 50CC East-West
William Schneider Janesville, WI        04/04/05  Suzuki LC 1500   JAX>SDO   
Barry Zane        Wayland, MA           04/04/05  Honda ST1300     JAX>SDO
Bob Clement       Zion, IL              04/04/05  H-D Road Glide   JAX>SDO
Bruce Simpson     Celina, TX            04/04/05  H-D FLHT         JAX>SDO
Charlie Clemmer   Plano, TX             04/04/05  Honda ST1300A    JAX>SDO
Chris Corbitt     Tallahassee, FL       04/04/05  Honda GL1800     JAX>SDO
Derek Friend      Tallahassee, FL       04/04/05  Honda GL1800     JAX>SDO
Eric A. Goulder   Marietta, OH          04/04/05  Honda GL1800     JAX>SDO
Jack L. McClure   Clayton, NC           04/04/05  Honda ST1300     JAX>SDO
John W. McCain    Mahomet, IL           04/04/05  KawasakiConcours JAX>SDO
Kit Chunhawong    Alexandria, VA        04/04/05  Victory Vegas    JAX>SDO
Lewis Stephens Jr Pasadena, TX          04/04/05  Kawasaki Vulcan  JAX>SDO
Ollie D. Bingaman Manteca, CA           04/04/05  Honda Gold Wing  JAX>SDO
Samuel L. Scherr  Harvest, AL           04/04/05  H-D FLHTCUI      JAX>SDO
Steve Short       Fair Grove, MO        04/04/05  H-D Electra GlideJAX>SDO
Steven Tufte      Alexandria, KY        04/04/05  BMW K1200LT      JAX>SDO
Terry Baldridge   Vicksburg, MS         04/04/05  BMW R1100R       JAX>SDO
Terry E. Watson   Charleston, IL        04/04/05  Honda GL1800     JAX>SDO
Terry Lee Green   De Soto, KS           04/04/05  H-D FLHTCUI      JAX>SDO
Todd Smith        Hebron, KY            04/04/05  BMW K1200LT      JAX>SDO
Tom Atkinson      Magnolia, TX          04/04/05  Honda Gold Wing  JAX>SDO
Tony Hudson       Aiken, SC             04/04/05  Honda Gold Wing  JAX>SDO

Fred Thomas       Summerville, SC       04/03/05  Honda GL1800     JAX>SDO
Susan Thomas (passenger)                04/03/05  Honda GL1800     JAX>SDO

Michael W Tierney Las Vegas, NV         03/02/05  Honda VTX1800N   SDO>JAX

Michael Leonard   Lebanon, PA           02/13/05  Yamaha Venture   JAX>SDO
Bob Nash          Jonestown, PA         02/13/05  YamahaTourDeluxe JAX>SDO

Ronald Wilkerson  Trabuco Canyon, CA    01/01/05  BMW K1200LT      SDO>JAX

Perry Hood        Tulsa, OK             12/28/04  H-D Electra GlideJAX>SDO
Keith A. Aronoff  Lakeland, FL          12/28/04  H-D Road King SE JAX>SDO
Pete Putnam       Orlando, FL           12/28/04  H-D Ultra ClassicJAX>SDO
William Van Dyke  Gainesville, FL       12/28/04  H-D Road King    JAX>SDO
Fred Thurston     Auburndale, FL        12/28/04  H-D Ultra ClassicJAX>SDO

Charlie Walker    Denton, TX            10/17/04  H-D Road King    SDO>JAX
Todd Thompson     Southbury, CT         10/04/04  BMW K75RT        SAV>SDO
Bob Collin        Cumberland Falls, ME  10/13/04  BMW K1100LT      SAV>SDO
Bob Racine        Alta Loma, CA         10/04/04  Honda Gold Wing  SDO>JAX

Rick Trader       Avondale, AZ          10/02/04  H-D Ultra ClassicSDO>GA
Steve Whitney     Glendale, AZ          10/02/04  BMW K1200LT      SDO>GA

Edward Reynolds   Charlotte, NC         09/21/04  H-D FLHPI         SAV>SDO
Dolor D. da Silva Riverside, CA         09/14/04  Honda Valkyrie    SMC>HVA
Angela M.S. da Silva (passenger)        09/14/04  Honda Valkyrie    SMC>HVA

Blue Knights of Georgia 7 Iron Torch Ride
Fred J. Carter    Covington, GA         09/12/04  H-D Road Glide    TYB,GA>SDO
David F. Jones    Canton, GA            09/12/04  H-D Ultra Classic TYB,GA>SDO
Bill Goryca       Stone Mountain, GA    09/12/04  H-D Road King     TYB,GA>SDO
Mark Stephens     Senoia, GA            09/12/04  H-D Heritage      TYB,GA>SDO
Chris Croft (passenger)                 09/12/04  H-D Heritage      TYB,GA>SDO
Lou Alvarado      Chamblee, GA          09/12/04  H-D Ultra Classic TYB,GA>SDO
Sandra Petrakis (passenger)             09/12/04  H-D Ultra Classic TYB,GA>SDO
Derek Bass        Atlanta, GA           09/12/04  Kawasaki Nomad    TYB,GA>SDO
Nick Kharazmi     Alpharetta, GA        09/12/04  Honda ST1300      TYB,GA>SDO
Brian Gourdine    Stone Mountain, GA    09/12/04  H-D Electra Glide TYB,GA>SDO
Darrell Johnson   Duluth, GA            09/12/04  H-D Ultra Classic TYB,GA>SDO
Gene Preston      McDonough, GA         09/12/04  H-D Ultra Classic TYB,GA>SDO
Merix (Reno) Berryman Forest Park, GA   09/12/04  Kawasaki Concours TYB,GA>SDO
Delrick O. White  Fayetteville, GA      09/12/04  H-D Ultra Classic TYB,GA>SDO
Steve Davis       Port Richey, FL       09/12/04  Honda Gold Wing   TYB,GA>SDO
Tim McCutcheon    Guyton, GA            09/12/04  Honda GL1800      TYB,GA>SDO
Charles Watwood   Roswell, GA           09/12/04  H-D Road King     TYB,GA>SDO
Andrew Gvist      Smyrna, GA            09/12/04  H-D Ultra Classic TYB,GA>SDO
Randy T. Snyder   Powder Springs, GA    09/12/04  H-D Ultra Classic TYB,GA>SDO
Ernest Williams   Richmond Hill, GA     09/12/04  H-D Ultra Classic TYB,GA>SDO
Harry G. Coursey  Midway, GA            09/12/04  H-D Fat Boy       TYB,GA>SDO
Mike Flisser      Marietta, GA          09/12/04  H-D Road King     TYB,GA>SDO
Antony Whitmire   Marietta, GA          09/12/04  H-D Electra Glide TYB,GA>SDO
Charlie Pritchard East Point, GA        09/12/04  H-D Road King     TYB,GA>SDO
Vincent Williams  Morrow, GA            09/12/04  Honda Valkyrie    TYB,GA>SDO
John Metcalf      Sharpsburg, GA        09/12/04  H-D Ultra Classic TYB,GA>SDO
Robert Browning   Acworth, GA           09/12/04  Honda GL1800      TYB,GA>SDO

Scott Griffith    Nauvoo, AL            09/10/04  BMW R1200C        JAX>SDO
Mickey Burns      Hartselle, AL         09/10/04  Honda Gold Wing   JAX>SDO

John Jebson       DeWitt, IA            08/29/04  BMW K1200GT       SDO>JAX

Dick Meyer        Brogue, PA            08/28/04  Honda GL1800      JAX>SDO
           * * * Dick is 72 years young on this ride! * * *

J Scott Livingston  Harmans, MD         08/03/04  BMW R1100RT       JAX>SDO
Frank Langben     Los Altos, CA         07/29/04  Honda Silver Wing JAX>SDO
Michael Perreault Hastings, FL          07/26/04  Kawasaki KLR650   JAX>SDO
Richard M. Bunt   Atlanta, GA           07/21/04  H-D V-Rod         JAX>SDO
Jennifer Ferguson Bunt (pillion)        07/21/04  H-D V-Rod         JAX>SDO
Bob Corio         Vermillion, SD        07/14/04  Yamaha FJR1300    JAX>SDO

Kevin Healey      West Palm Beach, FL   06/30/04  Triumph Trophy    SDO>JAX
Todd Smith        Mount Pleasant, SC    06/26/04  BMW R80ST         SC >SDO

Mark Johansen     Lindenhurst, NY       06/24/04  H-D FLHTCUI       JAX>SDO
Richard Brown     Farmington, NY        06/24/04  H-D FLHTCUI       JAX>SDO

Robert Strittar   Ridgecrest, CA        06/19/04  BMW R1150RT       SDO>JAX
Ron Reed          Ridgecrest, CA        06/19/04  Triumph Tiger     SDO>JAX

Larry Scalzitti   Barrington, IL        06/15/04  BMW R1150GS-ADV   JAX>SDO
Harry E. Irvine   Lakewood, CA          06/09/04  Honda ST1100      JAX>LAX
Craig M. Coleman  Kearney, MO           05/28/04  BMW R1150RS       SDO>JAX
John Mudgett      Virginia Beach, VA    05/27/04  Honda GL1500SE    JAX>SDO
Bob Seldon        Medford, OR           05/26/04  H-D Ultra Classic SDO>JAX
Wendy Crockett    Pismo Beach, CA       05/26/04  Yamaha FZ1        CA >GA
Drake W. Smith    Seattle, WA           05/19/04  BMW K75RT         SDO>JAX

Hank Pfister      Copper Hill, VA       05/12/04  BMW R1100GS       JAX>SDO
Jim Moss          Wirtz, VA             05/12/04  Ducati ST2        JAX>SDO

Donald Catterton  Severna Park, MD      05/11/04  BMW K1200LTC      SC >SDO

W. Zimmerman Jr   Pennsburg, PA         05/09/04  Honda GL1800      JAX>SDO
Frank Slezak      Ambler, PA            05/09/04  Honda GL1800      JAX>SDO
Bruce R. Cox      Telford, PA           05/09/04  Honda Gold Wing   JAX>SDO

Julian W. Whaley  Fresno, CA            05/08/04  Honda GL1800      SDO>JAX

Motorcycle Tourers Forum 50CC West-East April 21-23
Robert Mulcahy    Tucson, AZ            04/21/04  H-D Road Glide    SDO>JAX

Motorcycle Tourers Forum 50CC West-East April 19-21 
Aric Philleo                            04/19/04  BMW R1100GS       SDO>JAX
Jake Broyles      Hermiston, OR         04/19/04  BMW K1200LT       SDO>JAX
Kelly Broyles                           04/19/04  BMW K1200LT       SDO>JAX
Rango Springer                          04/19/04  BMW K1200LT       SDO>JAX

Motorcycle Tourers Forum 50CC East-West April 19-21 (23 Riders)
Kent Gauthier                           04/19/04  Yamaha TDM 850    JAX>SDO
Greg Rice         Fort Lauderdale, FL   04/19/04  Honda GL1800      JAX>SDO
John Neidenbach                         04/19/04  H-D Ultra         JAX>SDO
Randy Neidenbach                        04/19/04  Honda GL1800      JAX>SDO
Jim Cottingham                          04/19/04  H-D Road King     JAX>SDO
Mike Fleming                            04/19/04  BMW K1200LT       JAX>SDO
Jim Reese         Ridgecrest, CA        04/19/04  BMW R1150GS       JAX>SDO
Jack Dodds                              04/19/04  H-D Ultra Classic JAX>SDO
Dewayne Harkov    Ripon, CA             04/19/04  BMW R1100RT       JAX>SDO
Tom Strike        Erie, PA              04/19/04  Kawasaki CouncoursJAX>SDO
John L. Juelfs                          04/19/04  Honda GL1800      JAX>SDO
Gregory C. Wolfe                        04/19/04  BMW K1200LT       JAX>SDO
Max McCart                              04/19/04  Honda ST1100      JAX>SDO
Howard Horstman   Cordele, GA           04/19/04  Yamaha Venture    JAX>SDO
Terry E. Watson   Charleston, IL        04/19/04  Honda GL1800      JAX>SDO
Thomas J. Dover                         04/19/04  Honda GL1800      JAX>SDO
John F. Wendorf   Beaver Dam, WI        04/19/04  Honda GL1800      JAX>SDO
Marcella Newell                         04/19/04  Honda GL1800      JAX>SDO
Timothy R. Yow    Charleston, IL        04/19/04  Honda GL1800      JAX>SDO
Steve Gunn                              04/19/04  Honda ST1300      JAX>SDO
Juli Davis        Jacksonville, FL      04/19/04  H-D FLHT          JAX>SDO
Donald Fitzgerald                       04/19/04  BMW R1150GS ADV   JAX>SDO
Carl Furry        Charleston, IL        04/19/04  H-D Springer      JAX>SDO
T.J. Roberts Jr.                        04/19/04  BMW K1200LTE      JAX>SDO
Fletcher Clark    Ruleville, MS         04/19/04  BMW K1200LT       JAX>SDO

Christopher Tanner Snellville, GA       04/17/04  H-D Road King     JAX>SDO
Vance D. Keeney   Zephyr Cove, NV       04/12/04  H-D DynaWideGlide SDO>JAX

James D. Edmonds  San Diego, CA         04/09/04  BMW R1150RT       SDO>JAX
Leslie Edmonds    San Diego, CA         04/09/04  BMW R1150RT       SDO>JAX

Harry Knerr       Leesport, PA          04/04/04  H-D Road Glide    JAX>SDO
Jeff Hallquist    Denver, PA            04/04/04  H-D Screaming Eag JAX>SDO

Don Johnson       Evansville, IN        04/04/04  BMW R1150RT       JAX>SDO
Denny Sutton      Henderson, KY         04/04/04  BMW R1100RT       JAX>SDO

Tulsa Ramblers 50cc
Jim Ed Briggs     Tulsa, OK             03/29/04  H-D FLHTC         SDO>JAX
Don Rains         Bixby, OK             03/29/04  H-D FLTRI         SDO>JAX
Arnie Postier     Edmond, OK            03/29/04  H-D Electra Glide SDO>JAX
Richard C. Hudson Oklahoma City, OK     03/29/04  H-D FLHTCUI       SDO>JAX
Gary Jackson      Sapulpa, OK           03/29/04  H-D FLHTCUI       SDO>JAX
Mike Brockway     Jenks, OK             03/29/04  H-D FLHTCUI       SDO>JAX
Larry A. Salzman  Tulsa, OK             03/29/04  H-D FLHTCU        SDO>JAX

Jet Anderson      Macon, GA             03/17/04  BMW R1150RT       JAX>SDO
Scott Brown       Rocky Mount, NC       03/14/04  Honda ST1100      NC >SDO
John C. Ryan      Morris Plains, NJ     03/13/04  BMW K75           SDO>JAX
Bil Reed          Waterman, IL          03/07/04  BMW R1100GS       JAX>SDO
Doug Hutter       Phoenix, AZ           03/05/04  H-D Sporster      JAX>SDO
Beverly Ruffin    Houston, TX           03/01/04  BMW R1150R        SDO>JAX

Mike Daugherty    Los Angeles, CA       02/29/04  Honda V65 Sabre   LAX>JAX
James Bolin       Forks, WA             02/29/04  Honda ST1100      LAX>JAX
Pete Springer     Cardiff, CA           02/29/04  Honda V65 Sabre   LAX>JAX

Dave McQueeney    Baldwin Park, CA      02/28/04  BMW R100GS        SDO>JAX
Tim Graham        Danville, CA          01/16/04  Kawasaki Concours SDO>JAX

Jeff Greenspon    Tampa, FL             12/26/03  BMW K1200RS      JAX>SDO
John W. Watson    Nacodoches, TX        11/27/03  Honda Valkyrie   SDO>JAX

Brett Jervis      Lewiston, ME          11/24/03  H-D Ultra ClassicJAX>SDO
Michael Dubois    Lewiston, ME          11/24/03  H-D FLHTCU       JAX>SDO

Barry Dobson      Linville, NC          11/21/03  BMW K1200RS      JAX>SDO
Jeffrey Luke      Brimfield, MA         10/23/03  Honda ST1100     JAX>SDO

Ronald W. Brown   Chesterfield, VA      10/18/03  Yamaha Road Star JAX>SDO
Steve Germain     Powhatan, VA          10/18/03  Suzuki Intruder  JAX>SDO

Peter Sutherland  Kirkland, WA          10/14/03  BMW K1100LT      SDO>JAX
Bruce Wallace     Atascadero, CA        10/12/03  BMW R1100RSL     JAX>SDO
Scott Wilson      Fayetteville, GA      10/09/03  Honda ST1100     JAX>SDO

Cy Knight         Carthage, MO          10/07/03  Honda Gold Wing  SDO>JAX
Gary Sheets       Carthage, MO          10/07/03  Honda Gold Wing  SDO>JAX

Larry Kibler      Miami, FL             09/24/03  H-D Road King    SDO>JAX
Norman Anderson   Miami, FL             09/24/03  H-D Road King    SDO>JAX

Bud Buckwell      Columbia, SC          09/19/03  BMW K1200        JAX>SDO
Bill Carr         Redding, CT           09/16/03  Triumph Tiger    SDO>JAX
John A. Hallman   New Smyrna Beach, FL  09/16/03  BMW R1150GS      SDO>JAX
Jean-Pierre Wells St-Jean Sur Richelieu 08/11/03  Yamaha FJR1300   SDO>JAX
W.M. Pat Walters  Castle Hayne, NC      07/27/03  Moto Guzzi V11EV JAX>SDO
Robert S. Belo    Vancouver, BC         07/17/03  Kawasaki ConcoursSDO>JAX

Heidi Weldon      Yuma, AZ              07/17/03  BMW R1150GS      ABF>SDO
Bob Still         Mesa, AZ              07/17/03  BMW R1150GS      ABF>SDO

Rick Fields       Leeds, AL             07/04/03  Honda V45        JAX>SDO

Bill Shaw         Oak Hill, VA          07/02/03  BMW K1200LT      JAX>SDO
Timothy Collier   Phoenix, AZ           06/26/03  Honda ST1100     JAX>SDO

Wayne Leslie      Fayetteville, GA      05/31/03  H-D DynaWideGlideJAX>SDO
Henry D. Towne    Lone Tree, CO         05/25/03  Suzuki RF900R    SDO>JAX

At 17 years old, Rachel is the youngest 50cc finisher!
Rachel Dunsworth  Newburgh, IN          06/13/03  Suzuki GS500     JAX>SDO
Mike Dunsworth    Newburgh, IN          06/13/03  Honda Gold Wing  JAX>SDO
Jack Tate         Chandler, IN          06/13/03  Ducati ST4S      JAX>SDO

P.J. Page         Fresno, CA            05/31/03  BMW K1200RS      SDO>JAX
Jack Harwood      Fresno, CA            05/31/03  BMW R1150RT      SDO>JAX

Harry C. White    Highlands Ranch, CO   05/26/03  BMW R1150GS      SDO>JAX
Tom Sayer         Marathon, FL          05/21/03  Honda Gold Wing  JAX>SDO
Mike Langford     Raleigh, NC           05/15/03  BMW K1200LT      NC >SDO
William Rohrer    Spanaway, WA          05/12/03  H-D Ultra ClassicSDO>JAX
Robert Mulcahy    Tucson, AZ            05/12/03  H-D Road Glide   SDO>JAX
Edward M. Read    Takoma Park, MD       05/06/03  BMW R1150GS      SC >SDO
Steve Branner     South Charleston, WV  05/04/03  BMW R1100RT      JAX>SDO
Mike Goodwin      Houston, TX           04/19/03  Suzuki Bandit    JAX>SDO

Peter Williams    Davie, FL             04/18/03  H-D FLHTC        JAX>SDO
Steven Weston     Coral Springs, FL     04/18/03  H-D Ultra ClassicJAX>SDO

Mike Johnson      Casselberry, FL       04/05/03  Honda ST1100     JAX>SDO
Gordon Pleasants  Casselberry, FL       04/05/03  Kawasaki Vulcan  JAX>SDO
Jack Dodds        Fort Lauderdale, FL   04/05/03  H-D FLHTC        JAX>SDO
Jerry Watts       Orlando, FL           04/05/03  BMW R1100GS      JAX>SDO
Rob Klocke        Milford, OH           04/05/03  Honda VFR800     JAX>SDO
J. Andray Hubble  Guntersville, AL      04/05/03  Honda VFR700     JAX>SDO

Gary Osmond       Brooklyn, WI          04/03/03  BMW K1200RS      JAX>SDO
Charles Ginther   Coral Springs, FL     03/21/03  H-D FXDX         JAX>SDO
Bill Watt         Vancouver, BC         03/14/03  BMW R1150GS      JAX>SDO
J.R. Hay          Vancouver, BC         03/14/03  BMW R1150GS      SDO>JAX
Sean J. Gallagher Richmond, VA          03/12/03  BMW K1200LT      JAX>SDO

Motorcycle Tourers Forum 50cc Rally (San Diego to Jacksonville Beach)
Brian K. Roberts  Pleasant Hill, CA     03/12/03  Honda CBRXX      SDO>JAX
J.R. Hay          Vancouver, BC         03/12/03  BMW R1150GS      SDO>JAX
Bill Watt         Vancouver, BC         03/12/03  BMW R1150GS      SDO>JAX
Roger Shultz      Evergreen, CO         03/12/03  BMW R1150RS      SDO>JAX
Marty Hamilton    Tacoma, WA            03/12/03  BMW R1150RT      SDO>JAX
Bob Coffland      Inyokern, CA          03/12/03  Honda Gold Wing  SDO>JAX
Wayne Doyle       San Diego, CA         03/12/03  Honda ST1100     SDO>JAX
Adam Bjork        McHenry, IL           03/12/03  Honda ST1300ABS  SDO>JAX
David C. Bjork    Elgin, IL             03/12/03  Honda ST1300     SDO>JAX

Motorcycle Tourers Forum 50cc Rally (Jacksonville Beach to San Diego)
Bruce Simpson     Celina, TX            03/10/03  BMW R1100RT      JAX>SDO
John E. Langan    Martinez, CA          03/10/03  Honda Gold Wing  JAX>SDO
Rich Kuechenmeister  Oviedo, FL         03/10/03  BMW R1100RT      JAX>SDO
Peter Icaza       Cheshire, CT          03/10/03  TriumphAdventurerJAX>SDO
Lynn Endsley      McKinney, TX          03/10/03  Honda GL650      JAX>SDO
Kevin J. Lechner  Warner Robbins, GA    03/10/03  Yamaha Road Star JAX>SDO
Richard Knipe     McKinney, TX          03/10/03  Honda GL1800     JAX>SDO
Chuck Wilkins     Clarksville, TN       03/10/03  BMW R1200C       JAX>SDO
William H. Crain  Warner Robins, GA     03/10/03  Yamaha Road Star JAX>SDO
Duane Carpenter   Gautier, MS           03/10/03  BMW K75RT        JAX>SDO

Bob Pushwa        San Leandro, CA       03/10/03  BMW R1100RT      FL >LAX
Robert J. Tobin   Pleasanton, CA        03/06/03  Honda Gold Wing  SDO>JAX
Tom Austin        Sacremento, CA        03/06/03  BMW K1200LT      SDO>JAX
Tom Melchild      Pleasanton, CA        03/05/03  Yamaha FJR1300   LAX>JAX
Wm. Ryan Most     Christiansburg, VA    03/01/03  Honda ST1100     JAX>SDO

Bill Dunkleberger Atlanta, GA           02/28/03  H-D Road Glide   JAX>SDO
John A. Roberts   Atlanta, GA           02/28/03  H-D ElectraGlide JAX>SDO
Eric Swanson      Acworth, GA           02/28/03  H-D Road King    JAX>SDO
Gene Eidson       Smyrna, GA            02/28/03  H-D Ultra        JAX>SDO

Chris Carr        Marietta, GA          12/28/02  Buell Cyclone    JAX>SDO
Steve West        Port Orange, FL       12/27/02  H-D Heritage     JAX>SDO
Richard Hestlow   Upland, CA            11/02/02  H-D UltraClassic JAX>SDO
Lane F. Hollar    Cramerton, NC         11/02/02  BMW R1150GS      SC >SDO
Ralph B. Schwartz Plano, TX             10/10/02  BMW K1200LT      JAX>SDO

William Waterson  Prescott, AZ          10/08/02  H-D UltraClassic JAX>SDO
Dale Blake        Phoenix, AZ           10/08/02  H-D UltraClassic JAX>SDO

Daryl Neil        Sun City, AZ          10/02/02  BMW K1200LT      SDO>JAX
Richard Antoine   Walnut, CA            09/24/02  BMW K100LT       SDO>JAX
Christopher Rowe  Chapel Hill, NC       09/16/02  H-D Road King    NC >LAX
Jon David Power   Burlington, NC        08/30/02  Honda GL1800     GA >SDO
Tony Adamowicz    Northville, MI        08/30/02  BMW K1200LT      NC >LAX
Terry Lahman      Redmond, WA           08/19/02  BMW R1100RT      JAX>SDO
Chuck Williamson  Mechanicsburg, VA     07/30/02  H-D FXSTC        SDO>JAX
Hugh Williams     Toccoa, GA            07/27/02  Suzuki Bandit    JAX>LAX
Verne Hauck       Millersville, PA      07/26/02  H-D Road Glide   SDO>JAX
Linwood McLawhorn Winterville, NC       07/03/02  H-D Sportster    JAX>SDO
Doug Bailey       Montoursville, PA     06/18/02  Triumph Sprint   JAX>SDO

Robert Schlossin  Alden, NY             06/17/02  H-D DynaWideGlideGA >SDO
Tom Greenauer     Orchard Park, NY      06/17/02  H-D Road King    GA >SDO

Tobie Stevens     Tieton, WA            06/10/02  BMW K1200LT      SDO>JAX
Chuck Taylor      Henderson, NV         05/31/02  H-D UltraClassic CA>SC
John Beck         Phoenix, AZ           05/30/02  BMW R1150RT      JAX>SDO
James W. Graham   Taxoma, WA            05/27/02  BMW R1100RL      SDO>JAX
David C Mishalof  La Jolla, CA          05/21/02  BMW K1200RS      SDO>JAX

Motorcycle Tourers Forum 50CC/100CCC
Chad Baird        Gulfport, FL          05/18/02  Kawasaki ConcoursJAX>SDO
John Gilmer       Jacksonville, FL      05/18/02  BMW K1100RS      JAX>SDO
Randy M. Kirgiss  Fort Rucker, AL       05/18/02  Suzuki Intruder  JAX>SDO
Howard Burcham    Hartselle, AL         05/18/02  BMW K1200LT      JAX>SDO
John Oravec       Denton, TX            05/18/02  Kawasaki ConcoursJAX>SDO
Bo Griffin        Prosper, TX           05/18/02  Kawasaki Vulcan  JAX>SDO
Alan Leduc        New Castle, IN        05/18/02  Honda GL1800     JAX>SDO
Kent Ailes        Phoenix, AZ           05/18/02  Suzuki V-Strom   JAX>SDO
Tom Maiden        Chadler, AZ           05/18/02                   JAX>SDO
Dave Hinks        Lemont, IL            05/18/02  Yamaha Venture   JAX>SDO
Greg Martin                             05/18/02  Honda VTX        JAX>SDO
Pirate John                             05/18/02  BMW K1100RS      JAX>SDO
Randy Kirgiss                           05/18/02  Suzuki Intruder  JAX>SDO

Greg Smith        Boerne, TX            05/18/02  BMW K1200LT      JAX>SDO

Donald Bennett    Lowell, OR            04/29/02  Honda Gold Wing  SDO>JAX
Lawrence J. Price Federal Way, WA       04/29/02  Honda Gold Wign  SDO>JAX

Stephan Bolduc    Laval, QUEBEC         04/26/02  Yamaha R6        SDO>JAX
Stephan Bolduc    Laval, QUEBEC         04/23/02  Yamaha R6        JAX>SDO

Dennis O'Neal     Brigham City, UT      04/21/02  Honda Gold Wing  CA>JAX
Roger Zieseniss   Brigham City, UT      04/12/02  KawasakiConcours SDO>JAX

David W. Kelson   Lighthouse Point, FL  04/16/02  Honda GL1800     JAX>SDO
David S. Brown    Groton Long Point, CT 04/12/02  Honda GL1800     SDO>JAX

Cy Knight         Carthage, MO          03/21/02  Honda Gold Wing  JAX>SDO

Greg McNutt       Oakdale, CA           03/07/02  Honda Valkyrie   JAX>SDO
Ron Marshall      Denair, CA            03/07/02  Honda Gold Wing  JAX>SDO

John E. Langan    Martinez, CA          03/05/02  Honda VT1100T    SDO>JAX
Dick Peek         Park City, UT         02/28/02  BMW K1100LT      SDO>JAX
Mike Dunsworth    Newburgh, IN          02/07/02  Suzuki GS850GL   JAX>SDO
Quek Cheng Chye   Phoenix, AZ           02/15/02  BMW R1100RT      SDO>JAX
Michael McCloud   Dallas, TX            02/13/02  BMW K1200RSL     LAX>JAX
Quek Cheng Chye   Phoenix, AZ           12/20/01  BMW R1100RT      JAX>SDO
David J. Marshall Hanford, CA           11/15/01  Honda Valkyrie   JAX>SDO
Robert C. Long    Lake City, FL         11/06/01  BMW K100LT       SDO>BAJA
Richard Hestlow   Upland, CA            10/15/01  H-D UltraClassic SDO>JAX
David Beck        Santa Fe, NM          10/15/01  BMW K1200LT      SDO>JAX
Gary Wood         Cotton Center, TX     10/04/01  Honda Gold Wing  JAX>SDO
Roy Uptergrove    Hale Center, TX       10/04/01  Honda Gold Wing  JAX>SDO
Butch Demerle     Cincinnati, OH        10/04/01  Honda GL1800     JAX>SDO
Russ Mertz        Cincinnati, OH        10/04/01  Honda CBR1000    JAX>SDO
Lloyd K. Schiller Gainesville, TX       10/01/01  H-D UltraClassic SDO>JAX
Steve Reynen      DePere, WI            09/22/01  BMW R1150GS      JAX>SDO
Wilfred K Werner  Los Angeles, CA       09/21/01  H-D FXRP         JAX>LAX
Patrick Veth      Bonita, CA            09/19/01  BMW R1100RT      SDO>JAX
Jon N. Harris     Ellerslie, GA         09/15/01  Honda ST1100     JAX>SDO
Joe DeRyke        Los Gatos, CA         09/10/01  BMW R1100RT      JAX>SDO
Randy Owen        Sacremento, CA        08/21/01  H-D UltraClassic SDO>JAX
Sergio Borriello  Bogota, COLUMBIA      08/13/01  BMW R1100GS      LAX>JAX
Juan Diego Martinez  Weston, FL         08/13/01  BMW K1200LT      LAX>JAX
Douglas B. Sams   Delaware, OH          07/09/01  H-D UltraClassic SDO>JAC
Len Phillips      Tualatin, OR          06/30/01  H-D FLTRSEI      SDO>JAX

L. Edward Day     State College, PA     06/28/01  Kawasaki ConcoursJAX>SDO
Rick Miller                             06/28/01  Kawasaki ConcoursJAX>SDO

Wesley F. McCann  Roswell, GA           06/27/01  BMW R1100GS      JAX>SDO
Don Arthur        McLean, VA            06/03/01  BMW K1200LT      JAX>SDO
James D. Phillips Bishop, GA            05/24/01  BMW K1200LT      SAV>SDO
Donna J. Phillips (passenger)           05/24/01  BMW K1200LT      SAV>SDO
Jerry H. Cummins  Cincinnati, OH        05/21/01  BMW K1200LT      JAX>SDO
Karol Patzer      Eagan, MN             05/20/01  BMW K75RT-P      JAX>SDO
Jim Beachy        Centreville, VA       05/09/01  Honda Gold Wing  SDO>JAX
Chuck Thomas      Merritt Island, FL    05/08/01  H-D DynaWideGlideSDO>JAX
Kyle C. Crippen   Lansdale, PA          05/02/01  KawasakiConcours JAX>SDO
Daniel S. Cohen   Bronz, NY             04/22/01  BMW R1100RS      JAX>SDO
Ray Silva         Roswell, GA           04/15/01  BMW R1100RS      JAX>SDO
Lisa Landry       Dove Canyon, CA       04/04/01  H-D FLTRI        SDO>JAX
Dean Tanji        Santa Ana, CA         04/04/01  H-D ElectraGlide SDO>JAX
Michael Sumner    Tallahassee, FL       03/25/01  Honda ST1100     JAX>SDO
Chuck Chiodini    Heber Springs, AR     03/20/01  Honda PacCoast   JAX>SDO
Gene Mikolajczyk  Playa del Rey, CA     03/10/01  BMW K1200LT      JAX>SDO

Bernard H. Weiss  Highland Park, IL     03/02/01  H-D Road King    SDO>JAX
Wayne Kirkpatrick Palatine, IL          03/02/01  H-D Road King    SDO>JAX
Rik Lowry         Buffalo Grove, IL     03/02/01  H-D Road King    SDO>JAX

Ray Jutkins       Roll, AZ              03/01/01  H-D Road King    SDO>JAX
Dick Peek         Park City, UT         03/01/01  BMW K1200RS      SDO>JAX
Donald R. Nelson  Freesoil, MI          01/08/01  BMW K1200LT      SDO>JAX
Kenn F. Clark     Asheboro, NC          12/20/00  Honda Gold Wing  JAX>SDO
Buster Moldenhauer Tyrone, GA           11/25/00  Honda Gold Wing  JAX>SDO
Mike Knowles      Newnan, GA            11/25/00  Honda Gold Wing  JAX>SDO
Stan Dulemba      Atlanta, GA           11/25/00  BMW K1200LT      JAX>SDO
Wolfgang Enneker  Alpharetta, GA        11/25/00  BMW K1200LT      JAX>SDO
Gary R. Wothe     Jacksonville, FL      11/15/00  H-D FLHTC        JAX>SDO
Drady Hendley     Duluth, GA            10/15/00  BMW R1100RT      JAX>SDO
Robert Wooldridge Atlanta, GA           10/15/00  BMW R1100GS      JAX>SDO
Rob Lentini       Tucson, AZ            10/07/00  BMW R1100RS      SDO>JAX
Steve Aikens      Clovis, NM            10/07/00  BMW R1100RSL     SDO>JAX
Andrew A. Olsen   Fergus Falls, MN      10/01/00  BMW R1100RS      SC >CAL
Senator Dave Zien Eau Claire, WI        07/31/00  H-D FXRT         SDO>JAX
James Wilhite     Gadsden, AL           06/22/00  H-D Road King    JAX>SDO
Craig McKittrick  Ocala, FL             06/10/00 Road Glide/sidecarJAX>SDO
Al Willis         Tuscumbia, AL         06/02/00  H-D FLHT         JAX>SDO
Forrest F. John   Orlando, FL           05/22/00  BMW R1100RT      JAX>SDO
Robert R. John    Washington, DC        05/22/00  BMW R1100RT      JAX>SDO
Todd Witte        York, PA              05/19/00  H-D Road Glide   SDO>JAX
Brent D. Ames     York, PA              05/19/00  BMW K75S         SDO>JAX
Verne W. Simmons  Puyallup, WA          05/14/00  Honda Gold Wing  SDO>SAF
Ron Smith         Bothell, WA           05/14/00  Honda Gold Wing  JAX>SAF
Sean J. Gallagher Richmond, VA          04/25/00  H-D FLTCU        JAX>SDO
James Bryant IV   West Melbourne, FL    04/17/00  Kawasaki Vulcan  JAX>SDO
Scott Sprankle    Palm Bay, FL          04/17/00  Kawasaki Nomad   JAX>SDO
William T. Klima  Cleveland, OH         04/11/00  BMW K1100LT      JAX>SDO
Harry A Hilderman Goodyear, AZ          03/24/00  Honda Gold Wing  SDO>JAX
Gordan J. Suhre   Waxhaw, NC            03/15/00  Honda Gold Wing  SDO>JAX
Steve Smith       Waxhaw, NC            03/15/00  H-D Ultra ClassicSDO>JAX
Bernard H. Weiss  Highland Park, IL     03/12/00  H-D Road King    JAX>SDO
Don Kulwicki      Mishawaka, IN         03/09/00  Honda Gold Wing  JAX>SDO
Jim Frens         Nashua, NH            03/07/00  Honda Gold Wing  SDO>JAX
Rick Rohlf        Round Rock, TX        03/07/00  BMW K1200LT      SDO>JAX
Jeffery Foster    Albuquerque, NM       03/07/00  BMW R100RT       SDO>JAX
J. Braxton Sorg   Charlotte, NC         12/22/99  Yamaha Virago    LAX>JAX
Chuck Kimball     Klamath Falls, OR     11/20/99  BMW K100RS       JAX>SDO
Terry Tracy       Wind Lake, WI         10/04/99  Kawasaki Voyager JAX>SDO
James F. Stanley  Wilmington, NC        10/03/99  BMW K1100LT      WNC>SDO
Herb Campbell     Raleigh, NC           08/06/99  BMW R1100GS      JAX>LA
Ed Phelps         Woodbine, MD          07/04/99  BMW K1100LT      JAX>SDO
Michael Spengler  Portland, OR          06/25/99  Honda Gold Wing  SDO>JAX
Doug Stout        Waterville, OH        06/15/99  1972 Honda CB350 JAX>SDO
Dan Draggoo       Montpelier, OH        06/15/99  Honda Shadow Ave JAX>SDO
Lou Caspary       San Diego, CA         06/01/99  Kawasaki Voyager SDO>JAX
Kendall Anderson  Rock Hill, SC         05/15/99  Kawasaki ConcoursISC>SDO
Glenn K. Pancoast Lansing, MI           05/11/99  BMW K1100LT      JAX>SDO
Andy Hart         Bay City, MI          05/08/99  H-D Road Glide   JAX>SDO
Alan L. Mendrala  Sanford, MI           05/08/99  H-D Road Glide   JAX>SDO
Ed Collins        Bakersfield, CA       04/24/99  Honda Gold Wing  SDO>JAX
Glenn Clave       Ontario, CA           04/17/99  Honda Gold Wing  SDO>JAX
Robert L Ferguson Rialto, CA            04/17/99  Honda Gold Wing  SDO>JAX
David E. Schulte  Minneapolis, MN       04/08/99  Honda ST1100     JAX>SDO
Will Lee          San Francisco, CA     03/07/99  H-D Road King    JAX>SDO
Fran Crane        Scotts Valley, CA     03/05/99  BMW K1200RS      JAX>SFO
Will Lee          San Francisco, CA     03/02/99  H-D Road King    SDO>JAX
Dave Hanson       Chicago, IL           11/28/98  BMW K1100LT      SDO>JAX
Reginald Charlson SR Westlake Village,CA10/09/98  BMW K1100RS      LAX>JAX
Terry Smith       Hatchville, MA        09/16/98  BMW R1100RT      FL>SDO
Tory D. Brown     Aurora, CO            09/12/98  Honda Gold Wing  SDO>JAX
Dave Evans        Aurora, CO            09/12/98  Honda Gold Wing  SDO>JAX
D.L. Chris Curtis Lakewood, CO          09/12/98  Honda Gold Wing  SDO>JAX
Jerry Clemmons    Gastona, NC           09/11/98  Honda ST1100     SAV>SDO
Peter H. Buenting Duluth, MN            09/08/98  Honda V65 Sabre  JAX>SDO
Gary Parece       Somerset, MA          08/29/98  Kawasaki Concour SDO>JAX
Rick Brookes      San Diego, CA         08/15/98  Honda ST1100     SDO>JAX
Roy G. Daum       El Paso, TX           06/02/98  BMW R1100RT      SDO>JAX
Roger Deal        N. Richland Hills,TX  06/02/98  BMW R1100GS      SDO>JAX
Dave Hunter       Norfolk, VA           05/16/98  Honda Gold Wing  JAX>SDO
June R. Boice     Norfolk, VA           05/16/98  Honda Gold Wing  JAX>SDO
William Masten,Jr Mooresville, NC       04/27/98  Honda Gold Wing  JAX>SDO
Stan Fisher       Santa Fe, NM          04/10/98  Honda ST1100     SDO>JAX
Michael McDaniel  Charlottesville, VA   11/09/97  BMW R1100GS      SAV>SDO
Caroline DeMelo (passenger!)            11/09/97  BMW R1100GS      SAV>SDO
W.L. Schafer, Jr. West Melbourne, FL    09/25/97  Kawasaki Vulcan  DAYTONA>SDO
Johnny Potts      Mt. Juliet, TN        09/14/97  Kawasaki ZX-1100 JAX>SDO
Dennis Bitner     Lee'S Summit, MO      08/30/97  Honda ST1100     JAX>SDO
Mary Sue Johnson  Griffith, IN          08/30/97  BMW R1100R       JAX>SDO
William Kraus     Grosse Pointe, MI     08/30/97  Honda Gold Wing  JAX>SDO
Alex Grupp   Downsview, Ontario, Canada 08/30/97  Suzuki GS1100    JAX>SDO
Ardys Kellerman   Austin, TX            08/30/97  BMW R1100RT      JAX>SDO
Bobb Todd  Owen Sound, Ontario, Canada  08/30/97  Honda Gold Wing  JAX>SDO
Roger Van Santen  Stayton, OR           06/24/97  Yamaha GTS1000   JAX>SDO
John O'Keefe      Tigard, OR            06/14/97  Kawasaki Concour SDO>JAX
Linda Foster      Englewood, CO         05/26/97  BMW K75          JAX>SDO
Norman Babcock    Longmont, CO          05/26/97  BMW R1100RT      JAX>SDO
Greg Molden       Helendale, CA         05/24/97  Honda Gold Wing  SDO>JAX
Charles GillardII Victorville, CA       05/24/97  BMW R1100GS      SDO>JAX
Bob Ray           Madison, AL           05/15/97  Honda CB750      JAX>SDO
Patrick Patteson  Greenville, SC        04/21/97  BMW R1100RSL     JAX>SDO
Matthew Thornbury Ashland, KY           04/21/97  BMW R1100RS      JAX>SDO
William Kramer    Newnan, GA            03/08/97  Honda Gold Wing  FL >SDO
Warren C. Harhay  Boulder City, NV      03/02/97  Honda ST1100     SDO>JAX
Kevin Donovan     Painesville, OH       10/07/96  Honda Gold Wing  JAX>SDO
Phil Stallard     Indianapolis, IN      08/26/96  Honda Gold Wing  JAX>SDO
Benton Henry      Latta, SC             08/16/96  BMW R100GS/PD    SDO>SGA
Richard Bernecker Manassas, VA          08/05/96  BMW R1100GS      JAX>SDO
Gregory D. Pink   Plant City, FL        06/25/96  BMW R1100RT      JAX>SDO
John M. Harrison  Hoover, AL            05/31/96  Honda Gold Wing  JAX>SDO
C.Daniel Johnson  Rapid City, SD        05/25/96  Honda ST1100     SDO>JAX
Johnny Potts      Mt. Juliet, TN        05/14/96  Honda Hurricane  JAX>SDO
Wally Jordan      Prescott Valley, AZ   05/03/96  Honda G.W. Trike SDO>JAX
James D. Shaw     Hinckley, OH          04/24/96  BMW K100LT       JAX>SDO
G.J. Dostal       Mt. Morris, MI        04/24/96  BMW K1100LT      JAX>SDO
Robin Moser       Olympia, WA           03/04/96  BMW R1100GS      LA>JAX
Richard Riegler   Belmar, New Jersy     10/10/95  BMW R1100GS      JAX>SDO
Ed Otto           Chicago, Illinois     09/01/92  BMW K100LT       JAX>SDO
Brian Morrow      Hiram, Georgia        05/26/91  Yamaha FJ1200    JAX>SDO
Dick Brandt       Chicago, IL           08/09/90  Honda CX500      FL >SDO
Dave McQueeney    Los Angeles, CA       03/90     BMW K100RS       JAX>LAX
Dave McQueeney    Los Angeles, CA       03/90     BMW K100RS       LAX>JAX
Dave McQueeney    California            09/08/88  BMW K75S         JAX>SDO

Smallest Motorcycle to finish the 50cc Quest:
Robert Munden     Windsor, ON CANADA    06/01/10  Honda CBR125     SDO>JAX 
Evan Todd Yeager  Trenton, TX           06/20/06  KawasakiNinja250 SDO>JAX

Oldest rider to finish the 50cc Quest:

Del Lonnquist     Helena, MT            10/08/15  Honda VTX 1300 Velorex sidecar SDO>JAX  80 years young!

Vernon L. Rank    Yakima, WA            05/21/11  H-D Ultra Classic JAX>SDO 77 years young!


Oldest motorcycle to finish the 50cc Quest:
 
                   Doug Stout 1972 Honda CB350 



---


USA Interstate Box of Gold Award - outer permeter of USA via Interstate system in one massive ride

Name              Hometown              Date      Motorcycle                    Mileage  Interstate Order

Anthony Osborne   West Palm Beach, FL   08/14/21  Yamaha FJR                    8,820    I-95/I-90/I-5/I-10





---


USA Interstate End to End to End Series

Name              Hometown              Date      Motorcycle                    Mileage  Interstate  Level

Lionel L Ramos    Falls Church, VA      11/25/21  H-D Road Glide CVO            4,914       I-10     GOLD

Lance Henrichsen  Huntington Beach, CA  08/14/20  BMW S1000XR                   2,762       I-5      



---




USA Interstate End to End Series

Name              Hometown              Date      Motorcycle                    Mileage  Interstate  Level

Carl Harris       Raleigh, NC           11/02/21  H-D Road Glide Special        1,894       I-95     GOLD

Carl Harris       Raleigh, NC           10/11/21  H-D Road Glide Special        2,457       I-10     GOLD

Roy Kjendal       Deerfield NH          09/29/21  BMW K1600GTL                  1,062       I-25     GOLD

Roy Kjendal       Deerfield NH          09/29/21  BMW K1600GTL                  1,062       I-25     GOLD

Jerry Gilbert     Tucson, AZ            09/15/21  BMW R1250GS                   1,440       I-15     GOLD

Michael Kozicki   Brunswick, MD         09/03/21  H-D Road Glide Limited        1,534       I-20     GOLD

Bill Karitis      Mt Pleasant, SC       09/03/21  H-D FLHTK                     1,544       I-20     GOLD

Otto Weispfenning Tempe, AZ             08/21/21  H-D FLHX Street Glide         1,381       I-5      GOLD 

Anthony Osborne   West Palm Beach, FL   08/21/21  Yamaha FJR1300                2,475       I-10     GOLD

Anthony Osborne   West Palm Beach, FL   08/20/21  Yamaha FJR1300                1,381       I-5      GOLD

Anthony Osborne   West Palm Beach, FL   08/16/21  Yamaha FJR1300                3,080       I-90     GOLD

Anthony Osborne   West Palm Beach, FL   08/14/21  Yamaha FJR1300                1,894       I-95     GOLD

David Uhl         Parker, CO            08/11/21  H-D Road Glide Limited        1,534       I-29     GOLD

David McAvoy      Ellicott City, MD     07/24/21  Victory Cross Country         2,172       I-70
Wayne Lund        Ellicott City, MD     07/24/21  Kawasaki Vulcan 2000          2,172       I-70 
                   * * * Wayne is 65 years young on this ride! * * * 

Anthony Osborne   West Palm Beach, FL   07/16/21  Yamaha FJR1300                1,569       I-35     GOLD

Anthony Osborne   West Palm Beach, FL   07/12/21  Yamaha FJR1300                1,062       I-25     GOLD

Nichole L. Meuse  Hardwick, NJ          07/11/21  BMW GS-Adventure              2,552       I-40     48 Hours

Anthony Osborne   West Palm Beach, FL   07/10/21  Yamaha FJR1300                1,534       I-20     GOLD

Anthony Osborne   West Palm Beach, FL   07/08/21  Yamaha FJR1300                2,552       I-40     GOLD

Anthony Osborne   West Palm Beach, FL   07/06/21  Yamaha FJR1300                1,440       I-15     GOLD

Anthony Osborne   West Palm Beach, FL   07/04/21  Yamaha FJR1300                1,605       I-94     GOLD

Anthony Osborne   West Palm Beach, FL   07/03/21  Yamaha FJR1300                1,783       I-75     GOLD

Christian Rasmussen   Charlotte, NC     06/22/21  BMW R1200GSA                  2,172       I-70     GOLD

Greg Hintz        Missoula, MT          06/08/21  Honda Gold Wing               1,062       I-25     GOLD

Greg Hintz        Missoula, MT          06/07/21  Honda Gold Wing               1,062       I-25     GOLD

Ted Parins        Prairie du Sac, WI    06/21/21  H-D CVO Limited               1,605       I-94     GOLD

George Mowry      Squaw Valley, CA      06/01/21  Yamaha FJR1300ES              1,440       I-15     GOLD

Alan M. Rundle    Firth, ID             05/23/21  BMW R1200GSA                  1,070       I-25     GOLD 
Michael Mitchell  Ashton, ID            05/23/21  BMW R1200GSA                  1,070       I-25     GOLD 

Michael Schuster  Easton, MN            05/23/21  Victory Cross Country         1,569       I-35     GOLD

Carl Harris       Raleigh, NC           05/16/21  H-D Road Glide Special        1,562       I-20     GOLD

George Mowry      Squaw Valley, CA      05/15/21  Yamaha FJR1300ES              1,381       I-5      GOLD

Carl Harris       Raleigh, NC           05/11/21  H-D Road Glide Special        1,562       I-40     GOLD

George Mowry      Squaw Valley, CA      03/05/21  Yamaha FJR1300ES              2,475       I-10     GOLD 

Curtis R. Cash    Raleigh, NC           10/12/20  BMW K1600B                    1,539       I-20     GOLD 

Roy Kjendal       Deerfield NH          11/22/20  BMW K1600GTL                  2,475       I-10     GOLD
                 * * * Roy is 71 years young on this ride! * * * 

Christian Rasmussen   Charlotte, NC     11/22/20  BMW R1200GSA                  2,475       I-10     GOLD

Christian Rasmussen   Charlotte, NC     11/15/20  BMW R1200GSA                  1,544       I-20     GOLD
Roy Kjendal       Deerfield NH          11/15/20  BMW K1600GTL                  1,544       I-20     GOLD
                 * * * Roy is 71 years young on this ride! * * * 

David M Uhl       Parker  CO            10/10/20  H-D Street Glide CVO          2,475       I-10     GOLD

Matt Hube         Statesboro  GA        10/02/20  Honda Gold Wing               1,544       I-20     GOLD

Scott Ryer Evey   Discovery Bay, CA     09/28/20  H-D Ultra Limited             2,475       I-10

Bill Karitis      Mt. Pleasant, SC      09/21/20  BMW R1200GS                   1,534       I-20     GOLD

Jerry Gilbert     Tucson, AZ            09/18/20  Kawasaki Concours             1,062       I-25     GOLD

Tom Medl          Tucson, AZ            09/17/20  Indian Roadmaster             1,062       I-25     GOLD
Jerry Gilbert     Tucson, AZ            09/17/20  Kawasaki Concours             1,062       I-25     GOLD

Tom Stoner        Washington NJ         08/30/20  Victory Vision                2,903       I-80

Lance Henrichsen  Huntington Beach, CA  08/15/20  BMW S1000XR                   1,381       I-5      GOLD
Lance Henrichsen  Huntington Beach, CA  08/14/20  BMW S1000XR                   1,381       I-5      GOLD

Ed Bishop         Hancock, MA           08/02/20  H-D FLHTCUL Electra Glide     2,172       I-70  

Alan M. Rundle    Firth, ID             07/26/20  BMW R1200GSA                  1,068       I-25     GOLD 
Michael Mitchell  Ashton, ID            07/26/20  BMW R1200GSA                  1,068       I-25     GOLD 

Michael Mitchell  Ashton, ID            07/25/20  BMW R1200GSA                  1,068       I-25     GOLD 
Alan M. Rundle    Firth, ID             07/25/20  BMW R1200GSA                  1,068       I-25     GOLD 

Chris Rasmussen   Charlotte, NC         07/14/20  BMW R1200GSA                  1,534       I-20     GOLD
                        * * * Chris is 70 years young on this ride! * * *

Chris Rasmussen   Charlotte, NC         07/11/20  BMW R1200GSA                  2,564       I-40     GOLD
                        * * * Chris is 70 years young on this ride! * * *

Roy Kjendal       Deerfield NH          07/11/20  BMW K1600GTL                  1,534       I-20     GOLD
                           * * * Roy is 71 years young on this ride! * * *

Roy Kjendal       Deerfield NH          07/11/20  BMW K1600GTL                  2,564       I-40     GOLD
                           * * * Roy is 71 years young on this ride! * * *

Jon S. Meadows    Lafayette, IN         06/23/20  H-D Street FLHX Glide Ultra   2,475       I-10     GOLD

Doug Edmondson    Lanett, AL            06/18/20  H-D Road Glide Ultra          2,552       I-40     GOLD

Michael Mitchell  Ashton, ID            06/14/20  BMW R1200GSA                  1,072       I-25     GOLD 
Alan M. Rundle    Firth, ID             06/14/20  BMW R1200GSA                  1,072       I-25     GOLD 

Michael Mitchell  Ashton, ID            06/11/20  BMW R1200GSA                  1,432       I-15     GOLD 
Alan M. Rundle    Firth, ID             06/11/20  BMW R1200GSA                  1,432       I-15     GOLD 

Greg Rice         Topton, NC            06/06/12  Yamaha FJR Tour               1,534       I-20     GOLD

Lionel L Ramos    Falls Church, VA      03/14/20  H-D Road Glide CVO            2,552       I-40     GOLD

Todd Moreland     Navarre, FL           03/14/20  H-D Road Glide Ultra          2,475       I-10     GOLD

Harry Swanson     Nanaimo, BC           02/28/20  H-D FLHXSE CVO Street Glide   1,381       I-5      GOLD

Tim Masterson     San Marcos, TX        11/01/19  BMW R1200GS Adventure         2,552       I-40     GOLD



---



Pines to Palms to Pines GOLD - Angle Inlet to Key West and and back under 4 days
Northernmost point to Southernmost point of 48 USA states and return

Name              Hometown               Date      Motorcycle       Mileage

Mike Senty        Grand Marais, MN       05/07/06  BMW R1150RT      4,720
Jim Simonet       River Falls, WI        05/07/06  Honda ST1100     4,720



---



Palms to Pines to Palms GOLD - Key West to Angle Inlet and back under 4 days
Southernmost point to Northernmost point of 48 USA states and return

Name              Hometown               Date      Motorcycle       Mileage

Anthony Osborne   West Palm Beach, FL    07/10     Yamaha FJR       4,864



---



Palms to Pines Finishers GOLD (Key West to Angle Inlet in 2 days)
    Southernmost point to Northernmost point of 48 USA states:

Name              Hometown               Date      Motorcycle       Mileage

Motorcycle Tourer's Forum's Bottom-Up Gold event
John Frick        Cincinnati, OH         07/12/10  BMW K1200LT      2,337
 
Thomas Atkinson   Magnolia, TX           06/13/09  Honda GL1500SE   2,330

Robert Munden     Windsor, ON CANADA     05/22/05  HondaPacificCoast2,323




---



Pines to Palms GOLD Finishers (Angle Inlet to Key West in 2 days)
     Northernmost point to Southernmost point of 48 USA states

Name              Hometown               Date      Motorcycle        Mileage

Motorcycle Tourer's Forum's Bottom-Up Gold event
David Hinks       Lemont, IL             07/12/10  Yamaha FJR1300AE  2,337
Greg Blewett      Franklin, KY           07/12/10  Honda Gold Wing   2,337
Jeremy Loveall    Auburn, KY             07/12/10  BMW R75/7         2,337
Steven McCaa      Minneapolis, MN        07/12/10  Kawasaki Versys   2,337

Minnesota LD Riders Pines to Palms II (creator of the Pines to Palms!)
Jeff Kerkow       Le Sueur, MN           05/09/10  Kawasaki Concours 2,426
Rich Reid         Minnetonka, MN         05/09/10  Honda ST1300      2,366
Del Brisson       Cottage Grove, MN      05/09/10  BMW K1200LT       2,344
Nels Gebben       Maplewood, MN          05/09/10  BMW K1200GT       2,331
Jack Backer       Monroe, SD             05/09/10  Honda GL1800      2,566
Marlene Backer (pillion)                 05/09/10  Honda GL1800      2,566
Dave Weber        Moorhead, MN           05/09/10  BMW R1150R        2,407

Minnesota LD Riders Pines to Palms (creator of the Pines to Palms!)
Allen Wilson      Sartell, MN            05/07/06  H-D FLTRI         2,375
Derek Dickson     Duluth, MN             05/07/06  Yamaha FJR1300    2,388
Pete Behm         Stillwater, MN         05/07/06  Yamaha Royal Star 2,416
Paula Behm (passenger)                   05/07/06  Yamaha Royal Star 2,416
David W. Nelson   Bloomington, MN        05/07/06  Honda GL1800      2,446
Jim Simonet       River Falls, WI        05/07/06  Honda ST1100      2,301
John Coons        Plainview, MN          05/07/06  BMW R1100RSL      2,420
Paul Sundet       Shakopee, MN           05/07/06  Honda VFR-800     2,350
Kerry Person      Shakopee, MN           05/07/06  Honda GL1800      2,412
Paul Ptak         Shakopee, MN           05/07/06  Honda GL1800      2,414
Mike Senty        Grand Marais, MN       05/07/06  BMW R1150RT       2,414
Ron Hanson        Brooklyn Park, MN      05/07/06  Honda GL1800      2,411
Carrie Hanson     Brooklyn Park, MN      05/07/06  BMW R1100RT       2,411




---



Pines to Palms Finishers (Key West to Angle Inlet under 60 hours)
    Southernmost point to Northernmost point of 48 USA states

Name              Hometown               Date      Motorcycle        Mileage

Minnesota LD Riders Pines to Palms II (creator of the Pines to Palms!)
Dana Oehlerich    Chokio, MN             05/09/10  Yamaha FJR 1300   2,422




---


SaddleSore 8000K Finishers (8,047 kilometers in 5 days):

Name              Hometown              Date      Motorcycle                   Kilometers

Karl Pirchmoser   NSW, AUSTRALIA        03/15/13  Kawasaki GTR1400             8,313

Craig Harcombe    Lambton,NSW AUSTRALIA 01/03/13  Yamaha Super Tenere XT1200Z  8,160

Trevor Evans      AUSTRALIA             09/27/11  Honda ST1100                 8,125




---


SaddleSore 7000K Finishers (7,000 Kilometers/4,350 miles) in 4 days):

Name              Hometown              Date      Motorcycle                   Kilometers

Michael Morris    Australia             06/21/17  BMW R1200RT                  7,106
Lynne Morris (pillion)                  06/21/17  BMW R1200RT                  7,106



SaddleSore 4000 GOLD Finishers (4,000 miles in 3 days):

Name              Hometown              Date      Motorcycle                  Mileage

Lionel L Ramos    Falls Church, VA      11/26/20  H-D Road Glide CVO          4,004



---


SaddleSore 4000 Finishers (4,000 miles in 4 days):

Name              Hometown              Date      Motorcycle                  Mileage

Jennifer Brewington St. Marys, GA       06/20/21  H-D Road Glide              4,034 

Stephen Evans     Lake City, FL         09/19/20  Yamaha FJR                  4,256 
             * * * Stephen is 72 years young on this ride! * * * 

James O. Epley    Fredericksburg, VA    09/07/20  Triumph Trophy SE           4,198

August R. Binder  Bath, PA              06/20/20  Indian Springfield          4,272 

Doug Edmondson    Lanett, AL            06/18/20  H-D Road Glide Ultra        4,059

Ben Ernst         Azle, TX              06/18/20  BMW K1600GTL                4,288

Todd Moreland     Navarre, FL           09/25/19  H-D Dyna Switchback  1      4,050

Lionel L Ramos    Falls Church, VA      10/31/18  H-D Road Glide Ultra CVO    4,126

Cynthia Cox       Brookshire, TX        10/29/18  Can-Am Spyder RT Limited    4,508 
Morris Cox        Brookshire, TX        10/29/18  Triumph Tiger Explorer 1200 4,508 

Gerhard M. Krueger  GERMANY             10/16/18  BMW R1200GSA                4,047

Tim Vaughan       Stanley, NC           08/13/18  Yamaha FJR1300              4,018
Paul J. Heine     Springfield, VA       08/06/18  H-D Ultra Limited           4,355
Gary Huff         Colorado Springs, CO  08/01/18  BMW R1200RT                 4,131
Kenneth Thompson  Tucson, AZ            07/31/18  Honda Gold Wing             4,046

David Barwood     Australia             04/03/18  Triumph Roadster            4,010

Ken Cowart        Alexander, AR         03/10/18  H-D Road Glide Ultra        4,025
Kenneth W Andrews Benton, AR            03/10/18  H-D Road Glide Special      4,025

Peter J. Karlson  Clintonville, WI      07/05/17  H-D Ultra Limited FLHTK     4,190

Gary Lingenfelter Nevada, IA            05/27/16  Honda Interstate 1300       4,134

John T. Carrel    Phoenix, AZ           07/09/15  BMW R1200GS                 4,020
Tim Hayosh        Mesa, AZ              07/09/15  Kawasaki Concours           4,009

David Graves      Midland, MI           05/01/15  BMW K1300S                  4,080

Karl Pirchmoser   Australia             09/14     Yamaha YZF R15 - 149 cc!    4,081

Steven G. Price   Suwanee, GA           09/25/14  H-D Ultra Classic           4,033
Gregory Partridge Sanford, FL           07/20/13  Suzuki DL650A V-Strom       4,256

Christopher Ross  Lubbock, TX           01/17/13  BMW R1200GS Adventure       4,090

MTF Poker Run from Hell
Art Garvin        Canton, OH            07/18/11  Honda GL1800                4,035

Tom Foltz         Topeka, KS            05/07/11  Honda GL1800                4,150
Shane Mead        Topeka, KS            05/07/11  Honda GL1800                4,150

Harry Knerr       Leesport, PA          09/28/10  H-D Road Glide              4,227

Steven L. Ketchum Dixon, IL             09/25/09  H-D Electra Glide           4,178
Tom Nielsen       Rock Falls, IL        09/25/09  H-D Road King               4,178

Tom Atkinson      Magnolia, TX          10/05/08  Honda GL1500SE              4,088
Bob Elliot        Marietta, GA          07/14/08  BMW R1200GS                 4,695

Jimmie C. Clunn   Broken Arrow, OK      07/07/05  BMW K1200LT                 4,275
Vicki L. Clunn (passenger)              07/07/05  BMW K1200LT                 4,275
Glenn K. Pancoast Lansing, MI           04/18/05  BMW K1200LT                 4,088
Chuck Stults      Beloit, WI            04/29/04  BMW K1200LT                 4,040



---



Lap of the South GOLD Finishers 3,700+ miles in 3 days to the far corners of the South:

Name              Hometown              Date      Motorcycle                  Mileage

Mark Foxwell      Plantation, FL        09/23/21  H-D Road Glide Special      3,722

Lionel L Ramos    Falls Church, VA      11/26/20  H-D Road Glide CVO          3,895





---


SaddleSore 6000K Finishers (6,000 Kilometers/3,728 miles) in 4 days):

Name              Hometown              Date      Motorcycle                   Kilometers

Jeffrey Gebler    Australia             04/01/17  Yamaha Super Tenere          6,149 SS6000K

Jeffrey Gebler    Australia             09/xx/15  Yamaha Super Tenere          6,102
Michael Turnpenny Stirling, SCOTLAND    06/09/13  Yamaha FJR1300A              6,281 Australia Ride



---



Ride Around Texas Insanity GOLD Finishers (Around Texas in 70 hours):

Name              Hometown              Date      Motorcycle                   Mileage

Russell Black     Manvel, TX            11/21     Honda Gold Wing              3,121

2021 Big As Texas Party Ride Around Texas
Lance Corley                            10/21     H-D Road Glide CVO           3,122   
Nathan Stueber                          10/21     Yamaha FJR1300               3,128   
Kimberly Walling                        10/21     H-D Road Glide Special       3,093   
Mark Campbell                           10/21     BMW R1250GS-Adventure        3,083   
Jim McCrain                             10/21     Triumph Trophy SE            3,075   
Robert Long                             10/21     Victory Vision               3,005   
Doug Vance                              10/21     H-D Ultra Limited            3,150   
Greg Fizer                              10/21     Honda Gold Wing              3,204   
Patrick Nijsters                        10/21     BMW S1000XR                  3,071   
Kith Burkingstock                       10/21     Yamaha Super Tenere          3,201   
Wendell Cofer                           10/21     H-D Ultra Classic            3,170   
Larry Telling                           10/21     H-D Ultra Limited            3,154   
Lynn Behrens                            10/21     H-D Pan America              3,133   

Jeff Carroll      Missouri, City, TX    03/21     Yamaha FJR1300ES             3,145

Jim McCrain       Frisco, TX            10/20     Triumph Trophy SE            3,092

Michael Brown     Lubbock, TX           10/20     BMW R1200GS                  3,142
James Handley     Belton, TX            10/20     BMW K1600GTLE                3,079
Danny Dossman     Belton, TX            10/20     BMW R1200GS Adventure        3,079

James Massey      Sherman, TX           06/20     H-D Road King Classic        3,126

Eugene C. Adee    Glendale, AZ          05/19     H-D Ultra Classic Limited    3,132 
             * * * Eugene is 74 years young on this ride! * * * 

Chris Hopper      Cypress TX            09/18     H-D Ultra Limited CVO        3,128
Ken Cowart        Alexander, AR         03/18     H-D Road Glide Ultra         3,112
Kenneth W Andrews Benton, AR            03/18     H-D Road Glide Special       3,112

Gregory Dennett   Wichita, KS           05/17     Honda ST1100                 3,100

Roy Kjendal       Deerfield NH          07/17     BMW K1600GTL                 3,112
Alan Wiederanders San Antonio TX        05/17     Honda GL1800                 3,115
David Hathaway    Sugar Land  TX        05/17     Honda CRF1000L Africa Twin   3,115
Owen Quarles      Houston TX            05/17     Yamaha FJR1300 ES            3,115
Christopher Ross  Wolfforth TX          05/17     BMW R1200GS Adventure        3,115
Danny Dossman     Belton  TX            05/17     Honda ST1300                 3,115
David M Uhl       Parker  CO            05/17     H-D Street Glide CVO         3,115
Gerry Arel        Manchester  CT        05/17     BMW R1200R                   3,115
John Huval        Lafayette LA          05/17     Honda Gold Wing GL1800       3,115
Nadine Huval (pillion)                  05/17     Honda Gold Wing GL1800       3,115
Kevin Sawatsky    Greenville  TX        05/17     BMW K1200LT                  3,115
Matt Hube         Statesboro  GA        05/17     Honda Gold Wing              3,115
Matt Watkins      Allen TX              05/17     BMW R1200GS-Adventure        3,115
Matt Wise         Rowlett TX            05/17     BMW R1200GS-Adventure        3,115
Paul Meyer        Herington KS          05/17     Triumph Trophy SE            3,115
Rich Rulau        Rosenberg TX          05/17     Yamaha FJR                   3,115
Carlos Loaiza     Ciudad de Mexico  MX  05/17     BMW R1200GS-Adventure        3,115
Ioram Abolnik     Ciudad de Mexico  MX  05/17     BMW R1200GS                  3,115
Javier Duran      Ciudad de Mexico  MX  05/17     BMW R1200GS-Adventure        3,115

Bruce Edwards     Purcellville VA       04/17     H-D Road Glide               3,112

Tim Masterson     TX                    10/16     BMW R1200GS Adventure        3,094
Paul Tong         TX                    09/16     Honda Gold Wing GL1800       3,112
Frans de Wet      Bullard, TX           02/16     Honda Gold Wing GL1800       3,083
Bettie de Wet (passenger)               02/16     Honda Gold Wing GL1800       3,083

MTF Ride Around Texas - May 5th - 8th, 2014
Daniel G. Buis    Amarillo, TX          05/14     H-D CVO Ultra                3,115
Everett Layton    Amarillo, TX          05/14     Honda Gold Wing              3,115
John Cooper       Woodland Hills, CA    05/14     Honda GL1800                 3,115
Nick Getzendanner McKinney, TX          05/14     Honda GL1800                 3,115
Paul Slaton       The Woodlands, TX     05/14     Honda GL1800                 3,115
Robert Hudson     Crestview, FL         05/14     H-D Road Glide CVO           3,115
Rex LeGalley      Albuquerque, NM       05/14     Honda GL1800                 3,115
Roger Buis        Baker, FL             05/14     H-D CVO Ultra Classic        3,115
Robert Rehkopf    Cordova, TN           05/14     BMW R1200RT                  3,115
             * * * Robert is 67 years young on this ride! * * *
Rich Rulau        Rosenberg, TX         05/14     Triumph Sprint ST            3,115
             * * * Rich is 67 years young on this ride! * * *

MTF Ride Around Texas
Anthony Osborne   West Palm Beach, FL   10/10     Yamaha FJR1300     3,115
Bobby Amon        Experiment, GA        10/10     BMW GS Adventure   3,115
Bobby Buffington  Kerrville, TX         10/10     Can Am Spyder RS   3,115
Bobby Fox         Frisco, TX            10/10     H-D Ultra Classic  3,115
Buford BB Neely   Magee, MS             10/10     BMW R1200RT        3,115
Charles Wilt      Flower Mound, TX      10/10     H-D Heritage       3,115
David Bjork       Elgin, IL             10/10     Honda ST1300A      3,115
David Hinks       Lemont, IL            10/10     Yamaha FJR1300AE   3,115
Dianne Fox        Frisco, TX            10/10     H-D Ultra Classic  3,115
Don Bell          Saltillo, TX          10/10     BMW R1150GS-ADV    3,115
Dorsey Price      Tucson, AZ            10/10     Honda GL1800       3,115
Howard Entman     Memphis, TN           10/10     Yamaha FJR1300     3,115
Jack Shoalmire    Broken Arrow, OK      10/10     BMW R1200RT        3,115
Jerry Riley       Afton, TN             10/10     Honda ST1300PA     3,115
Kit Chunhawong    Alexandria, VA        10/10     BMW K1200LT        3,115
Lewis Stephens    Pasadena, TX          10/10     Honda GL1800       3,115
Mike Getzendanner Palestine, TX         10/10     Honda GL1500SE     3,115
Robert Collins, Jr. Port Neches, TX     10/10     Honda Gold Wing    3,115
Rufus Maxfield    Kerrville, TX         10/10     BMW K1200LT        3,115

Glen Kenney       Colmesneil, TX        05/10     Honda GL1800       3,108
David Trail       Kaufman, TX           05/10     Honda Gold Wing    3,108

Bob Tobitt        Stafford, TX          04/08     Yamaha Royal Star  3,184
Lonnie Dickens    Houston, TX           04/08     Victory Vegas      3,184

James R. Stovall  Amarillo, TX          03/08     Honda Spirit       3,090

Tony Hudson       Aiken, SC             05/06     Honda Gold Wing    3,115
Alan Leduc        New Castle, IN        05/06     Honda GL1800       3,115
Art Garvin        Canton, OH            05/06     Honda GL1800       3,115
Bill Loftin       McKinney, TX          05/06     Honda GL1800       3,115
Bob Clement       Zion, IL              05/06     Buell Ulysses      3,115
Bobby West        Gilbert, AZ           05/06     Honda Gold Wing    3,115
Brian Ringey      Ferndale, MI          05/06     BMW K1200LT        3,115
Bruce F. Harris   Burlington, NC        05/06     BMW K1200LT        3,115
David G. Hinks    Lemont, IL            05/06     Kawasaki Concours  3,115
David W. Nelson   Bloomington, MN       05/06     Honda Gold Wing    3,115
Dennis L. Powell  Webster City, IA      05/06     Honda Gold Wing    3,115
Elven Hutcherson  Arkadelphia, AR       05/06     BMW K1200LT        3,115
Fletcher Clark    Ruleville, MS         05/06     BMW R1200RT        3,115
Fred Droegemueller  Henderson, NV       05/06     Suzuki DL 650      3,115
Gerald Roberts    AsH-Down, AR          05/06     Honda Gold Wing    3,115
Gordon Hanson     Cordova, TN           05/06     Honda GL1800       3,115
Jason Jonas       Austin, TX            05/06     Suzuki DL 1000     3,115
Jim E. Green      Houston, TX           05/06     BMW R1200RT        3,115
Jim Goodman       Mansfield, TX         05/06     Honda GL1800       3,115
John W. McCain    Mahomet, IL           05/06     Kawasaki Concours  3,115
Kevin J. Lechner  Warner Robins, GA     05/06     Honda ST1100       3,115
Kevin J. Healey   West Palm Beach, FL   05/06     Triumph Trophy     3,115
Larry Scalzitti   Barrington, IL        05/06     BMW R1150GS        3,115
Lewis Stephens    Pasadena, TX          05/06     BMW K1200LTC       3,115
Lowell Vahl       Tempe, AZ             05/06     BMW K1200LT        3,115
Marcial D. Sorrel Wharton, TX           05/06     BMW K1200LTC       3,115
Mark G. Smith     Watauga, TX           05/06     Honda Gold Wing    3,115
Mike Schwartz     Teague, TX            05/06     Honda Gold Wing    3,115
Richard Buber     Cocoa, FL             05/06     Triumph Tiger      3,115
Rick Neeley       Sedalia, CO           05/06     Honda GL1800A      3,115
Robert R. Cromby  Harker Heights, TX    05/06     BMW R1150RT        3,115
Scott Wilson      Fayetteville, GA      05/06     Honda ST1100       3,115
Tom Atkinson      Magnolia, TX          05/06     Honda GL1500 SE    3,115



---


Ride Around Texas Insanity Finishers (Around Texas in 85 hours):

Name              Hometown              Date      Motorcycle                   Mileage

2021 Big As Texas Party RAT
Tommy Craft                             10/21     Honda Gold Wing Tour         3,141   
Dennis Peters                           10/21     BMW R1250RT                  3,236   
George Mowry                            10/21     Yamaha FJR1300ES             3,399   


Mark Foxwell      Plantation, FL        03/18/21  H-D Road Glide Special       3,134

Tim Harkins       Buda, TX              06/18/20  Honda Gold Wing GL1800       3,150
                       * * * Tim is 68 years young on this ride * * *
      
James Massey      Euless, TX            05/01/17  Harley-Davidson              3,150

Christopher Ross  Lubbock, TX           03/19     BMW R1200GSA                 3,106
Mikki Ross (pillion)                    03/19     BMW R1200GSA                 3,106

Robert Krauter Jr. Artesia, NM          10/18     H-D Road Glide Ultra         3,220 

John Armstrong    Texas City, TX        10/18     H-D CVO Street Glide         3,124 
Stanley Fleming   N. Richland Hills, TX 04/18     H-D Tri Glide                3,117

Russell Hrncir    New Braunfels, TX     11/17     H-D Ultra Classic            3,147
Howard Armstrong  New Braunfels, TX     11/17     H-D Road Glide Ultra         3,147
Gary Wilkerson    San Antonio, TX       11/17     H-D CVO Road Glide           3,147
             * * * Gary is 67 years young on this ride! * * *

Kerry J. Manning  Kingwood, TX          05/17     Honda Gold Wing              3,238
Doni Shawn Evans  Arlington, TX         05/17     Kawasaki Concours 14         3,230

Cynthia Cox       Brookshire  TX        05/17     Can-Am Spyder RT             3,115
Morris Cox        Brookshire  TX        05/17     Triumph Rocket III           3,115
William Cumbie    Lindale TX            05/17     BMW R1200GS-Adventure        3,115

MTF Ride Around Texas - May 5th - 8th, 2014
Dennis Archer     Plano, TX             05/14     BMW R1200RT                  3,115
Francisco Morales Odessa, TX            05/14     H-D Screamin Eagle Road King 3,115
John Martin       Plano, TX             05/14     BMW K1600GT                  3,115
             * * * John is 65 years young on this ride! * * *

Steve Goldsmith   Yantis, TX            04/14     Honda Gold Wing GL1800       3,166

Kevin Landis      N. Richland Hills, TX 03/13     Honda Gold Wing    3,116

Steve Goldsmith   Yantis, TX            03/13     Honda Gold Wing    3,150
Joe Birkenback    Rockwall, TX          03/13     Honda GL1800       3,150

Brian A. Norwood  Houston, TX           03/13  Honda Gold Wing       3,150

Steve Mathews     Lone Tree, CO         07/12     Honda Gold Wing    3,154

Perry Kuhns       Pearland, TX          09/11     Yamaha Royal Star  3,140

MTF Ride Around Texas
Art Garvin        Canton, OH            10/10     Honda GL1800       3,115
Cliff Wall        Southlake, TX         10/10     Honda GL1800       3,115
Gerald Roberts    AsH-Down, AR          10/10     Honda Gold Wing    3,115
Loren Crowe       Houston, TX           10/10     Honda CB1000       3,115
Randy Freyer      Decatur, TN           10/10     Suzuki DL650       3,115

Glen Kenney       Colmesneil, TX        10/09     Honda Gold Wing    3,186

William Schneider Janesville, WI        05/06     Kawasaki Concours  3,115
Arlen Brunsvold   Sheboygan, WI         05/06     H-D Road King      3,115
Arlen R Brunsvold Naperville, IL        05/06     BMW R1200RT        3,115
Bo Griffin        Prosper, TX           05/06     Kawasaki Concours  3,115
Dan Vacek         Rosenberg, TX         05/06     Honda Gold Wing    3,115
Delores Bazor McNutt  Katy, TX          05/06     Honda Valkyrie     3,115
Dennis Ely        Gause, TX             05/06     Honda Gold Wing SE 3,115
Doug Meister      Rosenberg, TX         05/06     Honda Gold Wing    3,115
Eric L. Prall     Harker Heights, TX    05/06     BMW LT1200         3,115
Gery C. Marcelino San Diego, CA         05/06     BMW F650GS         3,115
Janet R. Beesley  DeSoto, TX            05/06     Yamaha Road Star   3,115
John W. J. Cooney Harker Heights, TX    05/06     Honda ST1100       3,115
Jonathan Marsh    Dallas, TX            05/06     Honda Gold Wing    3,115
Kent Saxton       Anchorage, AK         05/06     Honda ST1300A      3,115
Robert Mulcahy    Tucson, AZ            05/06     H-D Road Glide     3,115
Timothy L. Wagner Lancaster, TX         05/06     Polaris Victory    3,115
W. Boyter         Duncanville, TX       05/06     BMW R1200RT        3,115



---





---


Lap of Florida Gold Finishers (around Florida in 32 hours):

Around the perimeter of Florida, corners of the state; 
Amelia Island (northeast point), Perdido Key (northwest point), 
Marco Island (southwest point) and Key West (southernnmost point) 
collecting sand from the Atlantic Ocean, North Gulf of Mexico, 
South Golf of Mexico and the Florida Straights and return to start.

Name              Hometown              Date      Motorcycle              Mileage

Ronald L. Trainor Port St Lucie, FL     03/21     H-D Tri-Glide           1,891

Mark Foxwell      Plantation, FL        12/20     H-D Road Glide Special  1,933

Paxie M. Cordova  Jacksonville, FL      11/19     H-D Road Glide Special  1,910 
Dan Thaler        Deerfield Beach, FL   10/19     Honda Gold Wing Tour    1,844
Oscar H. Gomez    Miami, FL             03/19     H-D Road Glide Ultra    1,831 
Yosnay Fiallo-Nurquez Miami, FL         03/19     H-D Ultra Limited       1,831 
Jamner Moreno     Homestead, FL         03/19     H-D Ultra Glide Limited 1,831 
Maximilian Guillen Davie, FL            03/19     H-D Ultra Limited       1,831 

Freddy Alex Gallego Margate, FL         06/18     H-D Electra Glide 1,864

Gary G. Butler    Punta Gorda, FL       05/18     BMW R1200GSA      1,884

David Mickel      Middleburg, FL        05/18     Triumph Trophy SE 1,886

Daved Kinsey      Reading, PA           03/18     BMW K1600GTL      1,834

David Henson      St. Petersburg, FL    09/17     Honda Gold Wing   1,853
Suzann Henson (pillion)                 09/17     Honda Gold Wing   1,853

Danny Lee         Tallahassee, FL       09/11     Kawasaki ZG1000   1,902

Motorcycle Tourer's Forum Lap of Florida
David Bjork       Elgin, IL             04/11     Honda ST1300A     1,841
Sarah Bjork (passenger)                 04/11     Honda ST1300A     1,841
Joe Green         Crestview, FL         04/11     Yamaha FJR1300    1,841
Kit Chunhawong    Alexandria, VA        04/11     BMW K1200LT       1,841

Howard Entman     Memphis, TN           01/10     Yamaha FJR1300    1,880
             * * * Howard is 66 years young on this ride! * * *

Anthony Osborne   West Palm Beach, FL   11/09     Yamaha FJR        1,880

Danny Lee         Port Orange, FL       10/09     Kawasaki Concours 1,877
Chuck Gittner     Port Orange, FL       03/08     BMW K1200LT       1,877



---


Lap of Florida Finishers (Around Florida in 44 hours):

Around the perimeter of Florida, corners of the state; 
Amelia Island (northeast point), Perdido Key (northwest point), 
Marco Island (southwest point) and Key West (southernnmost point) 
collecting sand from the Atlantic Ocean, North Gulf of Mexico, 
South Golf of Mexico and the Florida Straights and return to start.

Name              Hometown              Date      Motorcycle        Mileage

Abel Garcia       Miami, FL             05/20     H-D Road King     1,896 
Sittisak Chariyasuwan Miami, FL         05/20     H-D Electra Glide 1,896 

William Huckaba   Miami, FL             01/20     H-D FLTXRS        1,921

Martin Cover      Annapolis, MD         01/20     BMW R1200GSA      1,830

Scott Nyhof       Lakeland, FL          06/19     Indian Vintage    1,886 

Scott Levey       Loxahatchee, FL       04/19     H-D Road Glide    1,903 
Julia Levey (passenger)                 04/19     H-D Road Glide    1,903 

Todd Moreland     Navarre, FL           01/19     H-D Switchback    1,912 

Nicodemus Machin  West Palm Beach, FL   04/18     H-D Road Glide    1,861

James Hodgson III Stuart, FL            09/16     BMW R1200RT       1,948
             * * * James is 73 years young on this ride! * * * 
Lynn T. Kidd, Sr. Sebastian, FL         09/16     Yamaha FJR1300    1,948
             * * * Lynn is 69 years young on this ride! * * * 

Gary R. Wothe     Jacksonville, FL      03/12     H-D FLHTCI        1,874
Walter Wunderlich Sebastian, FL         11/11     Yamaha FJR130     1,856

Space Coast Chapter of the Harley Owners Group
Jerome Green      Melbourne, FL         03/10     H-D Heritage      1,844
             * * * Jerome is 65 years young on this ride! * * *
Don Stadtler      Orange, VA            03/10     H-D Softail Deluxe1,844
             * * * Don is 66 years young on this ride! * * *
William E. Frey   Palm Bay, FL          03/10     H-D FLHTC         1,844
             * * * William is 67 years young on this ride! * * *
Erwin E. Crampton Palm Bay, FL          03/10     H-D Electra Glide 1,844
             * * * Erwin is 65 years young on this ride! * * *

John C. Grant     Cocoa Beach, FL       03/10     H-D Road Glide    1,844
Stanley McElwain  Melbourne, FL         03/10     H-D Ultra Classic 1,844
John A. Graham    Melbourne, FL         03/10     H-D Fat Boy       1,844
Bob Zubaugh       Palm Bay, FL          03/10     H-D Ultra Classic 1,844
Burt Kennedy      Merritt Island, FL    03/10     H-D Ultra Classic 1,844
Steven D. Ripp    Sebastian, FL         03/10     H-D Street Glide  1,844

John E. Stamps    Fort Myers, FL        01/10     BMW 1200RT        1,852

Mark L. Cain      Valrico, FL           11/09     Honda Gold Wing   1,870



---


SaddleSore 3000 GOLD Finishers (3,000 miles in less than 54 Hours):

Name              Hometown              Date      Motorcycle                  Mileage

Kimberly Walling  Houston, TX           09/28/21  H-D Road Glide Special      3,093

Sandra K Wallace  Charlotte, NC         07/19/21  H-D Road Glide Limited      3,056

Ted Parins        Prairie du Sac, WI    06/21/21  H-D CVO Limited             3,017

Michael Mitchell  Ashton, ID            06/21/21  BMW R1200GSA                3,059 

George Mowry      Squaw Valley, CA      03/05/21  Yamaha FJR1300ES            3,001 

Lance Henrichsen  Huntington Beach, CA  08/14/20  BMW S1000XR                 3,027

David M Uhl       Parker, CO            08/09/20  H-D Street Glide CVO        3,189

Brian Wade        Burlington, IA        07/27/20  H-D Road Glide              3,005
Evan Brock Wiseman  Burlington, IA      07/27/20  H-D Street Bob FXDB         3,005

Lynn R Behrens    Beaver Dam, WI        07/10/20  BMW R1200RS                 3,086

Andrey Sosorev    Moscow, RUSSIA        06/17/19  H-D FLHTK Electra Glide     3,100 

Christopher Schaffer Rockvale, TN       12/27/18  BMW R1200RT                 3,138 

Antônio Carlos Zanandrea   BRAZIL       12/26/18  BMW R1200GS                 3,244

Will Barclay      Woodstock, NY         07/15/13  H-D Street Glide            3,646

Tom Atkinson      Magnolia, TX          10/27/12  Honda GL1800                3,099




---


SaddleSore 5000K GOLD Finishers (5,000 Kilometers in less than 60 Hours):

Name              Hometown              Date      Motorcycle                   Kilometers

Michael Turnpenny Stirling, SCOTLAND    06/19/14  Yamaha FJR1300A              5,142 Australia Ride

Michael Turnpenny Stirling, SCOTLAND    06/08/13  Yamaha FJR1300A              5,263 Australia Ride



---


SaddleSore 5000K Finishers (5,000 Kilometers/3,107 miles in 3 days):

Name              Hometown              Date      Motorcycle                   Kilometers

Ian Skrabek       Winnipeg, MB CANADA   08/22/19  Kawasaki Vulcan 900          5,130

MALAYSIAN ARMY BIKERS (MAB) Saddlesore 5000K 
Meor Mohd Faizul bin Abd Karim MALAYSIA 02/01/19  Kawasaki Versys 650          5,165 
            * * * First Malaysian rider to complete SS5000K * * * 

Scott Macpherson  Australia             08/04/17  BMW R1200GSA                 5,034
Scott Macpherson  Australia             08/05/16  Honda F6B                    5,058
Rob Macpherson    AUSTRALIA             12/04/15  BMW K1600GTL                 5,058
Scott Macpherson  Beecroft,NSW AUSTRALIA07/31/15  Honda F6B                    5,029
Craig Harcombe    AUSTRALIA             02/11/15  H-D Road King                5,063 NSW-1600K
Frans Van Der Merwe NSW, AUSTRALIA      02/13/14  Honda GL1800                 5,201
Dave Barwood      Toodyay, WA AUSTRALIA 03/09/14  Triumph Roadster             5,076
Michael Turnpenny Stirling, SCOTLAND    03/09/14  Yamaha FJR1300A              5,084 Australia Ride
Craig Harcombe    Lambton,NSW AUSTRALIA 10/31/13  Yamaha Super Tenere XT1200Z  5,076

Michael Turnpenny Stirling, SCOTLAND    06/08/13  Yamaha FJR1300A              5,392 Australia Ride




---


SaddleSore 3000 Finishers (3,000 miles in less than 72 Hours):

Name              Hometown              Date      Motorcycle                    Mileage

Arjen Steiner     GERMANY               12/28/21  BMW R1250GS Adventure         3,060

Lunatic IBAnaut SS3000
Leighton Lowell   Lubbock, TX           10/05/21  H-D Ultra Classic             3,023

Jesse Alexander   Buda, TX              09/26/21  H-D Ultra Limited             3,094
Chris Rasmussen   Charlotte, NC         09/26/21  BMW R1200GSA                  3,094

Ken Jones         Beaverdam, UT         09/17/21  Indian Roadmaster             3,019

Joseph Barden     Newton, KS            08/20/21  Honda Gold Wing               3,245

Andrey Sobetov    Podolsk, RUSSIA       08/12/21  BMW R1200GSA                  3,223 

Jerry Stevens     Flower Mound, TX      08/03/21  Yamaha Royal Star Venture S   3,212 
             * * * Jerry is 72 years young on this ride! * * * 

Alex Alpert       Southborough, MA      07/31/21  H-D CVO Limited               3,074
Vicki Hill (pillion)                    07/31/21  H-D CVO Limited               3,074

Eric G. Burke     Hamburg, NJ           07/22/21  H-D Road Glide Ultra          3,143

Portia Boyce      Fayetteville, NC      07/05/21  H-D Street Glide Special      3,067
Tameka Singleton  Philadelphia, PA      07/05/21  H-D Road Glide Special        3,067

Jerry Stevens     Flower Mound, TX      06/20/21  Yamaha Royal Star Venture S   3,205 
             * * * Jerry is 72 years young on this ride! * * * 

Ted Parins        Prairie du Sac, WI    06/14/21  H-D CVO Limited               3,090

Matthew Norris    Central Point, OR     06/11/21  Honda Valkyrie                3,074

Dave Scott        Yardville, NJ         06/05/21  H-D Street Glide              3,043

Sergey Kurshev    St.Petersburg, RUSSIA 05/08/21  H-D Fat Bob FXFB              3,012 

David M Uhl       Parker, CO            04/07/21  H-D Road Glide Limited        3,030

Brian L. Day      St. George, UT        10/28/20  BMW K1600GTL                  3,088

Lionel L Ramos    Falls Church, VA      10/14/20  H-D Road Glide CVO            3,213

Ted Parins        Prairie du Sac WI     10/05/20  H-D CVO Limited               3,063

Aaron M. Andes    Broadway, VA          09/18/20  H-D Street Glide              3,064 

Mark Campbell     Hernando, MS          09/09/20  BMW R1250GSA                  3,064

Edward Feyereisen Cedar Grove, WI       08/31/20  Suzuki DL1000                 3,012
Mark Lennart      Corunna, IN           08/31/20  2018 BMW K1600 GA             3,012
Jim VanDenBerghe  Newaygo, MI           08/31/20  Honda ST1100                  3,012
             * * * Jim is 72 years young on this ride! * * * 

Vladislav Kulikov St.Petersburg, RUSSIA 08/20/20  H-D Street Glide              3,080 
Yuriy Svetov      St.Petersburg, RUSSIA 08/20/20  H-D Electra Glide             3,080 

Mark W Keating    Guelph, ON CANADA     08/10/20  H-D Road King                 3,169

August R. Binder  Bath, PA              06/20/20  Indian Springfield            3,195 

Three Road Triumph - Three Days
Brian North       Franklin, WI          06/17/20  Triumph Rocket TFC            3,079 WI-3000

Three Road Glides - Three Days with one PA-1000 for good luck!
Harry Knerr       Leesport, PA          11/17/19  H-D Road Glide                3,098 Shark Nose 3000

Lionel L Ramos    Falls Church, VA      11/08/19  H-D Road Glide (FLTR)         3,283
Daniel Sheridan Duvall                  11/08/19  H-D Road Glide (FLTR)         3,235

Atomic 3000 - Plutonium level!
Chris Rasmussen   Charlotte, NC         10/04/19  BMW R1200GSA                  3,216

Tamica Wade       Pittsburgh, PA        10/03/19  H-D Road Glide CVO            3,027

Donald Coleson II Scottville, MI        09/02/19  H-D Road King Custom          3,107
Jim McCrain       Frisco, TX            08/31/19  Triumph Trophy SE             3,272
Anthony Godshall  San Francisco, CA     08/30/19  Honda NM4                     3,210 
Paul Steward      Apple Valley, MN      08/28/19  H-D Ultra Classic             3,017 
David A. Ridgway  Warrenton, MO         08/23/19  Honda ST1100                  3,302 
Daryl D. Giles    South Holland, IL     07/29/19  Honda ST1300                  3,080 

Earth to Moon and Back 3000 50th Anniversary of Apollo 11 - man's first landing on the moon
Brian McLaughlin  Simla, CO             07/16/19  Kawasaki Vaquero              3,115
Steve McLaughlin  New Braunfels, TX     07/16/19  H-D Ultra Limited             3,115

William R. Lawson Gray, KY              07/15/19  Honda Gold Wing F6B           3,478 

Great Lakes SaddleSore 3000 
Scott Auer        Monroe, MI            07/12/19  BMW R1200RT                   3,038 
Jeff Smith        Garden City, MI       07/12/19  BMW R1200GS Adventure         3,038 
Kenneth A. Koren  Belleville, MI        07/12/19  BMW R1200GSA                  3,038 

Eric K. Hendricks Marquette, MI         06/28/19  Yamaha Super Tenere           3,259
August R. Binder  Bath, PA              06/25/19  Indian Springfield            3,144 

Andrey Sosorev    Moscow, RUSSIA        06/17/19  H-D FLHTK Electra Glide       3,100 

Rainer Killian    Germany               05/26/19  Yamaha TDM900                 3,011

Chuck Frenz       Lithia, FL            05/23/19  Indian Chief Vintage          3,010 
              * * * Chuck is 69 years young on this ride! * * * 

Lionel L Ramos    Falls Church, VA      04/25/19  H-D Road Glide CVO (FLTRUSE)  3,137

Robert Trinagel   Dix Hills, NY         05/16/19  H-D Road Glide Ultra          3,122 
Robert Wrenn      West Babylon, NY      05/16/19  Yamaha Venture Transcontinent.3,122 

Scott Durham      Beech Mountain, NC    05/14/19  H-D Ultra Limited             3,023
Paul Meyer        Herington  KS         04/20/19  Triumph Trophy SE             3,056
Doug Vance        Cordova, TN           04/20/19  H-D Ultra Limited             3,113

Gary Huff         Colorado Springs, CO  04/04/19  BMW R1200RT                   3,018

Cynthia Cox       Brookshire, TX        10/28/18  Can-Am Spyder RT Limited      3,386 
Morris Cox        Brookshire, TX        10/28/18  Triumph Tiger Explorer 1200   3,386 

Dave Morton       Coon Rapids MN        09/21/18  Yamaha FJR1300                3,083

Rene Lagace       St-Constant,QC CANADA 08/07/18  BMW K1200LT                   3,093 

Terry Taylor      Oklahoma City, OK     07/31/18  Kawasaki ZG1200 Voyager       3,038 

Ray Villeneuve    Wichita Falls, TX     07/26/18  H-D Ultra Limited             3,018 
      * * * the Earth to the Moon and back Adventure 3000 * * * 

Dave Morton       Coon Rapids  MN       06/30/18  Yamaha FJR1300                3,080

Mark Lambie       University Place, WA  06/22/18  BMW R1200RT                   3,084 

Jerry Stevens     Flower Mound, TX      06/15/18  Yamaha Royal Star Venture S   3,168
             * * * Jerry is 69 years young on this ride! * * *

2018 Independence Challenge LT100 H.O.G. Vilnius Chapter
Vytautas Pliuskus Vilnius, LITHUANIA    06/15/18  H-D CVO Ultra                 3,086
Algirdas Razma    Plunge, LITHUANIA     06/15/18  H-D FLTRU Road Glide Ultra    3,086
Andrius Dabriega  Vilnius, LITHUANIA    06/15/18  H-D CVO Street Glide          3,086
Adomas Grigaitis  Vilnius, LITHUANIA    06/15/18  H-D FLTRX Road Glide          3,086

David Graves      Midland, MI           05/29/18  BMW K1300S                    3,270
Gary Harriger     Westfir, OR           05/17/18  H-D Street Glide Special      3,018 
Steven C. Ball    Mesa, AZ              05/07/18  Yamaha Road Star              3,262

Lee DeLeonard Jr. Roswell, NM           03/20/18  H-D Road Glide                3,130
Robert Krauter    Artesia, NM           03/20/18  H-D Road Glide                3,130

Raymond Villeneuve Wichita Falls, TX    10/15/17  H-D Limited                   3,186

Gregor Moe        Buffalo, MN           10/13/17  Victory Vision                3,246
Lee Pomeroy       Elk River, MN         10/13/17  Yamaha FJR1300                3,246

Terry Taylor      Oklahoma City, OK     08/17/17  Kawasaki ZG1200 Voyager       3,130

Great Lakes SaddleSore 3000
John Boss         Jenison,  MI          08/17/17  Honda GL1800                  3,024+
Edward Feyereisen Cedar Grove, WI       08/17/17  Suzuki DL1000                 3,024+
Mark Lennart      Corunna, IN           08/17/17  H-D Electra Glide Classic     3,024+
Michael Nosanov   Middleville, MI       08/17/17  Honda GL1800                  3,024+
Steven Sandkuhler Fort Wayne, IN        08/17/17  KTM 1290 Super Adventure      3,024+
Todd Seger        Sparta, MI            08/17/17  Honda Gold Wing GL1800        3,024+
Terry Taylor      Oaklahoma City, OK    08/17/17  Kawasaki ZG1200               3,024+
Jonathan Viekman  Jenison, MI           08/17/17  Honda GL1800                  3,024+

Greg Hintz        Missoula, MT          07/03/17  Honda Gold Wing               3,320
Donald Deuel      Arlee, MT             07/03/17  Honda Gold Wing               3,320

Mark L Griffin    Chandler, AZ          07/28/17  BMW K1600 GTL                 3,080
              * * * Mark is 65 years young on this ride! * * *

Gene Kicenski     Blanchard, OK         07/17/17  Honda Valkyrie                3,040
             * * * Gene is 72 years young on this ride! * * *

Gregory L. Laird  Camas, WA             06/30/17  H-D Street Glide              3,073

Linty Crawford    Kenaston, SK CANADA   06/22/17  Suzuki V-Strom 1000           3,319
             * * * Linty is 66 years young on this ride! * * *

E.B. Andresen     Newnan, GA            05/24/17  H-D CVO Road Glide            3,118
             * * * Eivin is 73 years young on this ride! * * *

Gerry Arel        Manchester, CT        05/01/17  BMW R1200R                    3,189 TX-3000

Chris Hansen      Rogue River, OR       04/28/17  H-D Ultra Classic CVO         3,059
Janice Hansen (passenger)               04/28/17  H-D Ultra Classic CVO         3,059

Rob Carlo         Truckee, CA           10/30/16  H-D Road Glide                3,031
Nancy Lefcourt    Carson, CA            10/16/16  BMW R1200RT                   3,074

John R. Hensley   Harrisville, PA       10/15/16  BMW K1600GTL                  3,044
Gregory Hensley   Kennerdell, PA        10/15/16  BMW K100RT                    3,044

Brian North       Franklin, WI          10/03/16  BMW K1600GT                   3,251

Dan Crowley       Charlotte NC          09/28/16  Cagiva Gran Canyon            3,038

Jim Clark         Locust Grove, GA      09/12/16  BMW R1200RT                   3,108
             * * * Jim is 67 years young on this ride! * * * 

Doni Shawn Evans  Arlington, TX         09/04/16  Kawasaki Concours 14          3,030

Charles D. Lott   Lebuc, AB CANADA      09/01/16  Kawasaki Vaquero              3,232

JD Darden         Summerville, SC       08/20/16  BMW R1200GSA                  3,154
Dennis Joyner     Richmond, VA          08/09/16  Honda Gold Wing Interstate    3,128

Peter Campbell    CANADA                08/05/16  Yamaha FJR1300                3,238
Dave Cwi          Indianapolis, IN      08/05/16  BMW R1200RT                   3,238
               * * * Dave is 70 years young on this ride! * * *

Yohinori Ishii    Farmington Hills, MI  08/04/16  Suzuki Burgman 400            3,010

Craig Heck        Leesport, PA          07/18/16  H-D Road Glide                3,158
Harry Knerr       Leesport, PA          07/18/16  H-D Road Glide                3,158

Great Lakes SaddleSore 3000
David B. Vincent  Davison, MI           07/14/16  Honda Gold Wing GL1800A       3,042
Edward Feyereisen Cedar Grove, WI       07/14/16  Suzuki DL1000                 3,042
George Barker     Appleton, WI          07/14/16  Honda Gold Wing               3,079

Richard J. Brush  Vancouver, WA         07/14/16  BMW R1200GS Adventure         3,138

Butt Lite VIII
John O. Cooper   Woodland Hills, CA     07/03/16  Honda Gold Wing               3,013
Felipe A. Salman Valdez   MEXICO        07/03/16  Yamaha Super Tenere           3,013

Gary L. Roach     Peabody, KS           06/26/16  Honda Gold Wing GL1500        3,150
Brandon Ramsey    Fredonia, KS          06/26/16  Honda Gold Wing GL1500A       3,150

Andy Crissman     Export, PA            06/23/16  H-D Road King                 3,125
John J. Cousins   Kittanning, PA        06/23/16  H-D Street Glide              3,105
David C. Hunt     Slippery Rock, PA     06/23/16  Indian Chieftain              3,105

Roy Kjendal       Deerfield NH          06/19/16  BMW K1600GTL                  3,206

Motorcycle Tourer's Forum Destination Hyder event 
Dennis Archer     Plano, TX             05/25/16  BMW R1200RT                   3,000+
             * * * Dennis is 65 years young on this ride! * * *
John Martin       Plano, TX             05/25/16  BMW R1150GSA                  3,000+
             * * * John is 67 years young on this ride! * * *
   
Norman L. Jones   Lynnwood, WA          05/14/16  Yamaha Royal Star Venture     3,380
             * * * Norman is 66 years young on this ride! * * *

Stephen Evans     Lake City, FL         04/03/16  Yamaha FJR 1300               3,130
             * * * Stephen is 68 years young on this ride! * * *

Erin E. Colombo   Wixom, MI             09/14/15  BMW GTL1600                   3,052
Wayne Grondin     Tecumseh, ON CANADA   09/06/15  Honda Gold Wing               3,084
Barry Kreisa      Henrico, VA           08/18/15  H-D Electra Glide Classic     3,044
Cal Braley        Spring Valley, CA     08/08/15  Yamaha V-Star 650 Silverado   3,016
Richard Griffith Waterford, MI          07/31/15  H-D Road King                 3,095

John Cox          Driffield , UK        07/15/15  Honda VFR1200X                3,024

Pierre Guillotte  St-Bruno, QC CANADA   07/10/15  BMW K1600GTL Exclusive        3,042

Jake Zojonc       Mankato, MN           07/08/15  Victory Cross Country         3,100

Richard Viekman   Gallup, NM            06/29/15  Honda GL1500SE                3,118

Rune Samnoy       Krokstadelva, NORWAY  06/21/15  H-D Dyna Wide Glide           3,019

Brian Tevlin      Oklahoma City, OK     06/19/15  H-D CVO Ultra Classic         3,320
Tim Hayosh        Mesa, AZ              06/05/15   Kawasaki Concours            3,062

MTF Pennsylvania to Alaska SS3000
Bob Clement       Zion, IL              05/20/15  Kawasaki Concours             3,000+
Jerry Riley       Afton, TN             05/20/15  Honda ST1300                  3,000+
Steve Diederich   Cicero, NY            05/20/15  Honda Gold Wing GL1800        3,000+
David Bjork       Elgin, IL             05/20/15  Honda ST1300                  3,000+
             * * * David is 65 years young on this ride! * * *

MTF Texas to Alaska SS3000
Danny Dossman     Belton, TX            05/20/15  H-D Ultra Classic Limited     3,000+
Dennis Archer     Plano, TX             05/20/15  BMW R1150GS Adventure         3,000+
Joe Hallford      N. Richland Hills, TX 05/20/15  Honda Gold Wing GL1800        3,000+
             * * * Joe is 70 years young on this ride! * * *
John Martin       Plano, TX             05/20/15  BMW R1150GSA                  3,000+
             * * * John is 66 years young on this ride! * * *

Tim Chounard      Henderson, NV         11/08/14  H-D Road Glide                3,012
Bill Quinn        Henderson, NV         11/08/14  Indian Chieftain              3,012

Daniel L. Ott     Napa, CA              09/14/14  BMW R1200RT                   3,345

Karl Pirchmoser   Australia             09/14     Yamaha YZF R15 - 149 cc!      3,288

Andrew Clark      Indianapolis, IN      08/30/14  Yamaha FJR                    3,360

Ron King          Normandy, TN          08/21/14  H-D Electra Glide Standard    3,010
             * * * Ron is 66 years young on this ride! * * *
Don King          Petaluma, CA          08/21/14  H-D Ultra Classic Limited     3,010
             * * * Don is 66 years young on this ride! * * *

Thomas Southwood  Westfield, IN         08/10/14  H-D Road King                 3,054

Gary Lingenfelter Nevada, IA            08/03/14  Yamaha V-Star 1300            3,098

From Earth to Moon and Back SaddleSore 3000
Perry Kuhns       Pearland, TX          07/18/14  Yamaha Royal Star Venture     3,125
             * * * Earth, Texas to Moon, Pennsylvania and back to Earth * * *

Sergey Lapin      Kazan, RUSSIA         07/05/14  Yamaha TDM 900                3,012

Christopher Ross  Lubbock, TX           06/06/14  BMW R1200GS Adventure         3,272
Marc J. Levine    Lubbock, TX           06/06/14  BMW GS Adventure              3,250

Charles Garalis   Flower Mound, TX      05/25/14  Honda Gold Wing               3,154
David Stewart     Lewisville, TX        05/25/14  Kawasaki Voyager              3,154

R. Bruce Thomas   Edmonton, AB CANADA   05/17/14  Honda ST1300A                 3,076

John Huval        Lafayette, LA         05/15/14  Honda GL1800 Gold Wing        3,125
Nadine Huval (passenger)                05/15/14  Honda GL1800 Gold Wing        3,125

Brendan McClurg   Bellevue, WA          05/11/14  H-D Street Bob                3,050

Dan Morrison Sr.  Detroit Lakes, MN     05/09/14  H-D Limited                   3,110
Bob Baker         Ogema, MN             05/09/14  Victory Cross Roads           3,110

Robert Rehkopf    Cordova, TN           05/05/14  BMW R1200RT                   3,112 TX-3000
Nick Getzendanner McKinney, TX          05/05/14  Honda Gold Wing               3,112 TX-3000

Bill Ouellette    Gilbert, AZ           05/02/14  BMW K1600GTL/E                3,062
Robert DiFilippo  Wichita Falls, TX     03/25/14  Yamaha FJR1300                3,090

Paul Slaton       The Woodlands, TX     10/25/13  Honda Gold Wing               3,210

BikerMonkey Million Dollar Highway Challenge - 3,000 - N - 72 Hours
Troy Martin       Mansfield, TX         09/20/13    Triumph Rocket III Touring  3,081
Eric Marshall     The Colony, TX        09/20/13    Honda 750 Shadow            3,081
Tom Dawson        Carrollton, TX        09/20/13    H-D Electra Glide Limited   3,081

Paul Slaton       The Woodlands, TX     10/25/13  Honda Gold Wing               3,210 TX-3000
Blair B. Smith    Brandon, MB CANADA    08/30/13  BMW GS Adventure              3,045

Oleg Rychkovsky   RUSSIA                08/26/13  Kawasaki VN2000 Classic LT    3,095

Joel W. Owen      Gaithersburg, MD      08/22/13  BMW R1200RT                   3,048

John O. Cooper    Woodland Hills, CA    08/06/13  Honda Gold Wing               3,096

Martin Dietz      Largo, FL             07/14/13  BMW R1200GS                   3,148
             * * * Martin is 68 years young on this ride! * * *

Michael Schuster  Easton, MN            07/13/13  Victory Cross Country         3,050

Mike Fitzpatrick  Fresno, CA            07/05/13  H-D Ultra Limited             3,057
             * * * Mike is 65 years young on this ride! * * *

2013 22nd Annual Utah 1088 Endurance Rally 
Bob Bowman        Warrensburg, MO       06/27/13  Honda ST1300                  3,389
Paul Tong         Frisco, TX            06/27/13  Honda Gold Wing               3,686

David Graves      Midland, MI           06/01/13  Ducati Multistrada 1000DS     3,140

Christopher Russell-Wood Edgewater, MD  05/17/13  Yamaha Super Tenere           3,310
Joseph Thomas     Seattle, WA           05/14/13  Honda ST1300A                 3,130

Michael L. Smith  Stafford, TX          05/03/13  H-D Electra Glide Ultra       3,305
Alfred Vaughan    Richmond, TX          05/03/13  H-D Ultra Classic             3,315
             * * * Alfred is 65 years young on this ride! * * *

Voytek Kulesza    Wonder Lake, IL       04/19/13  H-D FLHX Street Glide         3,092

Stanley Bowler Jr. Ashburn, VA          04/16/13  Suzuki V-Strom                3,047
Michael D. Johnson Ashburn, VA          04/16/13  Suzuki V-Strom                3,047

John Inkson       NSW, AUSTRALIA        03/03/13  Kawasaki 1400GTR              3,043

Karl Pirchmoser   NSW, AUSTRALIA        03/15/13  Kawasaki GTR1400              3,683

Juan Ortiz        Morelia, Michoacan MEX03/04/13  BMW R1200GS                   3,015

Tim Chounard      Henderson, NV         11/02/12  H-D Road Glide                3,202
Bill Quinn        Henderson, NV         11/02/12  Yamaha Raider                 3,202

Tony Higgins       Las Vegas, NV        10/05/12  Moto Guzzi Norge              3,620
                  * * * SPACE RACE 3600/72 * * * 

John R. Cook      Hermiston, OR         09/18/12  H-D Street Glide              3,069

Eli Brush         Federal Way, WA       09/07/12  H-D FLHTK                     3,143

Andrew B. Clark   Indianapolis, IN      09/04/12  BMW K75                       3,084
David Reynolds    Indianapolis, IN      09/01/12  BMW R1200RT                   3,042
             * * * David is 66 years young on this ride! * * *

Dwight A. Olson   Enid, OK              09/01/12  BMW 1150RT                    3,056

Vasiliy Kochegarov RUSSIA               09/01/12  Suzuki Bandit 1250SA          3,126

Bill Beier        Casper, WY            08/14/12  Suzuki Boulevard C90          3,216

Timothy Urban     Mohnton, PA           08/11/12  H-D Ultra CVO                 3,150
Charles Smith     Shillington, PA       08/11/12  H-D Road Glide Ultra          3,150

John O. Holwager  Thornton, CO          08/11/12  Yamaha FJR1300                3,078

Sergey Lapin      RUSSIA                07/10/12  Yamaha TDM 900                3,268

Rex LeGalley      Albuquerque, NM       07/04/12  H-D CVO Street Glide          3,072

Adrian Musters    Huntsville, ON CANADA 07/01/12  Honda Gold Wing               3,082
* * * Lake Michigan 1000, Lake Superior 1000, Lake Erie 1000 * * *

2012 21th Annual Utah 1088 Endurance Rally
Don Beaton        San Rafael, CA        06/21/12  Yamaha FJR1300                3,067
Bob Bowman        Warrensburg, MO       06/21/12  Honda ST 1300                 3,128

Jerome Byrd       Philadelphia, PA      06/19/12  Honda Silver Wing             3,080
             * * * Jerome is 67 years young on this ride! * * *

Craig Harcombe    Lambton,NSW AUSTRALIA 06/12/12  H-D Road King                 3,070

Enid Shrine Scooter Unit of AKDAR SaddleSore 3000
Kelly Logan       Enid, OK              05/17/12  H-D FXSTC                     3,022
Van Stubbs        Drummond, OK          05/17/12  Honda 1100 Shadow Sabre       3,022
Larry Savoy       Arlington, TX         05/17/12  Can-Am Spyder RS              3,022
Eric Welch        OK                    05/17/12  Honda 1100 Shadow Sabre       3,022
Dwight Chapin     OK                    05/17/12  H-D Ultra Classic E/G         3,022
Jack Randall      Enid, OK              05/17/12  Honda GL1800 Trike            3,022
Troy Martin       Mansfield, TX         05/17/12  Triumph Rocket 3 Touring      3,022
Timothy Rickel    Weatherford, OK       05/17/12  Honda Valkyrie                3,022

Jeffrey Piscitelli Lansdale, PA         05/15/12  H-D FLHTCUSE3                 3,002
Ron Mozer         Monessen, PA          03/17/12  BMW K1600GT                   3,072
Rex LeGalley      Albuquerque NM        03/15/12  H-D CVO Street Glide          3,205

Peter Hogan       Dangar, NSW AUSTRALIA 01/20/12  Yamaha SuperTenere            3,128

Rex LeGalley      Albuquerque, NM       12/28/11  H-D Street Glide  3,087
Charles R. Butler Gillette, WY          09/13/11  H-D Ultra Classic 3,008
Ed Milot          Montrose, PA          09/03/11  BMW K1200LT       3,164

Norbert Wienck    Deutschland           08/28/11  Moto Guzzi Stelvio3,401

Al Gammons        Tampa, FL             08/12/11  H-D Ultra Classic 3,140
Anton Sverchkov   RUSSIA                07/24/11  Yamaha BT1100     3,016
Roger Buis        Baker, FL             07/14/11  H-D Electra Glide 3,286
Reed L. Kleinman  Phoenix, AZ           07/01/11  Honda Valkyrie    3,196
Aaron Konecky     Tabernacle, NJ        06/27/11  H-D Ultra Classic 3,139

20th Annual Utah 1088 (3 day version!)
Nancy Lefcourt    Carson, CA            06/23/11  BMW R1200RT       3,083
Matt Longtin      Eugene, OR            06/23/11  BMW R1200RT       3,070
Doug Tebbs        Salt Lake City, UT    06/23/11  BMW R1200RT       3,408

Ernie Azevedo     Milwaukie, OR         06/23/11  Suzuki V-Strom    3,139

Charles Lamb      Hopewell, VA          06/12/11  H-D Road Glide    3,006
Jim Mulcahy       Tulsa, OK             06/10/11  BMW R1200GS       3,099

Donald L. Burris  Enid, OK              05/27/11  Honda Gold Wing   3,331

Mike Moorhouse    Oceanside, CA         04/10/11  H-D Electra Glide 3,305
Ken Smith         Alta Loma, CA         04/07/11  H-D ScreamingEagle3,305

Dianne Fox        Frisco, TX            10/14/10  H-D Ultra Classic 3,120
Bobby Fox         Frisco, TX            10/14/10  H-D Ultra Classic 3,120

Melissa Oswald    Lapeer, MI            09/04/10  Suzuki Hayabusa   3,022
Russell Swett     Metamora, MI          09/04/10  Suzuki M109       3,022

Thomas F. Kane    Pittsboro, NC         09/04/10  H-D FLHTC         3,054

Bill Lance        Mills River, NC       08/28/10  Moto Guzzi Norge  3,186

Tom Crouch        Cambridge, ON CANADA  08/25/10  Honda Gold Wing   3,087
James Huber       Kitchener, ON CANADA  08/25/10  Honda Gold Wing   3,087

Sjef Vanderaa     NS, CANADA            08/17/10  Kawasaki Concours 3,309
Scott Lockwood    Lighthouse Point, FL  08/20/10  H-D Heritage      3,286

Bryan Newhard                           08/10/10  H-D Electra Glide 3,129

John Schrum       Uxbridge, MA          07/12/10  BMW K1200S        3,138
Michael Locke     Millington, NJ        07/10/10  BMW 1200GS        3,527
Steven Rolland    Franklin, WI          07/02/10  Victory Kingpin   3,043
Mike Mustard      Wytheville, VA        06/30/10  BMW R1200RT       3,106

Peter Sommer      Houston, TX           05/02/10  H-D Ultra         3,282
Michael Hoevelman La Porte, TX          05/02/10  Yamaha Royal Star 3,282
Ben Thompson      Round Rock, TX        05/02/10  Yamaha Royal Star 3,282

Sidney Mazzorana  Curitiba, PR BRASIL   04/23/10  H-D Softail FatBoy3,018
Marcos Menslin    Curitiba, PR BRASIL   04/23/10  Honda Shadow VT6003,018

Rob Schmidt       Overland Park, KS     11/21/09  Honda Gold Wing   3,183

Douglas von Roeder Irvine, CA           10/19/09  Honda GL1800      3,139
Ricardo Machado   Mooresville, NC       10/18/09  H-D Road King     3,043

Theadore Randles  Brookport, IL         09/30/09  Honda Gold Wing   3,129
             * * * Theadore is 69 years young on this ride! * * *

Gary Lodwick      Scottsdale, AZ        09/27/09  Honda ST1100      3,009

Michael W. Smell  Kalamazoo, MI         09/14/09  H-D Road Glide    3,032
David M. Gilmore  Unionville, VA        09/05/09  BMW R1100RS       3,124
Kurt R. Johnson   Andover, MN           09/04/09  H-D Heritage      3,069
Kennan Syverson   Brookfield, WI        09/03/09  H-D FLHTCUSE3     3,135
Randall R. Heiner Salt Lake City, UT    08/08/09  H-D FLHTCUSE4     3,139
Steven L. Ketchum Dixon, IL             07/11/09  H-D Electra Glide 3,106
Ronald Stazuk     Palos Hills, IL       07/07/09  Suzuki DL1000     3,116
Bill W. James     San Antonio, TX       07/03/09  Yamaha FJR1300    3,269
David G. Hinks    Lemont, IL            06/08/09  Yamaha FJR1300    3,115

Jack Backer       Monroe, SD            05/28/09  Honda GL1800      3,012
Marlene Backer (passenger)              05/28/09  Honda GL1800      3,012

Wounded Warrior Project 27-1
Mark L. Bosley    Lafayette, CO         05/14/09  H-D Road King     3,086

Jack B. Shoalmire Broken Arrow, OK      02/04/09  BMW R1200RT       3,091
Timothy Masterson San Marcos, TX        11/08/08  BMW R1200GS       3,454

Ron Cain          Oak Ridge, TN         10/11/08  Kawasaki Concours 3,070
Tommy Norman      Speedwell, TN         10/11/08  Honda Gold Wing   3,070
Danny Gibson      Somerset, KY          10/11/08  Honda Gold Wing   3,055

Bill Cushenbery   Colorado Springs, CO  09/10/08  Kawasaki Concours 3,064
Joel Roach        Asheboro, NC          08/31/08  Honda GL1800      3,264
Jon Good          Hampton, VA           07/20/08  BMW R1200RT       3,023
John E. Stamps    Fort Myers, FL        07/01/08  BMW 1200RT        3,090
Wayne J. Larcombe Minot, ND             06/20/08  H-D Road King     3,217

David A. Morgan   Bremerton, WA         06/15/08  H-D Super Glide   3,126
Marc Warfield     Waldorf, MD           06/09/08  H-D Ultra Classic 3,111
Billy D. Truss    Waldorf, MD           06/09/08  H-D Ultra Classic 3,111

Lynn Overbaugh    Newport, PA           05/07/08  H-D Electra Glide 3,088
Jeffrey S. Willis Haymarket, VA         04/25/08  BMW K1200GT       3,192
James R. Stovall  Amarillo, TX          03/08/08  Honda VT1100      3,090 TX-3000
William P. Young  Carrollton, GA        12/29/07  H-D Softail       3,057

Stu Goldberg      Scottsdale, AZ        11/18/07  Honda Gold Wing   3,319
             * * * Stu is 65 years young on this ride! * * *

Mark A. Kitchell  Gretna, NE            10/18/07  H-D Ultra         3,056
Jack Shoalmire    Broken Arrow, OK      10/08/07  BMW R1200RT       3,330

Joshua Blockburger Benton, AR           10/03/07  BMW K1200LTC      3,348
Wayne Collom      Roland, AR            10/03/07  Yamaha FJR1300    3,348

Glenn Clave       Loudon, NH            10/03/07  Suzuki V-Strom    3,046
Bob Racine        Alta Loma, CA         10/03/07  Honda Gold Wing   3,046

Andy Shanklin     Langley, BC CANADA    10/03/07  Honda Gold Wing   3,627
Aaron Virgil Lee  Portland, OR          09/24/07  BMW F800 ST       3,092

Jack Shoalmire    Broken Arrow, OK      09/15/07  BMW R1200RT       3,003
B. B. Neely       Magee, MS             09/15/07  BMW R1200GSA      3,003

MTF Saddlesore 3000 - New York to San Francisco!
Dennis Powell                           09/13/07   Honda Gold Wing  3,000+
Charles Wilt                            09/13/07   H-D Heritage     3,000+

Tom Atkinson      Magnolia, TX          09/01/07  Honda GL1500SE    3,050

Hoagy's Heroes Long Distance Charity Motorcycle Ride
Doug Crossett     Katonah, NY           08/30/07  H-D Road Glide    3,072

Scott Lockwood    Lighthouse Point, FL  07/22/07  H-D Heritage      3,276
Richard Flood     Commerce Township, MI 07/09/07  BMW K100RT        3,032

Jennyfer Audet    Wotton, QC CANADA     07/07/07  Honda CBR1100XX   3,010
Jacques Titolo    St. Michel, QC CANADA 07/07/07  Kawasaki ZX-12R   3,010

John Strain       Trimble, MO           06/22/07  Honda VTX1300R    3,028
Ryan Foos         Olathe, KS            06/22/07  Yamaha Road Star  3,028

Peter R. Duke     Snohomish, WA         05/28/07  Yamaha FJR1300    3,405
Kent Gabrielson   Mesa, AZ              05/27/07  H-D Electra Glide 3,024
Paul Robson       Farmington Hills, MI  05/27/07  H-D Road King     3,054
Bruce Arnold      Miami Beach, FL       05/23/07  H-D Dyna          3,082
Jack Shoalmire    Broken Arrow, OK      05/20/07  BMW R1200RT       3,481

Mike Schwartz     Teague, TX            05/20/07  Honda Gold Wing   3,050

Richard Johnson   Paducah, KY           04/24/07  H-D FLHRCI        3,087
Ken Thompson      Benton, KY            04/24/07  H-D FLHTCUI       3,087

Jim Mulcahy       Tulsa, OK             04/15/07  BMW K1200RS       3,671
Jack B. Shoalmire Broken Arrow, OK      04/15/07  BMW R1200RT       3,671

Jack Shoalmire    Broken Arrow, OK      09/09/06  BMW K1200LT       3,122

Armando Bolanos   Laredo, TX            09/03/06  H-D UltraClassic  3,352

Danny C. Dossman  Belton, TX            09/03/06  H-D Ultra Classic 3,254
Wayne Ward        Temple, TX            09/03/06  H-D Ultra Classic 3,254

Kirby S. Nellis   Lytle Creek, CA       08/15/06  BMW R1200RT       3,073
Jerry White       San Leandro, CA       08/10/06  BMW R1100RS       3,092
Guy E. Shephard   Farmington, NM        08/04/06  Honda GL1500      3,383

Ron Joy           Nineveh, IN           07/08/06  Honda Gold Wing   3,126
          * * * Ron is 68 years young on this ride! * * *

Jack Shoalmire    Broken Arrow, OK      06/09/06  BMW K1200LT       3,035
Roy Hardie        Fresno, CA            06/08/06  BMW K1200LT       3,062
Douglas Brigham   Erwinna, PA           06/08/06  Honda Gold Wing   3,046

Gary J. Garcia    Hewitt, TX            06/03/06  Yamaha Royal Star 3,085
Gunter W. Thorn   Waco, TX              06/03/06  Honda Shadow 1100 3,085
           * * * Gunter is 72 years young on this ride! * * *

Jackie P. Brunken Estacada, OR          05/25/06  BMW R1150RT       3,102

Ken Kirchner      Flemington, NJ        05/09/06  H-D Electra Glide 3,013
Dennis Ely        Gause, TX             05/08/06  Honda GL1500SE    3,138 TX-3000

Reiner Kappenberger  Westminster, CO    10/29/05  Honda Gold Wing   3,059
Elisabeth Kappenberger (passenger)      10/29/05  Honda Gold Wing   3,059
Christopher Ross  Round Rock, TX        09/23/05  BMW R1100RT       3,087
Craig Moore       Newnan, GA            09/15/05  Honda GL1800      3,416
Virgil W. Duren   Bristow, IN           09/02/05  H-D Super Glide   3,088
Jim Whitmore      Corning, IA           08/28/05  H-D Road King     3,230
Richard Merrill   Hudson, NH            08/27/05  BMW K1200LTC      3,112
David Robb        Cincinnati, OH        08/06/05  H-D Road Glide    3,295
Sasha Jancic      Berwyn, PA            07/13/05  BMW 1150GS-ADV    3,010
Michael Cosgrove  Weston, FL            07/08/05  H-D Road Glide    3,063
Jimmie C. Clunn   Broken Arrow, OK      07/08/05  BMW K1200LT       3,135
Vicki L. Clunn (passenger)              07/08/05  BMW K1200LT       3,135
Sasha Jancic      Berwyn, PA            07/06/05  BMW 1150GS-ADV    3,228
Steven L Soden    North Bend, WA        06/18/05  Honda Gold Wing   3,079
Vincent Jalbert   Charny, Quebec CANADA 06/17/05  Honda ST1300      3,044

Jerry Butler      Richland, WA          06/17/05  BMW R1150RT       3,077
Gary L. Schweiger Kennewick, WA         06/17/05  BMW K1200LT       3,077

Bob Elliot        Atlanta, GA           05/19/05  H-D Road King     3,191
Bill Androws      Livermore, CA         05/01/05  Honda GL1800      3,123
Thad Wolff        Newbury Park, CA      04/11/05  Suzuki DL1000     3,201
Terry Baldridge   Vicksburg, MS         04/04/05  BMW R1100R        3,124
David Hrenchir    Dover, DE             09/14/04  H-D Electra Glide 3,020

Jim Cate          Putnam, TX            09/08/04  Honda GL1500      3,266
Rick Dietly       Abilene, TX           09/08/04  Honda GL1800      3,266

Kim D. Pierson    Victoria, TX          09/03/04  Yamaha Road Star  3,110
Bob Collin        Falmouth, ME          08/16/04  BMW K1100LT       3,082
Richard Buber     Cocoa, FL             08/09/04  Honda Gold Wing   3,431

Tapani Hakala     Kankaanpaa, FINLAND   08/07/04  BMW K75RT         3,010

Mike Senty        Grand Marais, MN      07/31/04  BMW R1150RT       3,148

Peter Short       SOUTH AFRICA          07/27/04  BMW R1150RT       3,023

Frank Langben     Los Altos, CA         07/29/04  Honda Silver Wing 3,142
Scott Wilson      Fayetteville, GA      07/22/04  Honda ST1100      3,058
Wayne Christy     Newton, IA            07/07/04  Honda GL1200      3,020
Bill Watt         Vancouver, BC  CANADA 06/16/04  BMW R1150GS-ADV   3,738
Henry D. Towne    Lone Tree, CO         06/03/04  Suzuki Hayabusa   3,059
Tom Sayer         Marathon, FL          06/03/04  Honda Gold Wing   3,236
Craig M. Coleman  Kearney, MO           05/28/04  BMW R1150RS       3,400

John Mudgett      Virginia Beach, VA    05/27/04  Honda GL1500SE    3,130
Frank Luettger    Norfolk, VA           05/27/04  H-D Ultra Classic 3,130
Dan Meyers        Chesapeake, VA        05/27/04  H-D Ultra Classic 3,130

Steven Broadhead  Calgery, AL CANADA    04/07/04  Honda Blackbird   3,141

Jarry Knerr       Leesport, PA          04/04/04  H-D Road Glide    3,198
Jeff Hallquist    Denver, PA            04/04/04  H-D Screaming Eag 3,198

Ken Allison       Tyler, TX             03/17/04  Yamaha Venture    3,031
Steve Weston      Parkland, FL          03/07/04  H-D Ultra Classic 3,098
Rex A. Leipheimer Belgrade, MT          01/31/04  H-D UltraClassic  3,601
Juha Vainionpaa   Alavus, FINLAND       07/16/03  Honda ST1100      3,065

Richard Kuethe    Parker, CO            11/26/03  BMW K1200LT       3,172

Derrick Sutton    AUSTRALIA             11/23/03  Kawasaki ZZR600   3,200

Larry Scalzitti   Barrington, IL        10/11/03  BMW R1200C        3,014
Jeff Mitchell     Lake Oswego, OR       09/19/03  BMW K1200LT       3,102
Elgin Ziesmer     Oconto, WI            09/19/03  Honda Gold Wing   3,038
Peter Leap        Marblehead, MA        08/21/03  Honda ST1300      3,111

Aristides Prado   Curitiba, PR BRASIL   08/12/03  Yamaha Virago     3,093
Eero Suutari      Kajaani, FINLAND      08/10/03  BMW K1200LT       3,078

Arto Okkonen      Kajaani, FINLAND      08/07/03  BMW K1200LT       3,078

Jack Dodds        Fort Lauderdale, FL   08/05/03  H-D FLHTC         3,126
Robert Wisness    Watford City, ND      07/23/03  Honda GL1200      3,035
Mark E. Hecht     Naperville, IL        07/23/03  BMW R1150RT       3,382
Claude Lafond     Ste-Julie, QUEBEC     07/15/03  BMW R1150GS ADV   3,060
Ian Cox           San Jose, CA          05/30/03  Honda CBR1100XX   3,079
Victor Wanchena   Robbinsdale, MN       05/29/03  BMW K1200LT       3,025
Skye Walker       Seattle, WA           05/23/03  H-D Road Glide    3,103
Ollie Bingaman    Manteca, CA           05/19/03  Honda GL1800      3,078
Tom Franken       Thornton, CO          05/09/03  Honda GL1800      3,356
Glenn K Pancoast  Lansing, MI           04/15/03  BMW K1200LT       3,006
Al La Salle       Catherdral City, CA   04/10/03  H-D Dyna Convert  3,042
Rob Klocke        Milford, OH           04/04/03  Honda VFR800      3,113
Lynn Endsley      McKinney, TX          03/10/03  Honda GL650       3,059
Richard Knipe     McKinney, TX          03/10/03  Honda GL1800      3,059

Will Allender     Woodland Park, CO     07/06/02  Aprilia Falco     3,197
Chris Filipowicz  Burlington, Ontario   06/30/02  BMW R1150RT       3,747
Michael Spengler  Portland, OR          06/25/02  Honda Gold Wing   3,115
Daniel S. Cohen   Bronx, NY             06/02/02  BMW R1100RS       3,392
James W. Graham   Taxoma, WA            05/26/02  BMW R1100RL       3,362
Tobie Stevens     Tieton, WA            04/26/02  H-D FLHT          3,167
Jim Hahn          Margete, FL           04/25/02  Suzuki Hayabusa   3,072
Craig K Eichhorn  Rome, NY              08/14/01  Honda Gold Wing   3,061
John O. Cooper    Woodland Hills, CA    07/15/01  Honda Gold Wing   3,264

Oldest SaddleSore 3000 finisher: Gunter M. Thompson 73!  06/03/06



---



SaddleSore 3000 Baltic (3,000 miles in less than 72 Hours around the Baltic Sea):

Name              Hometown              Date      Motorcycle        Mileage

Pekka Maula       Helsinki, FINLAND     06/19/05  Yamaha XJ900      3,075 - 4,962 km
Vesa Vayrynen     Helsinki, FINLAND     06/19/05  Yamaha XJ900S     3,075 - 4,962 km

Harri Hjulgren    Turku, FINLAND        05/08/04  Triumph Tiger 955 3,086 - 4,966 km
Antti Merio       Turku, FINLAND        05/08/04  Yamaha FZS1000    3,086 - 4,966 km
Juha Vainionpaa   Alavus, FINLAND       05/08/04  Honda ST1100      3,086 - 4,966 km

Jorma Viemero     Uusikaupunki, FINLAND 08/11/02  BMW K75           3,107 - 5,000 km
Mikko Sani        Hollola, FINLAND      06/07/02  Honda ST1100      3,147 - 5,064 km



---


Hyder to Hyder 2.4 (Hyder, Arizona to Hyder, Alaska in 2.4 days):

Name              Hometown               Date      Motorcycle                   Mileage

Anthony Osborne   West Palm Beach, FL   05/21/15  Yamaha FJR                    2,530

Motorcycle Tourer's Forum Destination Hyder event
Jim Brelsford     Scottsdale, AZ        05/20/15  BMW R1200GSA                  3,000+
Cameron Camacho   Las Vegas, NV         05/20/15  Victory Cross Country Tour    3,000+
Kit Chunhawong    West Haven  UT        05/20/15  Yamaha FJR1300                3,000+
Mike Schwartz     Teague, TX            05/20/15  Honda Gold Wing               3,000+
             * * * Mike is 68 years young on this ride! * * *
Attila Revesz     Phoenix, AZ           05/20/15  Honda VTX 1800 N1             3,000+
             * * * Attila is 68 years young on this ride! * * *
Brian Ringey      Marble, NC            05/20/15  BMW K1600GTL                  3,000+
             * * * Brian is 66 years young on this ride! * * *

Anthony Osborne   West Palm Beach, FL   05/18/15  Yamaha FJR                    2,780

Edward Kuzikowski St. Albert, AB CANADA 06/07/11  Honda Gold Wing               2,492
Mike Freeman      Rocklin, CA           06/07/11  Honda Gold Wing               2,492

Arthur D. Post    Tucson, AZ            06/27/09  BMW R1150RT                   2,611
Neil Hejny        Oro Valley, AZ        06/27/09  Honda Gold Wing               2,611

Motorcycle Tourer's Forum Hyder to Hyder 2.4
Dorsey D. Price   Tucson, AZ            05/22/07  Honda GL1800                  2,400+
Jerry Riley       Afton, TN             05/22/07  Honda ST1100                  2,400+
John W. McCain    Mahomet, IL           05/22/07  Kawasaki Concours             2,400+
Lewis Stephens    Pasadena, TX          05/22/07  BMW K1200LT                   2,400+
Rick Neeley       Sedalia, CO           05/22/07  BMW R1200GS-ADV               2,400+
Tom Atkinson      Magnolia, TX          05/22/07  Honda GL1500SE                2,400+
Tom W. Nicholas   Beaverton, OR         05/22/07  Triumph Tiger                 2,400+
William Schneider Janesville, WI        05/22/07  Honda Gold Wing               2,400+

Larry Scalzitti   Barrington, IL        05/28/06  BMW R1150GS-ADV               2,512

Gerald Roberts    AsH-Down, AR           05/23/05  Honda GL1800                 2,498
Glenn Clave       Ontario, CA           08/12/04  Honda Gold Wing               2,449

Geoff Wilson      St. Albert, ALBERTA   05/27/03  Honda GL1800                  2,517
Ken McDonald      St. Albert, ALBERTA   05/27/03  Honda Gold Wing               2,517
Bob Mackay        Ft. Saskatchewan, AB  05/27/03  Honda ST1100                  2,517



---



SaddleSore 2000 FINLAND
(2,000 miles in less than 48 Hours touching extreme corners of Finland):
(Hanko/South; Ilomantsi, Mohko/East; Nuorgam/North; Raippaluoto, Klobbskat/West)

Name              Hometown              Date      Motorcycle        Mileage Kilometers

Martti Kainulainen Heinola, FINLAND     07/16/06  BMW K100LT        2,067 - 3,326
Ari Toivanen      Jarvenpa, FINLAND     07/17/06  Honda F6C         2,043 - 3,287
Juha Helin        Loimaa, FINLAND       07/20/06  Honda ST1300      2,038 - 3,279

Eero Takki        Kouvola, FINLAND      08/08/05  Yamaha XJ900      2,115 - 3,403

Olavi Pertti Holtta Kuusankoski, FINLAND07/26/05  Honda Varadero    2,047 - 3,294

Niko Virtanen     Nurmijarvi, FINLAND   07/06/05  Honda CBR1100XX   2,038 - 3,279
Kalle Kujala      Nurmijarvi, FINLAND   07/06/05  Honda CBR600      2,038 - 3,279

Jussi Orava       Kuusankoski, FINLAND  07/11/05  Yamaha XJ900      2,074 - 3,339
Karl A. Koskivirta Espoo, FINLAND       07/04/05  H-D Hydraglide-61 2,047 - 3,291

Esa Kivela        Ilmajoki, FINLAND     07/17/04  Yamaha FJR1300    2,037 - 3,277

Pekka Henttu      Kauniainen, FINLAND   07/02/04  BMW K1200RS       2,052 - 3,301
Patrik Sundelin   Kauniainen, FINLAND   07/02/04  Yamaha V-Max 1200 2,052 - 3,301

Hannu Liehunen    Espoo, FINLAND        07/02/04  H-D Elektra Glide 2,052 - 3,301 km

Jukka Paloniemi   Lemu, FINLAND         07/01/04  BMW K1200RS       2,095
Vesa Paloniemi    Turku, FINLAND        07/01/04  BMW K1200LT       2,095

Risto Grundstrom  Vihti, FINLAND        08/04/03  Honda GL1800      2,052 - 3,326 km
Tapani Hakala     Kankaanpaa, FINLAND   08/04/03  BMW K75RT         2,023 - 3,279 km

Markku Piirinen   Ruovesi, FINLAND      07/26/03  H-D DynaSuperGlide2,146 - 3,433 km
Matti Moksunen    Ruovesi, FINLAND      07/26/03  H-D V-Rod         2,146 - 3,433 km
Pasi Lahtinen     Ruovesi, FINLAND      07/26/03  Ducati 966        2,146 - 3,433 km
Esa Lauri         Kempele, FINLAND      07/23/03  Yamaha FJ1200     2,084 - 3,334 km

Benjam Kukko      Kirkkonummi, FINLAND  07/03/03  Honda CBR1000F    2,046 - 3,317 km
Rainer Kukko      Kirkkonummi, FINLAND  07/03/03  BMW K100RS        2,046 - 3,317 km

Janne Aaltonen    Halikko, FINLAND      06/28/03  Honda XL1000V     2,021 - 3,276 km
Pekka Maula       Helsinki, FINLAND     06/26/03  Yamaha XJ 900     2,064 - 3,317 km
Torsti Salonen    Lohja, FINLAND        07/29/02  BMW K100          2,020 - 3,250 km
Martti Kainulainen Heinola              07/20/02  BMW K100LT        2,066 - 3,324 km
Juha Vainionpaa   Alavus, FINLAND       07/11/02  Honda ST1100      2,014 - 3,241 km
Jyrki Latva       Espoo                 07/08/02  BMW R1150RT       2,042 - 3,286 km
Jarmo Hintsanen   Kotka                 06/29/02  BMW K1100RS       2,043 - 3,287 km
Antero Vainio     Harjavalta            06/13/02  Yamaha Drag Star  2,055 - 3,307 km
Torsti Salonen    Lohja                 05/30/02  BMW K100          2,042 - 3,286 km
Mallu Helin       Raakkyla              05/29/02  YamahaFZS600Fazer 2,116 - 3,405 km
Timo Raisanen     Vantaa                07/29/01  BMW F650SE        2,147 - 3,455 km 
Arto Okkonen      Kajaani               07/27/01  Yamaha XJ600      2,076 - 3,340 km
Eero Suutari      Sotkamo               07/27/01  BMW K1200LT       2,076 - 3,340 km
Markku Ollila     Kajaani, Finland      07/20/01  BMW R1100RT       2,058 - 3,312 km
Pekka Partanen    Kajaani               07/20/01  H-D FXSTD         2,058 - 3,312 km
Jorma Viemero     Uusikaupunki          08/25/00  BMW K75           2,071 - 3,332 km
Paavo Makinen     Lempaala              07/09/00  Kawasaki ER-5     2,048 - 3,293 km
Pepe Rantanen     Jamsa                 07/09/00  Moto Guzzi Cal    2,048 - 3,293 km




---


SaddleSore 2000 GOLD Finishers (2,000 miles in less than 36 Hours):

Name              Hometown              Date      Motorcycle                  Mileage

Alex Alpert       Southborough, MA      07/31/21  H-D CVO Limited             2,041
Vicki Hill (pillion)                    07/31/21  H-D CVO Limited             2,041

Jeff Chauncey     Ocala, FL             07/24/21  H-D Road Glide Special      2,054
Don Drasheff, Jr. Montverde, FL         07/24/21  H-D Pan America Special     2,004 

Eric G. Burke     Hamburg, NJ           07/22/21  H-D Road Glide Ultra        2,047

David K. Graham   Sioux Falls, SD       07/21/21  H-D Limited                 2,092

Lionel L Ramos    Falls Church, VA      07/03/21  H-D Road Glide CVO          2,074

Brian Avery       Gilbert, AZ           06/30/21  Honda Gold Wing 1500        2,087 

Alan M. Rundle    Firth, ID             06/21/21  BMW R1200GSA                2,037 
Michael Mitchell  Ashton, ID            06/21/21  BMW R1200GSA                2,037 

Crystal Sabas     Warrensburg, MO       06/11/21  Yamaha Star Venture         2,024

Brandon Meyers    Macon, GA             06/09/21  Honda Gold Wing             2,067

Craig A. Porter   Carlsbad, CA          05/29/21  BMW R1200GSA                2,079

James Alton       Franklin, NH          05/17/21  Yamaha Super Tenere         2,098

George Mowry      Squaw Valley, CA      06/01/21  Yamaha FJR1300ES            2,124

William Harp      North Las Vegas, NV   05/29/21  Yamaha Super Tenere         2,029

George Mowry      Squaw Valley, CA      05/23/21  Yamaha FJR1300ES            2,077

Daniel Wallander  Santa Fe, NM          05/16/21  Honda ST1300                2,026

Jeffrey Hamberg   Orange, MA            05/10/21  BMW K1600 Grand America     2,377 

George Mowry      Squaw Valley, CA      05/06/21  Yamaha FJR1300ES            2,049

George Mowry      Squaw Valley, CA      04/27/21  Yamaha FJR1300ES            2,081 

Daniel Wallander  Santa Fe, NM          04/25/21  Honda ST1300                2,073

Scott McDonald    Westville, OK         04/19/21  Yamaha FJR                  2,054

Iron Knights Shriners Hospital Iron Butt SaddleSore 2000 GOLD
Greg Strickland   Metter, GA            04/16/21  H-D Road Glide              2,028 

Daniel Wallander  Santa Fe, NM          03/27/21  Honda ST1300                2,087

Charles Scott Weir Clarksville TN       03/13/21  Yamaha FJR1300A             2,084

George Mowry      Squaw Valley, CA      03/05/21  Yamaha FJR1300ES            2,096 

Charles Scott Weir Clarksville TN       02/28/21  Yamaha FJR1300A             2,133

David M Uhl       Parker, CO            02/24/21  H-D Street Glide CVO        2,121

Tommy Craft       Frisco, TX            11/27/20  Honda Gold Wing             2,005

David Bentley     Columbia, MO          10/11/20  H-D FLHTK                   2,079

Lynn R Behrens    Beaver Dam, WI        10/09/20  BMW R1200RS                 2,041

Fall Equinox 2000 GOLD
Tim Harkins       Buda, TX              09/22/20  Honda Gold Wing GL1800      2,045

Stephen Evans     Lake City, FL         09/19/20  Yamaha FJR                  2,020 
             * * * Stephen is 72 years young on this ride! * * * 

Aaron M. Andes    Broadway, VA          09/18/20  H-D Street Glide            2,180 

Doug Vance        Cordova, TN           09/18/20  H-D Ultra Limited           2,049

Michael A Stewart Easton, PA            09/16/20  Victory Vision              2,091

Chuck Juul        Hopkinsville, KY      09/16/20  H-D Street Glide Special    2,011

Leonard York      Beaverton, OR         08/16/20  Honda Gold Wing 1800        2,004
Cindi Goewey (pillion)                  08/16/20  Honda Gold Wing 1800        2,004

Evan Brock Wiseman  Burlington, IA      08/13/20  H-D Street Bob FXDB         2,003

Aleksandr Novikov St.Petersburg, RUSSIA 07/17/20  H-D Electra Glide           2,049 

Mark Marciniak    Seattle, WA           07/10/20  Honda Gold Wing             2,082

Brad Langstraat   West Des Moines, IA   07/01/20  Honda Gold Wing 1800        2,020 


Paul Meyer        Herington, KS         06/20/20  Triumph Trophy SE           2,057

Mike Lindstrom    Burnsville MN         06/14/20  BMW R1200GSA                2,032

Lance Corley      New Carlisle, IN      06/04/20  H-D Road Glide              2,094

Wilfried Weyers   Germany               05/29/20  KTM 1290 SADV               2,139

Paul Werner      Shakopee, MN           05/25/20  H-D CVO Limited             2,250

Tamica Wade       Pittsburgh, PA        05/16/20  H-D CVO Road Glide          2,067 

Jose A. Mendoza   South St. Paul, MN    05/15/20  BMW R1200GS                 2,020 

Peter Green      Colorado Springs, CO   05/03/20  Honda Gold Wing             2,005
Danette Sifford (pillion)               05/03/20  Honda Gold Wing             2,005

Brian Hunnicutt   Los Gatos,CA          04/30/20  BMW R1200GS                 2,063 

Lionel L Ramos    Falls Church, VA      03/07/20  H-D Road Glide              2,009
Rick Rogers       Yorba Linda, CA       03/10/20  H-D Ultra Limited           2,049

Daniel Wallander  Santa Fe, NM          03/06/20  Honda ST1300                2,078

Lionel L Ramos    Falls Church, VA      02/29/20  H-D Road Glide CVO          2,048

Doug Edmondson    Valley, AL            02/28/20  H-D Road Glide Ultra        2,020

Jeff Hallquist    New Bern, NC          11/20/19  H-D Road Glide              2,006 Shark Nose 2000 Gold
                * * * Jeff is 65 years young on this ride! * * * 

Carl KSolo Harris Raleigh, NC           11/14/19  H-D Road Glide Special      2,187

Evan Brock Wiseman Davenport, IA        11/09/19  H-D Dyna FXDB               2,064
Doni Shawn Evans  Arlington, TX         10/25/19  Kawasaki Concours 14        2,022 
Jesse Alexander   Buda, TX              10/05/19  H-D Ultra Limited           2,019

Tamica Wade       Pittsburgh, PA        10/03/19  H-D Road Glide CVO          2,049

Michael Mitchell  Ashton, ID            09/22/19  BMW R1200GS Adventure       2,021 
Alan M Rundle     Ivins, UT             09/21/19  BMW R1200GSA                2,032

Jason Cook        Conway, SC            09/13/19  H-D FLHTR                   2,016 
Vernie R. Batten  Conway, SC            09/13/19  H-D Ultra Limited           2,016 

David K. Graham   Sioux Falls, SD       09/01/19  Indian Chieftain Dark Horse 2,102 
Joshua B. Courage Ankeny, IA            08/31/19  Can-Am Spyder F3 Limited    2,177 

Tom Wuethrich     Palm Beach Gardens,FL  08/24/19  KTM 1190 Adventure         2,024

Maxim Zaikin      Renton, WA            08/21/19  H-D Sport Glide             2,011 

Kara Halverson    Rapid City, SD        08/09/19  BMW K1600GTL                2,031

Aaron M. Andes    Broadway, VA          08/15/19  H-D Street Glide            2,044 
Jim Craig         Wildwood, MO          08/03/19  BMW R1200GSA                2,025

Paul J. Heine     Springfield, VA       07/15/19  H-D Ultra Limited           2,043
Lionel L Ramos    Falls Church, VA      07/15/19  H-D Road Glide Ultra CVO    2,043

Robert Wilson                           07/19/19  Honda Gold Wing             2,015
George Miller                           07/19/19  Honda F6B                   2,015

Maggie Breidenstein Reading, PA         07/13/19  H-D Road Glide Special      2,017 Shark Nose 2000 Gold
David Breidenstein  Reading, PA         07/13/19  H-D Road Glide Ultra        2,017 Shark Nose 2000 Gold
Kevin Blevins     Robesonia PA          07/13/19  H-D Road Glide              2,017 Shark Nose 2000 Gold
Harry Knerr       Blandon, PA           07/13/19  H-D Road Glide              2,017 Shark Nose 2000 Gold

Ken Cowart        Alexander, AR         06/24/19  H-D Road Glide Special      2,035

Dainius Suckelis  LITHUANIA             06/21/19  H-D FLHXSE                  2,105

Andrey Sosorev    Moscow, RUSSIA        06/17/19  H-D FLHTK Electra Glide     2,037 

Troy E. Martin    Mansfield, TX         06/07/19  Honda Gold Wing             2,082

John Huval        Lafayette, LA         06/01/19  Honda GL1800                2,013

Troy E. Martin    Mansfield, TX         05/31/19  Honda Gold Wing             2,024

Keith Dean Wells  Marshall, NC          05/25/19  BMW R1200GS Adventure       2,035 

George Mowry      Squaw Valley, CA      05/17/19  Yamaha FJR1300ES            2,004 

Steve Boone       Missoula, MT          05/03/19  Yamaha FJR1300              2,074

Jimmy H. Williams Amarillo, TX          04/29/19  H-D Road Glide              2,008 
             * * * Jimmy is 66 years young on this ride! * * * 

Paul Meyer        Herington  KS         04/20/19  Triumph Trophy SE           2,028

Dimitrios Tournas Murrieta, CA          04/19/19  BMW R1250GSA                2,012 

Paul Meyer        Herington  KS         04/05/19  Triumph Trophy SE           2,023

Harry Knerr       Leesport, PA          03/14/19  H-D Road Glide              2,109 Shark Nose 2000 GOLD

Rick Rogers       Yorba Linda, CA       03/10/19  H-D Ultra Limited           2,042

Peter Green       Rio Rancho, NM        03/16/19  Triumph Trophy SW           2,015

Christopher Schaffer Rockvale, TN       12/25/18  BMW R1200RT                 2,154 

Chris Hopper      Cypress TX            12/16/18  H-D Ultra Limited CVO       2,058 TX-2000-GOLD

Richard Rowland   Sandy, UT             11/15/18  H-D Limited                 2,104 
             * * * Richard is 70 years young on this ride! * * * 

George Mowry      Squaw Valley, CA      11/12/18  Yamaha FJR1300ES            2,064 
             * * * George is 74 years young on this ride! * * * 

David M Uhl       Parker, CO            10/18/18  H-D CVO Street Glide        2,172

Viktor Shvedov    Yekaterinburg, RUSSIA 09/22/18  BMW R1200GS Adventure       2,069

Jeff Nelson       Indian Trail, NC      09/01/18  H-D CVO Limited             2,016 

Christopher Schaffer   Rockvale, TN     09/01/18  BMW R1200RT                 2,072
Michael Schuster  Easton MN             09/01/18  Victory Cross Country       2,047

Richard Swenson   Hemingway, SC         08/12/18  H-D Road Glide CVO          2,005
Patrick L Ramos   Falls Church, VA      08/06/18  H-D Street Glide Ultra CVO  2,048
Lionel L Ramos    Falls Church, VA      08/06/18  H-D Road Glide Ultra CVO    2,048

Terry Taylor      Oklahoma City, OK     07/31/18  Kawasaki ZG1200 Voyager     2,022 

Michael Kozicki   Brunswick, MD         07/29/18  H-D Ultra Limited           2,064 
Bill Karitis      Mt. Pleasant, SC      07/29/18  H-D Ultra Limited           2,064

Christopher Schaffer   Rockvale, TN     07/15/18  BMW R1200RT                 2,080
James Dyer        Spartanburg, SC       07/13/18  Victory Cross Country Tour  2,013
Daniel Wallander  Santa Fe, NM          07/01/18  Honda ST1300                2,147
Mark A. Moran     Discovery Bay, CA     06/28/18  Victory Vision              2,008
Daryl D. Giles    South Holland, IL     06/19/18  Honda ST1300                2,082
Tim Huckaby       Reno, NV              05/23/18  H-D FLHXS                   2,018 
Steve Macha       San Antonio, TX       05/19/18  Kawasaki Concours 14        2,025
Gary G. Butler    Punta Gorda, FL       05/05/18  BMW R1200GS Adventure       2,018 FL-SS2000-GOLD

David Barwood     AUSTRALIA             04/11/18  Triumph Toadster            2,012
David Barwood     AUSTRALIA             04/05/18  Triumph Toadster            2,008
David Barwood     AUSTRALIA             04/03/18  Triumph Toadster            2,006

Russel A.S. Janzan  Dania Beach  FL     03/10/18  H-D Road Glide CVO          2,019

Lionel L Ramos    Falls Church, VA      01/14/18  H-D Road Glide Ultra CVO    2,033

Paul J. Heine     Springfield, VA       11/24/17  H-D Ultra Limited           2,032
Lionel L Ramos    Falls Church, VA      11/24/17  H-D Road Glide Ultra CVO    2,019
Gary E. Huff      Colorado Springs, CO  11/24/17  BMW R1200RT                 2,046

Rudiger Wolfgruber  GERMANY             10/18/17  Triumph Explorer            2,211

Lionel L Ramos    Falls Church, VA      10/17/17  H-D Electra Glide Ultra     2,014
John F. Garza     Peoria, AZ            09/21/17  Honda Gold Wing GL1800      2,030
Lionel L Ramos    Falls Church, VA      08/25/17  H-D FLTRU Road Glide Ultra  2,021

Matthew R. Wolf   Sierra Vista, AZ      08/15/17  H-D FLHXSE3                 2,339
Don Kulwicki      Mishawaka, IN         08/06/17  Honda Gold Wing 1800        2,028
John D. Jebson    De Witt, IA           07/30/17  Honda Gold Wing F6B         2,113

Yuriy Kiriychuk   Moscow, RUSSIA        07/22/17  BRP Can-Am Spyder RT Ltd.   2,030

Dmitriy Perevozchikov Magnitogorsk, RUS 06/26/17  H-D FLHX Street Glide       2,001

Bill Quinn        Henderson, NV         06/17/17  Indian Chieftain            2,026
Craig Thorndike  Midlothian, TX         06/05/17  Yamaha FJR1300A             2,176

Paul J. Heine     Springfield, VA       06/03/17  H-D Ultra Limited           2,016
Lionel L. Ramos   Falls Church, VA      06/03/17  H-D FLTRU Road Glide Ultra  2,004

Al Varga          Bellingham, WA        05/28/17  Triumph Thunderbird LT      2,022
Brian North       Franklin, WI          05/24/17  BMW K1600GT                 2,047
Eric James        Big Rapids, MI        05/13/17  Honda Gold Wing             2,156 MI-2000-GOLD
Terry Taylor      Oklahoma City, OK     05/07/17  Kawasaki ZG1200 Voyager     2,010

Peter Green       Rio Rancho, NM        04/14/17  H-D Ultra Limited           2,236
Matt Hube                               03/17     Honda Gold Wing             2,035

Richard Hanson Sr. Garland, TX          11/05/16  Suzuki DL650A               2,152

Johnnie M. Haynes Dobson, NC            10/21/16  Honda Gold Wing             2,065
             * * * Johnnie is 66 years young on this ride! * * *
             
Randall Lundgren  Portland, OR          10/08/16  H-D Road King               2,373

East Coast SaddleSore 2000 GOLD 
Anthony Osborne   West Palm Beach, FL   09/17/16  Yamaha FJR                  2,205

Dominick Zappola  Andes, NY             09/16/16  H-D Softail FXSTC           2,544

Jeff Nelson       Braintree, MA         09/04/16  H-D CVO Limited             2,015

Frederick Schroeder Menasha, WI         08/27/16  BMW K1200LT                 2,073

Michael Turnpenny Stirling, SCOTLAND    08/xx/16  Yamaha FJR1300A             2,019

Russel A.S. Janzan Dania Beach, FL      07/30/16  H-D Road Glide CVO          2,216

Aleksandr Grigorov Min. Vody, RUSSIA    07/09/16  Yamaha FJR1300              2,010
Vasiliy Kochegarov Moscow, RUSSIA       06/30/16  Suzuki GSX1250FA            2,002

Mark Warner       Kitchener, ON CANADA  06/26/16  BMW R1200GSA                2,052
Russel A.S. Janzan Dania Beach, FL      06/15/16  H-D Road Glide CVO          2,210

Pavel Shostik     Nefteyugansk, RUSSIA  05/26/16  Yamaha FJR1300              2,003

Sergey Matyushkov Minsk, BELARUS        05/16/16  H-D Ultra Limited           2,065

Richard Geiger    Cressona, PA          05/14/16  Honda Gold Wing GL1800      2,027
Alton Neidlinger  Schuylkill Haven, PA  05/14/16  Honda Gold Wing GL1800      2,027

Ricardo de Pena   Menlo Park, CA        05/09/16  Ducati Multistrada 1200S    2,048

William Campbell  Oxford, PA            04/25/16  Honda Gold Wing             2,023
Robert Rehkopf    Cordova, TN           04/25/16  BMW R1200RT                 2,023
             * * * Robert is 69 years young on this ride! * * *

Steven Anderson   Park City, UT         04/24/16  H-D FLHS                    2,170
Carl L. Harris    Fuquay-Varina, NC     04/21/16  H-D Road Glide              2,190

JD Smith          Phoenix, AZ           03/07/16  BMW R1200GSA                2,012
Chris Life        Mesa, AZ              03/07/16  H-D Ultra Classic           2,012

John O. Cooper    Woodland Hills, CA    03/06/16  Honda GL1800                2,016
Mike Best         South Jordan, UT      02/29/16  Honda Gold Wing             2,060
Tom Atkinson      Magnolia, TX          02/20/16  Honda GL1800                2,018 TX-SS2000-GOLD


Kevin Blevins     Robesonia, PA         10/15/15  H-D Ultra Classic           2,019
John A. Forry Jr. Hershey, PA           10/15/15  H-D CVO Ultra Classic       2,019

Dale Bundy        Punxsutawney, PA      10/09/15  Honda Gold Wing             2,012

Paul Tong         Frisco, TX            10/06/15  Honda Gold Wing             2,301
                 * * * EggSanity 2000 Extreme Gold - first finisher * * *

Memorial 2000
Foster Smith      Crook, UK             10/04/15  Honda Transalp              2,062

Motorcycle Tourer's Forum Civil War 2K GOLD Event
Rich Rulau        Rosenberg, TX         09/23/15  Yamaha FJR                  2,073
Robert Wilensky   Newtown, PA           09/23/15  Suzuki DL1000 V-Strom       2,073

2015 Fall Equinox SaddleSore 2000 GOLD
Dave McQueeney    West Covina, CA       09/23/15  BMW R1200R                  2,058 AZ-SS2000-GOLD
             * * * Dave is 72 years young on this ride! * * *

Tim Mahoney       Phoenix, AZ           08/22/15  Honda F6B                   2,186
Tim Hayosh        Mesa, AZ              08/22/15  Kawasaki Concours           2,244

John T. Carrel    Phoenix, AZ           08/20/15  BMW R1200GS                 2,195

Anatoly Khomenko  Nefteyugansk, RUSSIA  08/09/15  Suzuki Hayabusa             2,013
Pavel Shostik     Nefteyugansk, RUSSIA  08/09/15  Yamaha FJR1300              2,013

Dominick Zappola  East Haven, CT        07/22/15  H-D Softail FXSTC           2,215

Igor Loktionov    Belgorod, RUSSIA      07/21/15  Honda GL1500SE              2,113

Aidas Bubinas     Vilnius, LITHUANIA    07/02/15  Honda Crosstourer VFR 1200  2,463

Joe Majsak        White Plains, NY      07/04/15  BMW K1200LT                 2,149

Alexander Mukhin  Trebisov, SLOVAKIA    06/22/15  Yamaha XV 1900              2,027
Jana Muchinova (passenger)              06/22/15  Yamaha XV 1900              2,027

2015 Summer Solstice SaddleSore 2000 GOLD
Dave McQueeney    West Covina, CA       06/21/15  BMW R1200R                  2,041 CA-SS2000-GOLD
             * * * Dave is 72 years young on this ride! * * *

Richard Viekman   Gallup, NM            06/13/15  Honda Gold Wing GL1500      2,021

Memorial 2000 GOLD
Dave McQueeney    California            05/25/15  BMW R1200R                  2,045
Dave McQueeney    California            05/26/15  BMW R1200R                  2,045

Buddy Corbin      Cartersville, GA      06/04/15  BMW R1200RT                 2,070
Richard Tilbury   Vancouver, WA         05/29/15  Victory High-Ball           2,020

John E. Doughty   Kent, WA              05/22/15  Honda Gold Wing             2,230
             * * * John is 69 years young on this ride! * * *

John O. Cooper    Woodland Hills, CA    04/09/15  Honda GL1800                2,046

2015 Spring Equinox SaddleSore 2000 GOLD
Dave McQueeney    West Covina, CA       03/20/15  BMW R1200R                  2,041 FL-SS2000-GOLD
             * * * Dave is 72 years young on this ride! * * *

Garry Springgay   Gilbert AZ            03/15/15  Honda ST1300                2,034
John O. Cooper    Woodland Hills, CA    03/09/15  Honda Gold Wing             2,052

Rich Rulau        Rosenberg, TX         10/26/14  Yamaha FJR                  2,026
             * * * Rich is 68 years young on this ride! * * * 
 
2014 Memorial 2000 
Tom Atkinson                            10/25/14  Honda Gold Wing GL1800      2,055 TX-2000-GOLD

Jeff Taylor       Moyie Springs, ID     09/24/14  H-D Ultra Classic Limited   2,084
John D. Minigan   Windsor, ON CANADA    09/14/14  BMW R1200RT                 2,073 USA ride

Jeff Nelson       Simpsonville, SC      09/08/14  H-D Electra Glide Ultra     2,048
Scott Blevins     Somerset, KY          09/08/14  H-D Ultra Limited           2,048

Dan Highley       Greenfield, OH        08/18/14  H-D Super Glide             2,095

Renato E. Marquez Newbury Park, CA      06/25/14  H-D Street Glide            2,060
Fely V. Juanero (passenger)             06/25/14  H-D Street Glide            2,060

Anatoly Khomenko  Nefteyugansk, RUSSIA  08/16/14  Suzuki Hayabusa             2,036
Mikhail Glazkov   Novosibirsk, RUSSIA   08/06/14  Honda GL1800                2,008

Dave Barwood      Toodyay, WA AUSTRALIA 08/05/14  Triumph Roaster             2,013
Dave Barwood      Toodyay, WA AUSTRALIA 08/03/14  Triumph Roaster             2,038

Anatoly Khomenko  Nefteyugansk, RUSSIA  06/25/14  Honda X4 LD                 2,006

Ryan R. Bennett   Poneto, IN            06/22/14  H-D FLHX Street Glide       2,205

Sergei Tsombaljuk Tallinn, ESTONIA      06/11/14  H-D Road King               2,001

Hoagy's Heroes Lone Star Six Shooter
Eric Lorenzo      Highlands Ranch CO    05/15/14  Ducati Hyperstrada          2,040
Troy Martin       Mansfield TX          05/15/14  Triumph Thrphy SE           2,040

Ward H. Wilson    Jacksonville, FL      04/21/14  BMW R1200GSA                2,040
Rick Fox          Apex, NC              04/27/14  Kawasaki Concours           2,374

John O. Cooper    Woodland Hills, CA    04/09/14  Honda GL1800                2,093

Kith Burkingstock Newnan, GA            04/06/14  Suzuki DL1000 V-Strom       2,003
G. Allen Heddens  Riverdale, GA         04/06/14  Yamaha FJR                  2,003
Garry Bartlett    Tyrone, GA            04/06/14  Yamaha FJR1300              2,003

John O. Cooper    Woodland Hills, CA    03/15/14  Honda GL1800                2,022

IBA Daytona Party Ride In
Garry Springgay   Gilbert, AZ           03/12/14  Honda ST1300                2,042
Marc Beaulac      Gilbert, AZ           03/08/14  Honda GL1800                2,042
John O. Cooper    Woodland Hills, CA    03/10/14  Honda GL1800                2,025

Renato E. Marquez Newbury Park, CA      03/08/14  H-D Street Glide            2,002
Fely V. Juanero (passenger)             03/08/14  H-D Street Glide            2,002

Kurt Kruger       Parkersburg, IA       01/26/14  H-D Road King               2,024

Dave Barwood      Toodyay, WA AUSTRALIA 12/09/13  Triumph Roadster            2,006

Michael Turnpenny Stirling, SCOTLAND    12/05/13  Yamaha FJR1300A             2,058 Australia Ride
Dave Barwood      Toodyay, WA AUSTRALIA 12/05/13  Triumph Roadster            2,058

Gregory Waldner   Canmore, AB CANADA    10/31/13  BMW R1200RT                 2,032

Paul Slaton       The Woodlands, TX     10/25/13  Honda Gold Wing             2,120 TX-SS2000-GOLD
Daniel Crenshaw   Los Gatos, CA         10/25/13  BMW K1200GT                 2,264
Robert DiFilippo  Wichita Falls, TX     10/23/13  Yamaha FJR1300              2,073 TX-SS2000-GOLD
Kurt Brenner      Hinckley, OH          10/13/13  Honda Gold Wing             2,367
Robert Novotny    Broadview Heights, OH 10/13/13  Honda Gold Wing             2,367

Bob King          Salem, OR             08/29/13  Honda Gold Wing GL1800      2,070

Dale Bundy        Punxsutawney, PA      08/02/13  Honda Gold Wing             2,056

Will Barclay      Woodstock, NY         07/14/13  H-D Street Glide            2,495
Gerald Valenta    Mebane, NC            07/09/13  Honda Gold Wing             2,078

Ulf Roger Nyberg  Greensboro, NC        08/24/13  H-D Electra Glide Limited   2,058
John O. Cooper    Woodland Hills, CA    08/06/13  Honda Gold Wing             2,276

Rex LeGalley      Albuquerque, NM       07/10/13  H-D CVO Street Glide        2,027

Renato Marquez    Newbury Park, CA      07/02/13  H-D Street Glide            2,005
Fely V. Juanero (passenger)             07/02/13  H-D Street Glide            2,005

Bryan McCrary     Lexington, NC         07/02/13  Suzuki V-Strom              2,030
Harry Knerr       Blandon, PA           06/23/13  H-D Road Glide              2,064
Robert A. Loop    Simi Valley, CA       06/20/13  Honda Gold Wing 1800        2,010

Vasiliy Lishenko  RUSSIA                06/13/13  Honda GL1800                2,017

Hoagy's Heroes Record Setting Lone Star Six Shooter SaddleSore 2000 GOLD
Robert Tobitt     Stafford, TX          05/16/13  Honda Gold Wing             2,044 TX-SS2000-GOLD
Anthony Osborne   West Palm Beach, FL   05/16/13  Yamaha FJR1300              2,044 TX-SS2000-GOLD
Jeff Lee          Yellowknife,NT Canada 05/16/13  Yamaha FZ-6                 2,044 TX-SS2000-GOLD
Troy Martin       Mansfield, TX         05/16/13  Triumph Rocket 3 Touring    2,044 TX-SS2000-GOLD
Ray Dodson        Napa, CA              05/16/13  BMW Adventure               2,044 TX-SS2000-GOLD
Robert Carmichael Glen Dale, WV         05/16/13  H-D Road Glide Ultra        2,044 TX-SS2000-GOLD
Rich Rulau        Rosenberg, TX         05/16/13  Triumph Sprint              2,044 TX-SS2000-GOLD
Doug Lasley       Roseville, MI         05/16/13  BMW K1200LT                 2,044 TX-SS2000-GOLD

Frederick Germain Rochester, NY         03/17/13  BMW R1200RT                 2,074

Ken Aman          Wallkill, NY          03/17/13  Honda ST1300                2,012
Jim O'Dowd        Franklin, TN          03/17/13  Honda GL1800                2,012

John O. Cooper    Woodland Hills, CA    03/16/13  Honda GL1800                2,028
John O. Cooper    Woodland Hills, CA    03/11/13  Honda GL1800                2,041

Michael Turnpenny Stirling, SCOTLAND    02/14/13  Yamaha FJR1300A             2,040 Australia Ride

Rex LeGalley      Albuquerque, NM       12/20/12  H-D CVO Street Glide        2,101

Bill Ouellette    Lawrenceville, GA     12/15/12  BMW R1200RT                 2,377
Ted Bosch         Visalia, CA           11/24/12  Honda Gold Wing             2,070

11th Annual "Bite the Wieeenie" Ride To Eat SaddleSore 2000
Eric D. Bray      Colorado Springs, CO  11/17/12  BMW R1150GS Adventure       2,276

Neil Godfrey      Fort Mill, SC         10/05/12  H-D FLHTCI                  2,533
Chris Hicks       North Myrtle Beach,SC 10/05/12  H-D Road Glide              2,533

Greg Cowan        Colorado Springs, CO  09/30/12  H-D Street Glide            2,010

Greg Cowan        Colorado Springs, CO  09/29/12  H-D Street Glide            2,140

2012 Memorial 2000 - to read more about these rides visit www.ironbutt.com/memorial
Garry Springgay   Gilbert, AZ           09/26/12  H-D Ultra Classic 2,032

Troy A. Kuhlman   Camarillo, CA         09/24/12  Suzuki V-Strom DL650        2,354
Eric Aldous       Winnemucca, NV        09/24/12  BMW R1200GSA                2,364

Ralph Knauth      Belmont, CA           09/22/12  BMW R1150RT                 2,110
Daniel Crenshaw   Los Gatos, CA         09/22/12  BMW K1200GT                 2,110

Rex LeGalley      Albuquerque, NM       09/21/12  H-D CVO Street Glide        2,155

Bob Messer        Jacksonville, FL      09/15/12  BMW R1200GS                 2,008
Joseph Gentile    Niskayuna, NY         09/12/12  BMW K1200RS                 2,030

Peter J. Church   Voorheesville, NY     09/11/12  Suzuki DL650 V-Strom        2,384
Joseph Foglietta  Poughkeepsie, NY      09/11/12  Honda Valkyrie              2,384
Michael Hurtt     Waterford, NY         09/11/12  Kawasaki Vulcan Voyager     2,384

Keith Millett     Hunt Valley, MD       09/09/12  H-D Street Glide FLHX       2,500
Bob Romiti        Mount Airy, MD        09/09/12  H-D Road King               2,500
Ben Woodworth     Baltimore, MD         09/09/12  H-D FLHTCI Police           2,500

Renato E. Marquez Newbury Park, CA      09/08/12  H-D Street Glide            2,486
Fely V. Juanero (passenger)             09/08/12  H-D Street Glide            2,486

Alfred Cantwell   Wauconda, IL          09/03/12  Honda Gold Wing GL1800      2,068
Steve Hoswell     Fair Oaks, CA         09/02/12  BMW K1200LT                 2,008

Richard Cure      Pine Falls, MB CANADA 08/31/12  H-D Ultra Classic           2,456
Juan Carlos Gies  Millington, NJ        08/28/12  Honda Nighthawk 750         2,080
             * * * Juan Carlos is 66 years young on this ride! * * *
Adam Besonson     Centerville, PA       08/26/12  Honda Valkyrie Interstate   2,098
Paul E. Prue      Cudjoe Key, FL        08/20/12  H-D FLHTC                   2,374
Gregory L. Laird  Camas, WA             08/18/12  H-D Street Glide            2,055
Glen A. Eakins    Versailles, OH        08/17/12  Suzuki V-Strom 650          2,068
Joe Minnis        Altura, MN            08/17/12  Honda VTX1800R              2,151
Barry Kreisa      Richmond, VA          08/12/12  H-D Electra Glide Classic   2,008

Timothy Urban     Mohnton, PA           08/10/12  H-D Ultra CVO               2,008
Charles Smith     Shillington, PA       08/10/12  H-D Road Glide Ultra        2,008

Dan J. Lambert    Temple, PA            08/09/12  Honda Gold Wing             2,390
Jason D. Bauder   Hamburg, PA           08/09/12  Honda Shadow Sabre 1100     2,390

Jeff Kulper       Manchester, IA        08/08/12  H-D Road King               2,094
Eaton J. Cote     Waukon, IA            08/08/12  H-D FLHTCU                  2,094

Kenneth J. Padden Andover, NY           08/06/12  H-D Street Glide            2,407
Doug Hammond      Dundee, NY            08/06/12  H-D Ultra Classic           2,407

Mike Sizer        Bonita Springs, FL    08/04/12  H-D Road King Classic       2,136

Spencer Schellenberg Winnipeg, MB CANADA08/01/12  H-D Road King               2,174
Randy Wolgemuth   Steinbach, MB CANADA  08/01/12  H-D Ultra Classic           2,174

Peter M. King     Athens, GA            07/28/12  Suzuki V-Strom DL650 Adv.   2,284
Eddie Exferd      Oconto, WI            07/26/12  H-D Ultra Classic           2,124
Brian Walters     Sugar Land, TX        07/07/12  BMW R1200GS                 2,057
Tom Atkinson      Magnolia, TX          07/21/12  Honda GL1800                2,010
Rex LeGalley      Albuquerque, NM       05/25/12  H-D Street Glide            2,001

2012 The Team Lyle Alamo Express Rally
Gregory Marbach  Maricopa, AZ           05/19/12  Yamaha FJR1300              2,022

Shane Mead        Topeka, KS            05/02/12  Honda GL1800 Gold Wing      2,359

Troy S. Decker    Riverton, UT          04/30/12  BMW 1200GSA                 2,016
Glen Minter       Wichita Falls, TX     04/28/12  H-D Electra Glide           2,044

Russell L. Swett  Metamora, MI          03/21/12  Suzuki M109R                2,136

Larry Raffler     Troy, MI              03/20/12  Honda Gold Wing             2,010
              * * * Larry is 72 years young on this ride! * * *

Richard Buber     Cocoa FL              03/19/12  Honda ST1300                2,021

Garry Springgay   Gilbert, AZ           03/17/12  H-D FLHTCUI                 2,099
Garry Springgay   Gilbert, AZ           03/13/12  H-D FLHTCUI                 2,186

Bill Lance        Mills River, NC       11/10/11  BMW K1300GT       2,034

Ralph H. Bell Jr. Columbia, SC          10/22/11  H-D Road King     2,020

Bernie Sapp       Denver, CO            10/16/11  BMW K1200GT       2,009
Danny Lee         Tallahassee, FL       09/17/11  Kawasaki ZG1000   2,140 FL-SS2000-GOLD
Bill Ouellette    Lawrenceville, GA     09/11/11  H-D Ultra Classic 2,026
Chester R. Koch   Peebles, OH           08/08/11  H-D Ultra Classic 2,086

Ross Hunter       Devils Lake, ND       07/27/11  H-D Custom Chopper2,068
Jim Frank         Devils Lake, ND       07/27/11  H-D Custom Chopper2,068

Thomas F. Kane    Pittsboro, NC         07/22/11  H-D FLHTC         2,120
Roger Buis        Baker, FL             07/13/11  H-D Electra Glide 2,

Volodymyr Chernyshov Kyiv, UKRAINE      07/13/11  BMW R1200CL       2,018

Ed Benson, Sr.    Charlotte, NC         07/10/11  H-D Ultra Limited 2,152

Vitaliy Matveyev  Moscow, RUSSIA        07/03/11  Honda GL1800      2,032
Bill Ouellette    Lawrenceville, GA     07/01/11  H-D Ultra Classic 2,012

Paul W. Meyer     Herlington, KS        06/19/11  Kawasaki Nomad    2,082
Joe Williams      Woodbine, KS          06/19/11  H-D Ultra Classic 2,082

Steven Rolland    Franklin, WI          06/19/11  Victory Vision    2,053

Delbert Morse     Norfolk, NE           03/04/11  Triumph Tiger     2,027

Dan Leffert       Castle Rock, CO       09/25/10  H-D Ultra Limited 2,089

Roger A. Shores   Leawood, KS           09/16/10  Honda Gold Wing   2,051
             * * * Roger is 65 years young on this ride! * * *

J.D. Smith        Phoenix, AZ           08/12/10  BMW 1200GSA       2,001
Scott Gottschalk  Kimball, MN           07/02/10  H-D Ultra Classic 2,096
James L. Bryan    Geneva, FL            11/21/09  Yamaha FJR1300    2,074
Kris Schoonover   Hubertus, WI          09/25/09  H-D Road Glide    2,364
Grayson Cook      Barkhamsted, CT       08/16/09  Honda ST1300      2,147



---


IBA Ireland's cross northwest Europe FHB48

Name              Hometown              Date      Motorcycle        Mileage

Paul Tydeman      IRELAND               04/22/14  BMW R1200GSA      2,219 
Alex Hewitt       IRELAND               04/22/14  Honda VFR 800     2,219 

Kevin Weller                            04/2012   Yamaha FJR 1300   2,257
Lyn Weller (passenger)                  04/2012   Yamaha FJR 1300   2,257



---


East Coast 2000 (Madawaska, Maine to Key West, Florida via I-95 in less than 48 Hours):

Name              Hometown              Date      Motorcycle        Mileage

Christopher Ross  Wolfforth, TX         07/11/19  BMW R1200GSA      2,136

Grayson Cook      Barkhamsted, CT       08/16/09  Honda ST1300      2,147



---


Bergs to Bears Challenge (Prudhoe Bay to Hyder, Alaska in 3 days):

Name              Hometown              Date      Motorcycle                   Mileage

Charles Fider     Windsor, ON CANADA    06/11     BMW R100RT                   1,802
* * *  Charles Fider - oldest motorcycle to complete B2BC - 1982 BMW R100RT * * *
Robert Munden     Windsor, ON CANADA    06/11     Honda CBR125R !!!            1,802
* * *  Robert Munden - smallest motorcycle to complete B2BC - 124.7 cc!  * * *




---


SaddleSore 2000 Finishers (2,000 miles in less than 48 Hours):

Name              Hometown              Date      Motorcycle                  Mileage

Jonathan Britton  Huntsville, AL        07/31/21  Honda GL1800 Gold Wing      2,170
Russell Brown     Lithonia, GA          07/31/21  Honda GL1800 Gold Wing      2,170

Wayne Lund        Ellicott City, MD     07/24/21  Kawasaki Vulcan 2000        2,204 
                   * * * Wayne is 65 years young on this ride! * * * 
 
David McAvoy      Ellicott City, MD     07/24/21  Victory Cross Country       2,172
 
Richard Viekman   Gallup, NM            07/21/21  Honda Gold Wing GL1800      2,037
 
Tom Donohue       Veneta, OR            07/20/21  Vespa GTS 250               2,033

Kathleen Terner   West Linn, OR         07/13/21  H-D Softail Slim            2,064 

Martien Kramer    Netherlands           07/10/21  BMW K1600GT                 2,042 Nordkapp 2000

Ellard Matthew Li San Bruno, CA         07/10/21  Honda CBR300R               2,068 
 
Alex Alpert       Southborough, MA      07/07/21  H-D CVO Limited             2,086
Vicki Hill (pillion)                    07/07/21  H-D CVO Limited             2,086

Al Greenwood      Mount Holly, NC       07/03/21  Honda Gold Wing             2,186

Robert Carlton    Wood River, IL        06/26/21  H-D Tri Glide Ultra         2,067 
Michael T. Weber  Collinsville, IL      06/26/21  H-D CVO Road Glide          2,067 

Jennifer Brewington St. Marys, GA       06/22/21  H-D Road Glide              2,094 

Jerry Stevens     Flower Mound, TX      06/20/21  Yamaha Royal Star Venture S 2,105 TX-2000 
             * * * Jerry is 72 years young on this ride! * * * 

Chuck McCrillis   Lebanon, VA           06/18/21  H-D Electra Glide           2,049 

James B. Soque    Holbrook, NY          06/10/21  BMW R1200RT LC              2,001

Dave Scott        Yardville, NJ         06/05/21  H-D Street Glide            2,227

Philip R. Grove   Reno, NV              05/24/21  H-D Road Glide              2,337
             * * * Philip is 78 years young on this ride! * * *

Troy Roberts      Broomfield, CO        05/09/21  H-D Ultra Limited           2,351

Stephen D. Day    Palm Harbor, FL       04/29/21  BMW R1200GSA                2,431 

Roy Kjendal       Deerfield NH          04/25/21  BMW K1600GTL                2,042

Doni Holcomb      Newnan, GA            04/24/21  Honda Gold Wing             2,167

Jenni Cramer      Beavercreek, OR       04/23/21  H-D Street Glide            2,072 
Kathy Anderson    Star, ID              04/23/21  H-D CVO Street Glide        2,072 

Small Mountain Taco Run in Medicine Park, Oklahoma
Jesse Alexander   Buda, TX              04/08/21  H-D Ultra Limited           2,029
Jeff Chauncey     Ocala, FL             04/08/21  H-D Road Glide Special      2,180

Jeff McDowell     Overland Park, KS     04/01/21  H-D Limited                 2,041

Lee Kibbee        Olathe, KS            04/01/21  H-D Limited                 2,041

Randy Garner      Toano, VA             03/14/21  H-D Ultra Classic           2,096 

Matthew J. Miller Box Elder, SD         04/01/21  Triumph Street Triple RS    2,099

Patrick Nijsters  Denver, CO            10/22/20  BMW S1000XR                 2,042
* Combined with Arkansas, Kansas, Missouri, Iowa and Nebraska Tour of Honor Sites *

Jerry Saint Read                        10/09/20  H-D Ultra Limited           2,048

Craig Lake        Lemon Grove, CA       09/17/20  H-D Screamin' Eagle CVO     2,010 
             * * * Craig is 73 years young on this ride! * * * 

Scott Ryer Evey   Discovery Bay, CA     10/08/20  H-D Ultra Limited           2,415

Lionel L Ramos    Falls Church, VA      08/23/20  H-D Road Glide CVO          2,012

Corey A. Johnston Waukegan, IL          08/17/20  H-D Road Glide Ultra        2,091 

Aleksey Petrov    St.Petersburg, RUSSIA 08/16/20  Honda Shadow VT750 Aero     2,221 

Robert Haug       Bear, DE              08/07/20  H-D Ultra Limited           2,020 
Joshua Haug (passenger)                 08/07/20  H-D Ultra Limited           2,020 

Mike Sizer        Fort Myers, FL        08/05/20  H-D Ultra Limited           2,134 
                   * * * Mike is 65 years young on this ride! * * * 

The Winnipeg Perimeter Highway 2000 
Paul Bezilla      Winnipeg, MB          08/01/20  Honda ST1100                2,157 Manitoba 2000

Kim Hood          Toledo, OH            08/01/20  Victory Cross Country Tour  2,079

John A. Bechinski Ortonville, MI        07/26/20  BMW R1200RT                 2,099
Wanda Underhill   Bristow, IN           07/26/20  H-D Fatboy                  2,099

Michael Waldron   Cowan Heights, CA     07/24/20  Indian Springfield          2,019 
             * * * Michael is 65 years young on this ride! * * * 

Roy Rucker        Bidwell, OH           07/23/20  Honda GL1800                2,510 

Anton Chursinov   St.Petersburg, RUSSIA 07/18/20  H-D FLTRXSE CVO Road Glide  2,030 

Matthew Danielson Chanhassen, MN        07/18/20  Yamaha FJR                  2,059 
Shane Davis       White Bear Lake, MN   07/18/20  H-D Ultra Limited           2,059 
Phillip Toconita  Little Canada, MN     07/18/20  Yamaha FJR1300              2,090

Brian Ishmael     Greeley, CO           07/14/20  Victory Vision              2,039 

Sergey Kurshev    St.Petersburg, RUSSIA 07/14/20  H-D Fat Bob FXFB            2,008 
Yuriy Aleksashkin St.Petersburg, RUSSIA 07/14/20  H-D Road Glide              2,008 

Charles R. Butler III   Gillette, WY    07/09/20  H-D Ultra Limited           2,031
                      * * * Combined with Tour of Honor Sites * * *

Kelly Green       Elizabethtown, NC     07/03/20  H-D Road Glide              2,005
Sandra K Wallace  Charlotte, NC         07/03/20  H-D Road Glide Special      2,005

Dave Scott        Yardville, NJ         06/26/20  H-D Street Glide            2,041
Theo Komulainen   Menahga, MN           06/25/20 Honda Gold Wing F6B          2,021

Summer Solstice 2000
Jon Goon          Warsaw, IN            06/20/20  Kawasaki Vulcan Nomad 1700  2,149
Louis W. Brown    Pierceton, IN         06/20/20  H-D Ultra Classic           2,149

Theo Komulainen   Menahga, MN           06/25/20  Honda Gold Wing F6B         2,010 
August R. Binder  Bath, PA              06/20/20  Indian Springfield          2,148 

William Harp      North Las Vegas, NV   06/19/20  Yamaha Super Tenere         2,090
Michael E. Sloan  Las Vegas, NV         06/19/20  Honda Gold Wing             2,090

Lionel L Ramos    Falls Church, VA      06/19/20  H-D Road Glide CVO          2,149 
               * * * Combined with Tour of Honor and Gold Star Sites * * *

Donald Coleson II Scottville, MI        06/24/20  H-D Road Glide              2,124

William Kohls     Pelican Rapids, MN    06/19/20  Kawasaki Vulcan Vaquero     2,047

Glen Glasscock    Lubbock, TX           06/13/20  H-D Road Glide Limited      2,137

Melissa Turner    Mobile, AL            06/12/20  Indian Chieftain            2,053 

Father-Son 2000
Pat McCartin      Damascus, VA          06/12/20  Triumph Tiger 800           2,102
Andrew McCartin   Damascus, VA          06/12/20  Honda CB500X                2,102
                  * * * Andrew is 16 years old on this ride * * *

Greg Hintz        Missoula, MT          06/10/20  Honda Gold Wing             2,109
               * * * Greg is 67 years young on this ride! * * *
Donald Deuel      Arlee, MT             06/10/20  Honda Gold Wing Tour        2,109 
             * * * Donald is 77 years young on this ride! * * * 

Mark Griffin      Chandler  AZ          06/04/19  BMW K1600GTL                2,053
         
William Harp      North Las Vegas, NV   05/30/20  Yamaha Super Tenere         2,057 
Doug Wilson       Henderson, NV         05/30/20  Yamaha FJR1300              2,057 

David Schroeder   Amston, CT            05/26/20  BMW F650                    2,028

Mark L. Griffin   Chandler, AZ          03/14/20  BMW K1600GTL                2,018

Scott Ryer Evey   Discovery Bay, CA     02/23/20  H-D Road Glide Limited      2,119

Adam Hawks        Durham, NC            02/01/20  Kawasaki Concours 14        2,063
Jon Paul Ferguson Trinity, NC           02/01/20  Yamaha FJR1300              2,063

Peter Milani      Pensacola, FL         01/31/20  H-D FLHTC                   2,050 
Todd Moreland     Navarre, FL           01/31/20  H-D Road Glide Ultra        2,050

Double Dog Dare Ya 2000
Bill Norris       Levelland, TX         11/23/19  Kawasaki Vulcan 500LTD      2,200
Daniel Wallander  Santa Fe, NM          11/23/19  Honda ST1300                2,021
Jim Saul          Albuquerque, NM       11/23/19  BMW R1200RT                 2,021

Ben Ernst         Azle, TX              11/23/19  BMW K1600GTL                2,069

Jason Webb        Albuquerque, NM       10/02/19  Yamaha FJR1300ES            2,051
Mark Sanson       Loveland, CO          11/16/19  Suzuki V-Strom 1000 Adv     2,070

Don Kulwicki      Mishawaka, IN 46544   10/17/19  Honda Gold Wing 1800        2,024 
Carl Harris       Raleigh, NC           10/17/19  H-D Road Glide              2,170 

Brian Classen     Lexington, KY         10/14/19  BMW K1600GTLE               2,013 

Rommel Andaya     American Canyon, CA   10/02/19  Indian Chieftain            2,294

Michael Boge      Sandpoint  ID         09/30/19  KTM 1190 Adventure          2,088
             * * * Michael is 65 years young on this ride! * * *

Jaimie Wright     West Palm Beach, FL   09/21/19  BMW K1200LT                 2,088
Harry Knerr       Leesport, PA          09/14/19  H-D Road Glide              2,041 Shark Nose 2000

Ioram Abolnik     MEXICO                09/10/19  BMW R1200GS                 2,026

Lynn R. Behrens   Mayville, WI          09/06/19  BMW R1200RS                 2,015
David J. Alderman Katy, TX              08/30/19  H-D Road King Classic       2,008 
Glenn Coonce      Indianapolis, IN      08/24/19  Indian Chieftain Classic    2,070 

Ioram Abolnik     MEXICO                08/08/19  BMW R1200GS                 2,021

Charles R. Butler III    Gillette, WY   08/06/19  H-D UltraLimited Firefighter2,033

Daryl D. Giles    South Holland, IL     08/04/19  Honda ST1300                2,074 
Rob Smith         Edmond, OK            08/03/19  H-D Ultra Limited CVO       2,072
Mike Meador       Piedmont, OK          08/03/19  H-D CVO Ultra               2,072

Jeffrey Hamberg   Orange, MA            07/25/19  BMW K1600B Grand America    2,013 

James Dyer        Candler, NC           07/19/19  Victory Cross Country Tour  2,041

Rene Lagace       St-Constant,QC CANADA 07/16/19  BMW K1200LT                 2,171

Roman Biryukov    Moscow, RUSSIA        07/16/19  Kawasaki ER-6f              2,070 
Konstantin Golota Moscow, RUSSIA        07/16/19  Yamaha FJR1300A             2,070 

Salvador Carrillo Moreno        MEXICO  07/15/19  BMW R1200GS Adv             2,049
Rodrigo Méndez Preciado         MEXICO  07/15/19  Suzuki Vstrom 1000 XT       2,116

Christopher Ross  Round Rock, TX        07/14/19  BMW R1200GSA                2,379

William R. Lawson Gray, KY              07/15/19  Honda Gold Wing F6B         2,145 
Louis W. Brown    Pierceton, IN         07/13/19  H-D Ultra Classic           2,024

Brian K. Moses    Decatur, AL           07/12/19  H-D Road King               2,010 

William R. Lawson Gray, KY              07/08/19  Honda Gold Wing F6B         2,034 

Yuriy Svetov      St.Petersburg, RUSSIA 07/03/19  H-D Ultra Limited           2,007 
Vladislav Kulikov St.Petersburg, RUSSIA 07/03/19  H-D Street Glide            2,007 

Tour D'oh Nuts 2000
Winter Case       Spring, TX            06/29/19  Kawasaki Concours 14        2,074

Jeff Minzghor     Saint Joseph, MI      06/28/19  H-D Street Glide            2,020 
Mike Miston       Stevensville, MI      06/28/19  H-D Street Glide            2,020 

Jeff Hallquist    New Bern, NC          06/26/19  H-D Road Glide              2,045
August R. Binder  Bath, PA              06/24/19  Indian Springfield          2,117 

High Road Vancouver BMW Ducati Banff SS3200K
Ian C Spencer     North Vancouver, BC   06/22/19  BMW 650GS Dakar             2,086 BC-3200K

Summer Solstice 2000 
Brenda Pomrenke   Grand Junction, CO    06/21/19  H-D Road King Special       2,052 
Susan Wise        Grand Junction, CO    06/21/19  H-D Road Glide Special      2,052 
Rick Wise         Grand Junction, CO    06/21/19  H-D CVO Road Glide          2,052 
Alex Wise         Grand Junction, CO    06/21/19  H-D Wide Glide              2,052 

Summer Solstice 2000 
Scott Nyhof       Lakeland, FL          06/21/19  Indian Chief Vintage        2,043 FL-2000 

Carl M. Hanck-Mueller    Germany        06/20/19  BMW R1100RT                 2,021 

Daniel Ott        Napa, CA              06/18/19  BMW R1200RT                 2,151

Jeff Ferguson     Danville, IN          06/18/19  H-D FXSTDI Deuce            2,174 
Robert Randolph   Mooresville, IN       06/18/19  Honda Gold Wing F6B         2,174 
             * * * Robert is 72 years young on this ride! * * * 
             
Andrey Sosorev    Moscow, RUSSIA        06/17/19  H-D FLHTK Electra Glide     2,037 

Scott Wagner      Ormond Beach, FL      06/14/19  H-D Road Glide Ultra        2,002 

Terry Fundenberger Gillette, WY         05/29/19  H-D CVO Ultra               2,031

Wayne T Heater    Flemington, NJ        05/23/19  H-D Ultra Limited CVO       2,706
Marilyn A Heater (pillion)              05/23/19  H-D Ultra Limited CVO       2,706
Pete Dalidowicz   Califon, NJ           05/23/19  Yamaha V Star 950           2,706

Robert Trinagel   Dix Hills, NY         05/17/19  H-D Road Glide Ultra        2,020 
Robert Wrenn      West Babylon, NY      05/17/19  Yamaha Venture TC           2,020 

Jimmy H. Williams Amarillo, TX          04/29/19  H-D Road Glide              2,385 
             * * * Jimmy is 66 years young on this ride! * * * 

Jonathan Santos   Fall River, MA        04/14/19  H-D Road Glide FLTRXS       2,018

Lionel L Ramos    Falls Church, VA      03/13/19  H-D Road Glide CVO          2,359

Volker Faerber    Germany               02/22/19  Yamaha MT-09                2,254

Brian Miller      Glendale, AZ          01/04/19  H-D Ultra Limited CVO       2,048 
Cheri Miller (passenger)                01/04/19  H-D Ultra Limited CVO       2,048 

Double Dog Dare Ya 2000 to the 19th Annual Bite the Wieenie RTE in Hollywood
Jim Saul          Albuquerque, NM       11/17/18  BMW R1200RT                 2,047
Daniel Wallander  Santa Fe, NM          11/17/18  Honda ST1300                2,047
Jon Joyce         Rio Rancho, NM        11/17/18  Yamaha Star Venture         2,047
Richard Hagerty   Tijeras, NM           11/17/18  Kawasaki H2SX SE            2,047

Lucio Flores, Jr. South Charleston, WV  11/16/18  Honda Gold Wing             2,040 
Matt Norris       Central Point, OR     11/02/18  Kawasaki Drifter 1500       2,098 

Cynthia Cox       Brookshire, TX        10/27/18  Can-Am Spyder RT Limited    2,374 
Morris Cox        Brookshire, TX        10/27/18  Triumph Tiger Explorer 1200 2,374 

Ramon Quirantes   Pinecrest, FL         10/20/18  Triumph Bonneville T100     2,011 

TWITTS (Two Wheeled Therapy and Tea Society) SaddleSore 2000
Vicki J. Rosser   Henderson, NV         10/14/18  H-D Street Glide Special    2,044
William Harp      N. Las Vegas, NV      10/14/18  Yamaha Super Tenere         2,044
Doug Wilson       Henderson, NV         10/14/18  Yamaha FJR1300              2,044
Randy Burk        Henderson, NV         10/14/18  BMW R1200RT                 2,044
Stanley Prickitt Jr.    Pahrump, NV     10/14/18  Yamaha FJR1300              2,044
Sue Harp          N. Las Vegas, NV      10/14/18  H-D Road Glide              2,044
Robert Harp       N. Las Vegas, NV      10/14/18  Suzuki V-Strom 650          2,044

Fernando J. Pina  Greeley, CO           10/12/18  H-D CVO Street Glide        2,180 
Tammy Leyvas (passenger)                10/12/18  H-D CVO Street Glide        2,180 
David M. Kostyk   Peyton, CO            10/12/18  H-D Road Glide Ultra        2,180 

Jesse Alexander   Buda, TX              09/30/18  H-D Ultra Limited           2,016 
John C. Chenoweth Eaton, OH             09/26/18  H-D Road King               2,042 
Richard Swenson   Hemingway SC          09/21/18  Honda Gold Wing             2,012
William Mallory   Yakima, WA            09/14/18  Yamaha FZ1                  2,097 
James B. Soque    Holbrook, NY          09/10/18  BMW R1200RT                 2,116
Brian Thorn       Sun Lakes, AZ         09/08/18  Honda Gold Wing             2,177
Kit Chunhawong    Ogden UT              09/07/18  Yamaha FJR1300              2,140

Anatoliy Videneev Moscow, RUSSIA        09/03/18  Honda Gold Wing 1800        2,111
Dmitriy Afanasev  Moscow, RUSSIA        09/02/18  BMW K1600GTL                2,090 

Kevin Vandertoorn Winchester, VA        09/01/18  Honda ST1300                2,190
Steven M. Becker  Sylacauga, AL         08/20/18  Honda VTX1300               2,186 

Jose Octavio Perez Macedo   MEXICO      07/28/18  BMW R1200GS ADV LC          2,027

Justin D. Varner  Allendale, MI         08/06/18  Triumph Tiger 1050          2,395 
Mark Campbell     Hernando, MS          08/02/18  Honda Gold Wing             2,220
Michael S. Sizer  Fort Myers, FL        08/01/18  H-D Road King               2,120 

Michael Kozicki   Brunswick, MD         07/29/18  H-D Ultra Limited           2,474 
Bill Karitis      Mt. Pleasant, SC      07/29/18  H-D Ultra Limited           2,474 

Gregg Szakmeister New Bern, NC          07/28/18  H-D Road Glide              2,119 
Jeff Hallquist    New Bern, NC          07/28/18  H-D Road Glide              2,119

Anthony Alexander Piscataway, NJ        07/24/18  BMW R1200GS                 2,361
Mike Hernandez    Phoenix, AZ           07/22/18  H-D Ultra Limited FLHTK     2,186

Wesley Clevinger  Grundy, VA            07/21/18  Honda GL1800 Gold Wing      2,024 
Steve Stacy       Grundy, VA            07/21/18  Honda Gold Wing             2,024 

Todd Warren Lipps Westminster, CA       07/15/18  Honda Gold Wing GL1800      2,170

Aleksey Semenov   Novosibirsk, RUSSIA   07/09/18  BMW R1200GSA                2,016

Jeff Arsenault    Fremont, NH           07/07/18  Yamaha FJR1300              2,084
Erin Arsenault (pillion)                07/07/18  Yamaha FJR1300              2,084

James Dyer        Spartanburg, SC       07/05/18  Victory Cross Country Tour  2,199
Todd Warren Lipps Westminster, CA       07/04/18  Honda Gold Wing GL1800      2,170

Dirk Stephan      GERMANY               07/03/18  Honda Varadero XLV1000      2,072
Oliver Giere      GERMANY               07/02/18  BMW R1200GS                 2,065

Mark W. Keating   Guelph, ON CANADA     06/30/18  H-D Road King               2,071

Thom Rieck        Rochester, MN         06/24/18  BMW K75S                    2,032 

High Road Vancouver SaddleSore 3200K
Kees Wijsman      Delta, BC             06/23/18  BMW R1200GSA                2,086 BC-3200K
Malkiat Singh Hoonjan  Surrey, BC       06/23/18  Honda Gold Wing             2,086 BC-3200K
Makhan Singh Kharod    Surrey, NR       06/23/18  Kawasaki 1400               2,086 BC-3200K

Ronnie Ingold     Randleman, NC         06/18/18  Honda ST1300                2,046 
Roy Crosier       Greensboro, NC        06/18/18  Honda Valkyrie              2,021 

Jerry Stevens     Flower Mound, TX      06/14/18  Yamaha Royal Star Venture S 2,339
             * * * Jerry is 69 years young on this ride! * * *

Charles W. DeHart Springfield, IL       06/09/18  H-D Tri Glide               2,384 
             * * * Charles is 71 years young on this ride! * * * 
John Benson       Naples, FL            06/09/18  H-D Electra Glide Ultra Ltd.2,384
             * * * John is 80 years young on this ride! * * *
 
James D. Brown    Terre Haute, IN       06/06/18  H-D CVO Road Glide FLTRXSE  2,076
Tom Edmondson     Jasonville, IN        06/06/18  Kawasaki Vulcan 2000        2,076
             * * * Tom is 66 years young on this ride! * * *
 
Andy Blila        Coronado, CA          05/29/18  H-D Ultra Limited           2,167
Paul Stark        San Jose, CA          05/19/18  BMW R1200RT                 2,169

John B. Gray      Douglasville, GA      05/09/18  H-D Ultra Classic           2,308

Patrick Mitchell  Round Lake, IL        05/08/18  Honda VTX-C 1300            2,239 
         * * * Combined with Tour of Honor Sites - www.tourofhonor.com * * * 

Aleksey Shatalov  Moscow, RUSSIA        04/28/18  BMW R1200RT                 2,114
Arkadiy Shutov    Moscow, RUSSIA        04/28/18  Honda VFR1200X Crosstourer  2,114

Neal Wirgau       Stony Mountain,MB CAN 04/23/18  Victory Vision              2,142
Charles Garalis   Flower Mound, TX      03/23/18  BMW K1600 Grand America     2,045
Mark L. Griffin   Chandler, AZ          03/21/18  BMW K1600GTL                2,020
Mark L. Griffin   Chandler, AZ          03/14/18  BMW K1600GTL                2,049
Dale Moeller      Cedarburg, WI         03/08/18  BMW K1600GTL                2,362

Daved Kinsey      Reading, PA           03/05/18  BMW K1600GTL                2,143 East Coast 2000

Winter Solstice 2000
Gregg Szakmeister New Bern, NC          12/21/17  H-D Road Glide Special      2,120 
Jeff Hallquist    New Bern, NC          12/21/17  H-D Road Glide Ultra        2,120
Bryan H O'Neill   Morrisville, PA       12/21/17  BMW R1200R                  2,054

William J. Goosen Officer,VIC AUSTRALIA 11/04/17  BMW R1200GSA                2,157 

Memorial 2000 Series
Richmon Schumann  Cumming GA            09/25/17  KTM 1190 Adventure          2,023

Michael Beza      Holbrook, NY          09/23/17  Honda Gold Wing GL1800      2,234
Donal LaChance    Taylor, TX            09/23/17  Honda F6B                   2,076

Rune Samnoy       NORWAY                09/17/17  H-D Dyna Wide Glide         2,199

Torkild Engebrethsen  NORWAY            09/12/17  BMW R1200RS                 2,114
Rune Samnoy       NORWAY                09/12/17  H-D Dyna Wide Glide         2,114

Anthony Albano    Acworth, GA           09/10/17  H-D Road Glide              2,028

Rainer Killian    GERMANY               09/06/17  Honda Deauville 650         2,006

Carl John Mahan   Eminence, MO          09/05/17  H-D Electra Glide           2,044
Kathy Mahan (passenger)                 09/05/17  H-D Electra Glide           2,044
             * * * Carl is 68 years young on this ride! * * * 

Robert Krauter Jr. Artesia, NM          09/01/17  H-D Road Glide              2,122
Danny L. Denson   Artesia, NM           09/01/17  H-D Electra Glide           2,122
Lee H. DeLeonard  Roswell, NM           09/01/17  Honda Gold Wing             2,076
Tim Huckaby       Reno, NV              08/25/17  H-D FLHXS                   2,094

Solar Eclipse 2000 Gold
Mike Hall         Stephenson, VA        08/20/17  H-D FLHXSE                  2,150

Ruediger Wolfgruber GERMANY             08/20/17  Triumph Explorer            2,026

Carrie L. Maine   Groton, NY            08/19/17  Can-Am Spyder RTS           2,020
Randy A. Adams    Moravia, NY           08/19/17  Honda Gold Wing 1500        2,020
             * * * Randy is 66 years young on this ride! * * * 

Scott H. Nyhof    Lakeland, FL          08/06/17  Indian Vintage              2,026
Kenneth A. Koren  Belleville, MI        08/05/17  Yamaha FJR1300A             2,040
Jeffrey Smith     Garden City, MI       08/06/17  BMW 1200GS Adventure        2,037
Rick C. McKenzie  San Bernardino, CA    08/03/17  H-D Ultra Limited           2,120
Jose Samano Jr.   Houston, TX           07/28/17  Yamaha Stryker              2,059
Scott H. Nyhof    Lakeland, FL          07/28/17  Indian Vintage              2,055
Nelson Delgado    San Antonio, TX       07/09/17  Yamaha FJR1300              2,032

Kenneth Tracy     Weiser, ID            07/09/17  H-D Ultra Limited           2,108
         * * * Combined with Tour of Honor Sites - www.tourofhonor.com * * *

Jeff Maynard      Gainesville, GA       07/08/17  H-D Ultra Limited Classic   2,044

Gordon Sears      Essex, UK             07/04/17  BMW R1200GSA                2,052

Mark L Griffin    Chandler, AZ          07/28/17  BMW K1600 GTL               2,028
              * * * Mark is 65 years young on this ride! * * *

Jegors Golubevs   Riga, LATVIA          07/06/17  Triumph Rocket III Touring  2,051

John Deurbrouck   Redmond, WA           07/05/17  BMW S1000XR                 2,112
  * * 2 laps, with each of twin his daughters Lucia and Serena riding 1,056 each * *

Steve Gallant     Mansfield, MA         07/02/17  Honda ST1300A               2,089

Kent W. Cast      Aurora, CO            07/01/17  H-D Ultra Limited           2,184

Douglas Roetman   Omaha, NE             07/01/17  H-D Limited                 2,050
Mike Beidler      St Joseph, MI         07/01/17  Victory Cross Country Tour  2,042

Ted Grimsley      Merritt Island, FL    06/30/17  Indian Chieftain            2,040
Keven Creek       Orlando, FL           06/30/17  H-D FXSTSI Springer Softail 2,040

Gregory L. Laird  Camas, WA             06/30/17  H-D Street Glide            2,080

Charles R. Butler Gillette, WY          06/29/17  H-D Ultra Limited Shrine    2,036

Patrick Wallace   Charles Town, WV      06/29/17  Victory Vision              2,003
Christina Smith (passenger)             06/29/17  Victory Vision              2,003

Moe Conn          Nottingham, MD        06/28/17  H-D Road Glide Ultra FLTRU  2,320
Greg Williams     Lawrenceville, GA     06/28/17  H-D Road Glide CVO          2,320

Dmitriy Perevozchikov Magnitogorsk, RUS 06/26/17  H-D FLHX Street Glide       2,001

Kenneth Tracy     Weiser, ID            06/25/17  H-D Ultra Limited           2,105
         * * * Combined with Tour of Honor Sites - www.tourofhonor.com * * *

Mark Lambie       University Place, WA  06/23/17  BMW R1200RT                 2,068
Erhard Riedl      San Jose, CA          06/10/17  BMW S1000XR                 2,037

Memorial Day 2000
Paul Tong         Frisco TX             05/31/17  Honda Gold Wing             2,384

Michael Crocker   Ventura, CA           05/14/17  BMW R1200RT                 2,373
              * * * Michael is 70 years young on this ride! * * *

Paul Stark        San Jose, CA          05/12/17  BMW R1200RT                 2,149
Jeff Nelson       Indian Trail, NC      05/08/17  H-D CVO Limited             2,010
E.C. Forbes       Springdale, AR        05/04/17  BMW R1200GSA                2,050
John Buchanan     Kamloops, BC CANADA   05/01/17  H-D Ultra Limited           2,068

Chris Hansen      Rogue River, OR       04/27/17  H-D Ultra Classic CVO       2,126
Janice Hansen (passenger)               04/27/17  H-D Ultra Classic CVO       2,126

Daryl Giles       South Holland, IL     04/26/17  Honda ST1300                2,120

Dave Wieland      Annville, PA          04/25/17  H-D Road Glide              2,051
Daved Kinsey      Reading, PA           04/25/17  BMW K1600GTL                2,051
David R. Clouser  Pillow, PA            04/25/17  Yamaha Royal Star Venture   2,062

Robert Failla     Redlands, CA          04/21/17  BMW K1600GT                 2,066
Paul V. Dodd      Riverside, CA         04/21/17  BMW K1200LT                 2,066

Jeffrey Smith     Garden City, MI       04/20/17  Honda ST1300                2,289

Rune Samnoy       Krokstadelva, NORWAY  04/20/17  H-D Dyna Wide Glide         2,047

Ken Cowart        Alexander AR          04/15/17  H-D Road Glide Ultra        2,061
Richard Viekman   Gallup, NM            04/08/17  Honda Gold Wing GL1800      2,105
Danny C. Dossman  Belton, TX            03/15/17  Honda ST1300                2,628
Lionel Ramos      Falls Church  VA      03/13/17  H-D Ultra                   2,027

Sheri Philhower   Riverview, FL         03/12/17  Can-Am Spyder RT-S          2,020
Benjamin Philhower Riverview, FL        03/12/17  H-D Road Glide Special      2,020

Phillip B. Brown  Warr Acres, OK        03/03/17  BMW R1200GSA                2,068

Kenneth W Andrews Benton, AR            02/19/17  H-D Road Glide Ultra        2,117

E. B. Andresen    Newnan, GA            01/16/17  H-D CVO Road Glide          2,041
             * * * Andy is 72 years young on this ride! * * * 

Richard Freund    De Soto, MO           12/26/16  BMW K1200GT                 2,080 FL-2000
Dustin K. Crider  Canton, GA            11/14/16  BMW R1200GSA                2,012
Eric James        Big Rapids, MI        10/25/16  Honda Gold Wing GL1800      2,122

Johnnie M. Haynes Dobson, NC            10/22/16  Honda Gold Wing             2,114
             * * * Johnnie is 66 years young on this ride! * * *

Kenneth Thompson  Tucson, AZ            10/15/16  Honda Gold Wing             2,177
John Huval        Lafayette, LA         10/12/16  Honda Gold Wing GL1800      2,174
Bill Quinn        Henderson, NV         10/10/16  Indian Chieftain            2,042
Randall Lundgren  Portland, OR          10/09/16  H-D Road King               2,373
Brian North       Franklin, WI          10/04/16  BMW K1600GT                 2,205
Richard J. Hanson Garland, TX           10/01/16  Suzuki DL650A               2,135
Bill Norris       Levelland, TX         09/29/16  Kawasaki Vulcan 500LTD      2,089
Daniel Norris (pillion)                 09/29/16  Kawasaki Vulcan 500LTD      2,089
David M Uhl       Parker, CO            09/28/16  H-D Street Glide CVO        2,097

Brian North       Franklin, WI          09/23/16  BMW K1600GT                 2,154
Dan Crowley       Charlotte NC          09/24/16  Cagiva Gran Canyon          2,021
D. Benjy Vincent  South Padre Island, TX09/13/16  Honda Gold Wing GL1100      2,018

Jim Clark         Locust Grove, GA      09/11/16  BMW R1200RT                 2,249
             * * * Jim is 67 years young on this ride! * * *

Robert Kline III  Warminster, PA        09/10/16  Victory Vision              2,002
Randy Matz        Rogers, AR            09/09/16  H-D Ultra Limited           2,090
Lance Corley      New Carlisle, IN      09/09/16  H-D Road Glide              2,065

Tom Tindall       Santa Fe, NM          09/09/16  BMW R1200GS                 2,360
             * * * Tom is 66 years young on this ride! * * * 

Clive Brown      Sooke, BC CANADA       09/06/16  H-D Road Glide              2,552

Tracy Kilby       Jacksonville, FL      09/04/16  Suzuki Boulevard C50        2,356
Kevin Turner      Jacksonville, FL      09/04/16  H-D Heritage Softail Classic2,356
Tom Chambers      Starke, FL            09/04/16  H-D Ultra Limited           2,356

Jeff Nelson       Braintree, MA         09/04/16  H-D CVO Limited             2,360

Doug Rasmussen    Highlands Ranch, CO   09/03/16  H-D Road Glide              2,085
Rebecca Rasmussen Highlands Ranch, CO   09/03/16  H-D Trike                   2,085

Gene Kicenski     Blanchard, OK         09/03/16  Honda Valkyrie              2,069
             * * * Gene is 71 years young on this ride! * * *

Charles D. Lott   Lebuc, AB CANADA      09/01/16  Kawasaki Vaquero            2,070

Gary Chasteen     Pensacola, FL         08/31/16  Honda Gold Wing             2,335
Stephen J. Pye    Eastern Passage,NS CAN08/29/16  BMW R1200RT                 2,032
Jacob Wedin       Austin, TX            08/16/16  H-D Street Glide            2,040
Leo Benitez       Richmond, TX          08/11/16  H-D Ultra Limited FLHTK     2,030

Dennis Joyner     Richmond, VA          08/07/16  Honda Gold Wing Interstate  2,053

Peter Campbell    CANADA                08/05/16  Yamaha FJR1300              2,115
Dave Cwi          Indianapolis, IN      08/05/16  BMW R1200RT                 2,115
               * * * Dave is 70 years young on this ride! * * *

Kevin Gaby        Burton, MI            08/06/16  BMW K1200GT                 2,084
Jeffrey Luke      Brimfield, MA         08/05/16  Yamaha Super Tenere         2,115
Eddie Exferd      Lena, WI              08/03/16  H-D Ultra Classic           2,361
Mike Sizer        Bonita Springs, FL    07/30/16  H-D Road King               2,126

William Papenfuss Houston, MN           07/24/16  H-D Ultra Classic Limited   2,060
             * * * William is 68 years young on this ride! * * * 

Gary Burd         Amarillo, TX          07/19/16  H-D Softail Heritage        2,373
Richard J. Brush  Vancouver, WA         07/14/16  BMW R1200GS Adventure       2,074
H. Craig Wallace  Ogden, IA             07/14/16  H-D Road Glide              2,042
David B. Vincent  Davison, MI           07/14/16  Honda Gold Wing GL1800A     2,016

Hal W Mette       Clermont, FL          07/11/16  Can-Am Spyder F3 Limited    2,078
Doug Chasick      Melbourne Beach, FL   07/11/16  Can-Am Spyder RT-S          2,072

Mark W. Keating   Guelph, ON CANADA     07/10/16  H-D Road King               2,050

Mike Allison      Nanaimo, BC CANADA    07/09/16  H-D Ultra                   2,062
Paul Maedke       Ephrata, WA           07/06/16  Honda ST1300                2,020

Diana Hunt        Sooke, BC CANADA      07/05/16  H-D Softail Deuce FXSTD     2,035

Bianca Crawford   Graham, WA            06/26/16  H-D Road Glide Special      2,014
Jim O'Neall       Tacoma, WA            06/26/16  H-D Ultra Limited           2,010
Kara O'Neall (passenger)                06/26/16  H-D Ultra Limited           2,010
James O. Tucker   Puyallup, WA          06/26/16  H-D CVO Road Glide Ultra    2,010
Paul S. Welsh     Lake Tapps, WA        06/26/16  H-D Electra Glide Ultra Ltd.2,010
Harold F. Smith   Spanaway, WA          06/26/16  H-D Ultra Limited           2,024

Matt Craft        Topeka, KS            06/25/16  Yamaha Super Tenere         2,230
Gary L. Roach     Peabody, KS           06/25/16  Honda Gold Wing GL1500      2,370
Brandon Ramsey    Fredonia, KS          06/25/16  Honda Gold Wing GL1500A     2,370

Ismael Oliveira   Fortaleza, CE BRAZIL  06/24/16  BMW F800GS                  2,018

Andy Crissman     Export, PA            06/23/16  H-D Road King               2,205
John J. Cousins   Kittanning, PA        06/23/16  H-D Street Glide            2,205
David C. Hunt     Slippery Rock, PA     06/23/16  Indian Chieftain            2,205

John Zabelle      Molino, FL            06/22/16  BMW R1200GS                 2,374
Matthew Ernst     Murfreesboro, TN      06/22/16  BMW R1200RT                 2,374

Pavel Koltunenko  Volzhskiy, RUSSIA     06/21/16  Honda Silver Wing 600       2,232

Glenda Richardson Jamestown, MO         06/21/16  H-D Fat Boy                 2,117

Michael Studer    St. Louis Park, MN    06/20/16  Honda Pacific Coast PC800   2,009
             * * * Michael is 71 years young on this ride! * * *

Ben R. Doehrmann  Ankeny, IA            06/20/16  Honda GL1800                2,026
Dave Sollars      Andover, MN           06/17/16  Yamaha Super Tenere         2,204
Haley E. McKinley Star, MS              06/14/16  Indian Chieftain            2,310
Darrin Mleynek    Yale, IA              06/08/16  H-D Road Glide Ultra        2,090

Down South SaddleSore 2000
Dennis and Gina Hoffman                 06/08/16  H-D Dresser                  2,005
Aaron Dearth                            06/08/16  H-D Street Glide             2,005

Kerry Logan       Norfolk, VA           06/06/16  BMW R1200RS                 2,384
Bill Farmer       Melbourne, FL         06/05/16  Honda Gold Wing 1800        2,385

Wolf Schwurack    West Jordan, UT       06/05/16  H-D Ultra Limited           2,440
Mike McCormick    West Jordan, UT       06/05/16  H-D CVO Limited             2,440

Charlie Garalis   Flower Mound, TX      05/29/16  BMW K1600GTL                2,186
Greg Cook         Price, UT             05/28/16  BMW R1200RT                 2,120

Danny Hackworth   Austin, AR            05/28/16  BMW R1200RT                 2,004
Bill Blecher      Beebe, AR             05/28/16  BMW K1600GTL                2,004

Motorcycle Tourer's Forum Destination Hyder event
Robert Edwards    St. Joseph, MN        05/26/16  Kawasaki Vulcan 2000LT      2,000+
John Holwager     Thornton, CO          05/26/16  Yamaha FJR1300              2,000+

James D. Brantner Friendswood, TX       05/24/16  Honda VTX1800               2,041
Casey Brantner    Mountain View, AR     05/24/16  Honda Valkyrie Tourer       2,041
             * * * Casey is 68 years young on this ride! * * *
Ronald Brantner   Pasadena, TX          05/24/16  Honda Interstate            2,041
             * * * Ronald is 70 years young on this ride! * * *

Bob Gratton       Howell, NJ            05/22/16  H-D Ultra Limited           2,198

Ronald E. Dixon   Naples, FL            05/22/16  H-D CVO Limited             2,084
Roy W. Lenard     Estero, FL            05/21/16  H-D Road King Classic       2,114
             * * * Roy is 67 years young on this ride! * * *

Norman L. Jones   Lynnwood, WA          05/19/16  Yamaha Royal Star Venture   2,374
             * * * Norman is 66 years young on this ride! * * *

Paul Stark        San Jose, CA          05/19/16  BMW R1200RT                 2,038

Michael H. Davis  Elkins, WV            05/16/16  Yamaha Super Tenere 1200    2,380
Patrick J. Weese  Beverly, WV           05/16/16  H-D Ultra Classic           2,380
             * * * Patrick is 69 years young on this ride! * * *

Andrew W. Nymeyer Garner, NC            05/14/16  H-D FXDF Fat Bob            2,003
Norman L. Jones   Lynnwood, WA          05/13/16  Yamaha Royal Star Venture   2,250
             * * * Norman is 66 years young on this ride! * * *

Richard L. Baker  Byron, MN             05/09/16  BMW R1200RT                 2,020

Grant M. Sumsion  Springville, UT       05/08/16  H-D Road King Classic       2,294
Camille M. Sumsion (passenger)          05/08/16  H-D Road King Classic       2,294

Gentry M. Sharpe  Atlanta, GA           04/30/16  Honda Gold Wing             2,440

Kevin S. Harris   Lewisville, NC        04/30/16  BMW R1200GS                 2,373
Raffaele Rookey   Ellington, CT         04/30/16  BMW R1200GS                 2,373
Joel A. Fleming   Greensboro, NC        04/30/16  BMW R1200RT                 2,373
Craig Field       Julian, NC            04/30/16  BMW K1200LT                 2,373
Oscar Scofield    Winston Salem, NC     04/30/16  BMW C650GT Maxi-Scooter     2,373
             * * * Oscar is 75 years young on this ride! * * *

Rob Carlo         Truckee, CA           04/27/16  H-D Road Glide              2,010

Jay Yanick        Mercer Island, WA     04/22/16  BMW R1200RT                 2,384
             * * * Jay is 78 years young on this ride! * * *
Martin R. Snoey   Mercer Island, WA     04/22/16  H-D FLHTK Ultra Limited     2,384
             * * * Martin is 73 years young on this ride! * * *

Rick Maier        Macon, GA             04/11/16  Yamaha FJR1300              2,374
Carl Griffis      Greer, SC             04/11/16  Yamaha FJR1300              2,374
             * * * Carl is 65 years young on this ride! * * *

Edward Bond       Everett, MA           04/10/16  BMW R1200RT                 2,211

Marcos Hernandez  Miami, FL             04/10/16  Honda Gold Wing GL1800      2,350

Paul Jackson      Ontario, CA           04/07/16  H-D Street Glide Special    2,310

Steven J. Dennis  Attleboro, MA         03/06/16  Yamaha Tenere               2,374
Michel D. Magers  Greeley, CO           03/05/16  Victory Vision              2,160
              * * * Michel is 66 years young on this ride! * * *

Marshall McKinley Star, MS              03/04/16  H-D Road Glide              2,190
Shannon McKinley  Braxton, MS           03/04/16  H-D Road Glide              2,190

Steve Goldsmith   Yantis, TX            03/03/16  Honda Gold Wing             2,153
Joe Birkenback    Rockwall, TX          03/03/16  Honda Gold Wing             2,153

David McAlister   Goodyear, AZ          02/26/16  Honda Gold Wing GL1800      2,030

Larry Taylor      Arcadia, FL           01/31/16  Victory Vision              2,036
Vic Presciti      North Port, FL        01/31/16  H-D Ultra Limited           2,036
Russell Reynolds  Nokomis, FL           01/31/16  H-D Ultra Limited           2,036

William Buskell   Panama City Beach FL  01/21/16   H-D Road Glide             2,102

Stephen L. Evans  Lake City, FL         12/20/15  Yamaha FJR 1300             2,030
             * * * Stephen is 68 years young on this ride! * * *

Steven G. Ryba    Murrieta, CA          12/10/15  Honda Gold Wing             2,180
John Huval        Lafayette, LA         11/25/15  Honda GL1800 Gold Wing      2,165
Jim Saul          Plano, TX             11/19/15  Yamaha FJR1300              2,373
Pierre Guillotte  St-Bruno, QC CANADA   11/18/15  BMW K1600GTL Exclusive      2,362

Tom Gerhart       Cairo, GA             10/21/15  Can Am Spyder RT Limited    2,126
                 * * * Tom is 74 years young on this ride! * * *

Brian D. Hood     Leesburg, FL          10/04/15  BMW R1200RT                 2,364
Sjef Vanderaa     Truro, NS CANADA      10/04/15  Kawasaki Concours 1400      2,188

Josh Hunt         Marion, MA            10/04/15  Kawasaki Concours 14        2,364
             * * * Josh is 76 years young on this ride! * * *

Allan Pickard     Toowoomba,QLD AUSTRAL.10/03/15  Triumph Explorer            2,080 QLD-2000
Mark Hancock      Toowoomba,QLD AUSTRAL.10/03/15  Triumph Tiger 800XC         2,080 QLD-2000

Per Ronfeldt Raun Struer, DENMARK       09/26/15  Kawasaki 1400GTR            2,056
Claus Jensen      Fredericia, DENMARK   09/26/15  Kawasaki ZX12               2,103

Randy Goodman     Victor, NY            09/26/15  Honda Gold Wing             2,369

Barry Schmitt     Stevenson Ranch, CA   09/25/15  Honda Gold Wing 1800        2,100
             * * * Barry is 72 years young on this ride! * * * 

Motorcycle Tourer's Forum Civil War 2K Event
Bruce Edwards     Purcellville, VA      09/23/15  H-D Ultra Limited           2,073
Bruce Garry       Moultonborough, NH    09/23/15  Honda Gold Wing             2,073
Peter Green       Santa Fe, NM          09/23/15  H-D Ultra Limited           2,073
Kristy Smith  (pillion)                 09/23/15  H-D Ultra Limited           2,073
Raymond Piatt     Harpers Ferry, WV     09/23/15  H-D FLHTCU                  2,073
Robert Mesich     Winchester, VA        09/23/15  H-D Street Glide            2,073

Motorcycle Tourer's Forum Civil War 2K Event - 6 Park Loop
Peter DuDeck      Patterson, NY         09/23/15  Yamaha FJR1300              2,003

Motorcycle Tourer's Forum Civil War 2K GOLD Event
Rich Rulau        Rosenberg TX          09/23/15  2011 Yamaha FJR              2,073
Robert Wilensky   Newtown PA            09/23/15  2007 Suzuki DL1000 V-Strom   2,073

Kristy Smith      Santa Fe, NM          09/20/15  H-D Ultra Limited           2,049
John Sweeney      Waukon, IA            09/18/15  H-D Super Glide Sport       2,000

Per Ronfeldt Raun Struer, DENMARK       09/26/15  Kawasaki 1400GTR            2,056
Claus Jensen      Fredericia, DENMARK   09/26/15  Kawazaki ZX12               2,103

Mark Sundell      Saint Robert, MO      09/14/15  H-D Ultra Limited           2,077

Erin E. Colombo   Wixom, MI             09/13/15  BMW GTL1600                 2,260

Wayne Grondin     Tecumseh, ON CANADA   09/13/15  Honda Gold Wing             2,260
D. J. Mathias     Kenmore, WA           09/12/15  BMW K1200LT                 2,214

Marion D. Pollard Gladstone, MO         09/12/15  H-D Electra Glide Classic   2,100
             * * * Marion is 73 years young on this ride! * * * 

John R. Ahrens    Moreno Valley, CA     09/12/15  BMW K1200LT                 2,078

Mark Scott        West Chester, OH      09/10/15  Honda Gold Wing             2,214
             * * * Combined with Tour of Honor Sites - www.tourofhonor.com * * *

W. Greg Skelton   Arlington, VA         09/07/15  H-D Street Glide Special    2,384
Brandon Erickson  Farmington, UT        09/06/15  Yamaha FJR1300AE            2,370

Frans de Wet      Bullard, TX           09/06/15  Honda Gold Wing GL1800      2,180
Bettie de Wet (passenger)               09/06/15  Honda Gold Wing GL1800      2,180

David L. Todd Jr. Newnan, GA            09/05/15  H-D Ultra Limited           2,096

Dave Cwi          Indianapolis, IN      09/05/15  BMW R1200RT                 2,500
             * * * Dave is 69 years young on this ride! * * * 

New England 2000
Craig A. Bentley  Sandwich, MA          09/05/15  H-D FLHX                    2,044
Ronald L. Trainor Pembroke, MA          09/05/15  H-D Ultra Classic Tri-Glide 2,044

Doug Chasick      Melbourne Beach, FL   09/02/15  Can-Am Spyder RT-S          2,187
Hal W Mette       Clermont, FL          09/02/15  Can-Am Spyder F3S           2,192

James O. Epley    Fredericksburg, VA    08/15/15  Triumph Rocket III          2,155
             * * * Combined with Tour of Honor Sites - www.tourofhonor.com * * *

Randy Goodman     Victor, NY            08/08/15  Honda Gold Wing GL1800      2,046
Cal Braley        Spring Valley, CA     08/06/15  Yamaha V-Star 650 Silverado 2,008
Bill Karitis      Mt. Pleasant, SC      08/06/15  H-D Ultra Limited           2,040
John Dextras      Colorado Springs, CO  08/01/15  Victory Cross Country Tour  2,029

Dan Baker         Youngsville, NC       07/31/15  H-D Electra Glide Ultra     2,568
Kent Crawford     Rockvale, TN          07/31/15  Honda Gold Wing             2,358

Jerry Stevens     Flower Mound, TX      07/30/15  Honda VTX1300R              2,130
                 * * * Jerry is 66 years young on this ride! * * *  

Eddie Exferd      Lena, WI              07/29/15  H-D Ultra Classic           2,197

Hank Multala      Ionia, NY             07/26/15  BMW R1200RT                 2,078
Stephen Hoffman   Brandenton, FL        07/26/15  Honda Gold Wing             2,033
             * * * Stephen is 67 years young on this ride! * * * 
Robert Annandale  Mineral, VA           07/26/15  BMW R1200GS                 2,166
             * * * Robert is 67 years young on this ride! * * * 
Ed Jarvis         Mineral, VA           07/26/15  BMW K1600GTL                2,166

Danny L. Hampton  Elgin, IL             07/25/15  Yamaha FJR                  2,054
            * * * Danny is 66 years young on this ride! * * * 

Ed Jarvis         Mineral, VA           07/20/15  BMW K1600GTL Exclusive      2,196
Robert Annandale  Mineral, VA           07/20/15  BMW R1200GS                 2,072
             * * * Robert is 67 years young on this ride! * * *  

Alexander Schmidt Phoenix, AZ           07/10/15  Kawasaki Concours 14        2,170

Jake Zojonc       Mankato, MN           07/07/15  Victory Cross Country       2,099

Scott Zaeske      Castle Rock, CO       07/06/15  H-D Electra Glide Ultra     2,065
Rex W. Cantlin    Independence, MO      07/05/15  BMW K1300GT                 2,057
Joanna Wojtowicz  Hicksville, NY        07/04/15  H-D Street Glide Special    2,010
Don Cheatham      Grayson, GA           07/04/15  H-D Ultra Limited           2,225
Daniel Wallander  Santa Fe, NM          07/03/15  Suzuki V-Strom 650          2,130
Steve Bell        Chandler, AZ          07/03/15  BMW R1200RT                 2,355
Ronald W. Moore   Farmington, MO        07/02/15  Honda ST1300A               2,256
Carol Kropp       Ramona, CA            06/30/15  H-D Street Glide            2,384

Jonathan Baker    Surrey, UK            06/28/15  BMW R1200 GS Adventure      2,063

Scott Peters      Lithia, FL            06/27/15  BMW K1600GTL                2,390
Marc B. Myhre     Colbert, WA           06/26/15  H-D Road Glide Ultra        2,115

Richard Jorges    Gardnerville, NV      06/24/15  Yamaha Royal Star           2,368
Mark S. Wilson    Wellington, NV        06/24/15  H-D Ultra Classic           2,368

Dana Alan Troyer  Plano, TX             06/24/15  H-D FLTR                    2,033

Kerry Nelson      Bellaire, TX          06/22/15  H-D Ultra Classic Limited   2,040
Brian Tevlin      Oklahoma City, OK     06/20/15  H-D CVO Ultra Classic       2,470
Ken Dobler        Nags Head, NC         06/19/15  Honda GL1800                2,110

Ian Pursglove     Balsall Common, UK    06/19/15  BMW RT1200                  2,055

Rune Samnoy       Krokstadelva, NORWAY  06/16/15  H-D Dyna Wide Glide         2,024

Mike Painter      Newcastle, WA         06/15/15  H-D Road King               2,060
Matt Gulseth      Medicine Lake, MN     06/14/15  BMW 1150RT                  2,020

Bianca Crawford    Roy, WA              06/13/15  H-D Street Glide            2,000
Grant Covey        Bonney Lake, WA      06/13/15  H-D Electra Glide           2,000
Theresa Covey (passenger)               06/13/15  H-D Electra Glide           2,000
Jim O'Neall        Tacoma, WA           06/13/15  H-D Ultra Limited           2,000
Kara O'Neall (passenger)                06/13/15  H-D Ultra Limited           2,000

Rick Dorman       Carrollton, TX        06/13/15  Victory Vision              2,078
Samuel L. Scherr  Harvest, AL           06/13/15  BMW GSA                     2,150
Stian Heimtun     Kongsvinger, NORWAY   06/13/15  BMW R1200GSA                2,020

Johnny Jones                            06/13/15  Honda Gold Wing             2,373

Greg Hintz        Missoula, MT          06/12/15  Honda Gold Wing             2,374
Donald Deuel      Arlee, MT             06/12/15  Honda Gold Wing             2,374
             * * * Donald is 72 years young on this ride! * * * 

Lynn H. Clark     Woodland, CA          06/12/15  BMW K1600GTL                2,364
             * * * Lynn is 68 years young on this ride! * * *
David Aronson     Vacaville, CA         06/12/15  BMW R1200RT                 2,364
             * * * David is 68 years young on this ride! * * * 

James Hatfield    Beardstown, IL        06/10/15  H-D Road Glide              2,076
Thomas R Spearman Mooresville IN        06/05/15  BMW K1600GTL                2,119
Howard Davidson   Norwalk CT            05/31/15  BMW F800ST                  2,340
Scott A. Bergeron Golden, CO            05/31/15  Indian Chieftain            2,032

Clyde Dowd        DeFuniak Springs, FL  05/30/15  Honda Gold Wing             2,015
             * * * Clyde is 71 years young on this ride! * * *

Edward J. Tracey  Woodstock, NY         05/29/15  Suzuki V-Strom 650          2,374
             * * * Edward is 67 years young on this ride! * * *

Kelly Quinn       Truckee, CA           05/28/15  H-D Road Glide Custom       2,394
Robert Carlo      Truckee, CA           05/28/15  H-D Road Glide Custom       2,394

Jesse Lucas                             05/26/15  Yamaha FJR1300              2,065
Lyle C. Monroe    Smyrna, TN            05/25/15  Honda Gold Wing             2,131

Richard Griffith  Waterford, MI         05/24/15  H-D Road King               2,120
Kurt Dean         Royal Oak, MI         05/24/15  H-D Ultra Classic           2,120
Dan Stolz         Oxford, MI            05/24/15  H-D Ultra Classic           2,120

Kurt Dean         Royal Oak, MI         05/24/15  H-D Ultra Classic           2,120
Dan Stolz         Oxford, MI            05/24/15  H-D Ultra Classic           2,120

John E. Doughty   Kent, WA              05/22/15  Honda Gold Wing             2,400
             * * * John is 69 years young on this ride! * * *

Govardhan Agama   Santa Clara, CA       05/21/15  Triumph Explorer XC         2,264

MTF SS2000 Minnesota to Alaska
Zsolt Feher       Brooklyn Park, MN     05/21/15  Yamaha FJR1300              2,000+
David Nelson      Bloomington, MN       05/21/15  Honda Gold Wing             2,000+
             * * * David is 74 years young on this ride! * * *

MTF SS2000 Wyoming to Alaska
James Saul        North Platte, NE      05/21/15  Yamaha FJR                  2,000+
John Cooper       Woodland Hills, CA    05/21/15  Honda Gold Wing GL1800      2,000+
William Hohnhorst Littleton, CO         05/21/15  H-D Ultra Limited           2,000+
             * * * William is 65 years young on this ride! * * *

Paul Hinson       High Springs, FL      05/18/15  H-D Ultra Classic           2,220
Chris Avery       Fort White, FL        05/18/15  Victory Cross Country       2,220
Bobby Stafford    Gainesville, FL       05/18/15  H-D Ultra Classic           2,220
George J. Corwine Gainesville, FL       05/18/15  H-D Ultra Classic           2,220
Brian Ritter      Alachua, FL           05/18/15  Honda Gold Wing             2,220
John E. Franklin  Starke, FL            05/18/15  H-D Street Glide            2,220

Stanley J. Miller Ames, IA              05/18/15  Honda Magna V65             2,380
James Ernest Webb Vermilion, OH         05/15/15  H-D FLHTK Ultra Limited     2,002
Paul Stark        San Jose, CA          05/15/15  H-D Road Glide              2,160

Kelly Quinn       Truckee, CA           05/12/15  H-D Road Glide Custom       2,010
Robert Carlo      Truckee, CA           05/12/15  H-D Road Glide Custom       2,010

Duane C. Carlton  Bozeman, MT           05/10/15  H-D Electra Glide           2,071
Matthew Barbian   Green Bay, WI         05/09/15  Suzuki V-Strom              2,384

Brandon Laughman  Fort Worth, TX        05/04/15  Yamaha FZ6                  2,010
Quincy Dalton     Monroe, LA            05/04/15  H-D Street Glide            2,010

Tim Hayosh        Mesa, AZ              05/03/15  Kawasaki Concours           2,115
Ron Chandler Jr.  Old Hickory, TN       04/26/15  H-D Road Glide              2,370

Paul A. Turner                          04/25/15  Honda Gold wing             2,061
Robert A. Speaks                        04/25/15  Yamaha V Star 1300          2,178

John Huval        Lafayette, LA         04/23/15  BMW R1200RT                 2,113
Nadine Huval (passenger)                04/23/15  BMW R1200RT                 2,113

Jim Clark         Locust Grove, GA      04/21/15  BMW R1200RT                 2,150
             * * * Jim is 66 years young on this ride! * * * 

Joerg Meissner    North Attleboro, MA   04/18/15  BMW R1200GSA                2,046

Ghent Hopkins     Enid, OK              04/13/15  BMW R1200GS Adventure       2,361
John G. Camp      Enid, OK              04/13/15  BMW R1200GSA                2,361

Doug Tessendorf   Mesa, AZ              04/10/15  BMW R1200RT                 2,059
Steve Bell        Chandler, AZ          04/10/15  H-D Ultra Limited           2,081

John O. Cooper    Woodland Hills, CA    03/14/15  Honda GL1800                2,475
Will G. Adams     Albuquerque, NM       03/11/15  BMW R1200RT                 2,366

Michael Neuerburg Ault, CO              02/06/15  H-D Electra Glide Ultra     2,078

Doug Tessendorf   Mesa, AZ              01/17/15  BMW R1200RT                 2,215
Steve Bell        Chandler, AZ          01/17/15  H-D Ultra Limited           2,215

Al Schwalm        Phoenix, AZ           11/27/14  H-D FXDFSE                  2,019
Timothy J. Karas  Cleveland, OH         11/25/14  BMW R1100GS                 2,050

John Cox          Yorkshire, UK         11/09/14  Honda VFR 1200X             2,066
John Cunniffe     West Yorkshire, UK    11/09/14  BMW R1200GSA                2,019

Michael Hinton    Bon Aqua, TN          11/07/14  Victory Cross Country Tour  2,091
Jeff Shafer       Port Orange, FL       11/05/14  Suzuki V-Strom 650          2,018
Brian D. Chauvin  Spring, TX            10/30/14  Honda Gold Wing             2,017 TX-2000

Rob Hook          Devon, UK             10/17/14  Suzuki DL1000               2,020
Neil Smith        Devon,UK              10/17/14  BMW R1200GS                 2,057
Martin Grafton    Devon, UK             10/17/14  Triumph Tiger 955i          2,057
Peter Jones       Devon, UK             10/17/14  BMW R1150RT                 2,020

Ari Dragan        Chapel Hill, NC       10/09/14  BMW R1200GSA Anniversary    2,463

Russell J. Morris Little Rock, AR       10/09/14  H-D CVO Ultra Classic       2,260
Jeffrey Billman   Conway, AR            10/09/14  H-D Street Glide            2,260

Steven G. Price   Suwanee, GA           09/26/14  H-D Ultra Classic           2,377
Jerry Stevens     Flower Mound, TX      09/22/14  Honda VTX1300R              2,050
Richard Viekman   Gallup, NM            09/13/14  Honda Gold Wing GL1500      2,150
Tom Atkinson      Magnolia, TX          09/13/14  Honda GL1800                2,021

R. Gonzalez       Lake Forest, CA       09/11/14  H-D Road King Classic       2,270
             * * * R. "Gonzo" is 69 years young on this ride! * * * 

Darek Dufaj       Pickering, ON CANADA  09/09/14  Suzuki C109RT               2,376
Greg Smith        Toronto, ON CANADA    09/09/14  Yamaha FJR                  2,376

Ned G. Waite      Alpine, UT            09/08/14  BMW K1200RS                 2,033
Jeff Nelson       Simpsonville, SC      09/07/14  H-D Electra Glide Ultra     2,516
Scott Blevins     Somerset, KY          09/07/14  H-D Ultra Limited           2,335

Jim Littlepage    Tooele, UT            08/31/14  Honda Gold Wing GL1800      2,177

Bruce Rimes       Summit, MS            08/31/14  H-D FLHTK                   2,380
Joe W. Lacey      Florence, MS          08/31/14  H-D Ultra Classic Limited   2,380

Roy Kjendal       Deerfield, NH         08/27/14  Honda Gold Wing GL1800A     2,039
             * * * Roy is 66 years young on this ride! * * *

Donny Rozanski    East Granby, CT       08/27/14  H-D Road Glide              2,044 New England 2000
James Cavanagh    Granby, CT            08/27/14  H-D FLHTC                   2,044 New England 2000

David W. Smith    Fruitland Park, FL    08/24/14  H-D Ultra Classic Limited   2,371
Paul Streva       Pocatello, ID         08/24/14  H-D Electra Glide Ultra     2,050

Rhonda J. Fussell Lebanon, IN           08/23/14  H-D Heritage Softail        2,371

Ken Sanderson     Derbyshire, UK        08/23/14  Suzuki Bandit 1200S         2,043
Mark Collins      Derbyshire, UK        08/23/14  Honda CBF 1000              2,043

Brian Bonenfant   Abbotsford, BC CANADA 08/23/14  BMW R1200RT                 2,170

Edward Kuzikowski St. Albert, AB CANADA 08/23/14  Honda Gold Wing             2,364
Danny Graham      Honolulu, HI          08/23/14  BMW R1200RT                 2,364
             * * * Danny is 70 years young on this ride! * * *

Robert DeLoach    Pocatello, ID         08/23/14  H-D Street Glide            2,050
Chuck Mennear     Pocatello, ID         08/23/14  Victory Cross Country Tour  2,050

John C. Andruszka Sierra Vista, AZ      08/23/14  Yamaha FJR1300              2,230
Donald J. Plante  Peachtree City, GA    08/20/14  H-D Ultra Limited           2,040

Ron King          Normandy, TN          08/20/14  H-D Electra Glide Standard  2,018
             * * * Ron is 66 years young on this ride! * * *
Don King          Petaluma, CA          08/20/14  H-D Ultra Classic Limited   2,018
             * * * Don is 66 years young on this ride! * * *

Rune Samnoy       Krokstadelva, NORWAY  09/18/14  H-D Dyna Wide Glide         2,113
Terje Hansen      Moss, NORWAY          09/18/14  H-D CVO Road Glide          2,113
             * * * Terje is 69 years young on this ride! * * * 

Mike Beidler      St. Joseph, MI        08/17/14  Victory Cross Country Tour  2,082
Eric Chernin                            08/17/14  Honda Gold Wing             2,010

Richard D. Geiger Cressona, PA          08/16/14  Honda Gold Wing GL1800      2,052
Alton Neidlinger  Schuylkill Haven, PA  08/16/14  Honda GL1800                2,052

Donald Leach Jr.  Christmas, FL         08/11/14  H-D FLHX Street Glide       2,045
Herb Mimler III   Winter Garden, FL     08/10/14  H-D Street Glide            2,005

Scott McCaffrey   Harrisburg, PA        08/04/14  Honda Gold Wing             2,102
Michael Sizer     Bonita Springs, FL    08/02/14  H-D Road King               2,122
Mark Nickles      Pekin, IL             08/02/14  H-D FLHX                    2,022
Dale Liechty      Louisville, KY        08/01/14  H-D Road Glide              2,364

Kim Bakker        Charlevoix, MI        08/01/14  H-D Road Glide              2,017
Mark W. McCullick Ashley, MI            08/01/14  H-D Road King               2,017

John R. Estes     Mound, MN             07/30/14  Honda GL1800                2,210

Vladimir Kiselev  Novosibirsk, RUSSIA   07/30/14  Honda GL1800                2,190

Christopher Chiavacci Raleigh, NC       07/26/14  Honda VTX1800T              2,090
R. Bruce T